This originally ran in the 2017 Local Love supplement in the June issue of Baltimore magazine.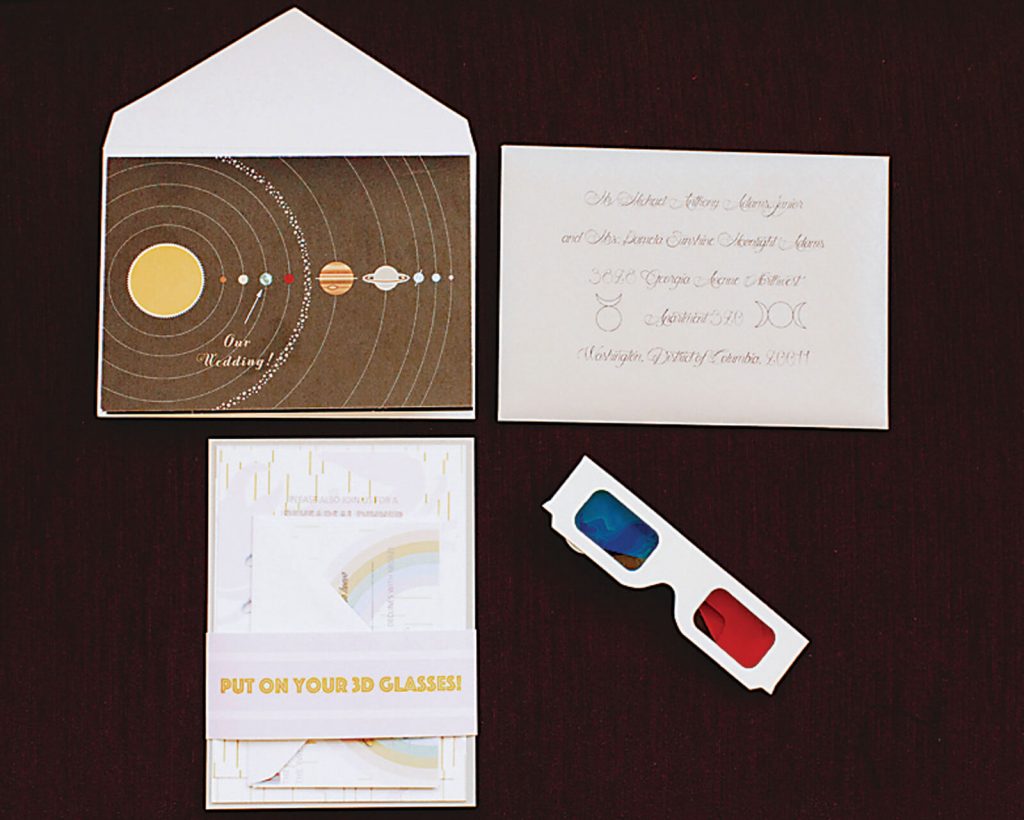 WEDDING DATE August 8, 2016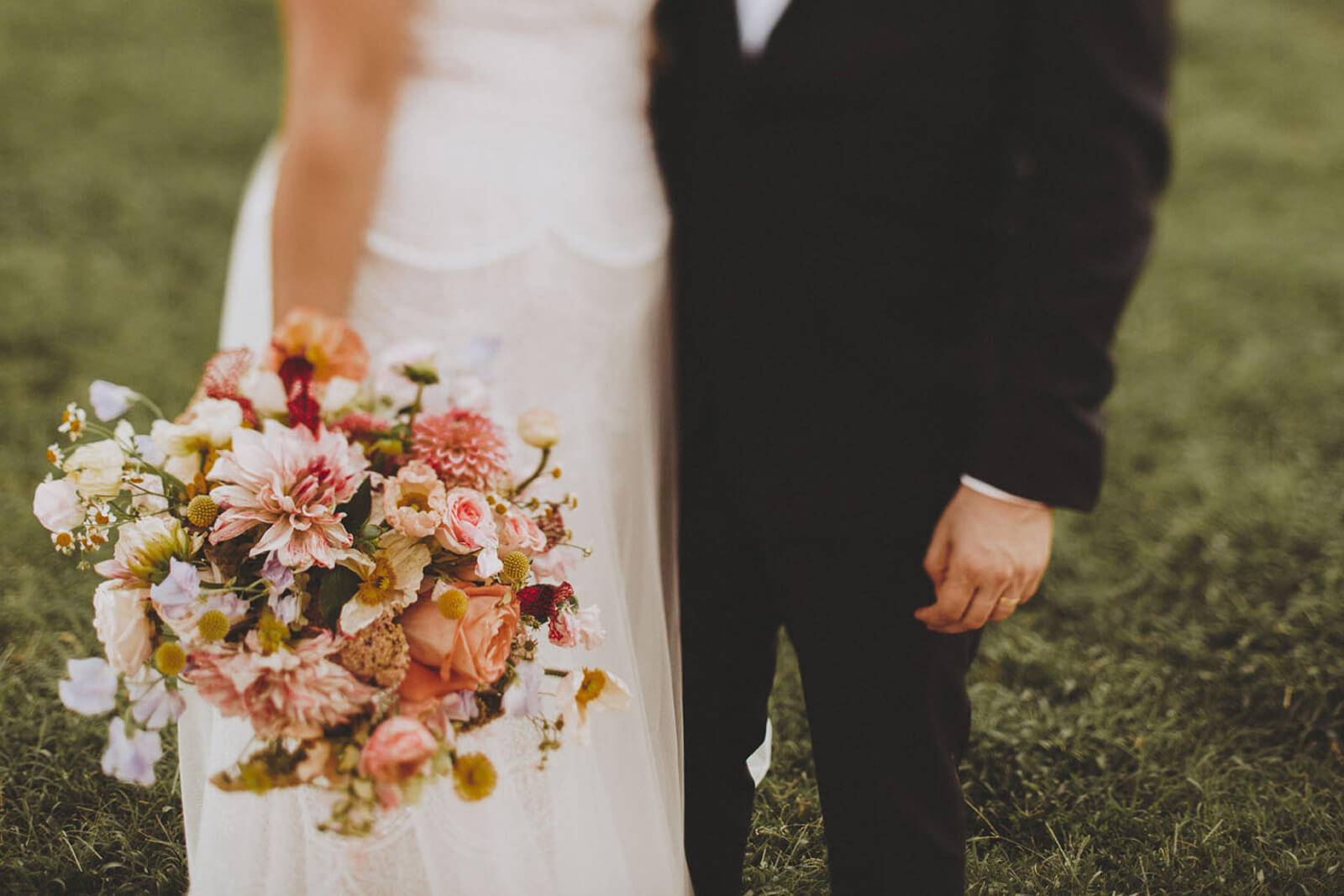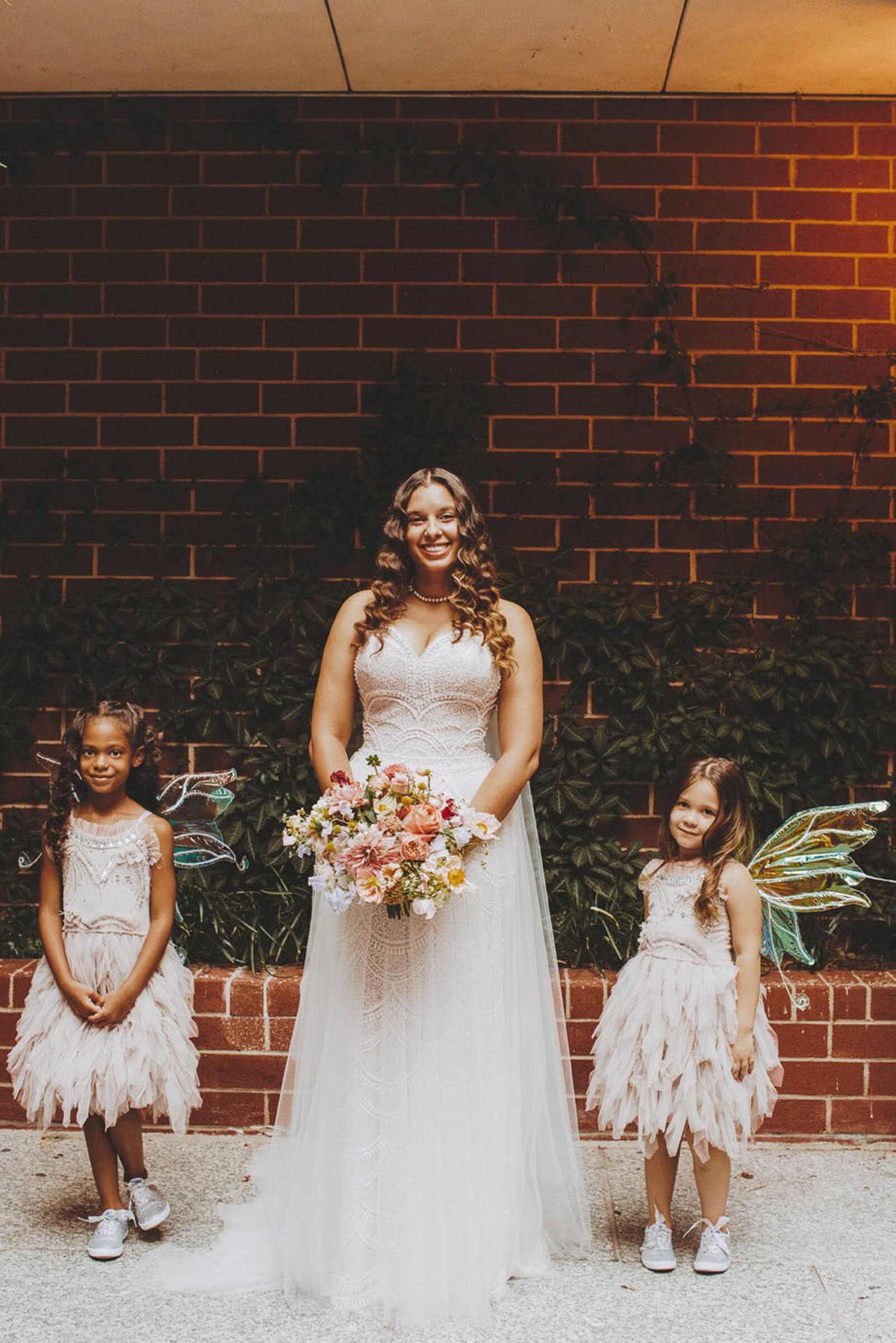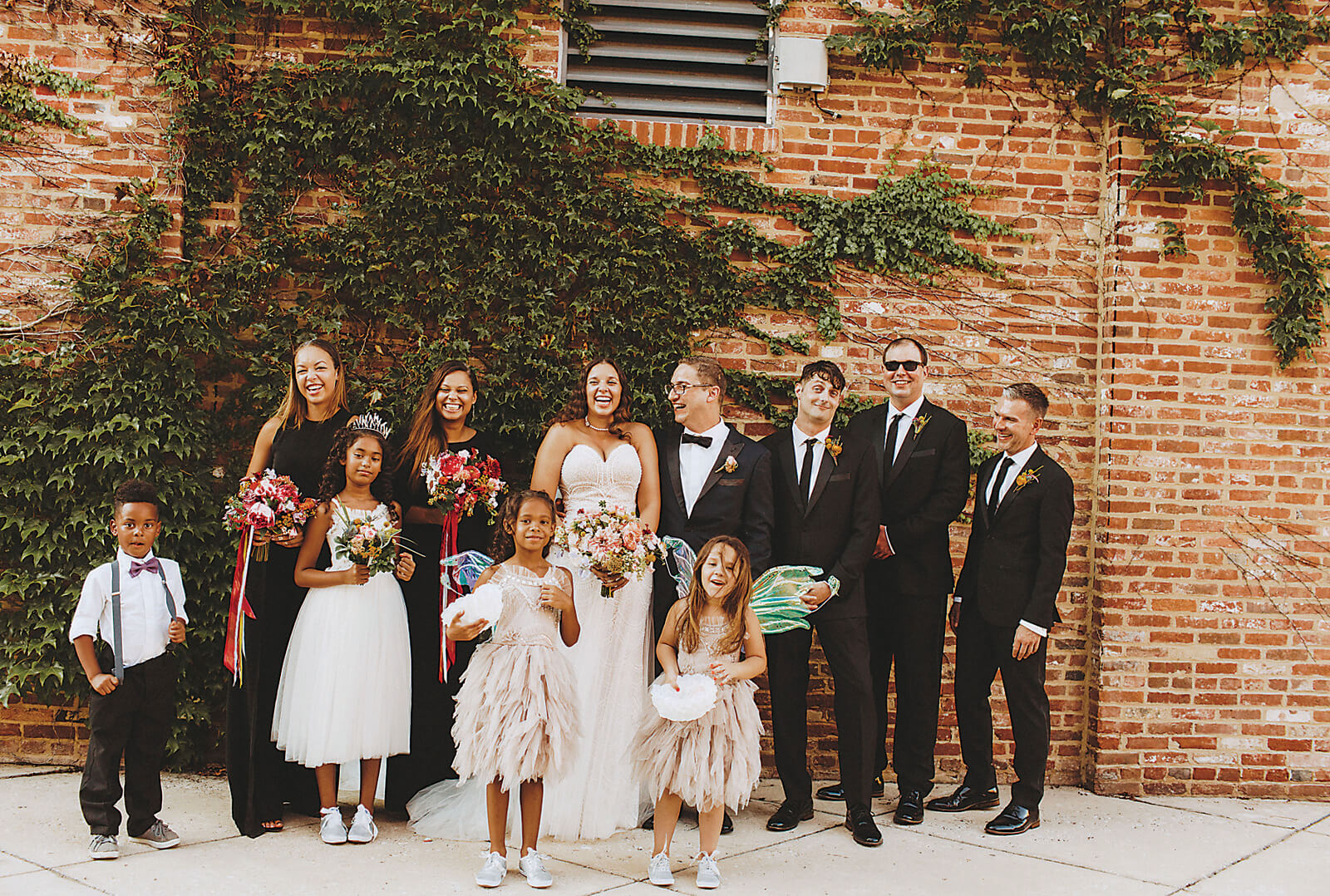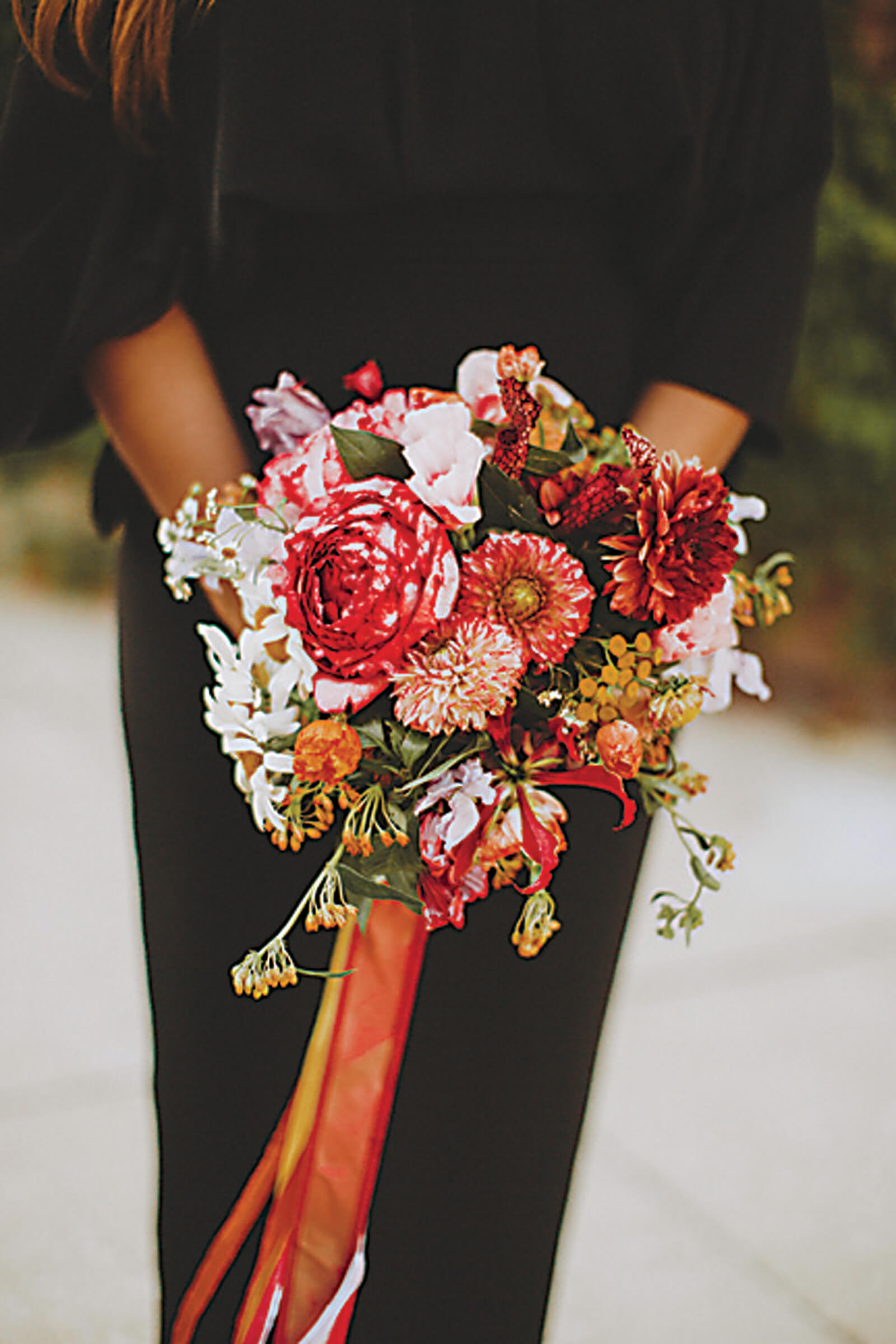 The day Pamela Patch and Michael Adams officially met, after belonging to overlapping friend groups, she spied a golden ratio tattoo on his shoulder. For Pam, a visual-arts student at the Baltimore School for the Arts who then studied math in college, the tattoo was the perfect mix of her two passions. "I was like, 'I think I'm in love with you,'" she laughs. The two discussed the Greek letter phi, which is a symbol of the golden ratio, but despite all the levels of attraction, they went their separate ways. It took nine more months for plans to be made. Their first date was at the Hirshhorn Museum and Sculpture Garden in Washington, D.C., and afterward they went outside and shared their first kiss on a bench.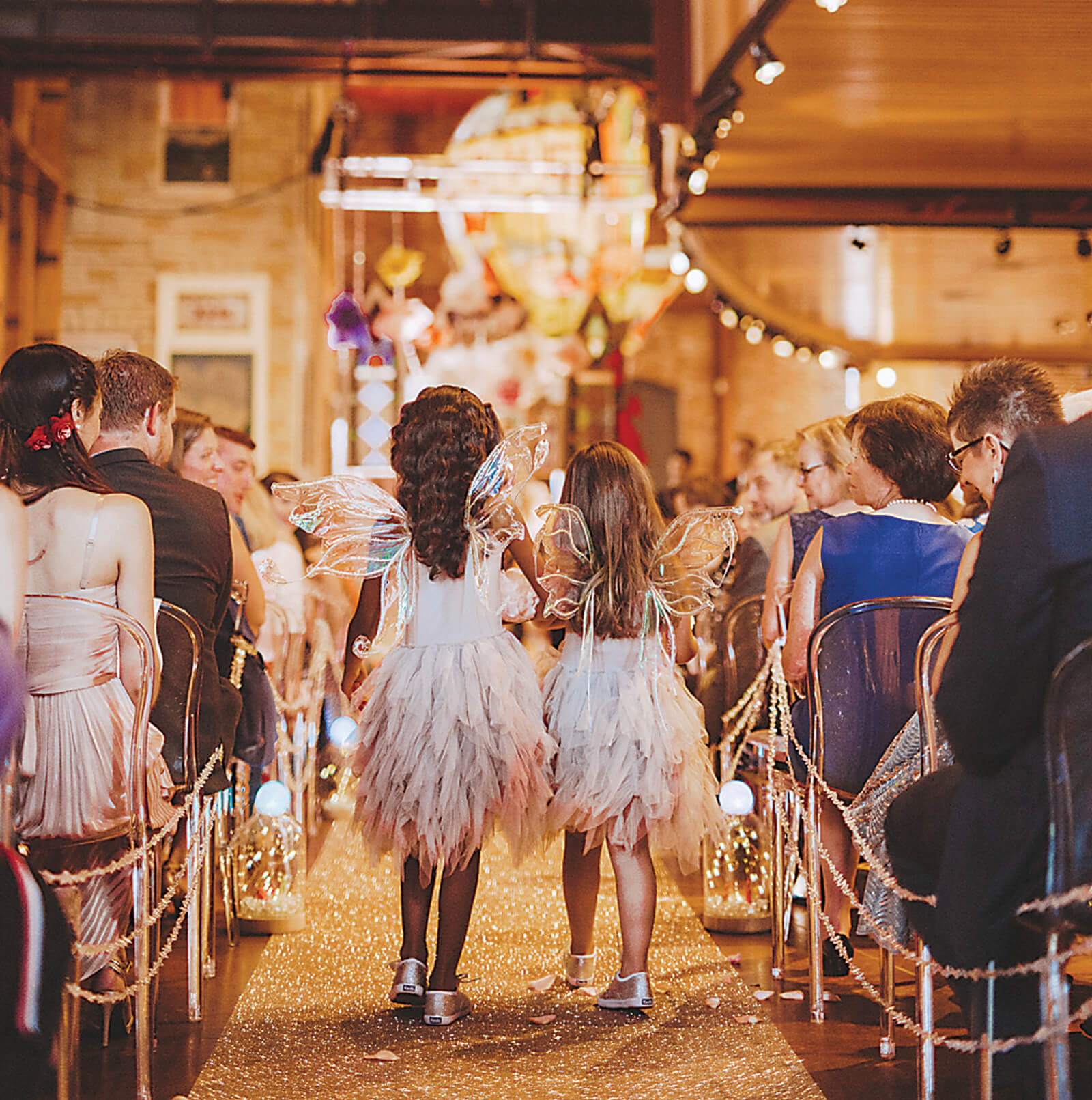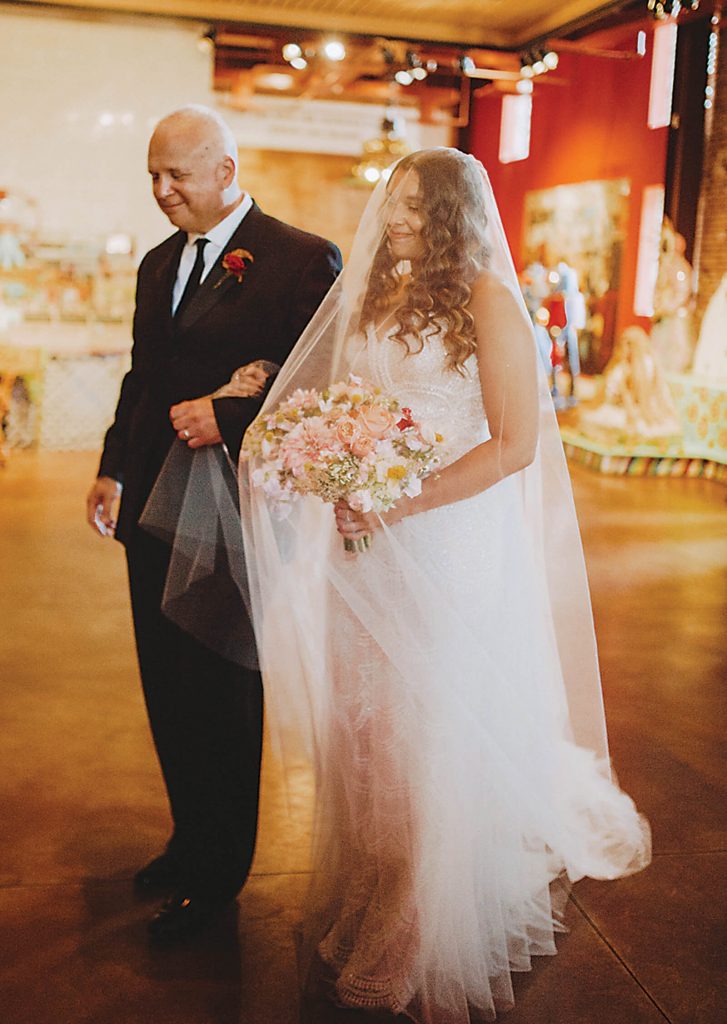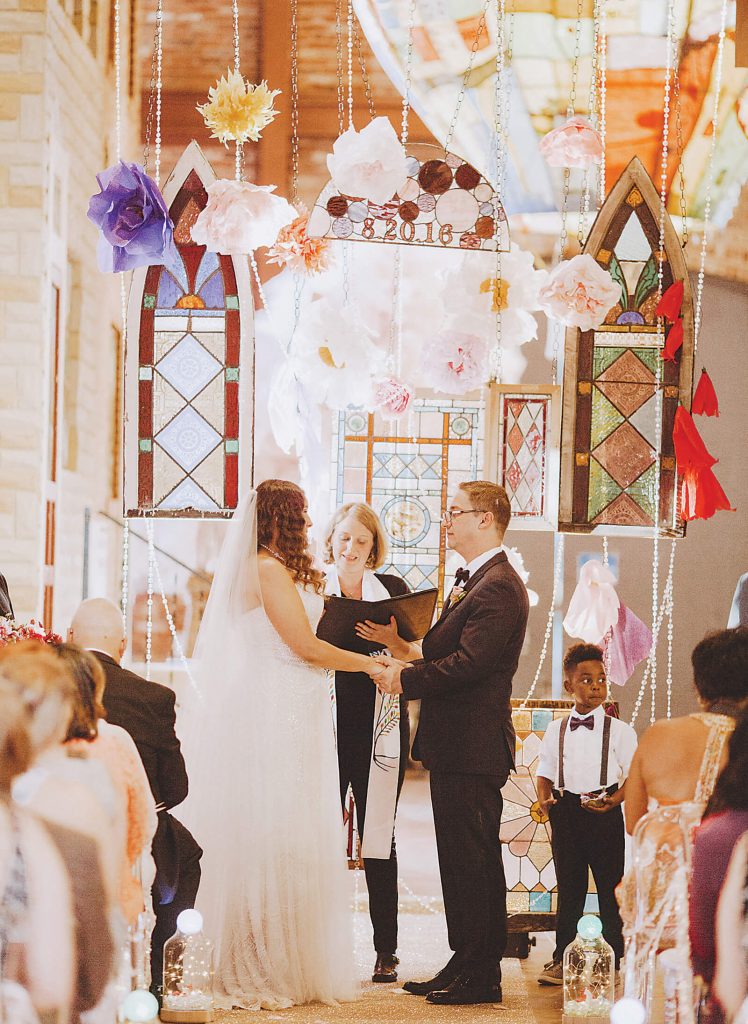 When it came time to plan their wedding, Pam took the lead, despite working full time and attending Georgetown University Law Center. "I was extremely controlling about planning our wedding," she admits, without a hint of apology. When Michael realized he didn't want to offer the "wrong" opinion on anything, he officially handed the reins over to Pam. "I trust you," he said. And in return, the overall feel of the wedding was a huge surprise to him. (Spoiler alert: He loved it all.) Wanting to get married in the summer before the next semester of law school began, Pam planned the wedding in eight months.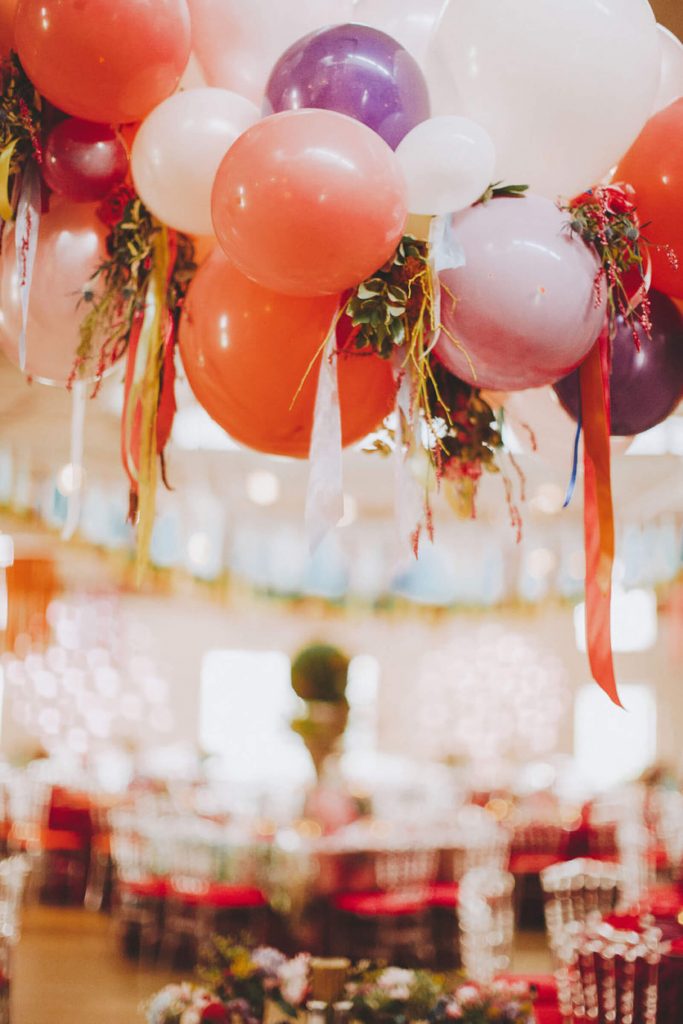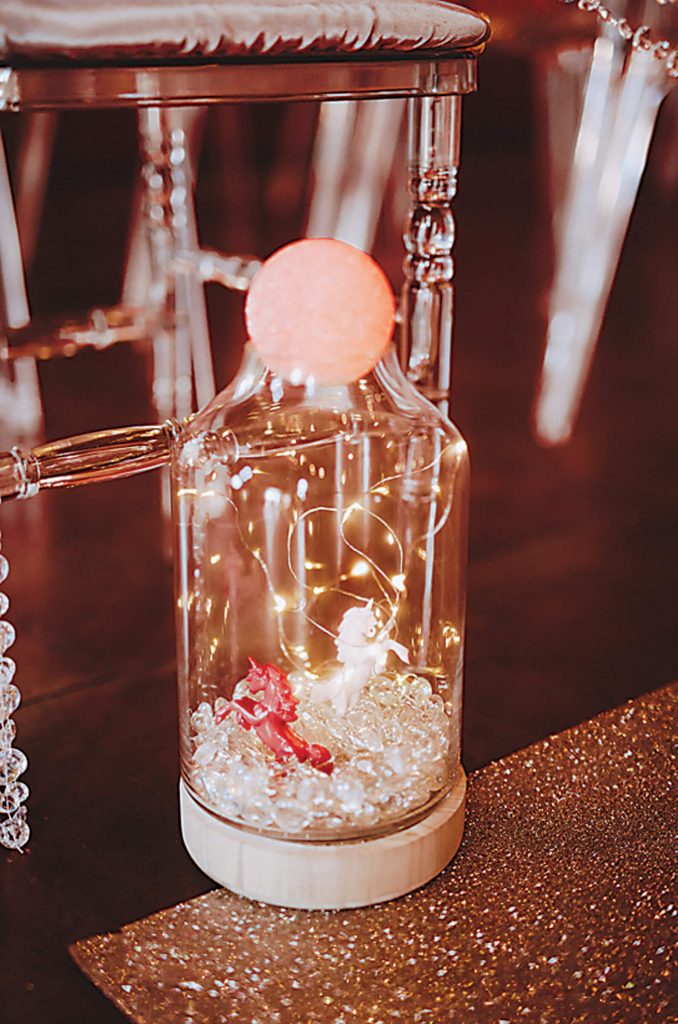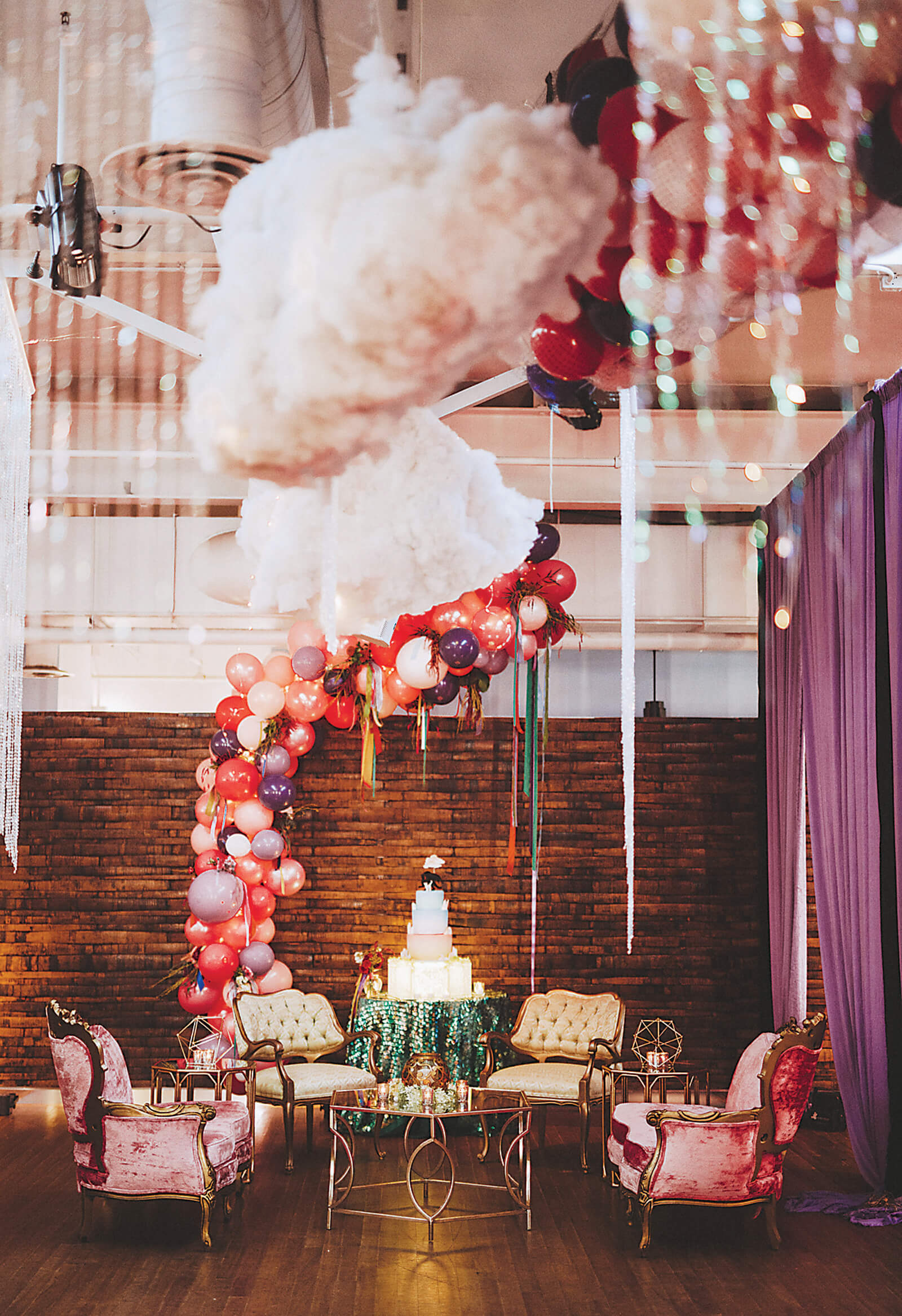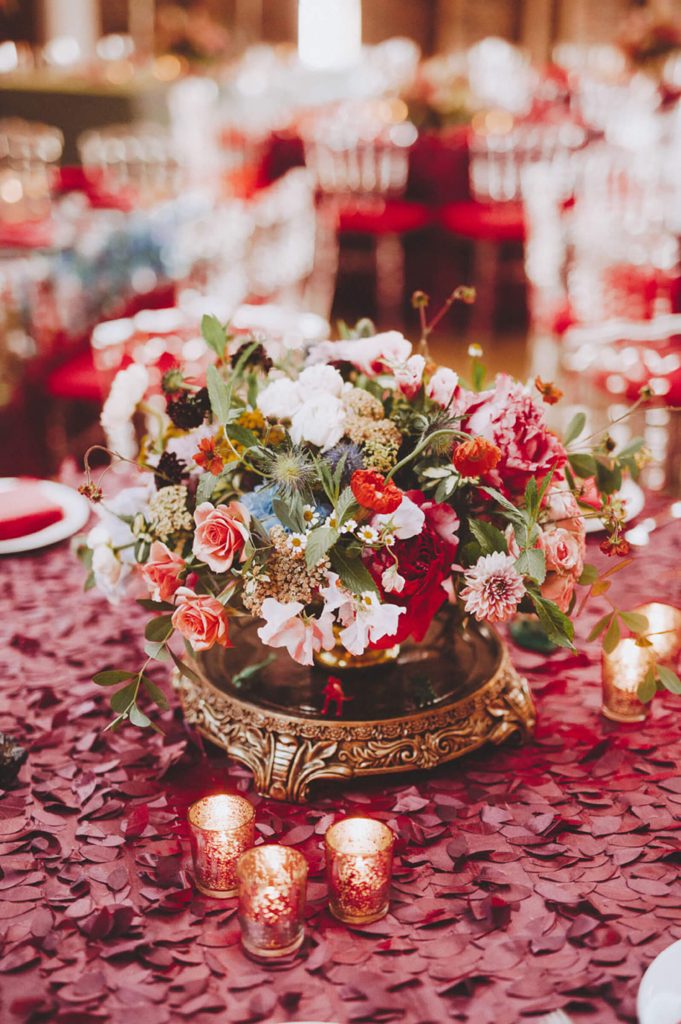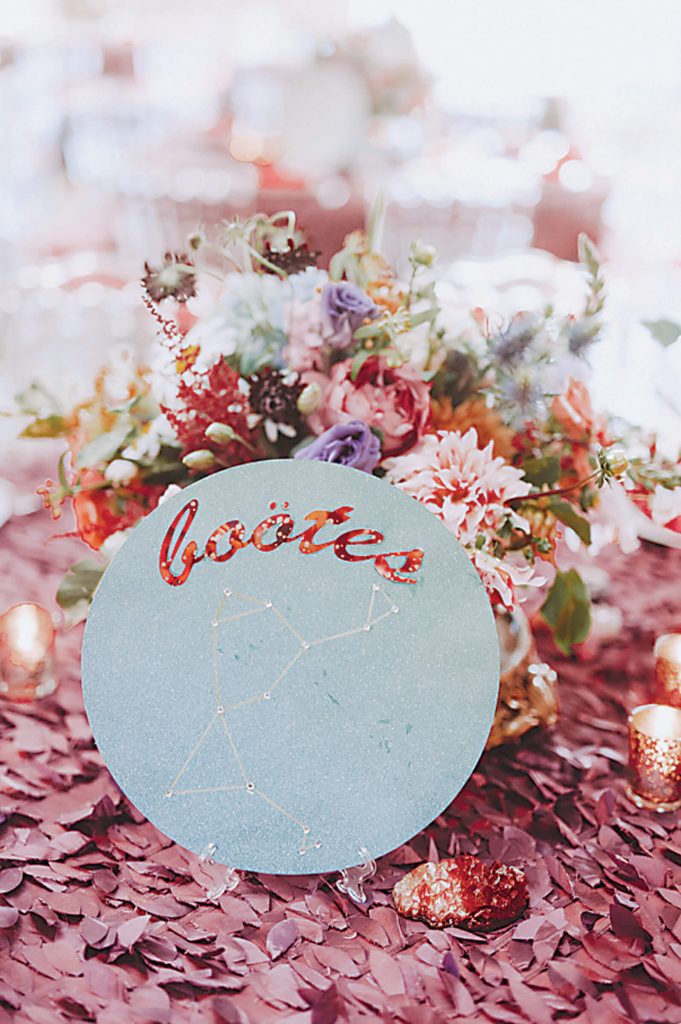 She was adamantly against a wedding theme or color scheme. "It was just us—we were the theme and every random thing we were into," says Pam. There were clouds and rainstorm images from her childhood sketchbooks. The two had started dating in the winter, and because they lived within walking distance of each other they spent many snow days off work watching The NeverEnding Story, Pee Wee's Big Adventure, and Labyrinth. So she drew inspiration from those movies, too. More vision came from Jim Henson, Flaming Lips live shows, Little Nemo in Slumberland comic books from the 20th century, and Peter Pan's Neverland. Of course, there was only one place that could handle all this. Pam had always loved the American Visionary Art Museum and Michael, while in college at St. John's in Annapolis, had visited frequently. "Art is really important to both of us," says Pam. "And we liked the idea of getting married in a museum."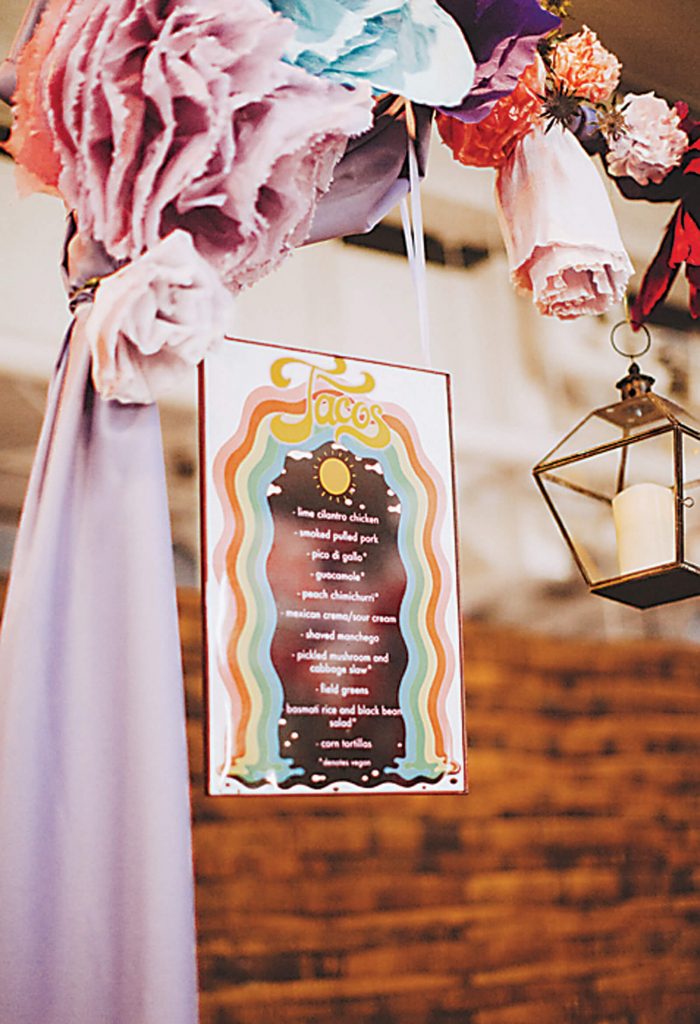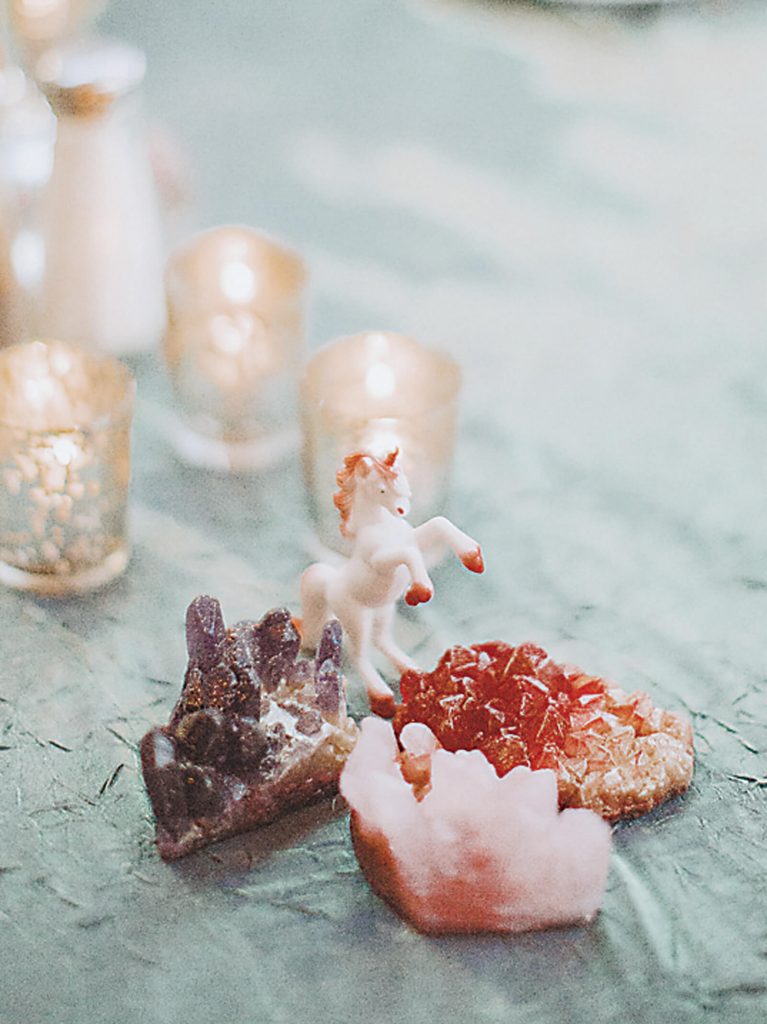 Downstairs, the museum offered a ceremony site already filled with fantastical creatures: a huge rotating Divine and massive pink poodles. And as a nod to Pam's childhood, there were Baltimore rowhouses with painted screens and marble steps.
Upstairs was a blank slate, exactly what Pam and Victoria Clausen, her event designer, needed to create the whimsical world inside Pam's head. The couple wanted the party to feel immersive. "This is our world," says Pam. There were big puffy clouds, some with rain and some without, oversize paper flowers Pam made by hand, tassels, balloon arches in a rainbow of colors, and topiary balls with butterflies. (Michael loves how transformative and graceful they are. So, Pam added butterfly surprises throughout the wedding, including in his boutonniere and her bouquet.) Plus, there was a surprise balloon drop. The night of the wedding, Pam heard herself saying, "I think there might be actual magic here."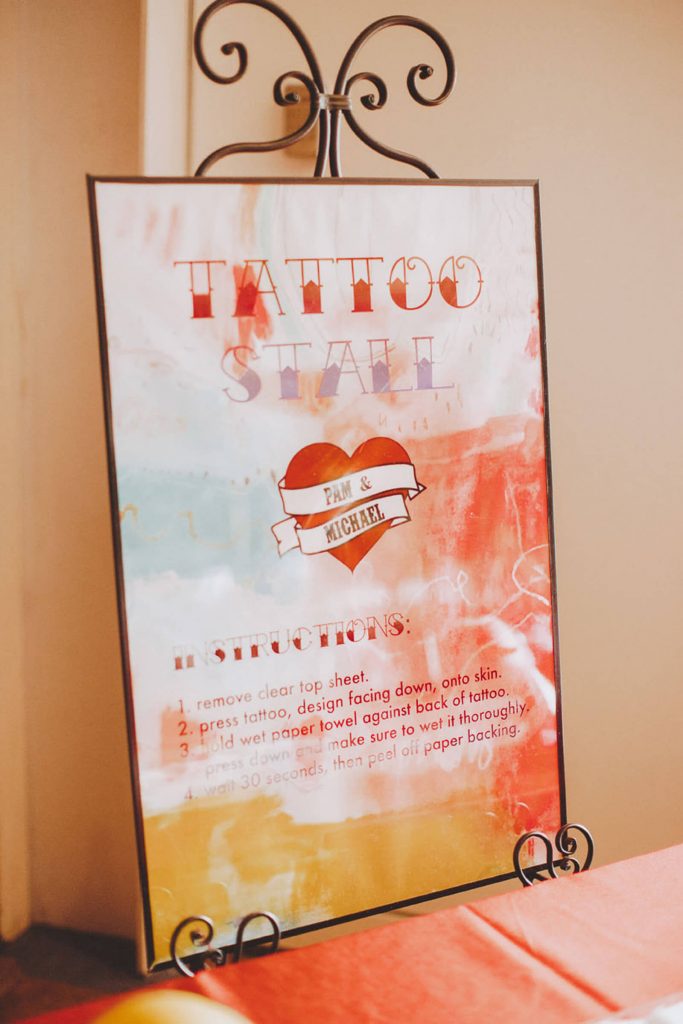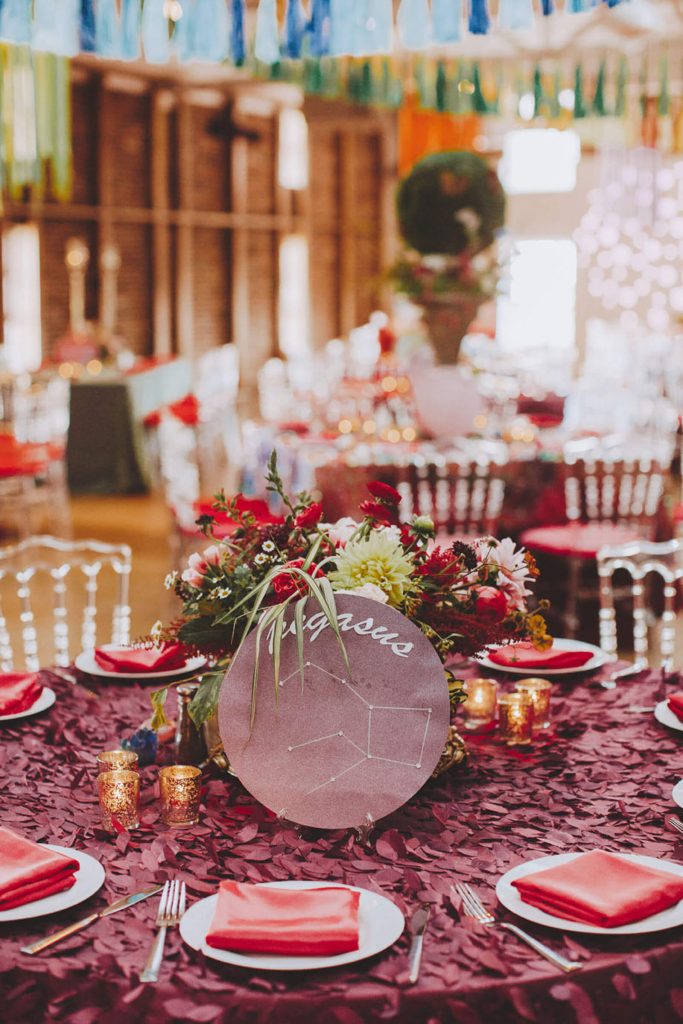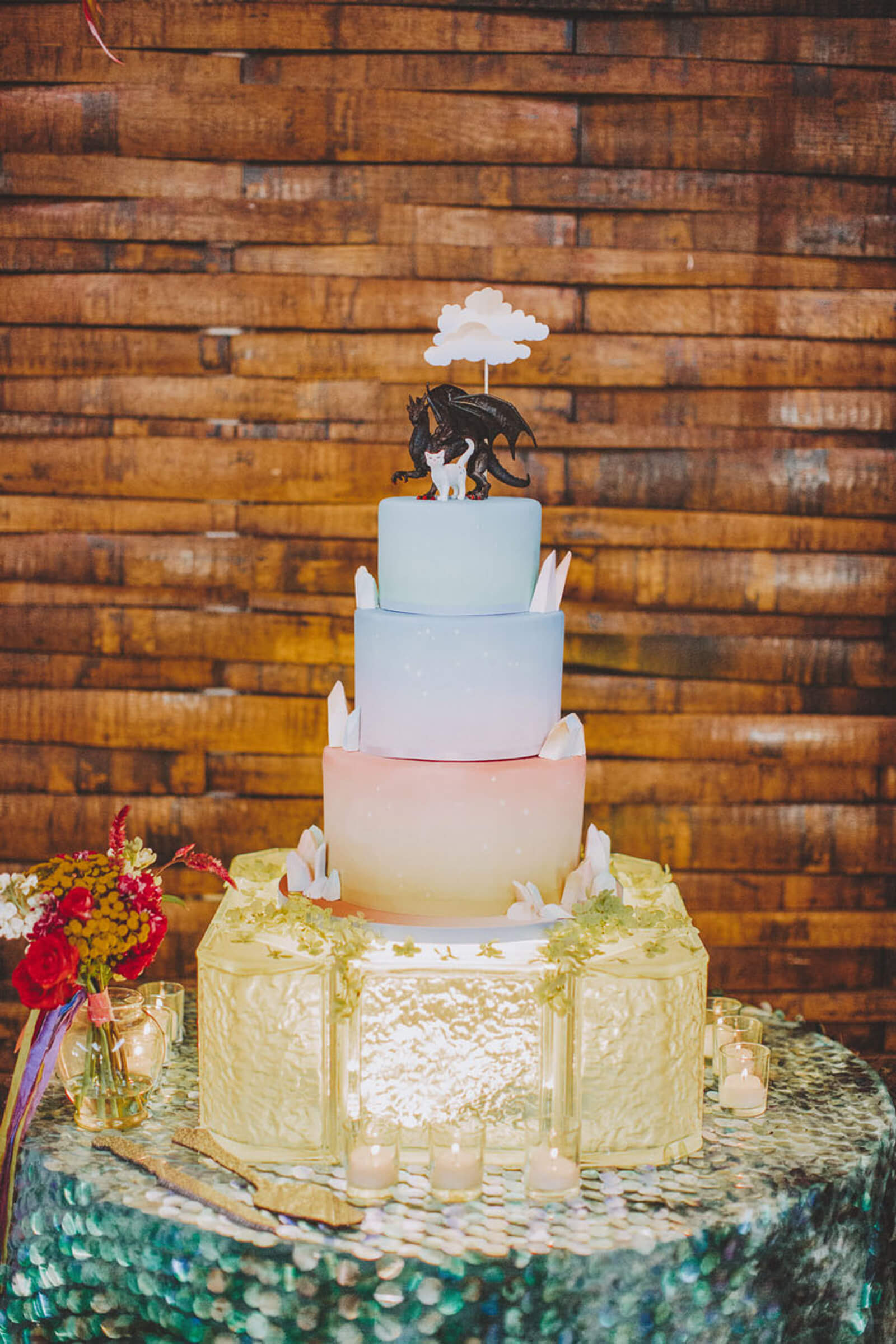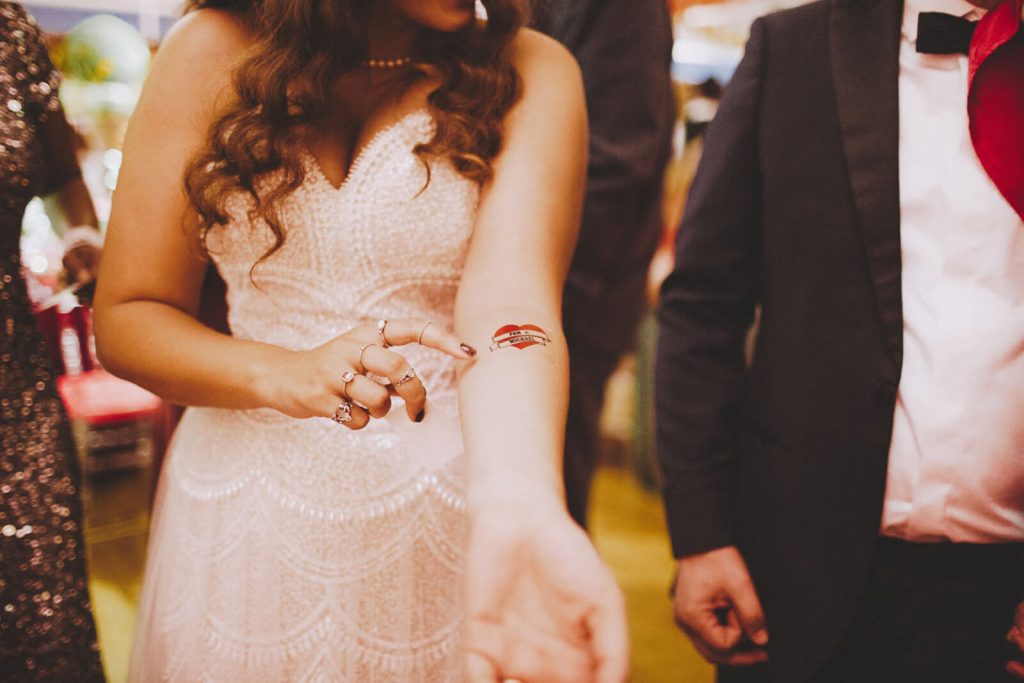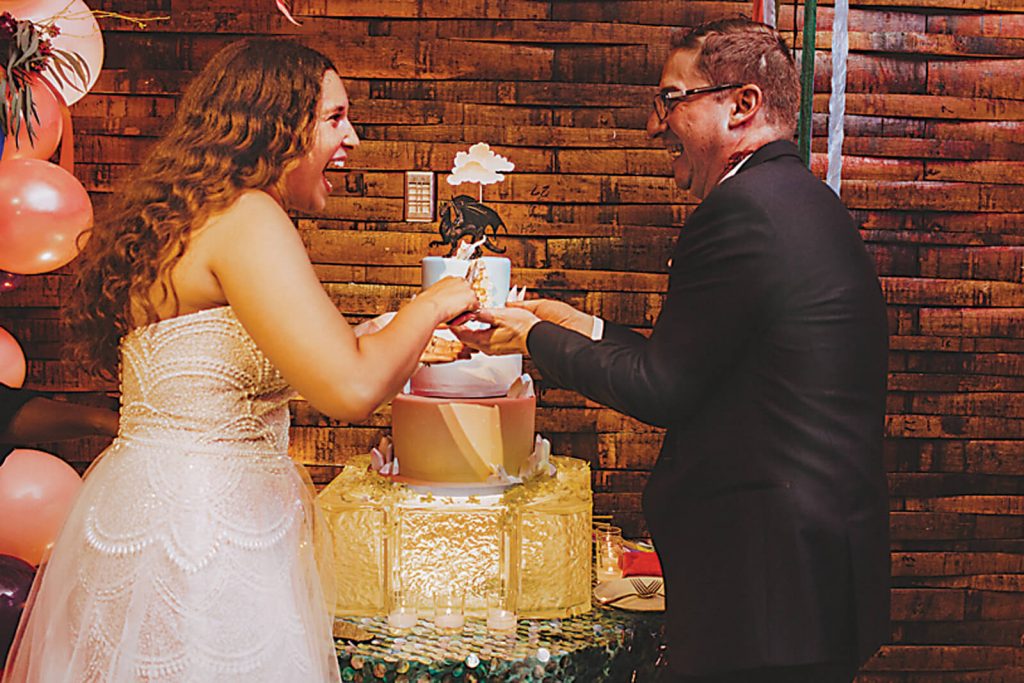 "Art ideally should be accessible at a glance, but if people want to go deeper there should be enough meaning and surprises to go as deep as they want to," she says. Pam carried that idea over to the wedding. Almost every detail had details inside those details. Their wedding cake had all sorts of elements like dragon and cat figurines, a cloud, and crystals, but also, if you looked closely and know your astronomy, you'd recognize stars in the shape of Libra and Aquarius—Pam's and Michael's constellations. During their cocktail hour—the "starry nights" part of their evening—a sequin cloth draped the bar. When you brushed up against it, the fabric would change from inky blue to brilliant silver. Overhead, candles hung from the ceiling. But upon closer look, they were in the shape of Pam's and Michael's constellations. After cocktails, a giant curtain parted to reveal the rainbow explosion of a reception.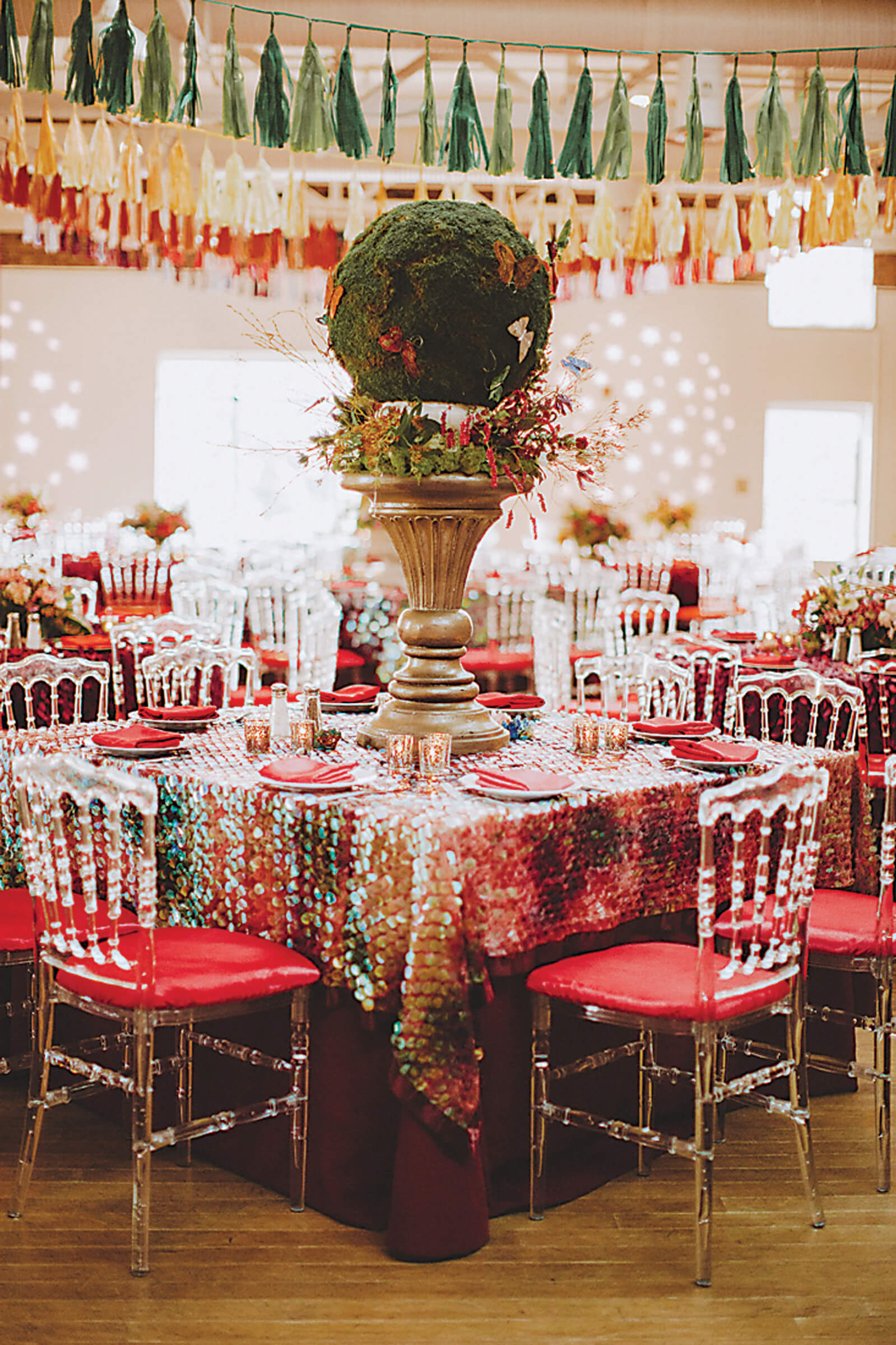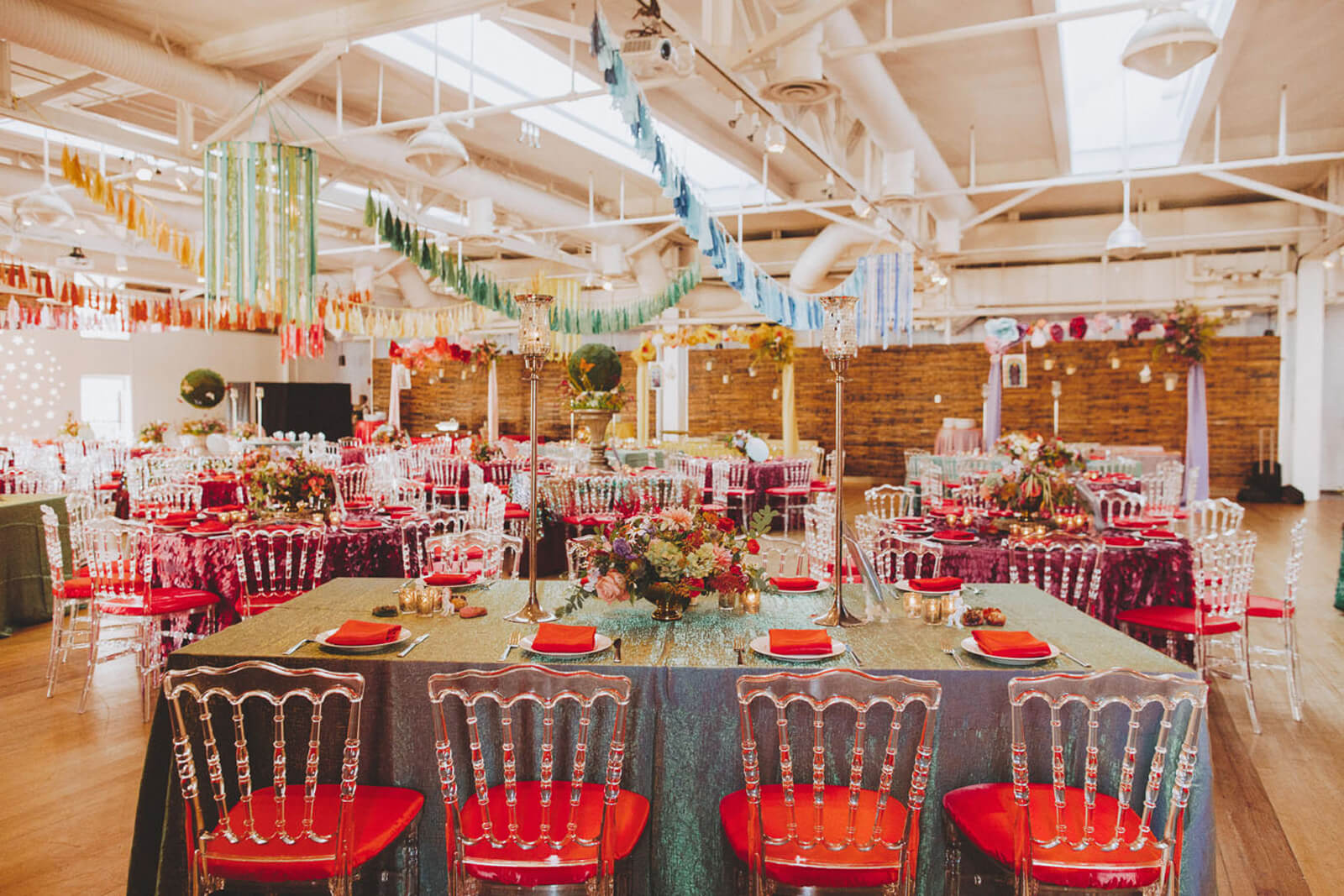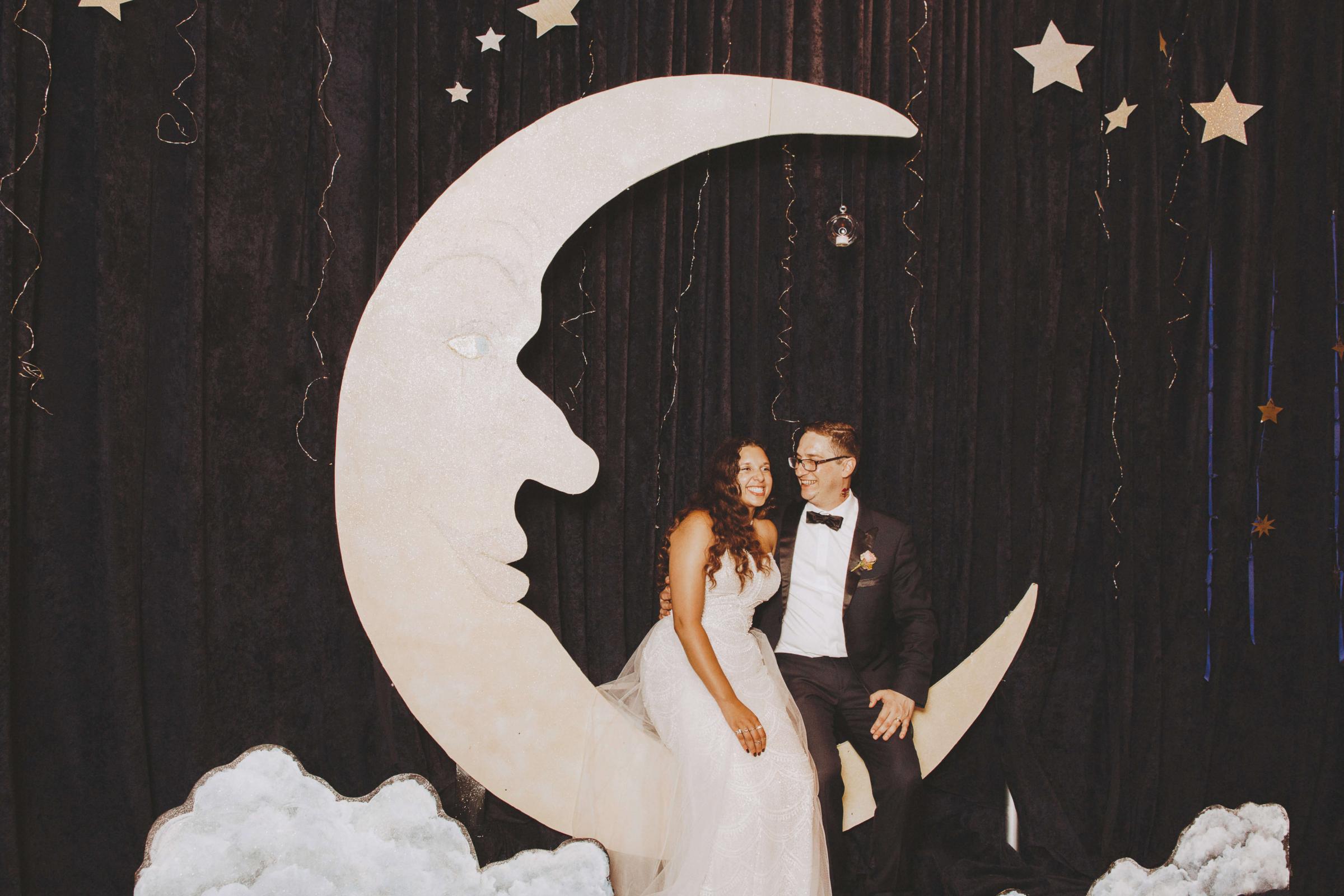 For Pam, the only struggle was how to make her "killer party" still feel like a real wedding. "It was a balance," she says. There was assigned seating at the reception, there were toasts, and there was a first dance with her dad. She wore a wedding dress that looked like a wedding dress. Michael was in a tuxedo, albeit a blue one. The ceremony was modern, but there was "an updated version of pretty traditional vows," she says. "We wanted it to feel sacred." The two sat on a metal park bench at their sweetheart table—a reference to their first kiss.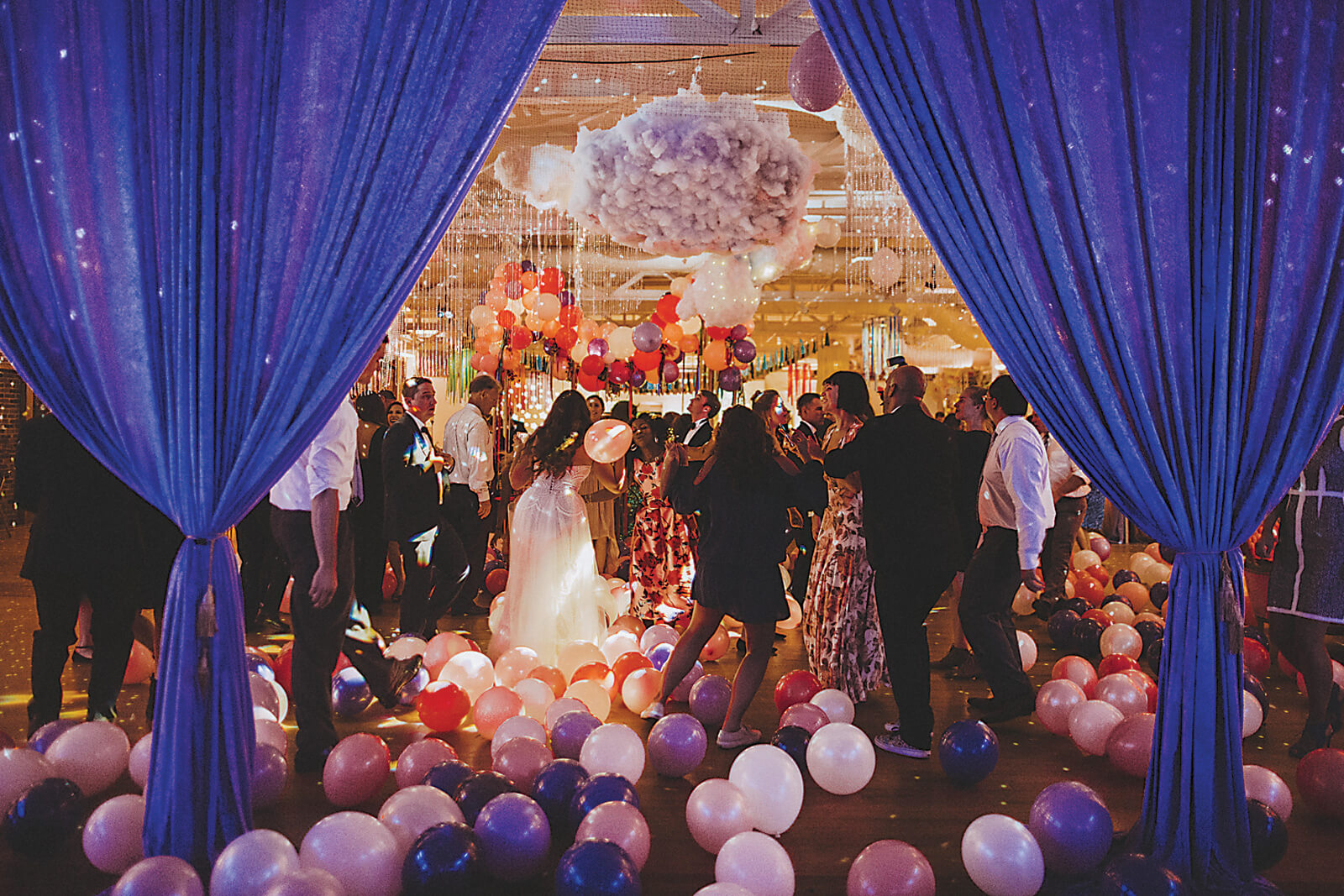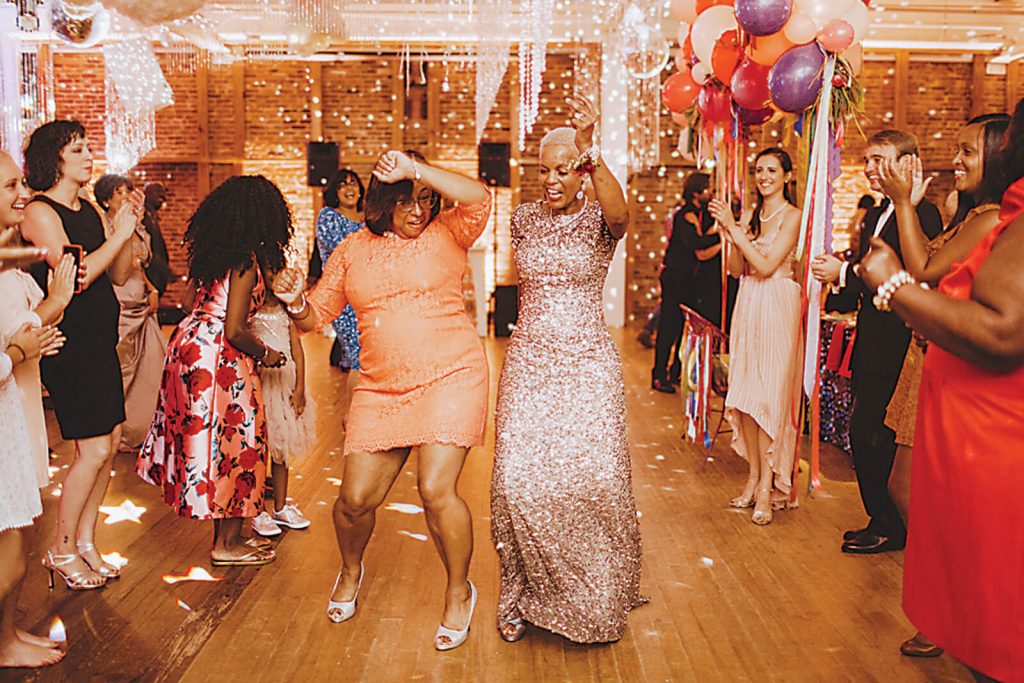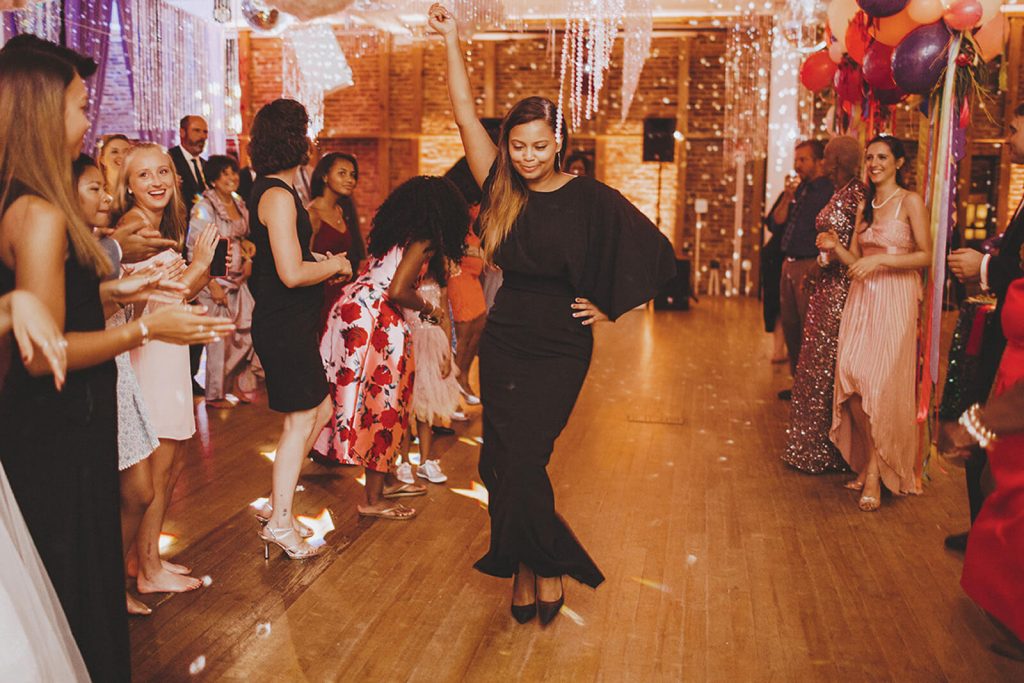 "I think the biggest thing I really did right that day was to remain mindful," says Pam. Everyone always says the day goes by in a blur, "but I really wanted to remember our wedding after all this work," she says. She woke up that morning, meditated, and picked out her essential oil blend, choosing joy and sanctity. Instead of worrying about being the hosts—they left that to their families—Pam and Michael danced, ate, and laughed. "The whole five or six hours felt like five or six hours" in the best possible way, says Pam. "We had the whole experience. It was the best night ever. It was perfect for us."