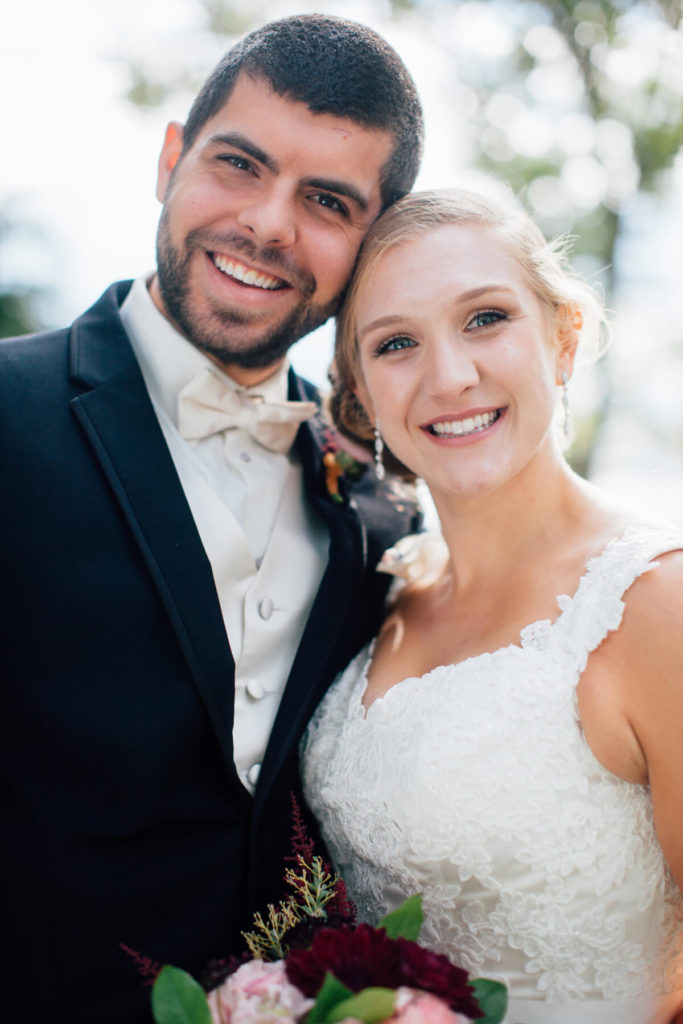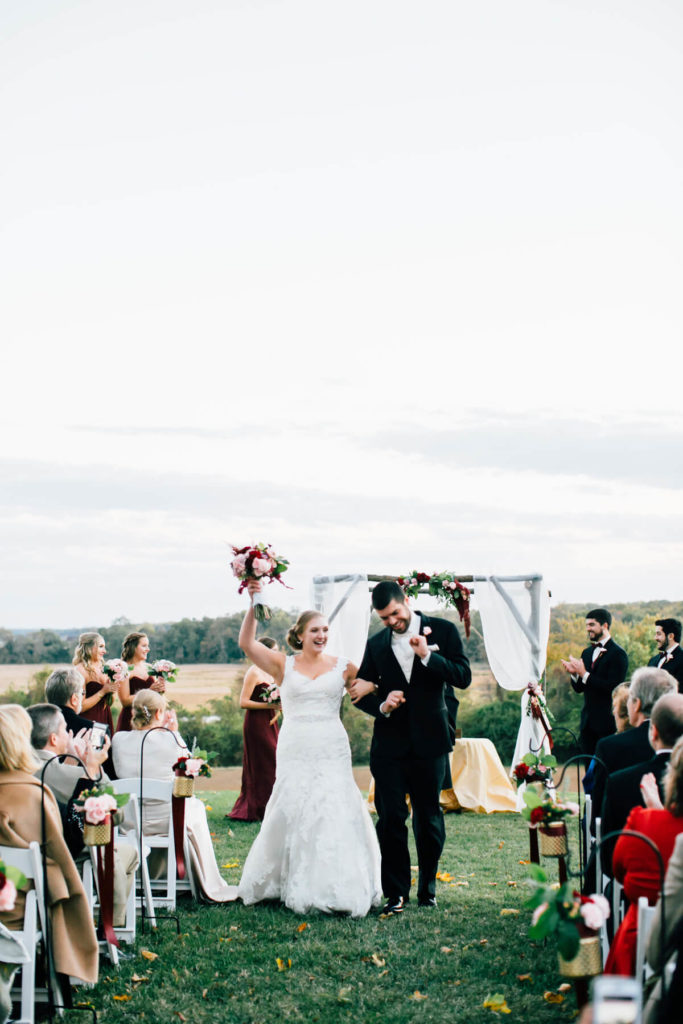 Occupations Nora is a partner at NoLo Weddings + Events; Bradley is a custom metal fabricator.
Wedding Date October 17, 2015
Number of Attendees 120
Number of Attendants Six, three bridesmaids and three groomsmen.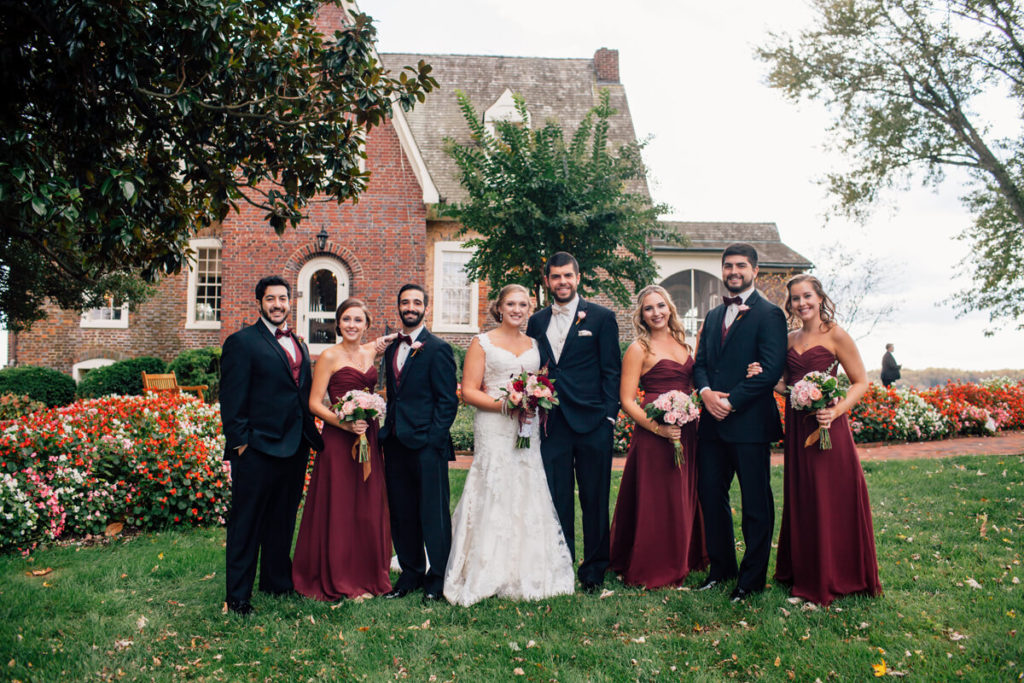 How They Met Brad and Nora both worked for a local family owned company. He was a manager for a small diner the family owned and she was a sales associate for their wedding and event facility. Once Nora caught Brad's eye, his trips into the office became much more frequent and they both joked that it was the best part of the other one's day. A friendship blossomed into a relationship after the couple went on a 12-hour first date in DC.
The Engagement Every other year Nora and her business partner (and best friend) Lorinda go to a wedding conference in Las Vegas. In 2014 following the conference, Brad and Josh (Lorinda's husband) came out to Vegas for a mini vacation. On Friday, September 19th the group took a day trip to The Grand Canyon. After walking around the park for a while Brad suggested that he and Nora take some photos on one of the overlook points. After a few photos Brad pulled Nora close and started reflecting on their relationship and how happy she makes him. Nora could feel Brad's heart beating out of his chest and before she knew it, he was down on one knee asking her to be his wife.
Wedding Design Inspiration Classic Romance. Nora always wanted a fall wedding. The couple chose a color palette of merlot, gold, and blushed pink. The lush flowers, candlelight and textured linens helped achieve the look they were going for.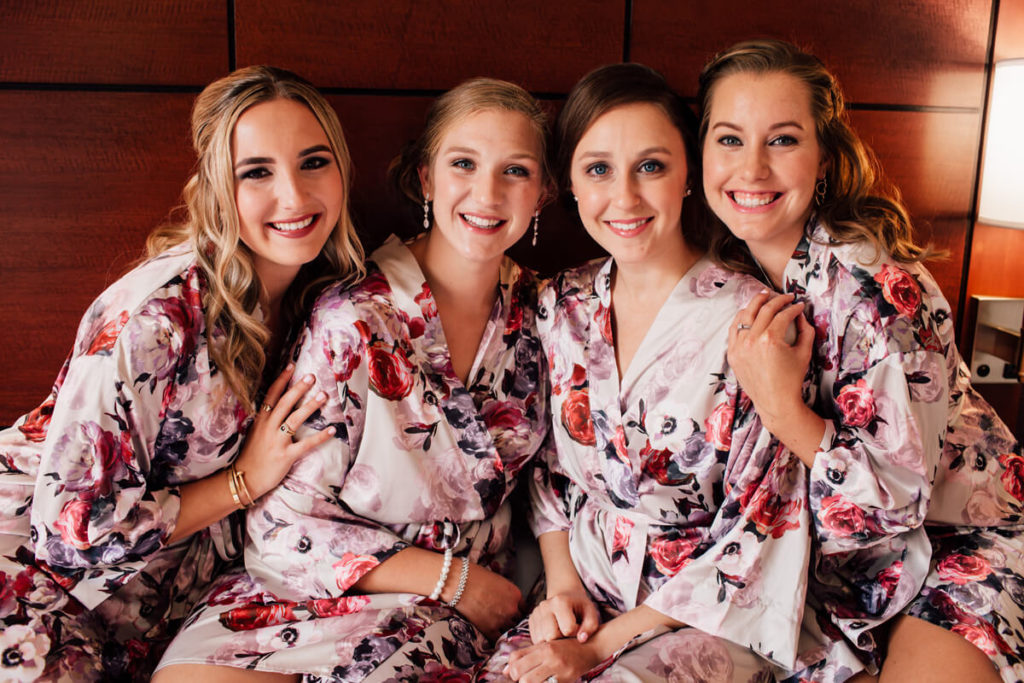 What Was Unique and Special About Your Wedding: There are a couple moments that stand out. First was when Brad went to recite his vows during the ceremony. He kept getting choked up and opted to pull Nora close and whisper his vows just for her to hear. Another favorite moment was during the reception when Nora and her dad did their father-daughter dance. They started out dancing to "Forever" by the Beach Boys and then the music scratched and transitioned into a mix that the two preformed a choreographed dance to. This included the "YMCA" and "Thriller!" The special dance was a total surprise to all of the guests including Brad. People cheered Nora and her Dad on and guests were dancing along by the end of the performance.
Favorite Details: Wanting to make each of their guests feel loved, Nora and Brad hand wrote every guest a "love note" that was at their table in the reception. The notes ranged from inside jokes the couple shared with their family and friends to words of deep gratitude for love and support from the couple. On the wedding day Brad wore custom cufflinks that were engraved with the longitude and latitude of Billingsley House (the wedding venue). Nora's dad, using trees from the backyard of her childhood home, built the couples' wedding arch. Nora's bouquet was wrapped in lace from her mother's wedding dress.
Most Unexpected Event on the Day of the Wedding A few days prior to their wedding day, a cold front was forecasted to hit Maryland that weekend. They had to call around and rent heaters for the tent at Billingsley. Guests showed up to the ceremony with blankets and coats in hand.
Piece of Advice Do "first look" photos. The photos turn out amazing and you get to enjoy your cocktail hour with your guests.