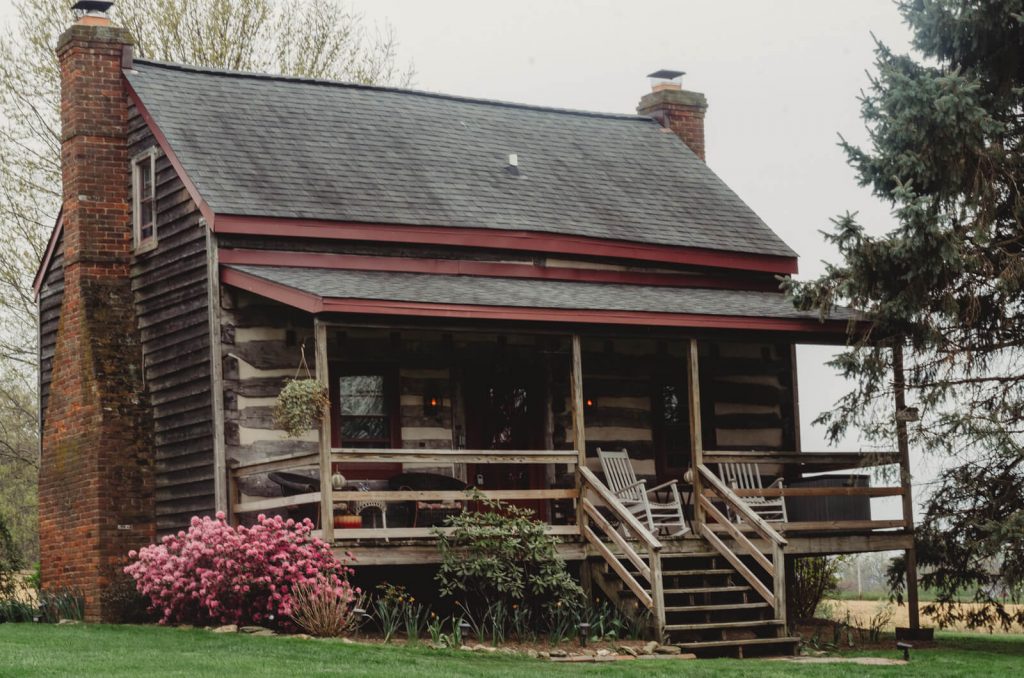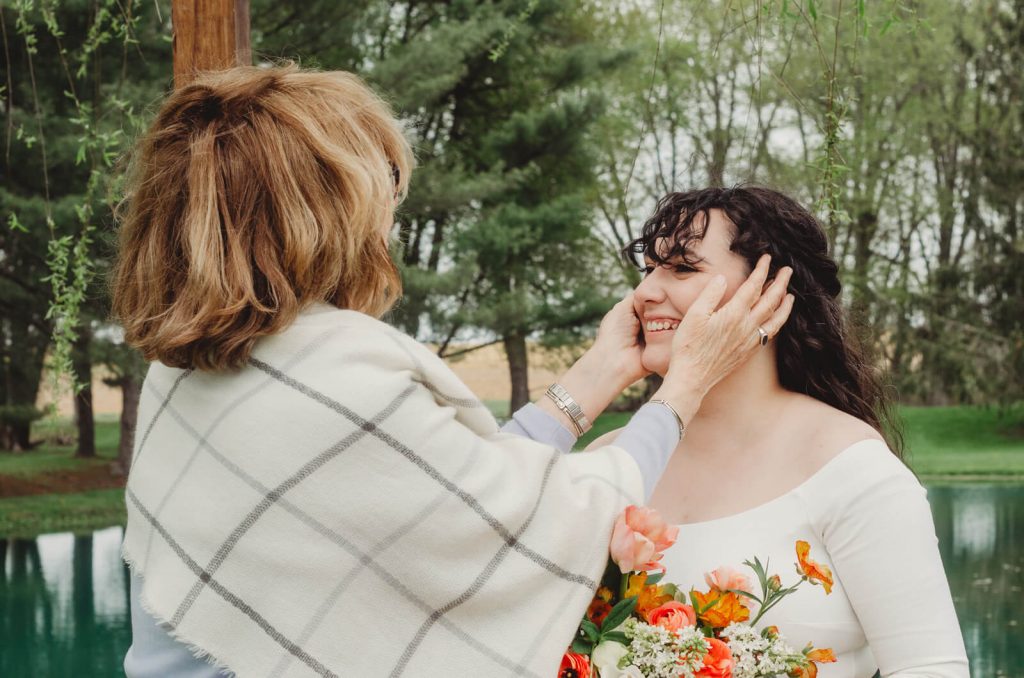 When the pandemic first started, we thought we were one of the lucky couples. We had been engaged since 2019, but the wedding not until 2021. "Oh good, you should be fine!" friends and family told us. Around Christmas we thought that we may not actually be in the clear.
At first, we tried to scale down our original plan to a smaller number of guests. But the purpose of that event was to gather everyone who played a meaningful role in our lives to celebrate and thank them. So, limiting the number of people present felt disingenuous to that goal. We could have waited another year, but we also figured that we didn't have to. The wedding was planned for April, when the weather was warm enough that we could have it outside with just the people who mean that absolute most to us. So, we started planning a mini wedding. A matrimini!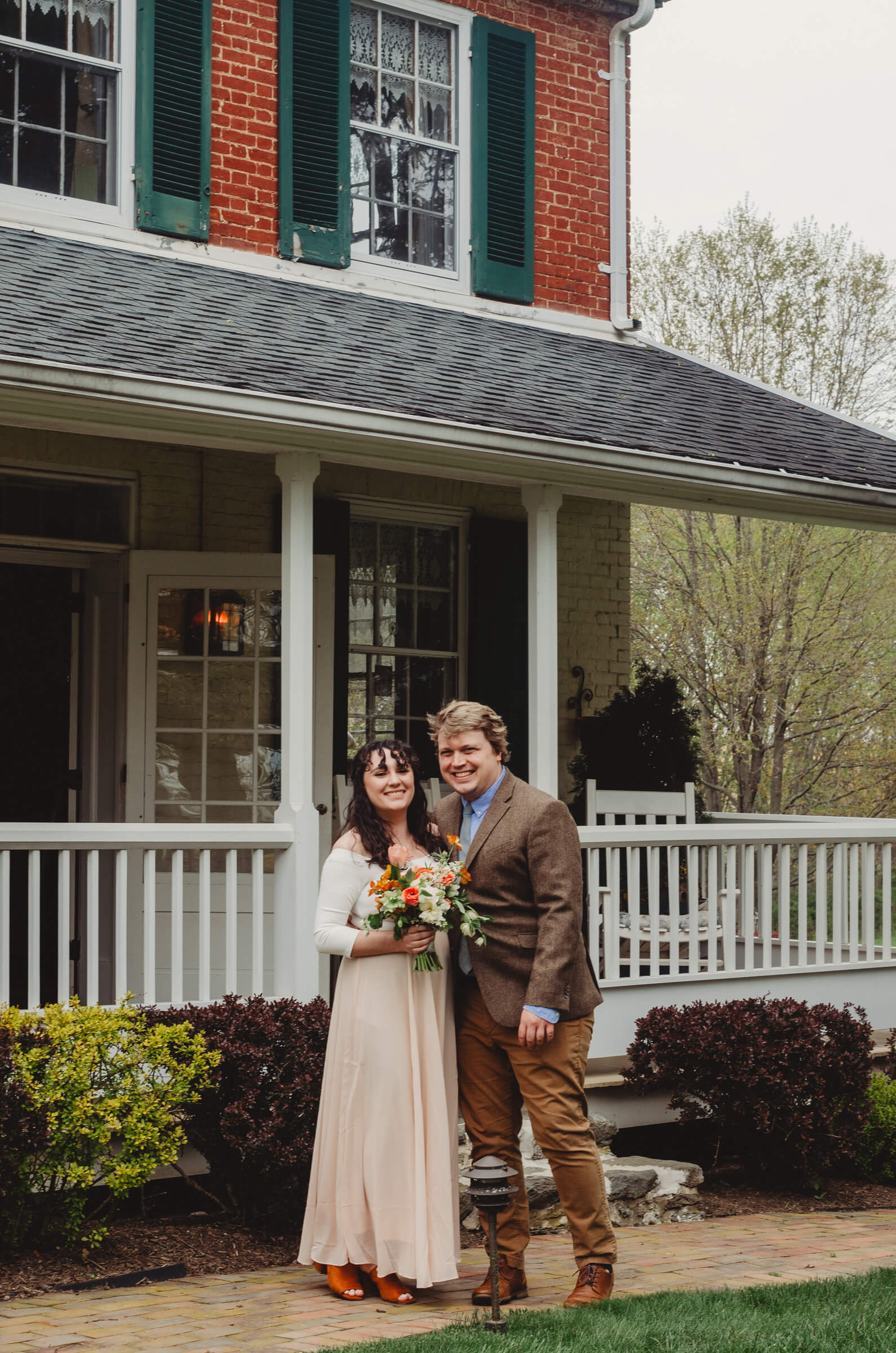 Our utmost concern was safety, so we went for an outdoor event with plenty of space for social distancing. We are pretty no-fuss people, so the vibe was casual and fun but still special. What better way to combine lots of space with casual but with individual picnics? We could not have asked for a more picturesque venue than the Christian Royer House. Each picnic had its own basket complete with a personalized name plate, a charcuterie board, cupcakes, flowers, and a large tile to rest a drink on. It was designed so everything was self-contained to the picnic blanket. We invited everyone to take their picnic items home so they can remember our cozy picnic wedding with useful goodies. For our ceremony, we stood on a rug from home, which was a nod to the chuppah we will build for the big wedding. In Judaism, chuppahs symbolize the home the couple will build together, and we've already started.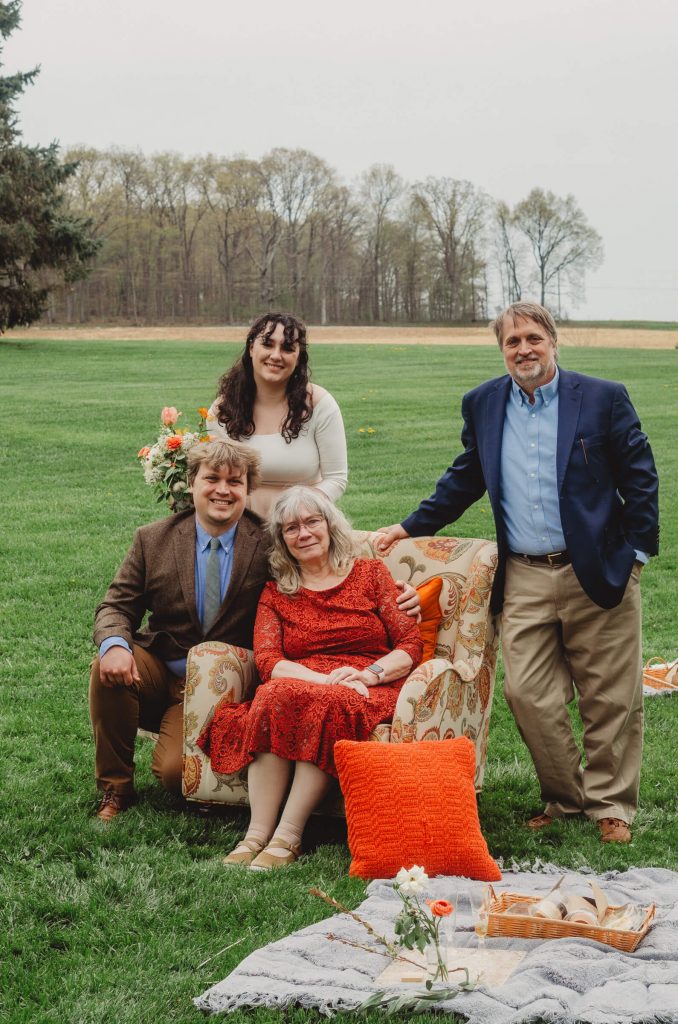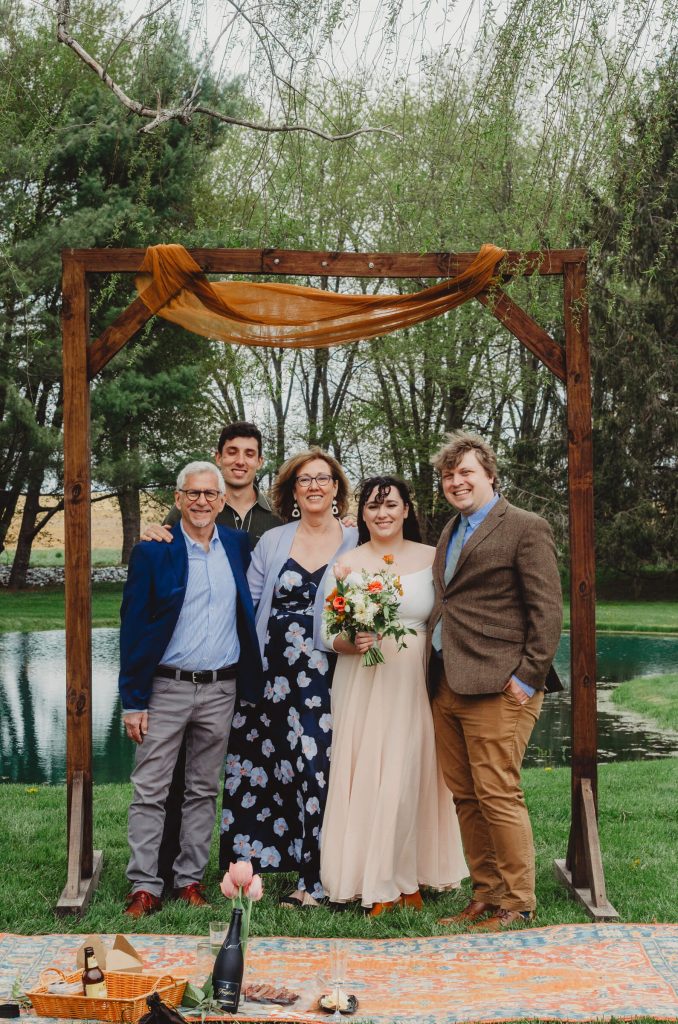 What we had not thought about until a week or so before the matrimini, was that this was going to be the very first time the entire family was gathered together for over a year. Everyone together in one physical space. Suddenly, the event became about more than just us getting married. It was for everyone. It celebrated our relationship and commitment to each other, but it also celebrated our family's health, and resilience. And so, it became a really special day for us, definitely, and hopefully for our family that was there.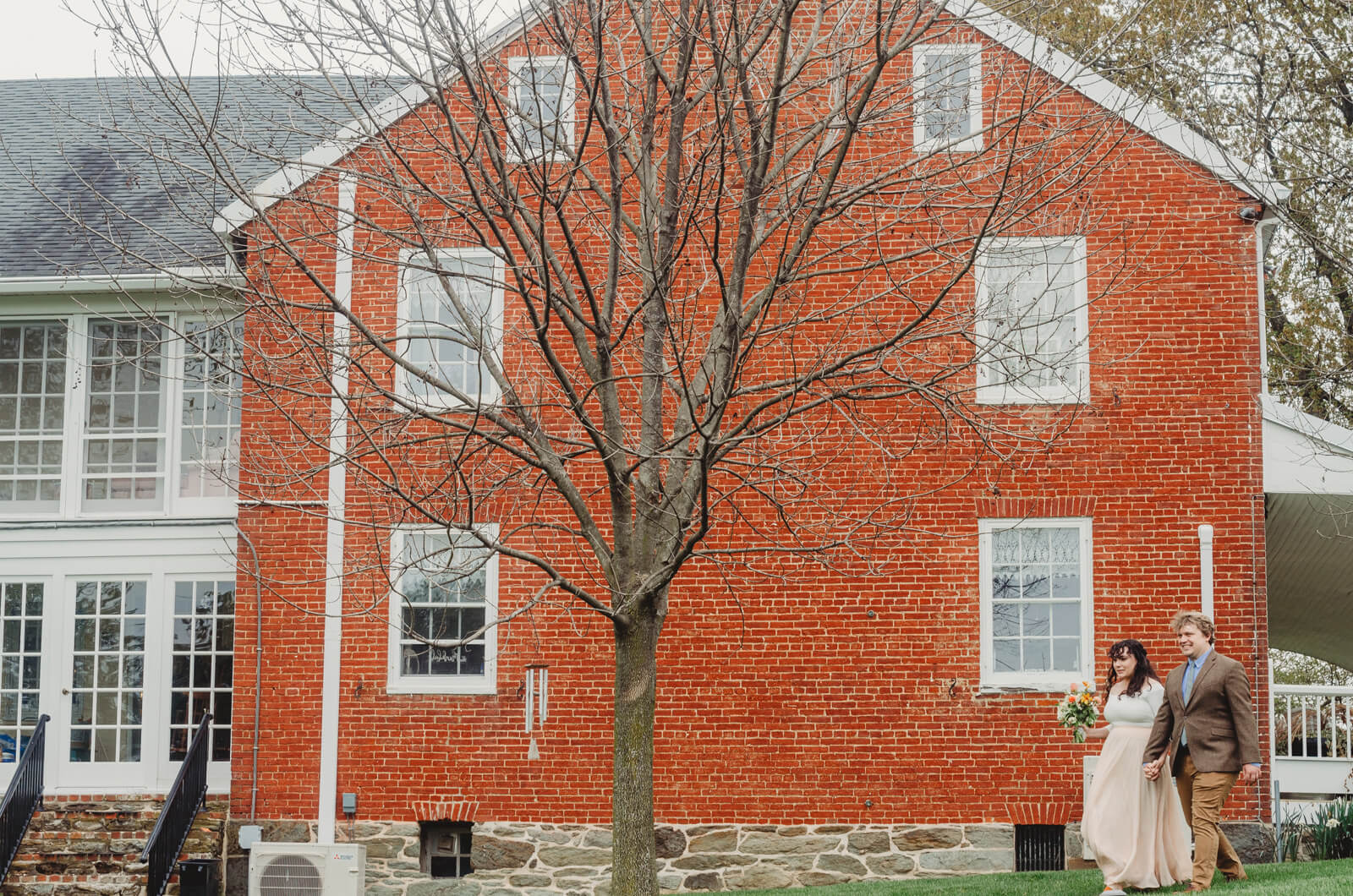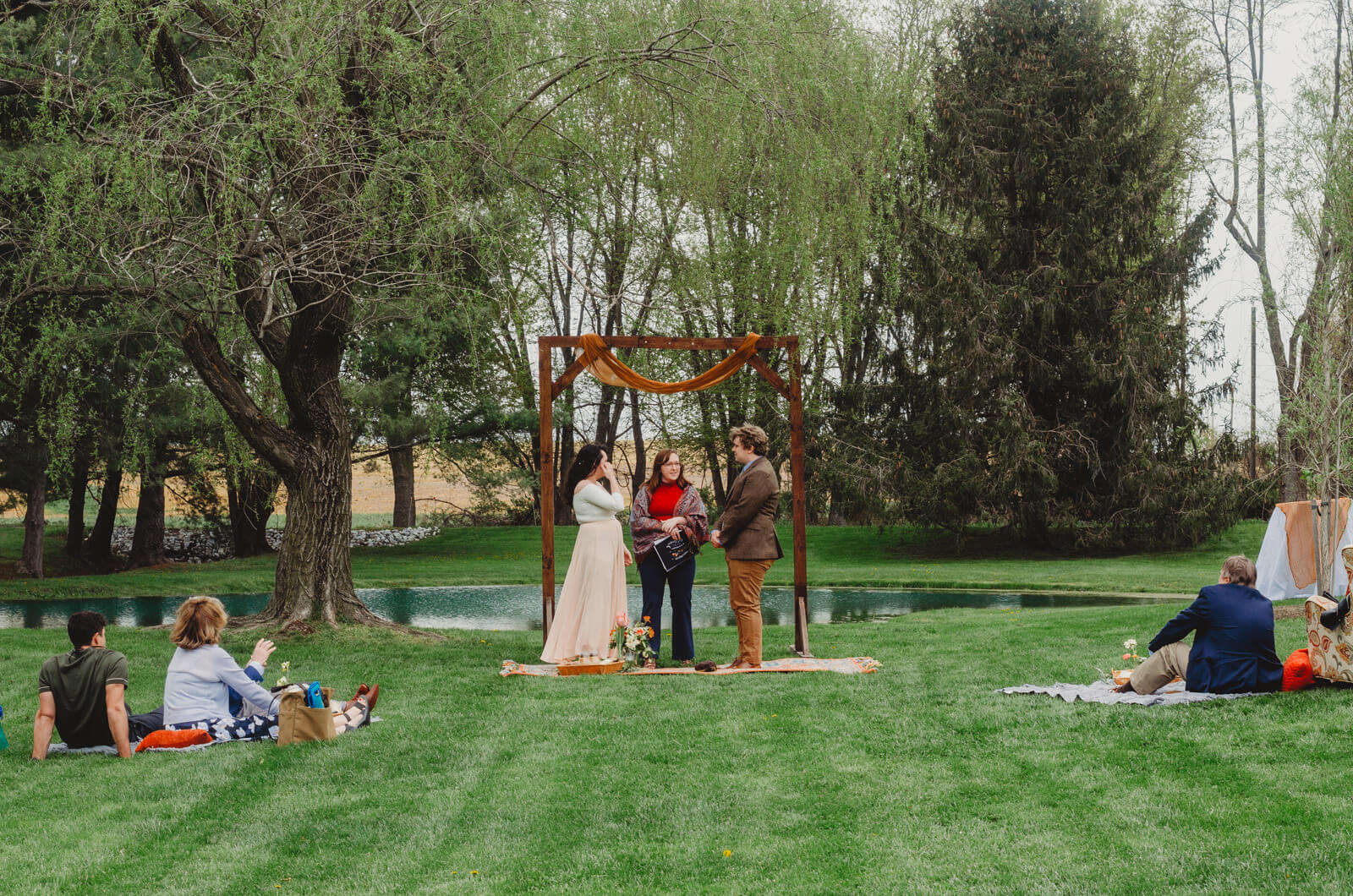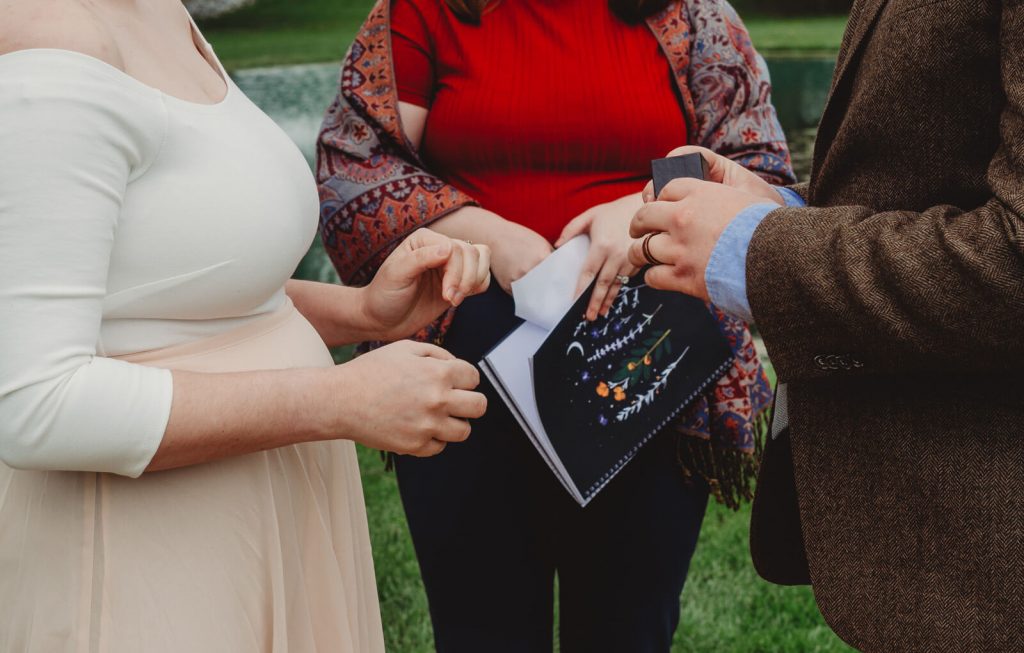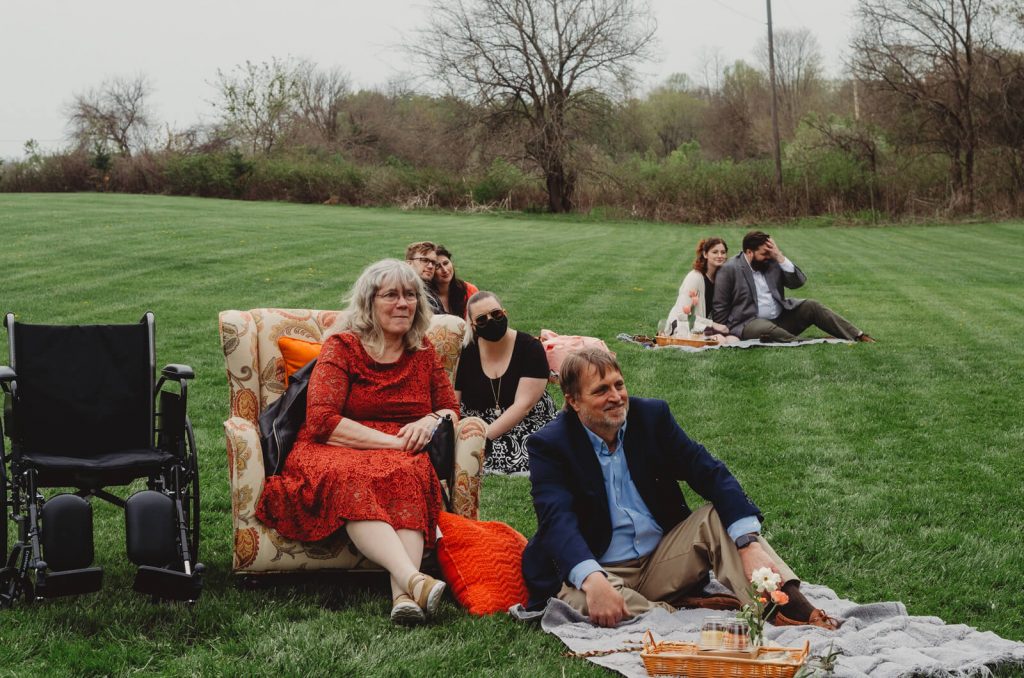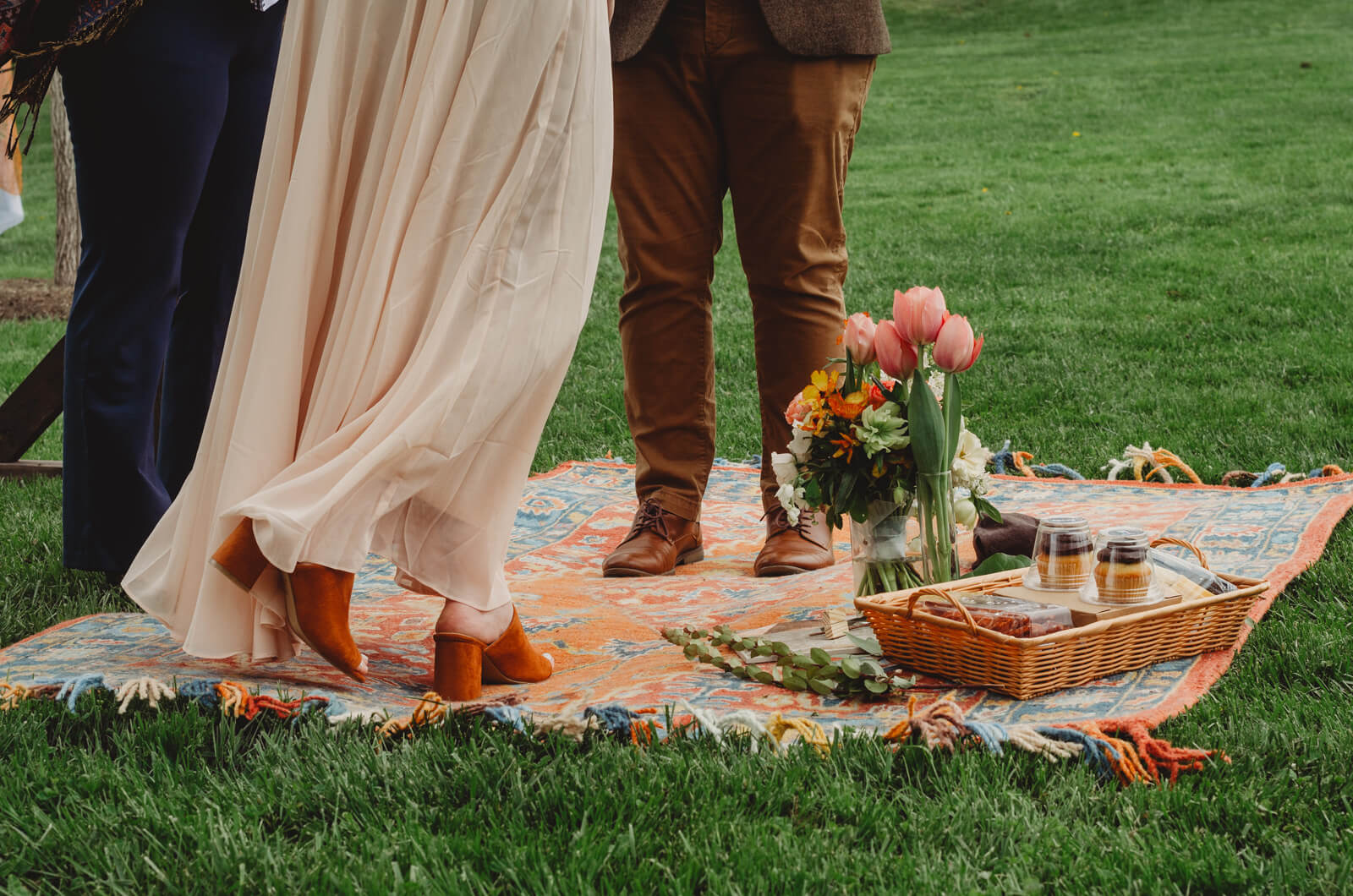 The story of how Mike and I met is apparently one that I will never live down. He loves to tell it and he loves to start it emphatically with "She cancelled our first date." In October of 2014, he had recently started a new job and made new friends. I was beginning my senior year of college at American University. His new friend Margo, who was one of my friends from college, invited us both out to a Halloween bar crawl with some of my other friends. I remember not knowing he was coming and meeting him and Margo on New Hampshire Avenue. "I want to know who that is," I thought. It really was a fun night and sparks were definitely flying. And at the end of it we had made plans to see each other again. But when the day rolled around a mixture of shyness and imposter syndrome settled in. Plus, and arguably more important, my best friend had had a rough day and needed a friend that night. So yes. I cancelled that date. A few months later, we saw each other at a New Year's Eve party. As the party migrated locations, we found ourselves wandering down the aisles at a 7 Eleven reciting quotes from the movie "Spaceballs" at each other. Sparks flew. We didn't really see each other until Memorial Day when that same group went to Ocean City for the weekend. We partnered up to be buddies when we all went to a bar. Whenever the group walked anywhere, we ended up drifting to the back next to each other. Sparks. We were basically inseparable after that.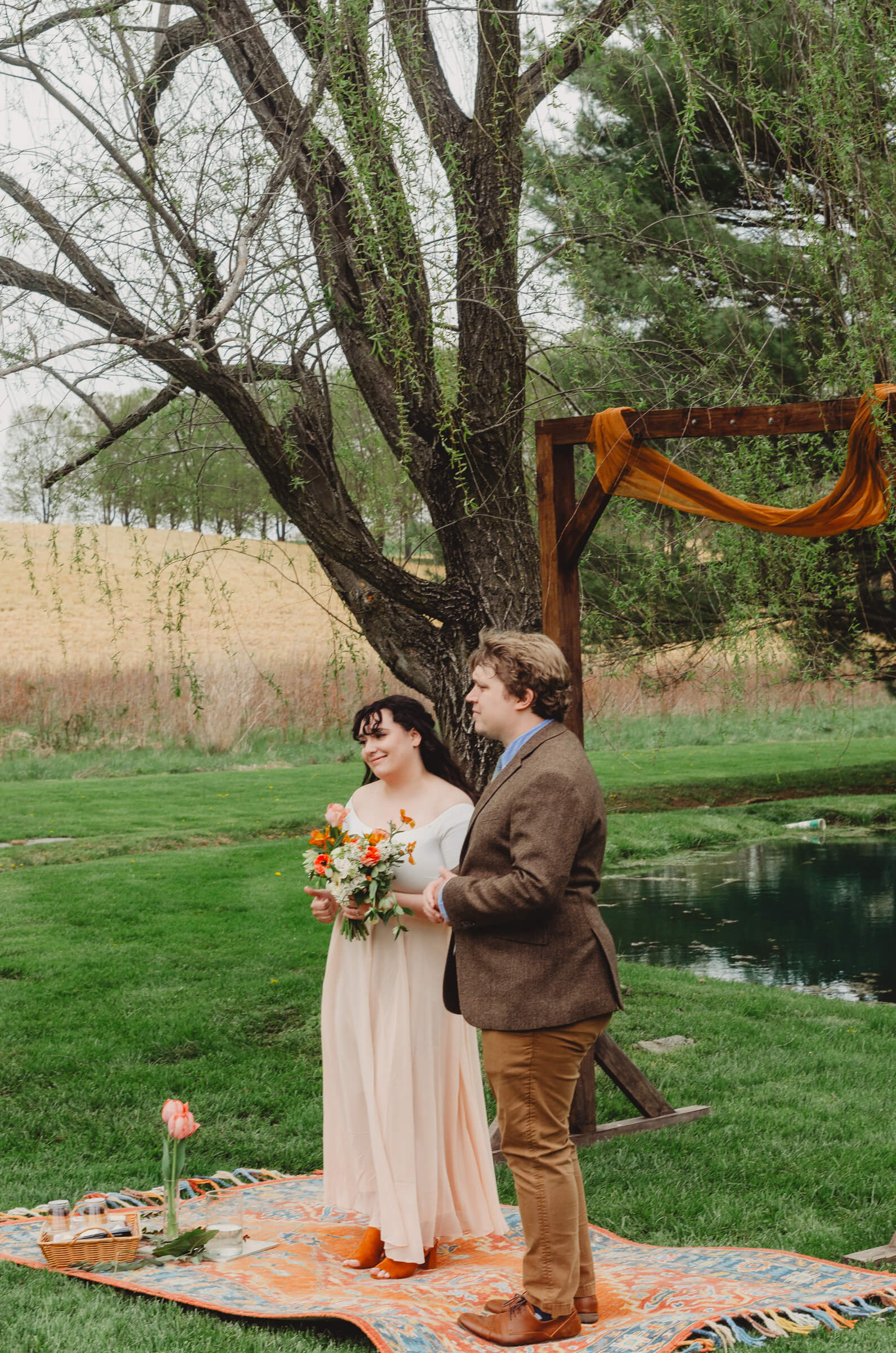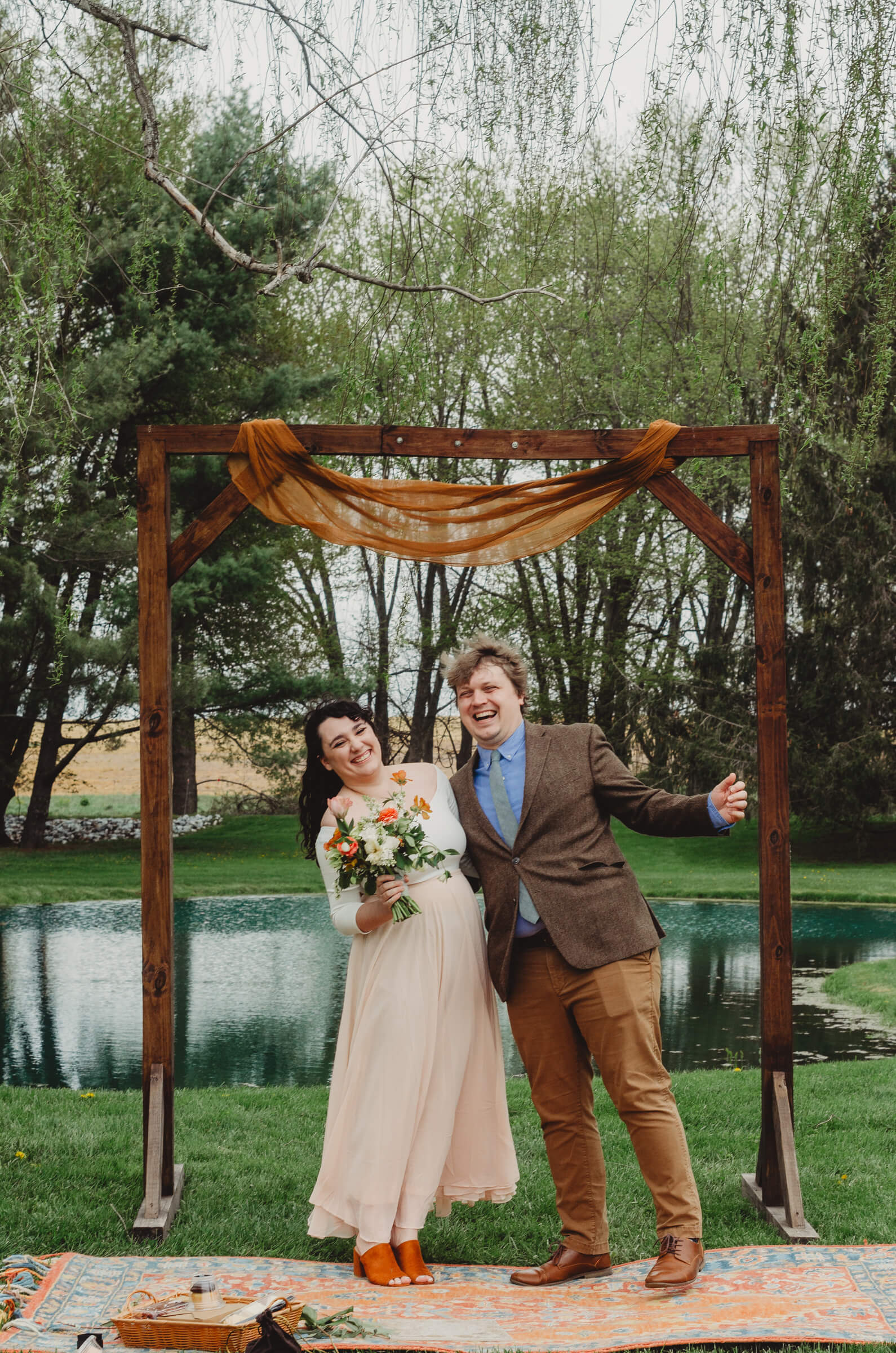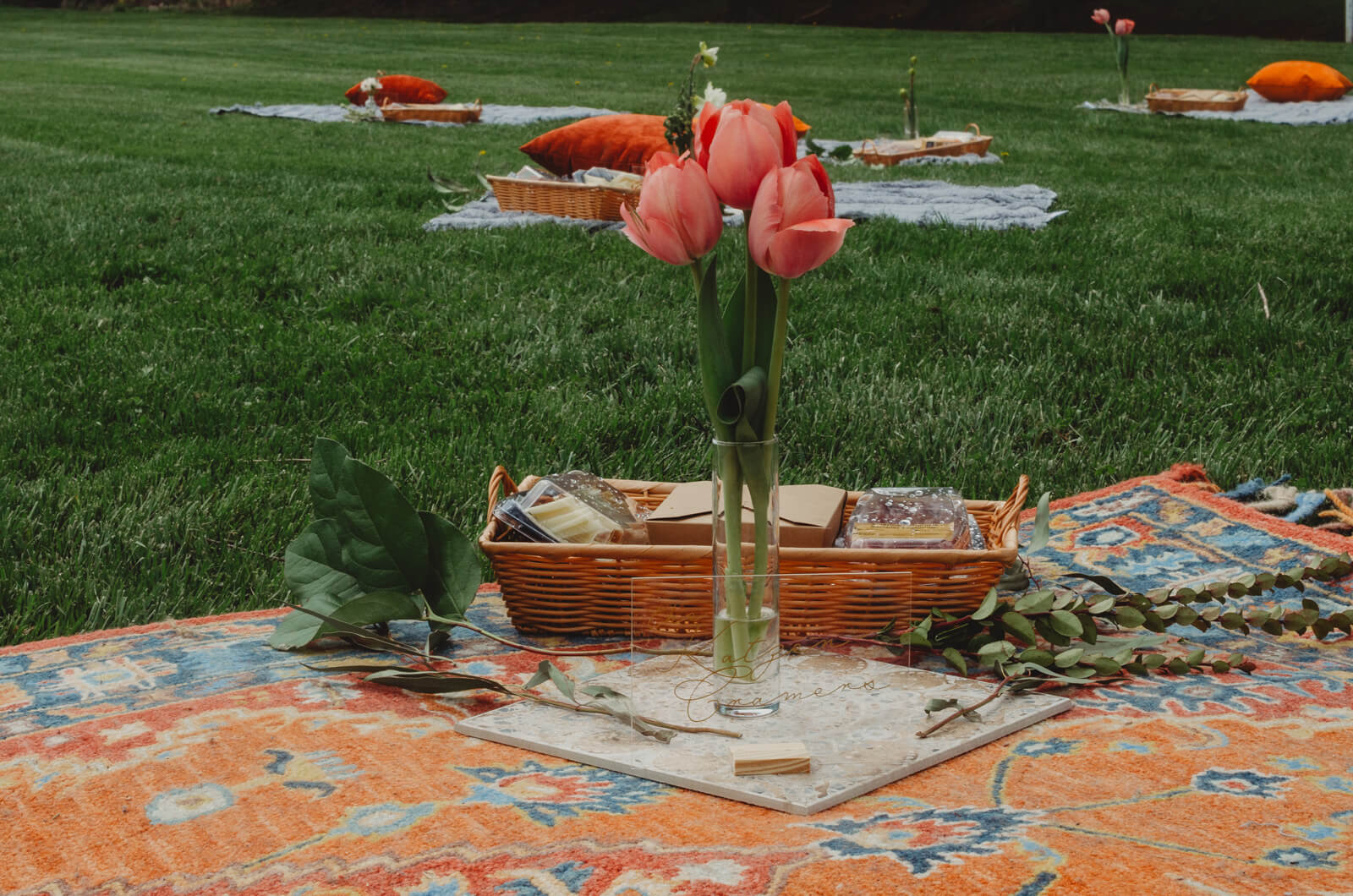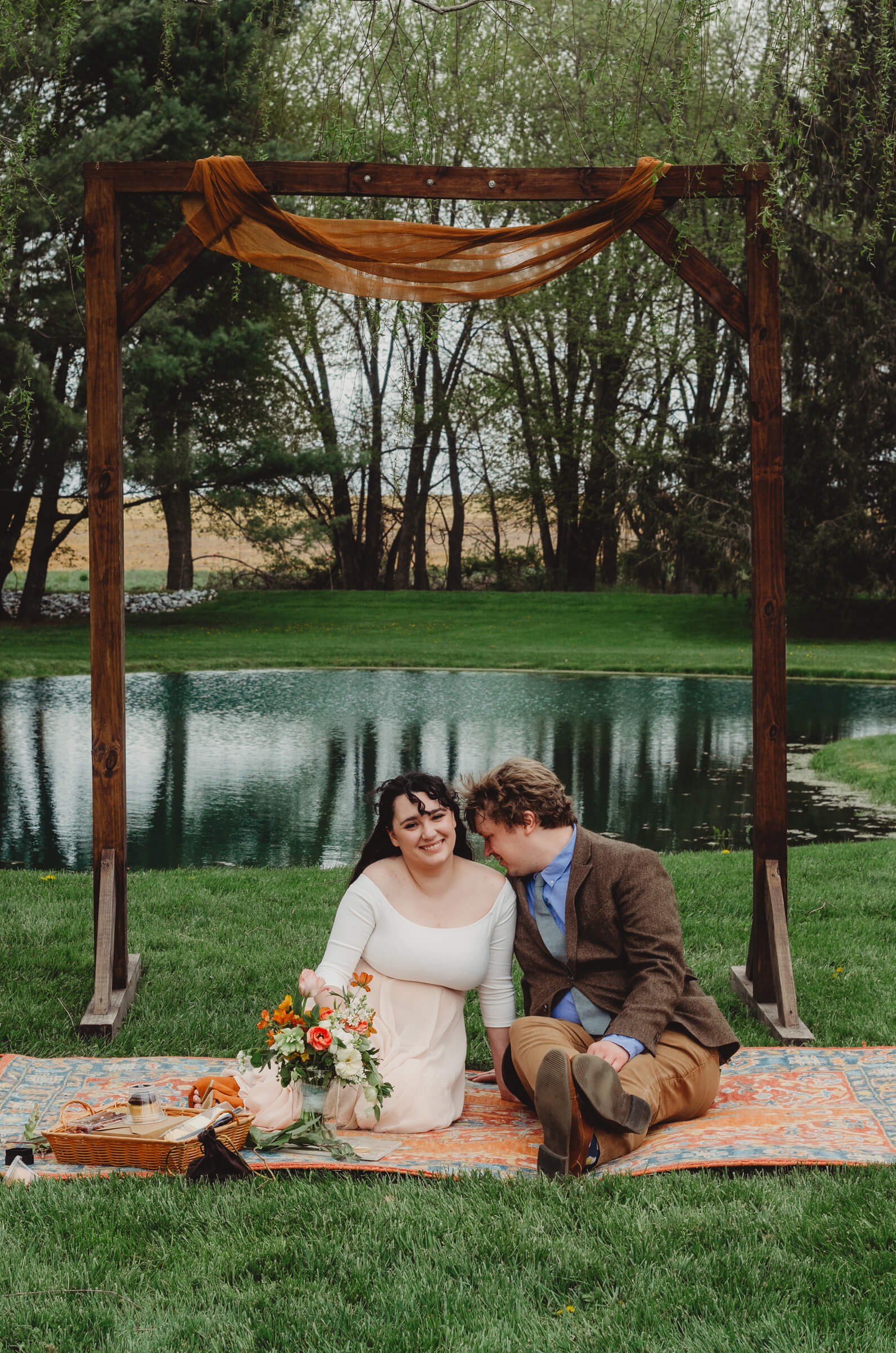 May of the following year we moved in together. And by June of 2019 we had been together for four years. All day my best friend, the same one who had a rough day after Halloween, was asking me if I thought Mike would propose that night. "No," I kept saying, "I would notice if he was acting weird and he isn't." We went out to dinner at our favorite nearby restaurant like we usually did on our anniversary, though I did check his pockets for a ring box before we left. As I suspected, no questions were popped during dinner. When we got back though, I realized the door to our apartment was unlocked and the lights were on. I saw glimpses of colored flowers and string lights on our balcony. "Oh boy," I thought. I immediately knew what was happening. Mike pulled me out onto the balcony, which was filled with roses, a special bottle of whiskey, and photos of us over the years. Also there, was my best friend and another friend who sneakily set everything up during dinner. I couldn't speak, only giggle about how lovely and perfect it all was. Mike said something sweet and cute that I don't remember, though I am certain a "Spaceballs" quote made it in there. He asked me to marry him and I said, "mmhm!" Sparks.