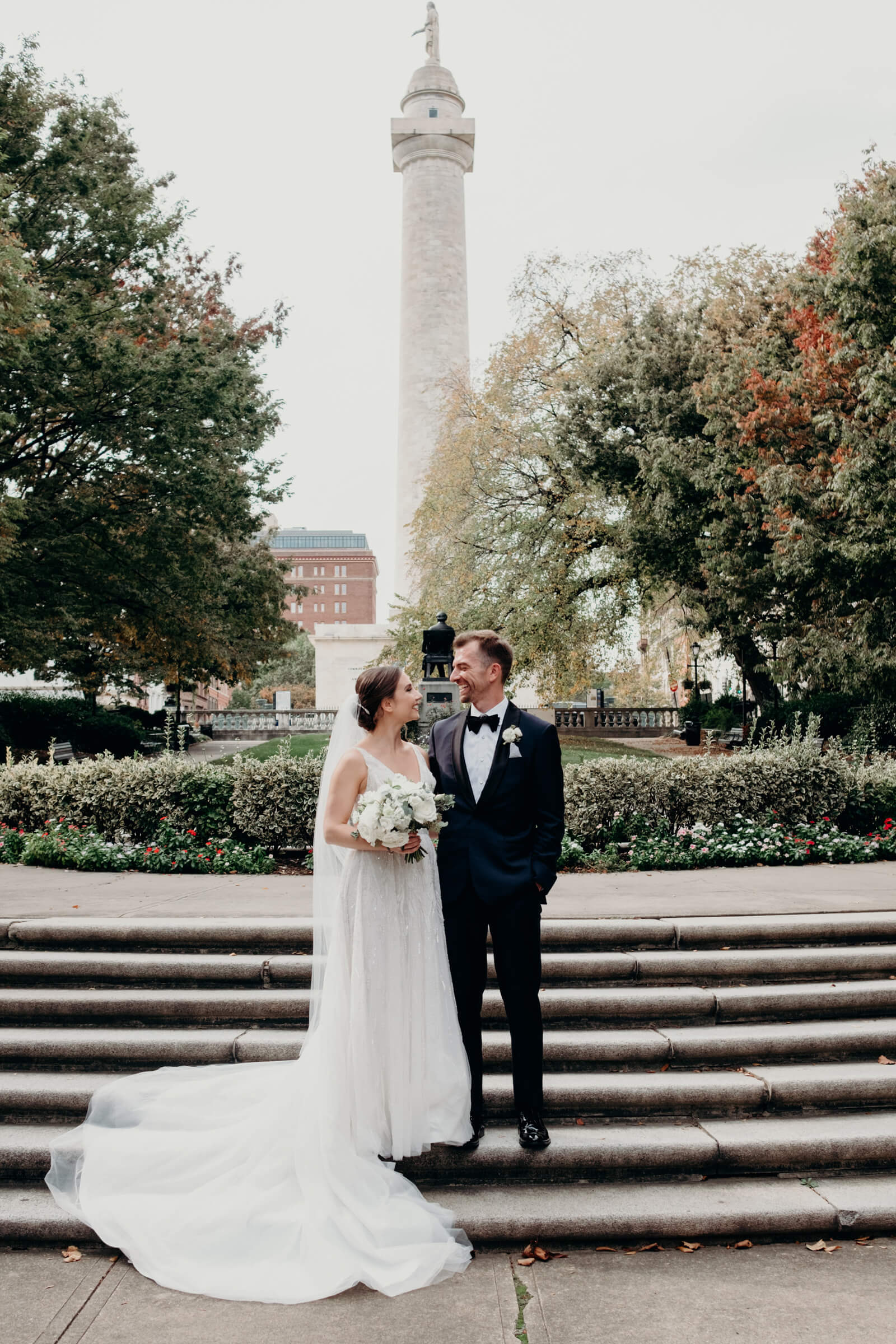 Kevin and I met in January 2017 through a dating app (note: I cannot believe I am admitting this to a widely-read magazine publication, because, even though we're married, I still hate that we met online). After getting engaged in August 2019, we began planning our wedding for the fall of 2020. With Kevin from the DC area and me from Cincinnati, Ohio, we decided we wanted to host our wedding, and all our friends and family, in Baltimore. We met, live, and fell in love here so we wanted to show Baltimore off! Long before the pandemic, we became pros at pivoting our wedding, as our first reception venue, Raw Bar in Canton, closed permanently in late 2019. We had to quickly find a new reception space for our October 2020 date, which was a very popular time to get married. In early 2020, we opted to shift our reception to Barcocina, in the heart of Fells Point and just a few blocks away from our home. We couldn't wait to celebrate with 150 guests in our neighborhood.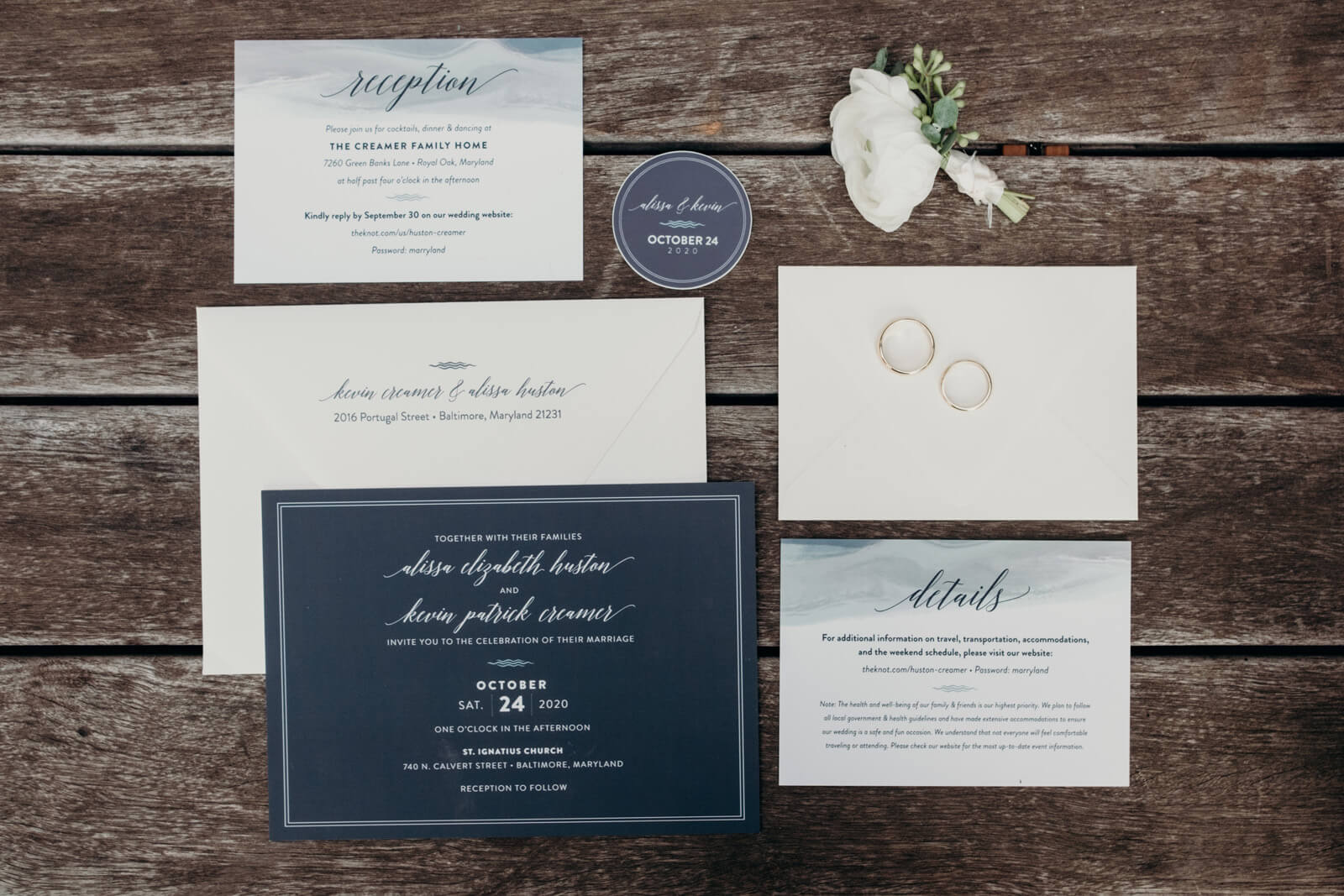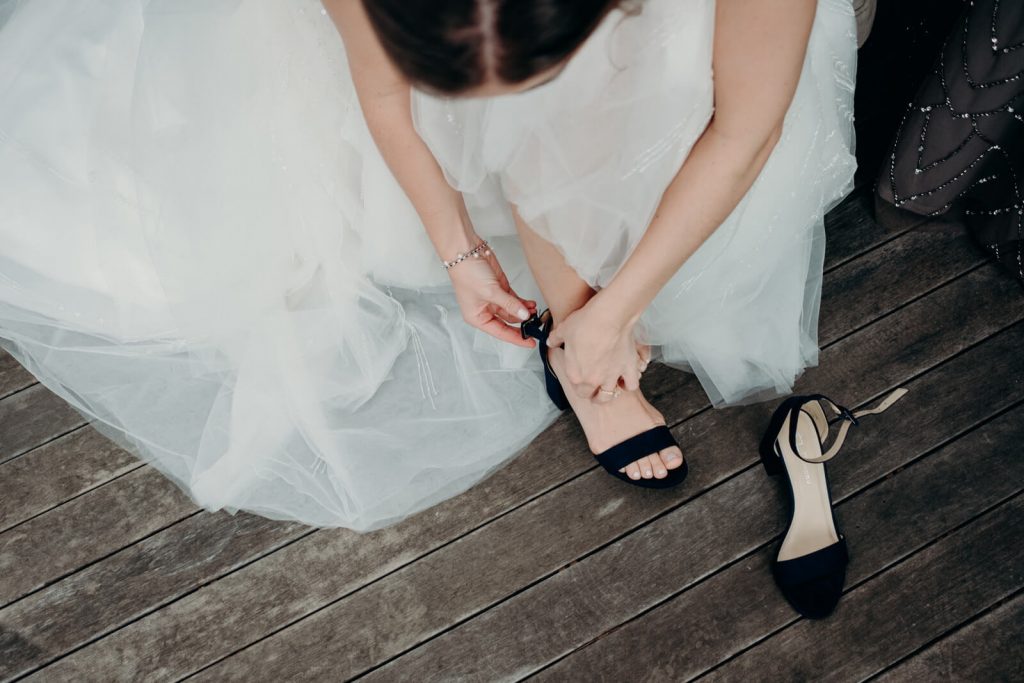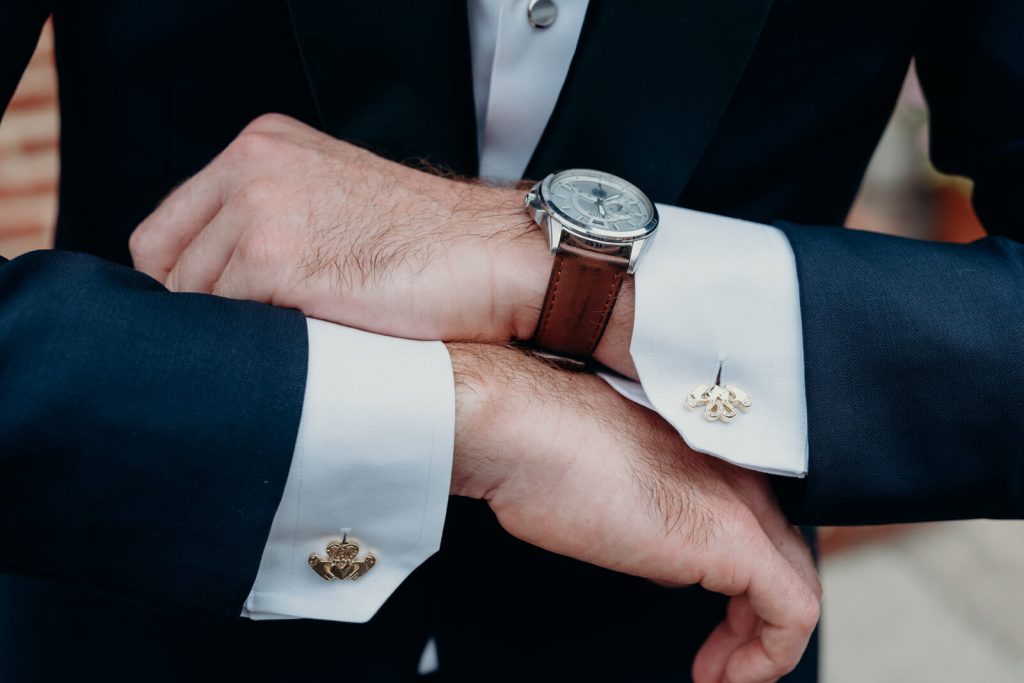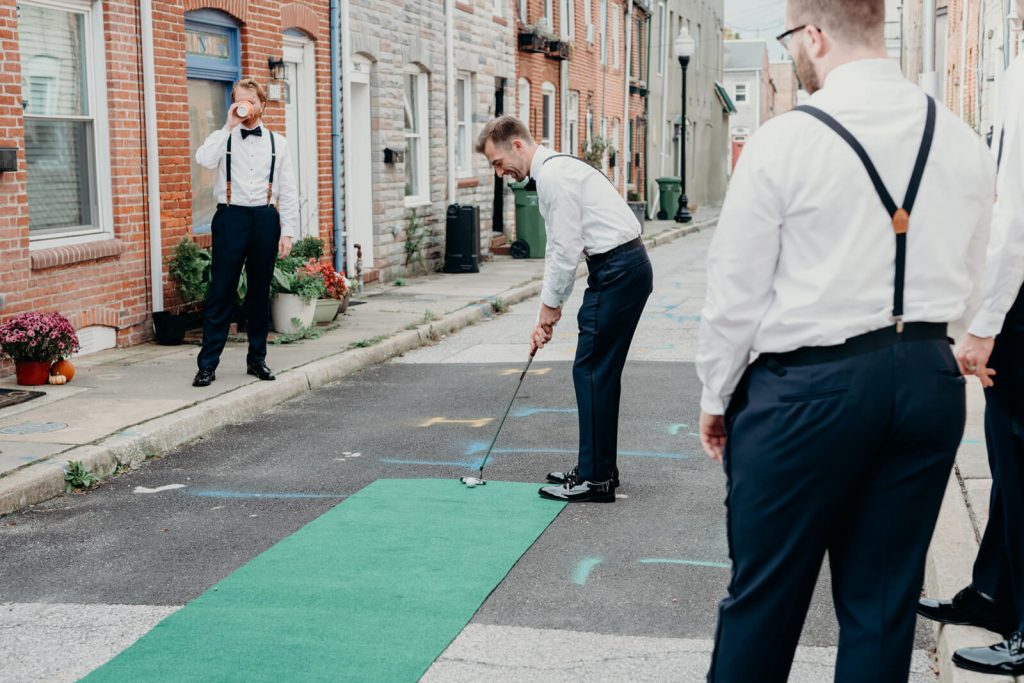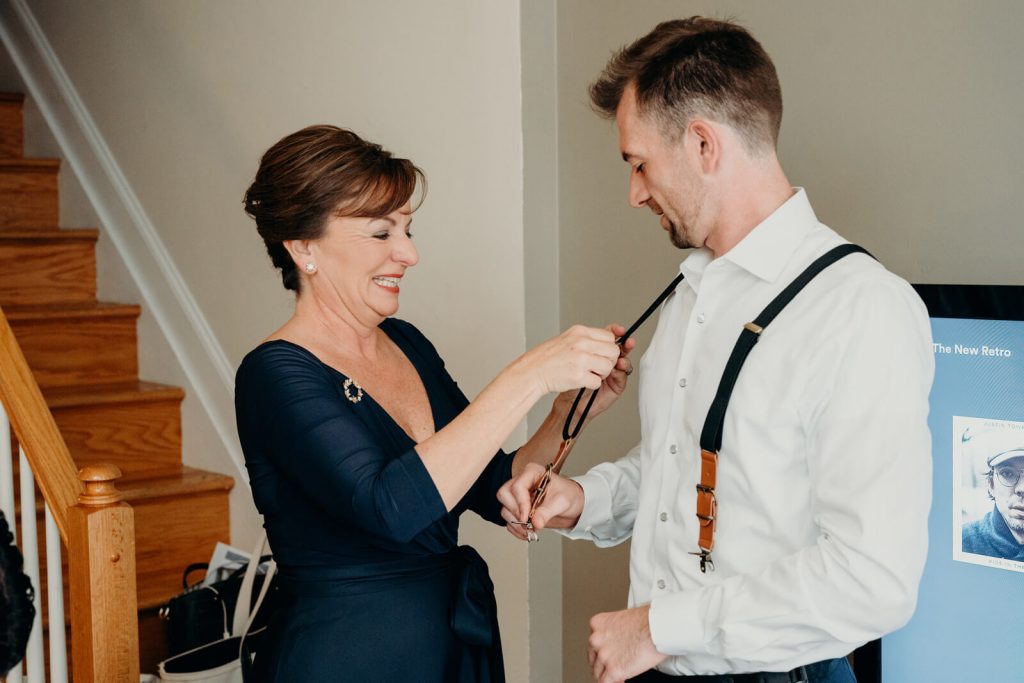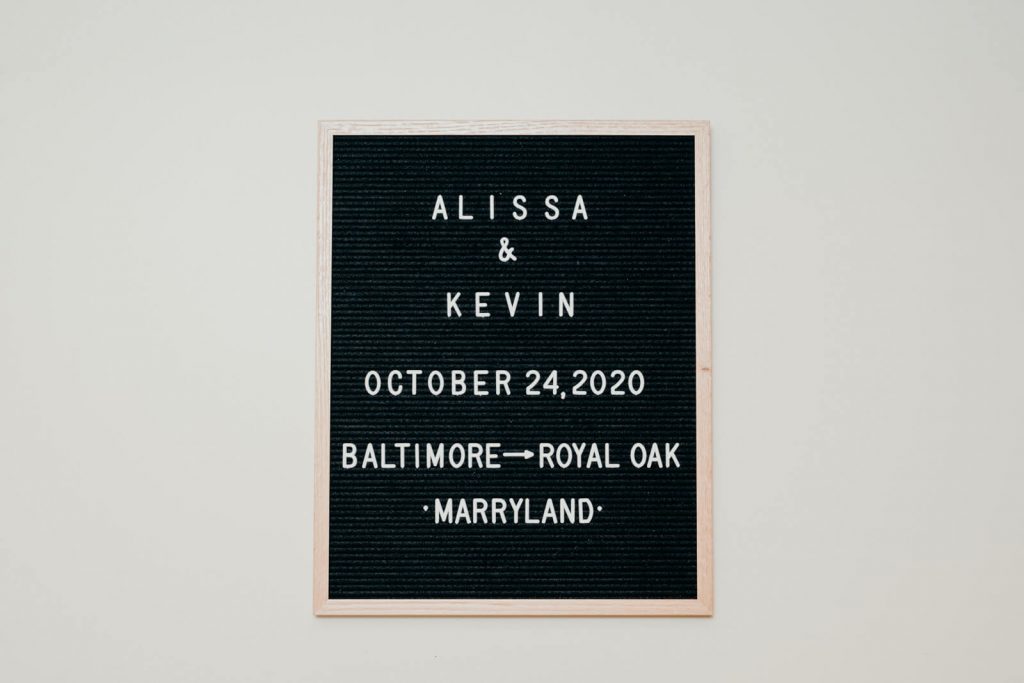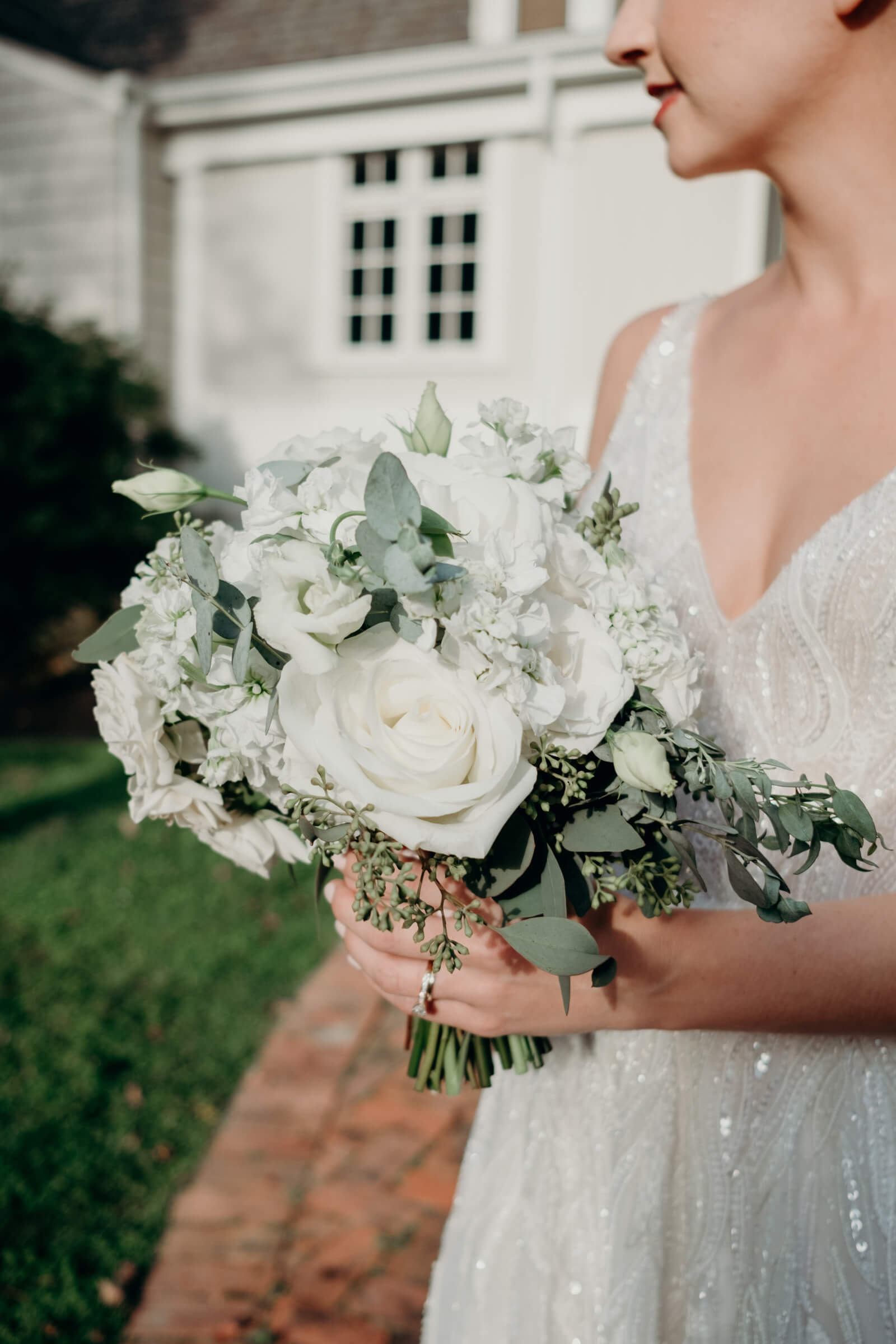 Then, just a few weeks later, the world shut down. We decided pretty early on that we would get married on our date no matter what, but it was also too far out from October to make any calls or changes. So we sat at home with the rest of the world and waited, planning and booking other vendors and remaining hopeful that the world would sort itself out in the coming seven months.
As the weeks and months passed by, we stayed attuned to the news, acutely aware of restaurant closings, capacities, and CDC requirements. In July, after another round of downgrading restaurants to 25% capacity came just three months away from our day, we made the decision to move our wedding reception to Kevin's parents' waterfront backyard in Royal Oak, between Easton and St. Michaels.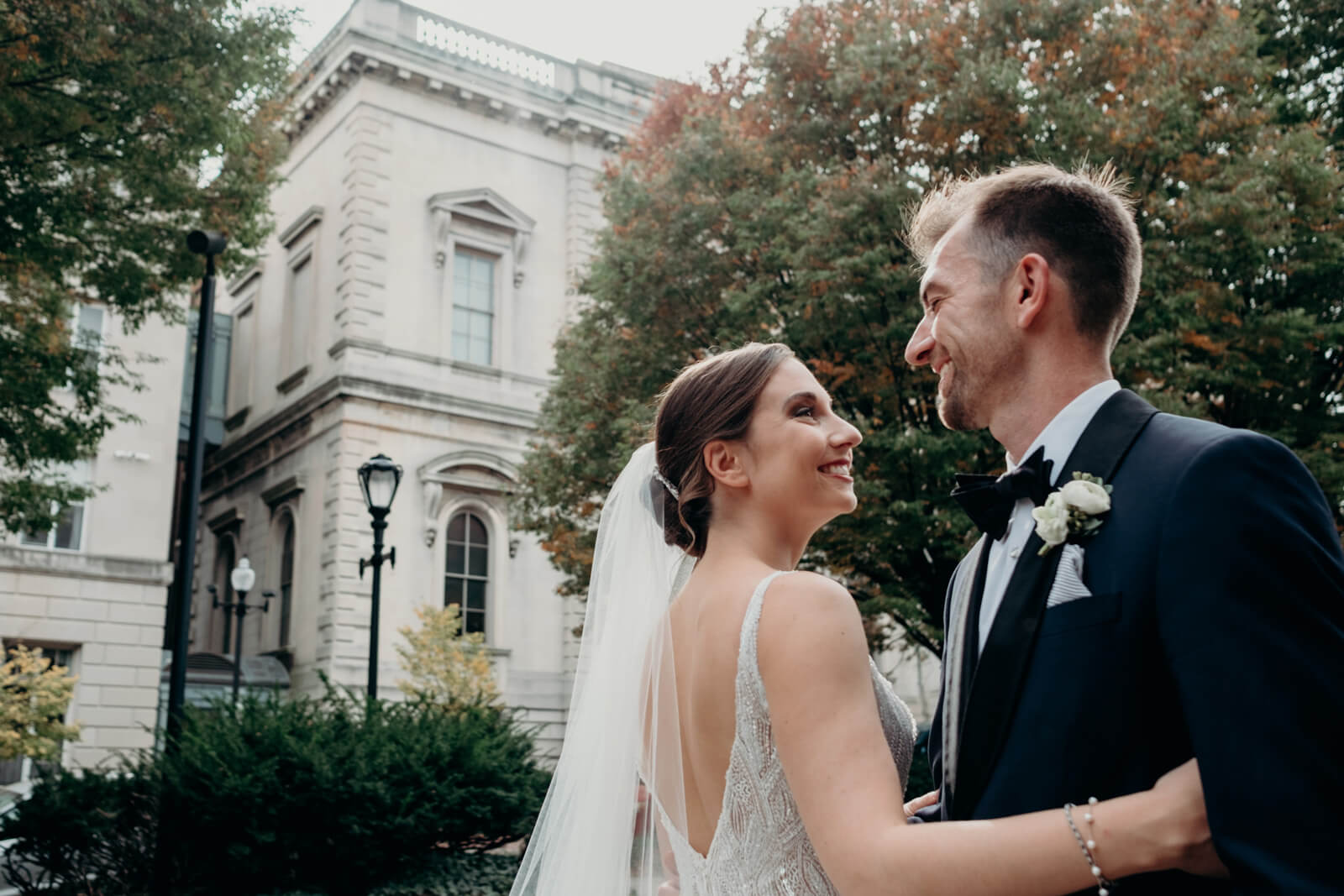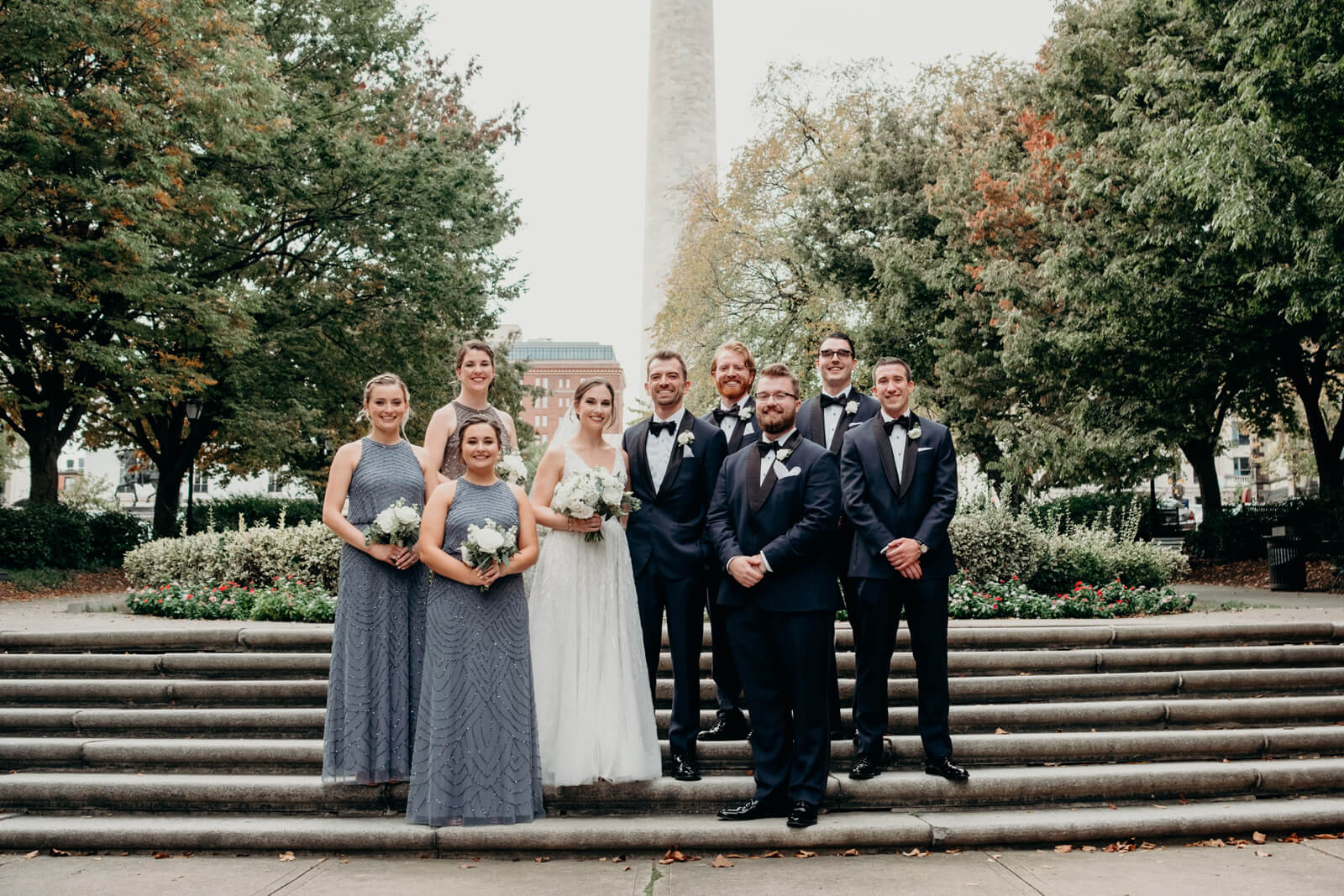 Splitting the day between Baltimore and the Eastern Shore, something that would have been crazy and unimaginable to do in "normal" times, seemed like no big deal now. Doing so allowed us to have all of our favorite places be a part of our day. Kevin was able to get ready at our row home in Fells Point; I got ready at the Sagamore Pendry, where we got engaged; we said "I do" at our church in Mount Vernon, and had our reception in Kevin's parents' backyard, a place Kevin grew up going to and we now spend summer weekends and holidays visiting. Our wedding was really a highlight reel of all our favorite people, places, and things.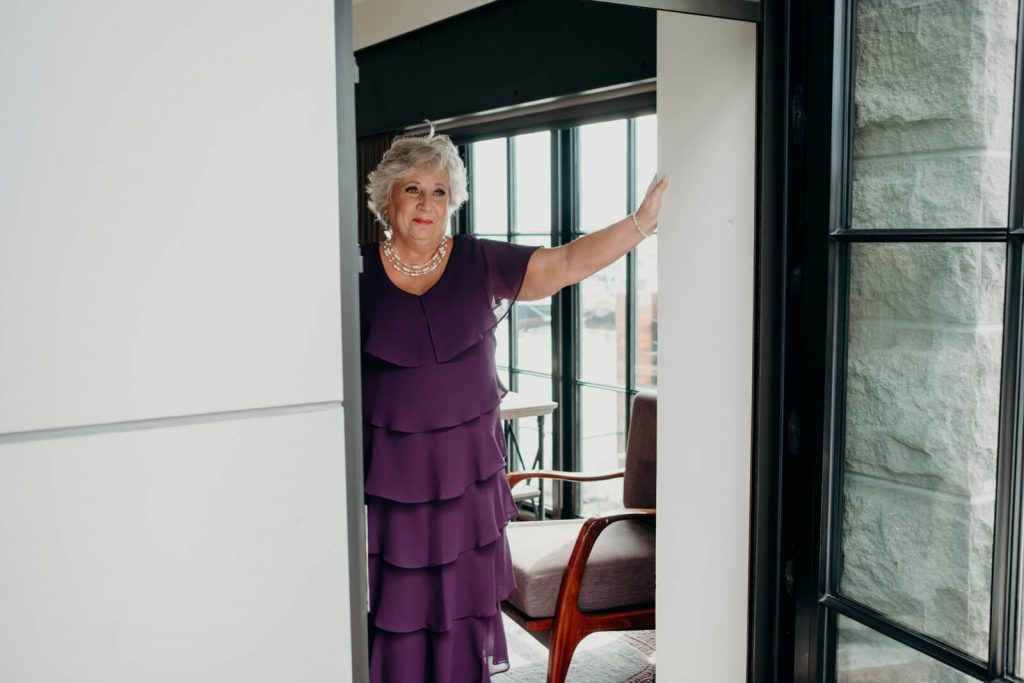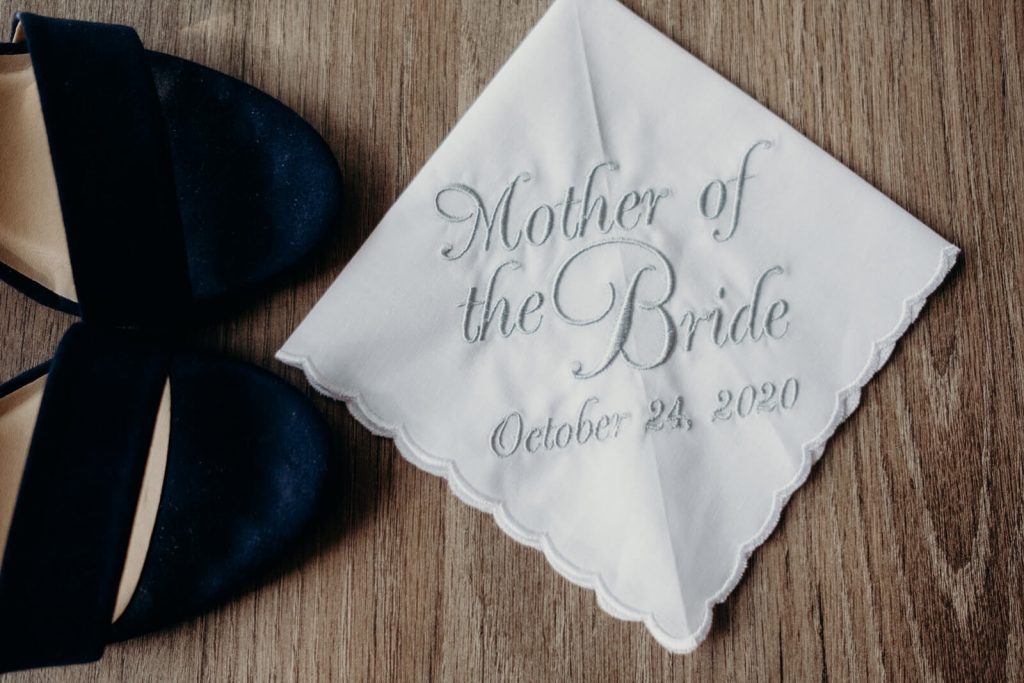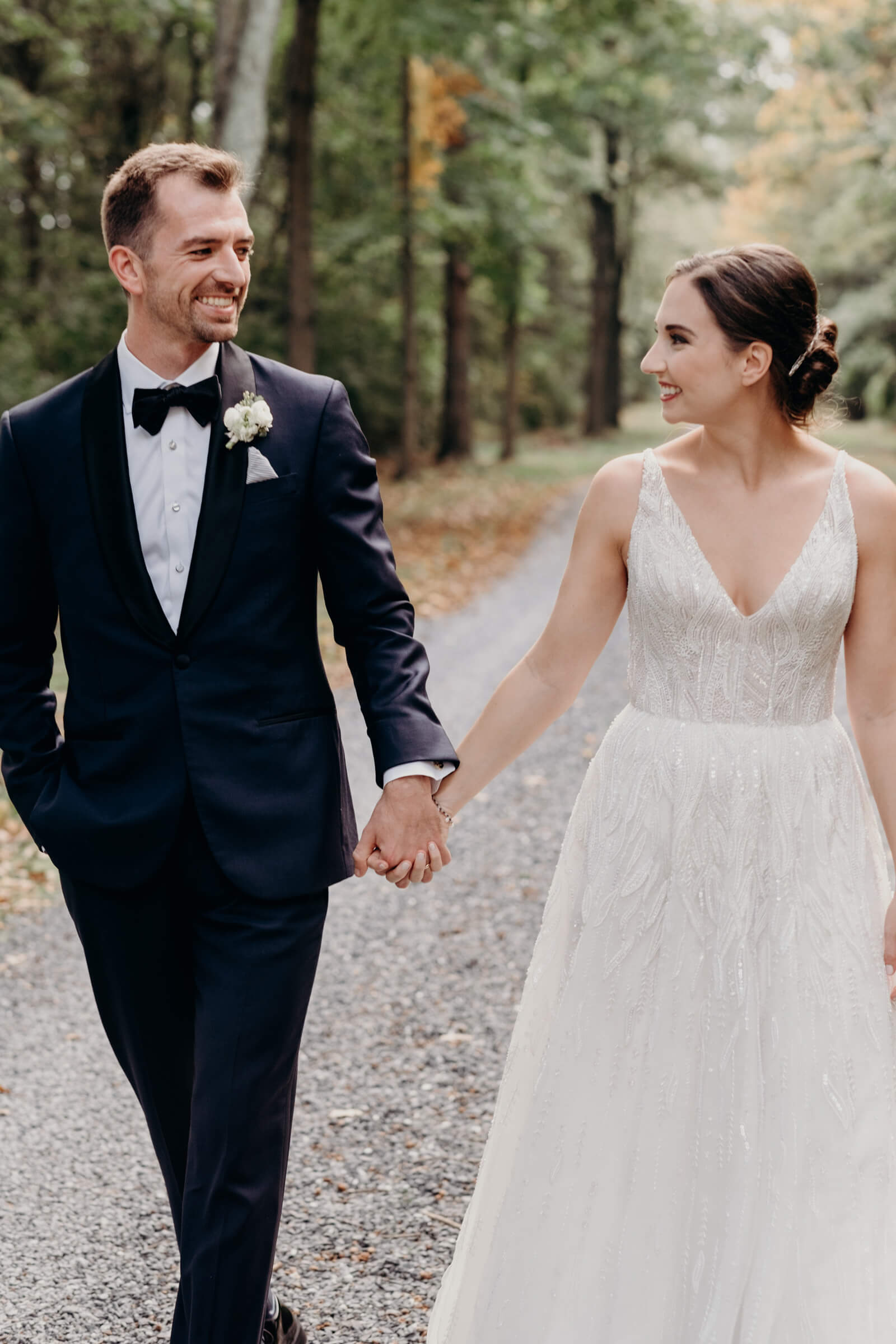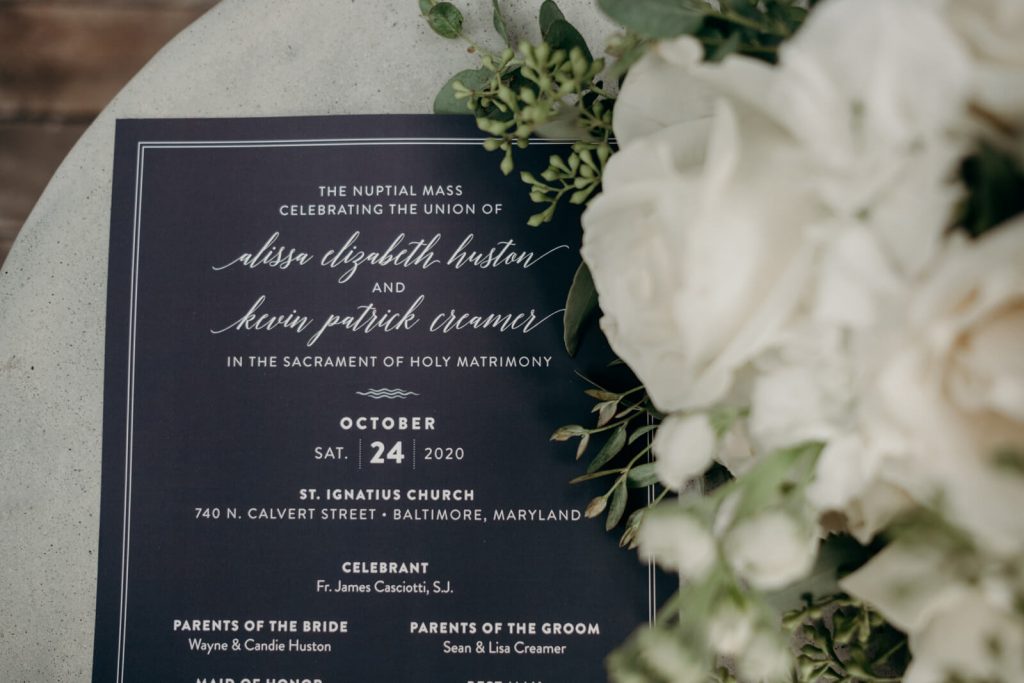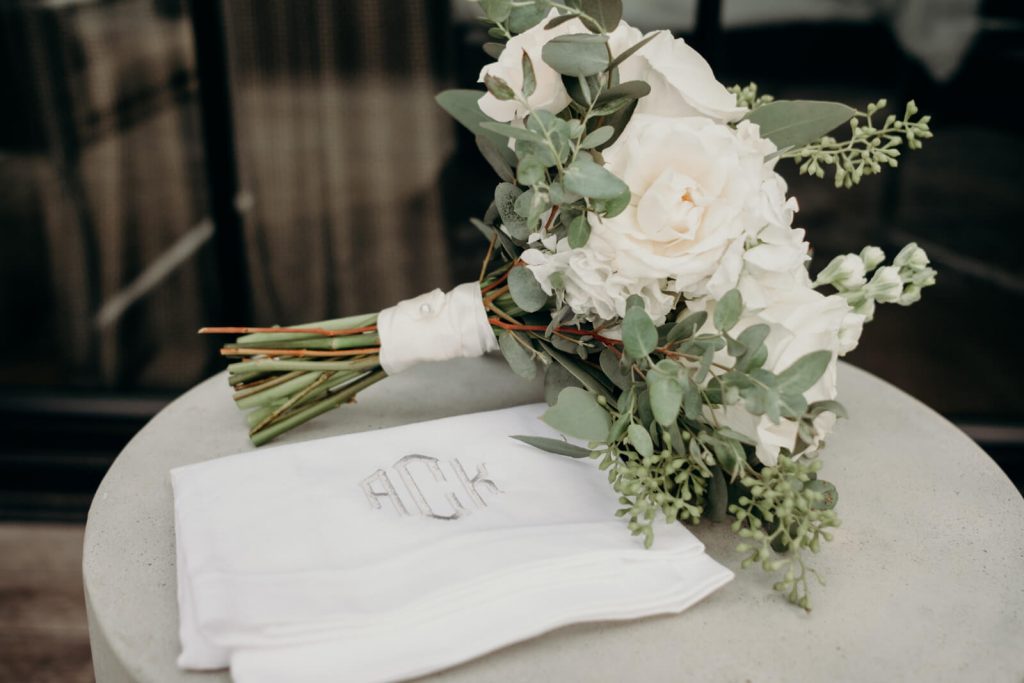 On October 24, 2020, 68 friends and family who felt comfortable celebrating, joined us in the merriment on a perfect 70 degree October day. We also had many more watch the livestream of the ceremony via YouTube. We reiterated with our guests that we wanted them to do what they felt most comfortable with and to "choose their own adventure". Whether that was joining us in-person for the ceremony and reception, tuning into the ceremony livestream from their home and toasting us from afar, or watching the livestream from their Easton hotel and joining us in-person for the reception. The pandemic and spending a year at home really helped us evaluate what is important to us. We knew we wanted to get married on October 24, 2020 in Baltimore, and that the most important outcome was that we would come away married to one another—the rest of the details were secondary and could always be changed or adjusted.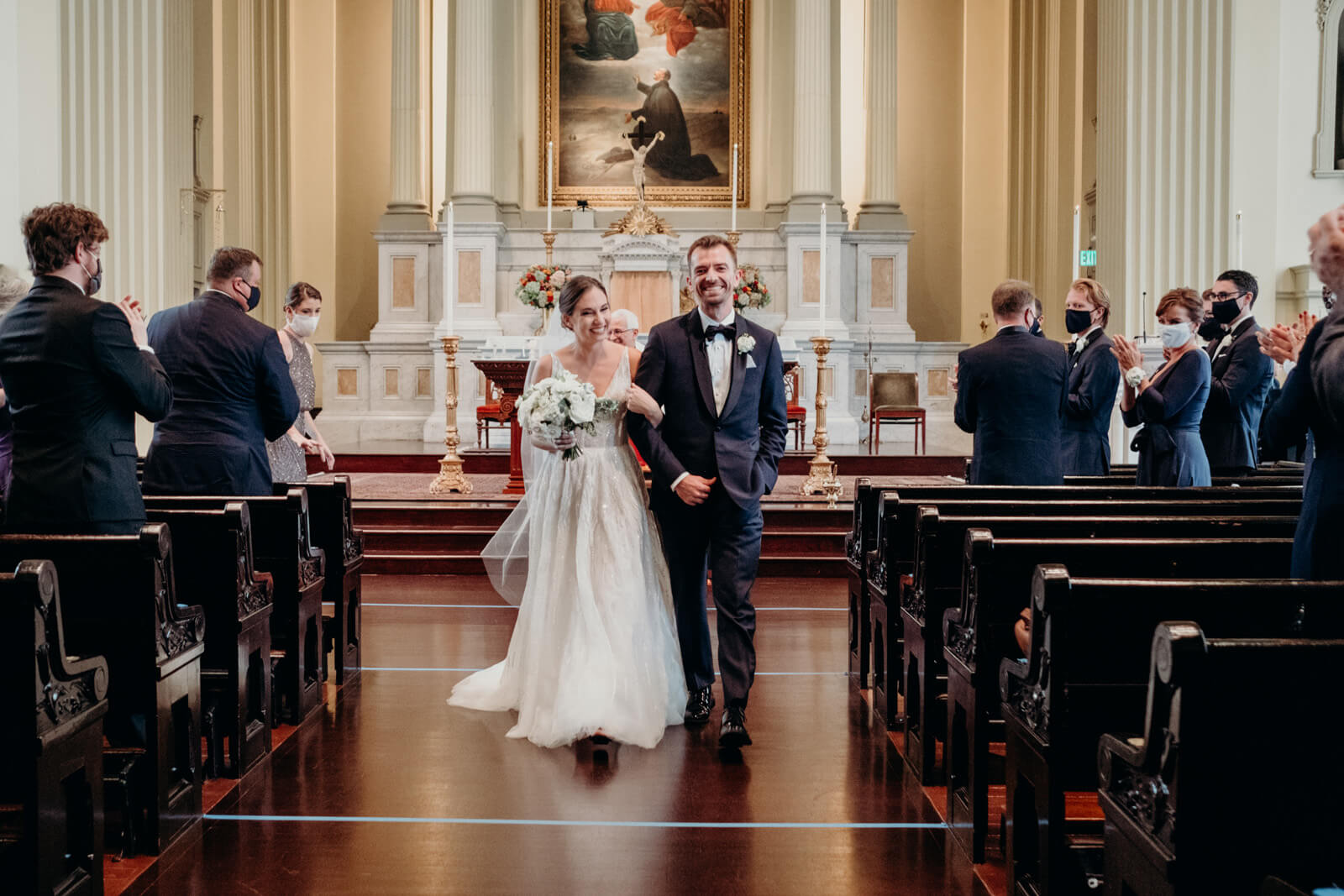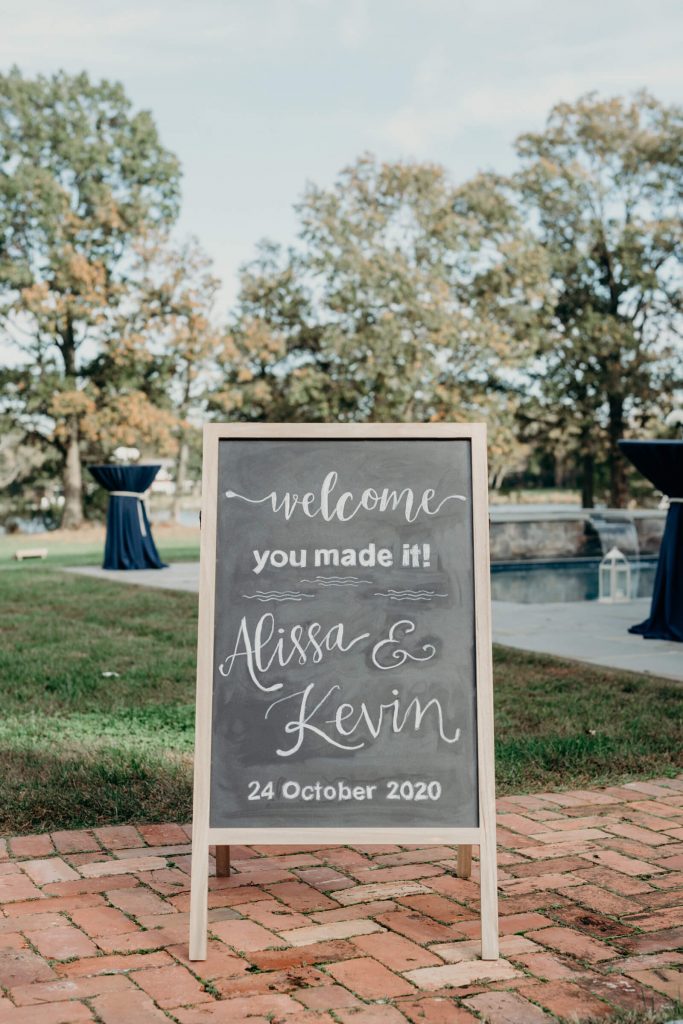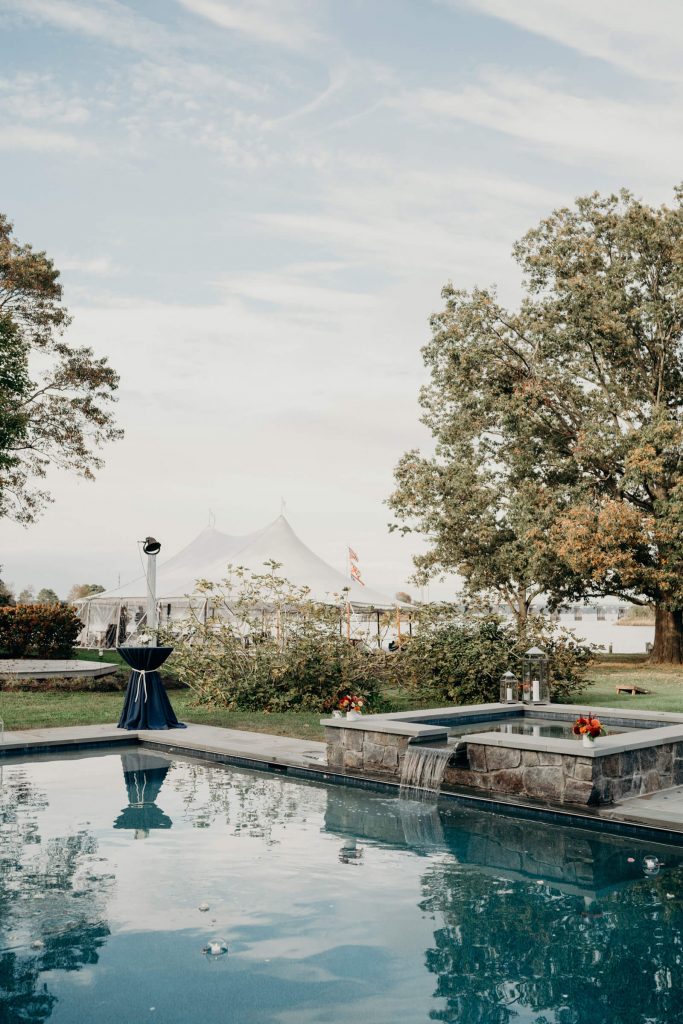 Throughout the pandemic, we were able to hone our hobbies and add special elements to our day. We poured our own candles, hand-calligraphed table setting cards, and practiced our first dance in our kitchen. Kevin's mom hand-sewed the white monogrammed napkins that were at half the dinner tables, so we now have enough personalized napkins to use for years to come. Kevin's uncle made the sweetheart table we sat at, which is now our dining room table. So many of these personal elements were made possible because of the extra time at home.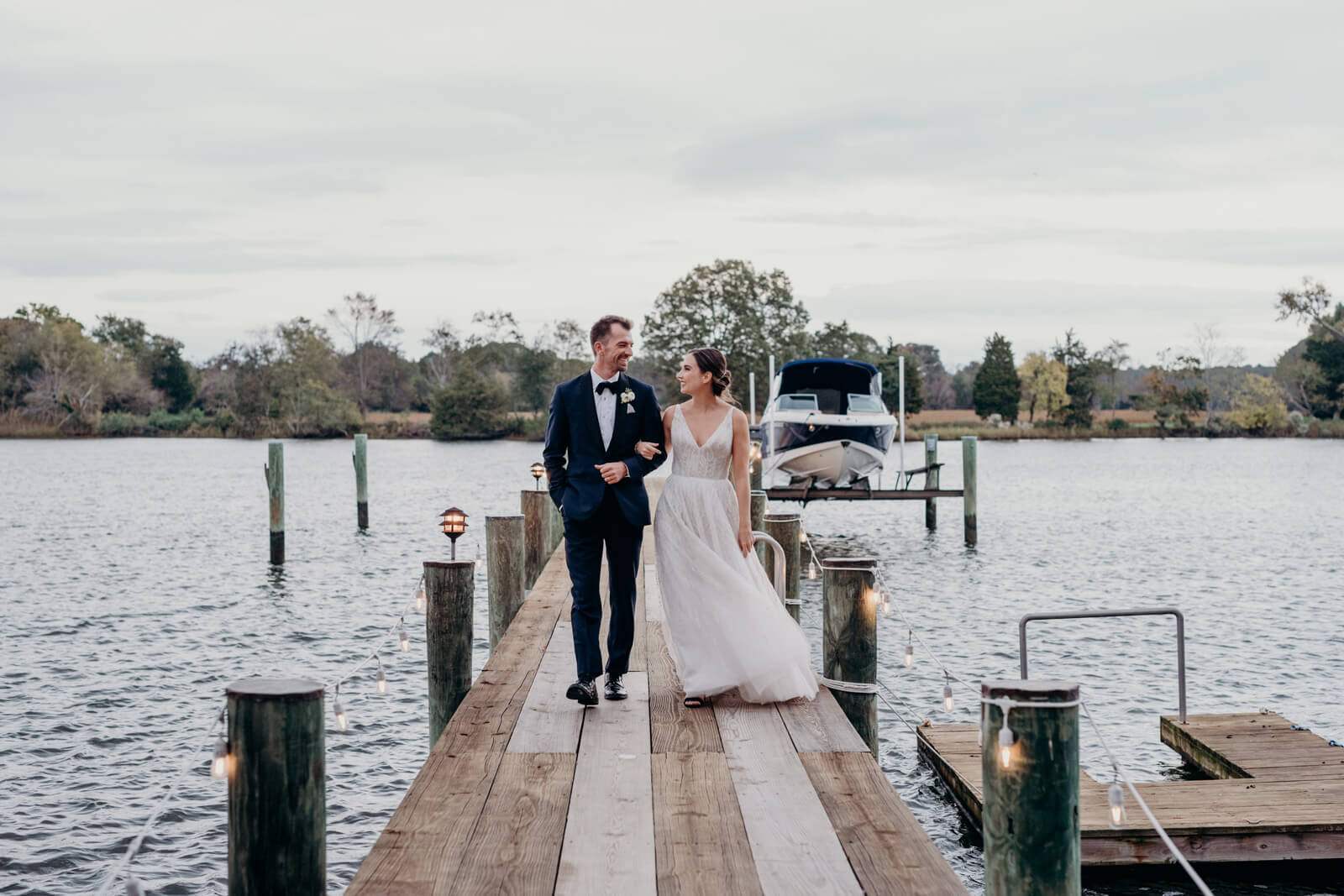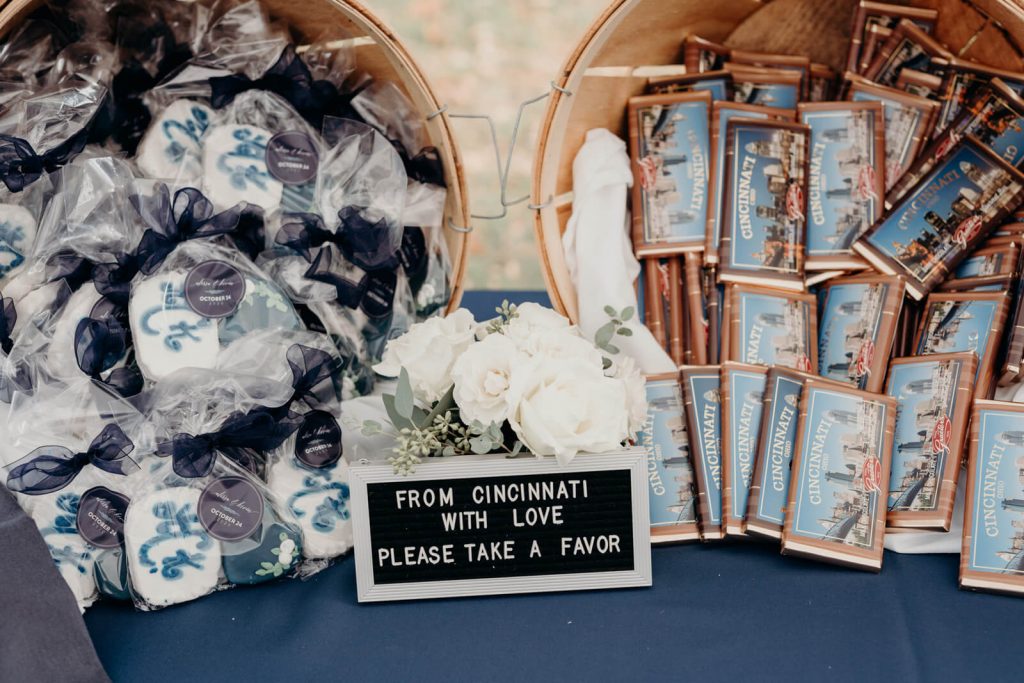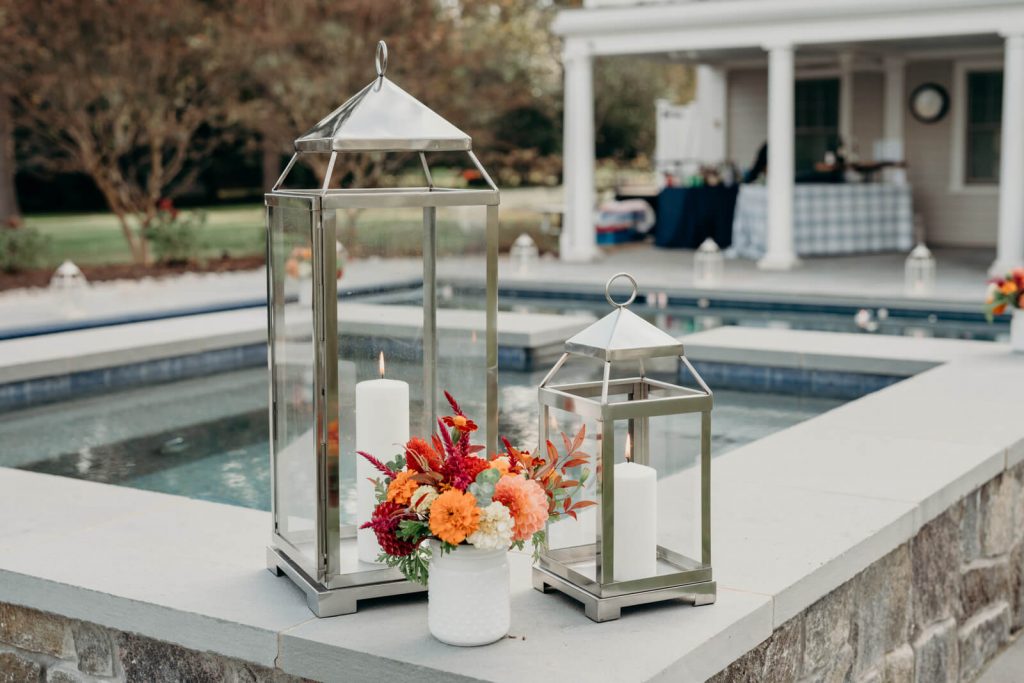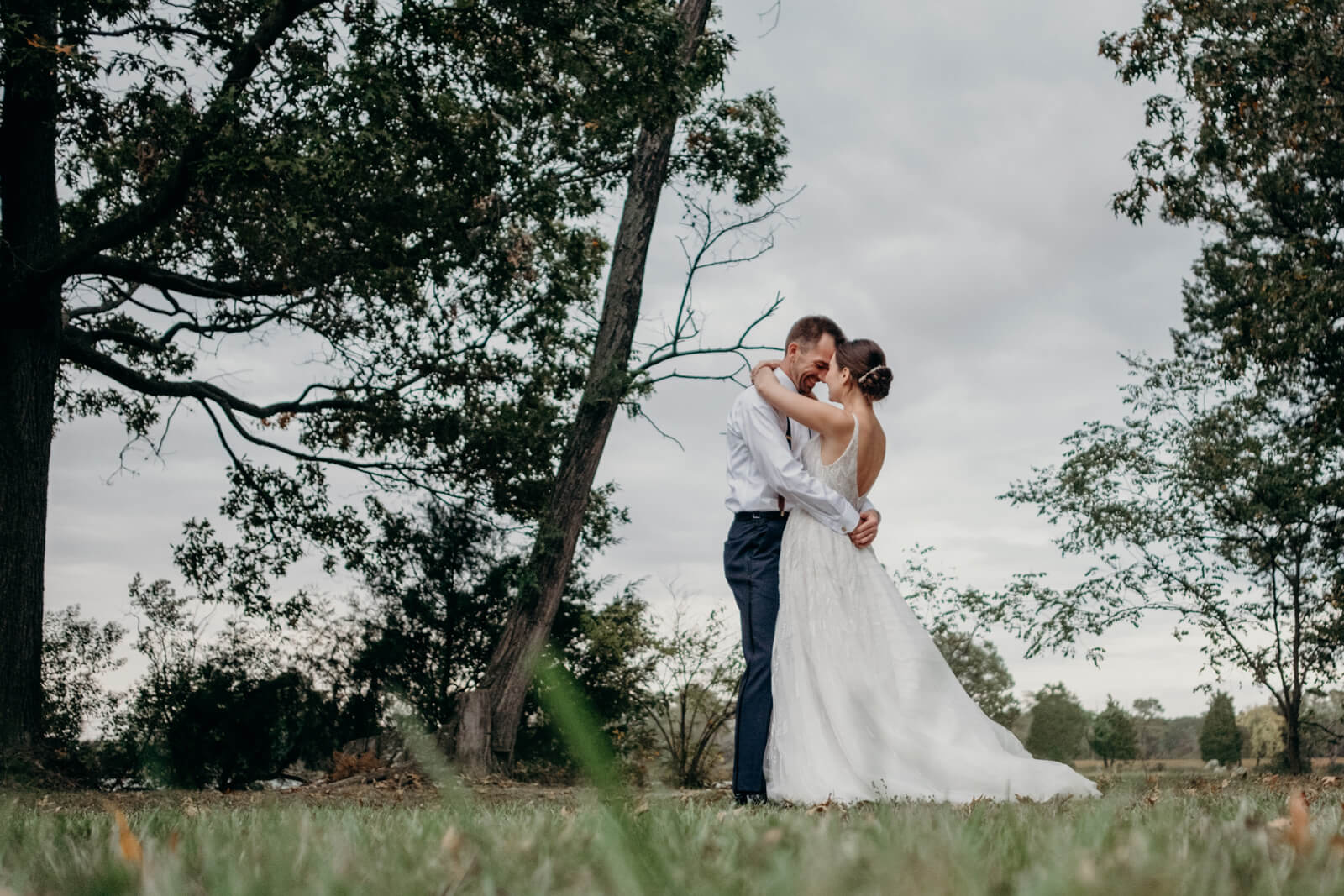 Other than the reception location change, we didn't have to make many significant accommodations to our plans. Our "classic coastal" theme seamlessly transitioned from Fells Point to the Eastern Shore. We recognize how truly fortunate this is and not everyone has a large enough backyard to move their wedding reception to or understanding vendors who easily accommodate changes in the timeline. All of our original vendors were thrilled and excited that we were moving forward with our plans and we just needed to add a tent, caterer, and a bus across the bridge into the mix. Every single vendor we worked with was so phenomenal and really helped our vision come to life, despite all the ups and downs and uncertainty. We wholeheartedly believe that our quarantine wedding was likely even better than our originally planned, pre-pandemic wedding would have been.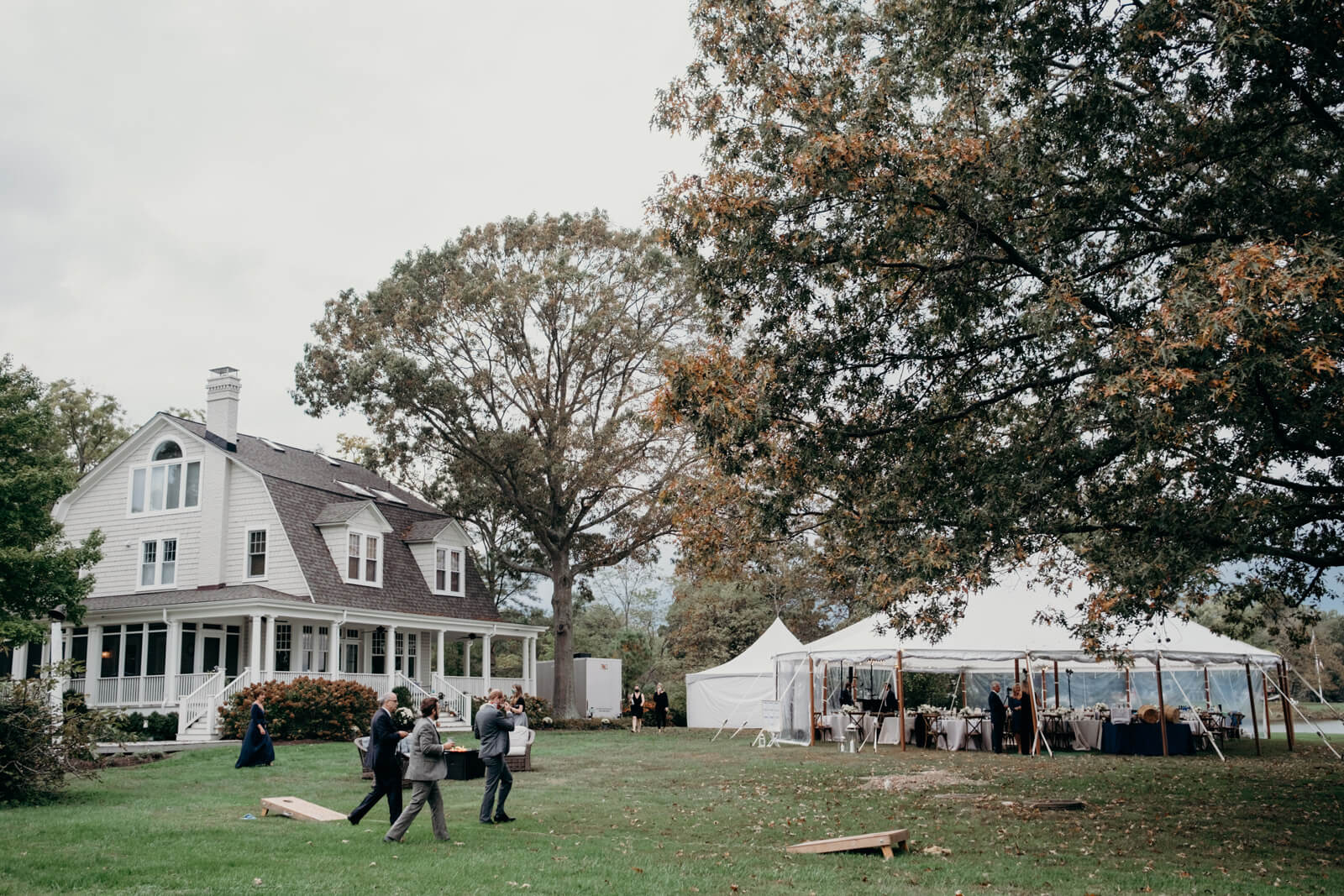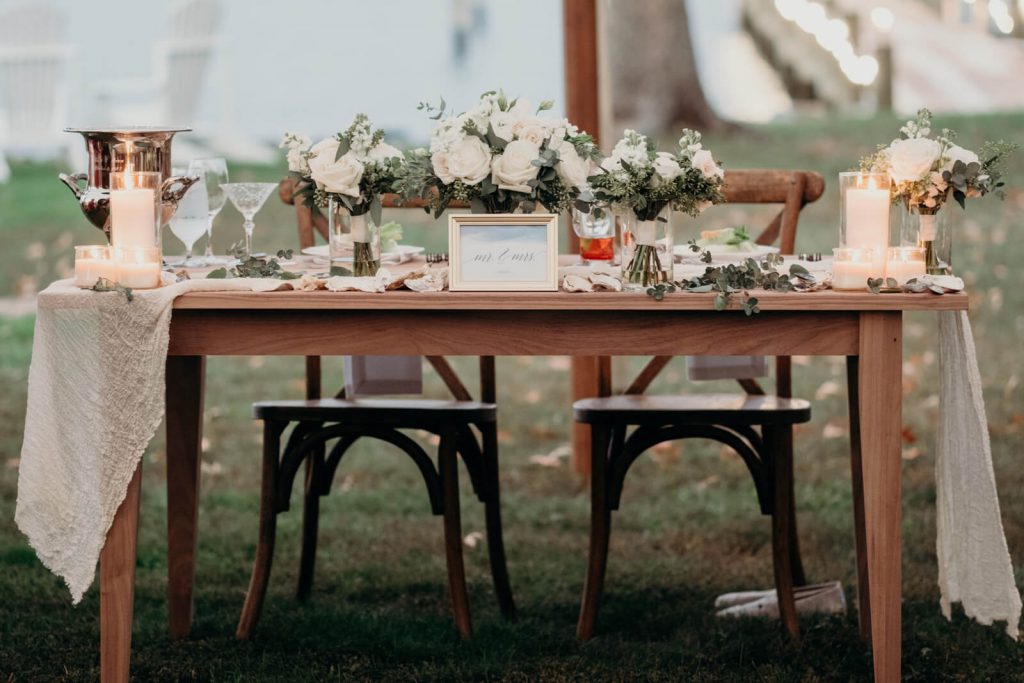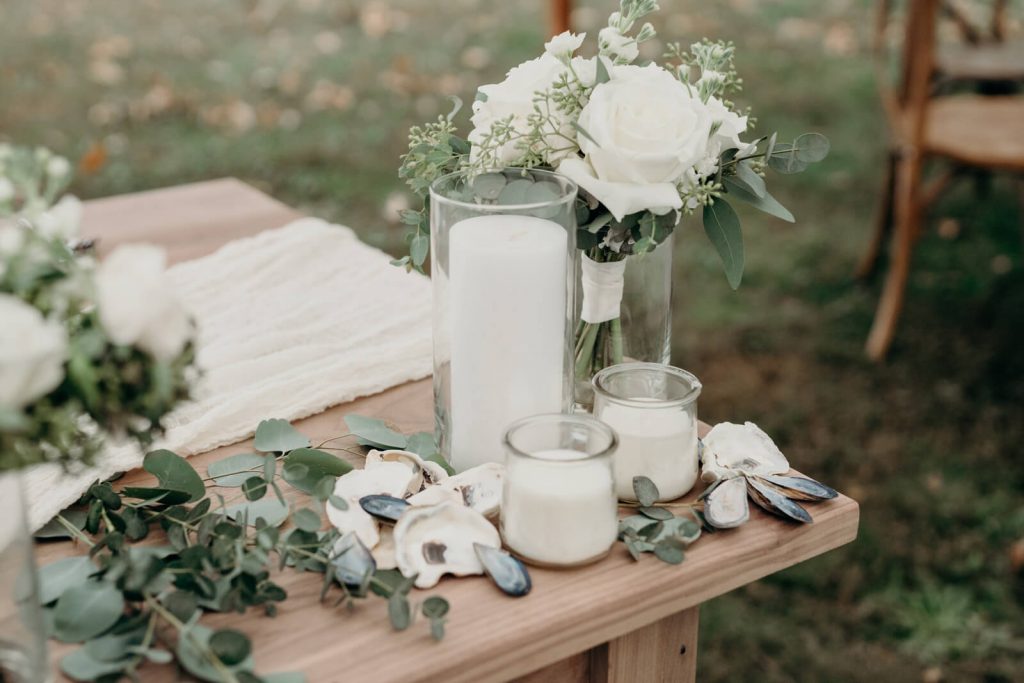 The entire day was orchestrated by Sara Reynolds of Sara Reynolds Events. Sara was truly the MVP of our wedding day. She helped us navigate the pivots of a quarantine wedding and we could not have made it happen without her expertise. We are so appreciative of the community of vendors, friends, and family who made our celebration so memorable. Because of what a team effort it was to put the wedding on—it felt like not just a celebration of our love for one another, but an outpouring of love from a full community of support.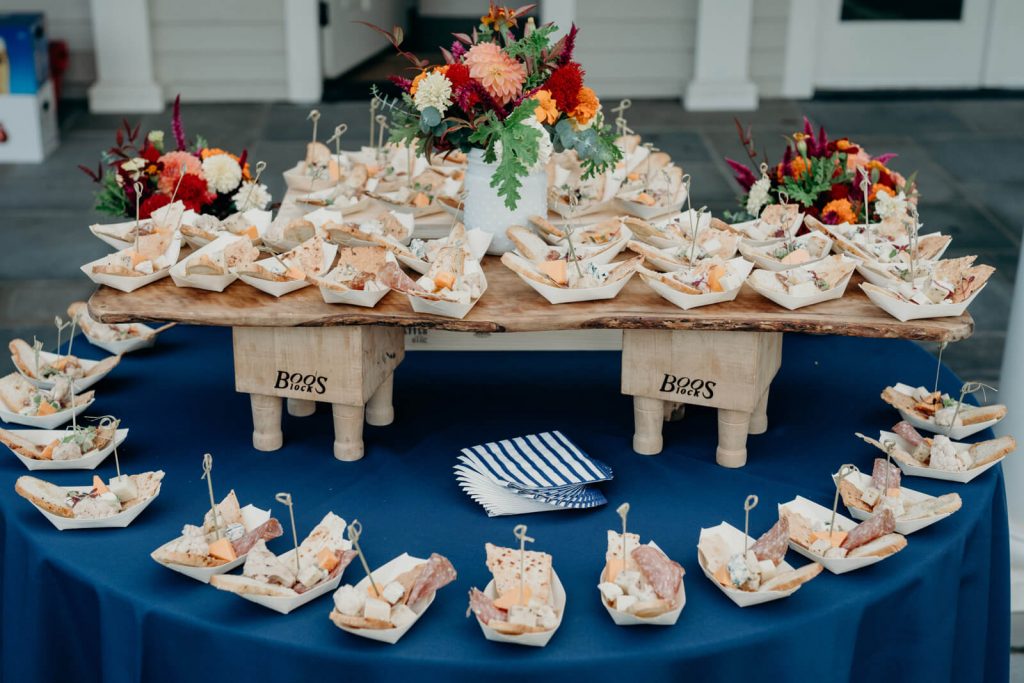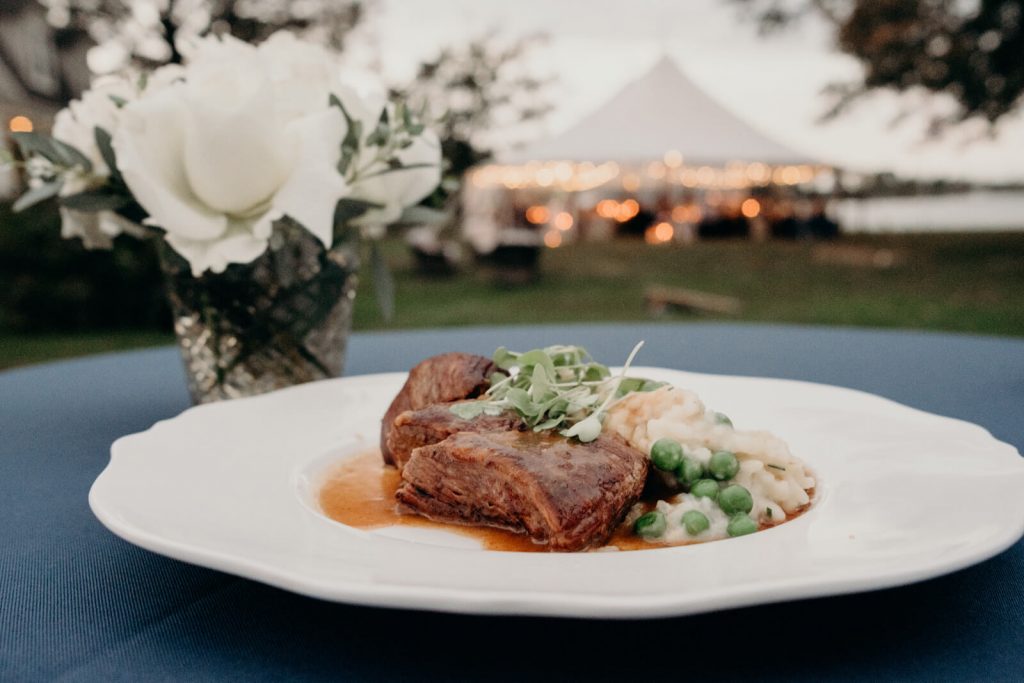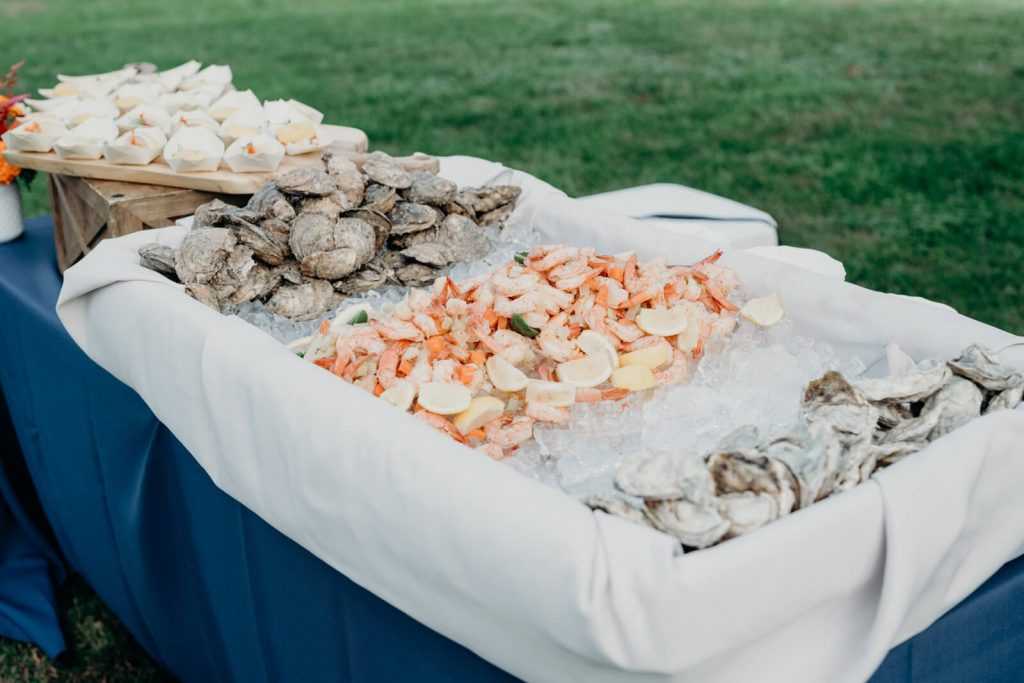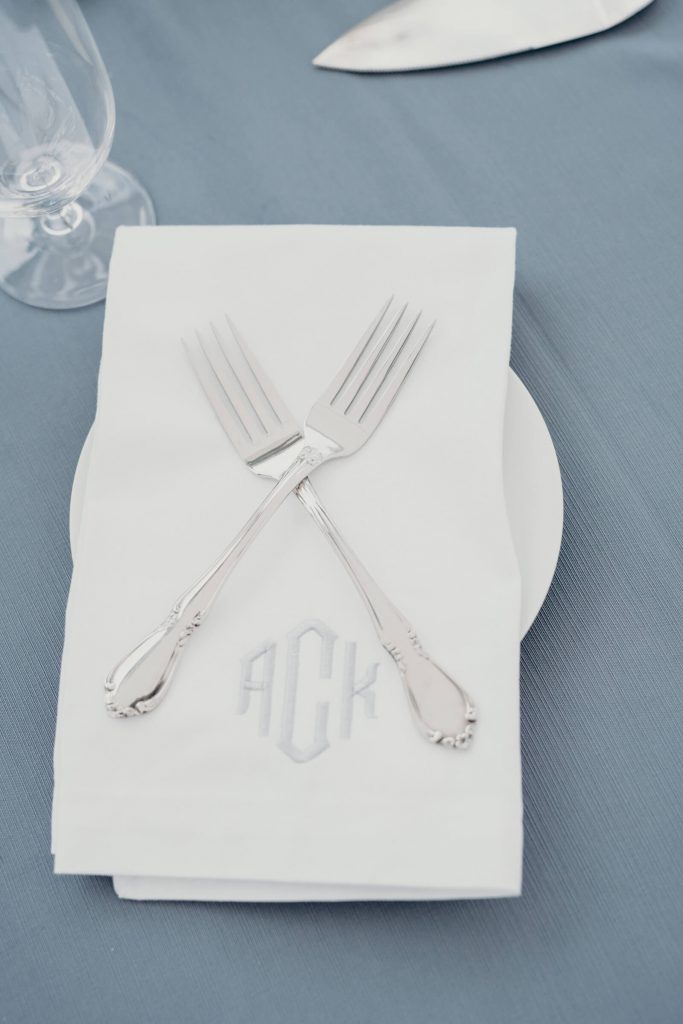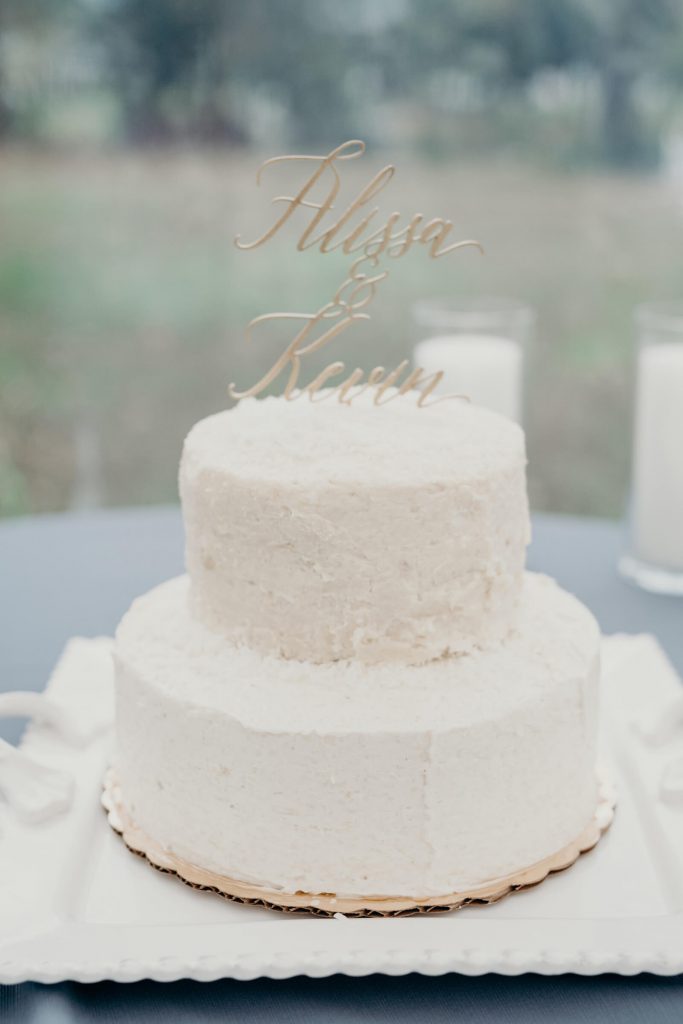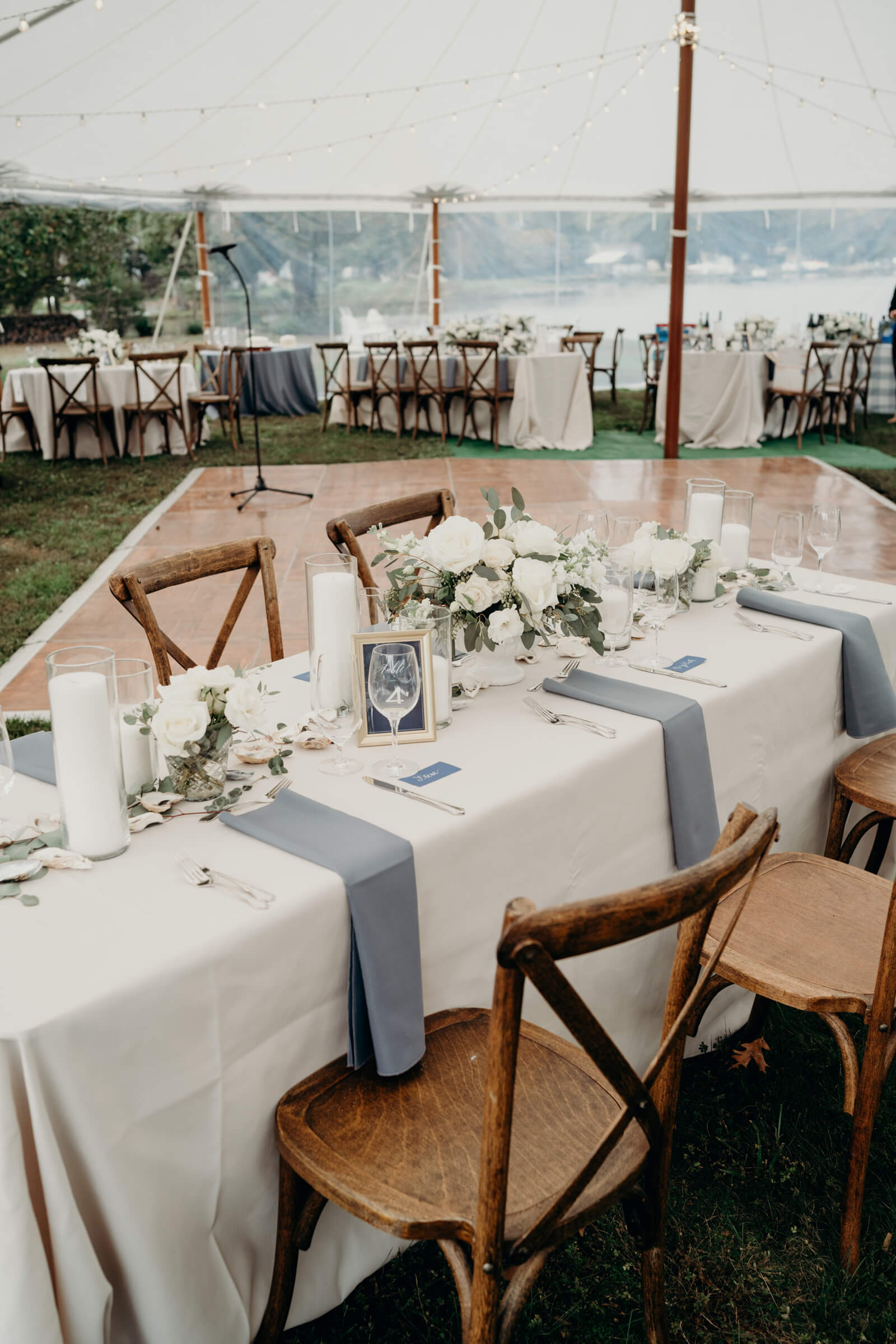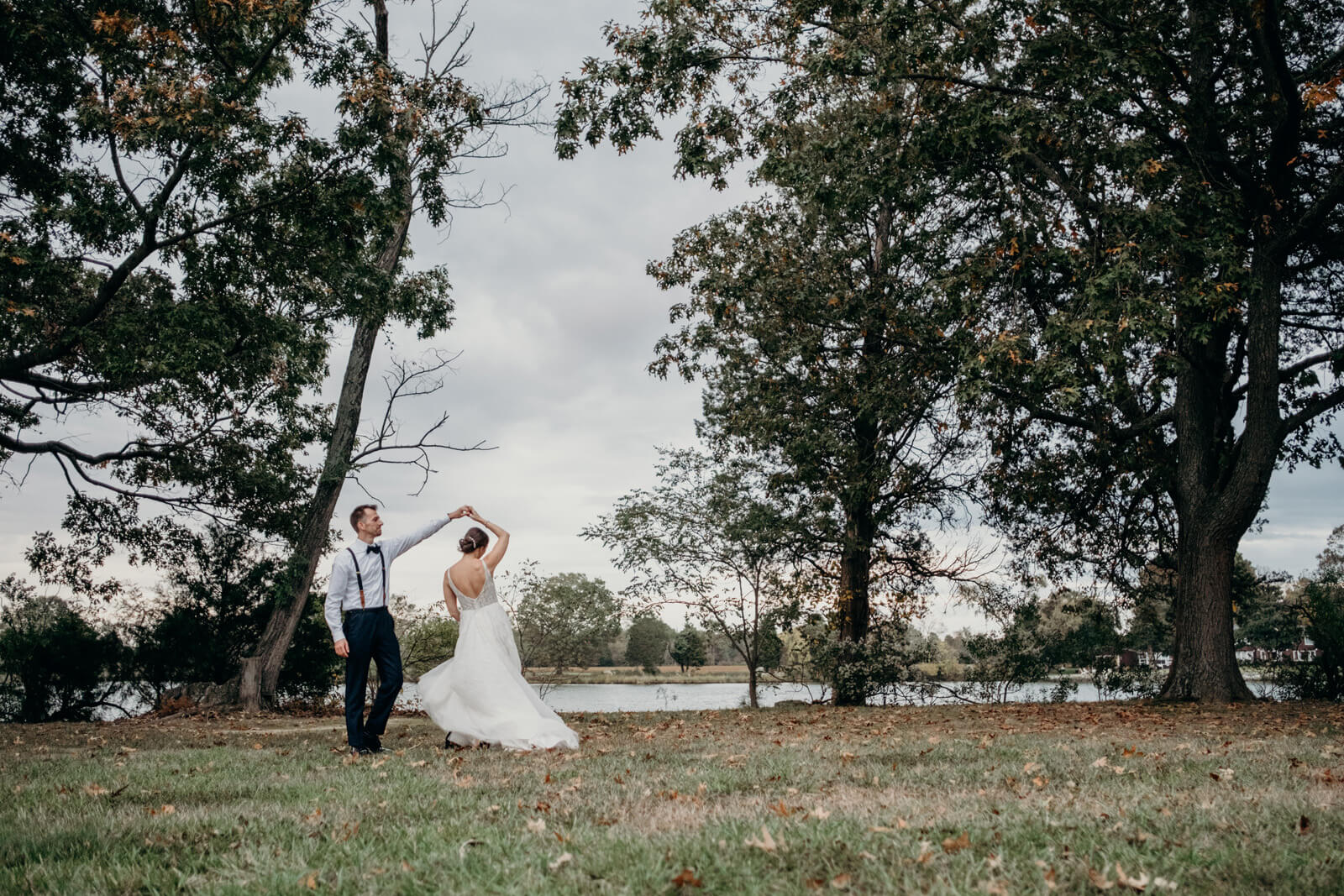 Kevin's most memorable moment(s) It meant so much to me to walk through my family home, a place that already carried so many memories for me, with Alissa's hand in mine. It was the gift of adding my most cherished day, and all the memories of that celebration, to a place that was already so special to me.
The moment that stands out most vividly is seeing Alissa walking down the aisle. I instantly turned into a puddle, which she predicted would happen, but there were truly so many moments that I will carry with me for a lifetime. More than anything, I cherish that my family home will always be charged with the memories of our wedding, and the togetherness that made that wedding possible.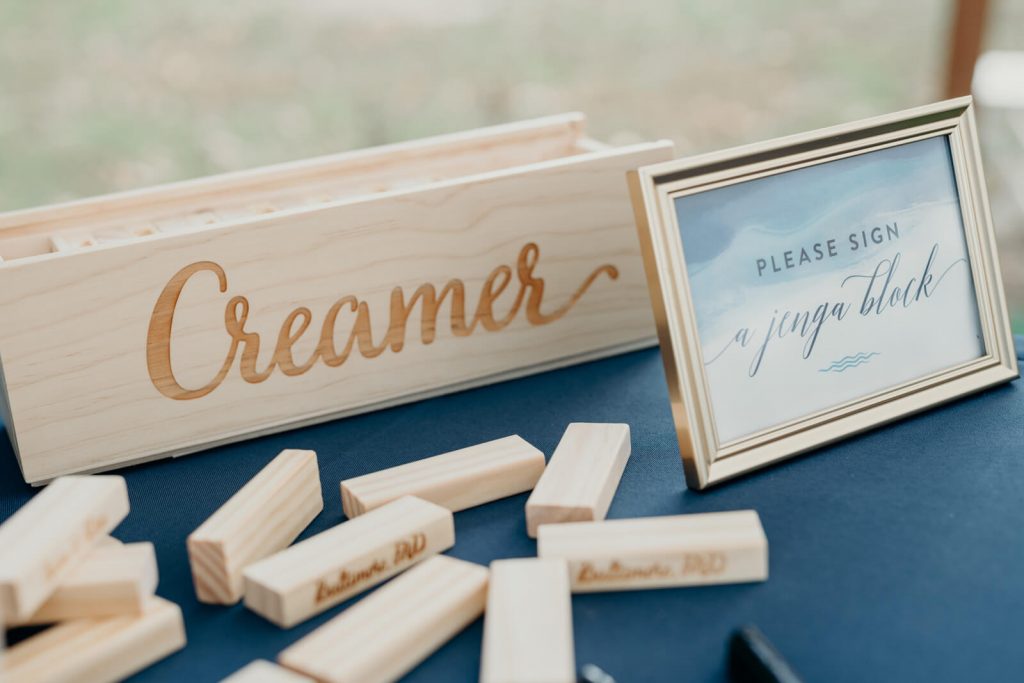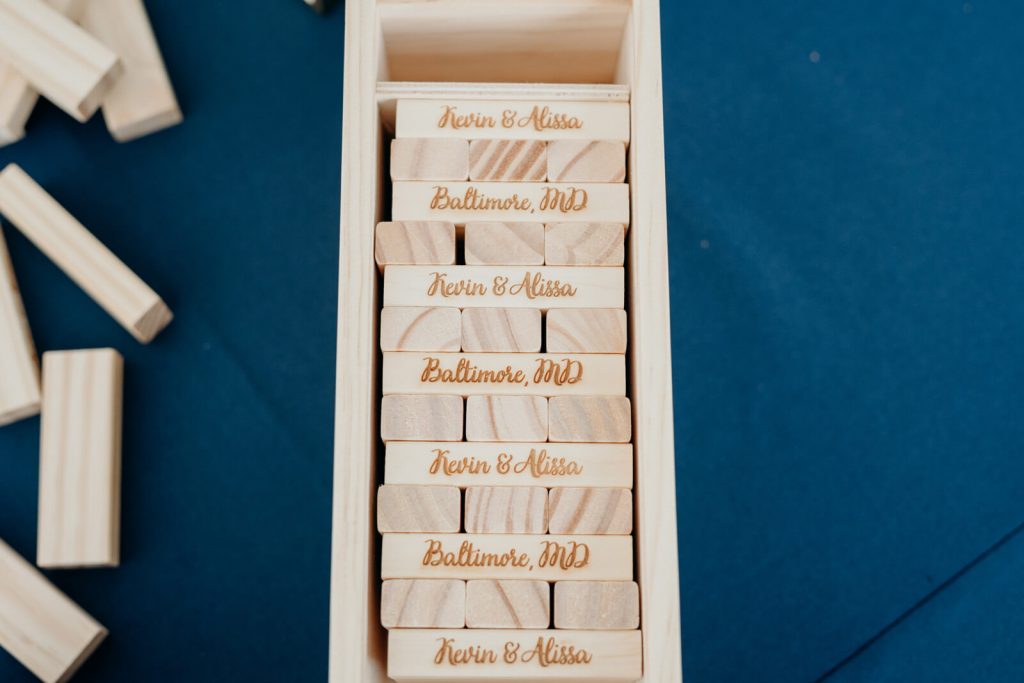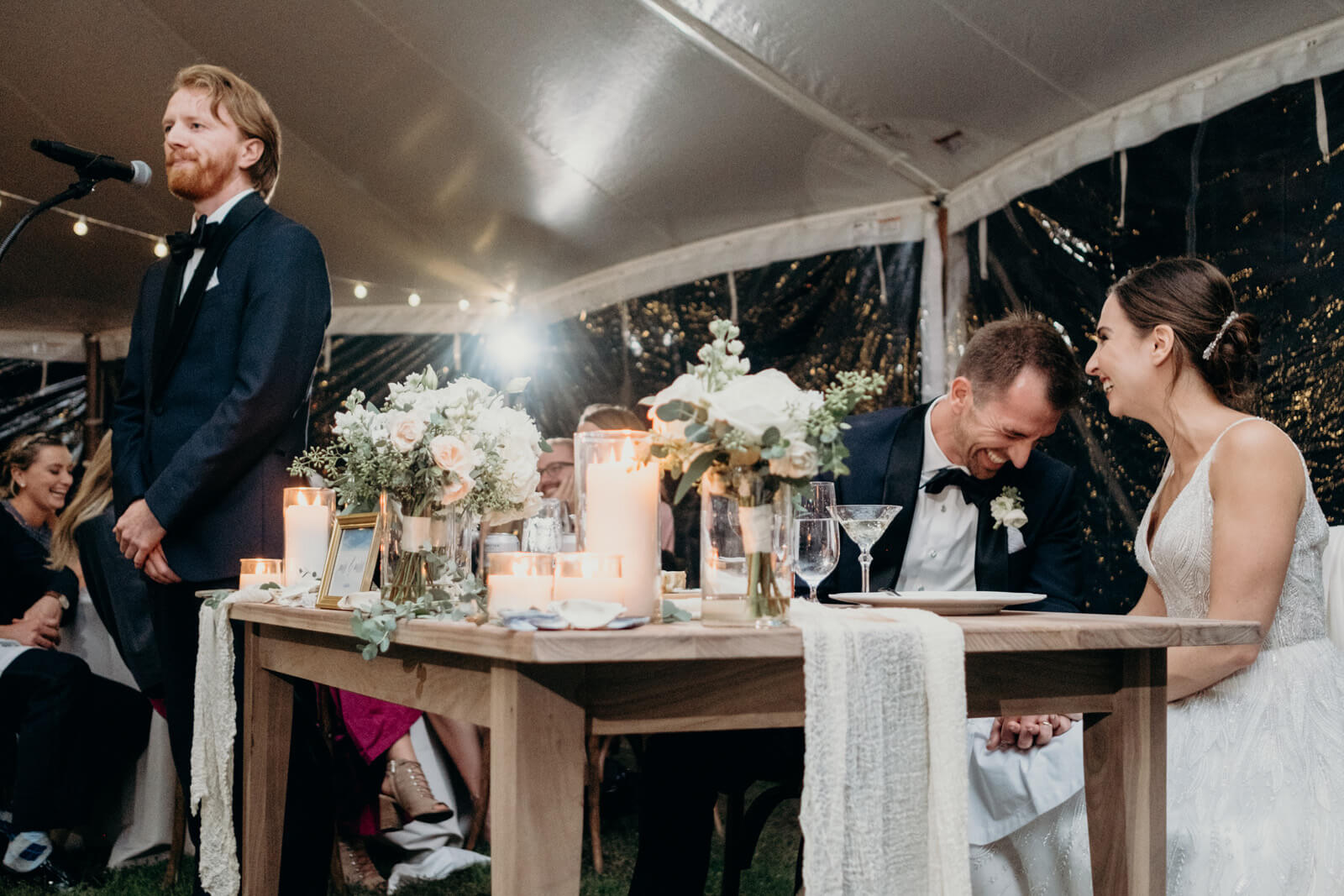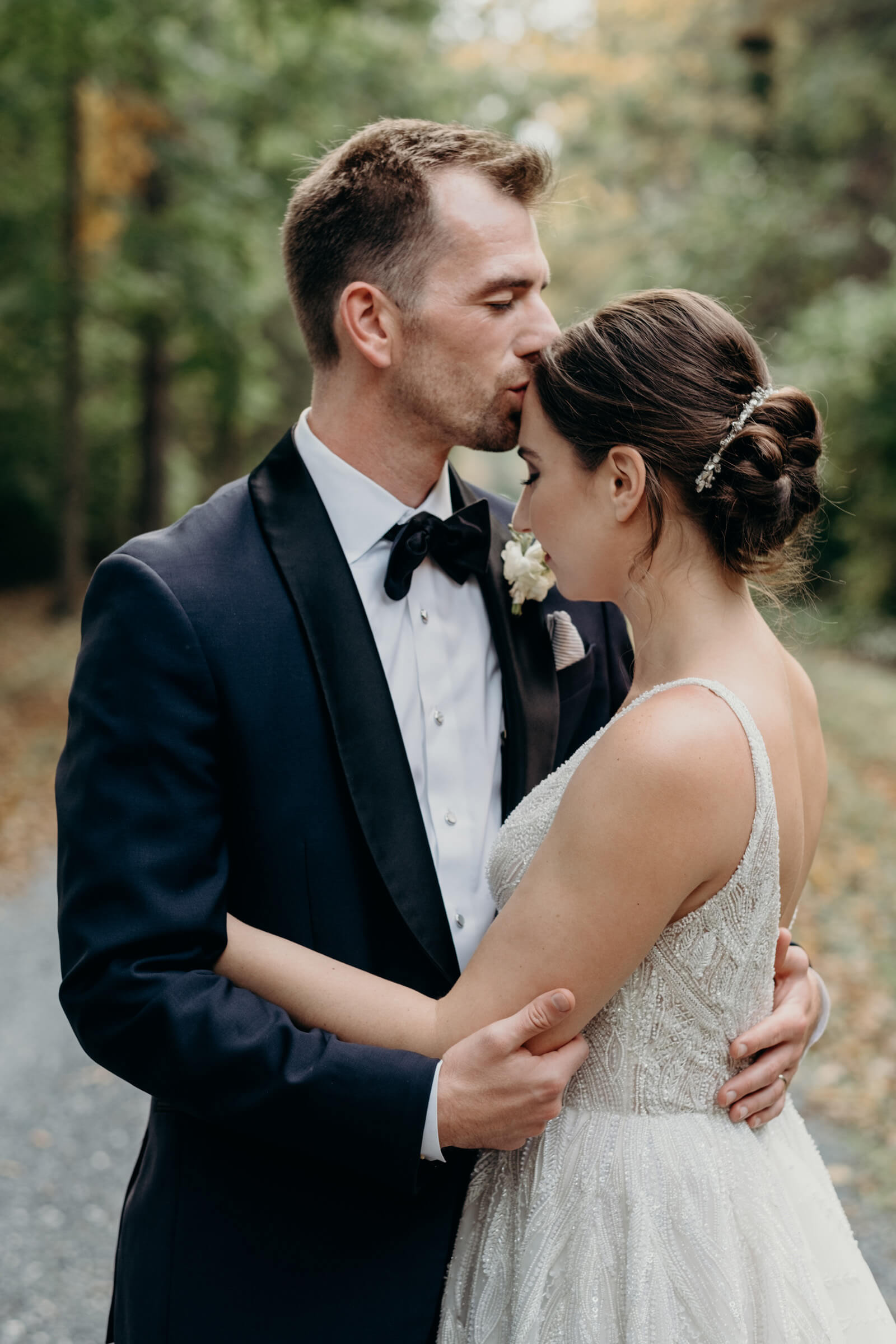 Alissa's most memorable moment I don't think I'll ever forget walking around the driveway and backyard, taking photos all around the property. It is surreal to have the memories, photos, and video of our wedding that took place somewhere that we visit regularly and will for the rest of our lives. I love sitting on the porch and remembering the placement of the tent, eating oysters on the hot tub ledge, arriving at the reception by boat, and walking along the driveway, where we now walk our dog. Don't underestimate how special a backyard wedding can be.