This originally ran in the 2019 Local Love supplement in the June issue of Baltimore magazine.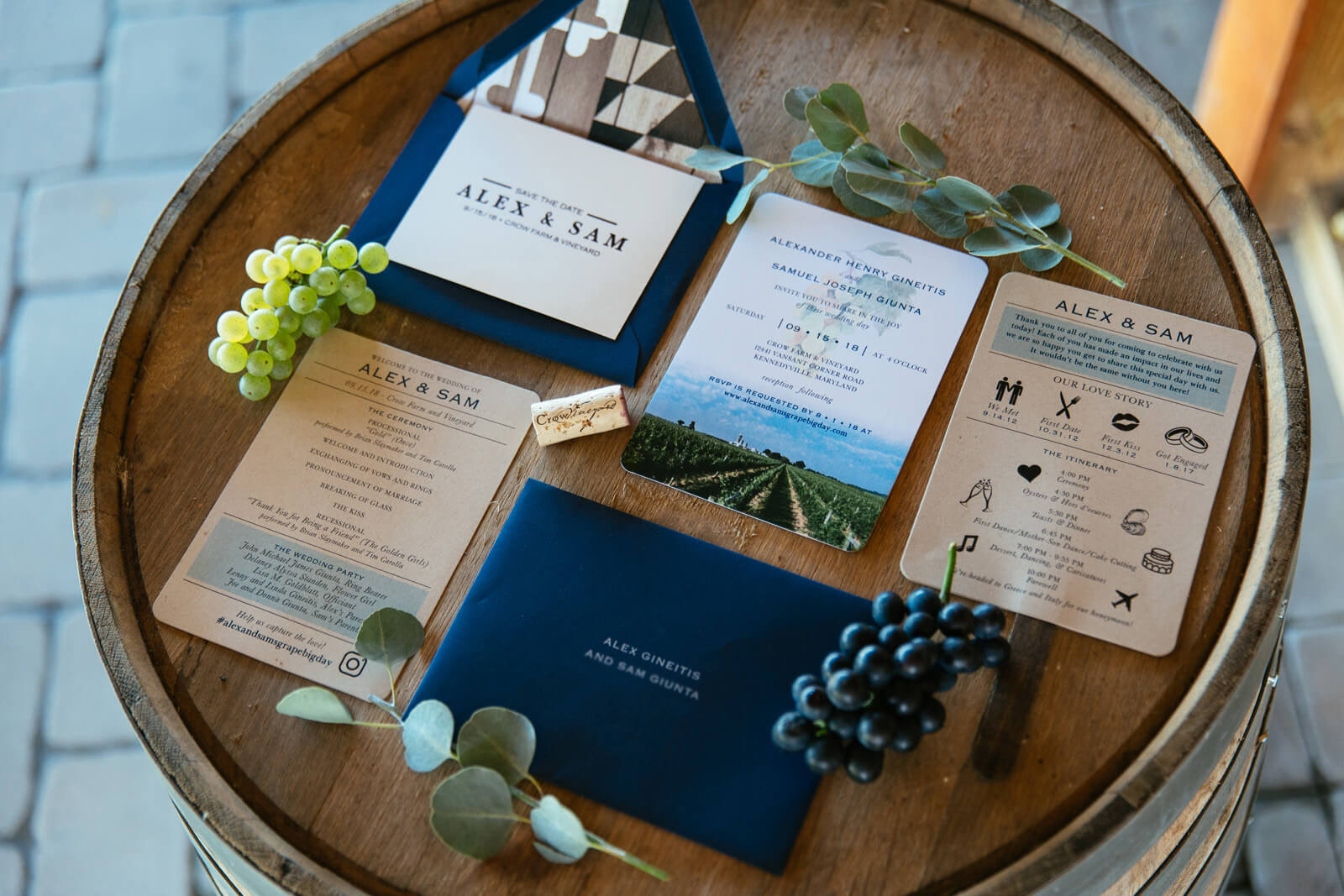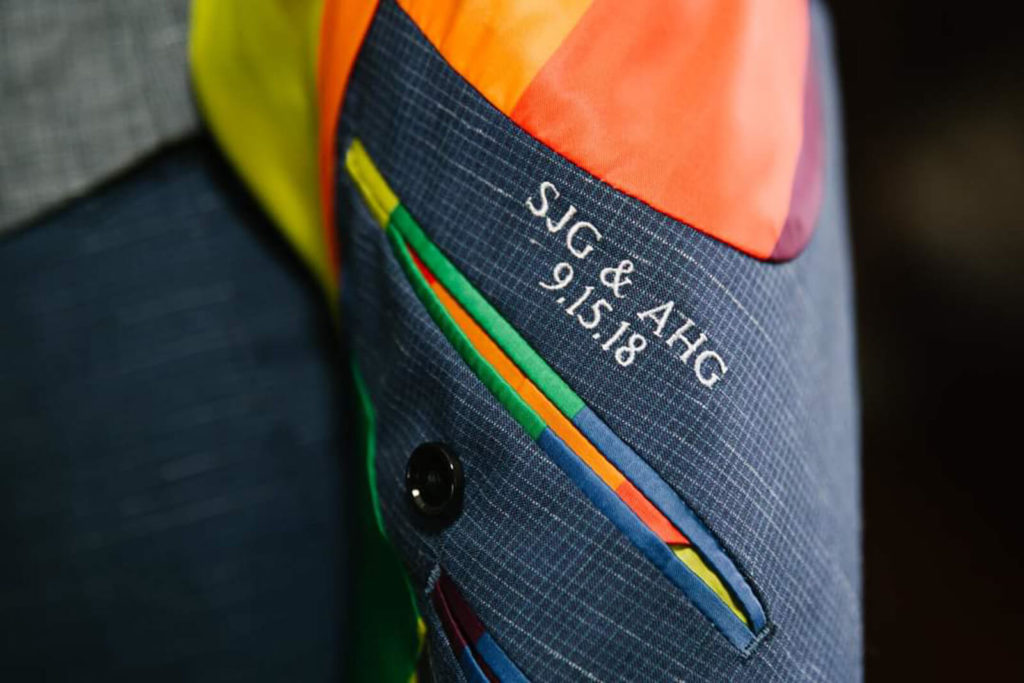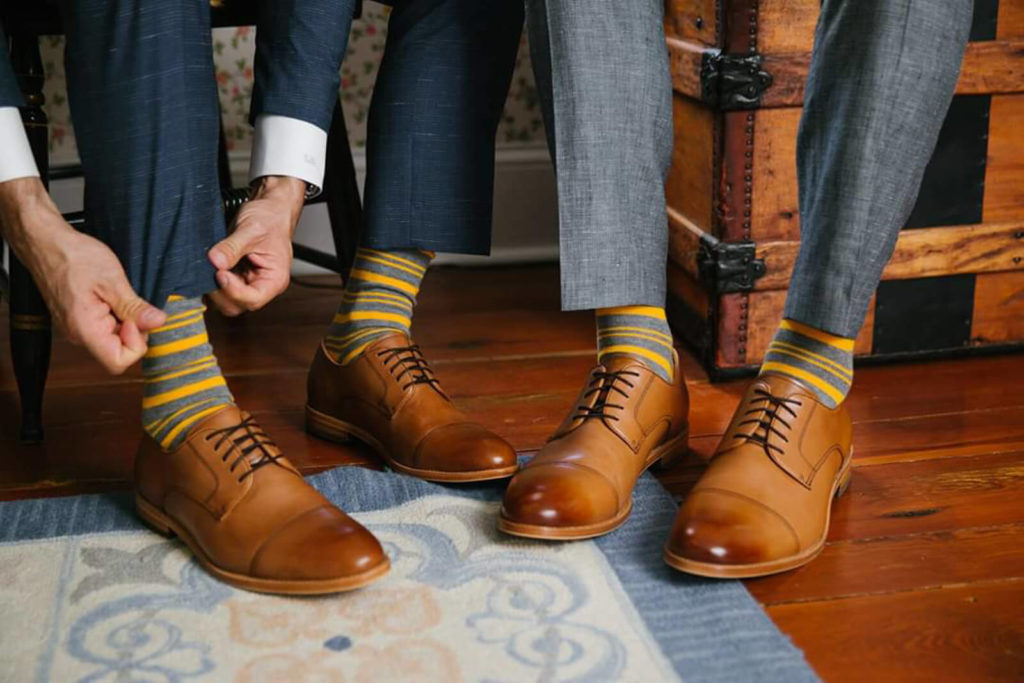 WEDDING DATE September 15, 2018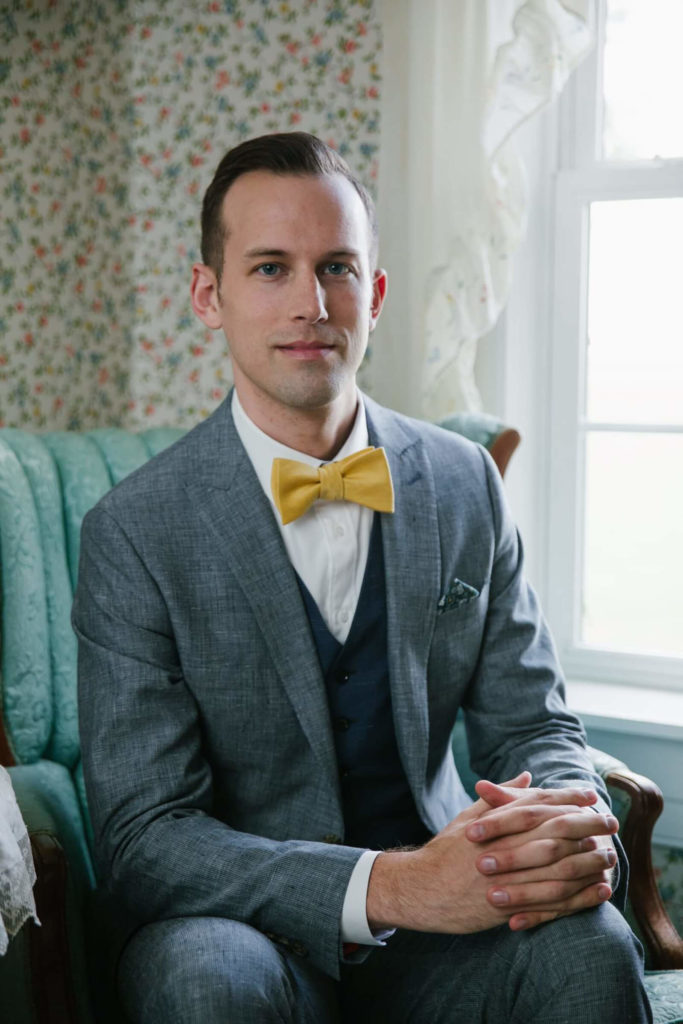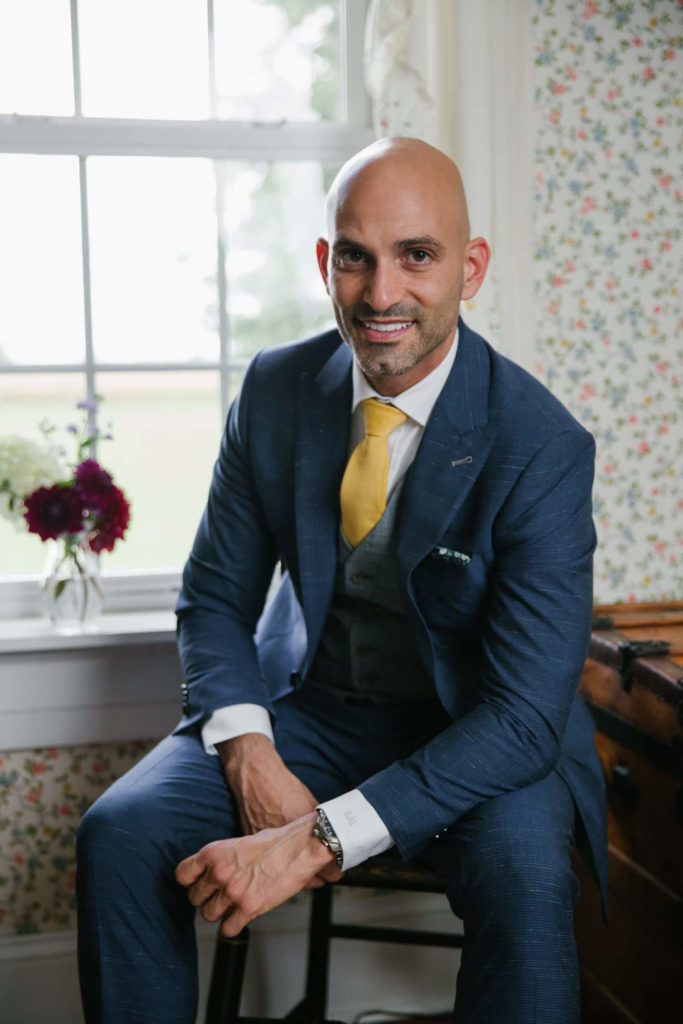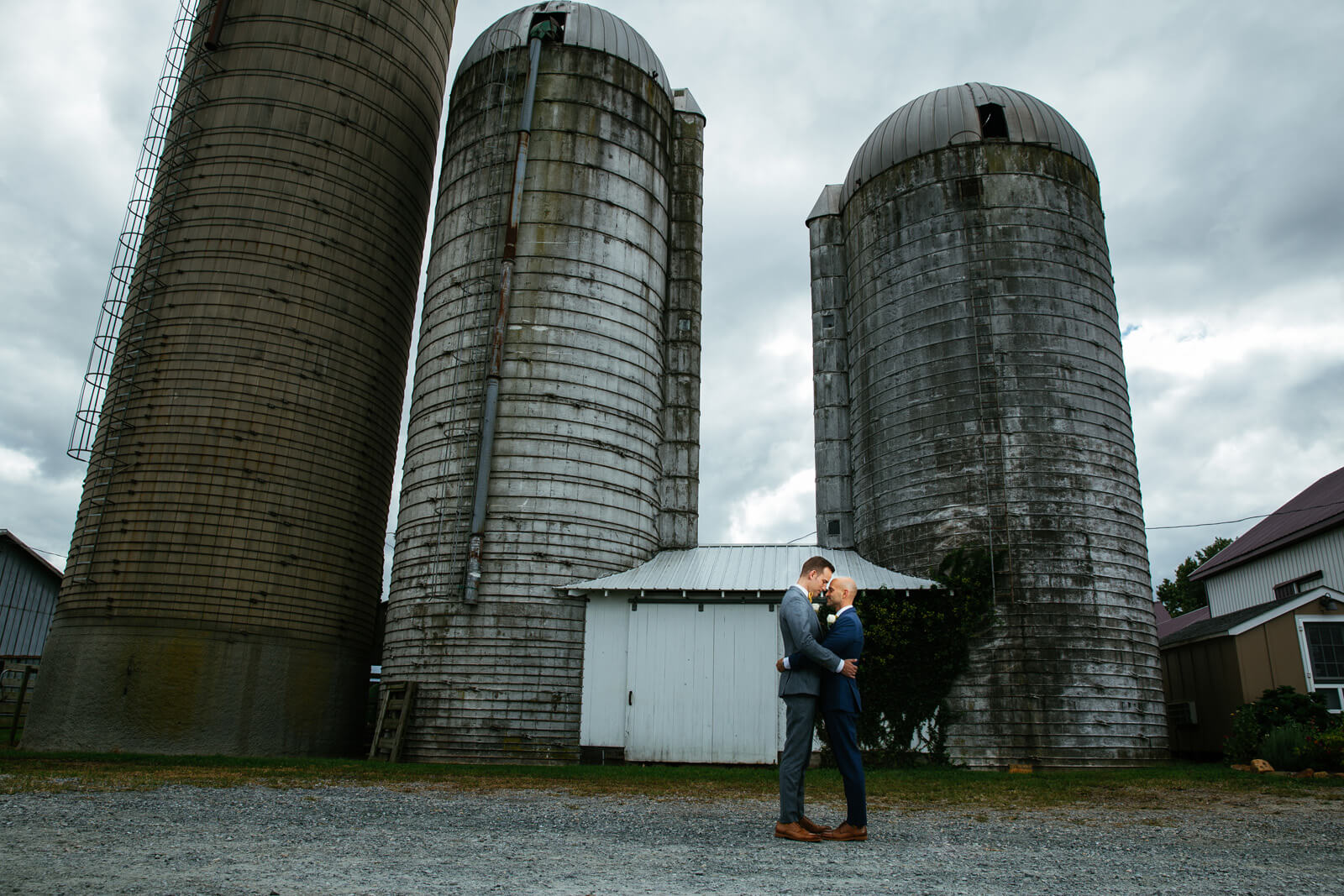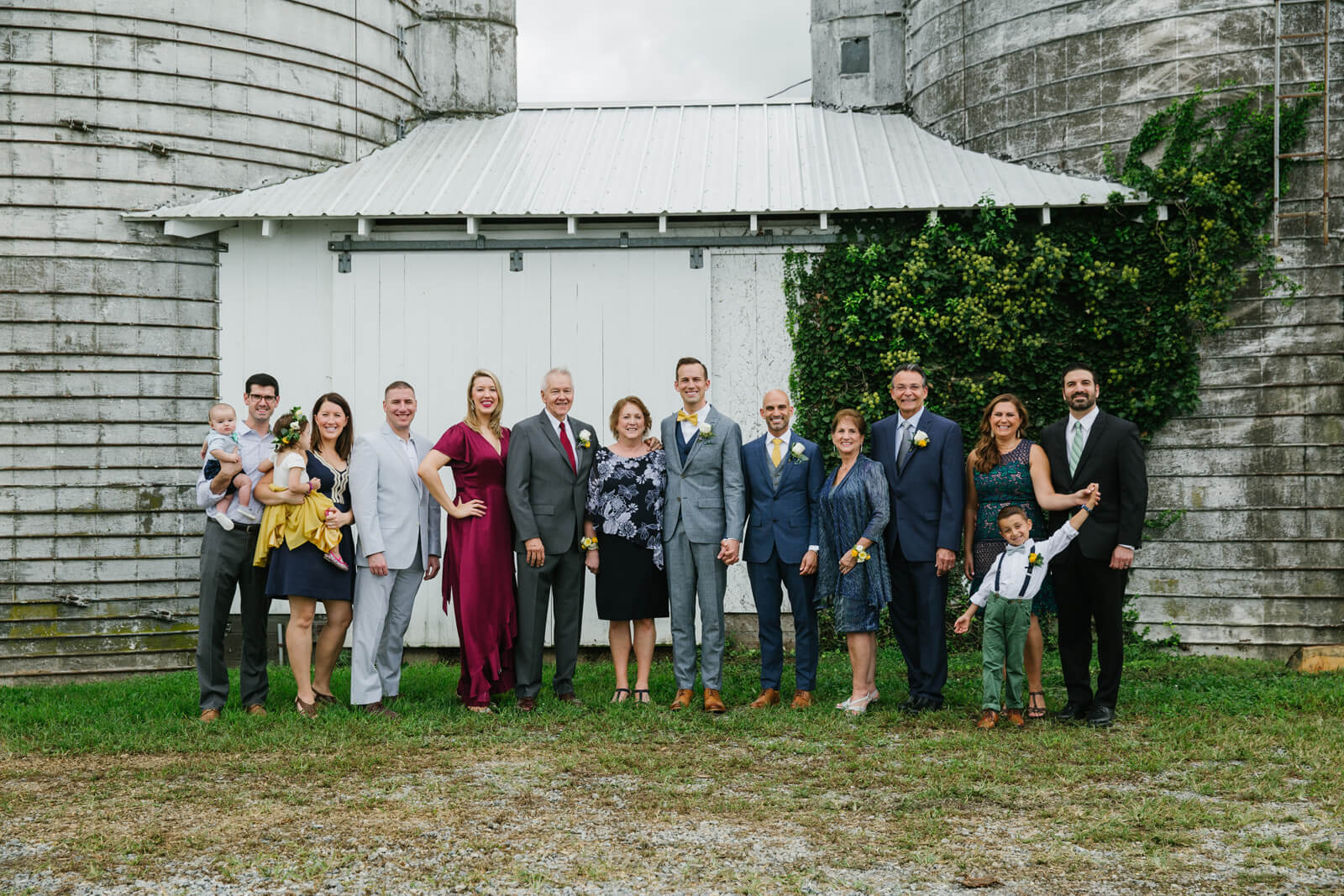 When Alex Gineitis and Sam Giunta finally met for tapas and sangria in Fells Point after weeks of online chatting and texting, their first impressions were remarkably the same: each thought the other had a great smile. Four-and-a-half years later, they're still smiling. That's even through several mishaps in Puerto Rico, where Sam tried to surprise Alex with a proposal during his 30th birthday celebration. First there was an allergic reaction to lobster, then a hangry hike, and finally a catamaran tour with choppy seas where half the passengers started violently throwing up from motion sickness. Locals suggested Sam and Alex visit a 16th-century castle in Old San Juan called Castillo San Felipe del Morro to witness a spectacular sunset. They found a nice spot, and perched on the side of a castle wall, Sam finally knew the time was right and reached into his pocket, pulled out a ring, and asked Alex to be his husband. Alex said "Yes," followed by, "Am I supposed to cry now?" They wanted their love of adventure, food, wine, and travel to play into the feel of their wedding and knew it had to happen at one of their favorite weekend spots, Crow Farm & Vineyard on the Eastern Shore.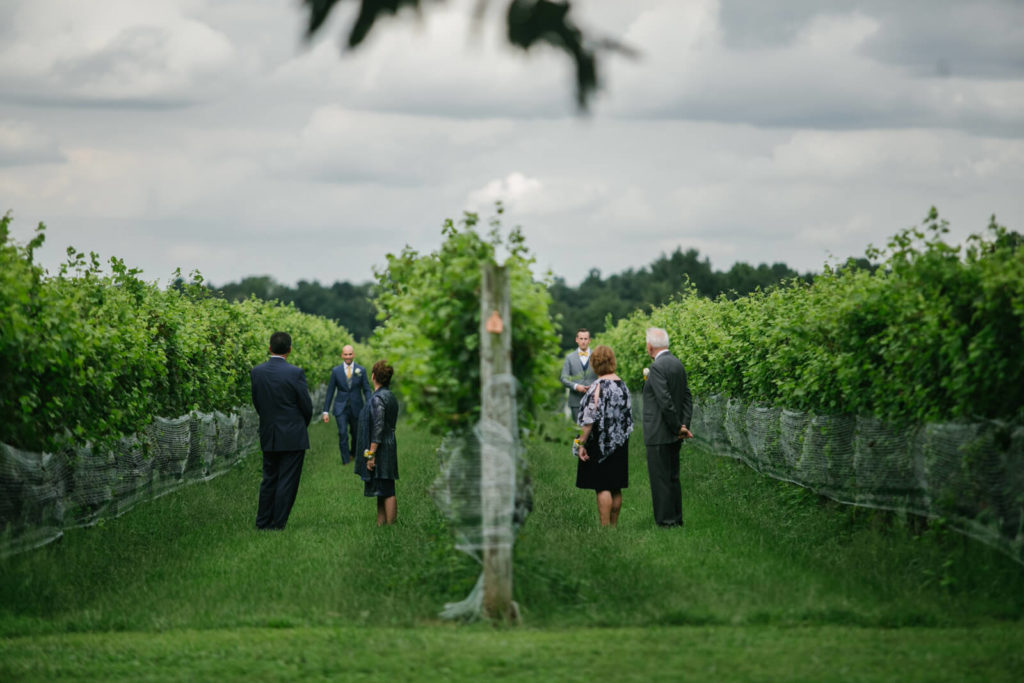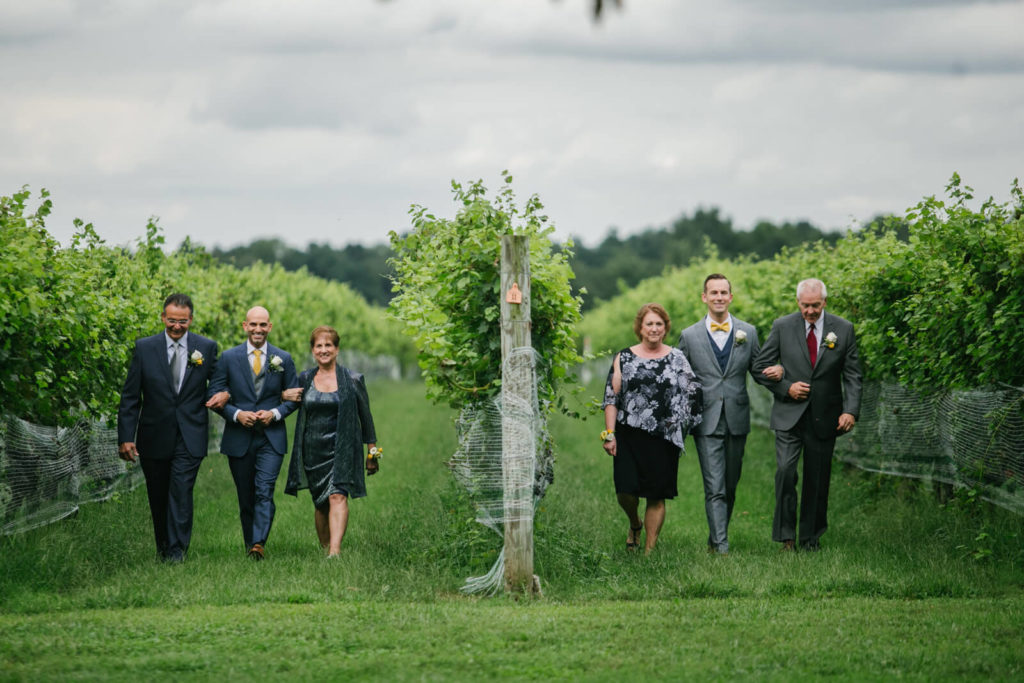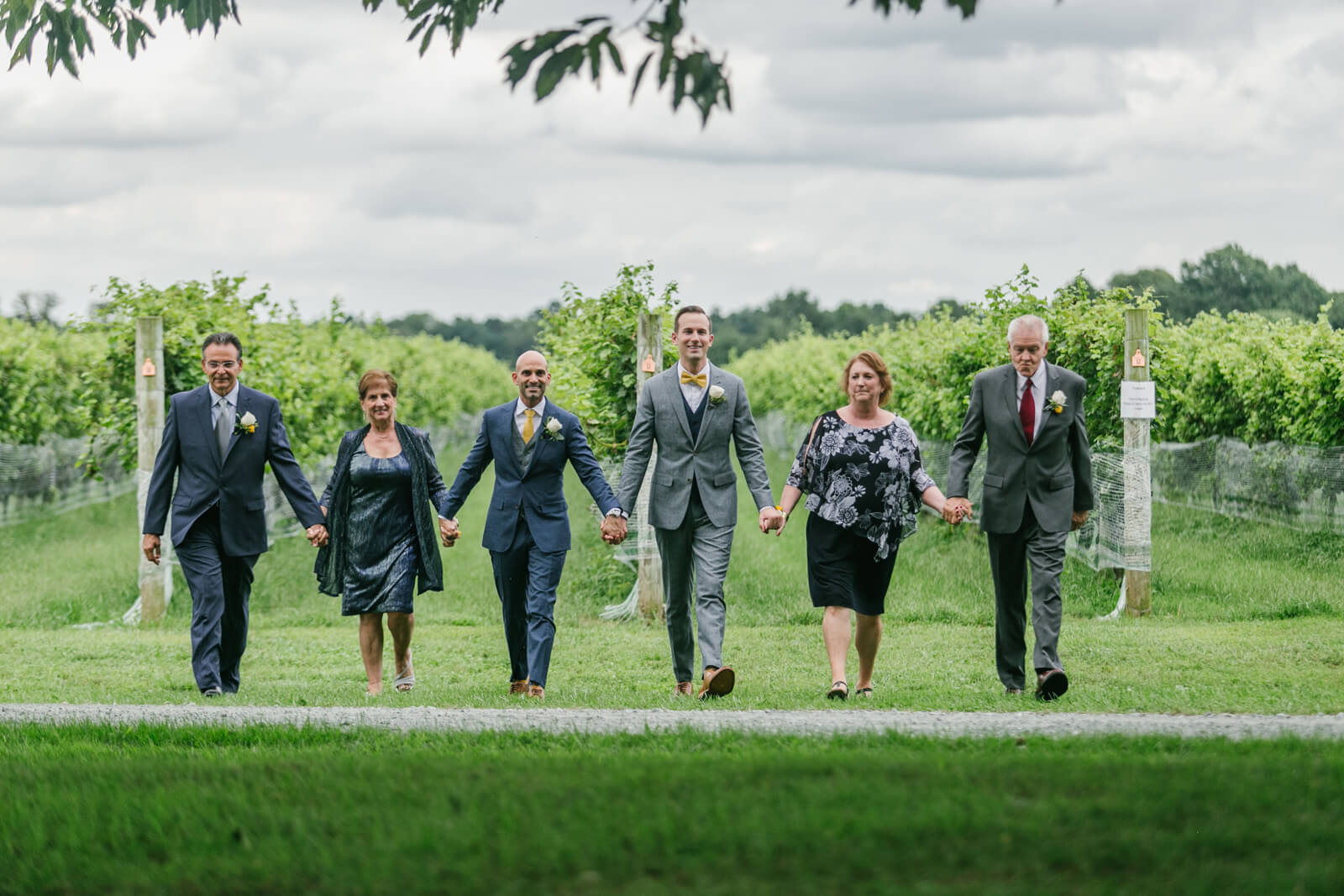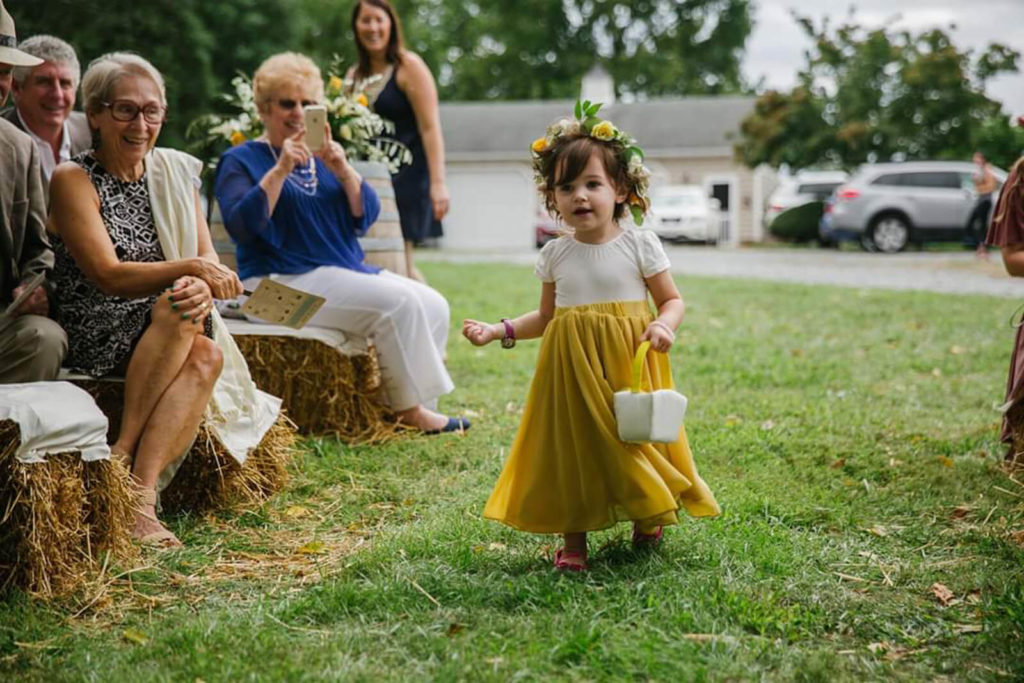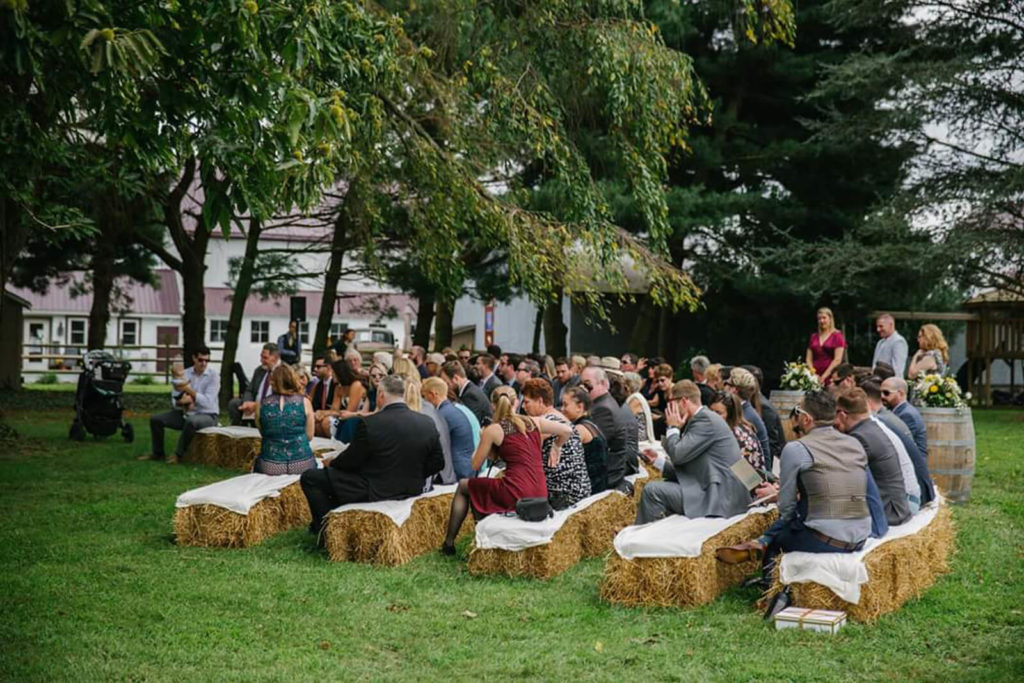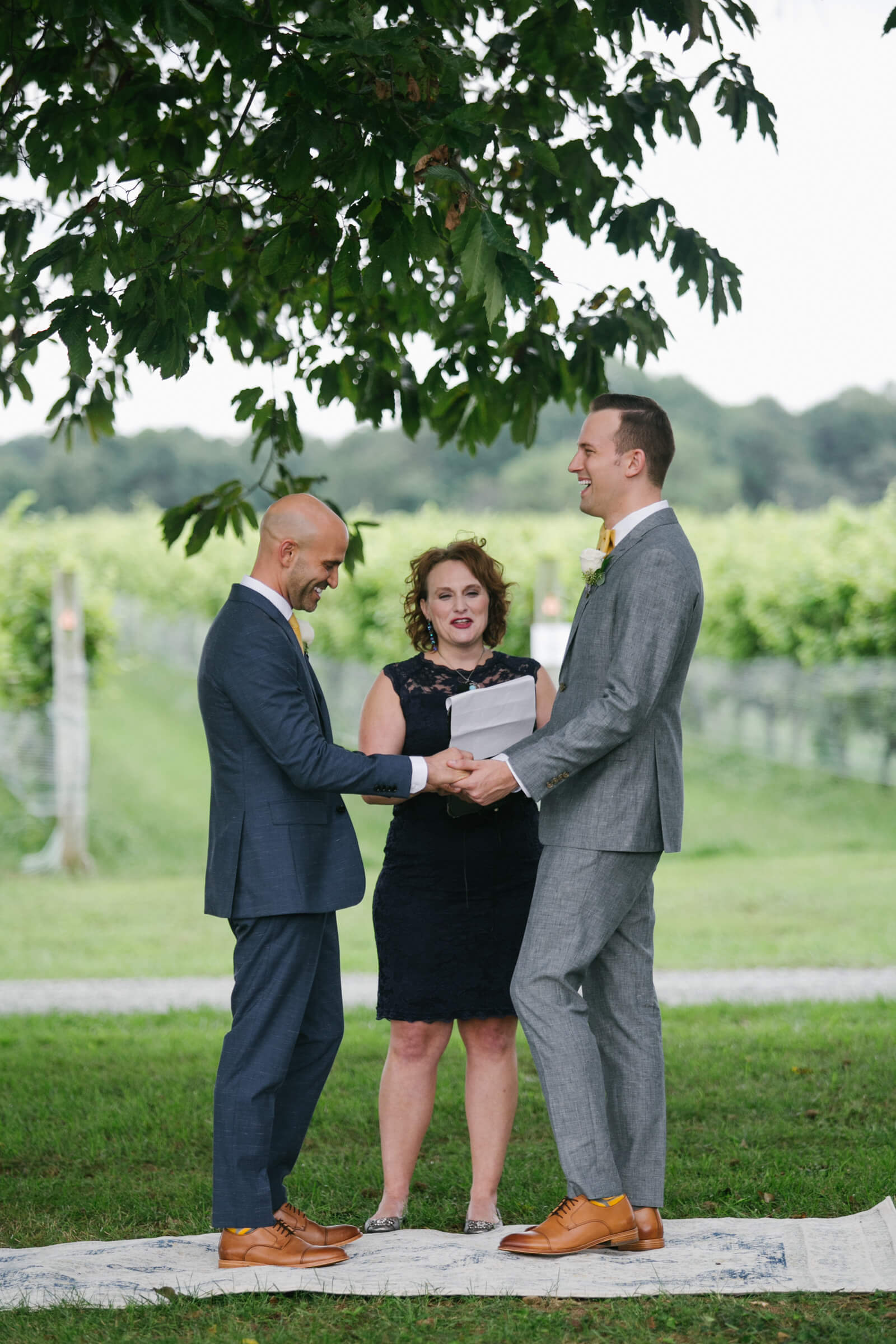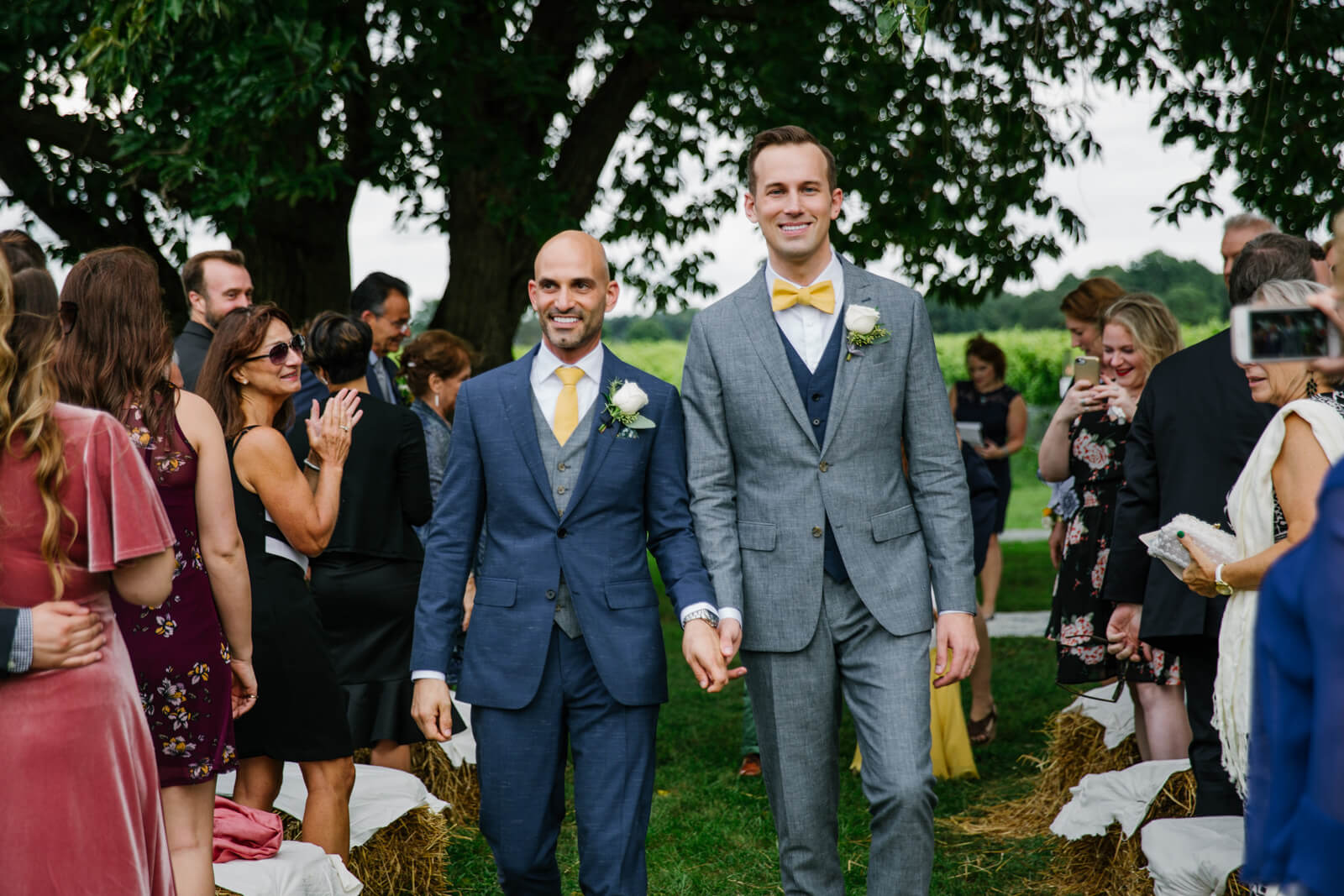 The ceremony began, as most do, with a flower girl and ring bearer walking down the aisle. But while everyone turned to watch them enter, Alex and Sam lined up with their parents in the rows between the grape vines. When it was their turn, they all started walking, first separated by a row of vines, but eventually, where the vines ended, the two grooms and their parents merged, hugged, held hands, and proceeded to the ceremony location together under a beautiful, oversized tree at the edge of the vineyard. The appetizers were also meant to bridge both families. There were single swirls of spaghetti with tomato and basil for Sam's Italian heritage, and traditional beet soup in a shooter, as well as cepelinai, a stuffed potato dumpling, as a nod to Alex's Lithuanian family. Plus, bites that paid homage to Sam's Buffalo hometown and Alex's Philadelphia roots. And finally, since they now live in Baltimore, a crab bite with a green tomato jam and local oysters. True to form, their magical evening was nearly derailed by the impending Hurricane Florence, which was bearing down on the Eastern Shore less than 24 hours before their nuptials. But on the morning of their wedding, the heavy cold rain stopped, and the sun peeked out for the first time in nearly a week. Throughout the day, the sky cleared up and the temperatures warmed, culminating in a spectacular sunset over the farm. The rest of the evening—dancing, eating, drinking wine—was under a dazzling night sky.