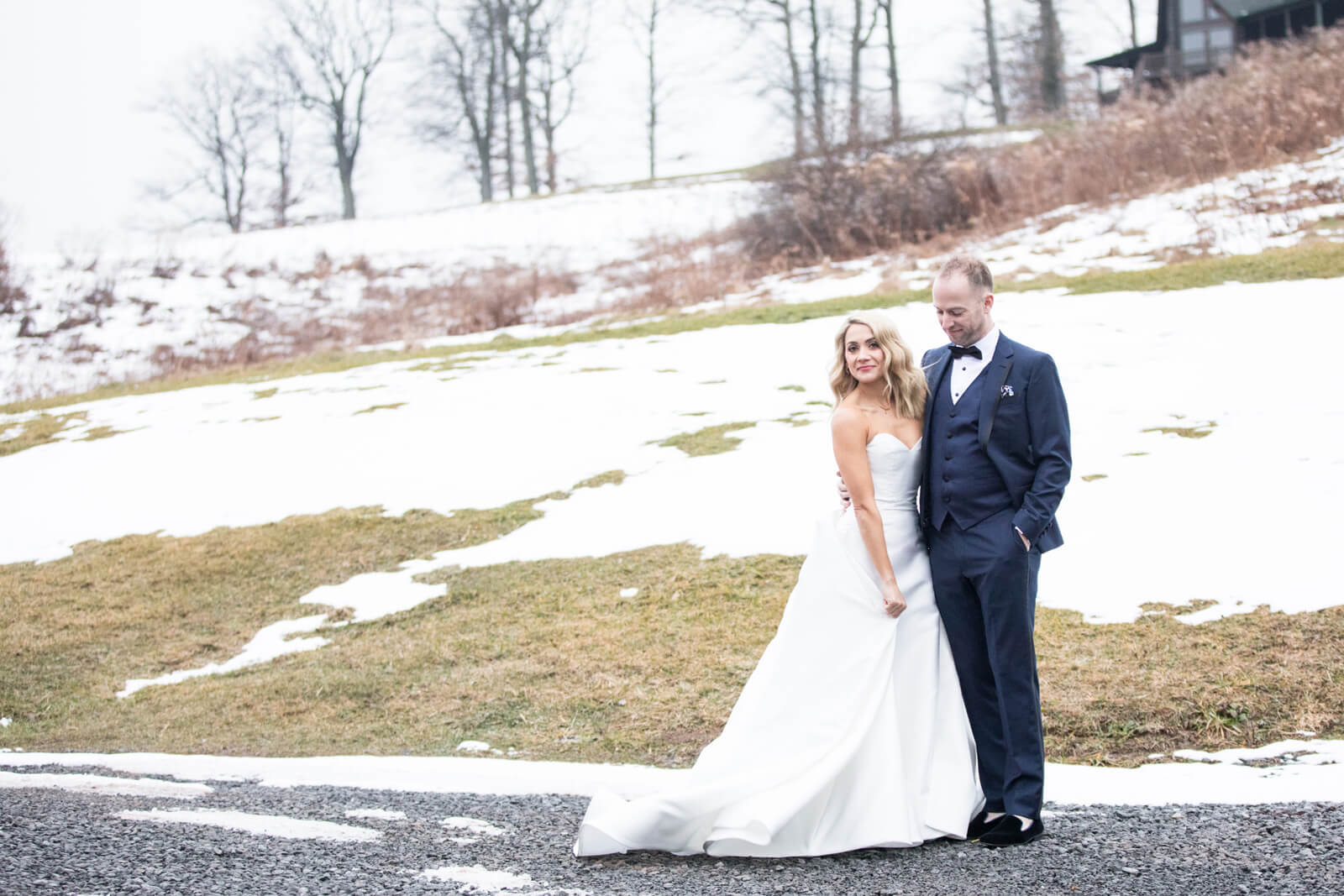 Occupations Bethany is in merchandising and Brian in marketing at at Under Armour Headquarters
Wedding date December 31, 2020
Number of Attendees 45
Number of Attendants 4 bridesmaids , 5 groomsmen
How You Met Brian was one of the first people I met when I started at Under Armour. He was leading a presentation and I was immediately drawn to his energy.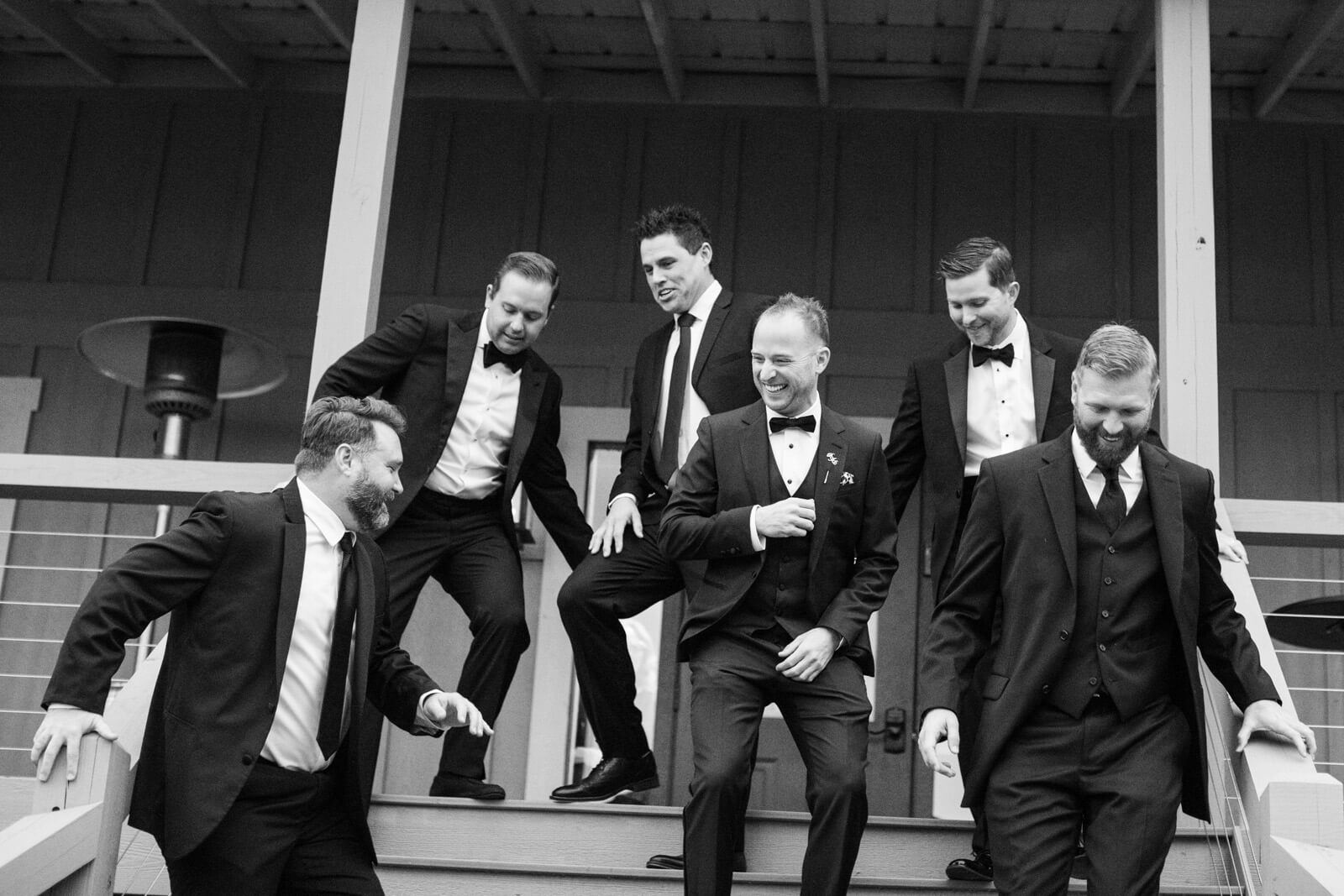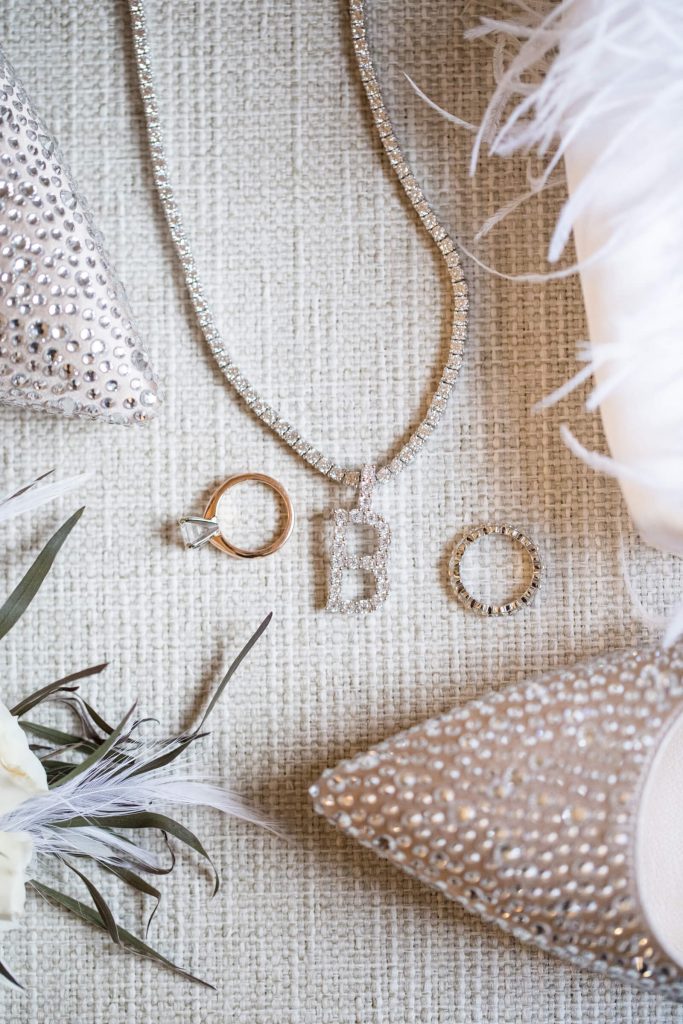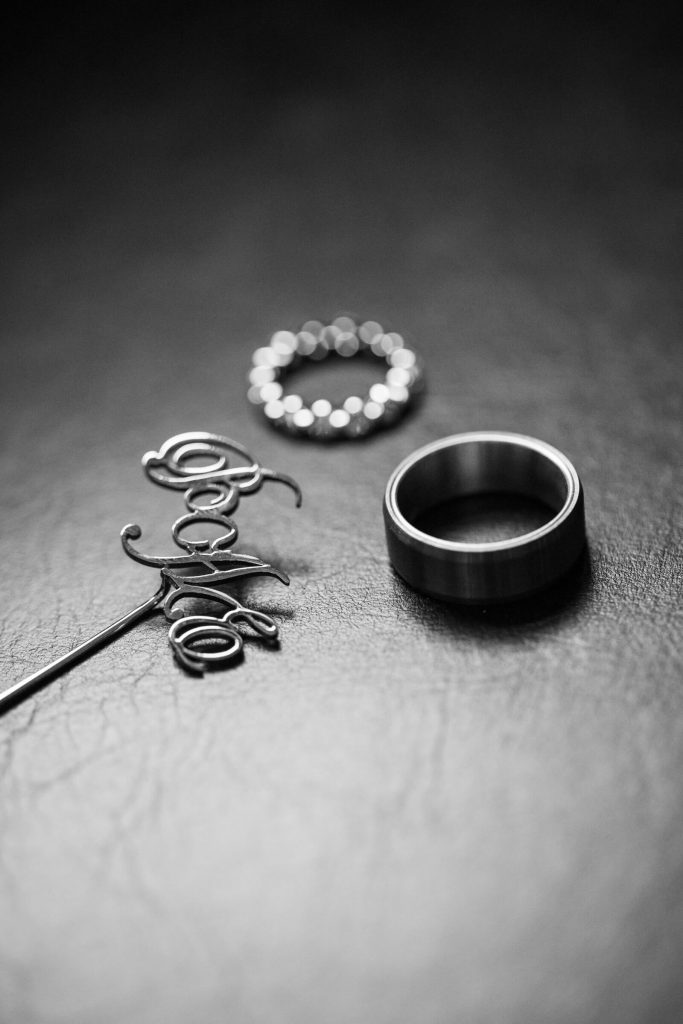 The Engagement We were in Cleveland—Brian's hometown—for the holidays. We were going to meet "friends for a drink" before a family dinner that evening. He got down on one knee before we entered the restaurant and I only knew it wasn't a joke when I saw a photographer taking pictures. (Turns out it was our friend Whitney.) From there it was one surprise after another. I walked into the bar and my two sisters were there. That's when it really hit me. We celebrated with a drink before heading back to Brian's parents. Still oblivious I walked into the house and my entire family was there, plus our best friends from Philadelphia. Everyone was in on the surprise and I couldn't believe how good everyone was at keeping the secret. I was in shock and it still brings tears to my eyes to this day.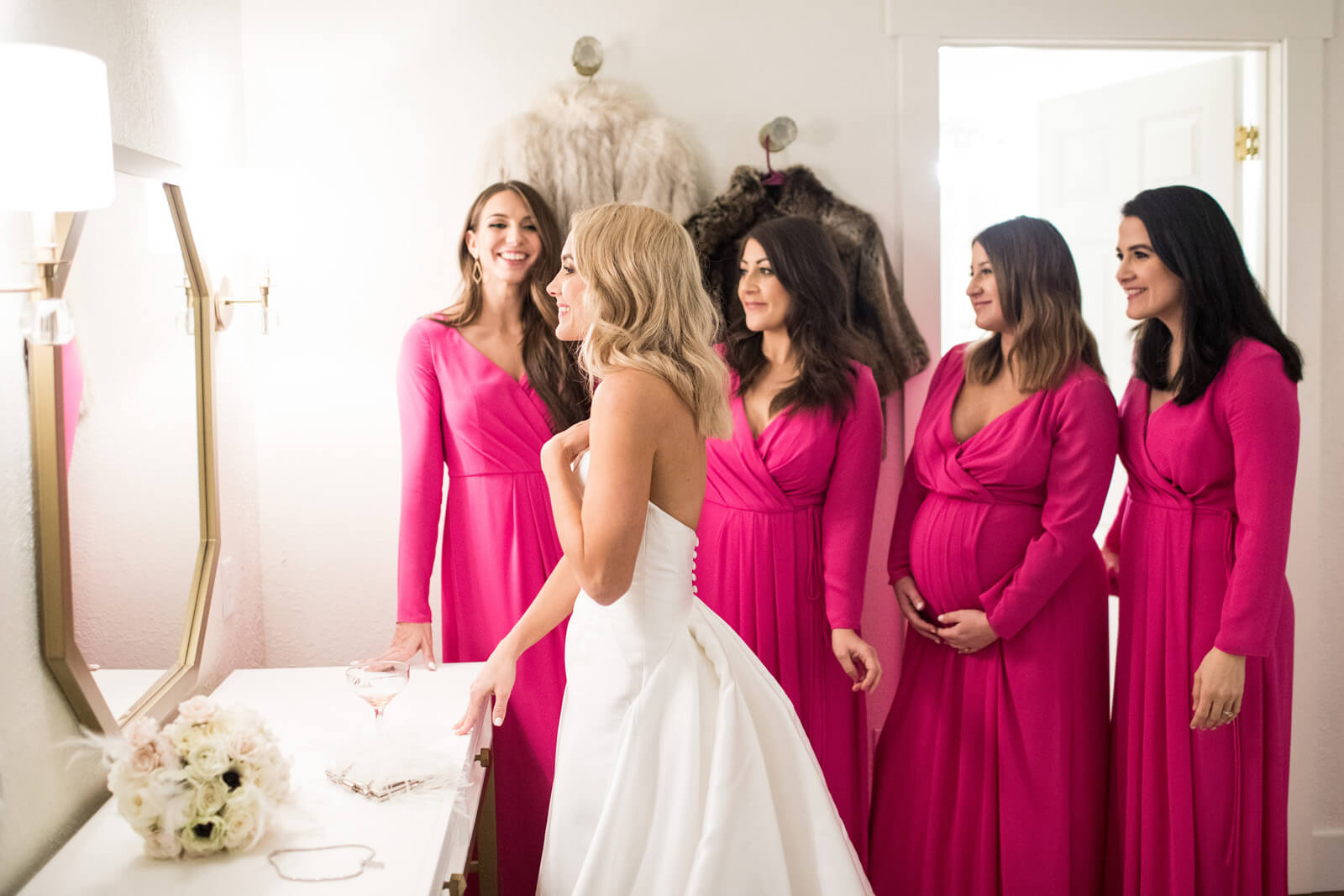 Wedding Design Inspiration "Black Tie Lounge" with a jazz vibe. That meant mixed metallics, feathers, candlelight, and pops of personality.
What Was Unique and Special About Your Wedding Day Being able to keep the traditions that were so important despite the challenges brought up by COVID. We didn't have an open dance floor, but we had the parent dances that were very special to us. They seemed that much more special because there was no other dancing except our first dance. We also had a "COVD-friendly" version of the traditional Pittsburgh cookie table with individually wrapped cookies—which was a huge hit.
Since I didn't have a wedding planner, my entire family helped navigate the rolling changes with venues and having to get all new vendors. Everyone pitched in to set up the space. We transformed the Great Room of the inn into an intimate chic soiree for New Year's Eve. We brought in fur throws and sparkly pillows, and added candlelight around the room, and set up lounge seating with bottle service for smaller groups to mingle safely and enjoy the night.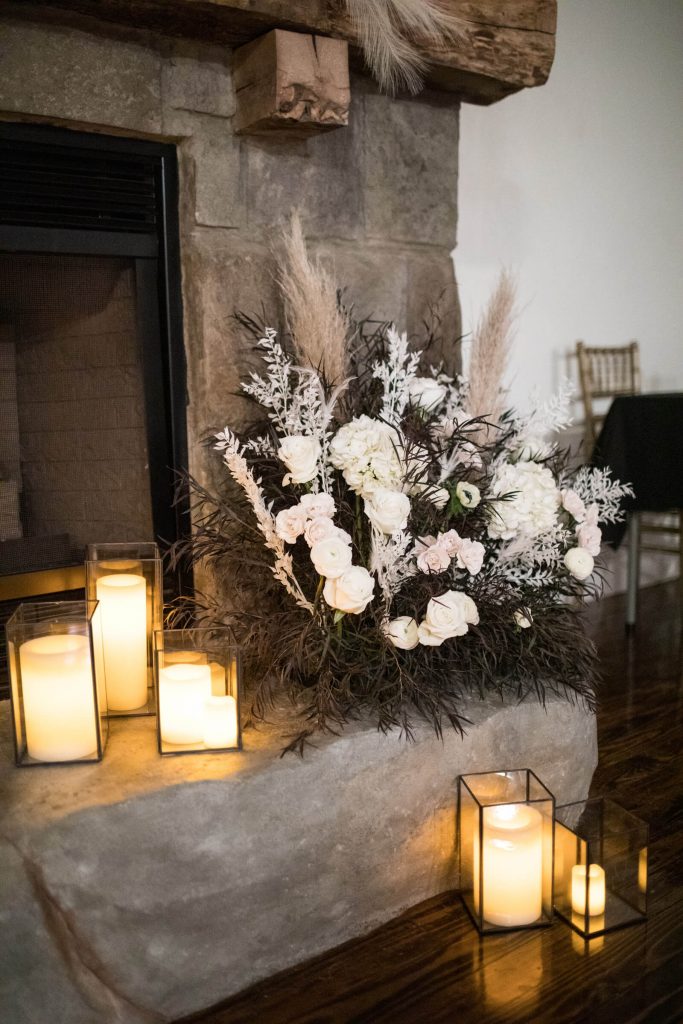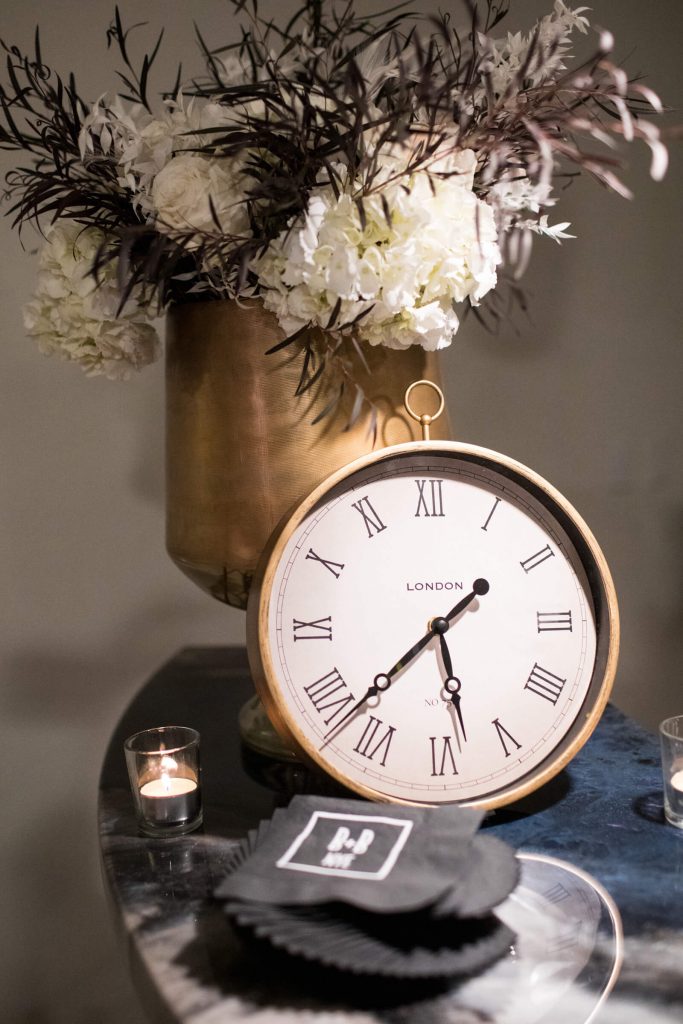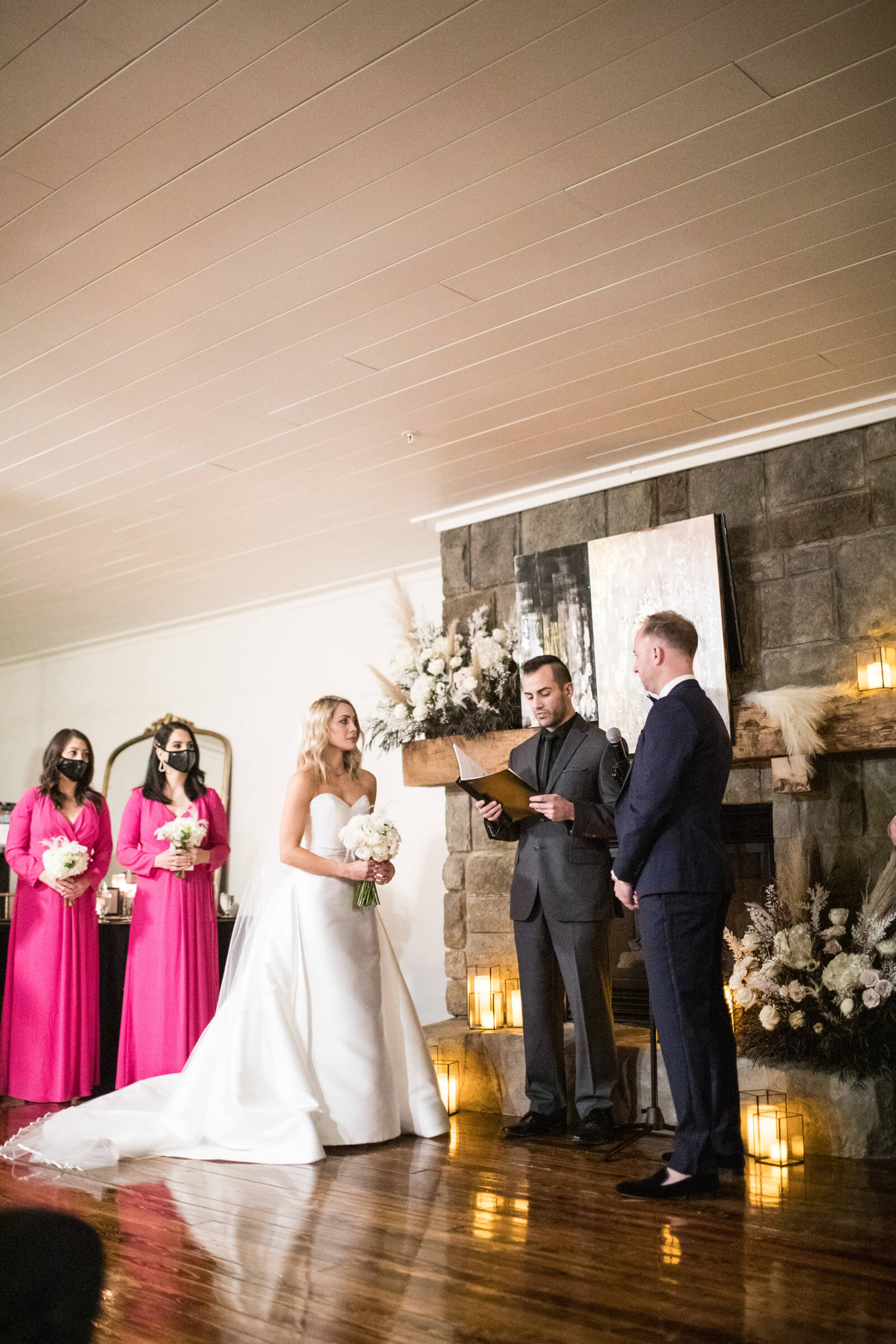 Most Unexpected Event On Your Wedding Day Because we pivoted venues so last minute, this was the first time we were in the space to decorate. The fireplace was the main focal point and backdrop to where we would stand for our ceremony. There was a big TV above the mantle that we couldn't remove—we thought we would be able to cover it with florals or draping, but it was WAY more challenging than that. Everyone was thinking of different solutions—at -one point my cousin was even trying to play our logo up on the screen and just make it part of the display. This went on until the day of the wedding when hair and makeup were already underway. At one point my twin sister just whispered to me, "the mantle is fixed." I walked down the aisle not knowing what the mantle looked like. I joke with Brian saying I looked at the mantle before I looked at him, but truly that mantle was a metaphor for the entire wedding—a completely unexpected challenge, my entire family pitched in to help, and I trusted it would be fine. My sister thought to use my artwork to mount onto the TV, which was never the intent when I painted a few extra canvases. It turned out better than I could have imagined. And good thing too because that mantle was in like 75% of my photos.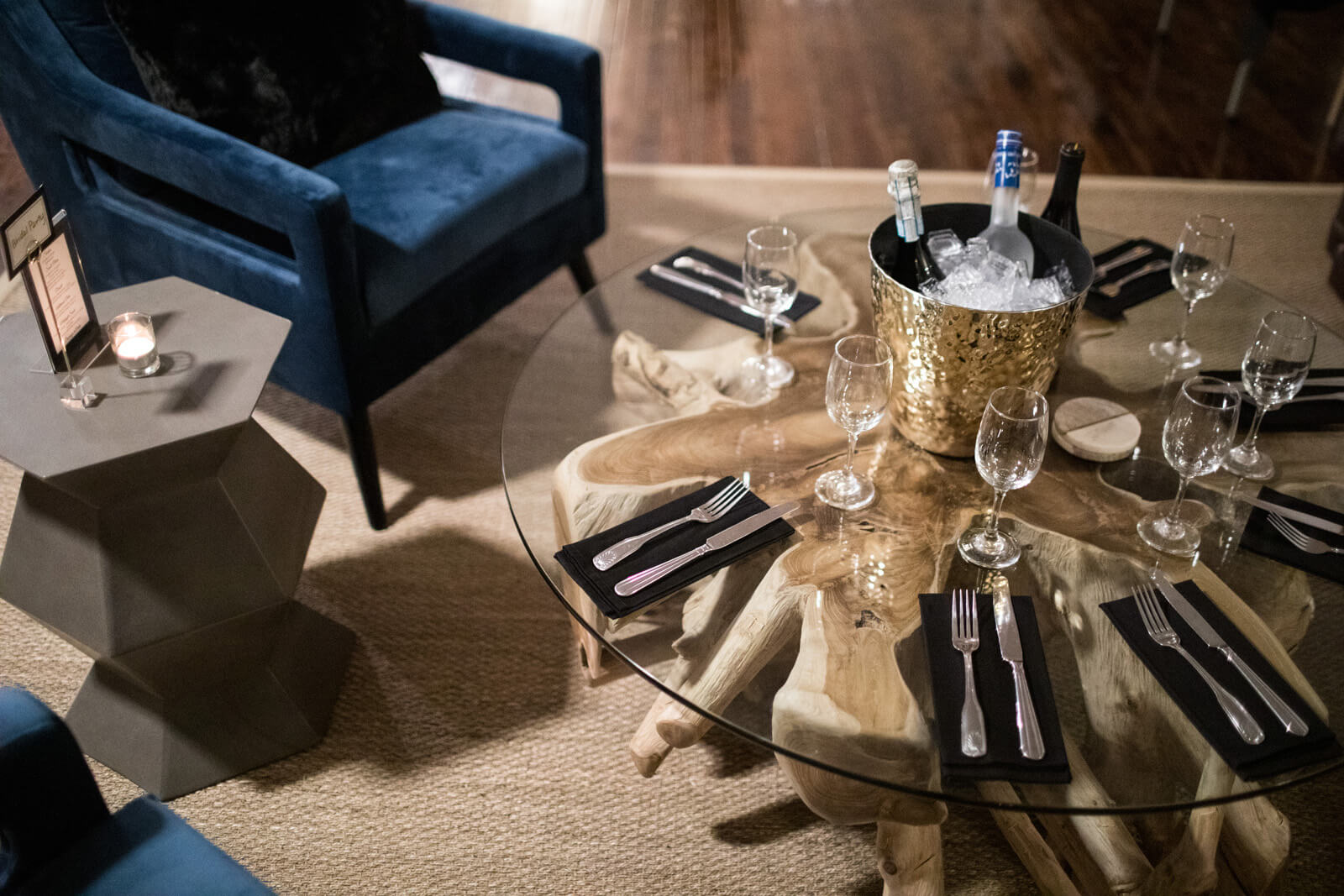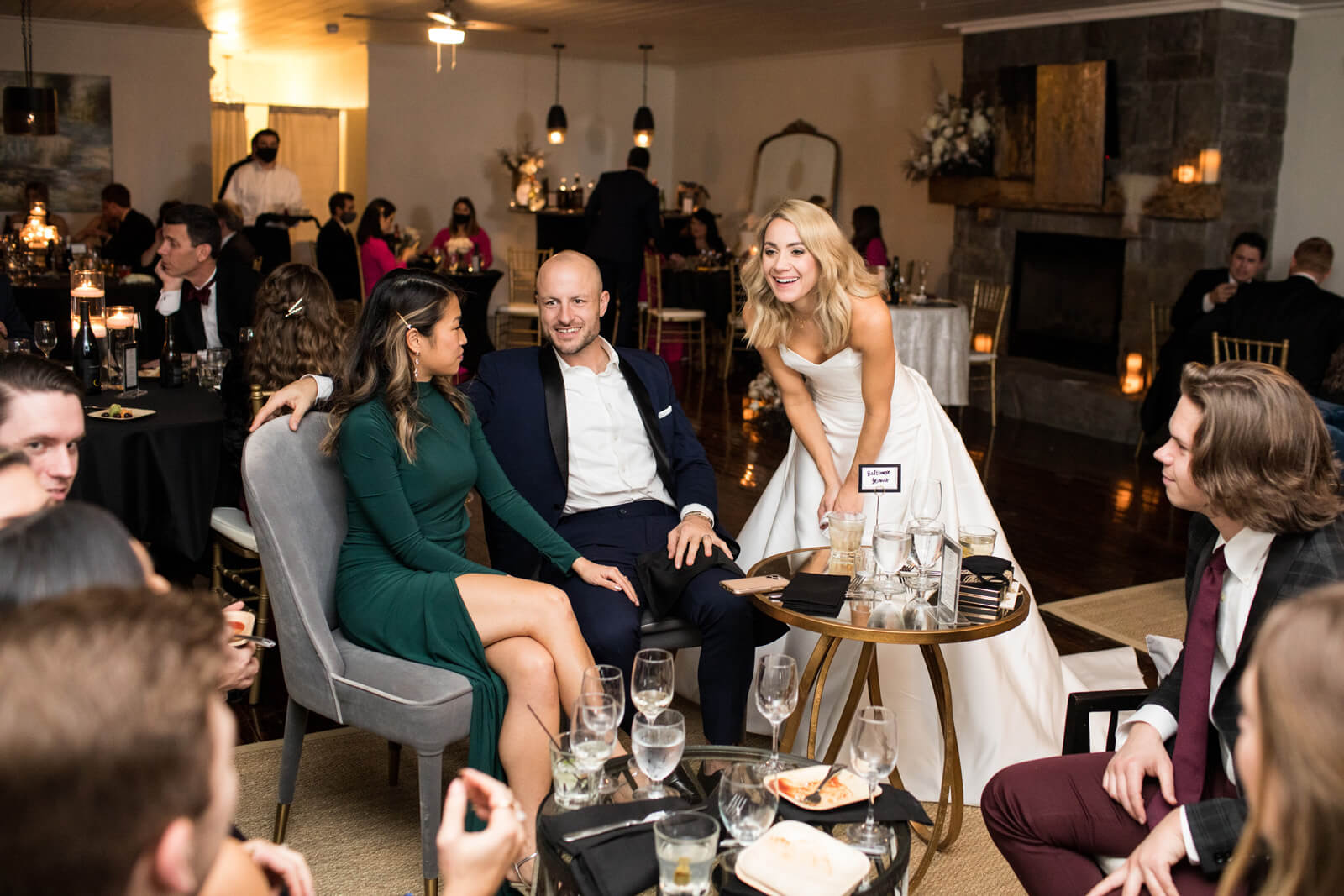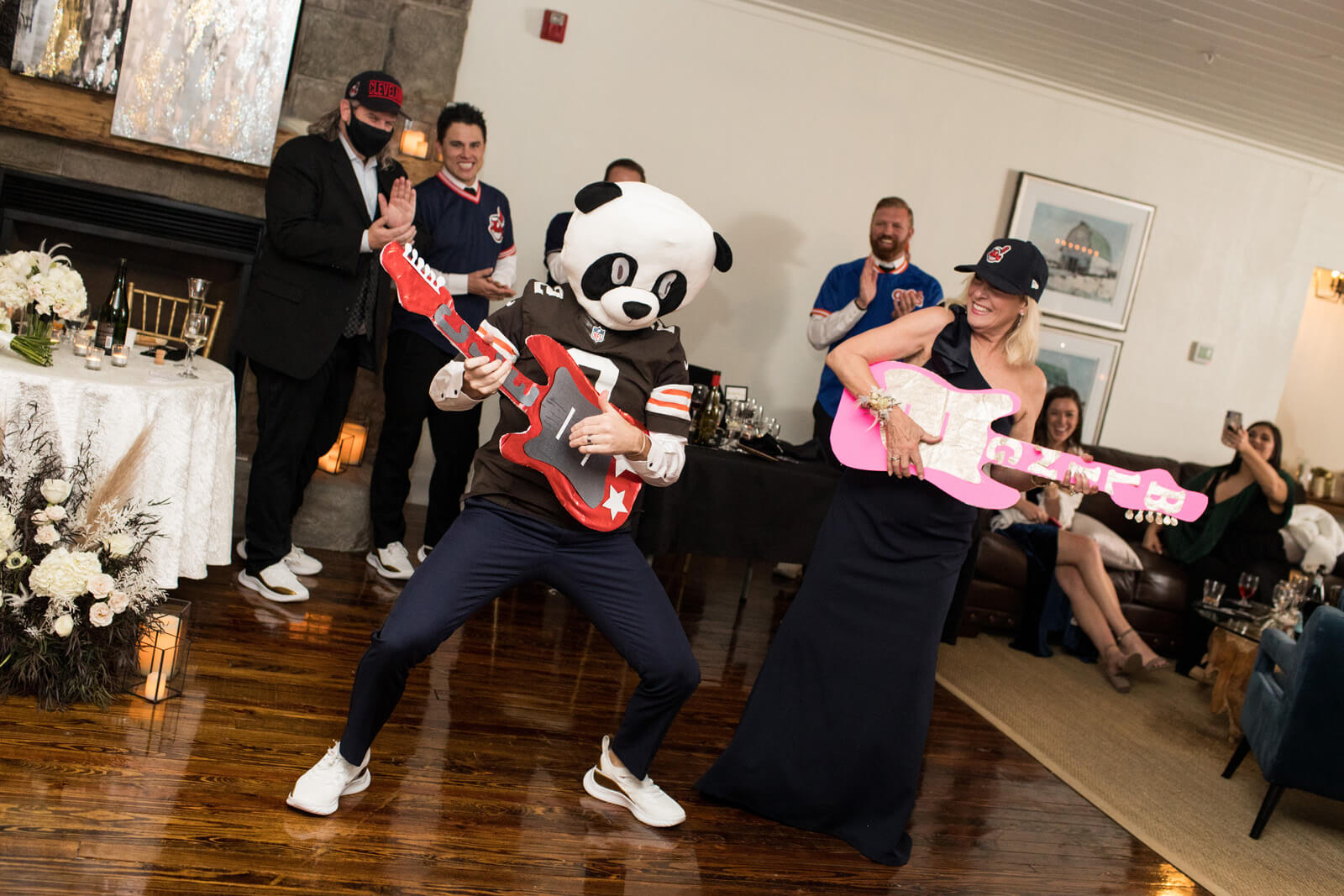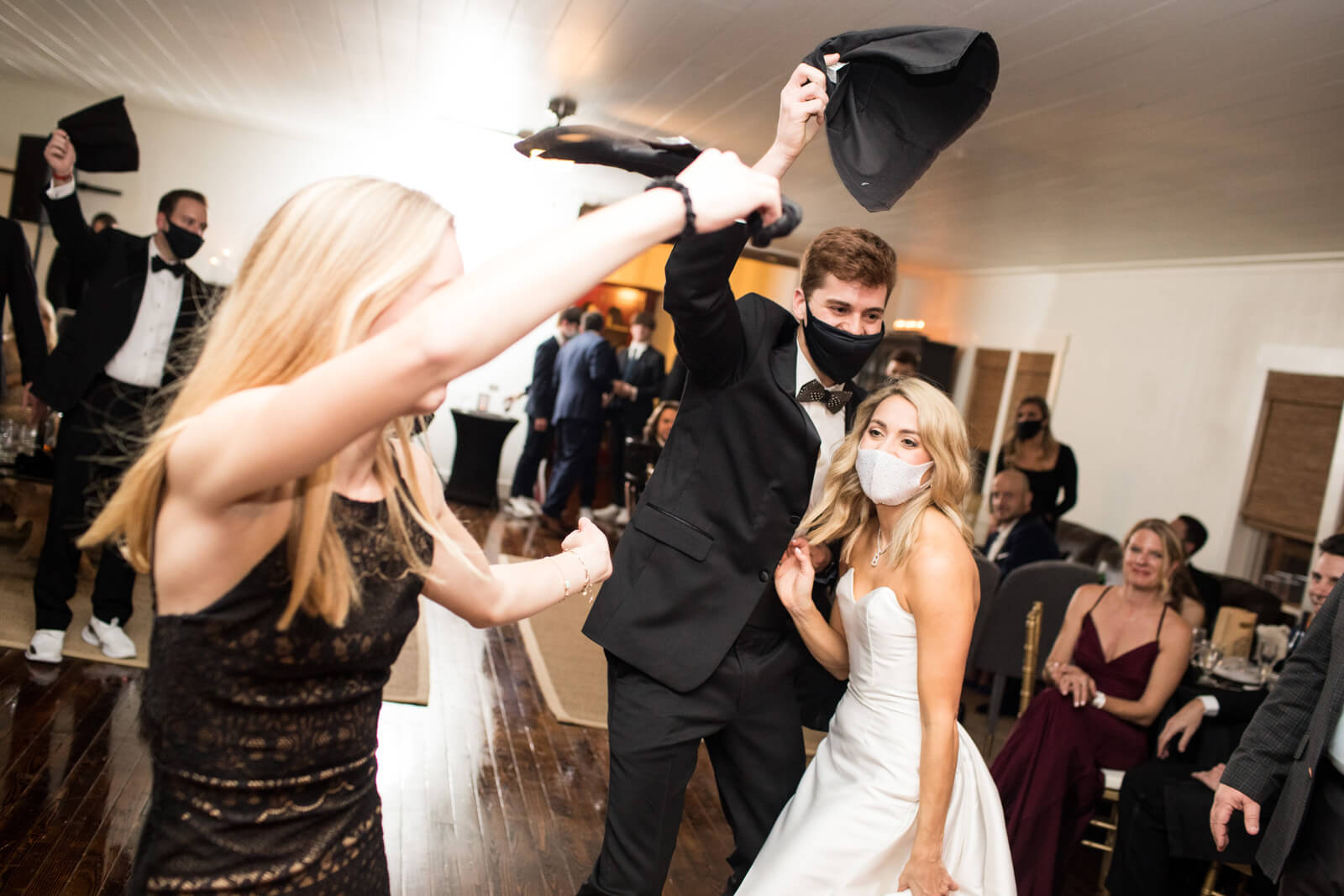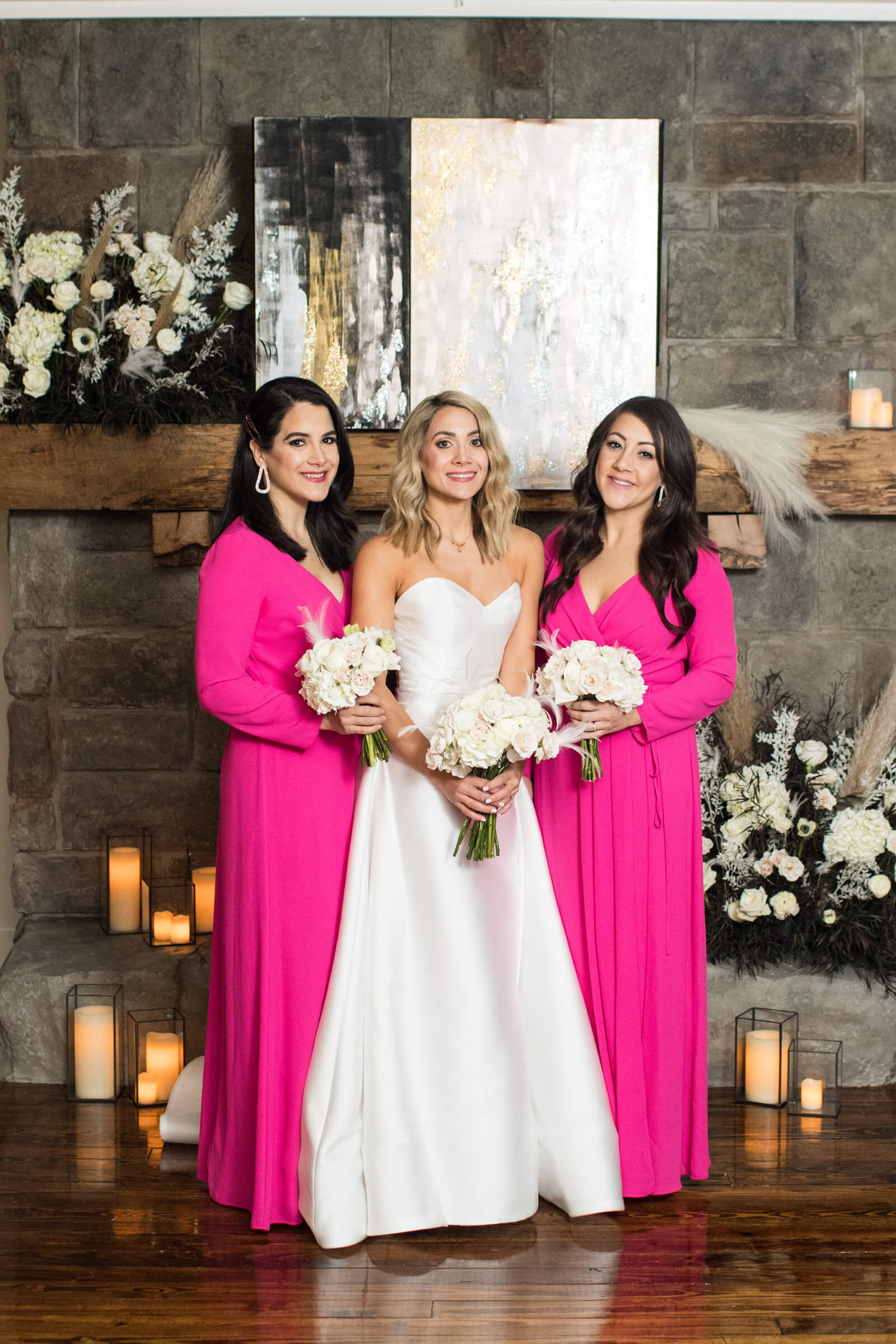 Favorite Details The pops of personality: Taylor Swift lyrics I painted on canvas that tied into "Lover," our first dance song; Brian's groomsman changing into UA Curry 8 basketball shoes later in the night; the lounge seating we created. Since we cut had back on so much, the details we did have were all very special.
Piece of Advice Focus on what really matters to you and everything else will fall into place. When it comes to all the details, keep it simple with a few key elements you really want, anything else trust your crew and let yourself have some surprises.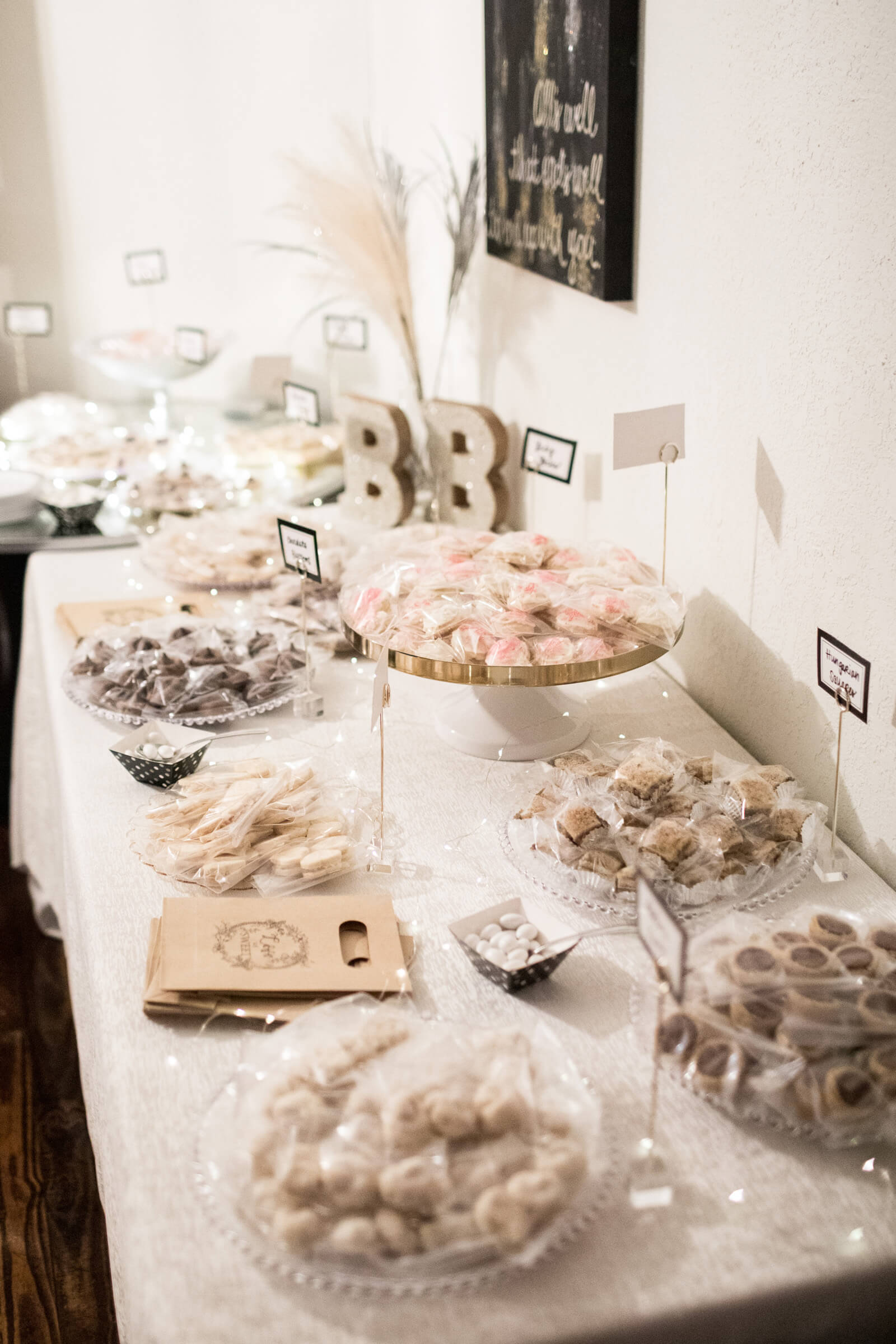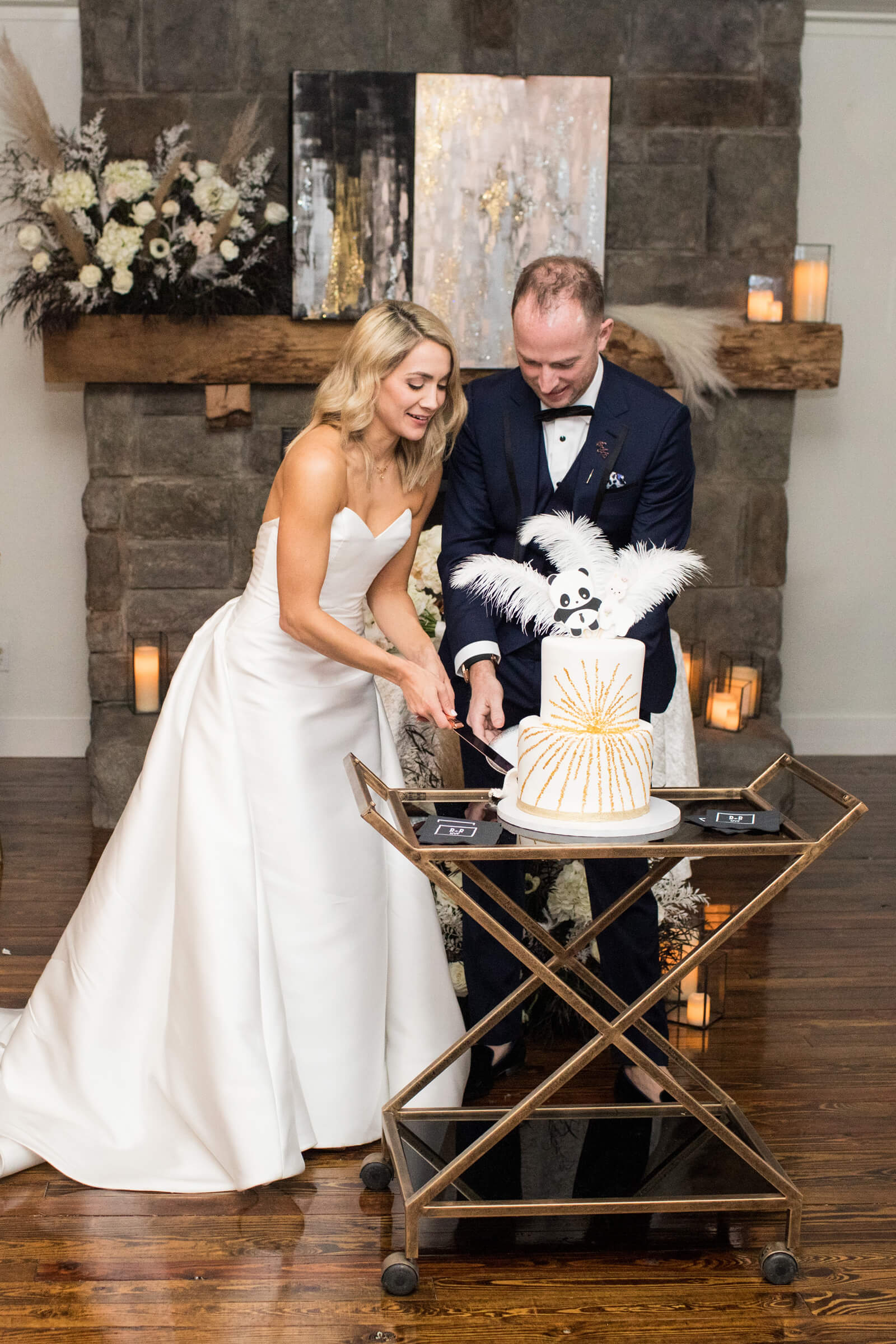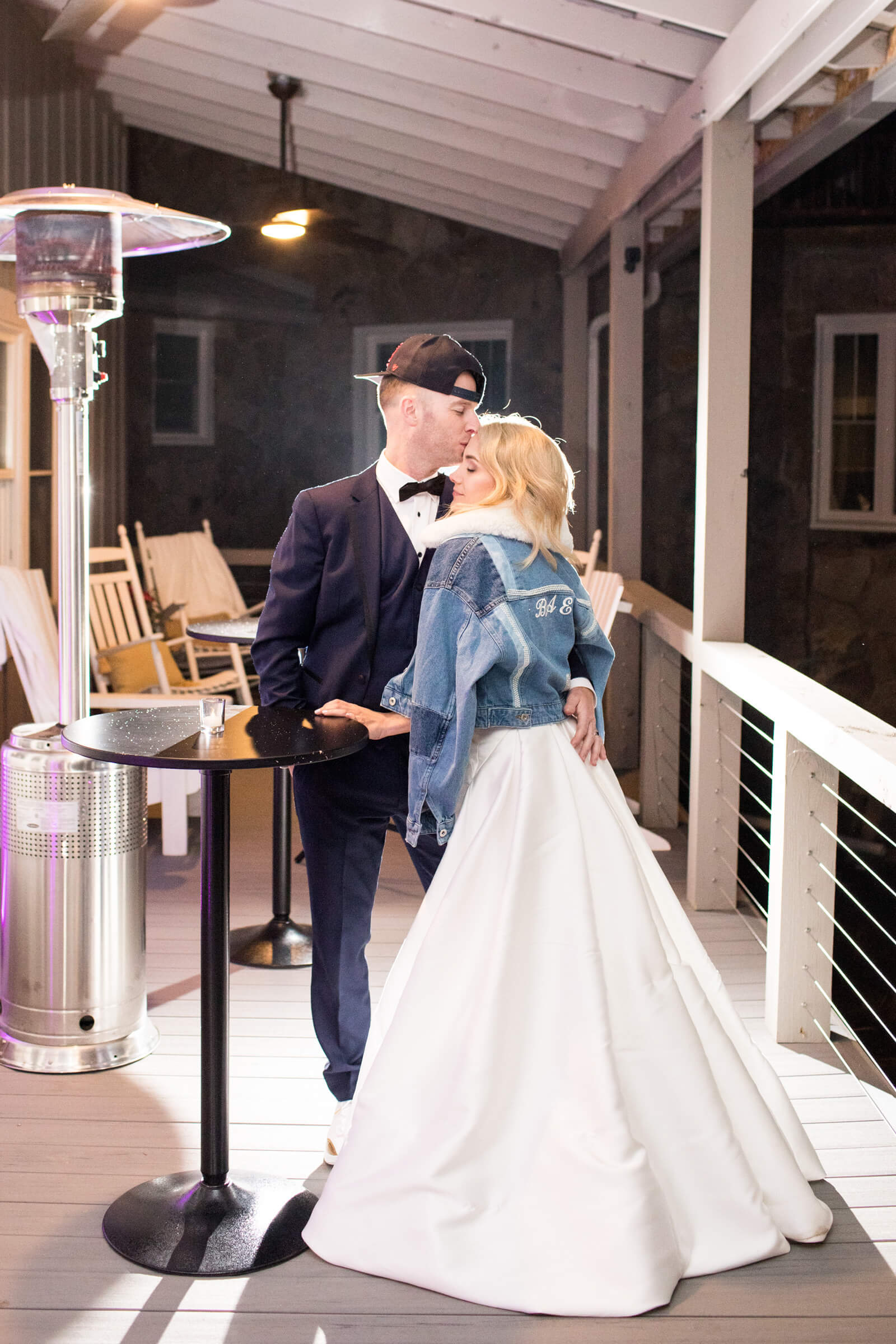 Beauty Flawless Faces by Megan (makeup); Lake Salon (hair) Bridesmaids David's Bridal Cake Mountain Flower Bakery Caterer Huckleberry's Catering Floral Design Farmhouse Fete Groom Custom Tuxedo from Threadwell Clothiers Honeymoon Grand Solmar Rancho San Lucas, Cabo San Lucas Invitations Minted Location Red Barn Inn, Swanton, Maryland Music Louis Pettinelli jazz ensemble Officiant Bethany's brother ("It was another last-minute change in our plans and became one of the best parts of our day.") Photographer Jessica Fike Photography Transportation A Touch of Class Limousines Wedding Dress Anne Barge, Anne Gregory Couture, Pittsburgh, Pennsylvania