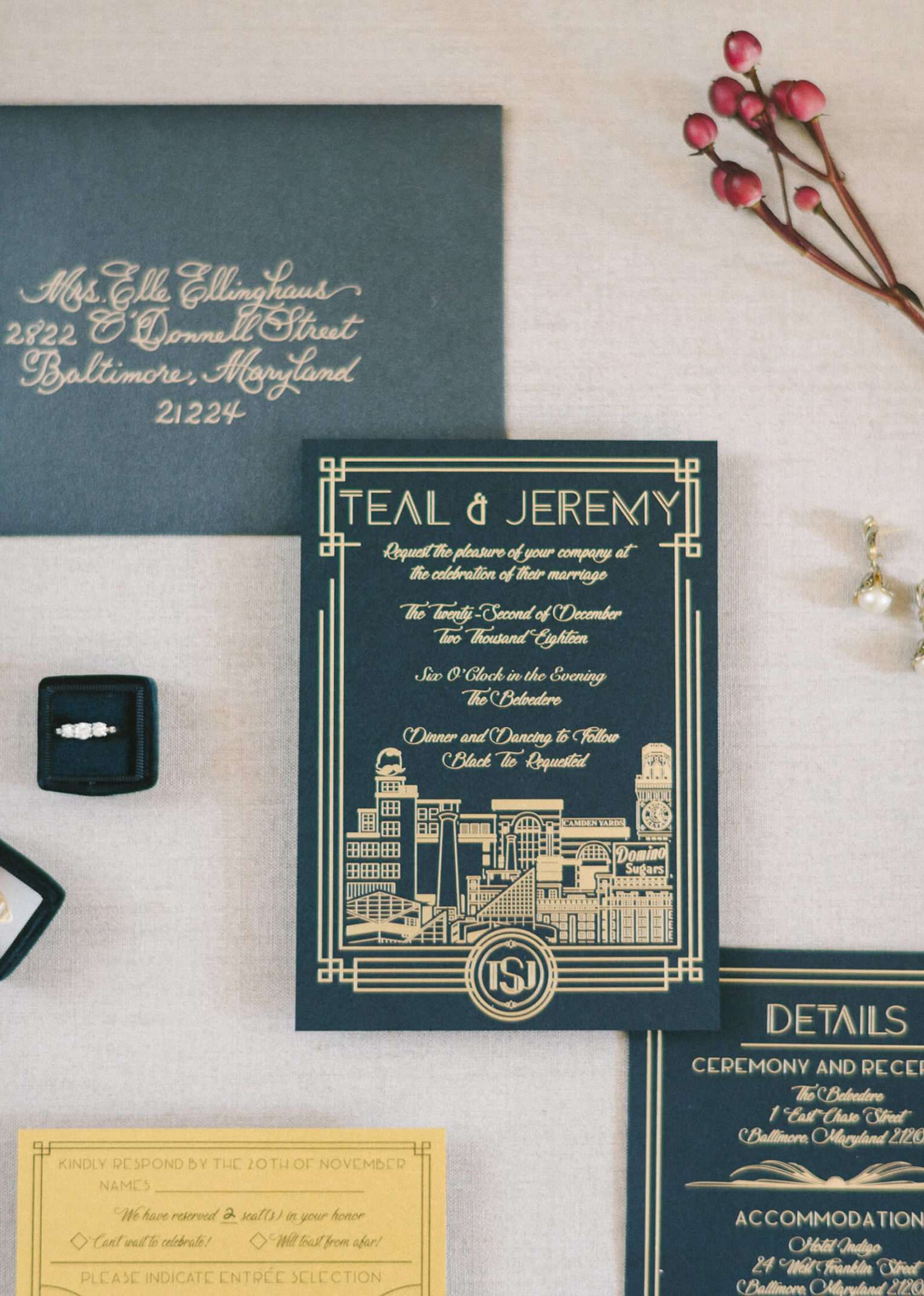 Occupations Teal is a corporate assistant at Revolution Events; Jeremy is an outside sales manager at Keystone Automotive.
Wedding date December 22, 2018
Number of Attendees 125
Number of Attendants Seven bridesmaids, one bridesman, seven groomsmen, one groomswoman, two ring bearers, and one flower girl.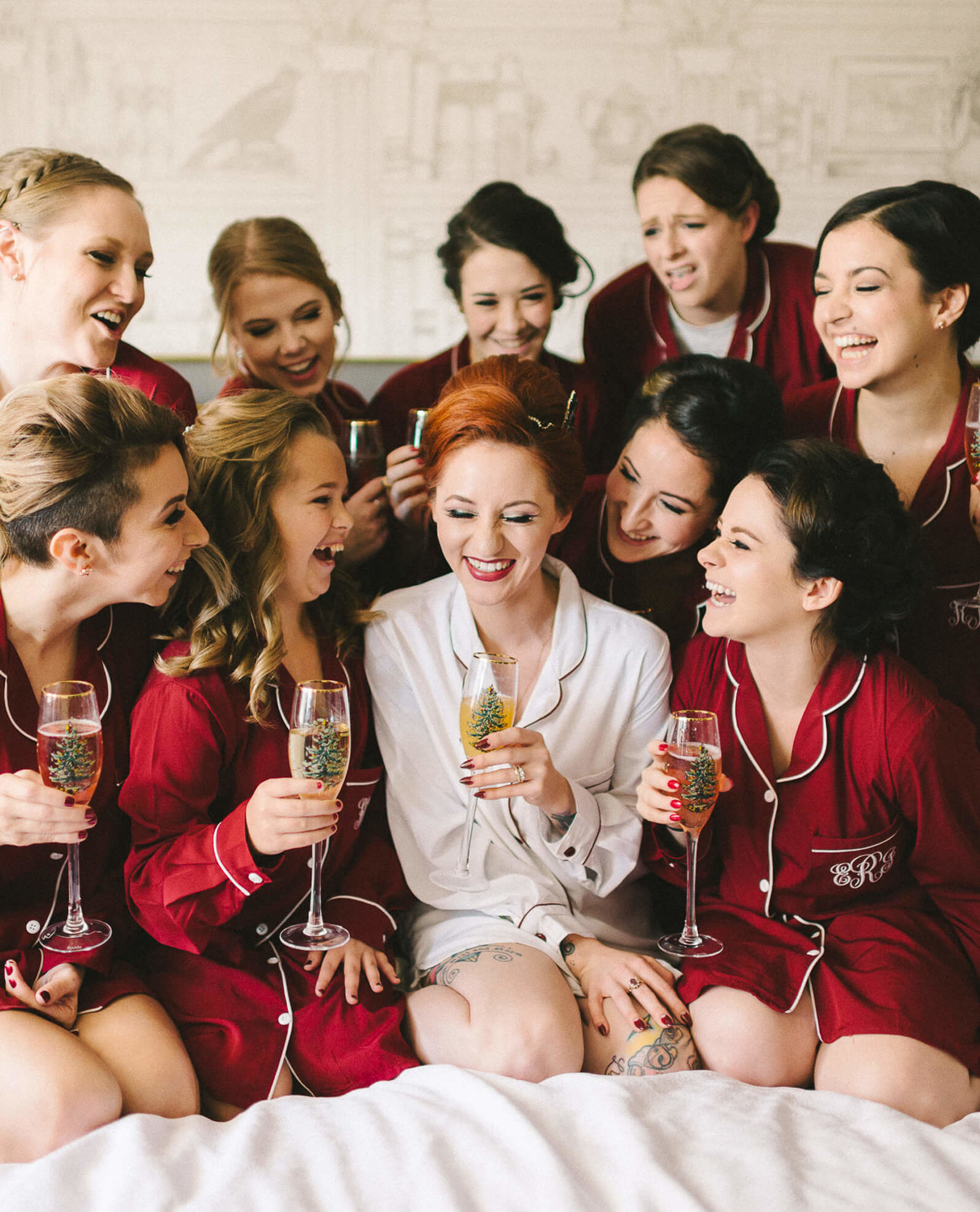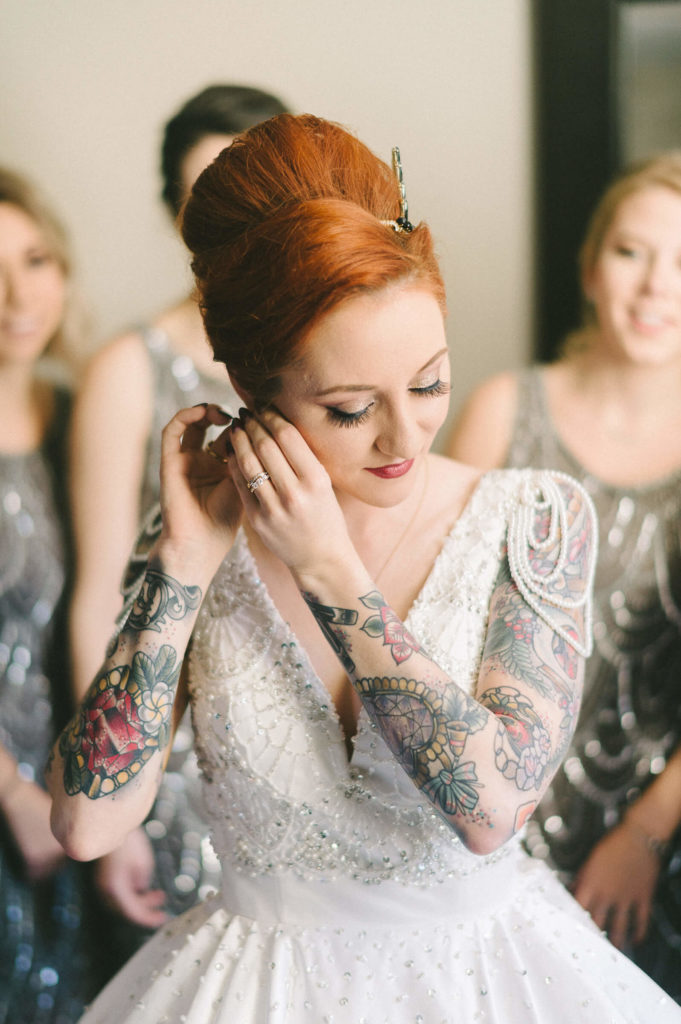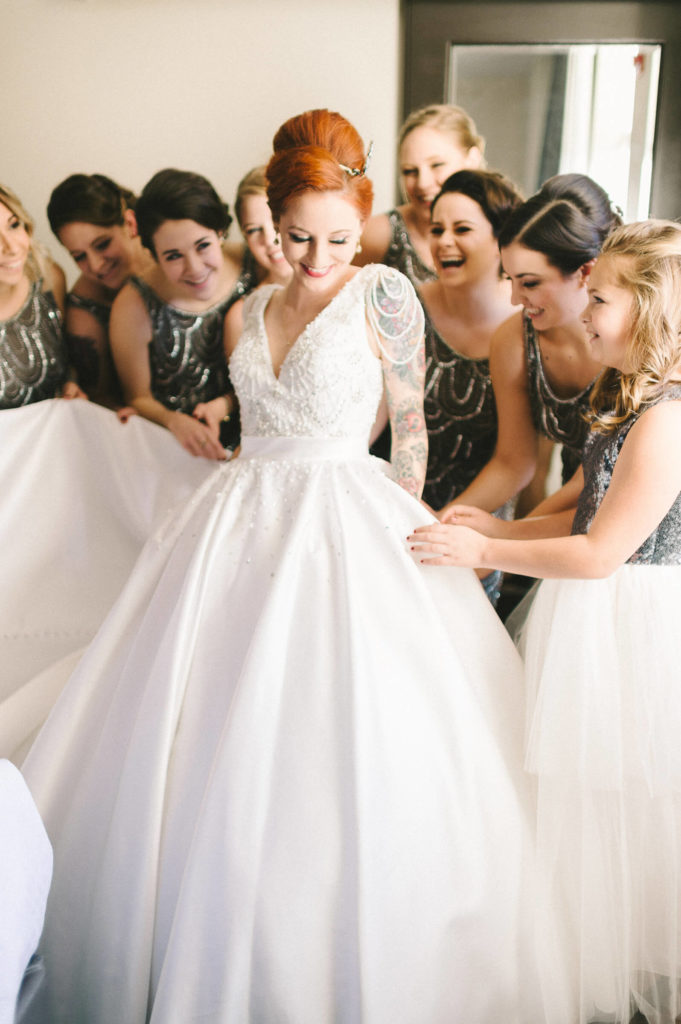 How You Met/The Engagement Teal and Jeremy met in 2008 when Teal's best friend, Elise, snuck some boys into her parents' basement (her mom—and grandmother!—found this out AT the wedding during her MOH speech!) They dated for the summer, but with Jeremy going off to college, having a serious girlfriend didn't make sense to him—so he broke it off. This did not go over well with Teal. For the next six years, any time they were both single, Jeremy tried to take Teal on a date. (He wanted to take her to an Orioles game since they had never gotten around to one that fateful summer.) The week of her college graduation, Teal finally agreed. Teal immediately texted Elise after the date and said, "I think I'm going to marry him." Elise told Teal she was crazy. Three years later, with the blessing of Teal's great-grandfather (who was in attendance) and some more sneaky behavior from Elise, Jeremy proposed on the flag deck at Camden Yards using Teal's late great-grandmother's enagagement ring.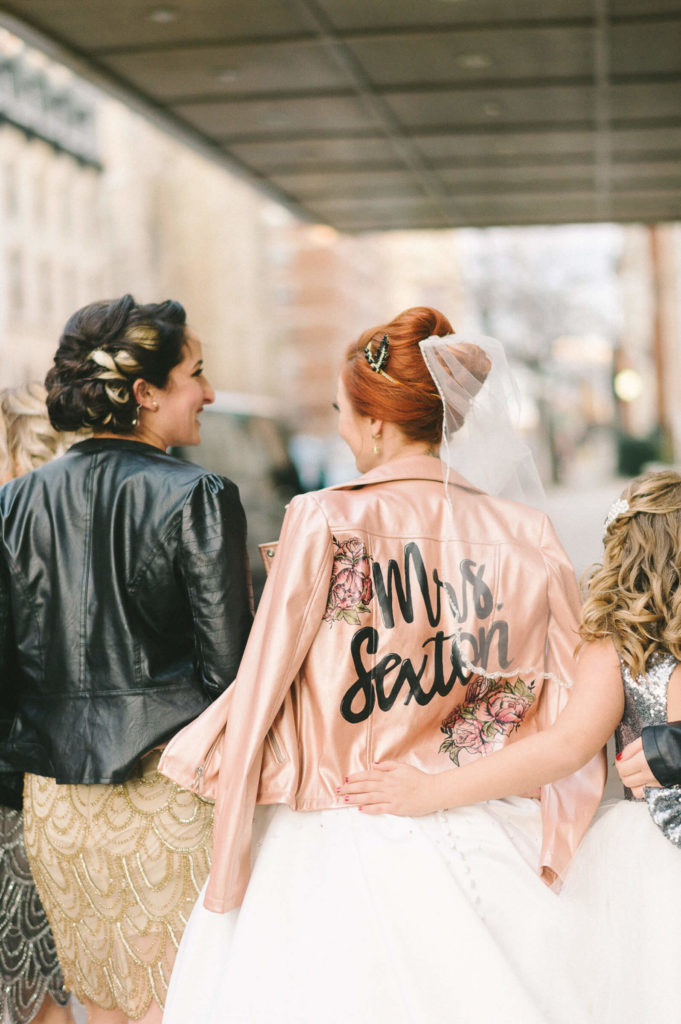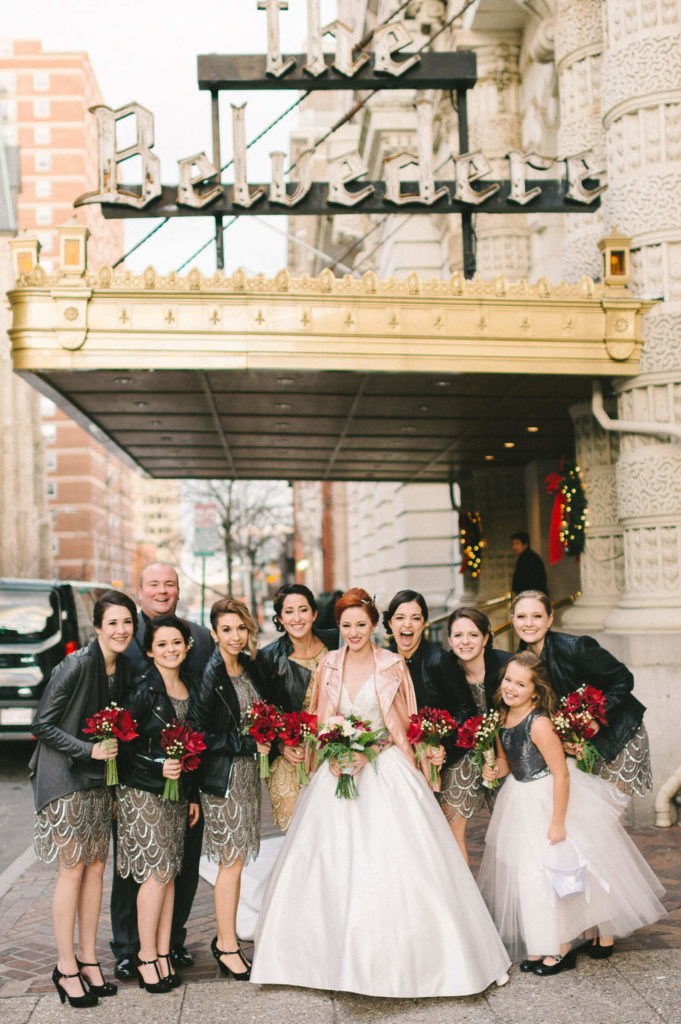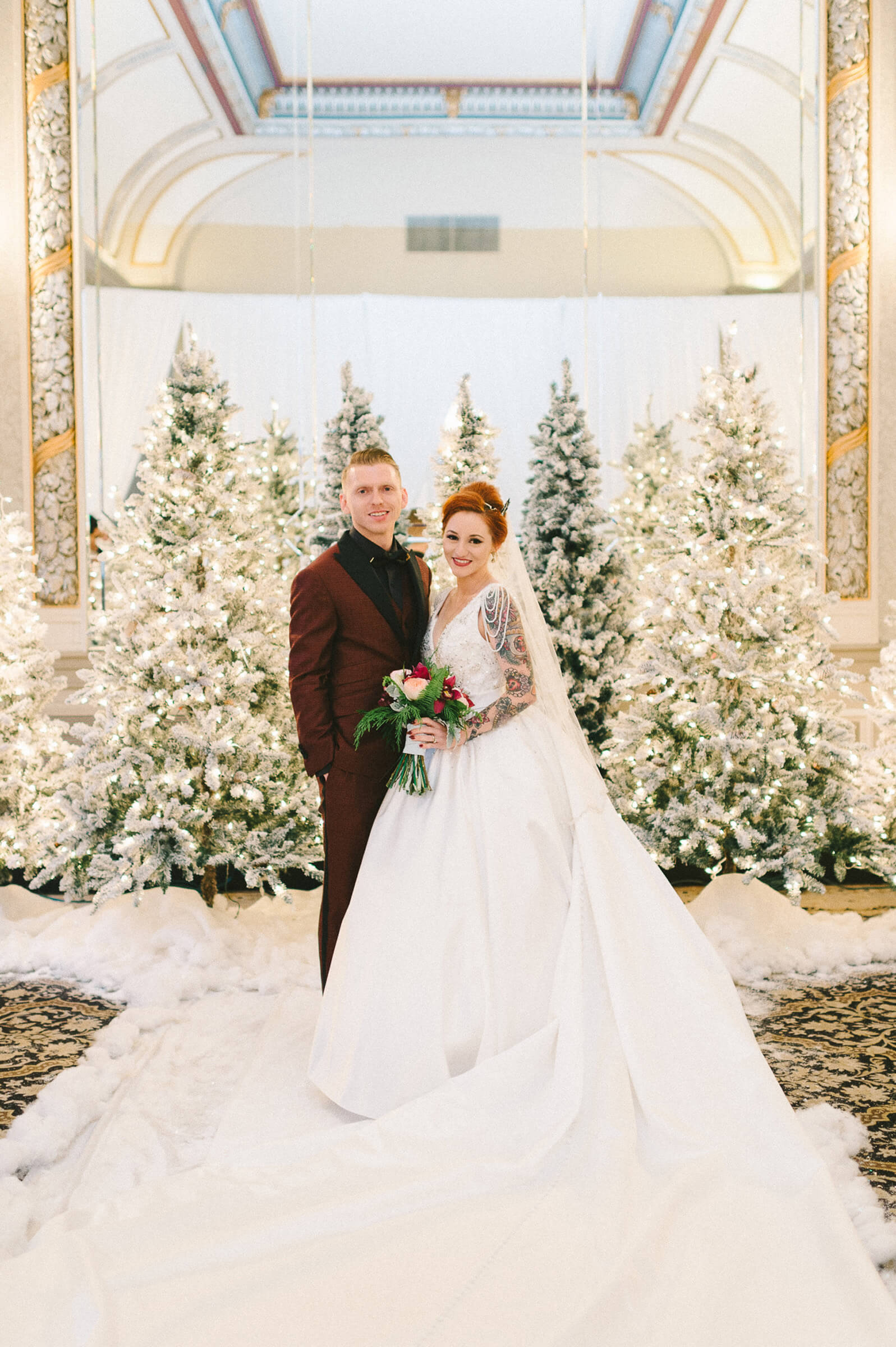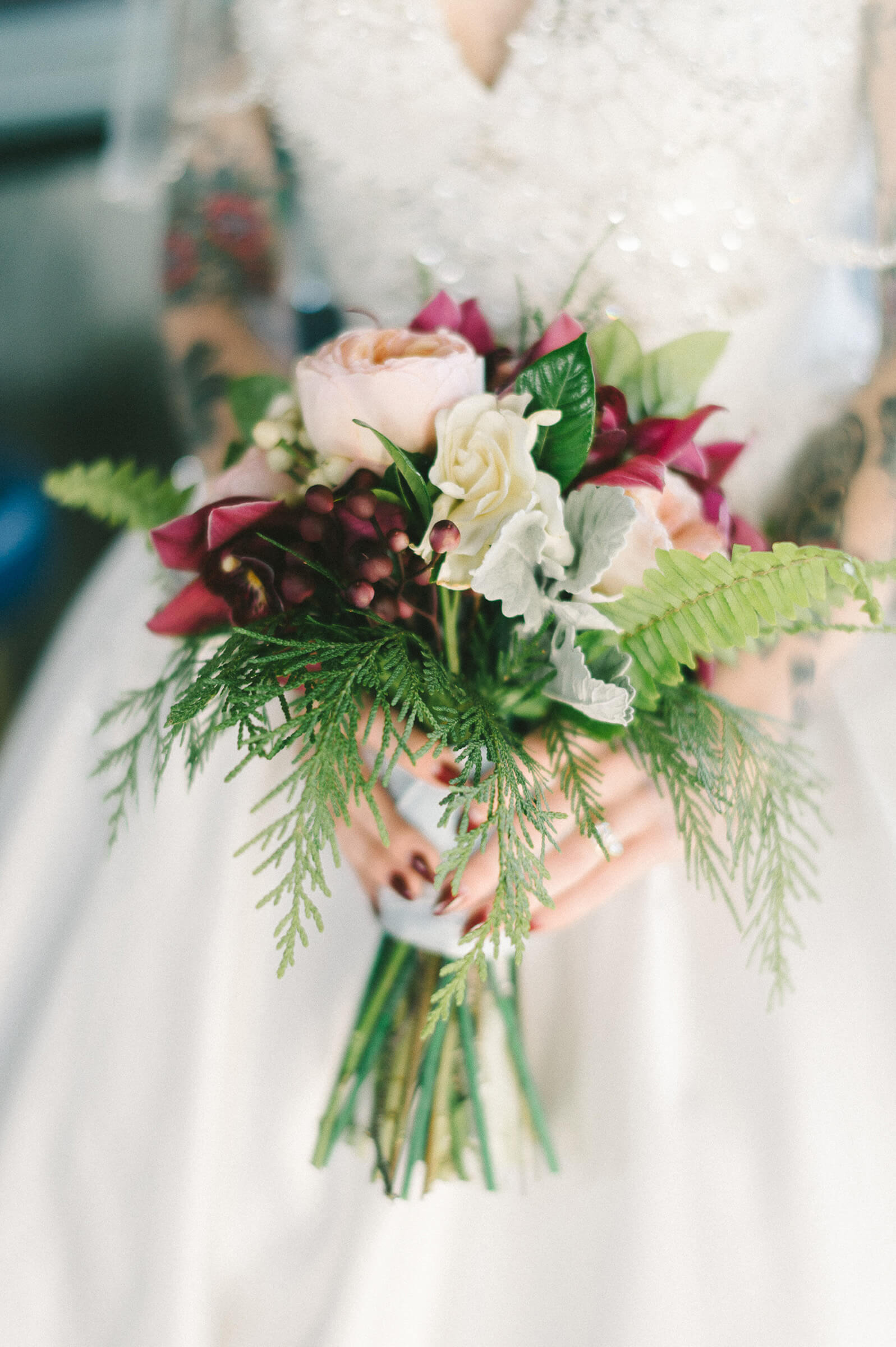 Wedding Design Inspiration We actually were originally going to have an October wedding, but then we happened upon a Disney Weddings holiday special. Midway through, we looked at each other and said, "So, we're having a Christmas wedding, right?"  I knew I didn't want a blush and white kind of wedding, I wanted something moody and and dramatic—sort of classic with a twist. We decided on a "Christmas Party at Jay Gatsby's" theme and it all came together from there.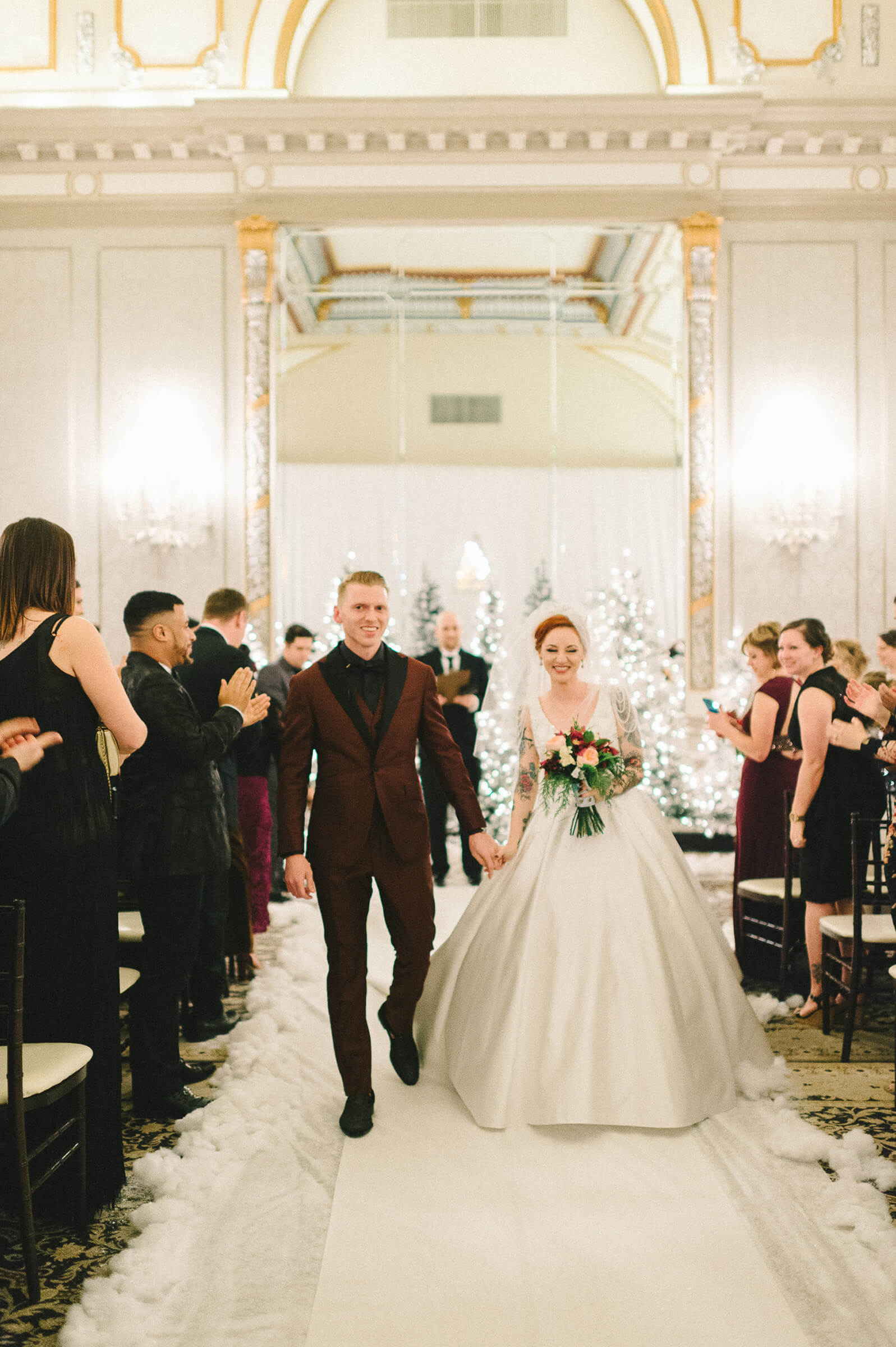 What Was Unique and Special About Your Wedding Day We had an entirely vegan wedding, so that's fairly unique. Our florist even sourced synthetic feathers for our décor. Most special? We were the first couple in our friend group to get married and we have friends from a lot of varied hobbies and facets of our lives. It was such a joy to see how many friendships were made from people coming out to celebrate us—and I'm glad my meticulous seating chart that mixed up the friend groups actually worked.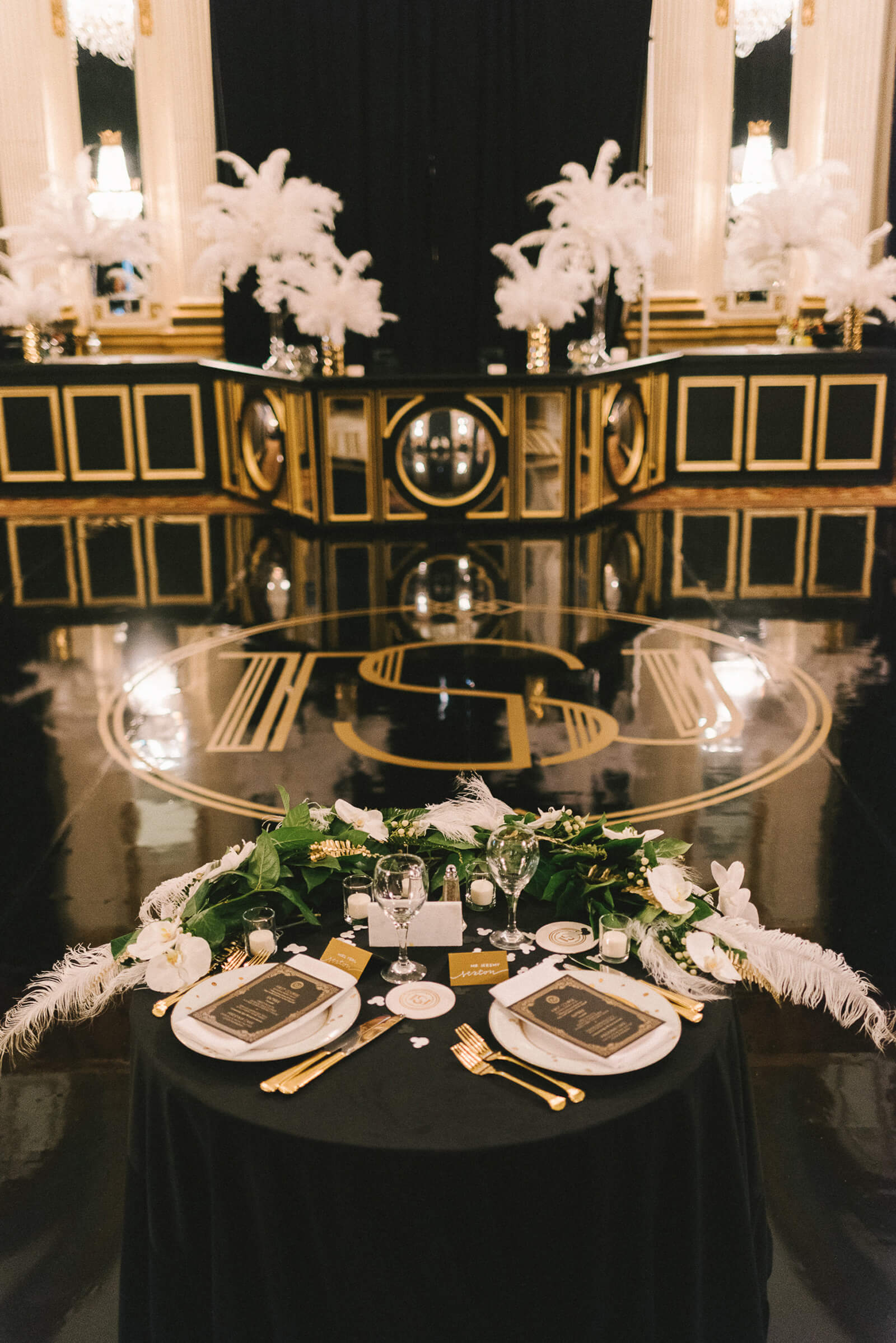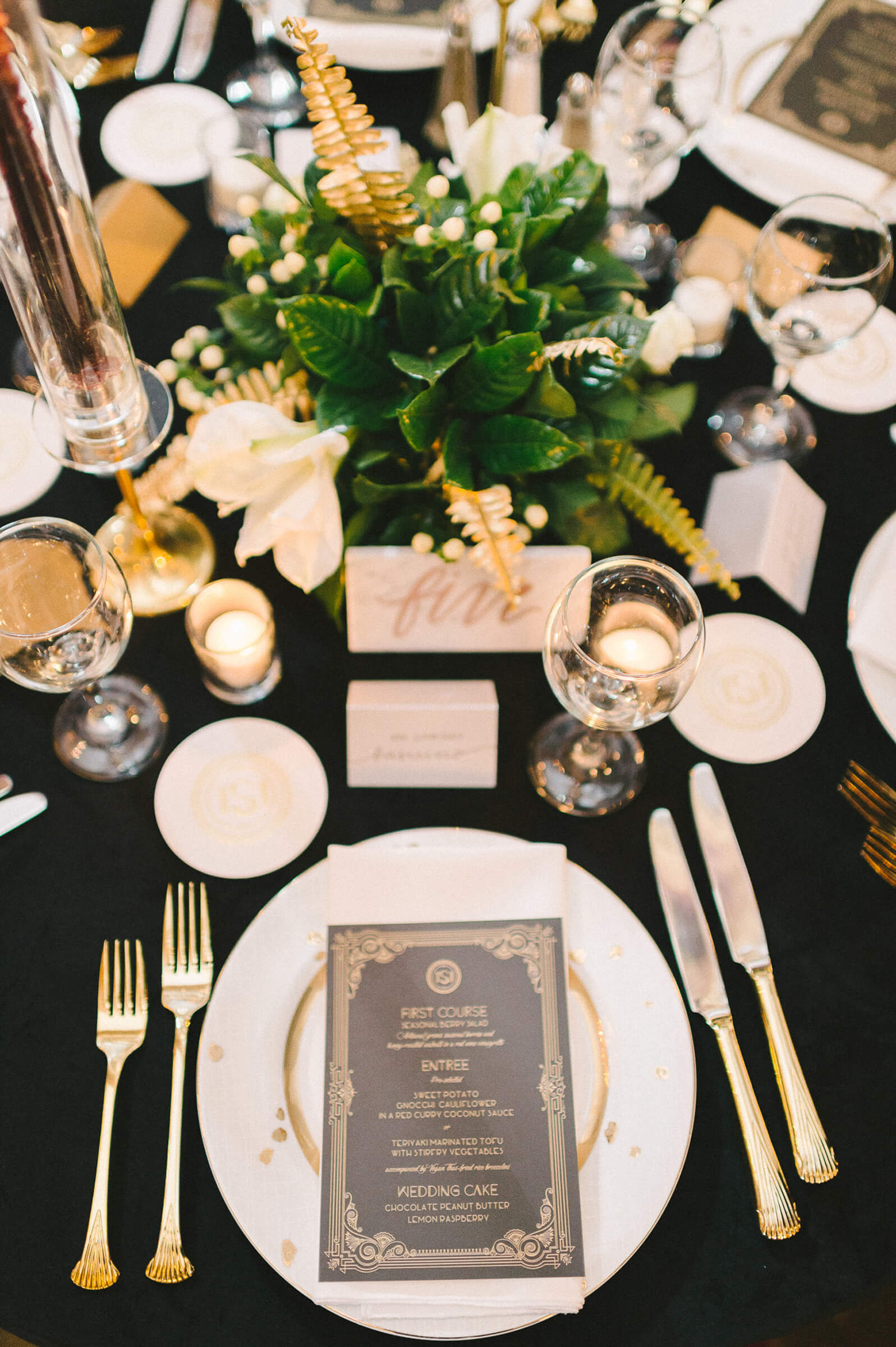 Favorite Details Our giant dancefloor monogram. Really, as many things as we could possibly put our monogram on, we did. Coasters, menus, matchbooks—you name it. I had custom cufflinks made for Jeremy out of Orioles game-used baseballs. The groomsmen wore socks that were printed with images of how they met Jeremy (cars, music, board games). My bouquet was wrapped with fabric from one of my grandaddy's dress shirts. Our "guest book" was a Christmas tree and the guests signed ornaments. Oh, and my dress had pockets.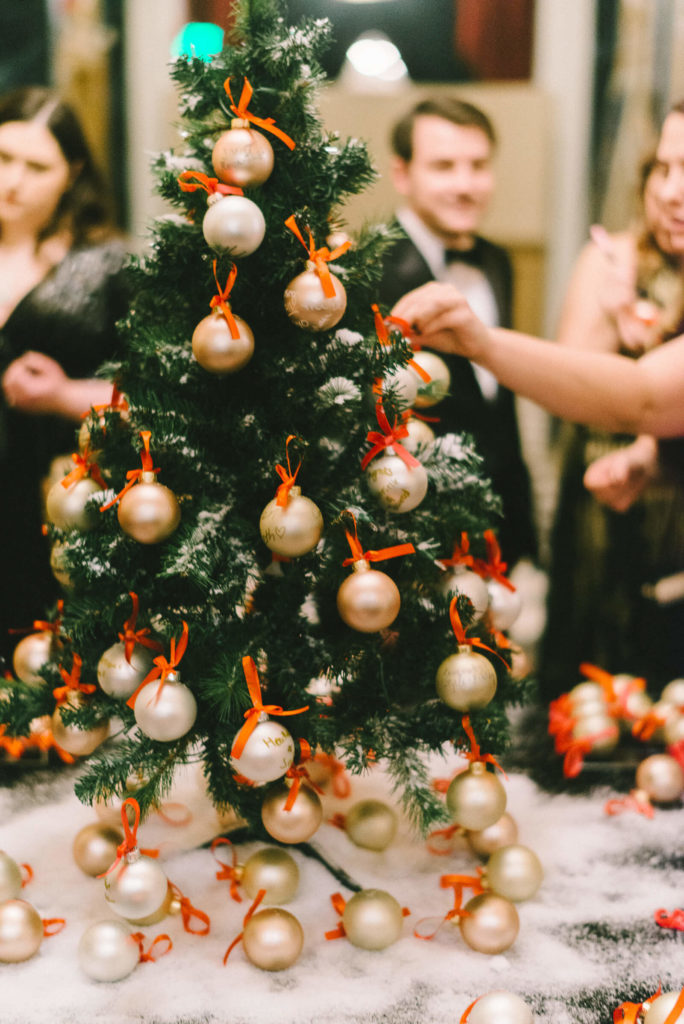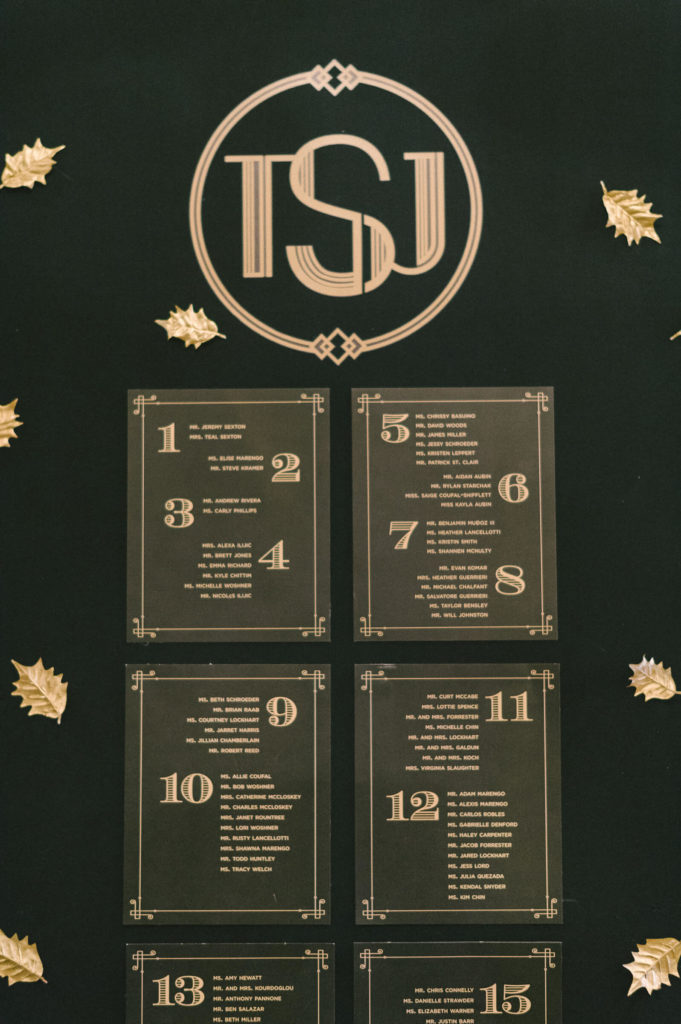 Most Unexpected Event On Your Wedding Day A guest was trying all day see us early so he could give us our our wedding gift personally, which we thought was a little odd. He managed to pull us aside just before cocktail hour. It turns out he'd had custom scotch bottles made for us honoring my grandaddy who had passed away in February and always drank Famous Grouse. I think everyone cried at that one.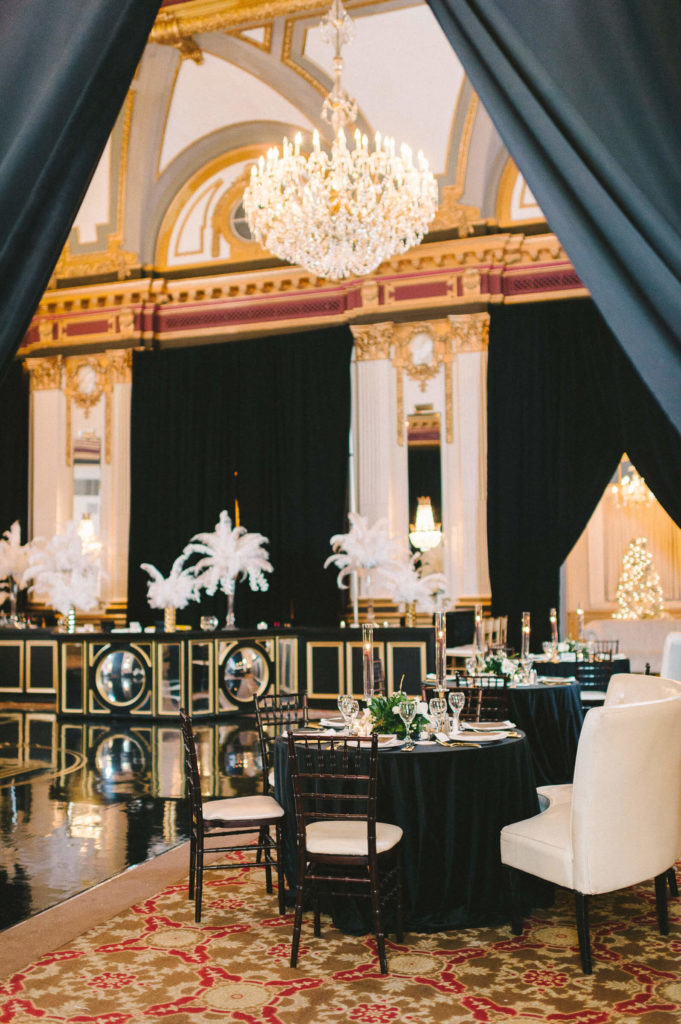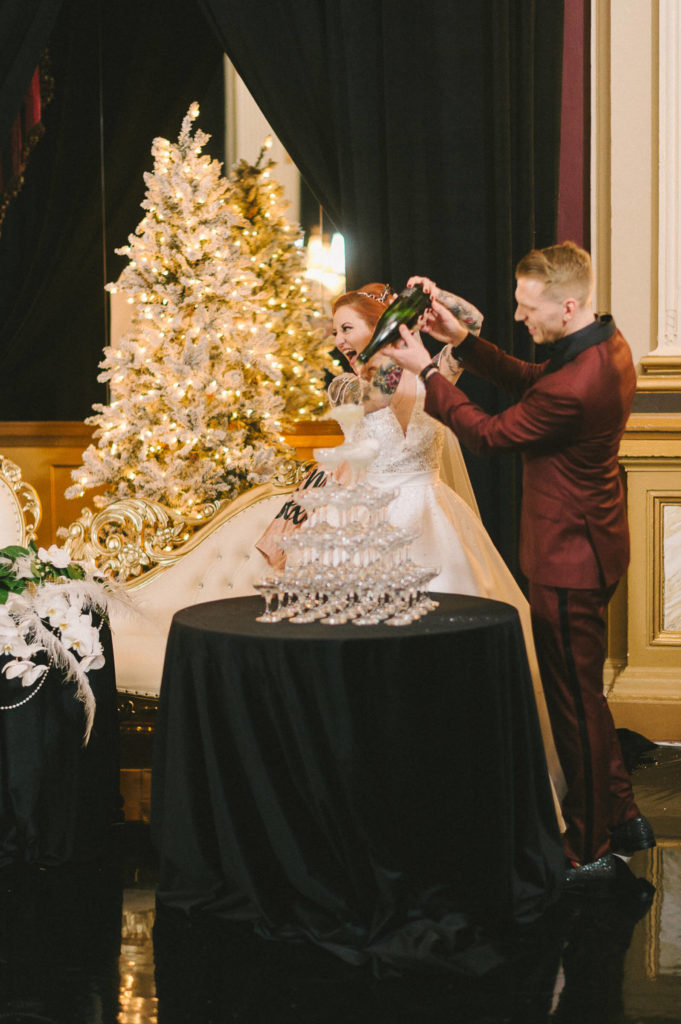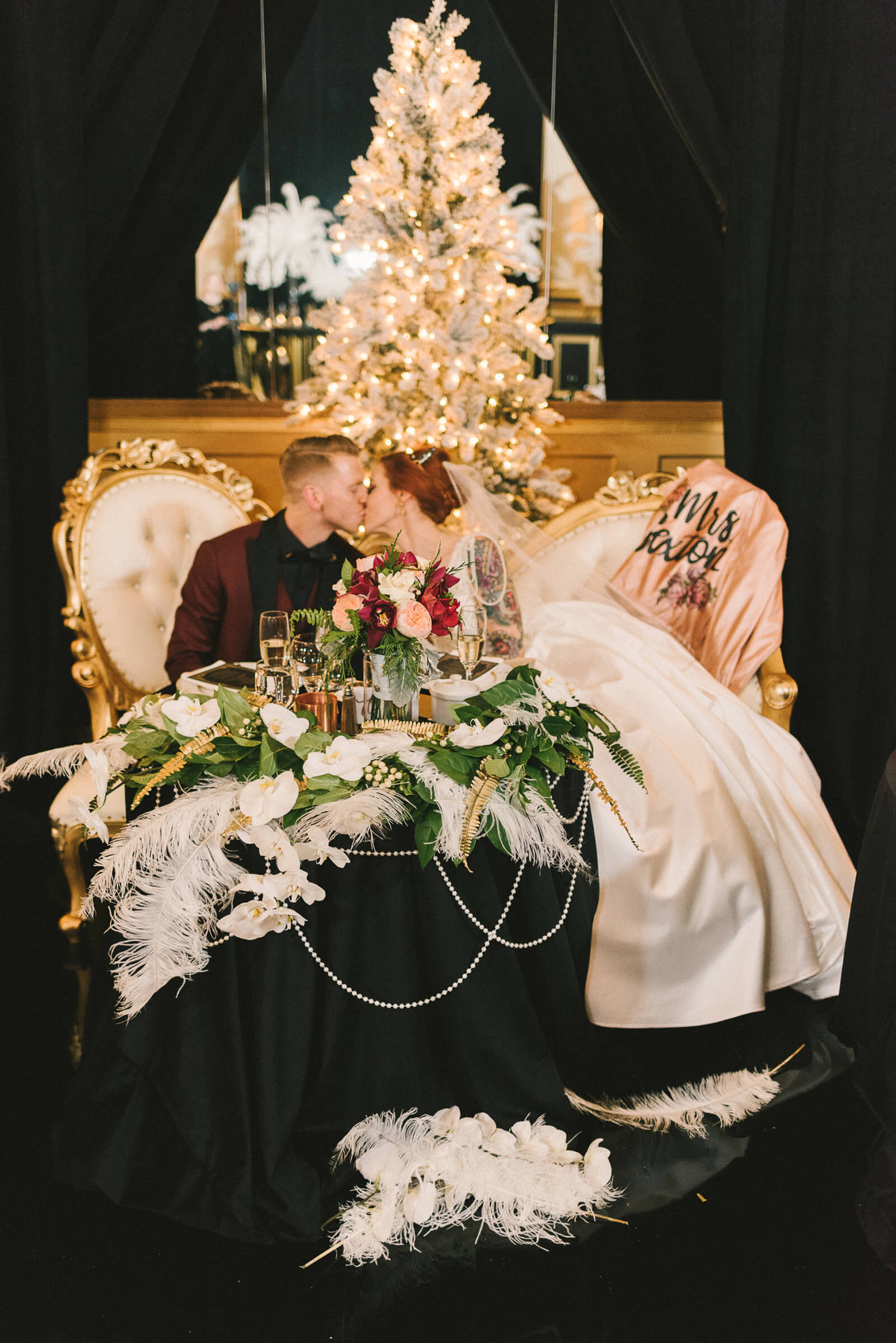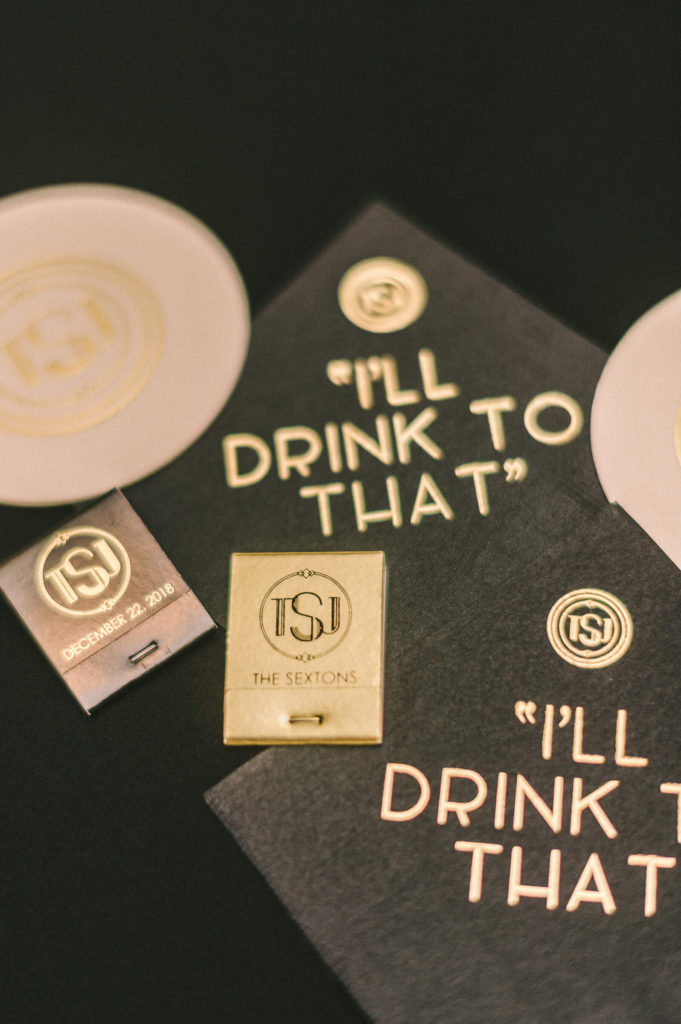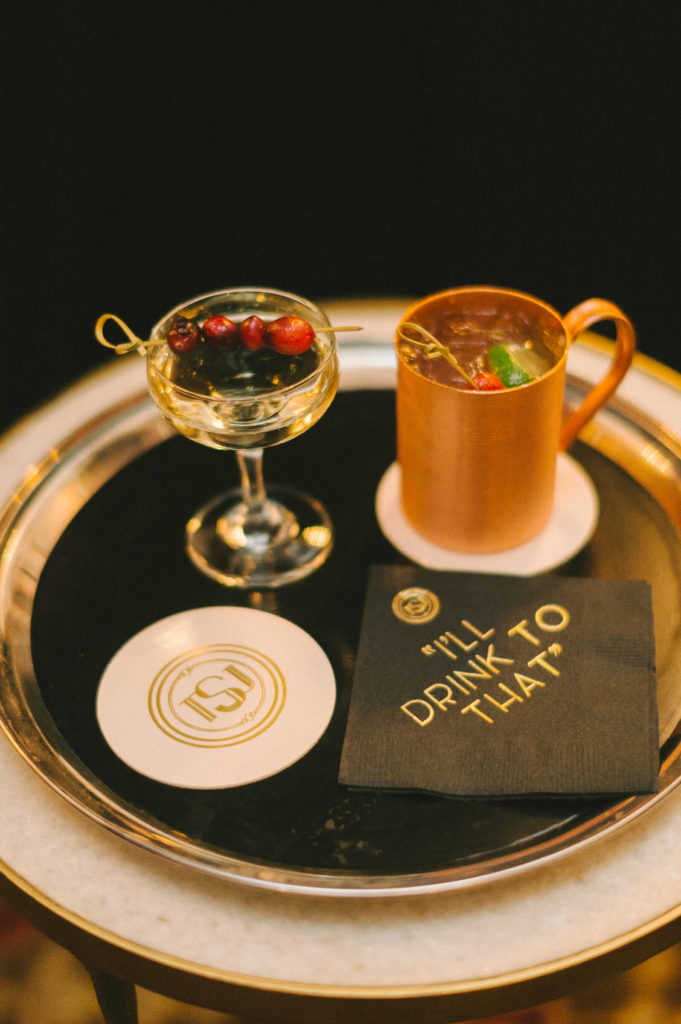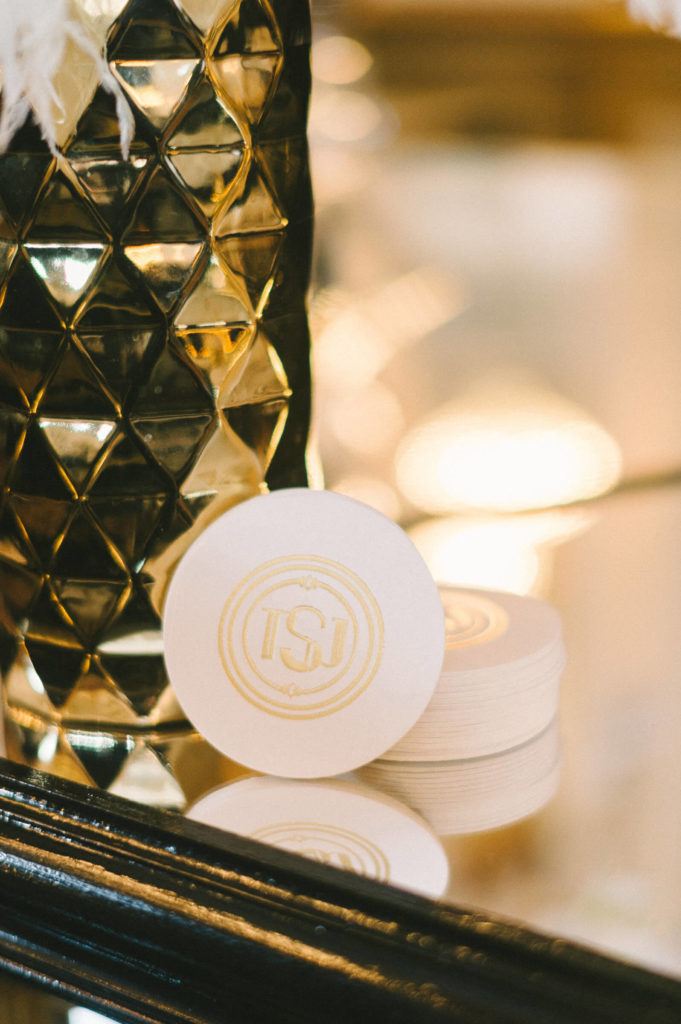 Piece of Advice Our amazing planner, Elle, gave us the advice to try to hold hands the entire day to ensure you actually spend time together. It's all such a whirlwind and there are so many people pulling you in all directions. We shared this with Jeremy's mom who would go hunt one of us down if she found us apart. Oh, and it's your wedding—not anyone else's, so do whatever you want.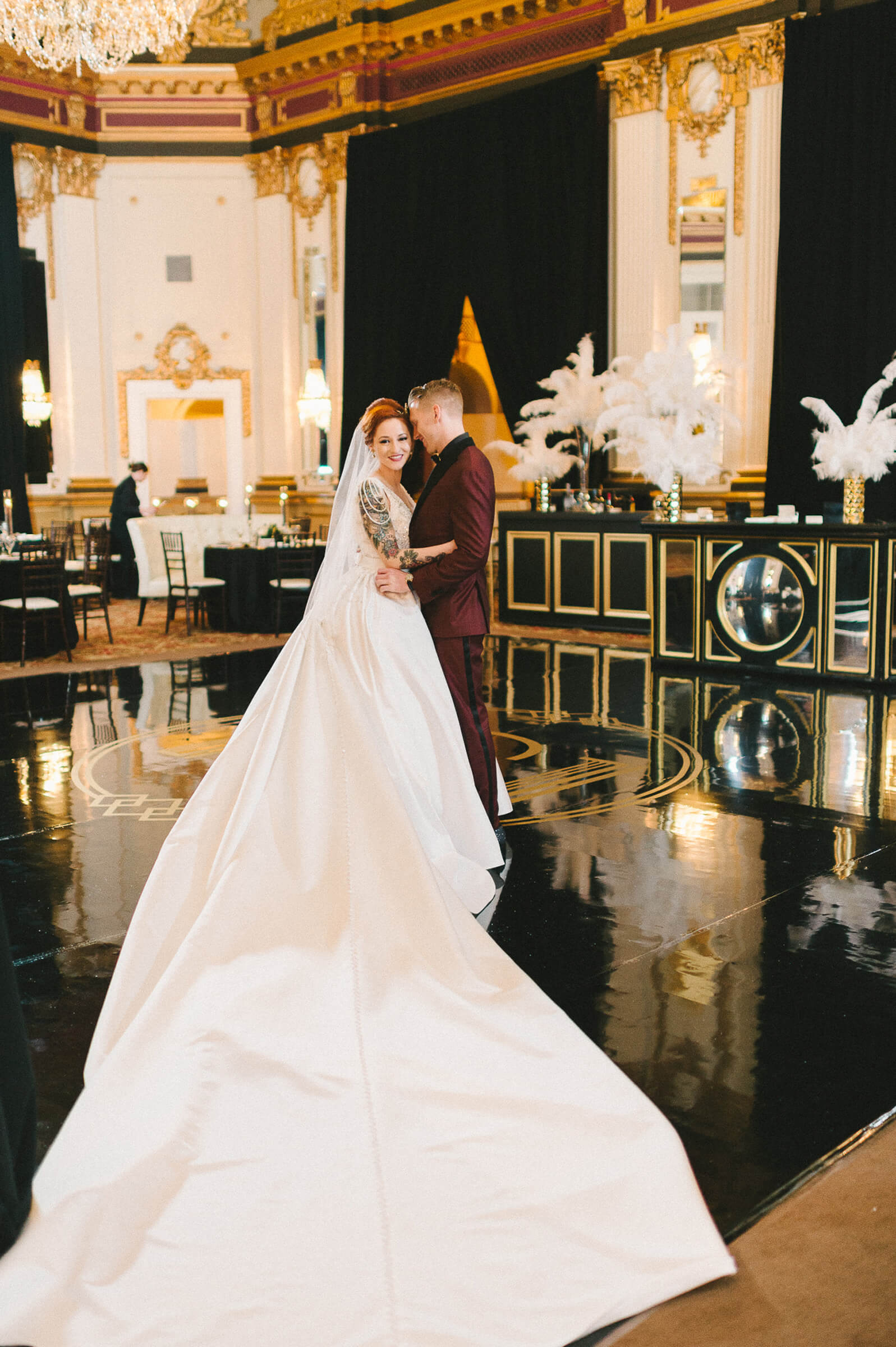 Beauty Emmey Artistry (makeup); Brush.Salon (hair) Bridesmaids Pisarro Nights from Nordstrom Cake Cake by Jason Caterer The Belvedere Flower Girl customcrownss on Etsy Flowers My Flower Box Groom and Groomsmen Custom suit by Christopher Schafer Clothier (groom); Menguin (groomsmen/bidesman/ring bearers) Honeymoon A luxury Walt Disney World vacation and 7-Night Carribbean Disney Cruise Invitations Suburban Avenger Studios (design); Just Ink on Paper (print) Location The Belvedere Music Dance Masters Entertainment Officiant Mike Chalfant. There's a fun story here. When we bought our house in Fells Point, naturally the first place we went was the corner bar, Benders. As our wedding approached, we realized the only person we loved and trusted that knew us both equally was the owner of the bar, Mike. We surprised him one evening and asked him to officiate. He reprimanded us for making him cry in his own bar, but he accepted, and to this day, our Save the Date is still hanging up next to the register. Photographer Liz Fogarty Videographer August McCue Wedding Dress Custom by A. Cherie Couture Wedding Planner The incomparable Elle Ellinghaus