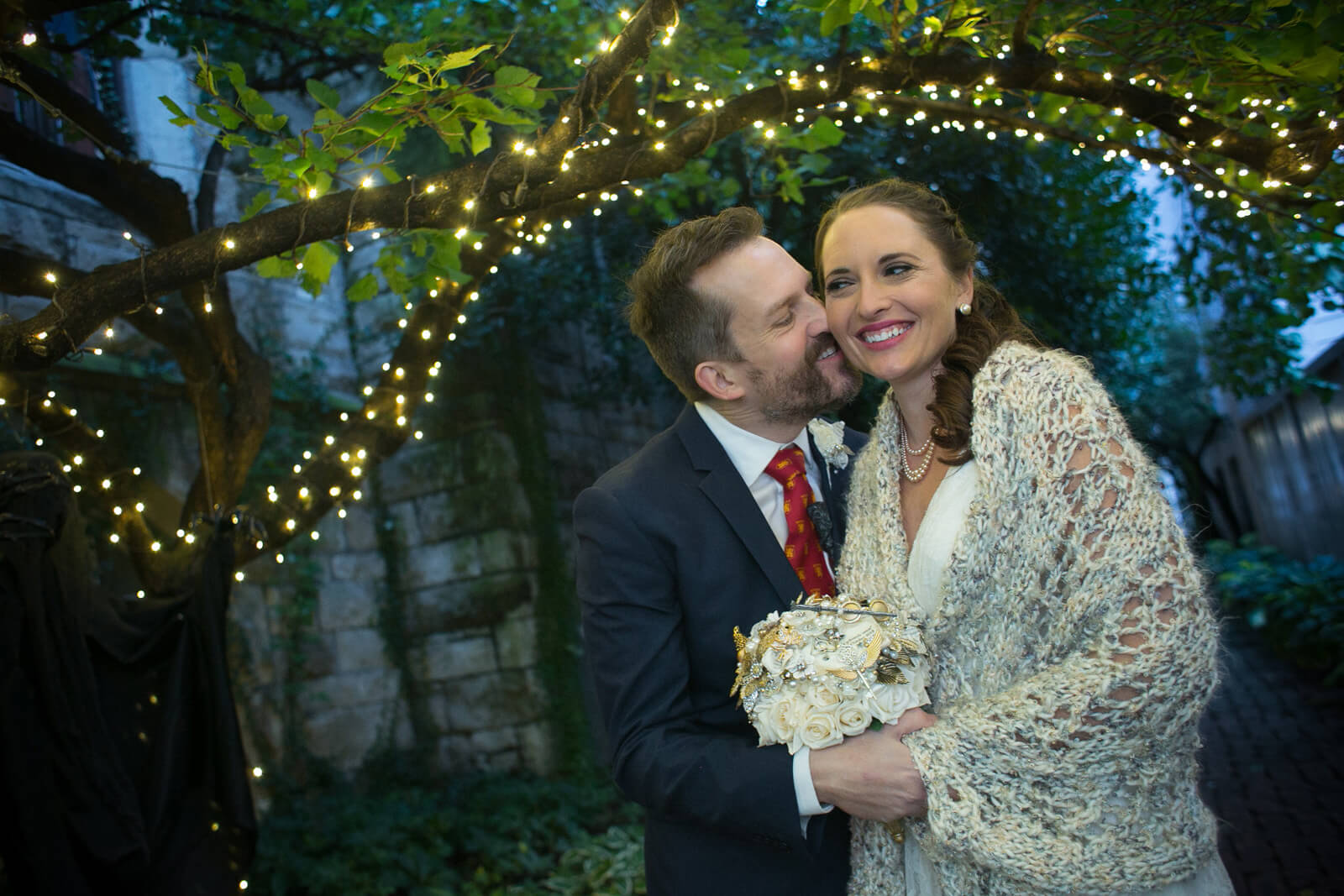 Names Travis Griffin and Meghan Kotlanger (not changing my name because I'm old, I'm literally the only Meghan Kotlanger in the world, but more importantly, I can't be a Family Guy character).
Occupations Travis is an editorial coordinator for the American Society for Clinical Oncology– yes, he helps cure cancer. He's also working on his first novel. Meghan is a senior producer and director at Eastward, an awesome and local (to DC and LA) film and video production company.
Wedding date 10/27/18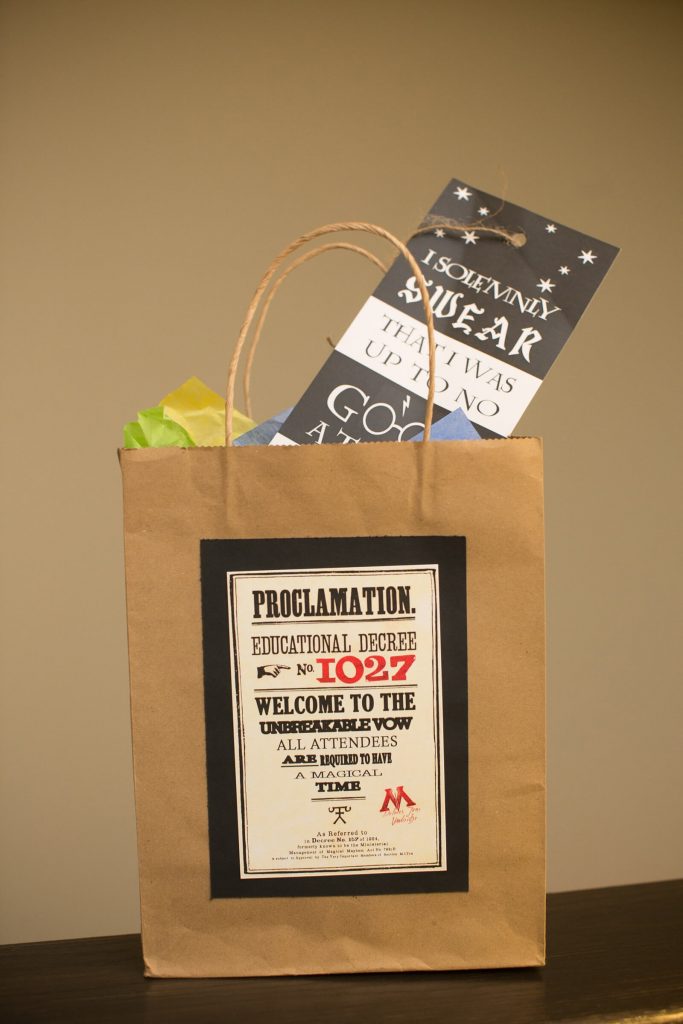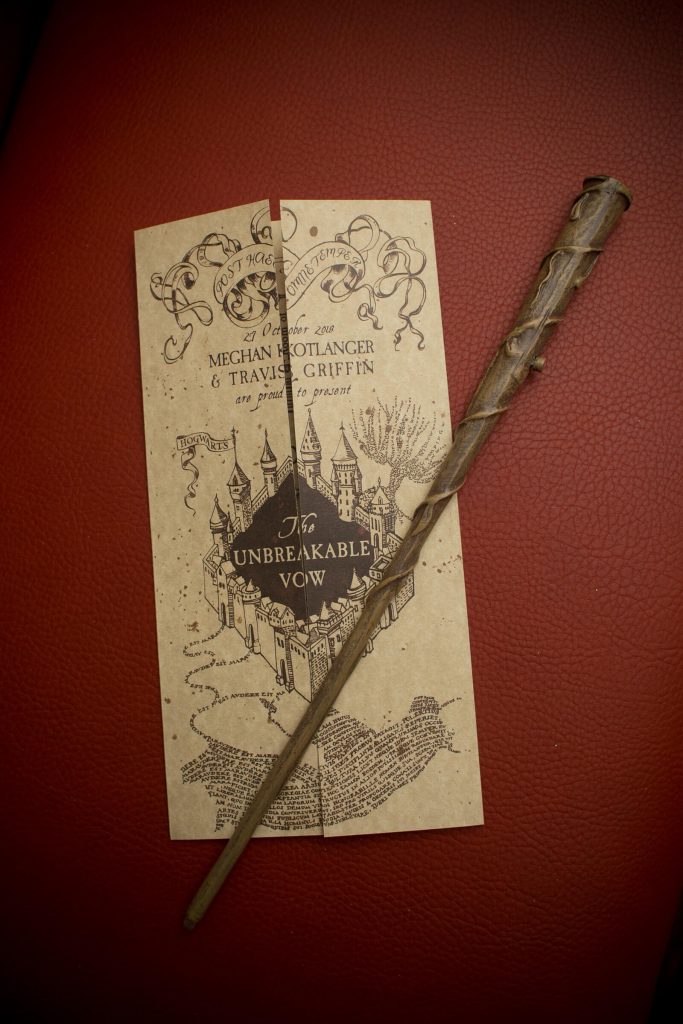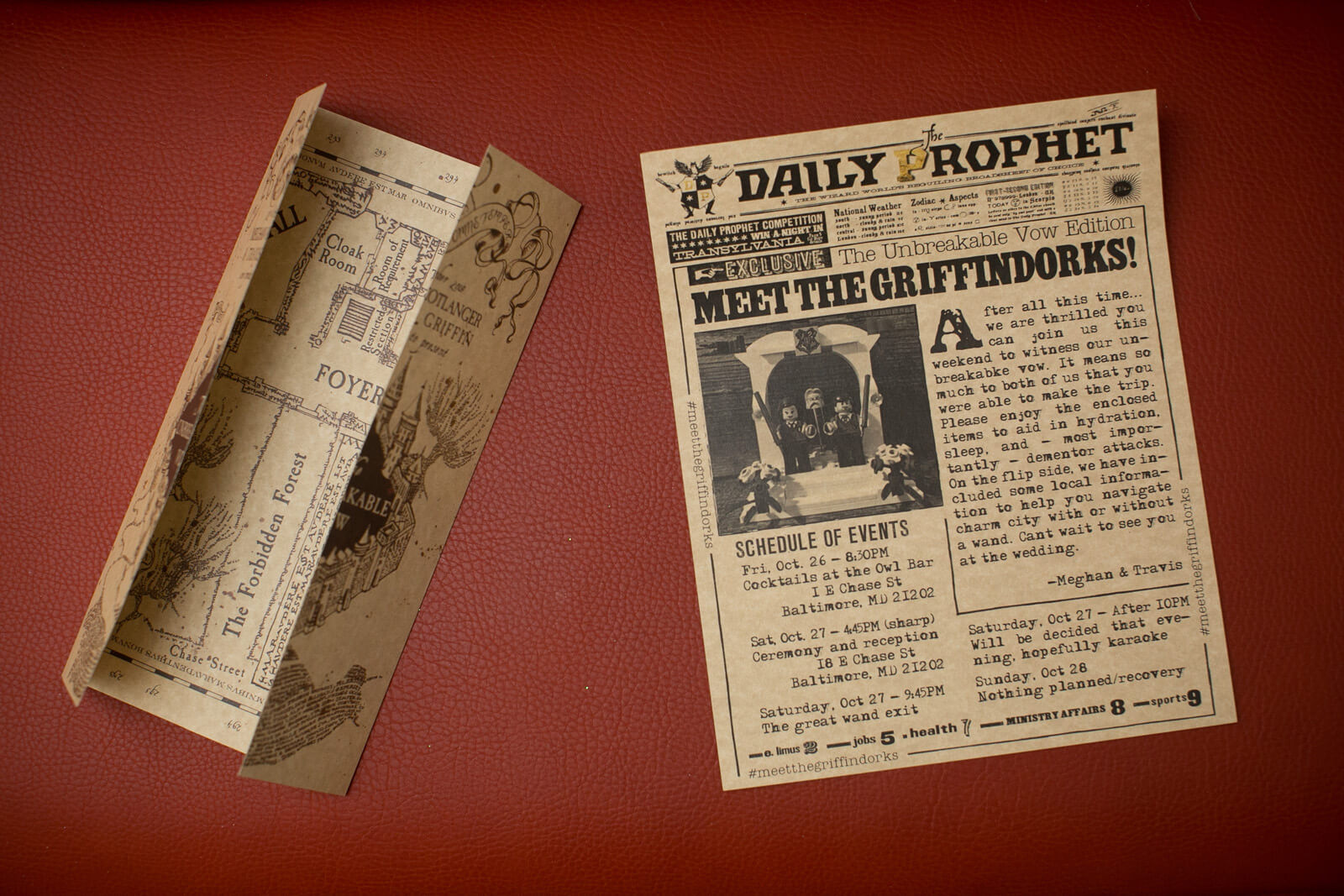 Wedding Theme Harry Potter Hallowedding: The Unbreakable Vow
Number of Attendees 66
Number of Attendants Prefects 8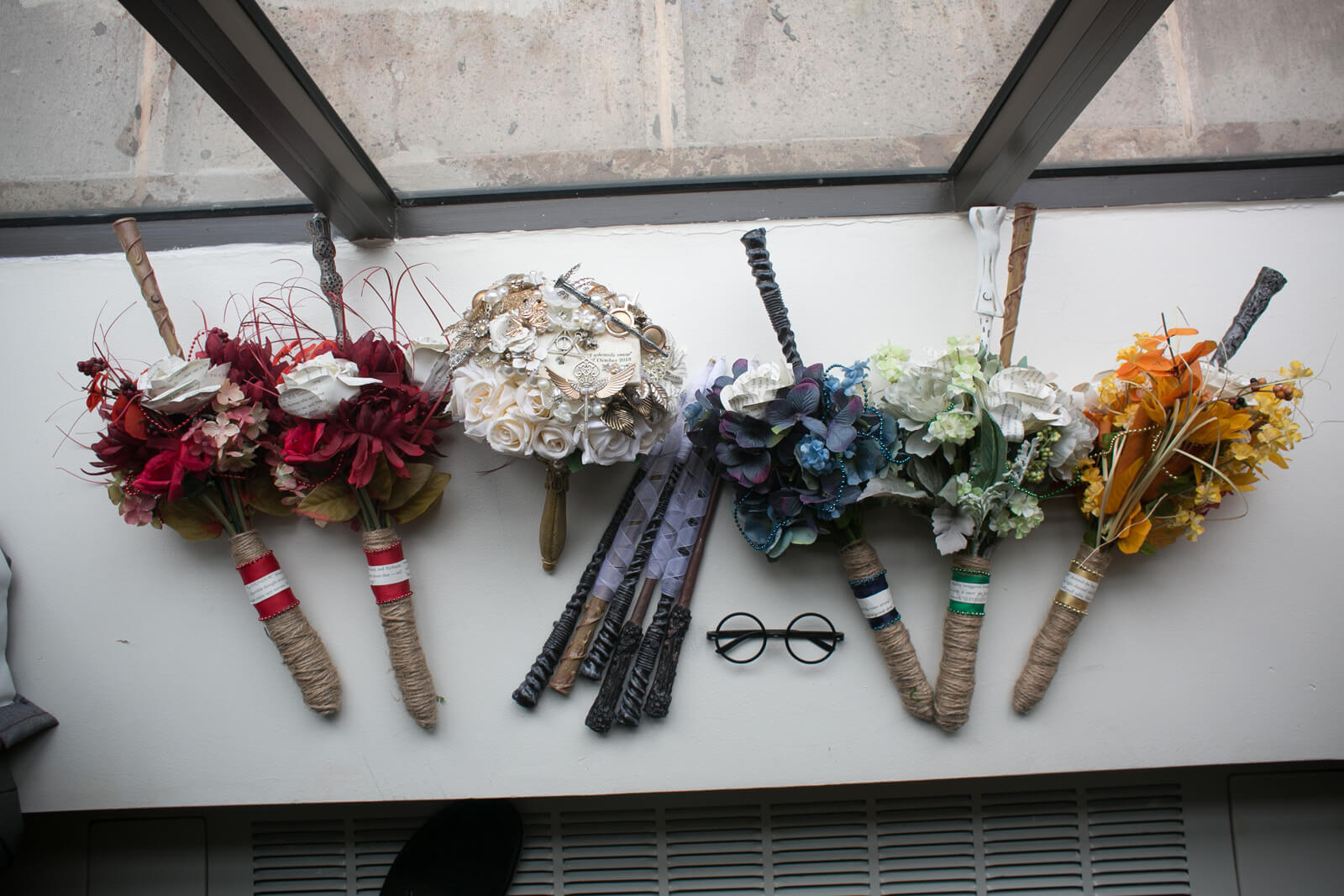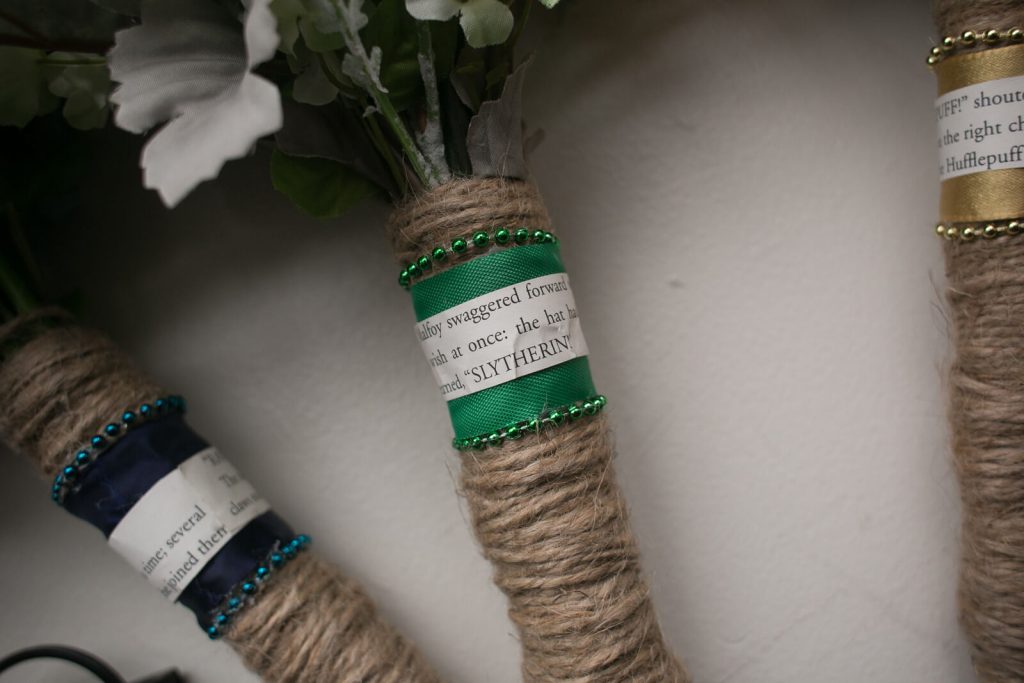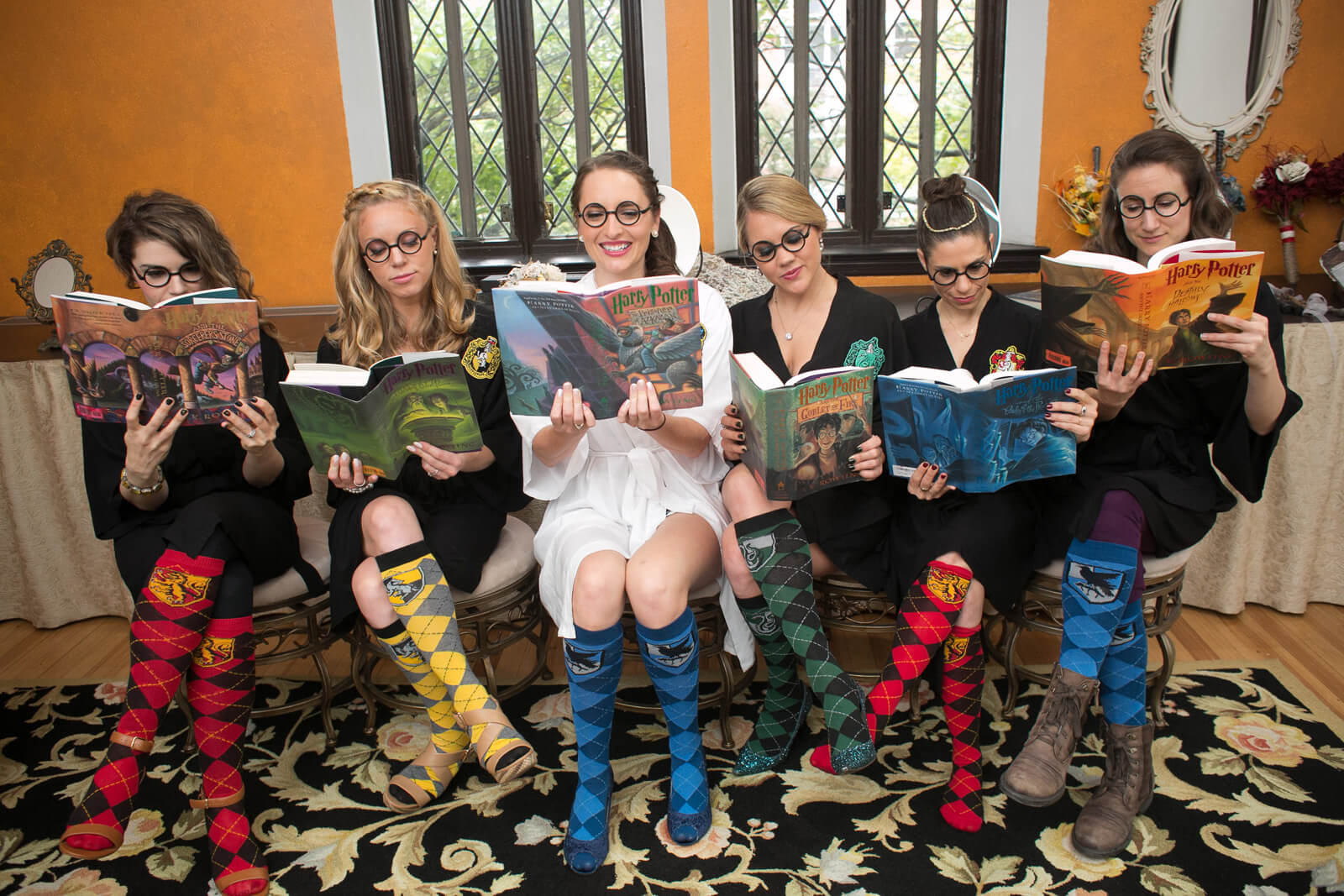 How You Met Myspace.com. Yes. Super embarrassing and it obviously dates our relationship greatly. Based on my somewhat quirky profile, Travis messaged me with "has anyone ever told you that you're clinically insane?" My response was "I get that all the time," and from there, hilarity ensued. Our messages to each other got longer and longer and longer, until we finally decided to meet up in person (at a public place).
From the moment we met we immediately played verbal tennis and became best friends. We became Facebook official three months after that, then moved in together about four months after that, got engaged eight years after that, and got married about two years after that. We clearly move very fast.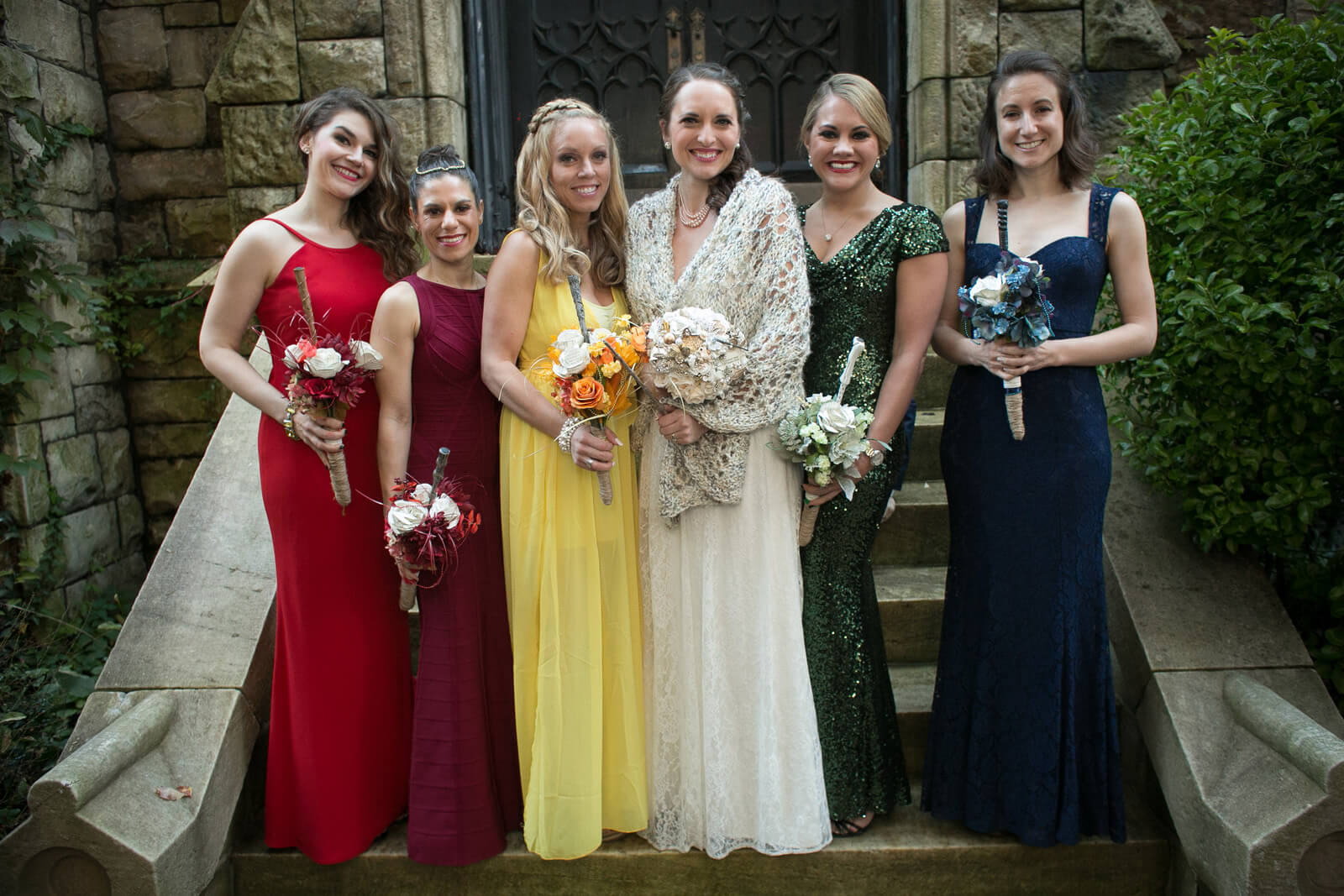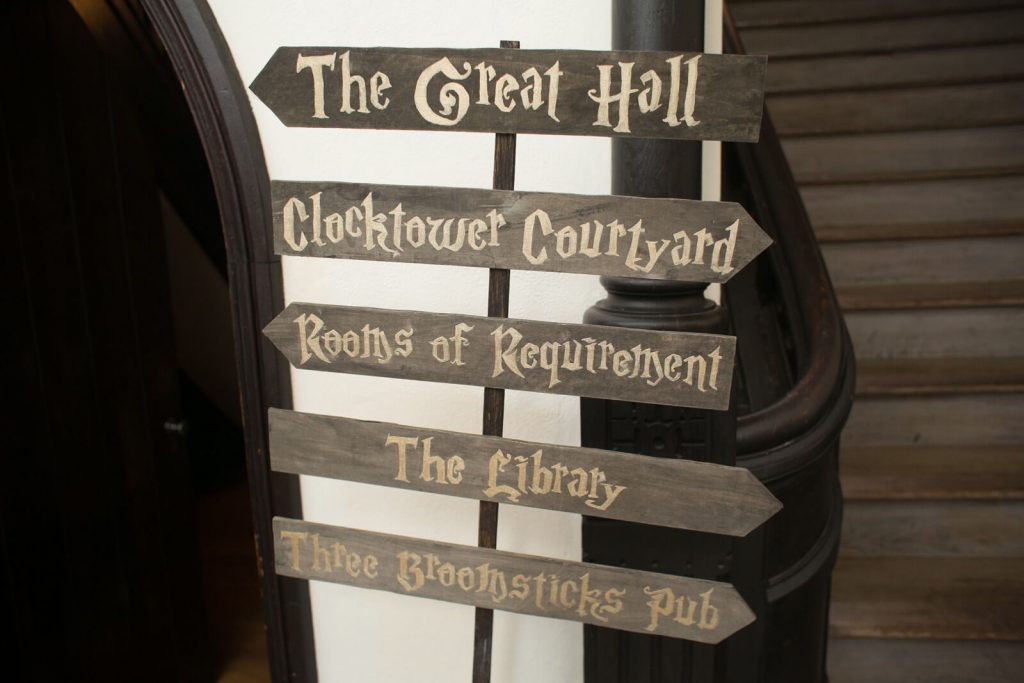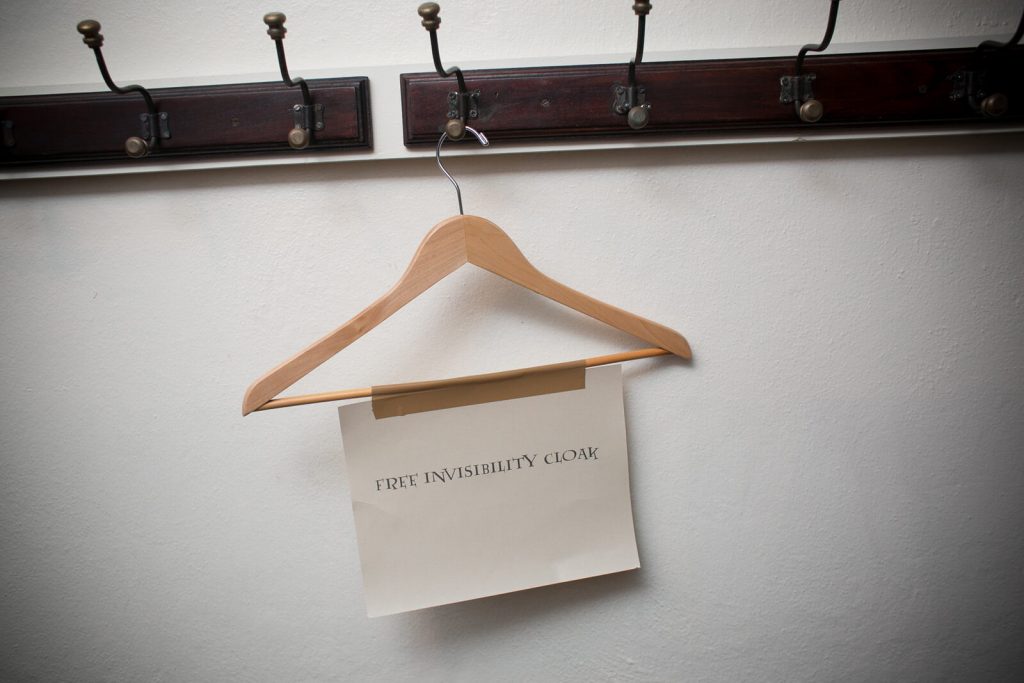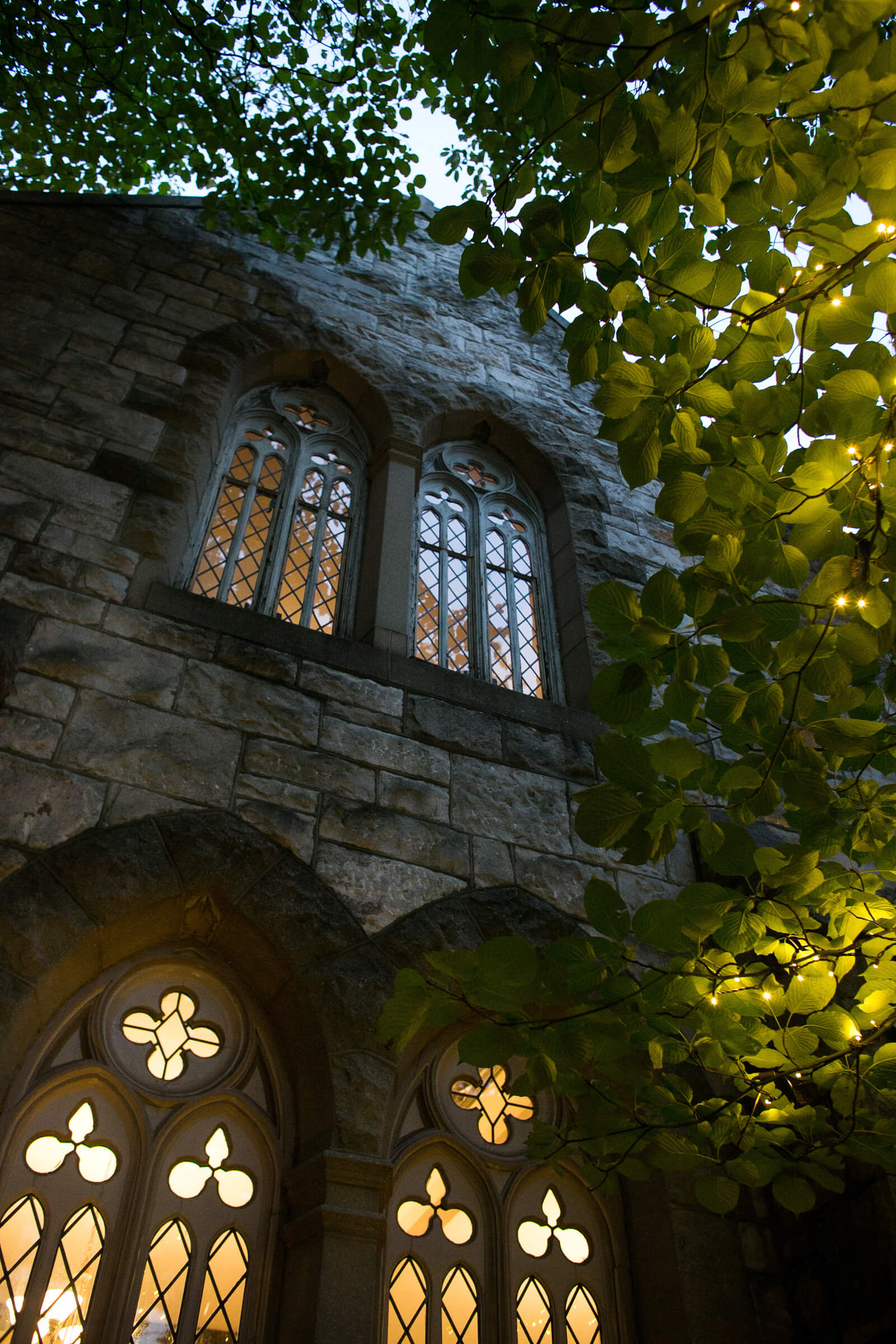 The Engagement Travis used our joint credit card to fix my mom's old engagement ring (one of the many Travisties he has performed throughout our relationship), so I knew he was going to propose to me almost three full weeks before he did. It was almost impossible for me to keep my mouth shut, but I somehow managed.
For the actual engagement, we went to a beautiful place called Natura Cabana in the Dominican Republic for a lazy beach vacation—with treehouses. I saw a children's treehouse right when we entered the resort and made a note of how great it was—specifically of how great it would be to take a photo in it while dressed as a pirate and hurling a coconut at Travis' head.
One afternoon – while there, we decided to have a treehouse beer, to which I grabbed my pirate beard and decided to gather a few extras in the name of a treehouse photo shoot. Travis climbs into the treehouse, puts on the beard, and gets down on one knee. I then hand him (from the ground); a leaf (for an eyepatch), which he puts over his eye; a reed fastened into a cutlass, which he places the ring onto; and then I climb up the stairs and, completely shocked, see him in this fantastic costume on one knee. He says, "Please don't kick me in the balls (see our website for backstory), but I love you and will you marry me?" I say, "Hold on, let me take a picture," take one, then say "I'm OK with this idea." This is followed by laughter, tears, phone calls, and celebratory beers.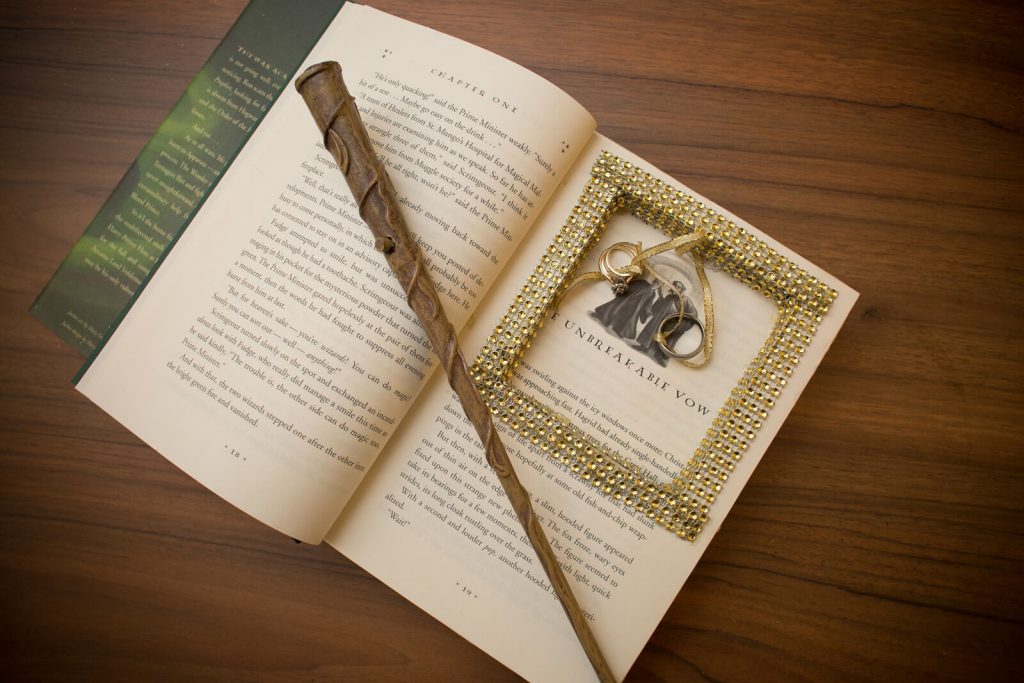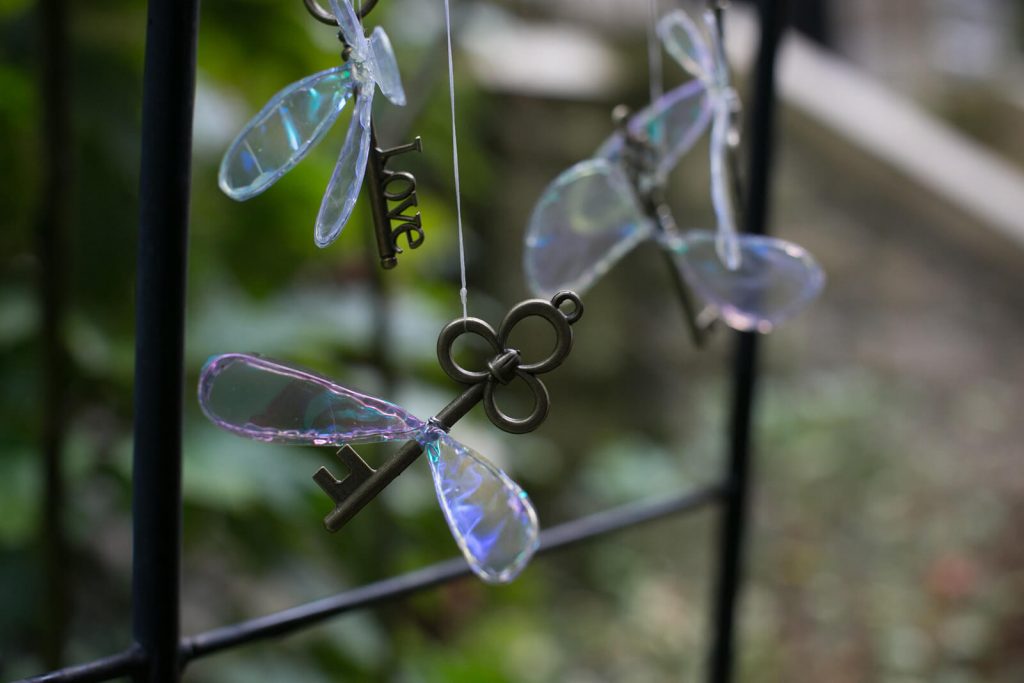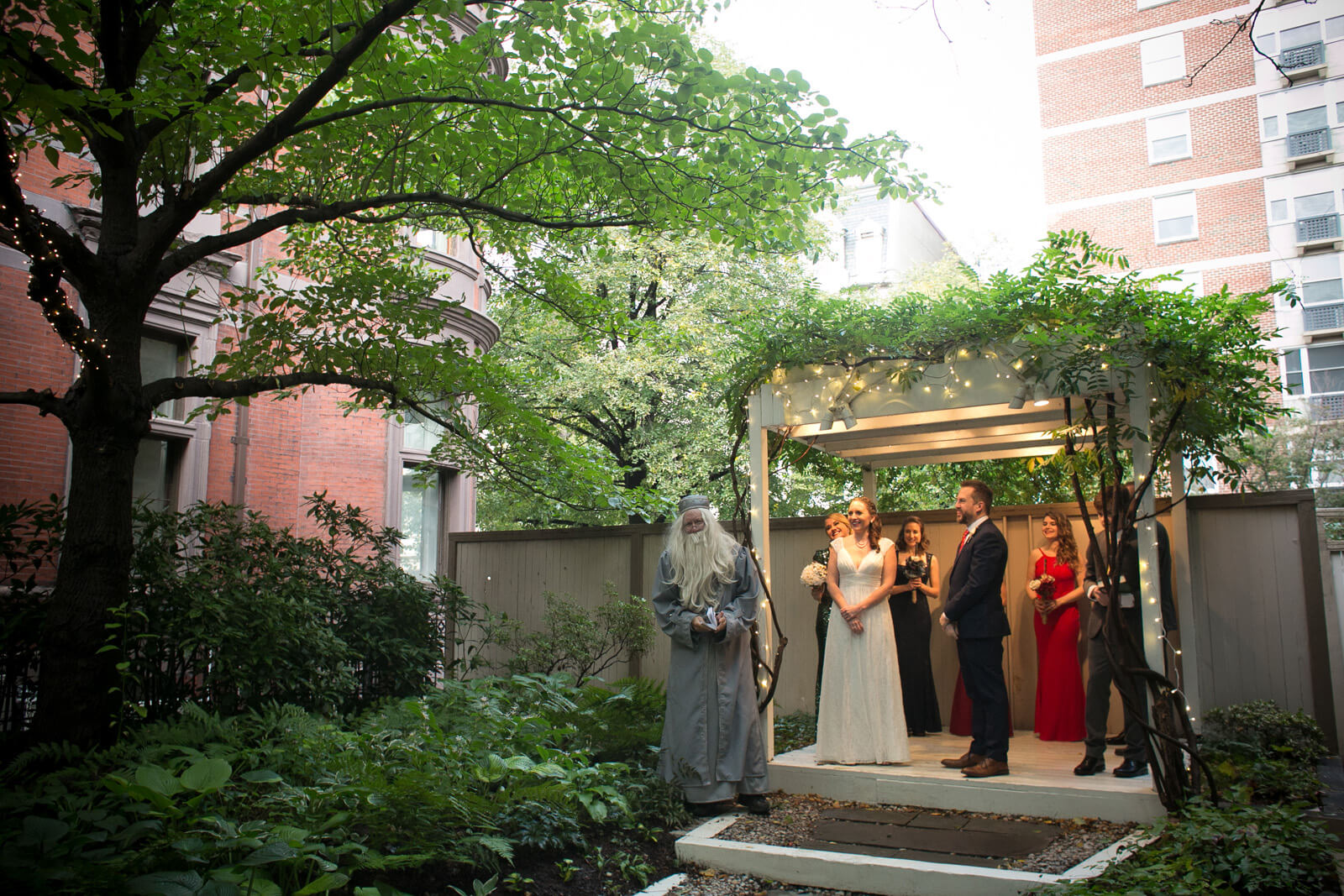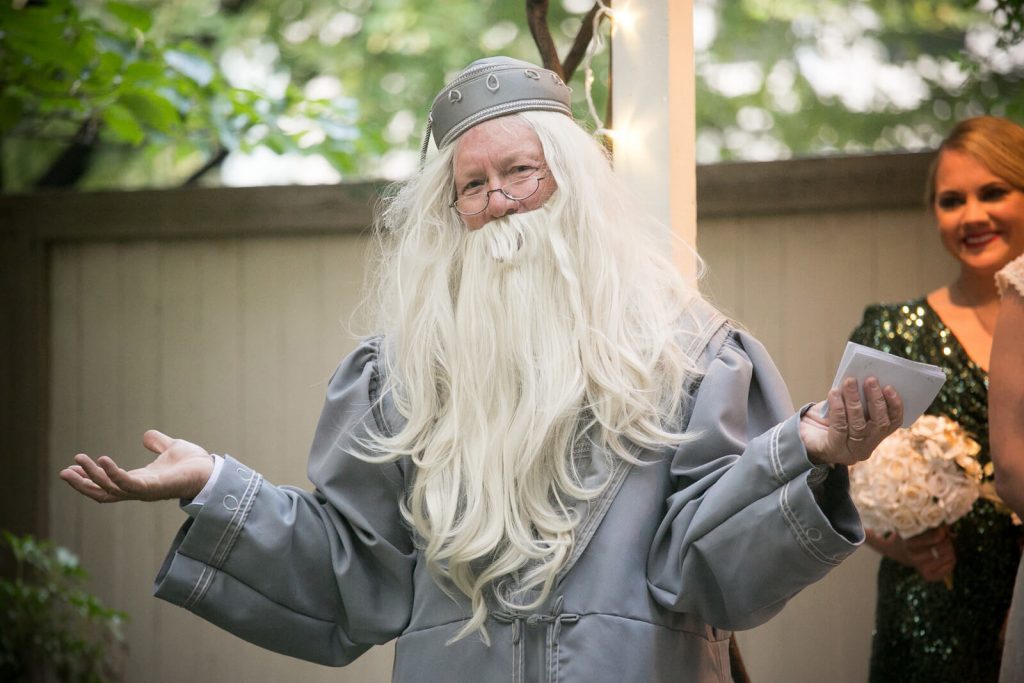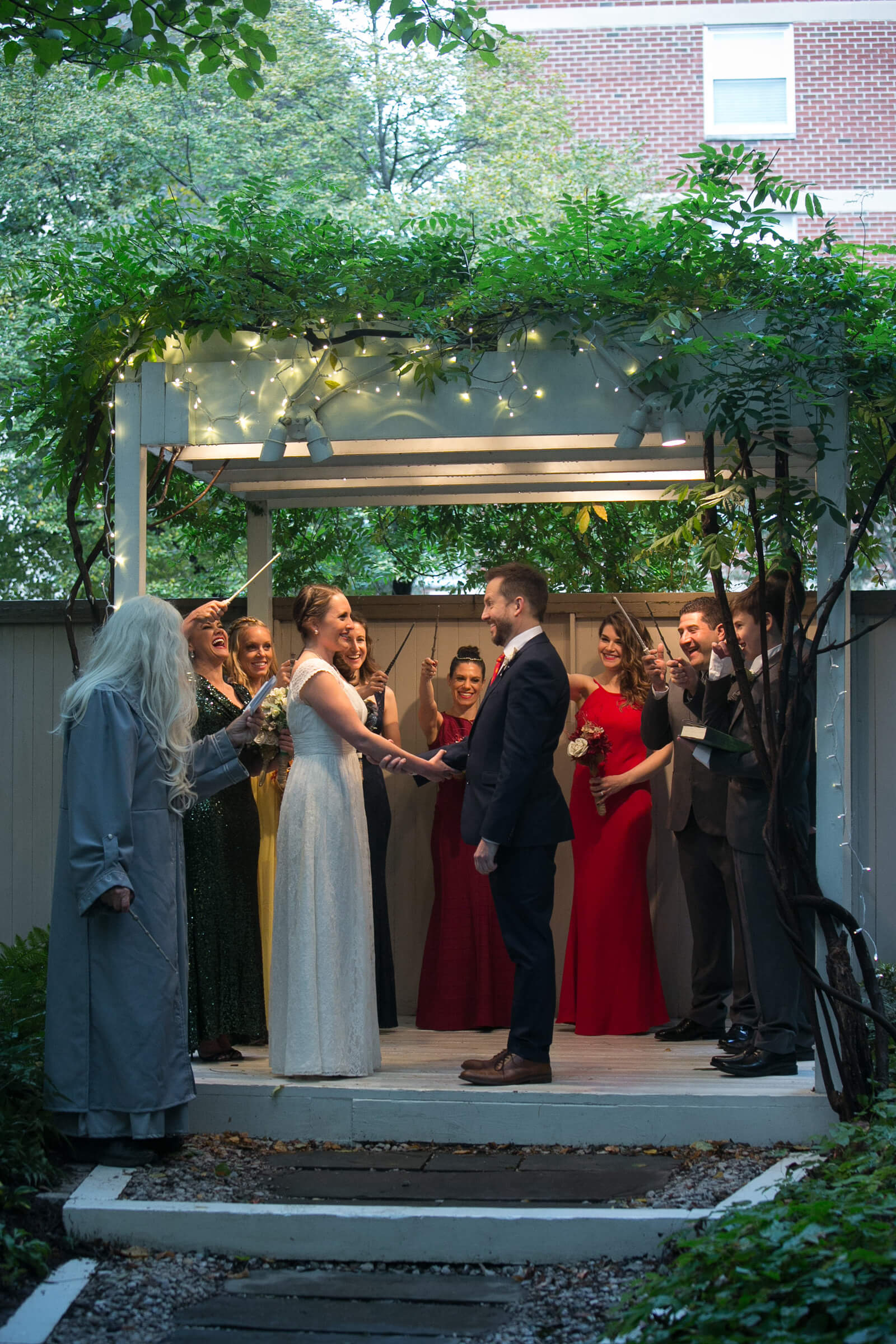 Wedding Design Inspiration I am a massive Potter Head that loves crafting, so the second we started planning, I knew we were having a Harry Potter Hallowedding (we're October babies, so wanted to do a Halloween weekend wedding. October is also the start of Harry Potter season, which lasts until February). Travis likes and appreciates Harry Potter, but likes seeing me happy and my creative brain flowing, so he told me to "go forth and craft" and "let me know how I can help."
The way I put it to every vendor I spoke to—we want this to feel less like a wedding with Harry Potter incorporated and more like Harry Potter with a wedding incorporated. (Note: In order to make this a full Potter experience without downplaying the sanctity of marriage, we did have a very small Catholic ceremony a few weeks before). I wanted all of the Potterheads attending the wedding, including myself, to feel like they had stepped into Hogwarts despite being in downtown Baltimore.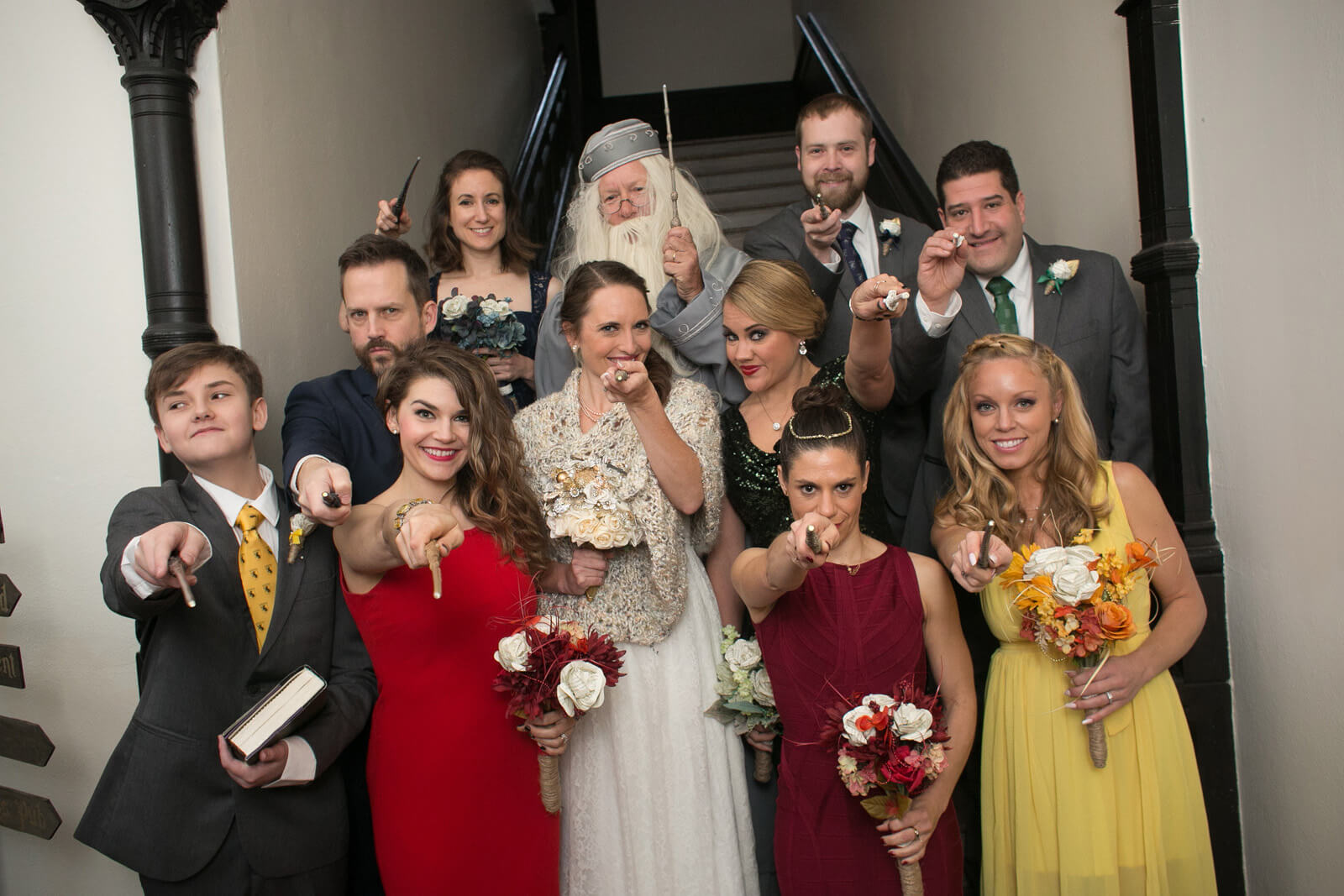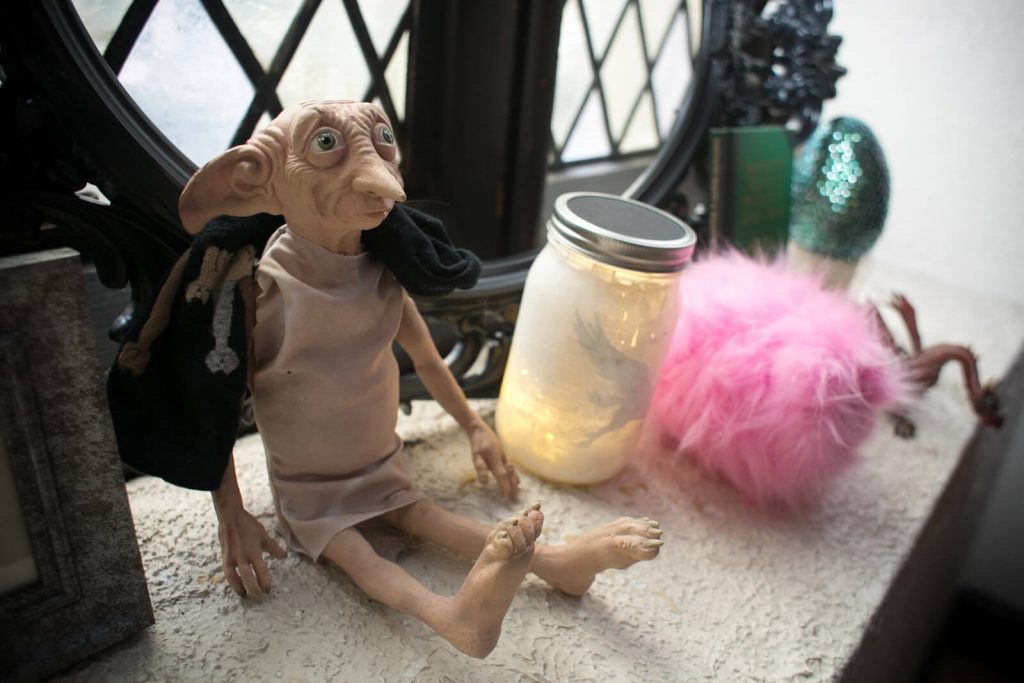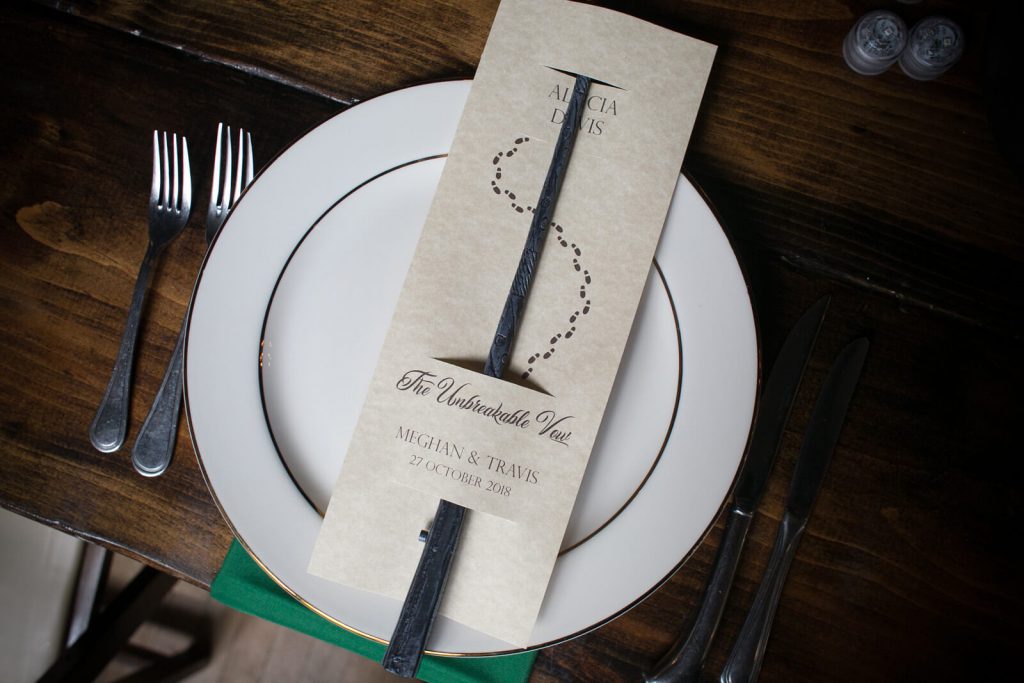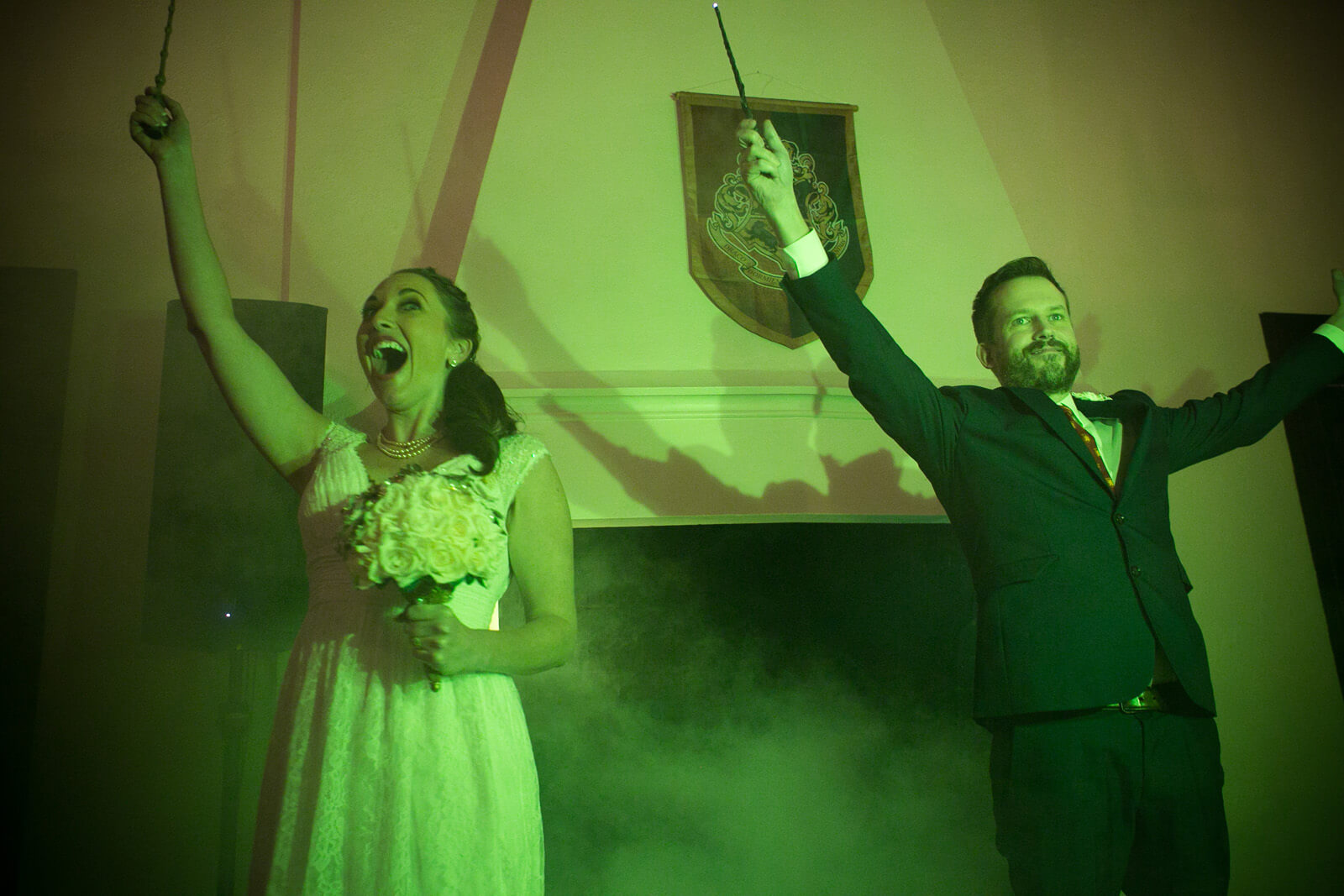 What Was Unique and Special About Your Wedding Day It was a labor of love from not only us, but our friends and family, that we somehow pulled off after countless design hours, sleepless nights, and hot glue gun burns. It wasn't pristine, but it was us.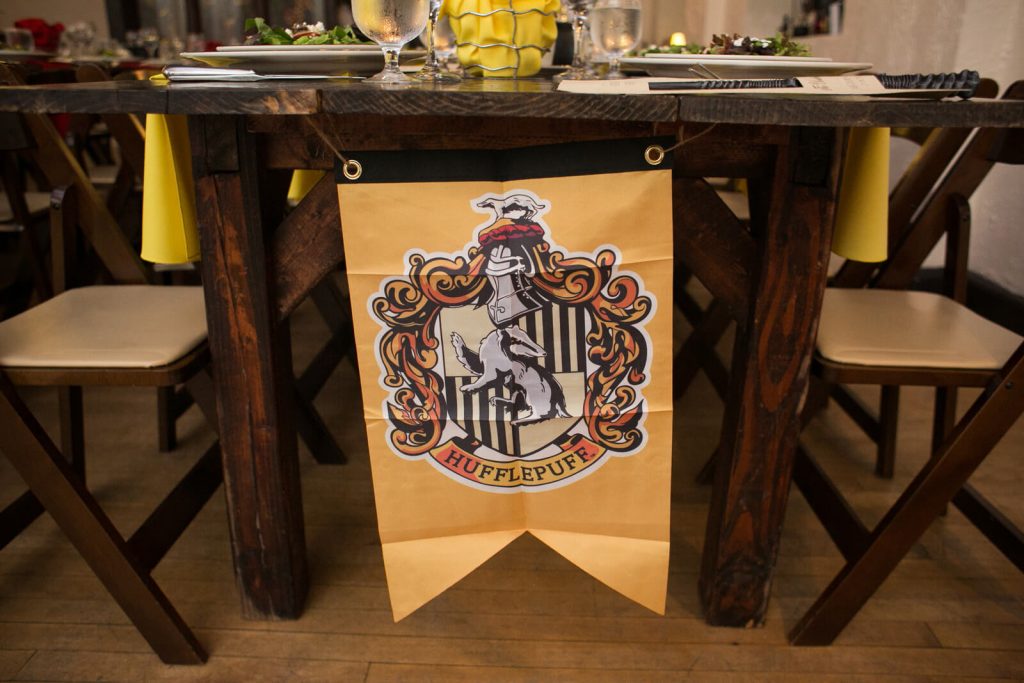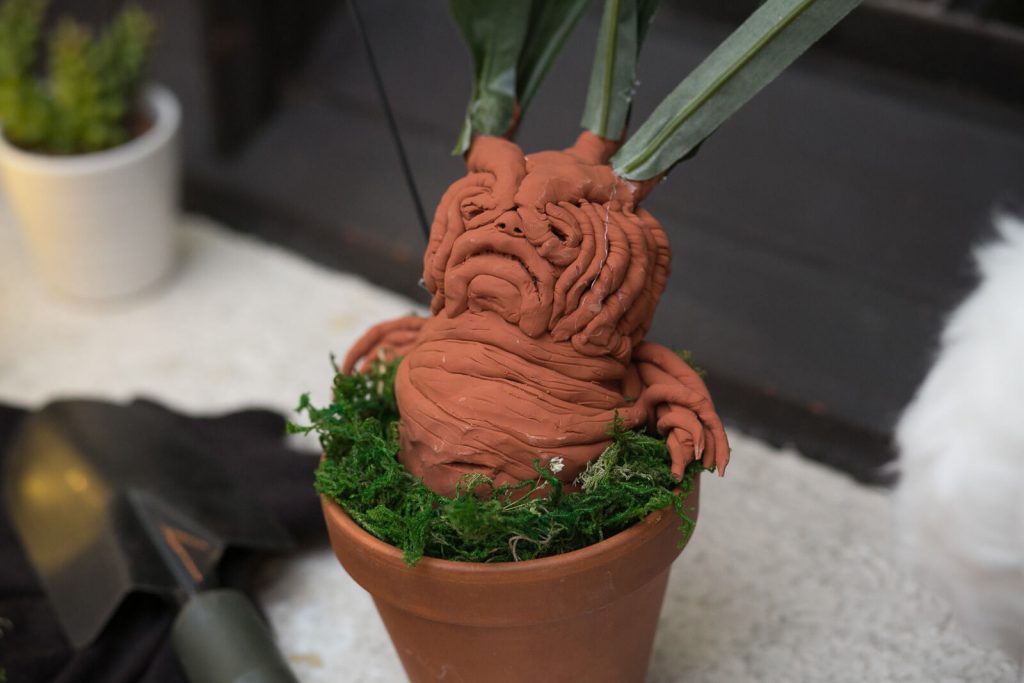 Favorite Details: My favorite details involved seeing things go from ideas on Pinterest to a reality through blood, sweat, tears . . . well . . . mostly blisters and sleep deprivation. I think my favorite crafts were the Monster Book of Monsters (a three-week endeavor involving making teeth out of clay and gluing individual pieces of faux fur onto a book) and the invitations (probably a six-week endeavor involving lots of trial and error).
Though I crafted/designed most of it, I couldn't have done it without my awesomely creative friends, family, and spouse. Travis helped as much as he could and when I thought something would be impossible to do–like a digital photo pensieve–he encouraged me to try and helped me figure it out. My family, friends, and even their spouses came from near and far (as far as Australia) to help me with the crafting, printing, and set up and it really couldn't have been done without them.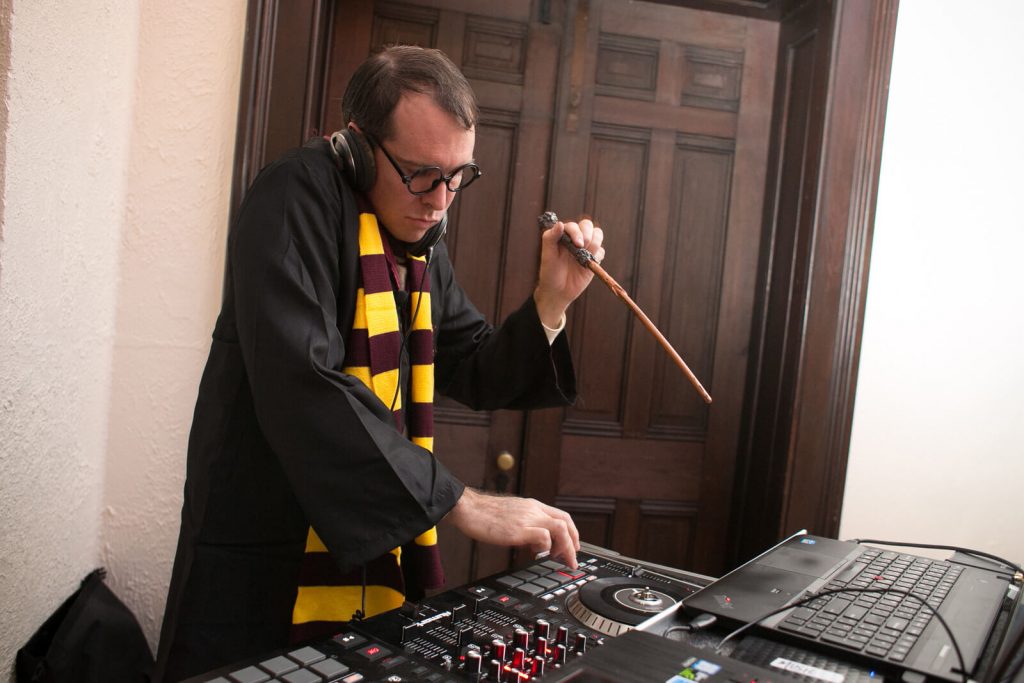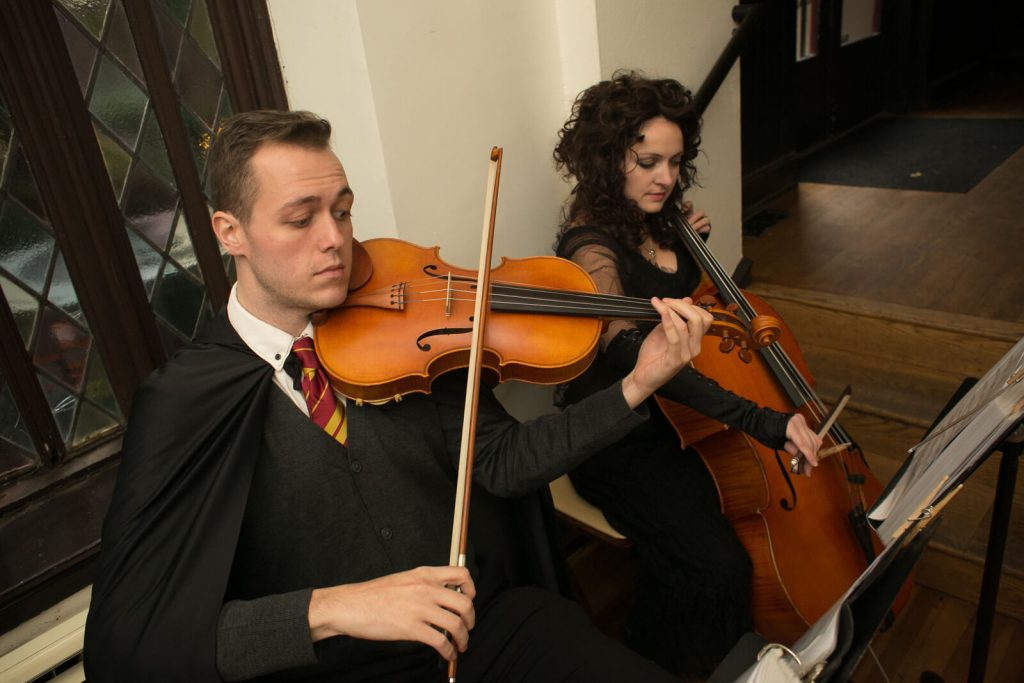 Most Unexpected Events on Your Wedding Day First, my officiant and uncle, Scott, AKA Dumbledore losing his hat and wig during the ceremony not once, but three times. You can't have a memorable wedding without some hilarious ceremonial gaffe and he had people, including us, crying laughing. Second, Travis and I had NO TIME to practice our first dance until the night before the wedding. We don't dance, and we certainly don't waltz, but decided to go with the Potter Waltz, which transitioned into "I Like the Way This is Going" by The Eels. Two of my prefects/best friends, Heather and Daphne taught us the night before and we somehow pulled it off flawlessly (for us).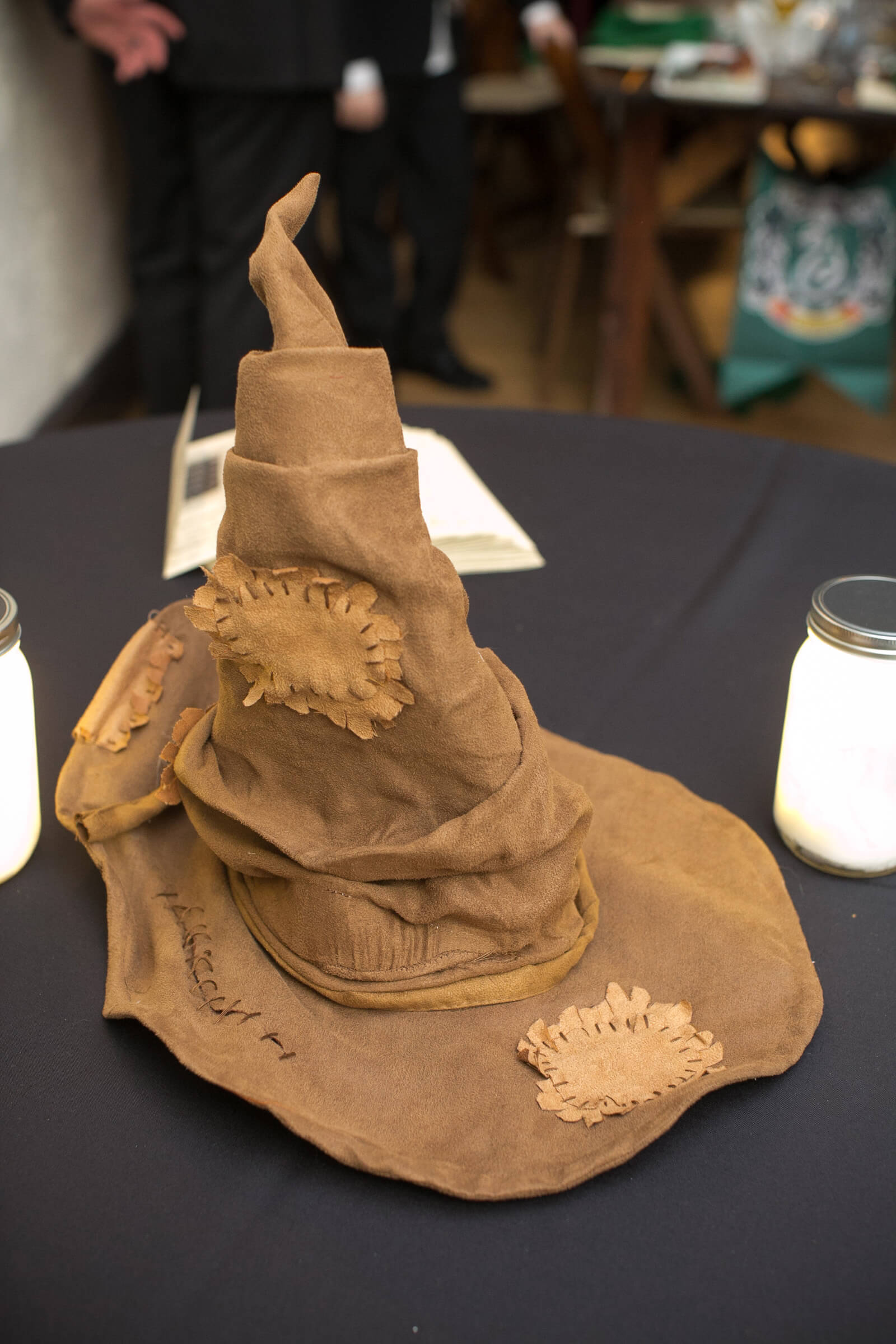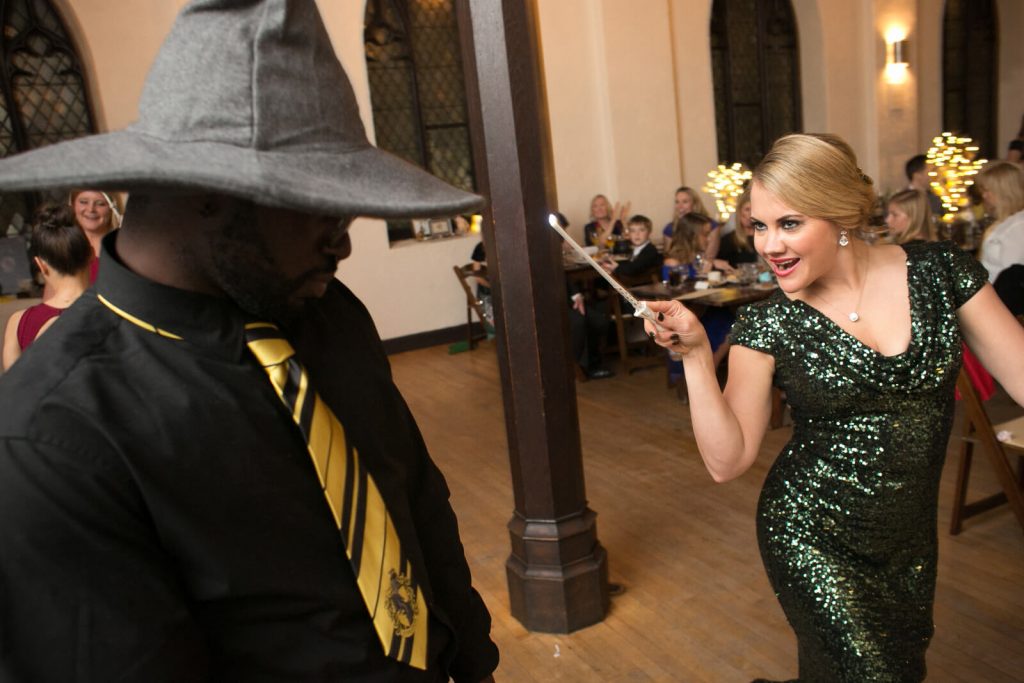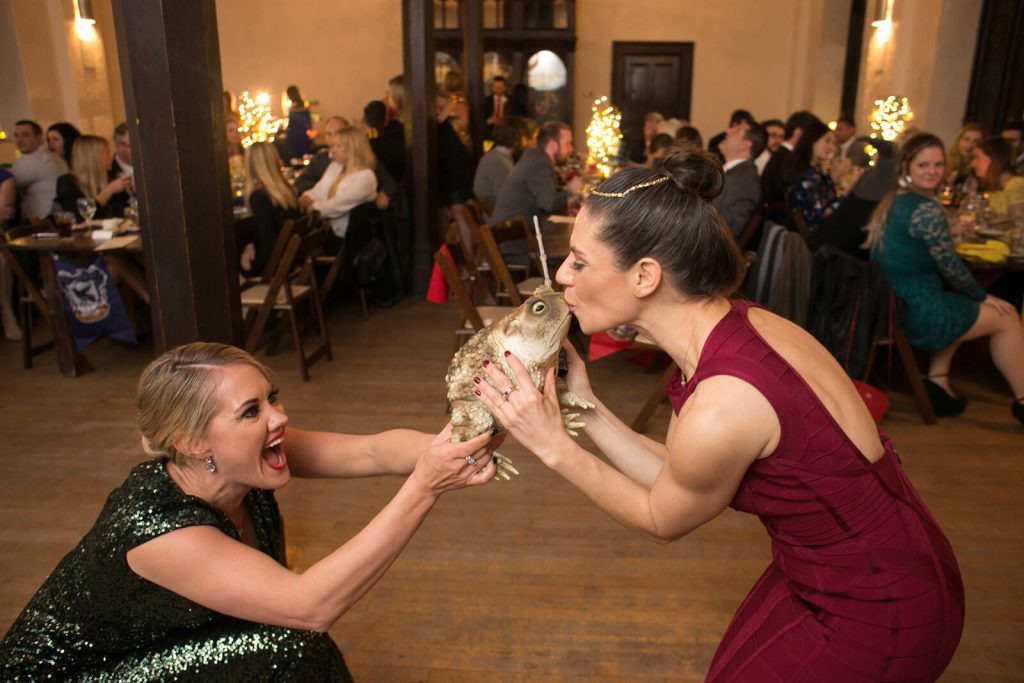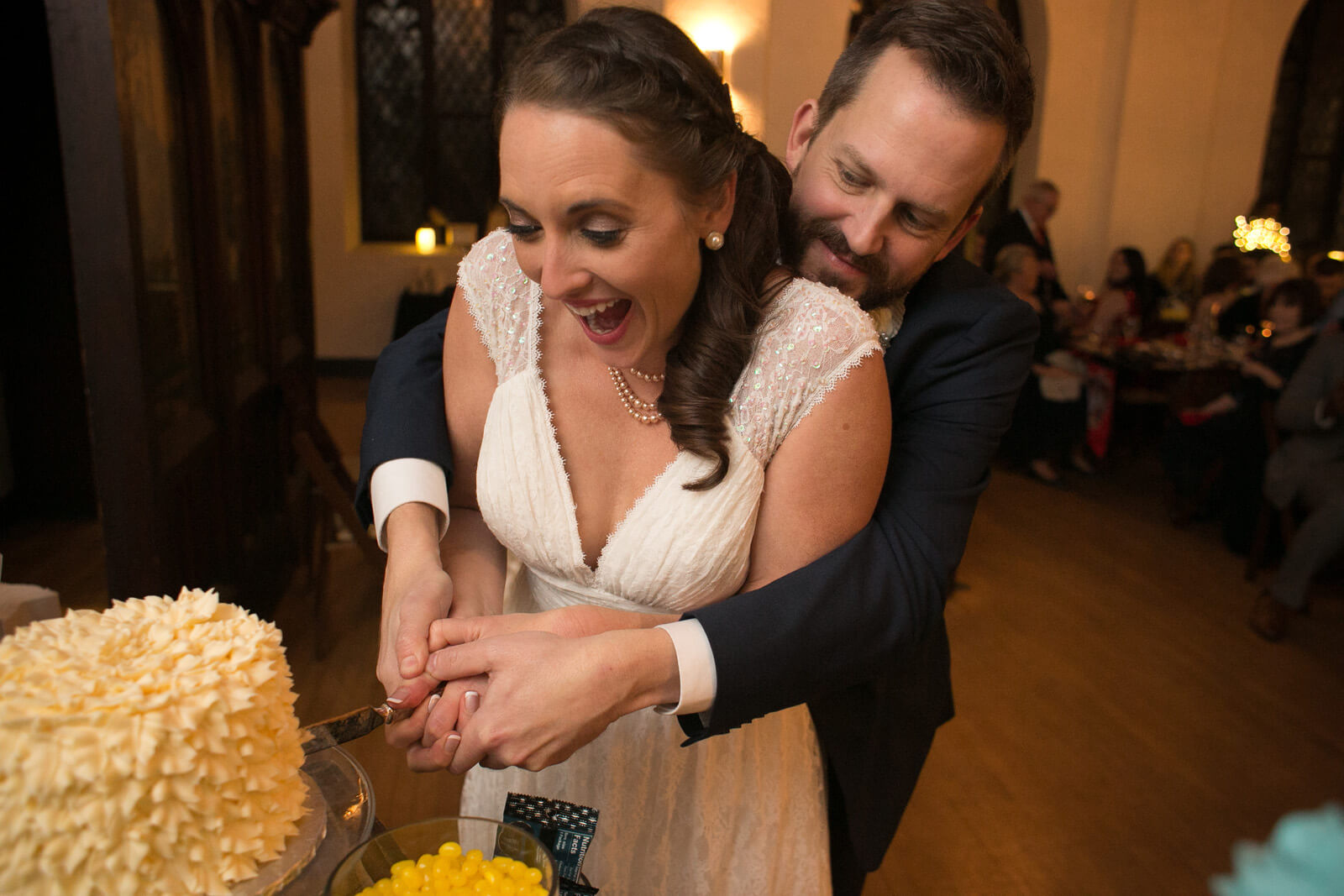 Piece of Advice If you are a DIY person and trying to save money –give yourself enough time for crafting and keep all of your receipts. Not just for tracking your budget, but for returns. Also, ordering from a place like AliExpress is MUCH more affordable, but it's really hard/impossible to do returns, so make sure you check dimensions, order a small quantity to test, and give yourself enough time for shipping (weeks in some cases).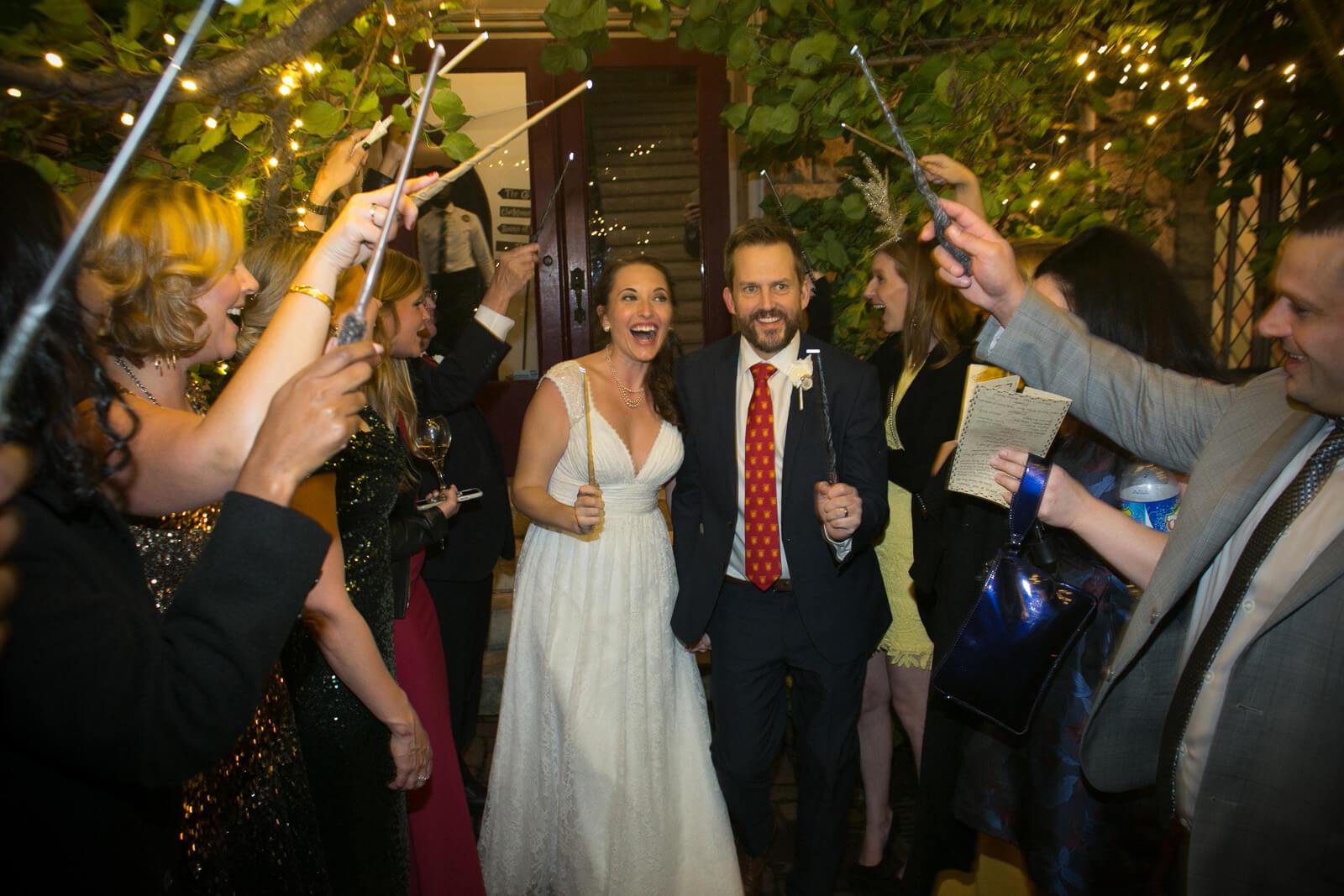 Beauty The fantastic Andrea Wilkins. Bridesmaids Whatever they wanted as long as they were in their house colors. Cake SugarBakers – a simple, but delicious lemon mousse cake. Caterer Rouge Fine Catering – a fantastic Harry Potter-themed menu. The staff even wore house ties and "Free the House Elves" pins. Flowers Centerpieces were simple, Four manzanita trees from Blooms and Branches surrounded by cauldrons from Michaels all with floating candles. My best friend Janet made all of the prefect bouquets and boutonnieres with her crafty hands, a Harry Potter book, Dollar Tree and Michaels fake flowers for the prefect. My bouquet was a bit of a splurge (for me) and as Harry Potter as you could get created by fantastic Etsy seller MaddisonRocks. Groom and Groomsmen Express for Travis and The Black Tux for his prefects, with ties and cufflinks from Think Geek. Honeymoon Trekking all over Europe including Germany, Poland, Belgium, Switzerland, France, and London. Our fantastic bookends involved attending our very first LARP at the College of Wizardry in Poland—seriously one of the most wonderful experiences of our lives—and seeing "Harry Potter and the Cursed Child" in London after getting a full tour from one of our new LARP friends that we met in Poland. Invitations I found a lot of things that I liked via Pinterest, but nothing quite right, so I made my own. I wanted it to feel like the guests were getting a real letter from Hogwarts. In fact, each one was addressed to the individual guests (benefits and curses of a small wedding). The return was a gold foiled Platform 9 ¾ ticket. I created using Adobe software, printed using my own printers (to gold foil make sure you have a laser jet!), my brother 3D printed a golden snitch to fasten it together, and LOTS of time and patience. Location Chase Court. The closest thing the DMV area has to Hogwarts—owned by fellow Potterhead, David Egan. He was incredibly helpful in coming up with awesome ideas to up the Potterness. Music Two Rivers Chamber Music. They are AMAZING for nerdy themes–well, and just in general. If you want LoTR, Dr. Who, Star Wars, Battlestar Gallactica, or Harry Potter, they are your people. DJ Ridiculous Entertainment (or for that night Riddikulus Entertainment). I can't recommend Aran enough. Not only did he DJ in a Harry Potter costume, he did it all in a British accent. He also managed to set up the awesome Floo Network for our entrance with the help of David Egan from Chase Court. Officiant Uncle Scott. My dear dear uncle who knows nothing about Harry Potter, but who loves his niece so much that he dressed up as Albus Dumbledore and helped create a beautifully Potterful script for our Unbreakable Vow. Photographer Dennis Drenner. He doesn't really even do weddings anymore but came out of retirement for our craziness and caught things exactly as we had hoped–in a candid and fun way. Videographer I called in a favor for the ceremony and the Floo network entrance from my colleagues at Eastward. We didn't get the whole thing, but they caught the best parts, like my Uncle losing his headpieces and us actually nailing our first dance. They didn't edit the footage though – they are way better at editing than me. Transportation Floo Network, Port Key Wedding Dress Something simple and on sale from the David's Bridal website, which was then altered by my best friend's mom. The idea of wedding dress shopping and spending too much money gave me pure anxiety. Wedding Planner Me + the internet