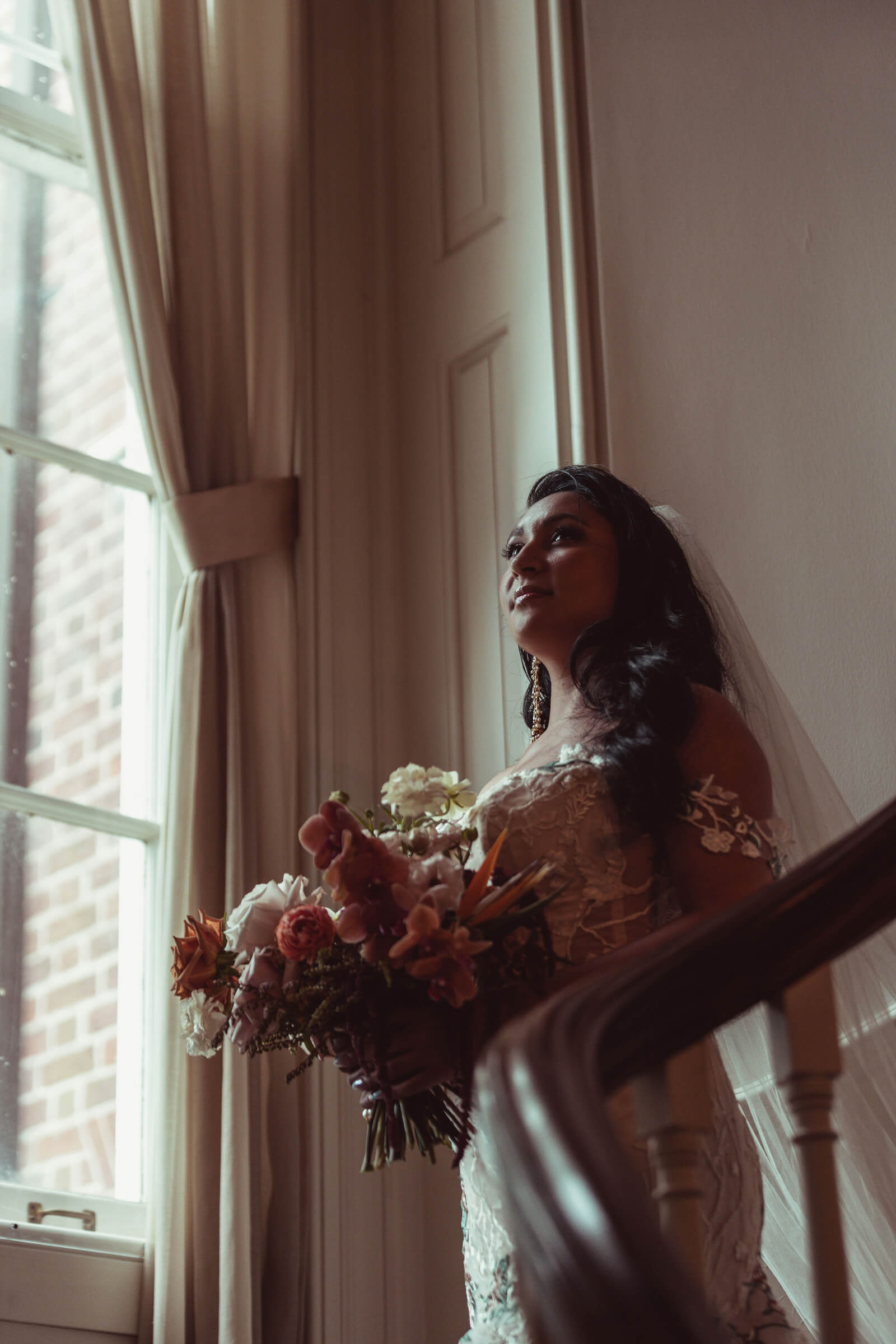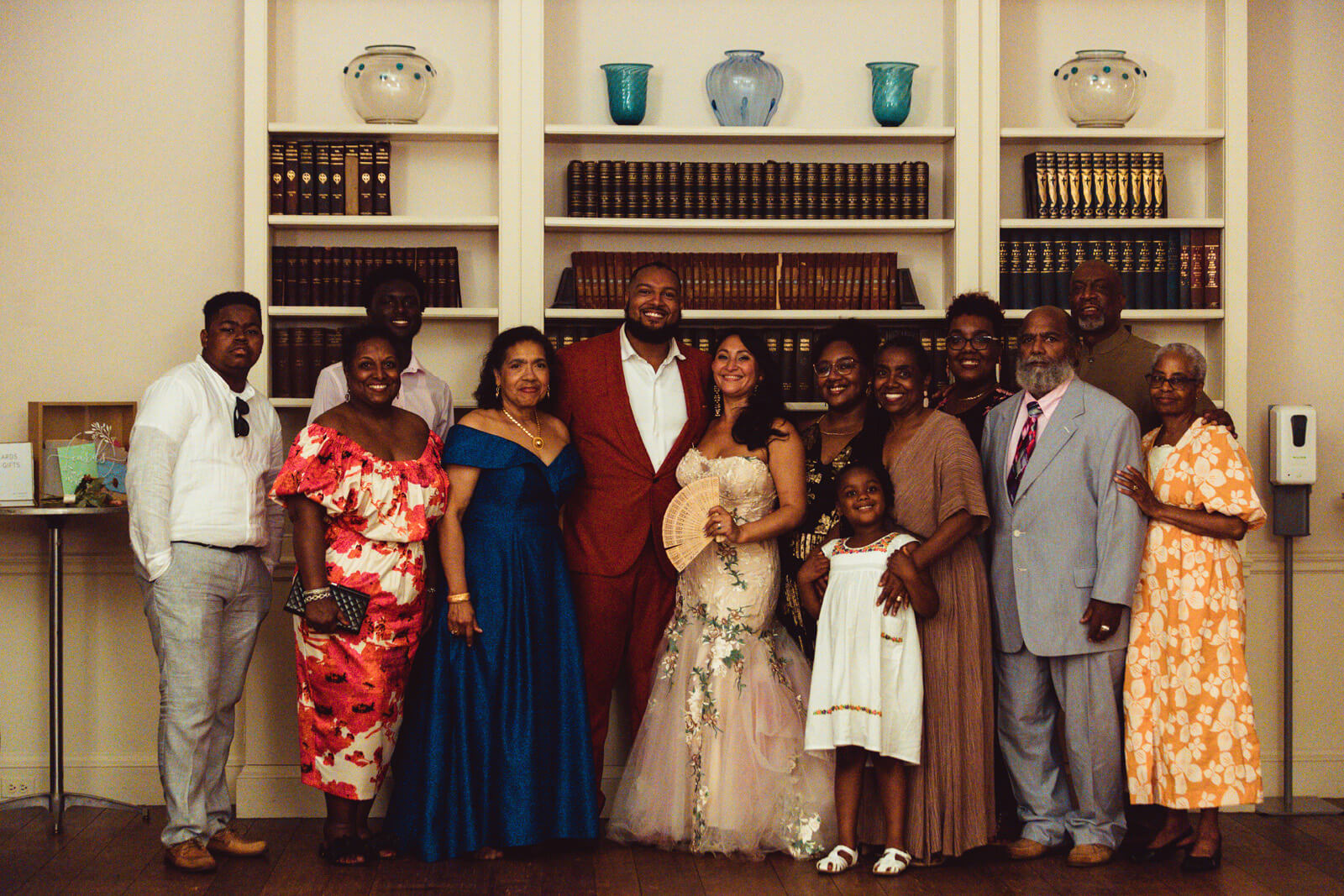 Occupations Marly is chief of communications for Baltimore City Department of Transportation; Adam is director of strategic communications for the Comptroller of Maryland
Wedding date July 1, 2022
Number of Attendees 125
Number of Attendants Bilingual Officiant and their whole crew on each side
How You Met We shared similar interests, meeting while we were both students at Washington University in St. Louis 12 years ago. We both attended a Policy and Advocacy seminar for students interested in working in Government, which allowed us to spend some time together in St. Louis and eventually Washington, DC. Since then, we have spent the last decade cementing our commitments to our communities, our passion for politics, and our gifts of communication. We've moved countries and across oceans together.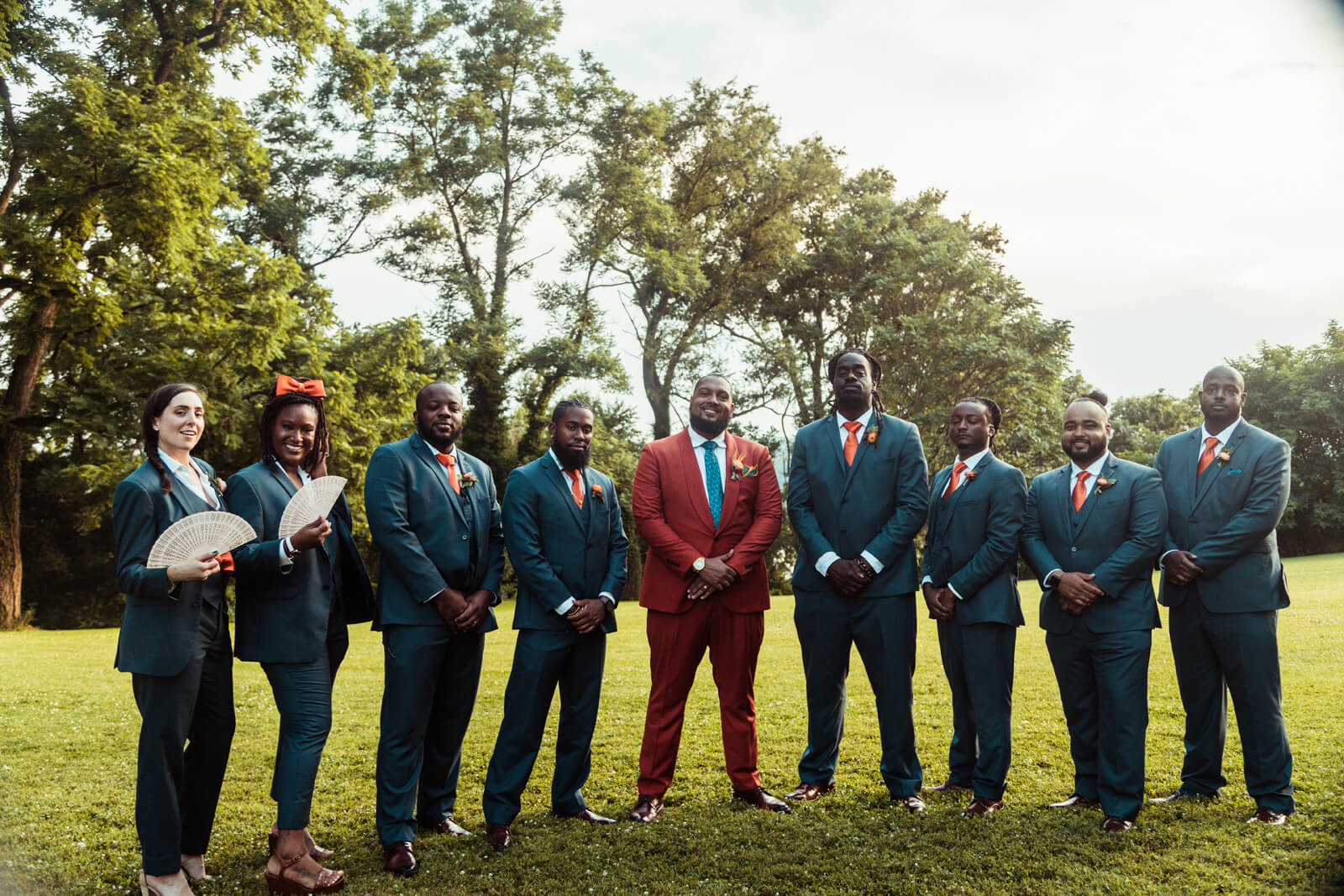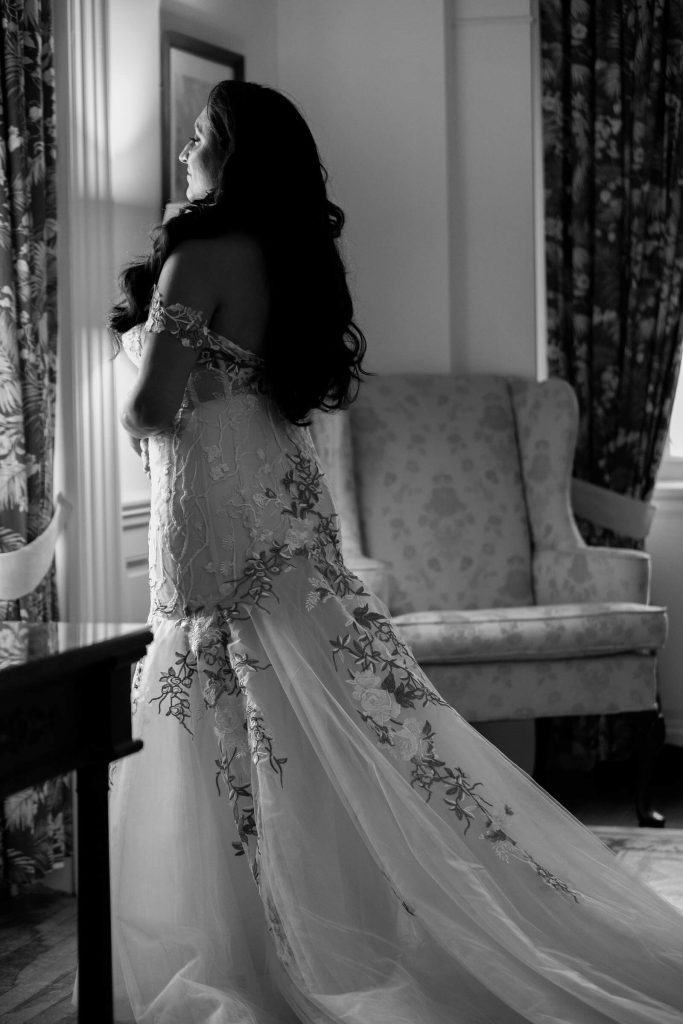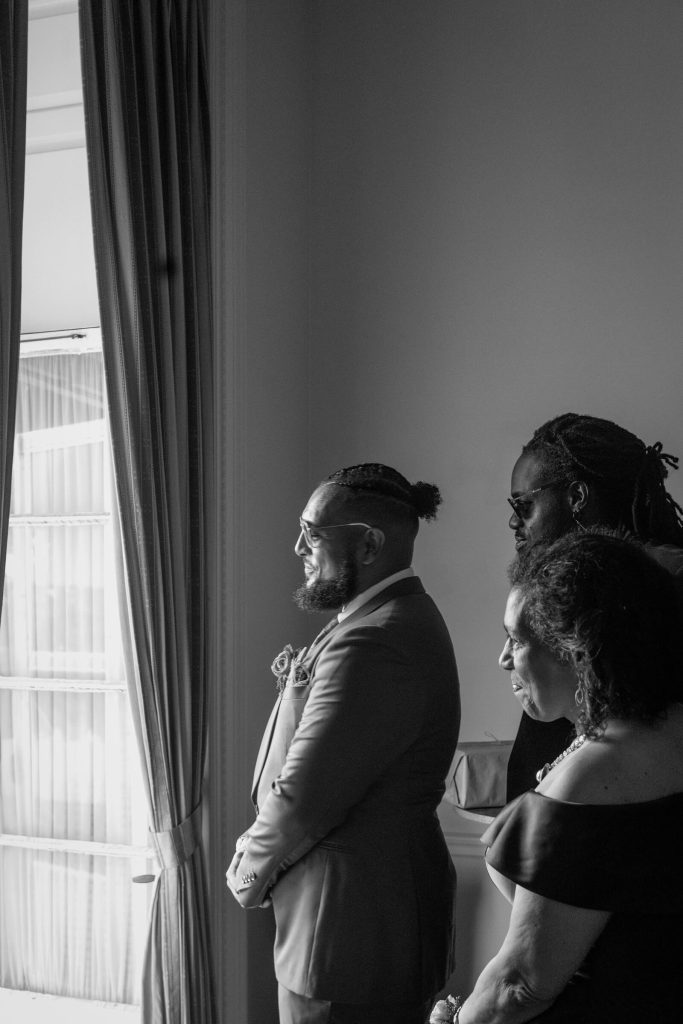 The Engagement Adam spent six months searching for an engagement ring, learning over their years of dating Marly's favorite stone (emeralds, conflict-free) and her ring size (6.5). He hid the box at his parent's house to make sure that she didn't accidentally find the ring.
Under the guise of celebrating their 7-year anniversary, Adam booked a trip to San Diego, a destination Marly had once off-handedly mentioned she'd love to visit one day. We stayed at the Loews Coronado Bay Resort, and they were kind enough to fill our room in advance with Calla Lilies, Marly's favorite flower. The theme of the trip was "Land, Air and Sea"—with Adam booking a helicopter tour to see San Diego County from the sky, racing through the Californian desert in a muscle car, and booking a fire-lit evening gondola trip to explore the waters of the San Diego Bay.
Initially, the plan was to propose on the gondola, taking out the ring while an onboard singer serenaded us to Marly's favorite song, "Stand by Me" by Ben E. King. However, the singer didn't practice the song in advance and was objectively terrible (Marly at one point asked, "Hey, don't I know this song? To which Adam replied, "No, I don't think so"). Adam was so embarrassed that he didn't take the ring out until the trip had almost concluded. Despite that setback, Marly was so excited to say yes that we almost flipped the gondola over.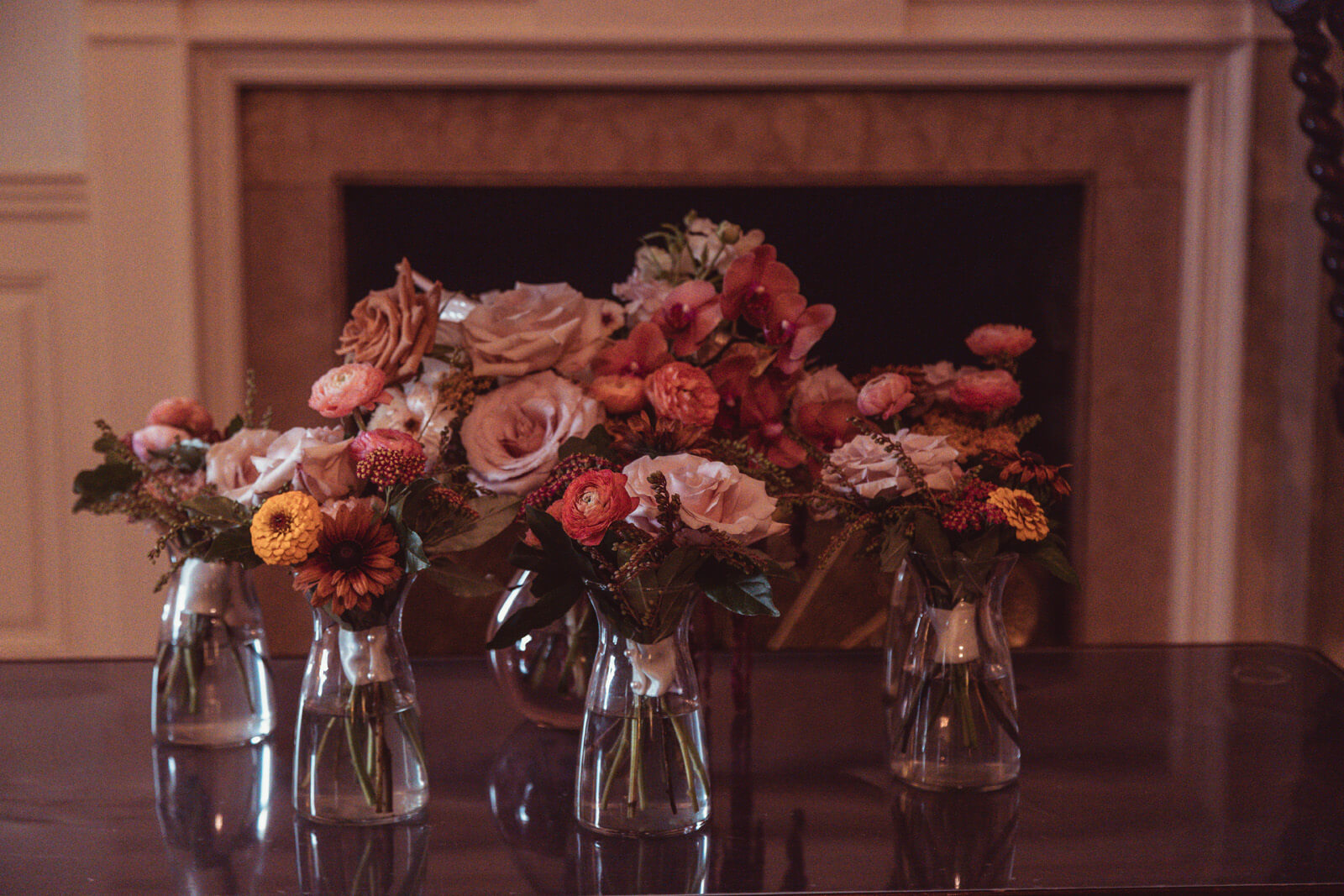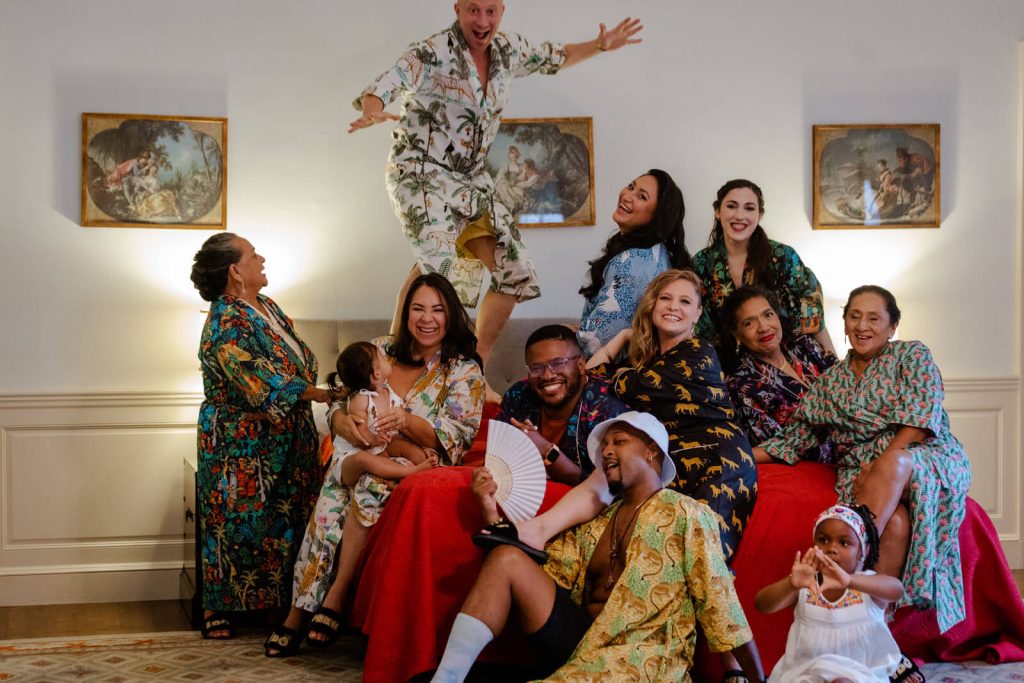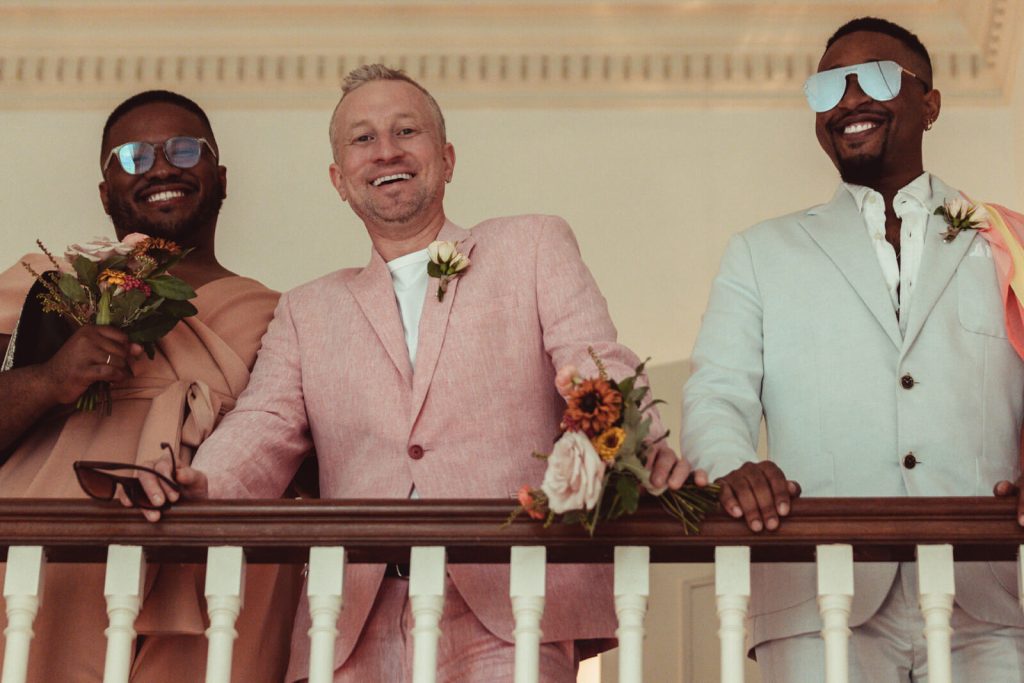 Wedding Design Inspiration We are a Black-Ethiopian-Latinx couple celebrating our unique heritage and honoring our families and loved ones with a sunset ceremony over the Susquehanna River. The color scheme was inspired by the sun and a line from Marly's vows "My heart rises and sets with you."
The location was chosen because Adam grew up in the DMV and spent many summers as a child traveling north on I-95, crossing the bridge into Delaware, and wondering what the house on the top of the cliff overlooking the water was. It was a dream come true to be able to get married there and celebrate with the ones we love most.
What Was Unique and Special About Your Wedding Day We both wrote the officiants portion and our own vows and as two professional communicators, apparently, our friends placed bets on who would write the better vows. Marly was surprised to learn her own mother voted for Adam. He "won" the bet, but Marly's vows made Adam tear up, so according to Adam, she won. No one has received the pot money to date.
Our bridal and groom parties ("The Broom") were not gender-specific nor followed traditional attire. Everyone wore whatever made them feel beautiful.
Adam didn't see Marly's custom-made wedding dress until she was walking down the aisle.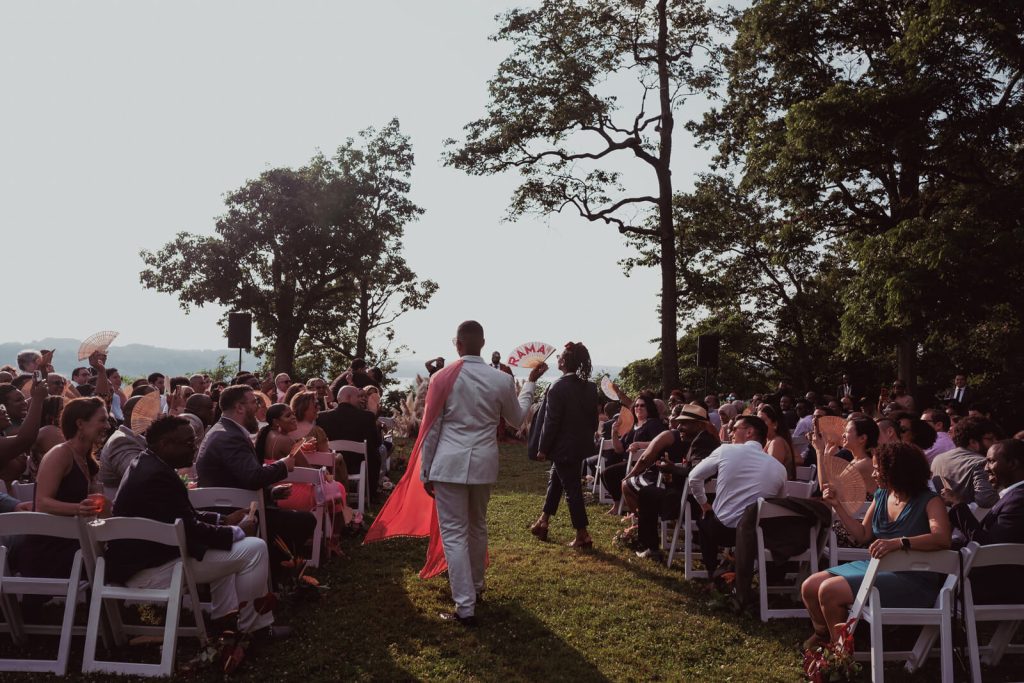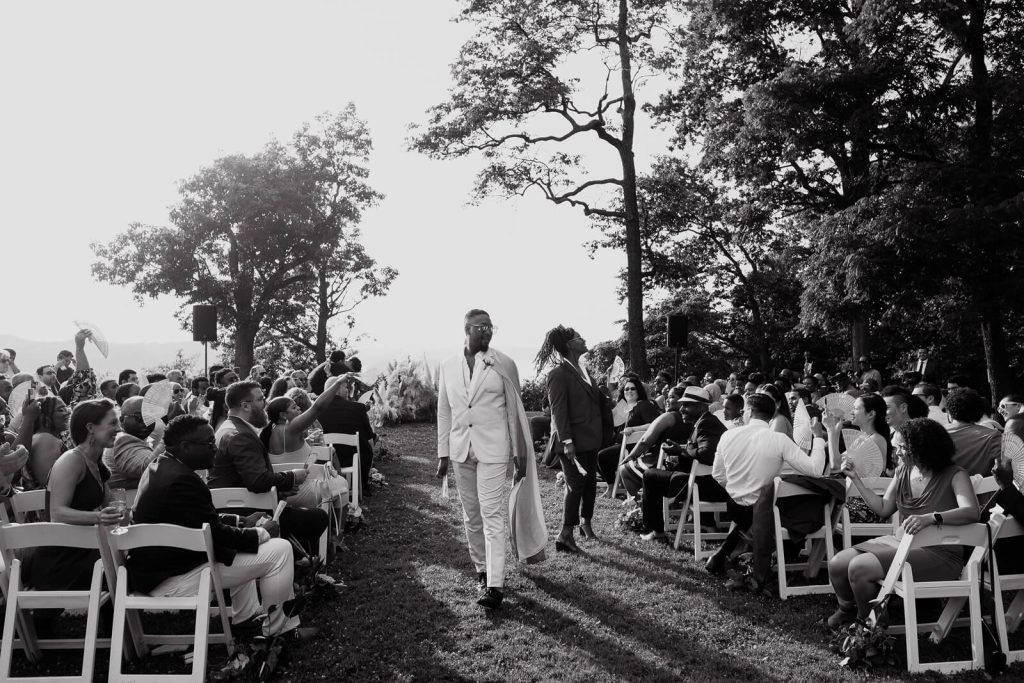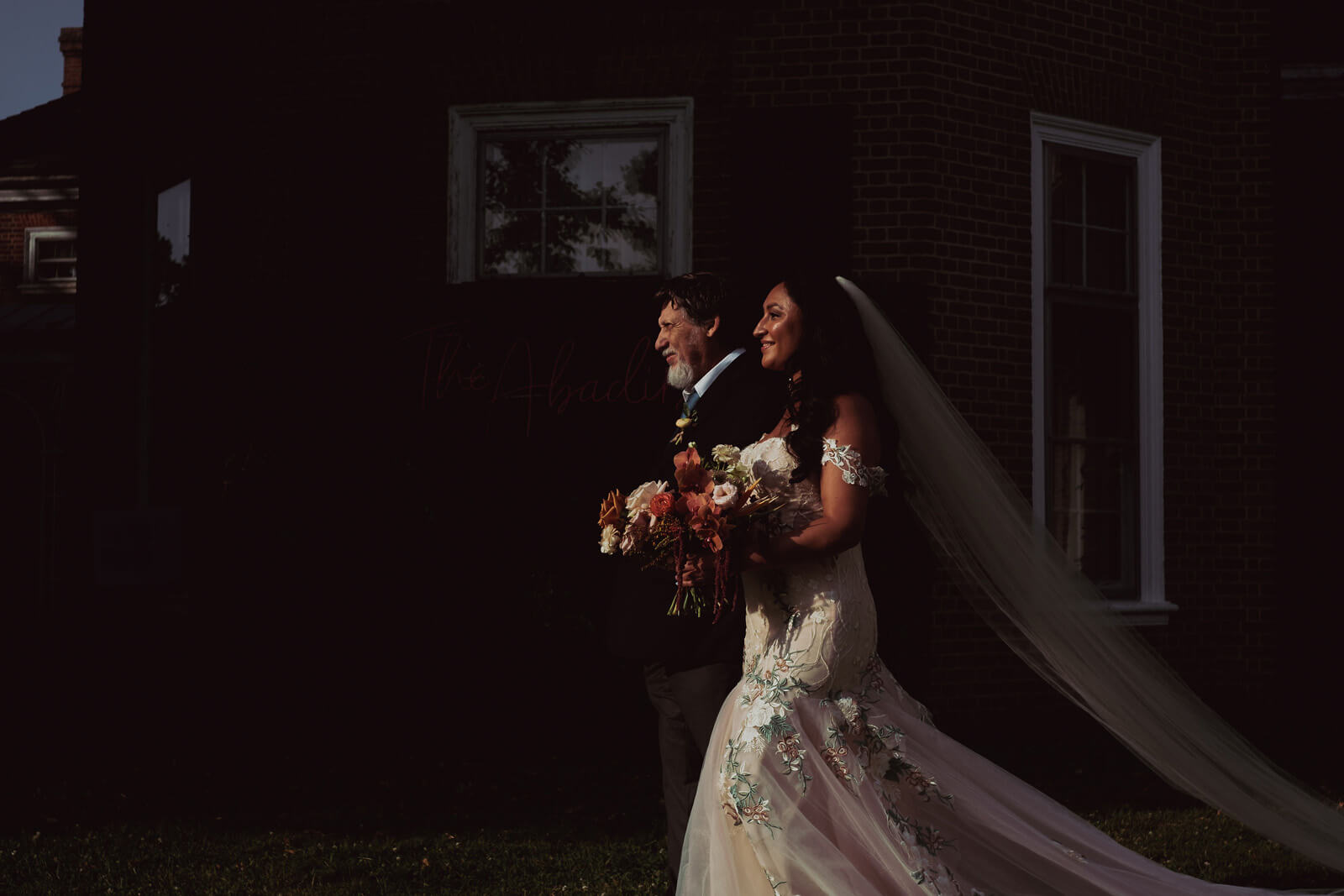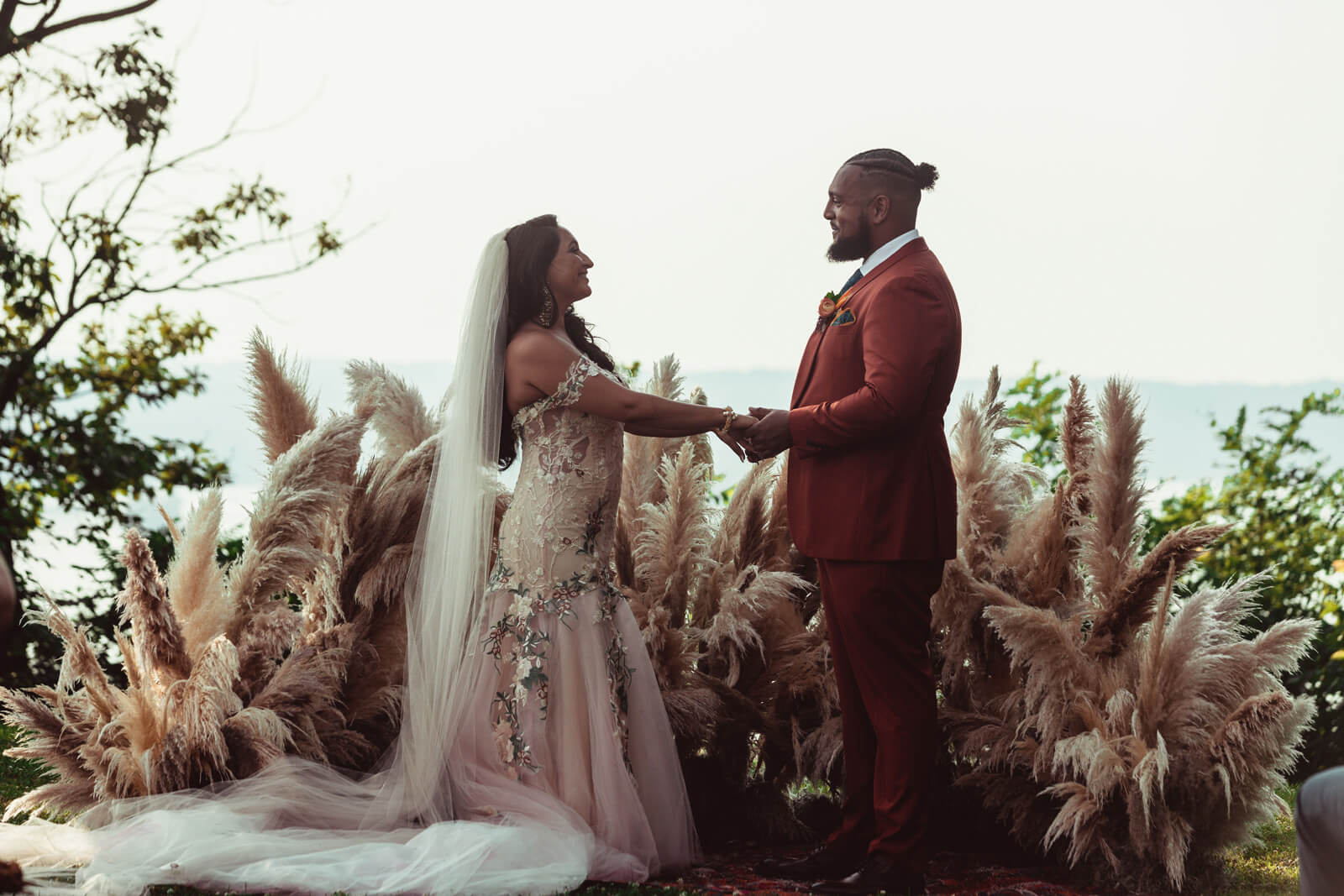 Favorite Details The music and dancing. We both have large, colorful families that love to dance. Our first dance was to "Loco Amor," a deep cut from the black and white film "Soy Cuba." We had a live funk band (shout out to the Too Much Talent Band!) play us down the aisle.  They played "Love and Happiness" by Al Green for the groom and an instrumental version of "Shine" by Cleo Soul for the bride. Our DJ played a combination of Ethiopian, Salsa, and Hip-Hop music all night. We cut a rug. We also had an International Ambassador exclaim they had never seen so much beautiful diversity celebrated at a wedding.
Most Unexpected Event On Your Wedding Day Marly planned every detail but didn't expect rain. The entire ceremony hinged on an outside altar of pampas and a garden party. It started raining 90 minutes before guests were supposed to arrive. Adam and the "broom" moved all of the decorations—chairs, tables, flowers—indoors and when it stopped raining, returned all of the decorations back to their original settings, completing the job only five minutes before the doors opened. The guests never knew, and apparently, while all of this was happening, Marly was watching it all go down from a second-floor window in her bridal suite (not panicked at all…!)
Piece of Advice Pour into your loved ones and enjoy the immaculate vibes.