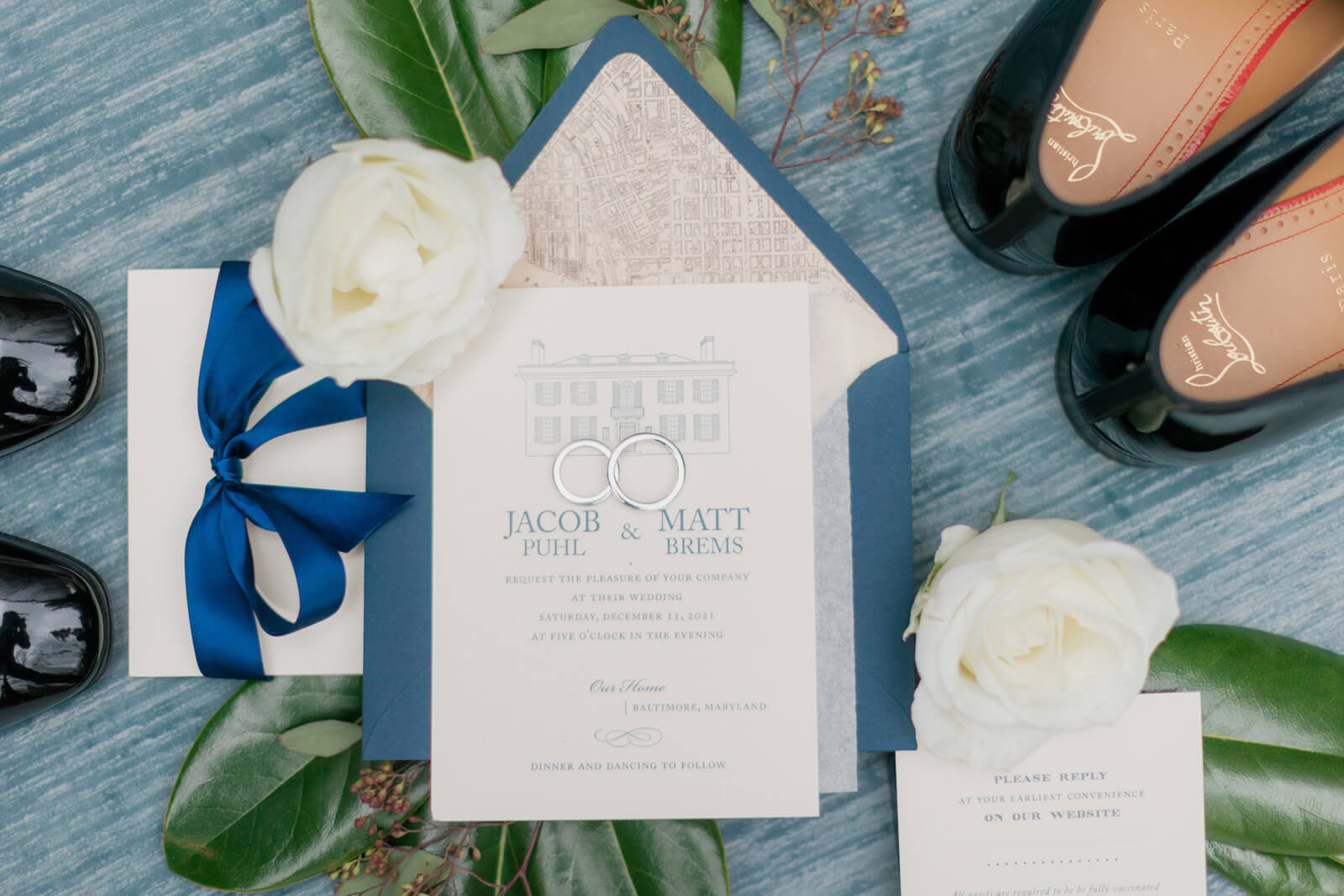 Occupations Matt is a data scientist at DataRobot; Jacob is a tax attorney at Meta.
Wedding date December 11, 2021
Number of Attendees 105
Number of Attendants Two. We each had one person standing with us.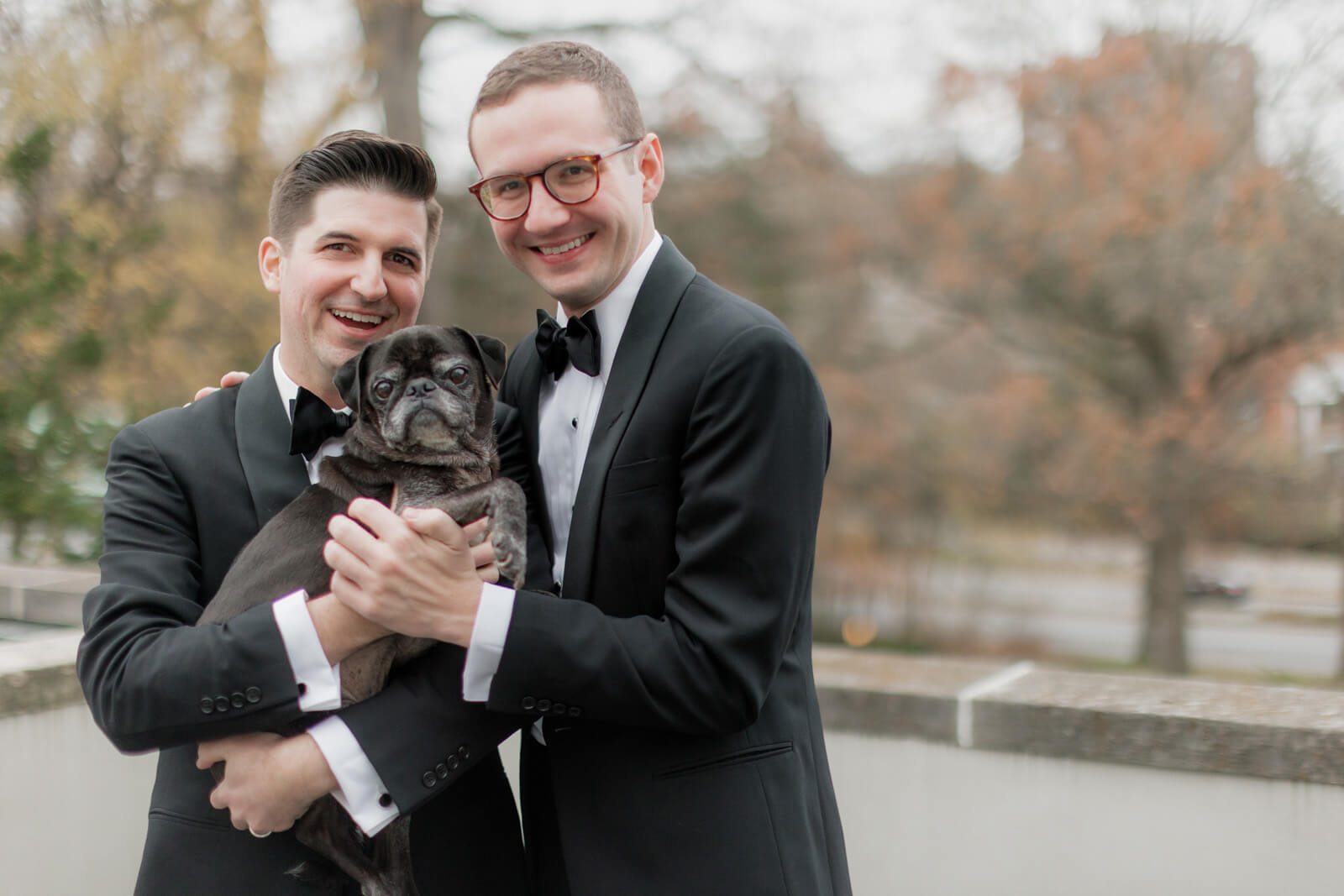 How You Met We were both in grad school at Ohio State. It was a Thursday night in November 2013—close to finals when we should have been studying. Instead, we both found ourselves at Union Cafe, a bar in Columbus. Matt was standing at the bar, chatting with another person. Jacob came into the bar, walked over, and swooped in.
The Engagement Matt was teaching data science in Europe in 2019. Jacob joined him, and they added on a trip to Bergen, Norway to spend time with family. After a few days, they flew to Tromsø, Norway, about 200 miles north of the Arctic Circle. On our sixth anniversary, while walking through a blizzard, Matt gave Jacob his coat. Later, when Jacob felt the box in Matt's pocket, Matt said "If you could give me that box, I'd like to do something with it." Matt got on one knee in the snow, under the Northern Lights, and popped the question.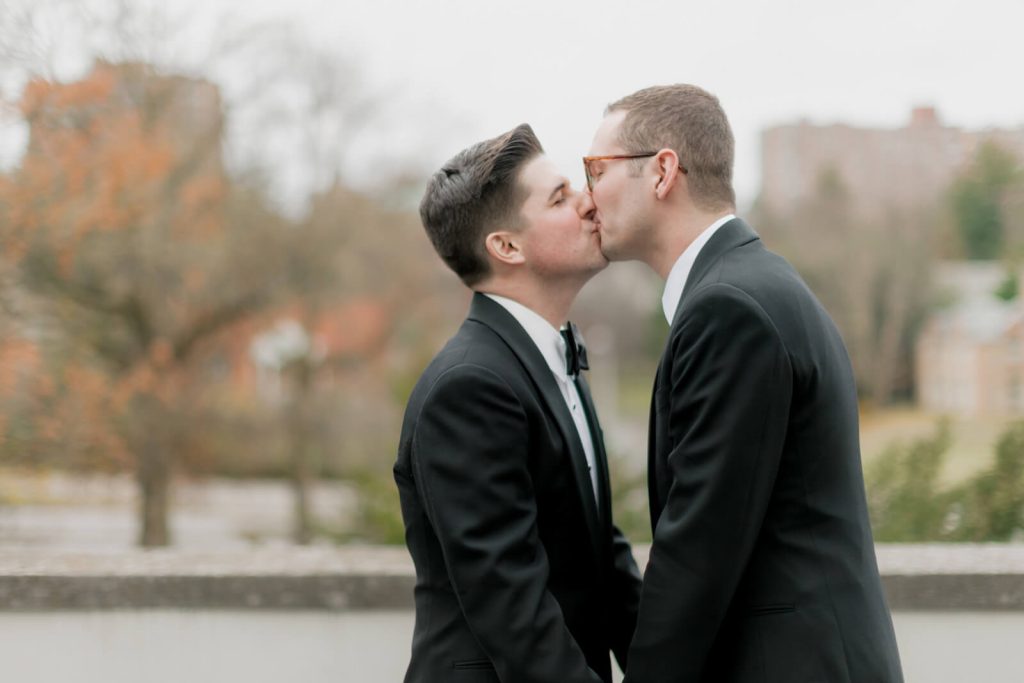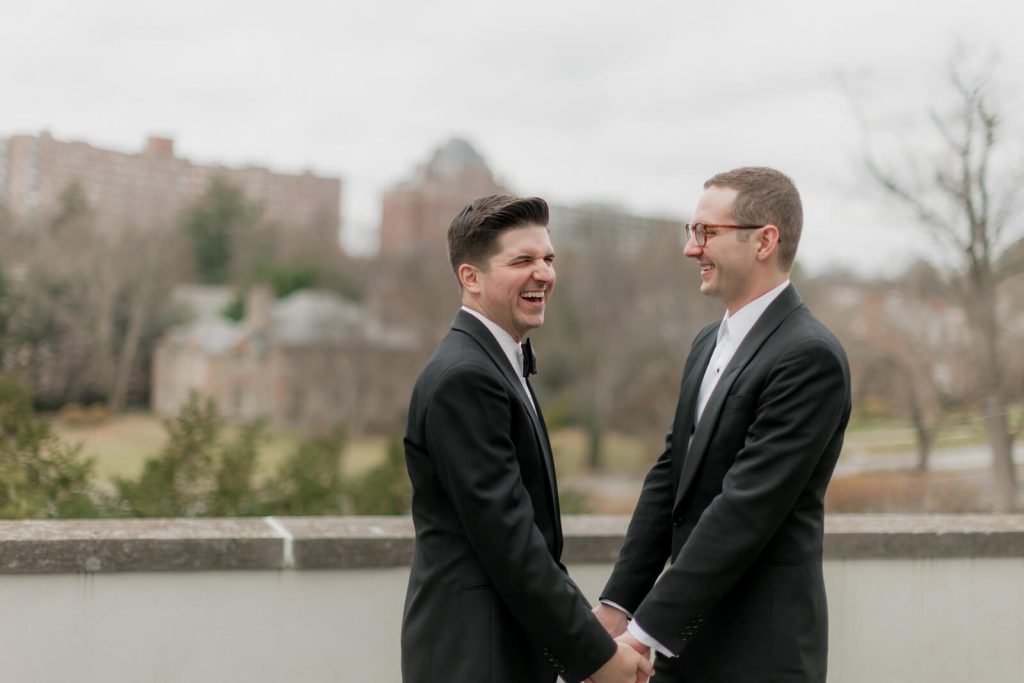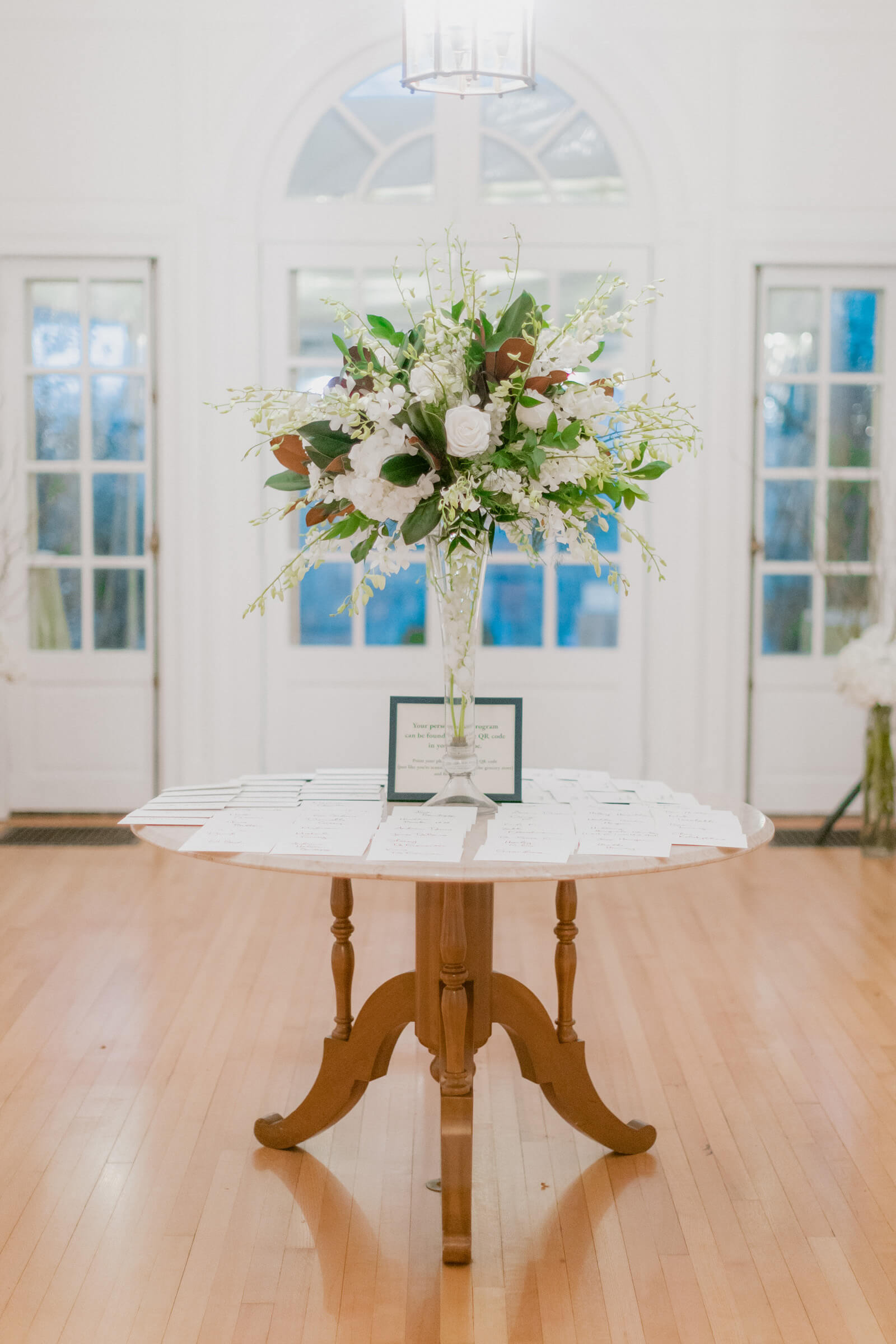 Wedding Design Inspiration We wanted a wedding that was meaningful to us and that took cues from the house and season. We picked our favorite spaces in the house for various parts of the wedding. We particularly wanted to feature the library, where we had drinks and dancing, so we selected books to use instead of table numbers. We selected navy and gold tablescapes, complemented with greenery and white flowers. We also found the book/blog A Practical Wedding to be incredibly helpful. Early in the planning, we separately made a list of the things we wanted at our wedding. Then, we came together and merged the lists, ironing out any conflicts right then and there. Then, we gave ourselves permission to ignore everything else.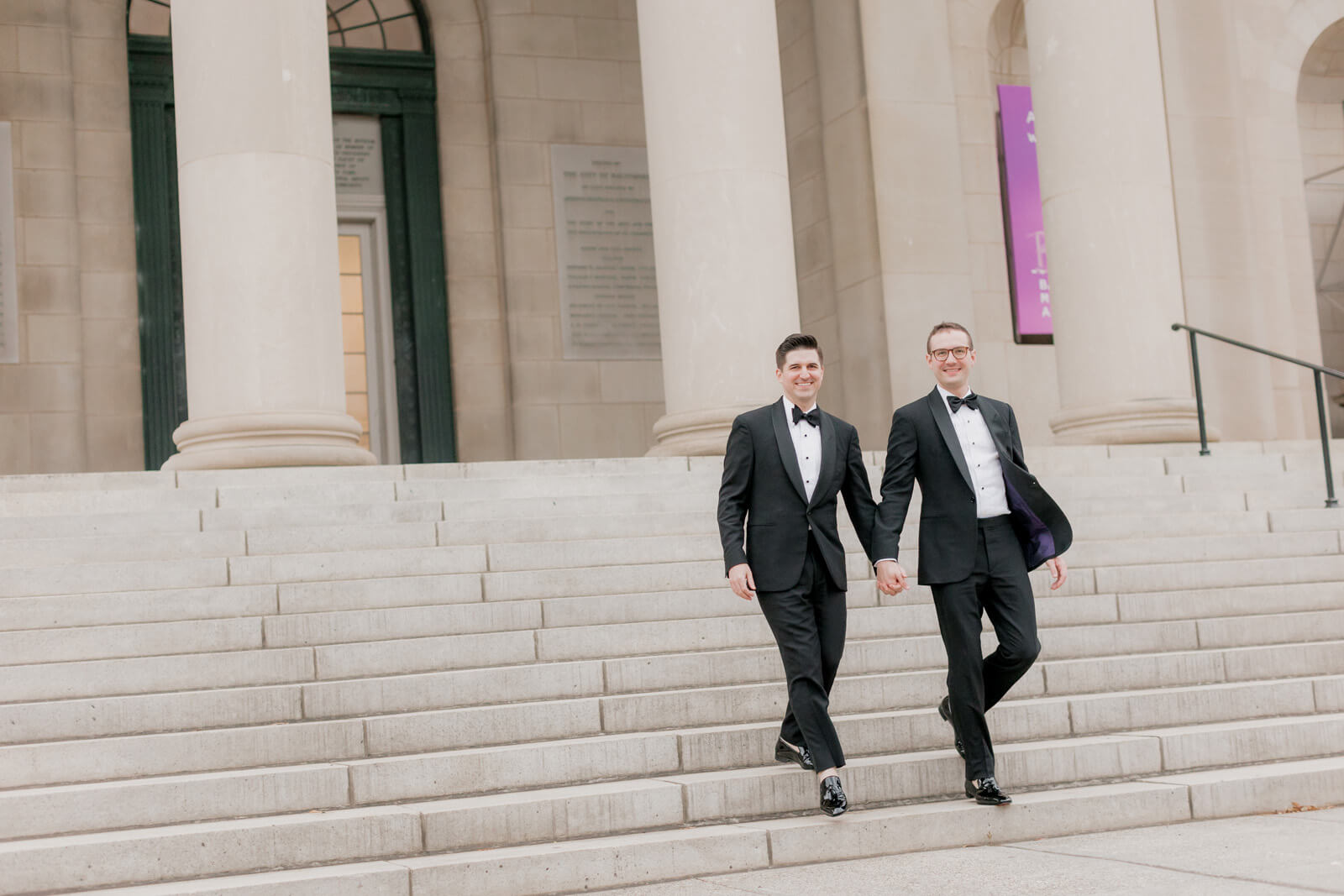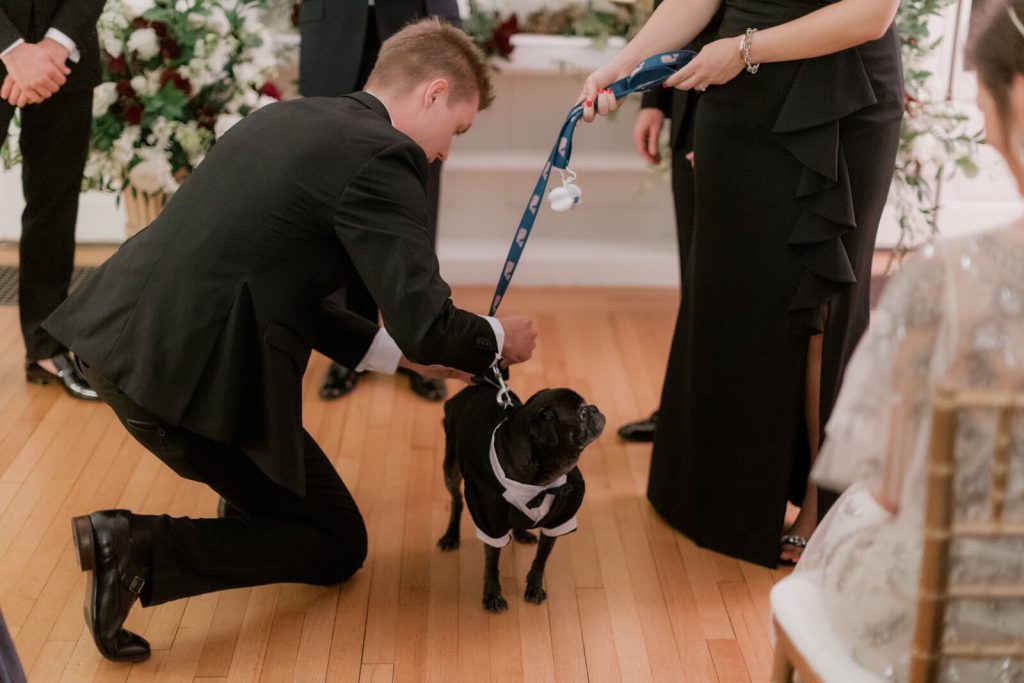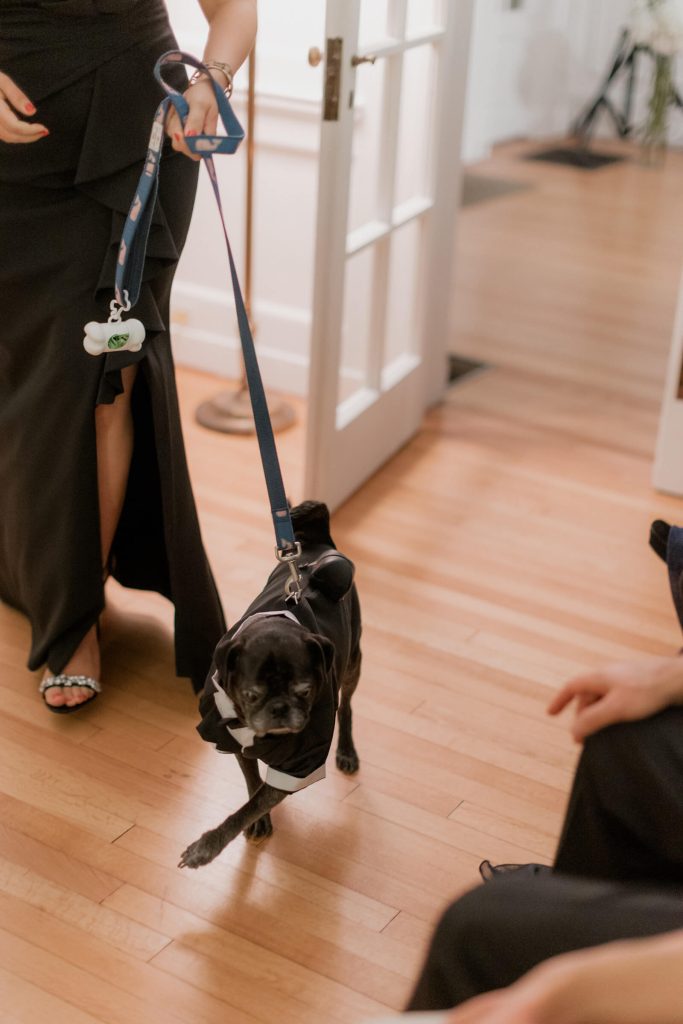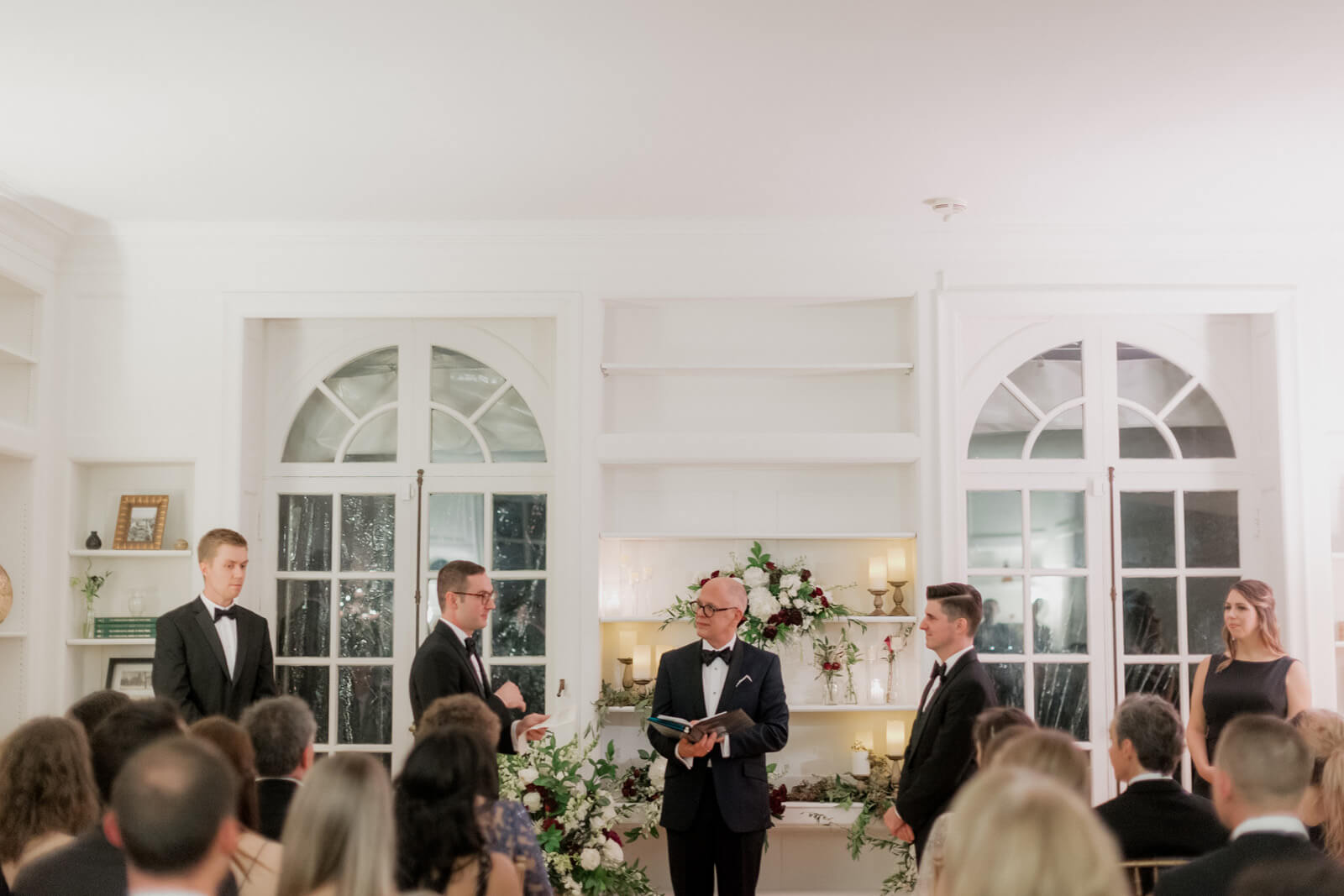 What Was Unique and Special About Your Wedding Day We held our wedding at home! It's so meaningful to get to live here and remember "that's where we said our vows" or "that's where we had our first dance."
Our officiant, Jim Obergefell, was the named plaintiff in Obergefell v. Hodges, the US Supreme Court case that granted all same-sex couples in the United States the right to marry. Jim Obergefell and his partner, John Arthur, had been together since the early 1990s. John was later diagnosed with ALS. Toward the end of John's life, Jim and John decided to get married. At the time, same-sex marriage was illegal in Ohio, where they lived. Same-sex marriage was legal in Maryland, however. John was bed bound, so friends and family pooled their money to charter a medical plane to fly from Ohio to Maryland. They were married on the tarmac at BWI on July 11, 2013. John died on October 22, 2013. Due to Ohio's ban on same-sex marriage, Jim was not permitted to be listed as John's surviving spouse on John's death certificate. Jim sued the State of Ohio. This case eventually made its way to the Supreme Court as Obergefell v. Hodges.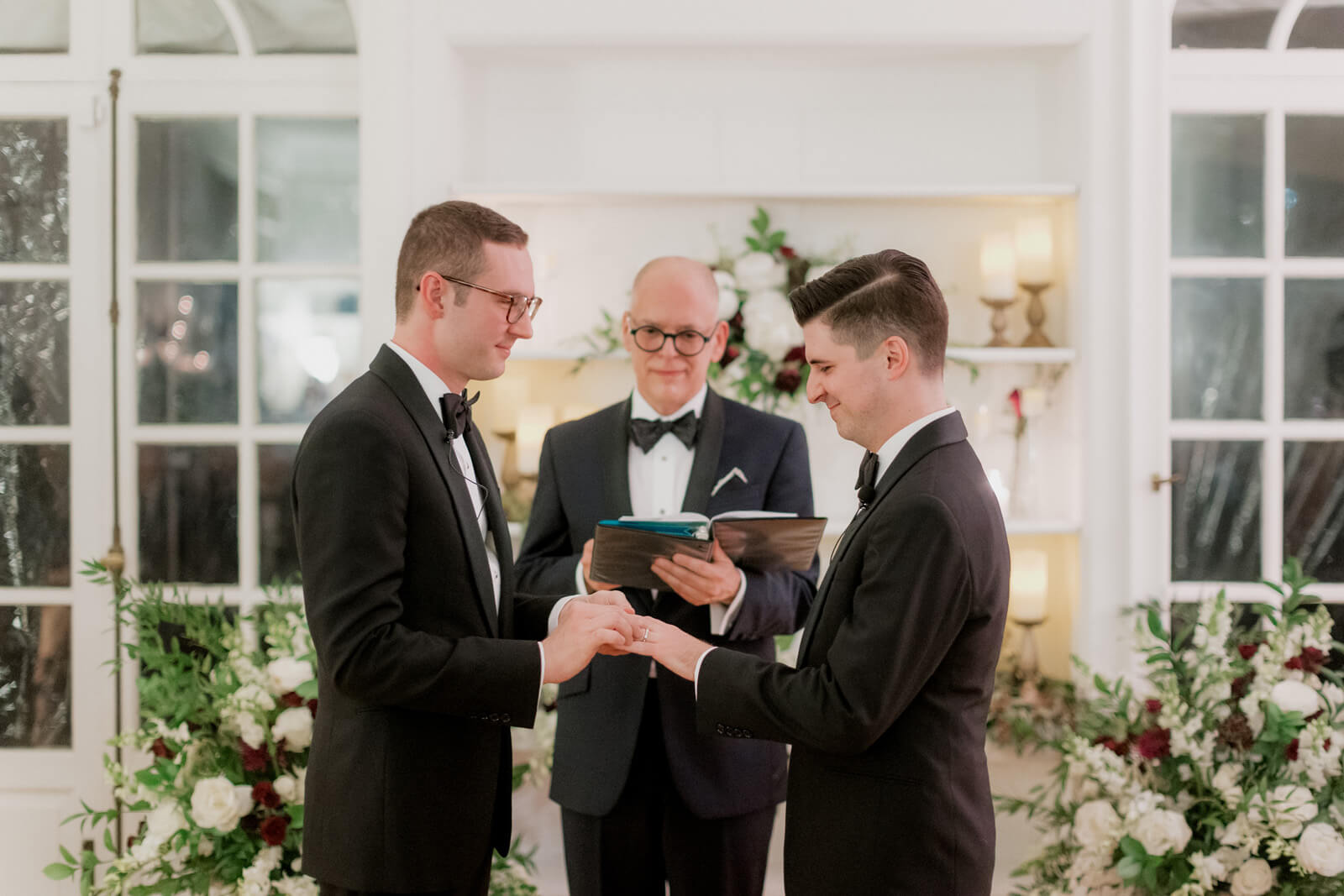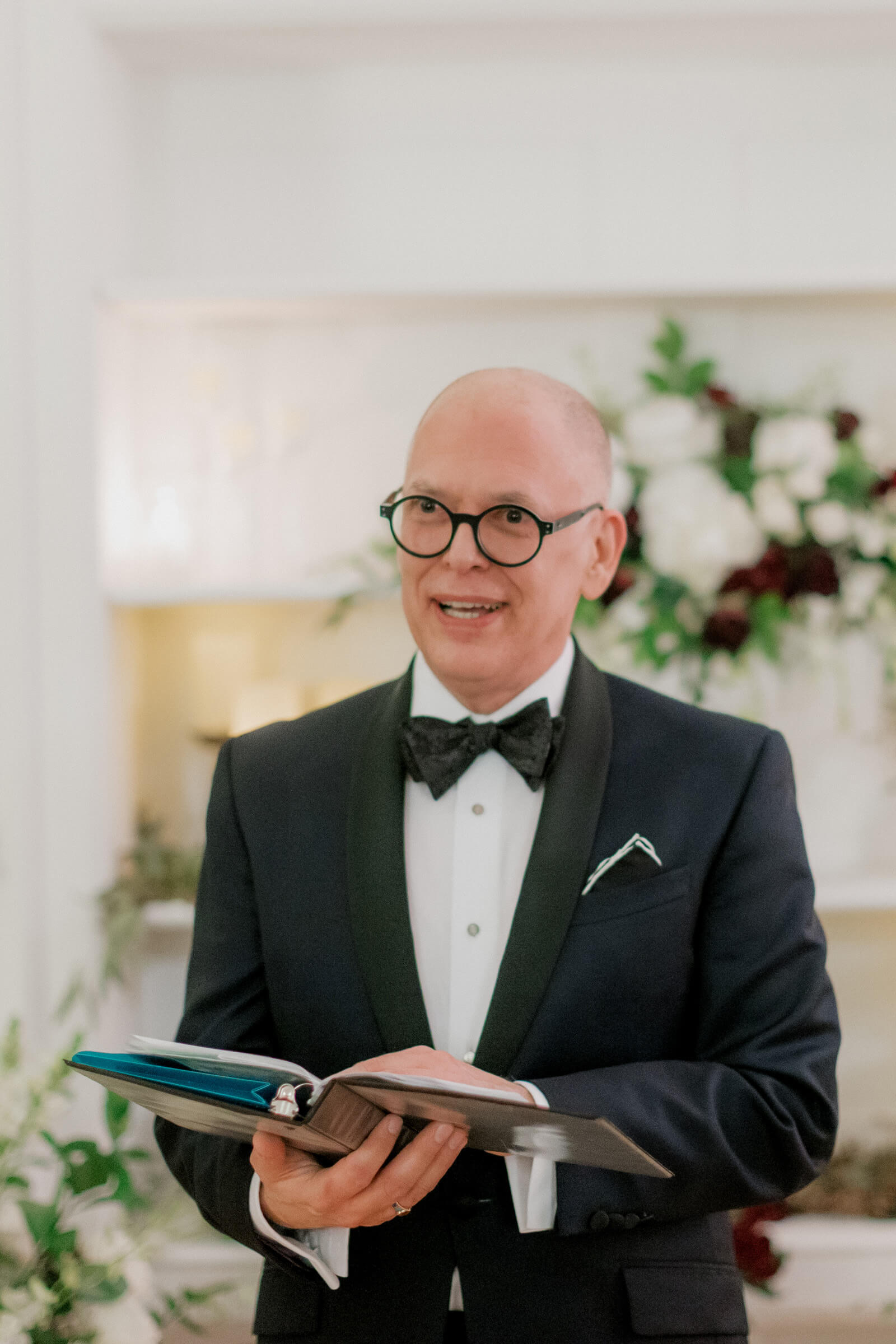 One of our readings at the wedding was the last paragraph of the majority opinion in the Obergefell case: No union is more profound than marriage, for it embodies the highest ideals of love, fidelity, devotion, sacrifice, and family. In forming a marital union, two people become something greater than once they were. As some of the petitioners in these cases demonstrate, marriage embodies a love that may endure even past death. It would misunderstand these men and women to say they disrespect the idea of marriage. Their plea is that they do respect it, respect it so deeply that they seek to find its fulfillment for themselves. Their hope is not to be condemned to live in loneliness, excluded from one of civilization's oldest institutions. They ask for equal dignity in the eyes of the law. The Constitution grants them that right.
But how did he end up as our officiant? We reached out to him online! We sent him a cold email, and he graciously accepted our invite:
Jim, Our names are Jacob Puhl and Matt Brems. We are getting married later this year! We would be so, so honored if you would consider officiating our wedding. Matt grew up in Cincinnati, living on the West Side through high school. Jacob grew up outside of Frederick, Maryland. We met in graduate school at Ohio State; Jacob studied law and Matt studied statistics. We now live in Baltimore and have been in the area for six years. Part of why we chose to move back to Maryland was because, at the time, same-sex marriage was not legal across the U.S. However, in 2015, we were both working in D.C. the day that the Obergefell decision was announced. At 10:02 a.m., we sprinted out of our respective offices to the Red Line, then ran from Union Station to the steps of the Supreme Court to celebrate the moment and share a kiss, memorialized with a photo by our friend. We are so deeply grateful to you and to your husband. We cannot imagine the depth of the challenges you've faced and how strong you have been over the years. The fact that Jacob and I moved from Ohio to Baltimore is not lost on us, making this request even more meaningful—if that is even possible. To that end, we are asking guests to join us in donating to an LGBTQ+ cause in lieu of gifts—it is important to us that our wedding is not just a symbol of our love and commitment, but a contribution to our shared fight for equality. We would be so honored if you would consider officiating our wedding. We are getting married in our home in Baltimore. We look forward to hearing from you. Thank you, Jim!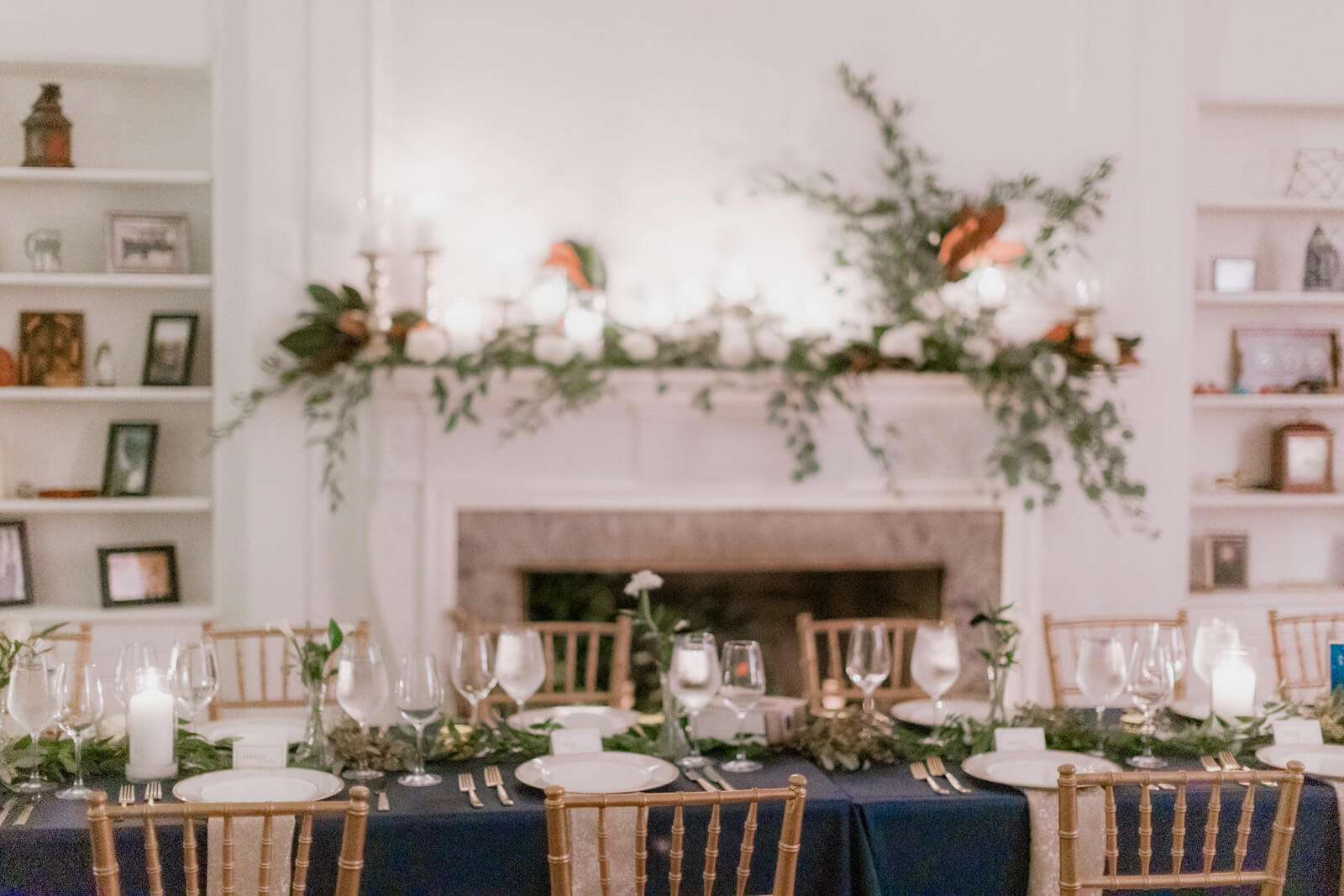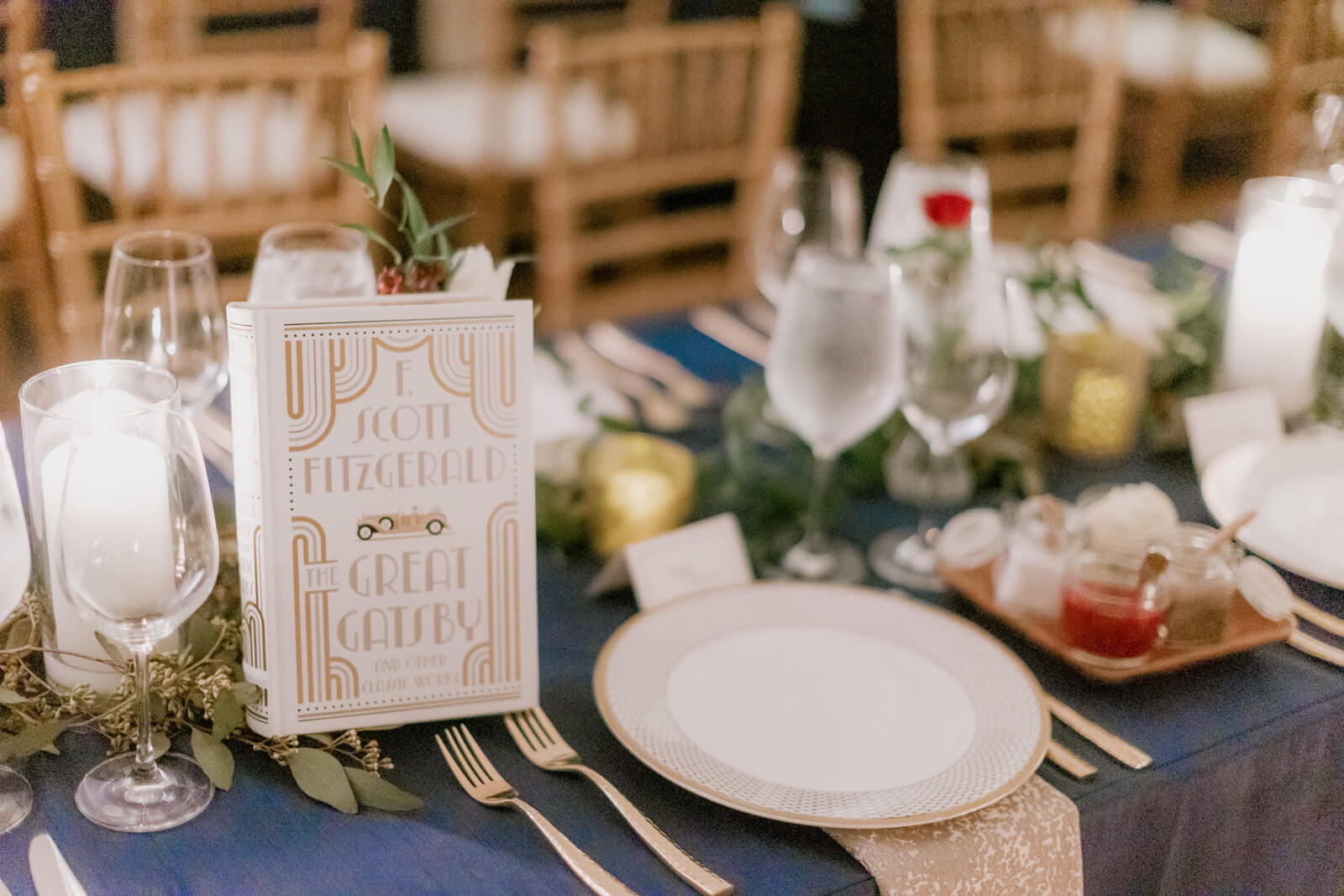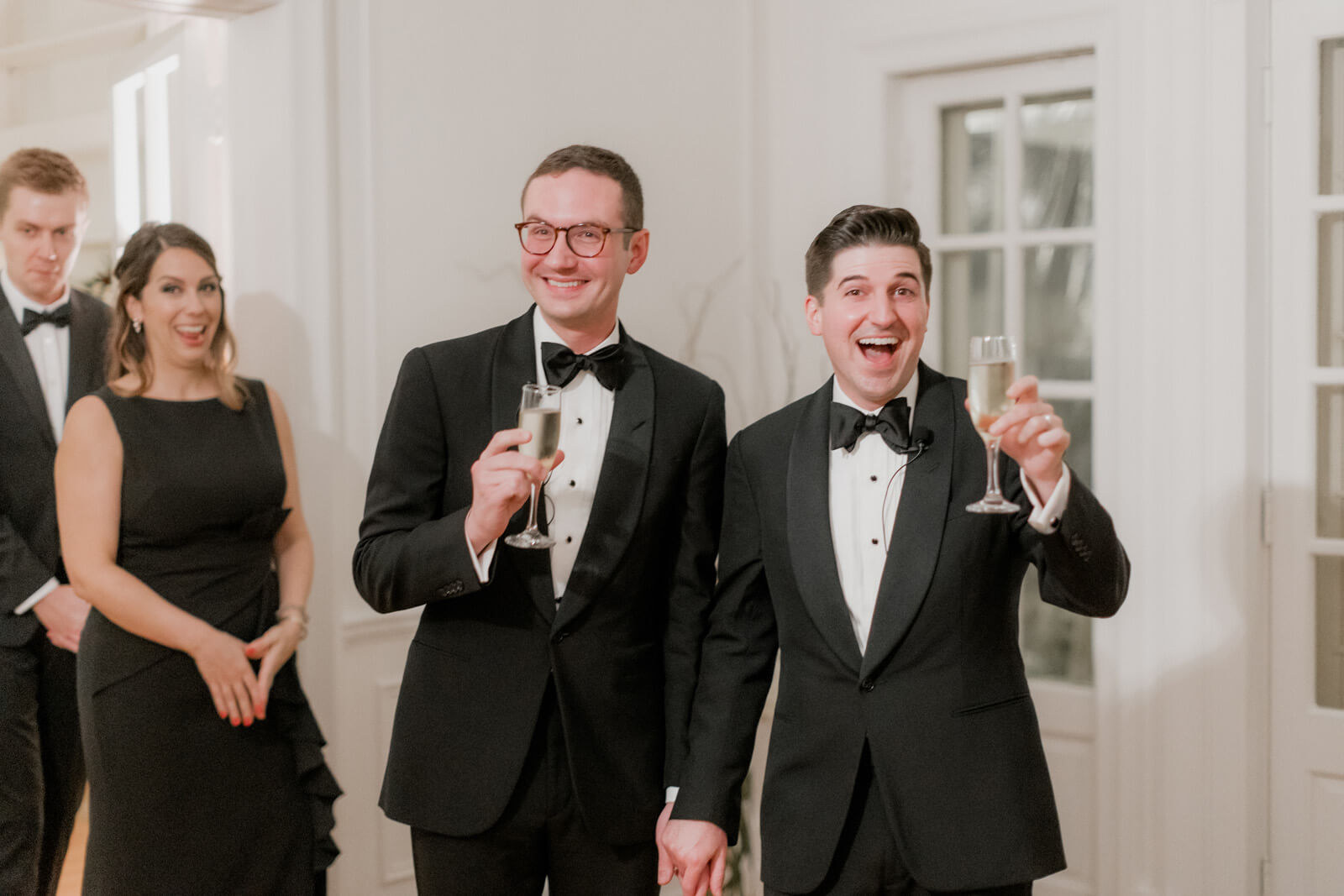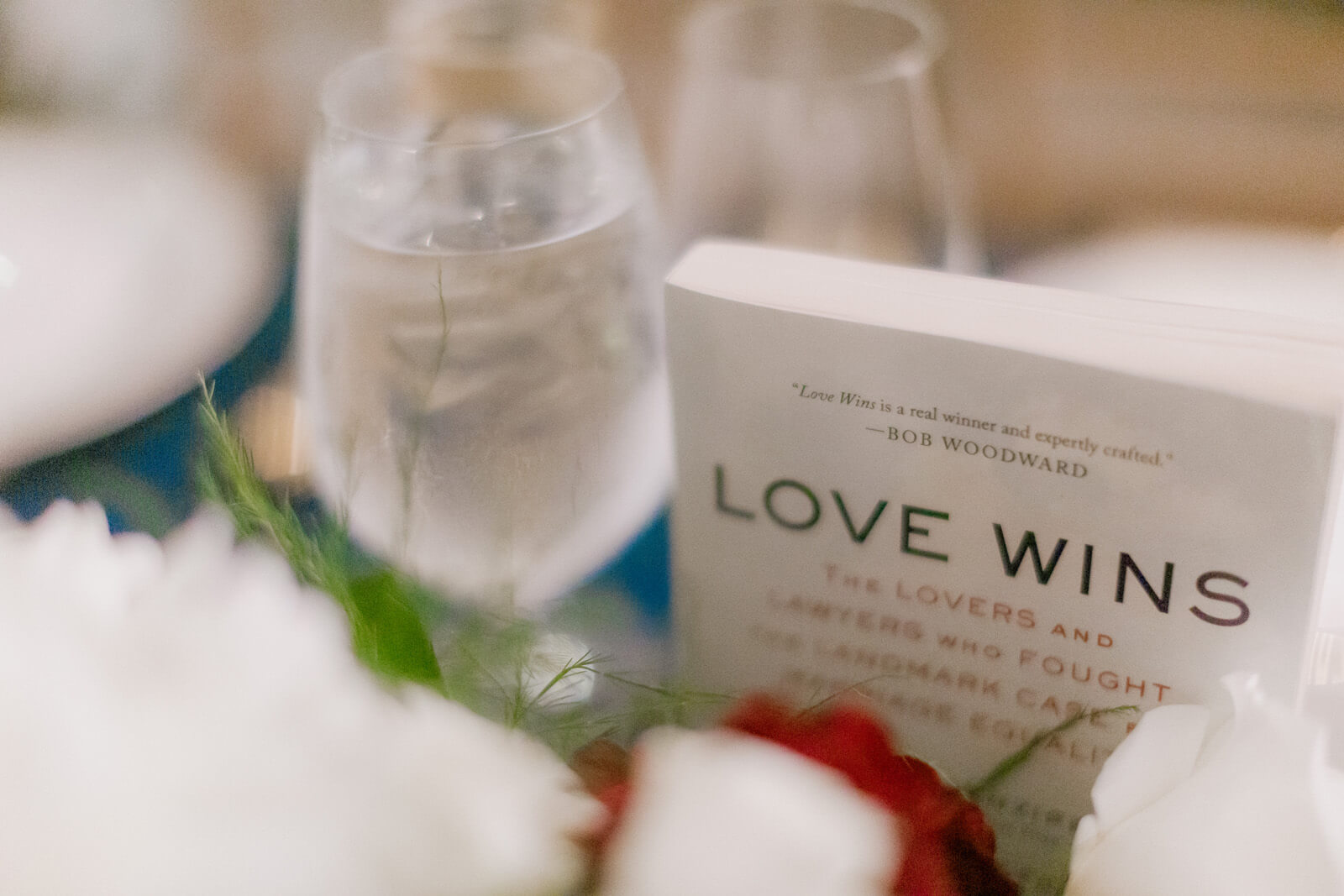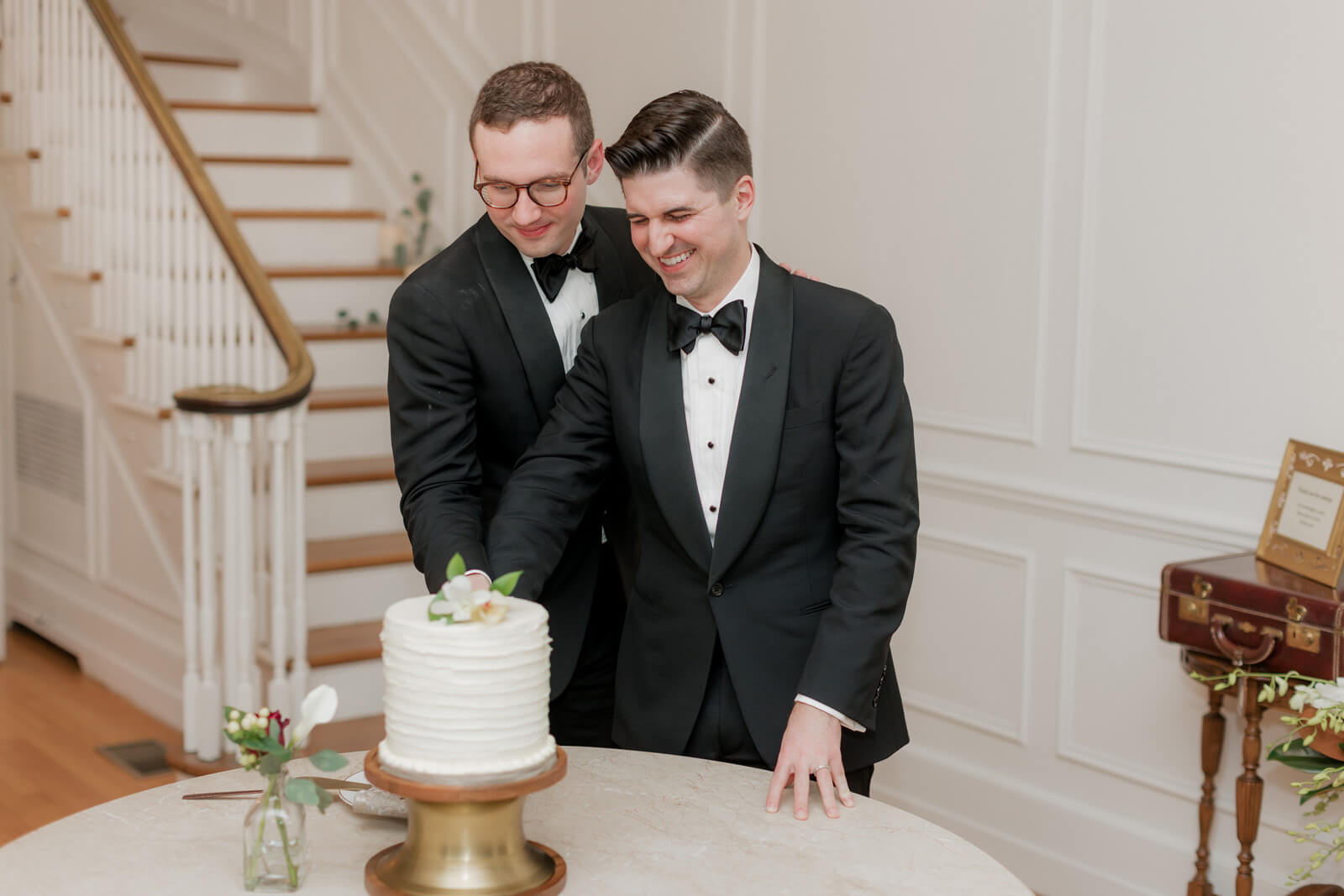 Favorite Details
• Our pug, Paddington, was our ring bearer.
• We picked books that were important to us as a couple and used those instead of numbers for each of the tables.
• We asked our guests to give us advice or quotes about love that were meaningful to them. We framed these, and our florist staged them around the library with flowers and candles.
• Our florist also did an incredible job filling the fireplaces with candles and greenery.
Most Unexpected Event On Your Wedding Day The weather! We got married in mid-December. We expected it to be cold, so we took a ton of precautions to make sure guests would be warm enough. Instead, it was in the mid 70s and the house was toasty. Lesson learned: plan for any type of weather, even if your wedding is indoors.
Piece of Advice Pre-designate a spot where, after your vows, you and your spouse can sneak to for 15-20 minutes without being interrupted. Take a breath. Enjoy the feeling of being married. Designate one person to bring you each a plate of food. Then, make sure you eat the food. It's so easy to get swept up in the excitement and adrenaline.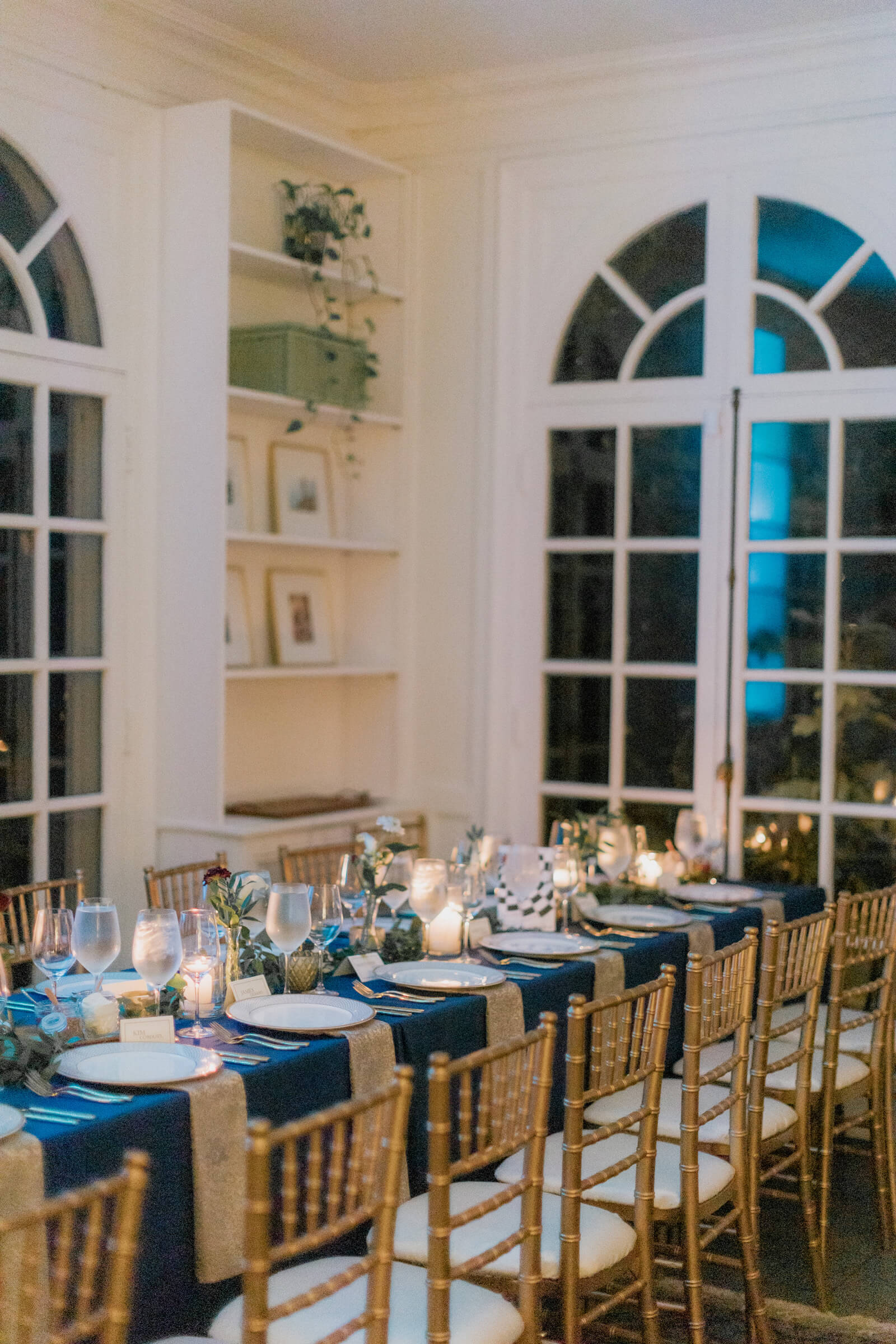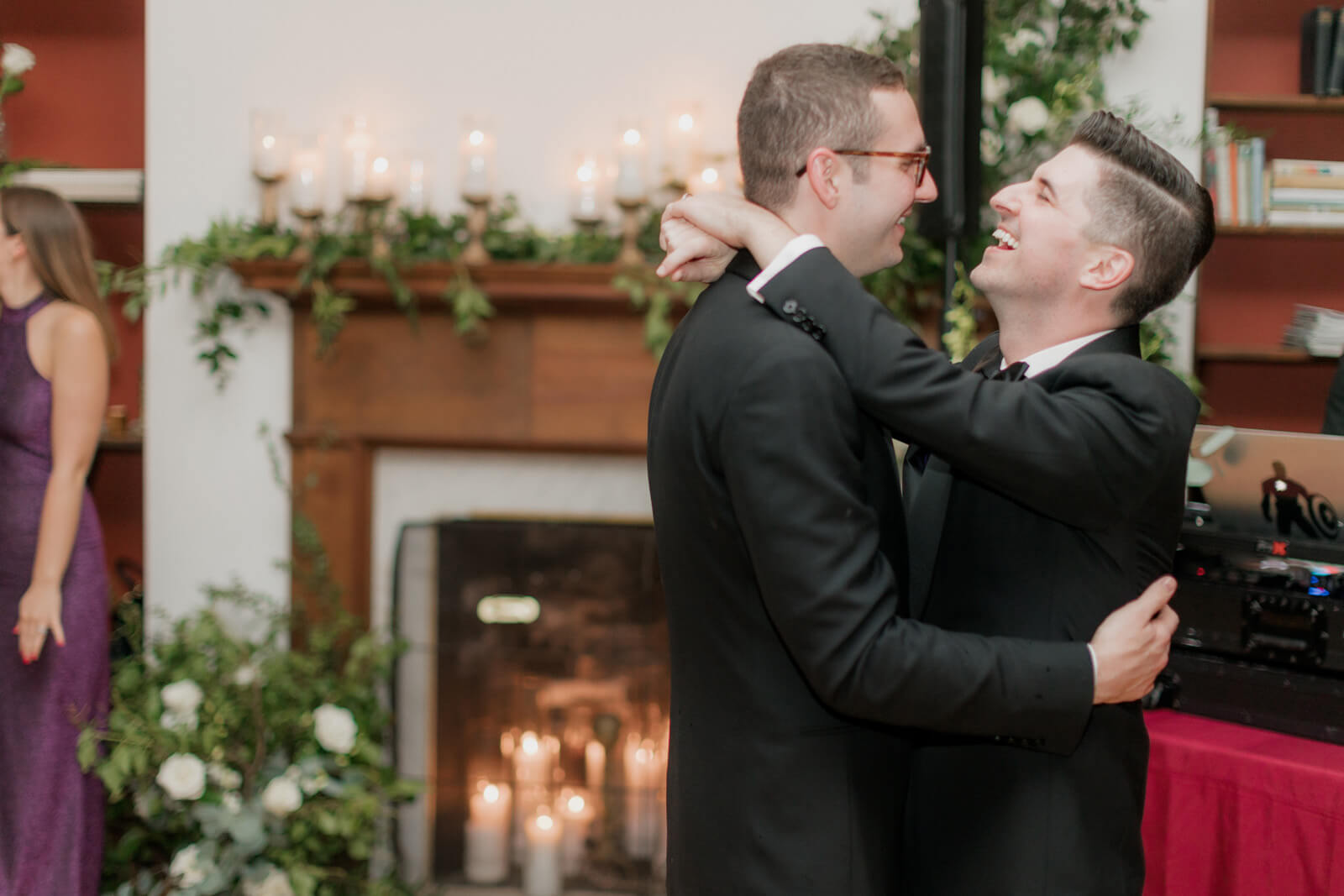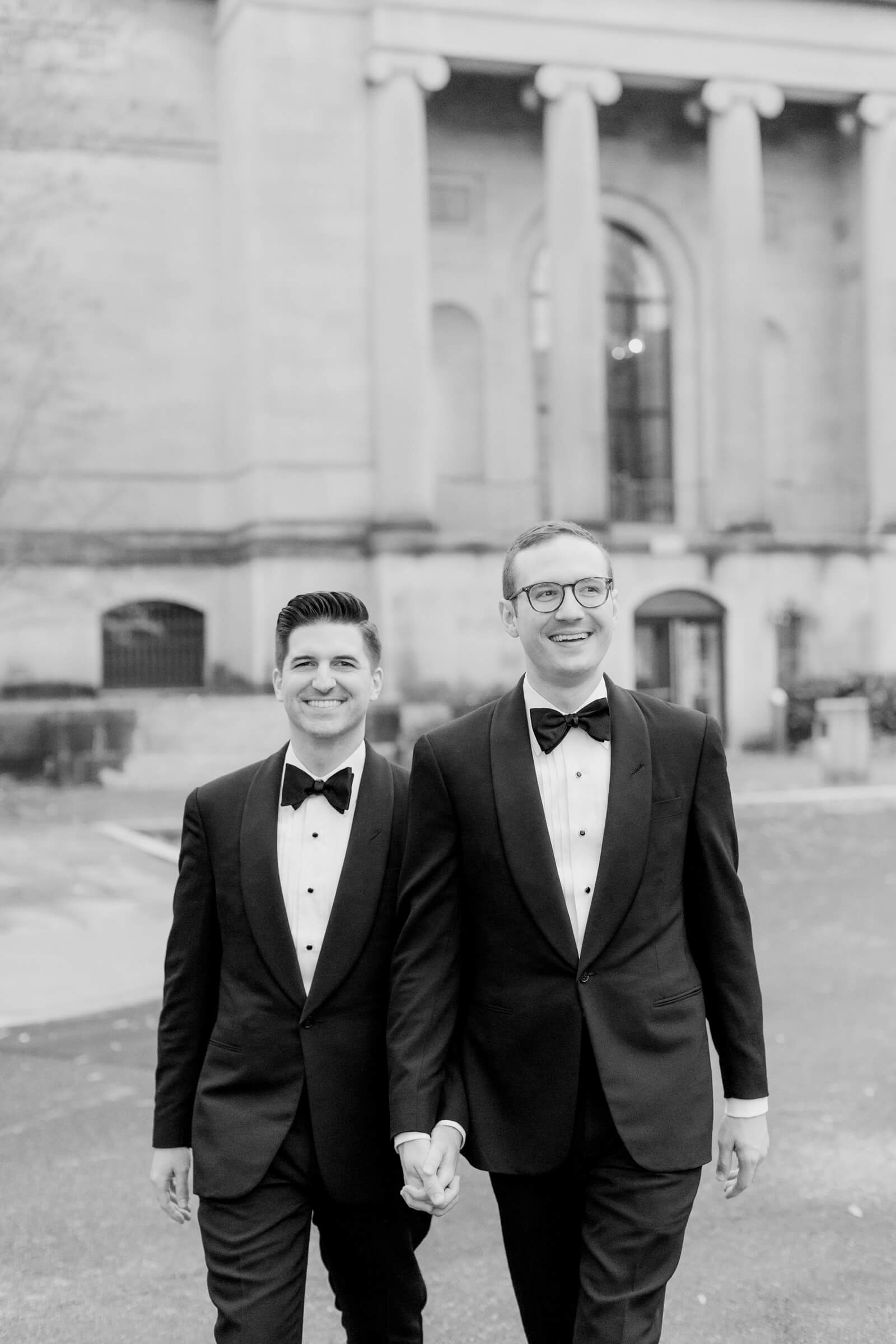 Cake & Caterer Copper Kitchen Flowers Raise Your Glass Grooms Tuxedos and bow ties by Ralph Lauren Purple Label; shirts by Brooks Brothers; cufflinks and studs by Mont Blanc; shoes by Christian Louboutin Grooming The Quintessential Gentleman Honeymoon We haven't gone yet! We did a quick minimoon in Philadelphia the week following the wedding. Invitations Paper in the Park Location Our home in Guilford Music District Remix Officiant Jim Obergefell Photographer B.O.B Photography Rings Harry Winston Transportation American Limousines Wedding Planner 1423 Events