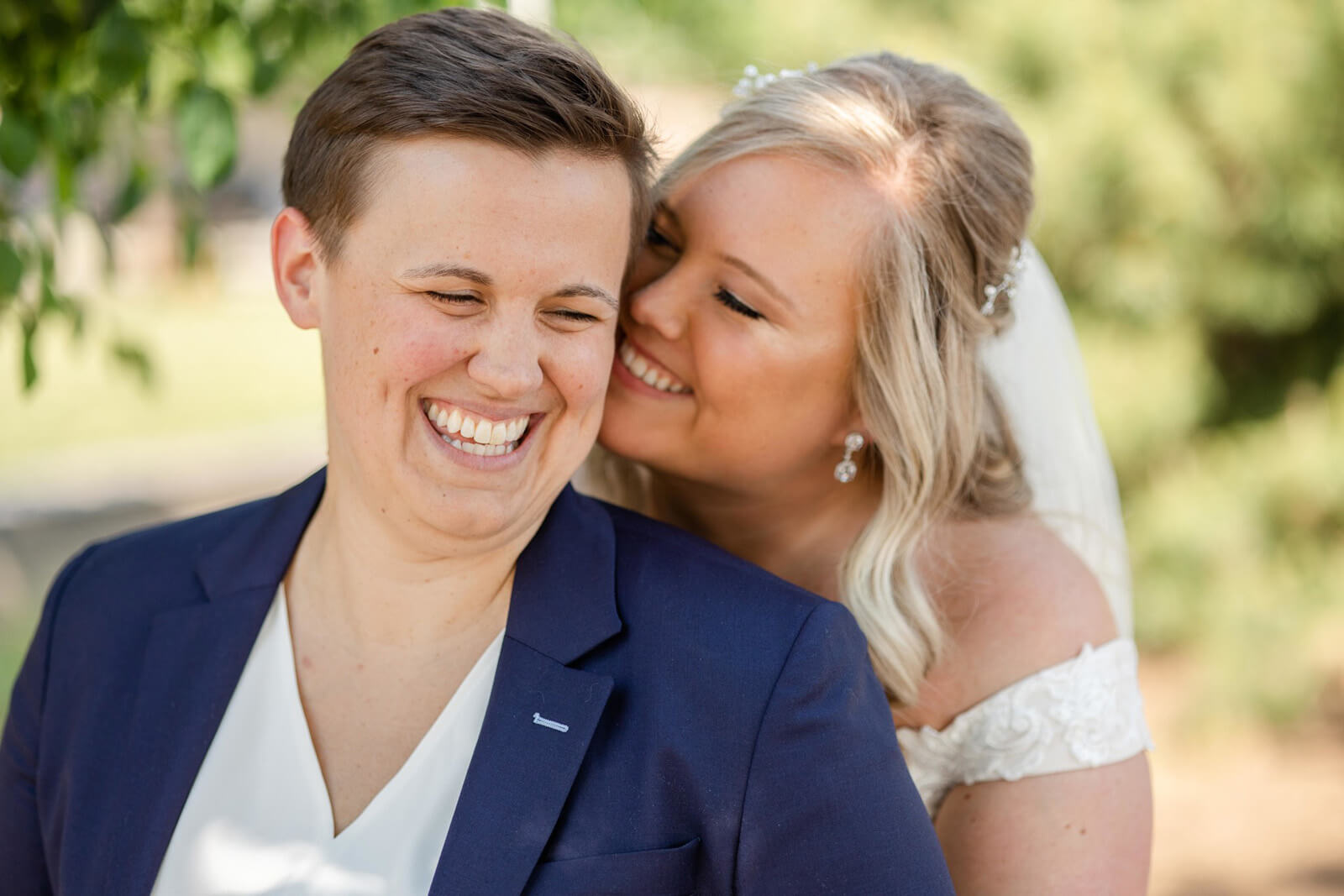 Occupations Sarah is a teacher; Regan is an internal auditor for Under Armour
Wedding date May 15, 2021
Number of Attendees 140
Number of Attendants Four on each side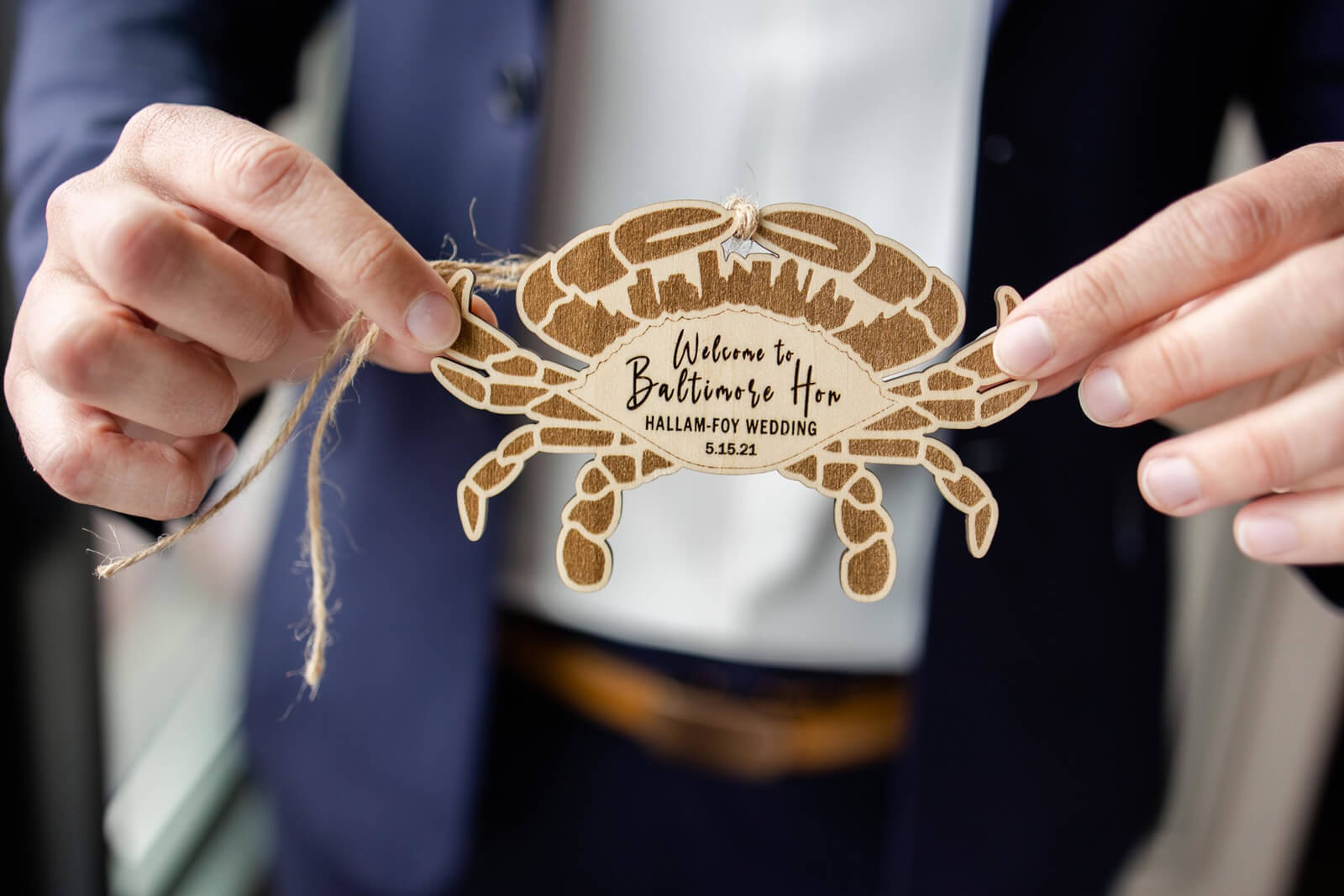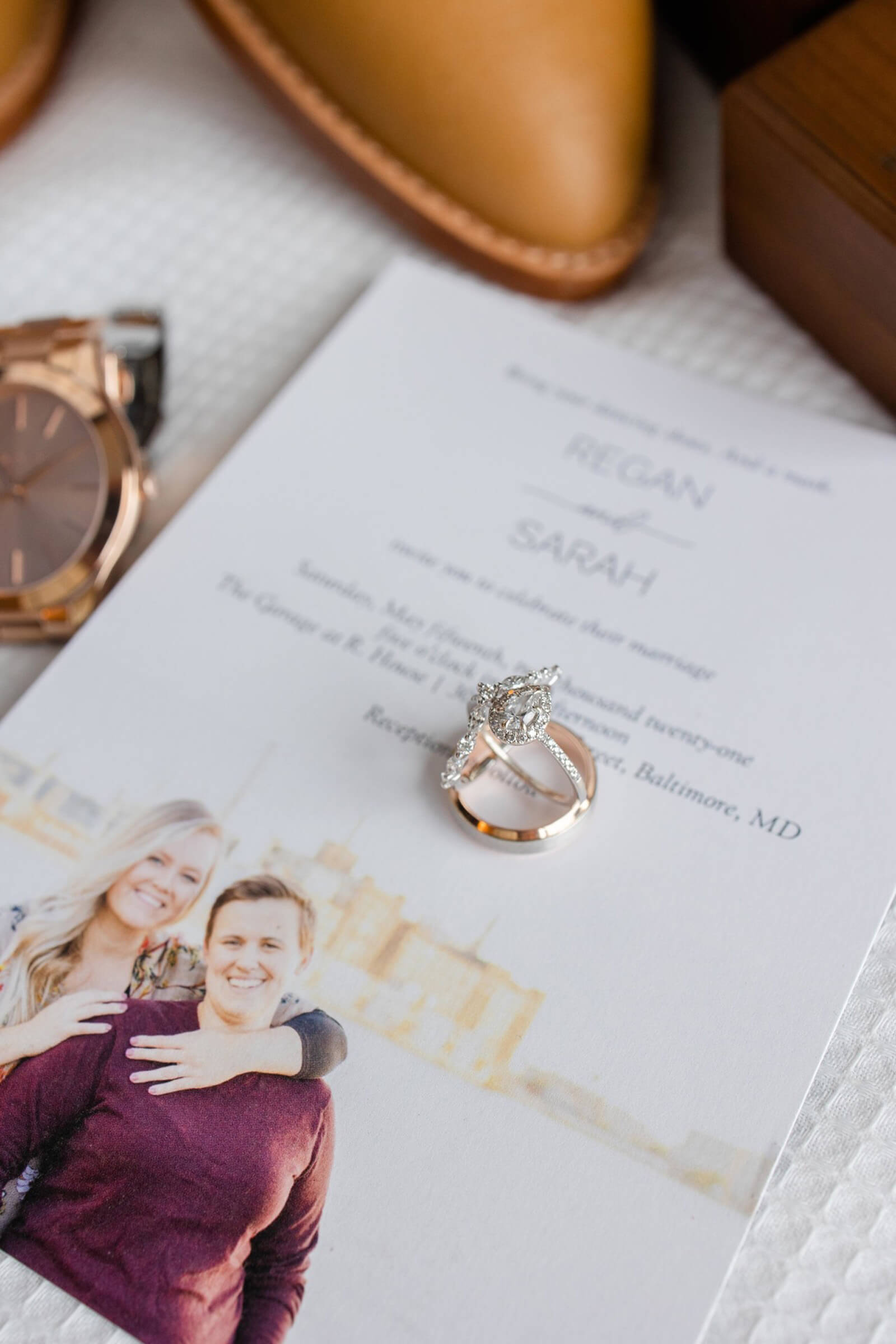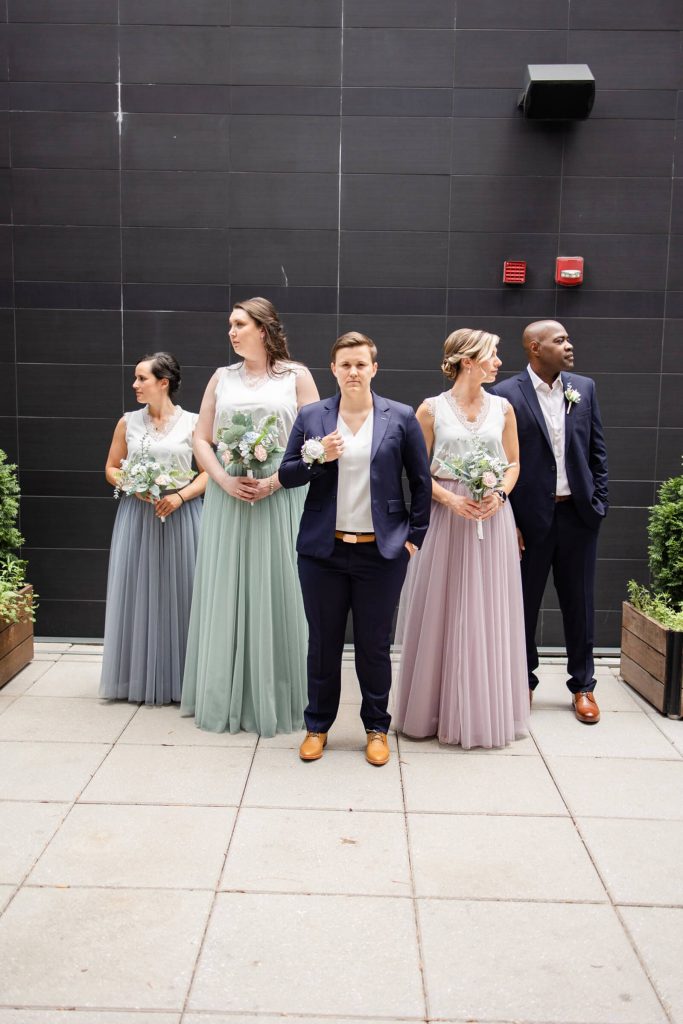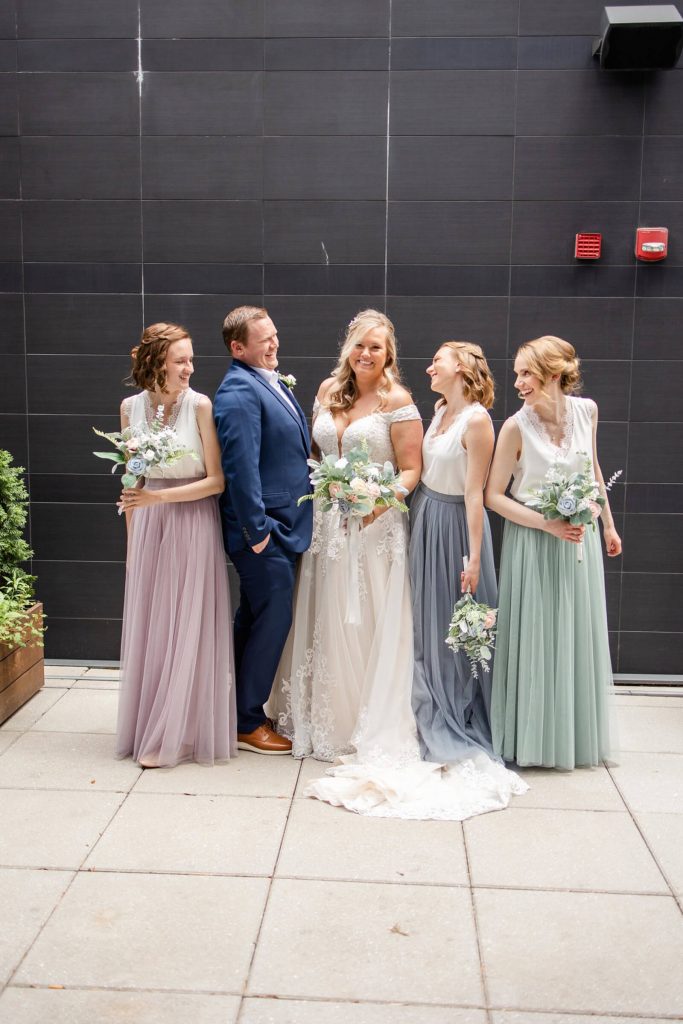 How You Met We met at Baltimore Pride 2018. We both had mutual friends in a group that met up. Sarah was there for someone else, but it didn't work out. Regan cheered her up, the rest was history.
The Engagement Regan proposed in Virginia Beach in June 2020. We woke up early to get breakfast and watch the sunrise. Regan proposed with a beautiful tear drop shaped ring.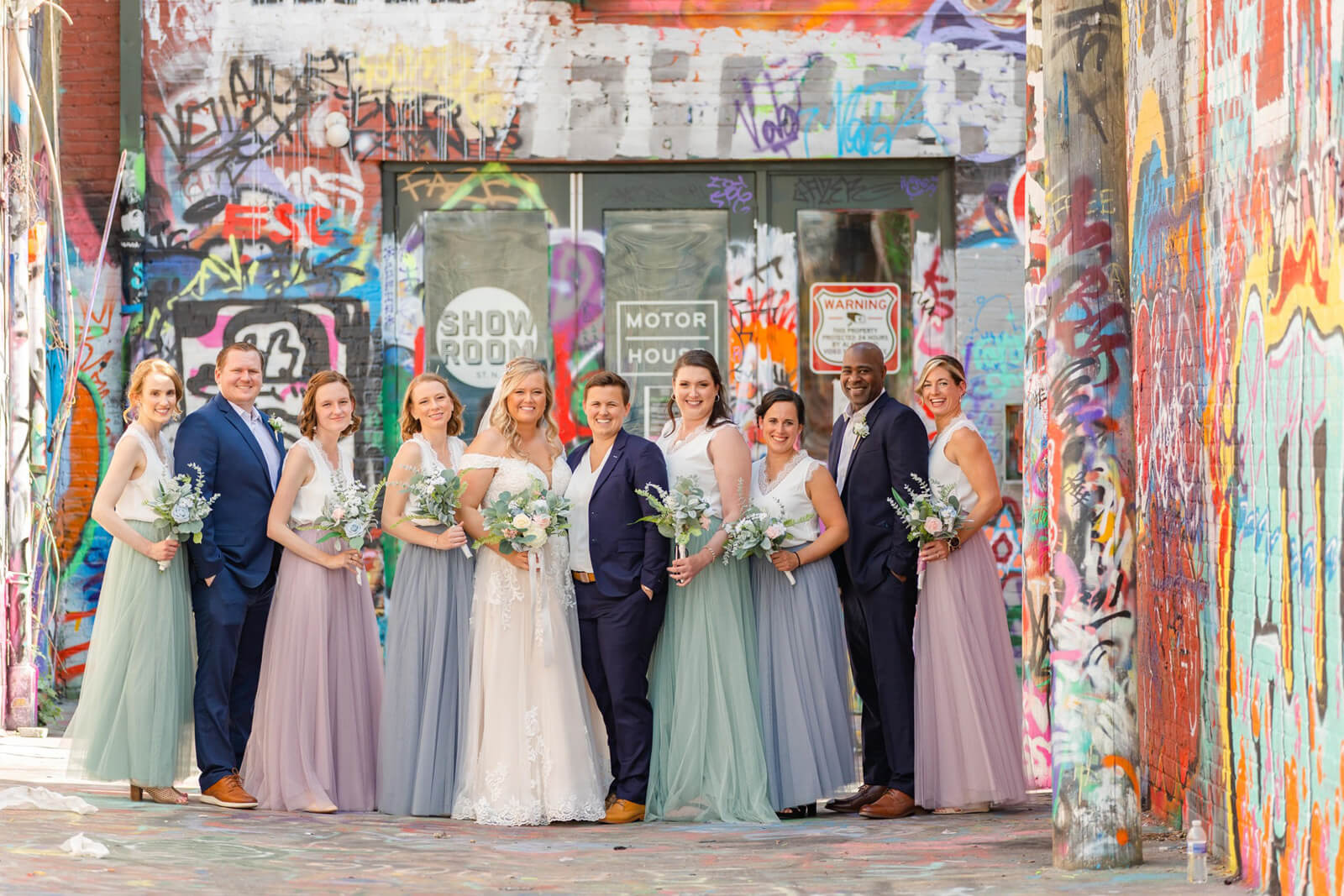 Wedding Design Inspiration Sarah wanted a simple floral meets edgy industrial vibe. We both wanted something that complimented our laid-back personalities. The Garage at R. House in Baltimore was the first venue we visited, and we instantly fell in love. We could see our friends and families coming together and dancing the night away in the space. We also knew it was the perfect blank canvas to make our dream vision come true.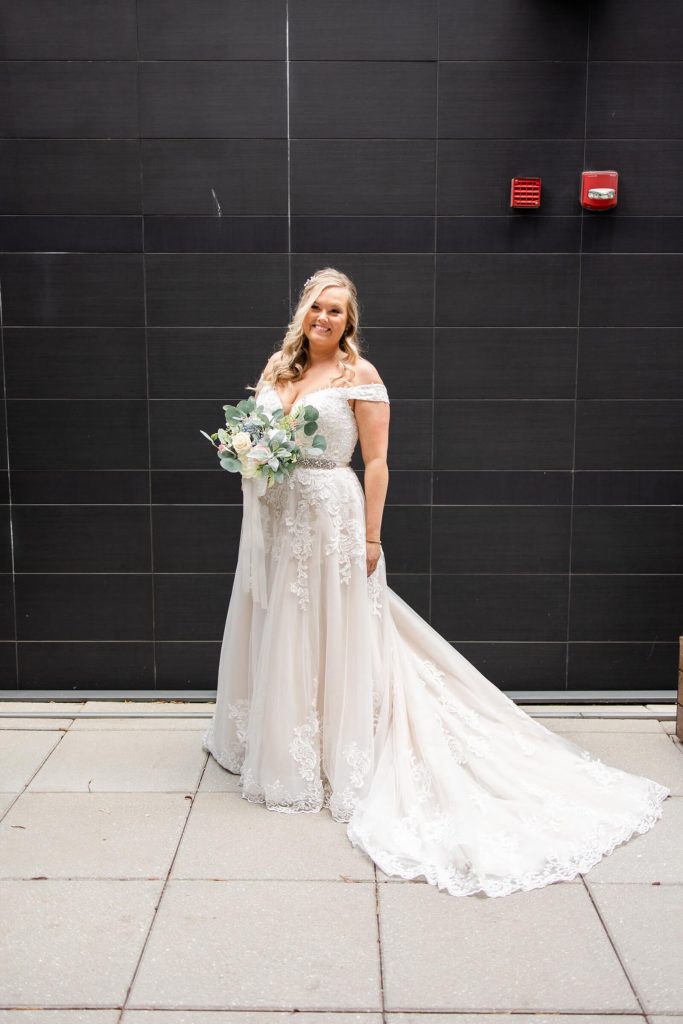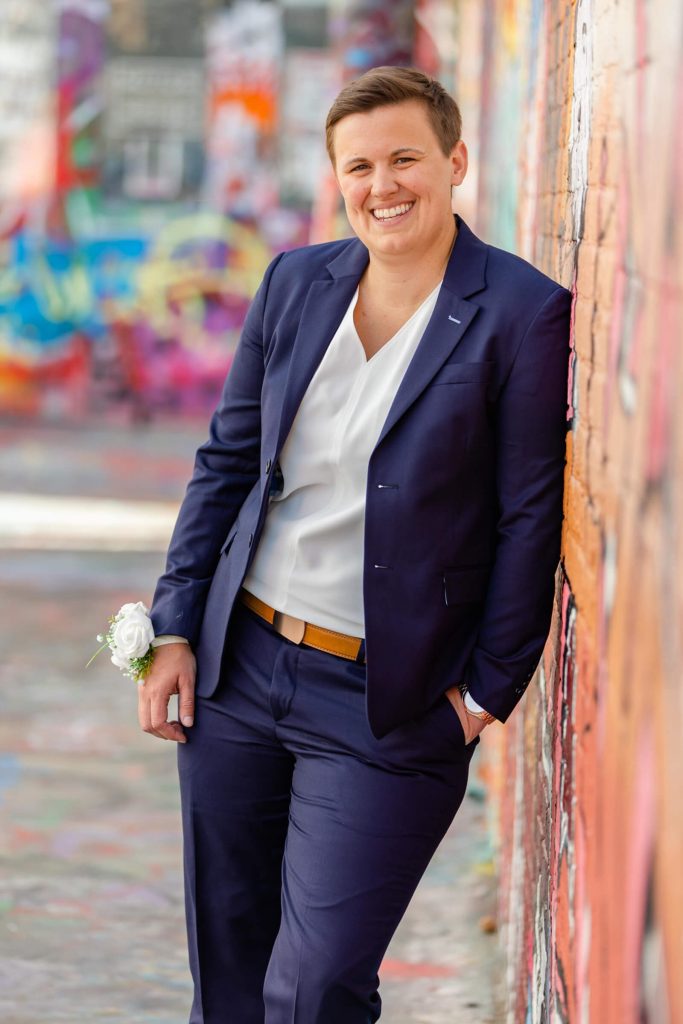 What Was Unique and Special About Your Wedding Day R. House had only one wedding before ours. It was fun knowing our venue wouldn't be the same as anyone else's. We had an ice cream truck (Miss Twist) instead of cake. That was one of Sarah's non-negotiables! We were so lucky that the mask mandate was lifted in the city that weekend for the first time since the pandemic started! We got to see all the smiles and faces of our guests. We also took pictures in graffiti alley, which is where we met!
Favorite Details Regan's suit from Kirrin Finch—the design on the inside of the suit jacket was this beautiful Japanese tidal wave print. All the bouquets, centerpieces and decorations, Sarah made herself. Both godfathers played a huge role in the ceremony. Sarah's godfather, Uncle Phil, was the officiant. And Regan's godfather, Mike, did a reading. The reading was the same one read at her parents' wedding. We had strobe glow sticks for the end of the reception. It turned into a giant rave!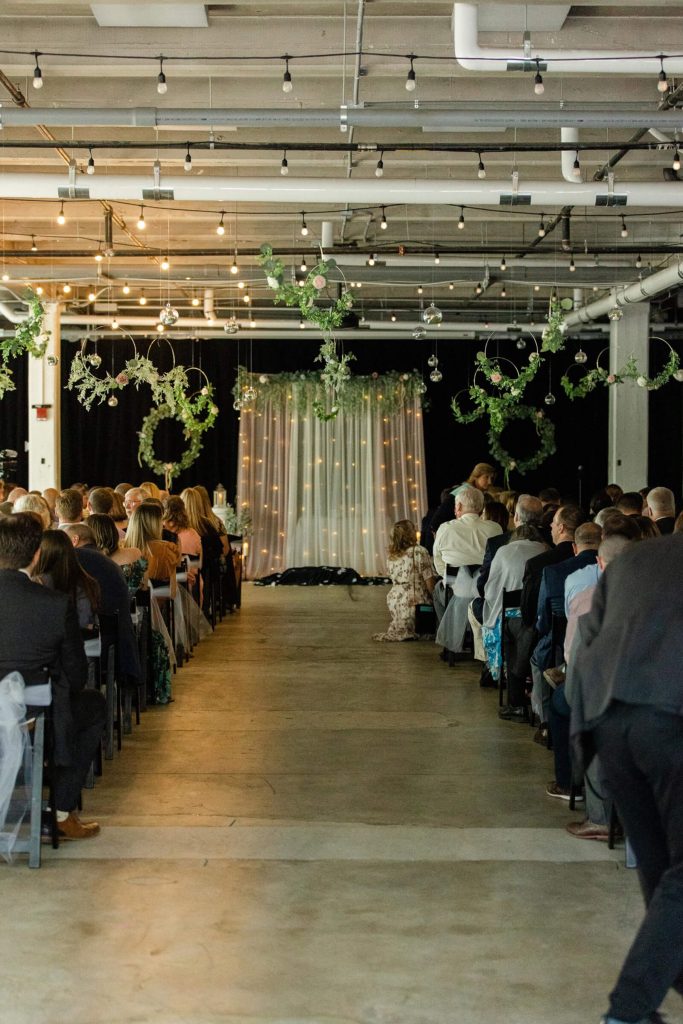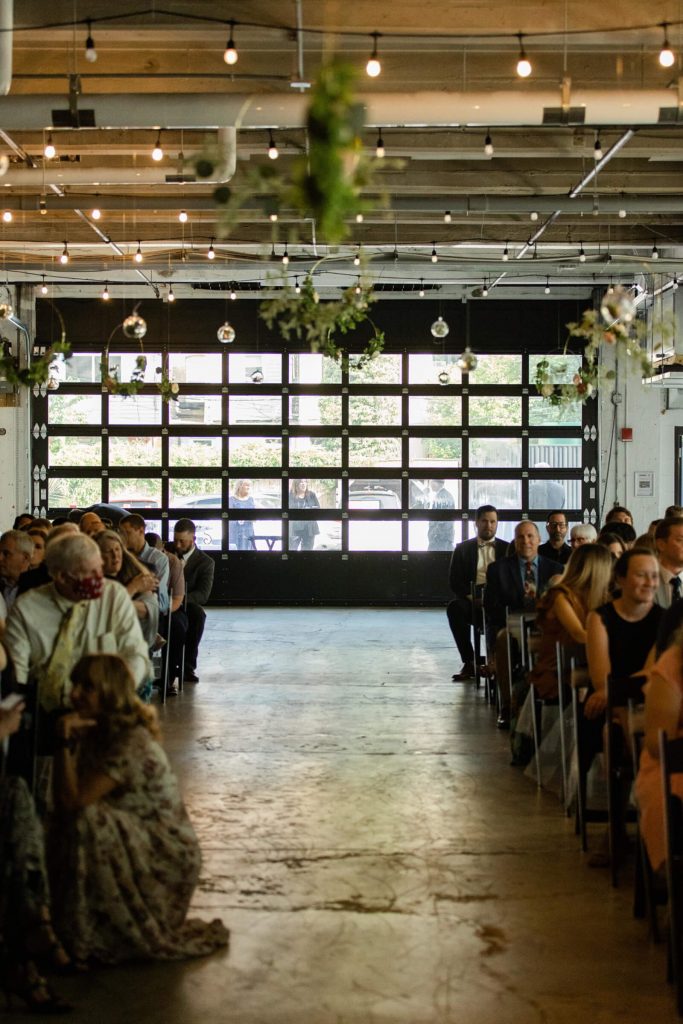 Most Unexpected Event On Your Wedding Day Sarah ruptured her Achilles during the wedding reception. She went to do the dirty dancing lift with a friend, took one step and snap! She took at 30-minute break upstairs, chugged a white claw and went back downstairs to finish the reception. The AC also broke at the venue that morning! But we lucked out with a beautiful 80-degree May Day. Inside the garage it stayed cool, and we were all very comfortable. We didn't even know what had happened until a couple days later.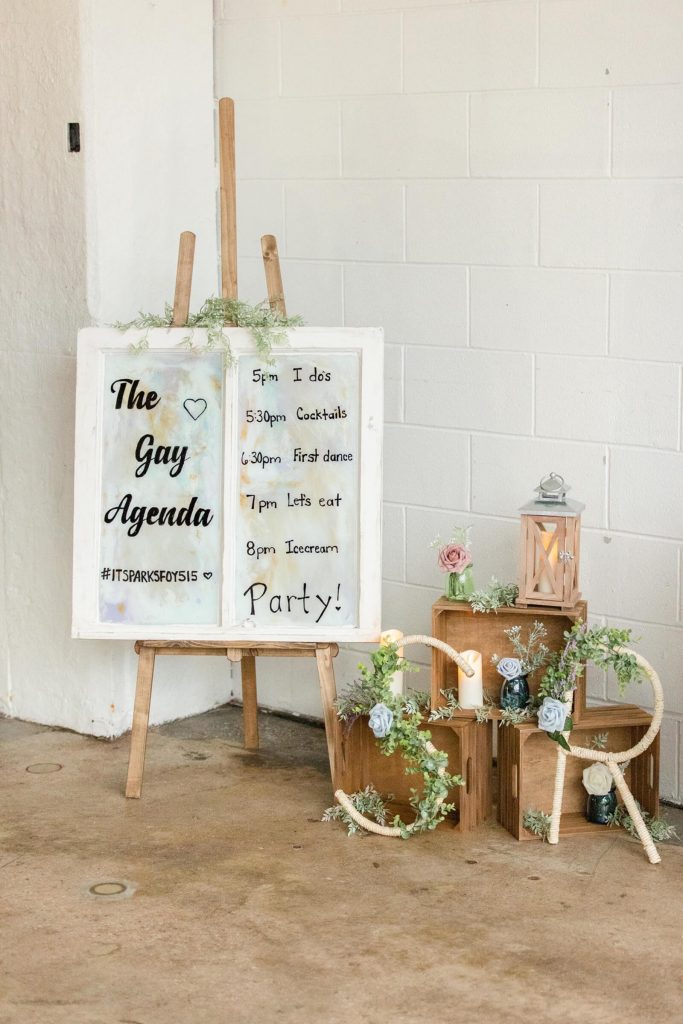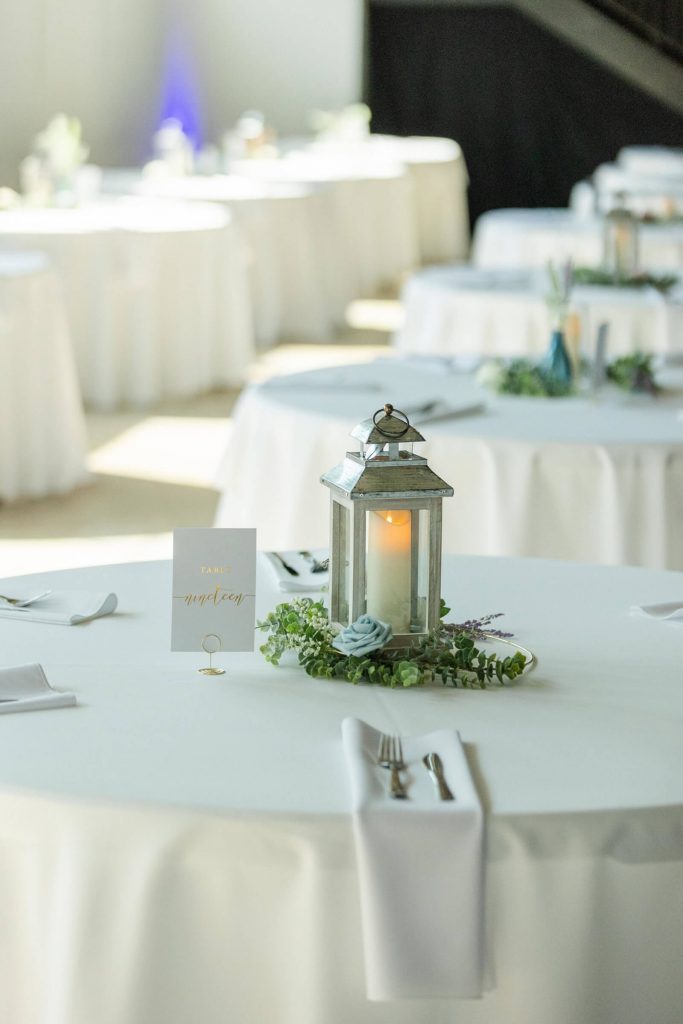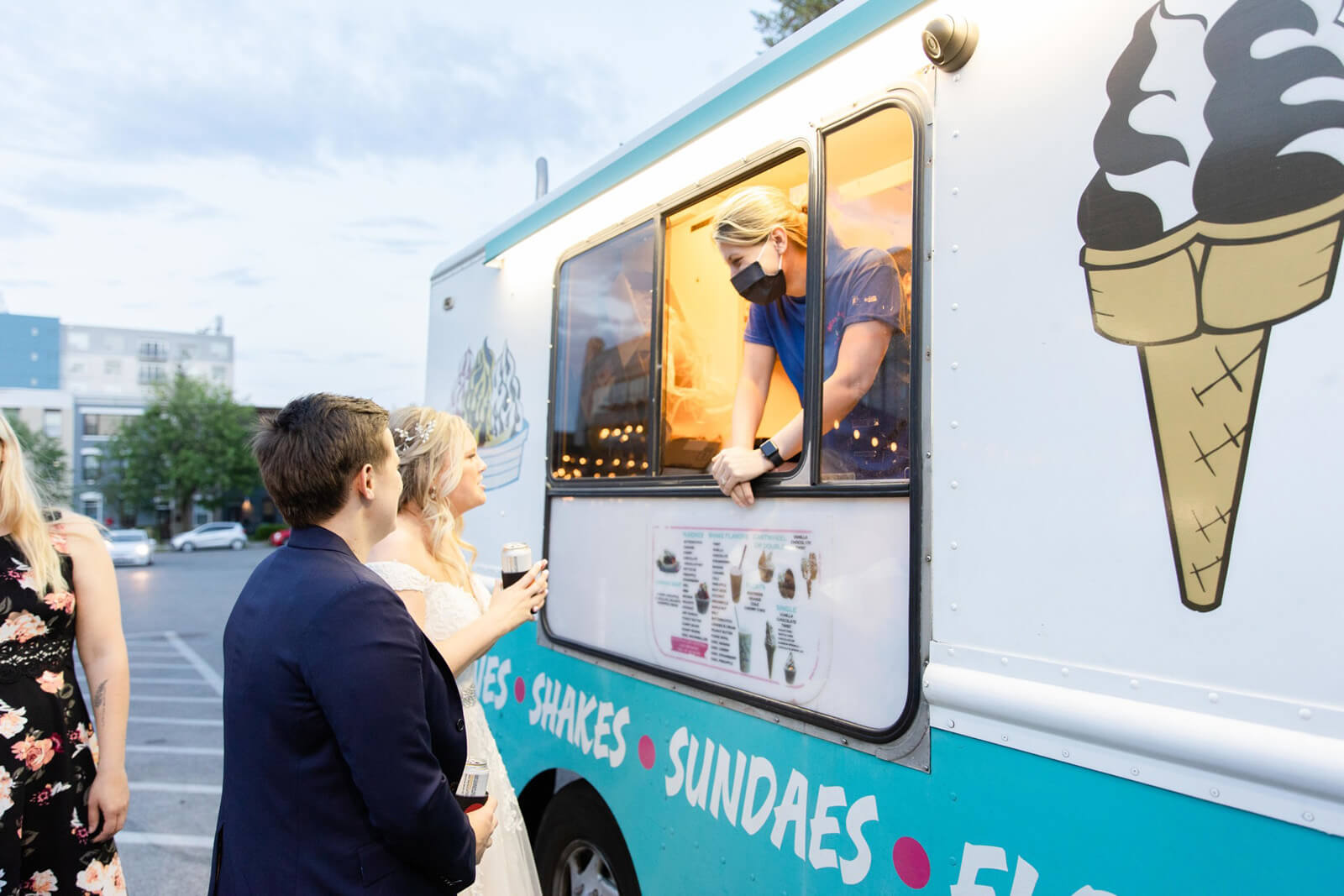 Piece of Advice Stretch beforehand and DO NOT attempt the dirty dancing lift. Don't apologize for asking and getting what you want. It's your day. If you want shrimp tacos as your main dish and no wedding cake, go for it! Hire a wedding planner or day of coordinator. Ours thought of everything and helped put out a few fires that day (but we didn't know that). She made it easy for us to be in the moment.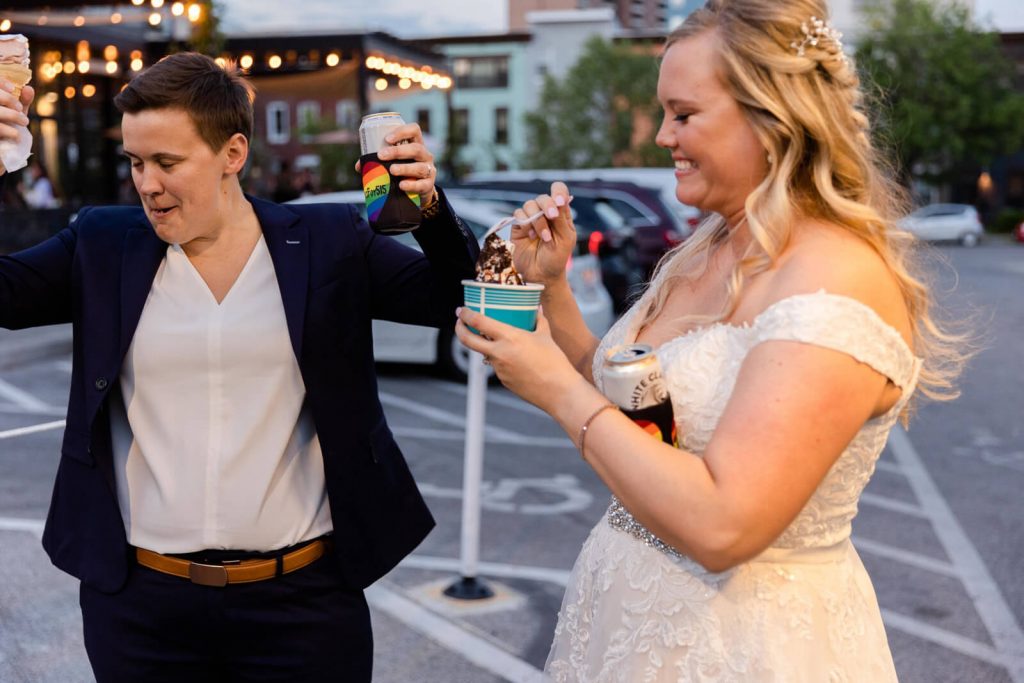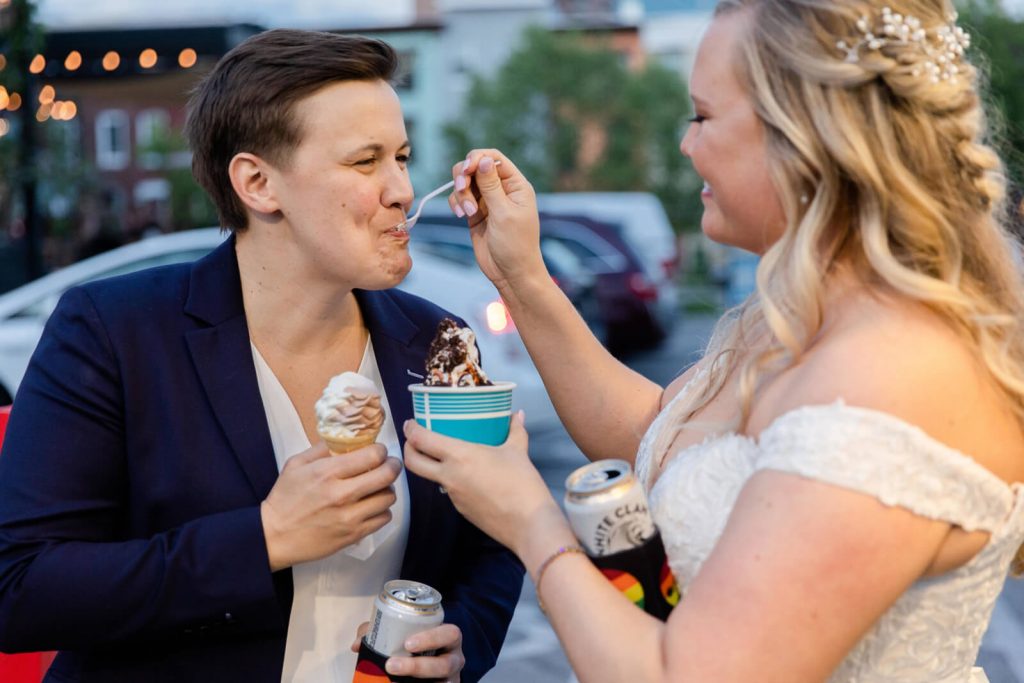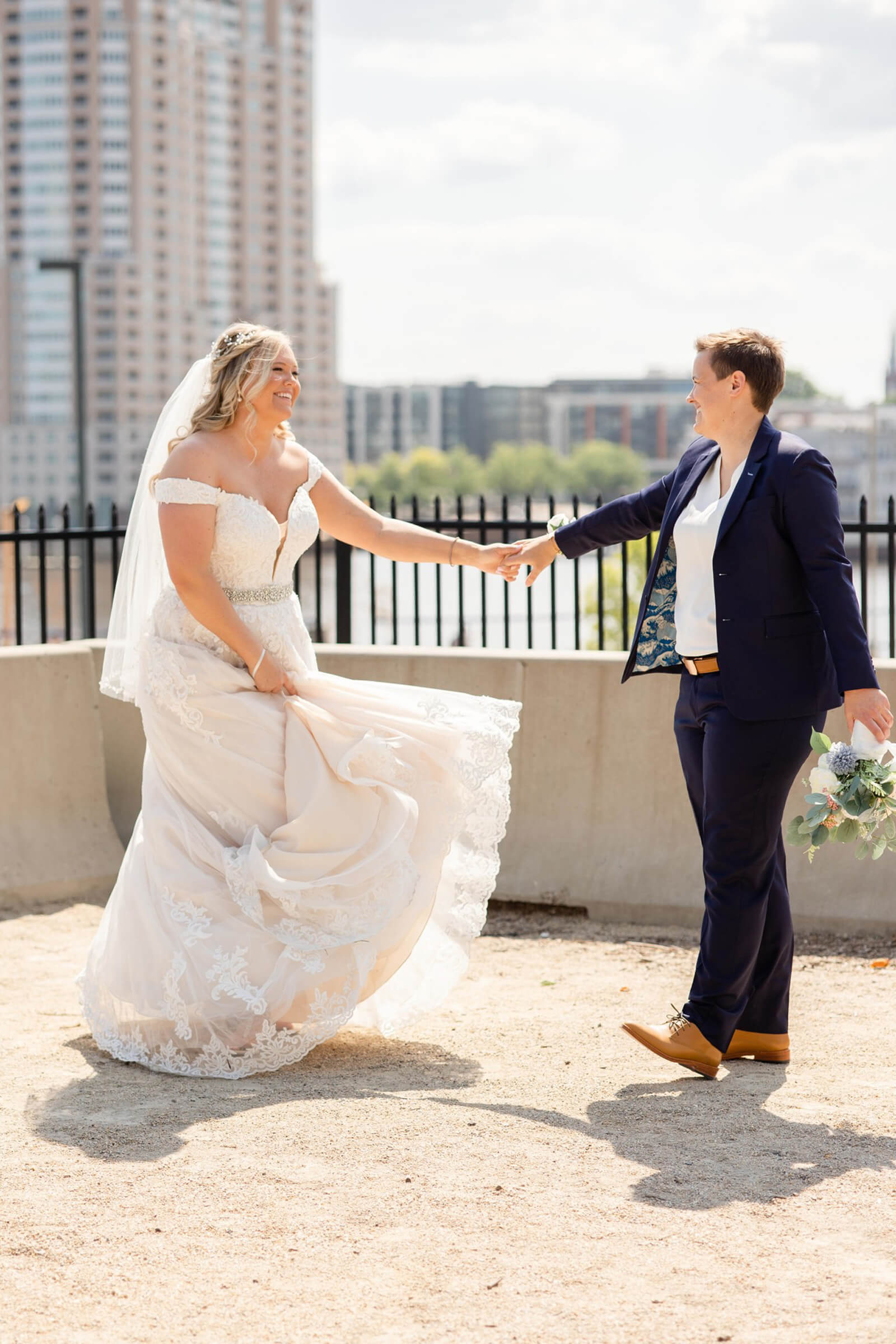 BEAUTY Swept BRIDESMAIDS Tees from Amazon and tulle skirts from 1000Love on Etsy BROMAIDS Suits they had on hand CATERER Santoni's for chicken roulade and grilled shrimp tacos DESSERT Miss Twist Ice Cream Truck FLORAL DESIGN Sarah made all the centerpieces, decorations and bouquets using an assortment of artificial flowers from various craft stores and Lings Moment HONEYMOON Our original plan was Costa Rica, but the Achilles rupture meant changing plans! After postponing for the summer and recovering a little from surgery, we went to Puerto Vallerta in Mexico. INVITATIONS Virtual invitations LOCATION The Garage at R. House in Baltimore for ceremony and reception MUSIC DJ from Music Masters OFFICIANT Phil Rilee, Sarah's godfather PHOTOGRAPHER Rachel Dibs Photography TRANSPORTATION ZBest Limousine Service VIDEOGRAPHER Just Hitched Films WEDDING OUTFITS Essence of Australia dress from Bridals by Elena (Sarah); Kirrin Finch Suit (Regan) WEDDING PLANNER Ever After Events