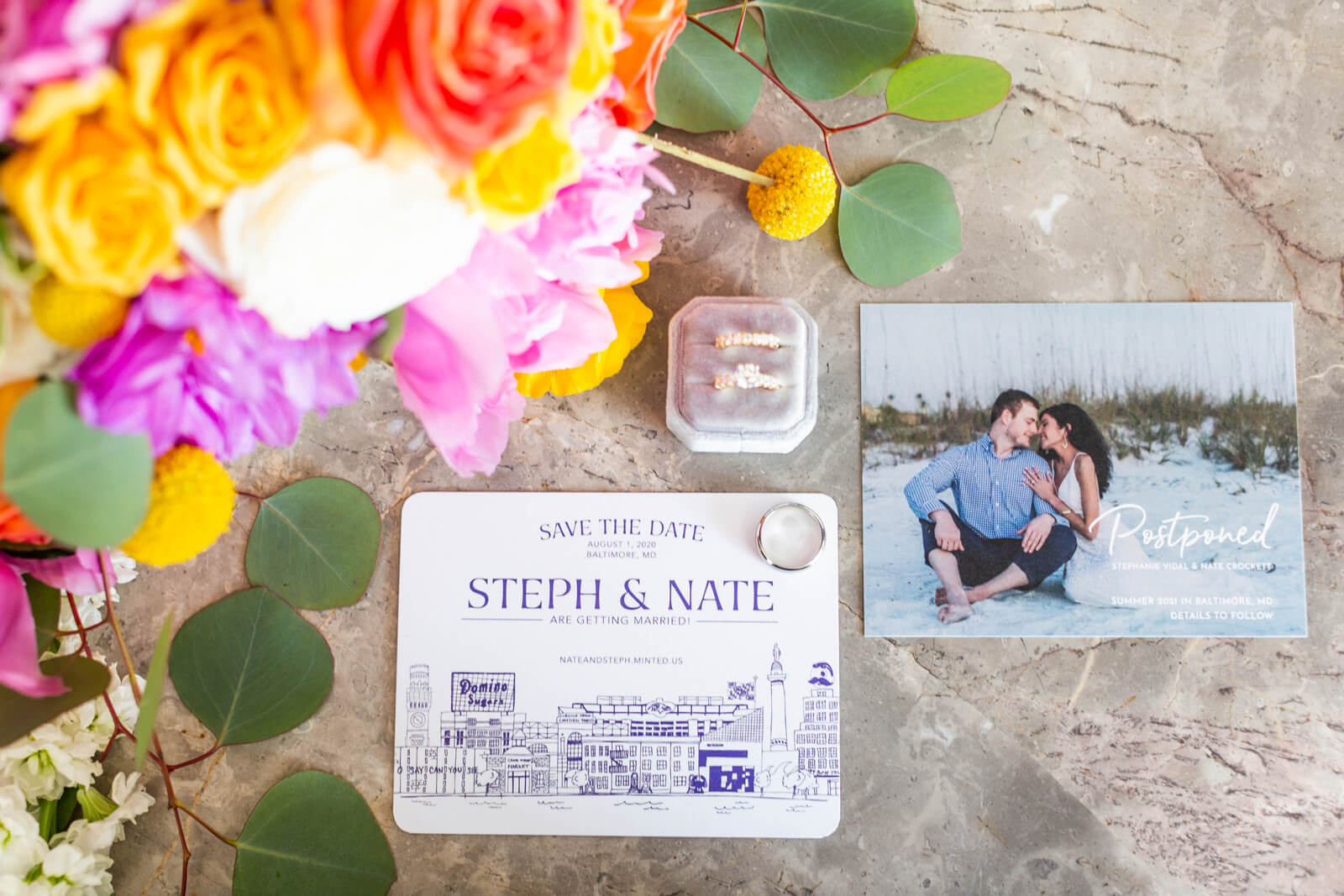 Nate and I were born and raised in Baltimore. We attended neighboring high schools at Calvert Hall and Notre Dame Prep, but did not meet until we were in college five hours away at Virginia Tech. We started dating after graduation in 2010 and fell in love due to our common interests in Baltimore, sports, engineering (Nate works as a structural engineer, and I work as a Project Manager for NASA at Goddard Space Flight Center), our dog Pete, and a shared importance of friends and family in our lives. Living in Canton, we spend a lot of our time with family, friends, Pete, playing sports and watching sports together especially the Orioles and the Ravens as season ticket holders. After nine years together, Nate surprised me with a proposal at Guinness Brewery which was the brewery's first proposal. He organized for a photographer to capture the moment and for our closest family and friends to be present for the post-engagement celebration.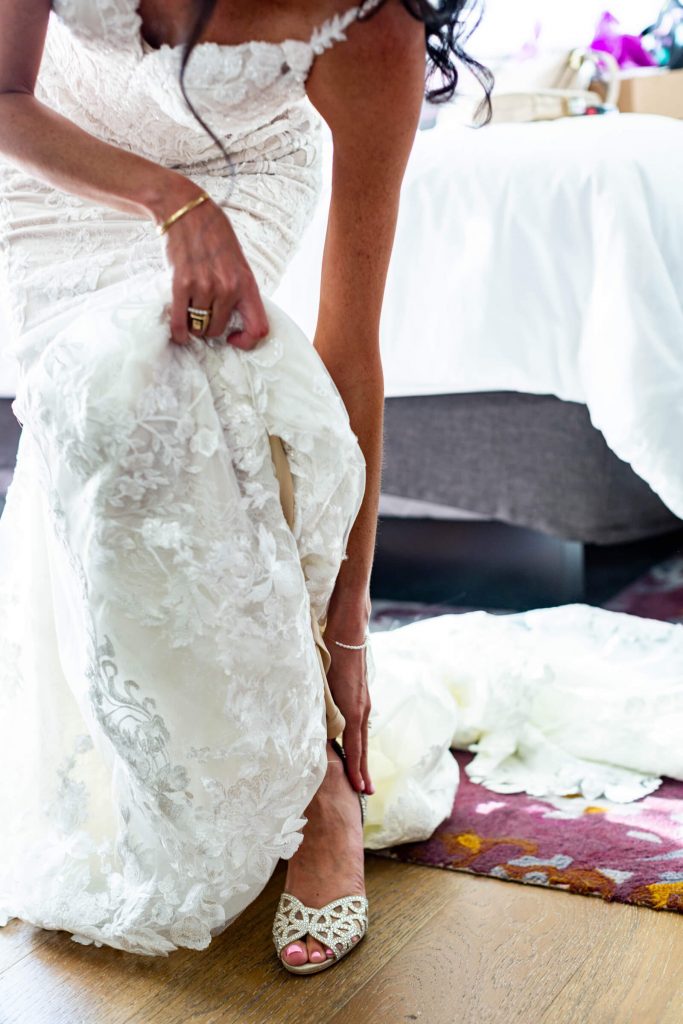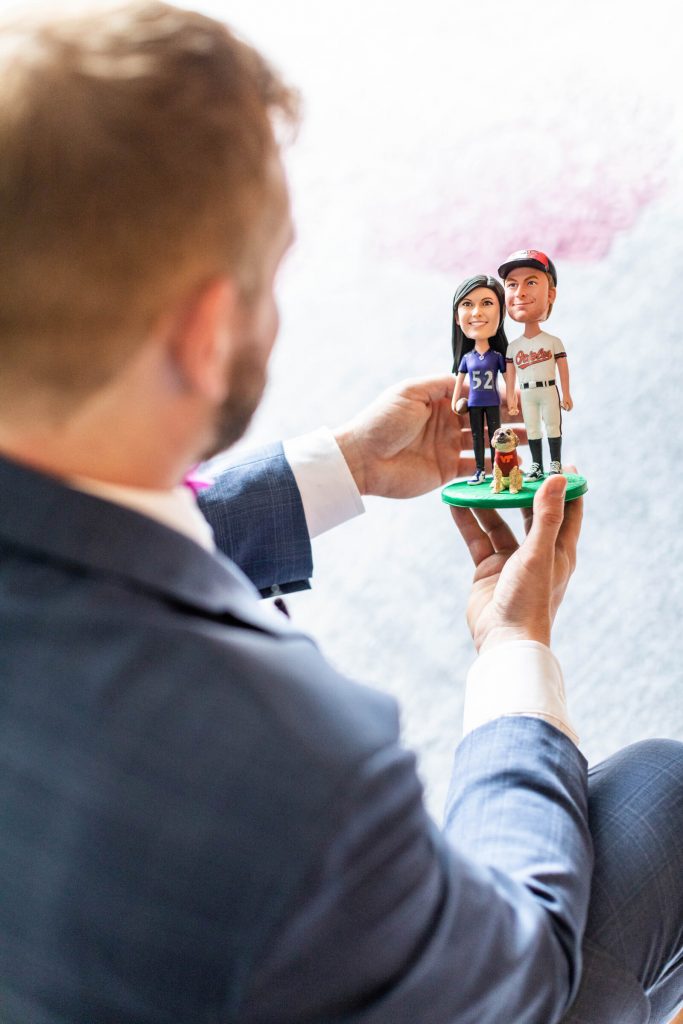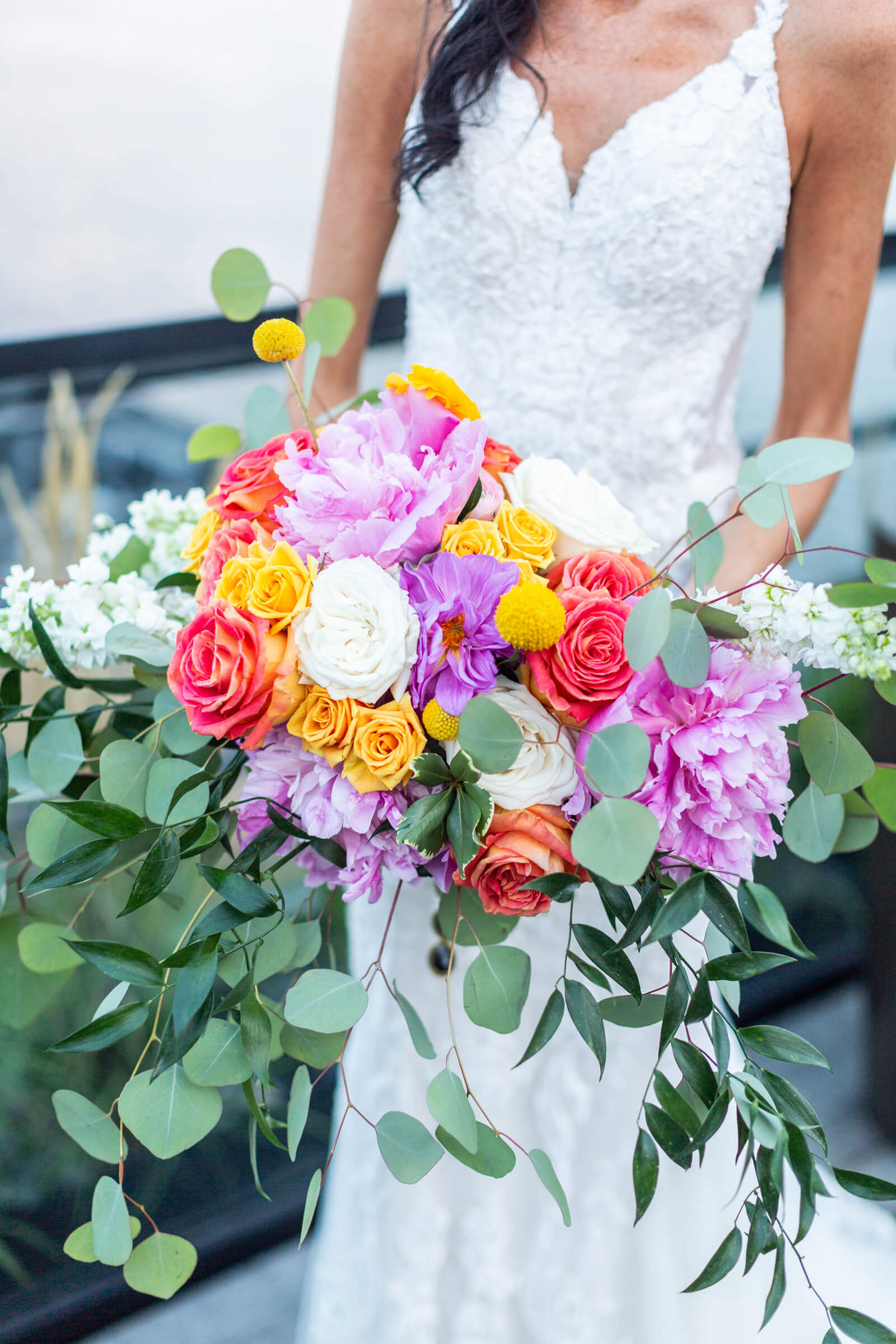 It was initially difficult to find a venue in Baltimore City with availability in 2020 that was large enough to accommodate our planned 250+ guest count. We knew we had found the perfect venue to celebrate our love of Baltimore and sports at M&T Bank Stadium on August 1, 2020. We were planning to have our first look at Camden Yards and the rehearsal dinner at Dempsey's in order to include both of our favorite sports teams and stadiums into our special day. Due to the continued risk of COVID-19 our wedding plans were officially canceled on June 1, 2020. We decided on July 1, 2020 to pull together an intimate wedding ceremony with our immediate families, and to hold a large wedding celebration when it is safe to do so in 2021. With only a month to plan, we needed to move quickly. We were fortunate that most of our vendors had availability on August 1 and everything magically fell into place for the elopement celebration of our dreams at the Sagamore Pendry.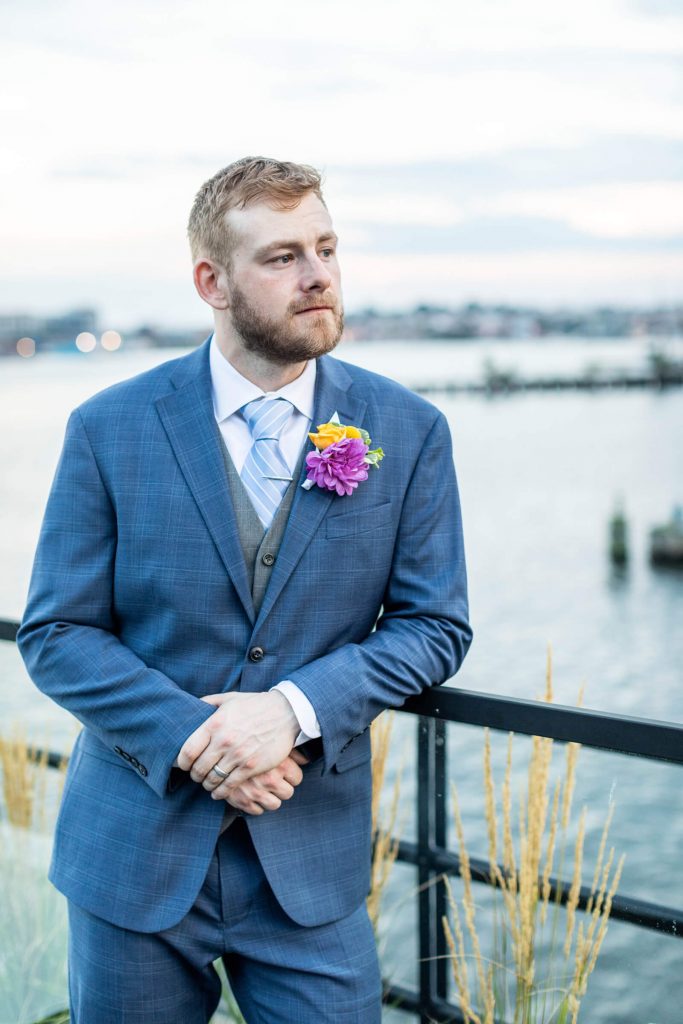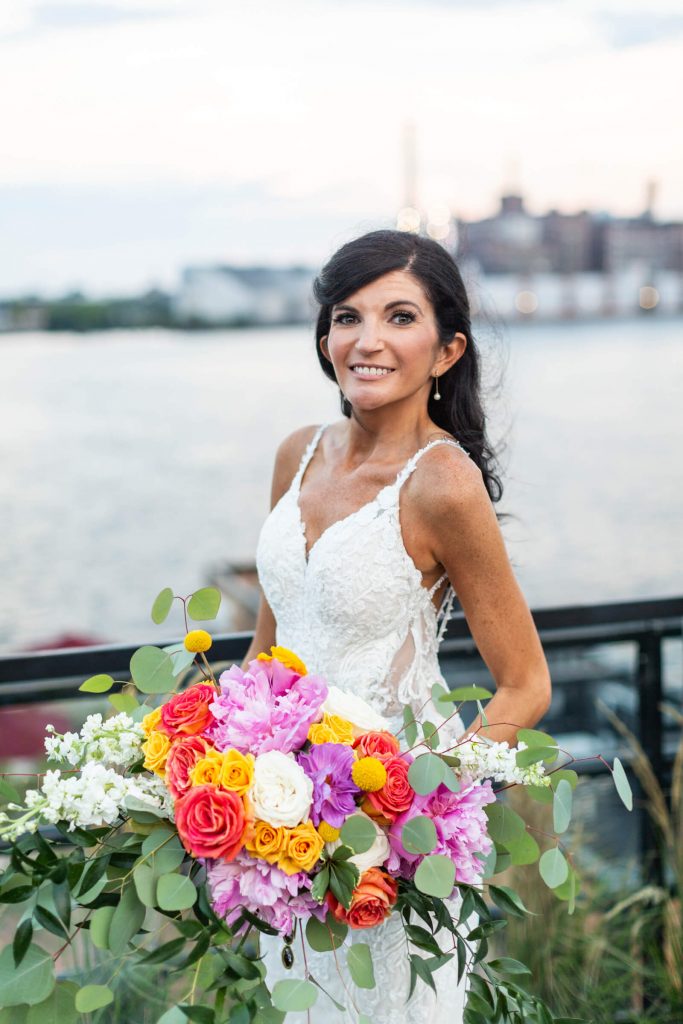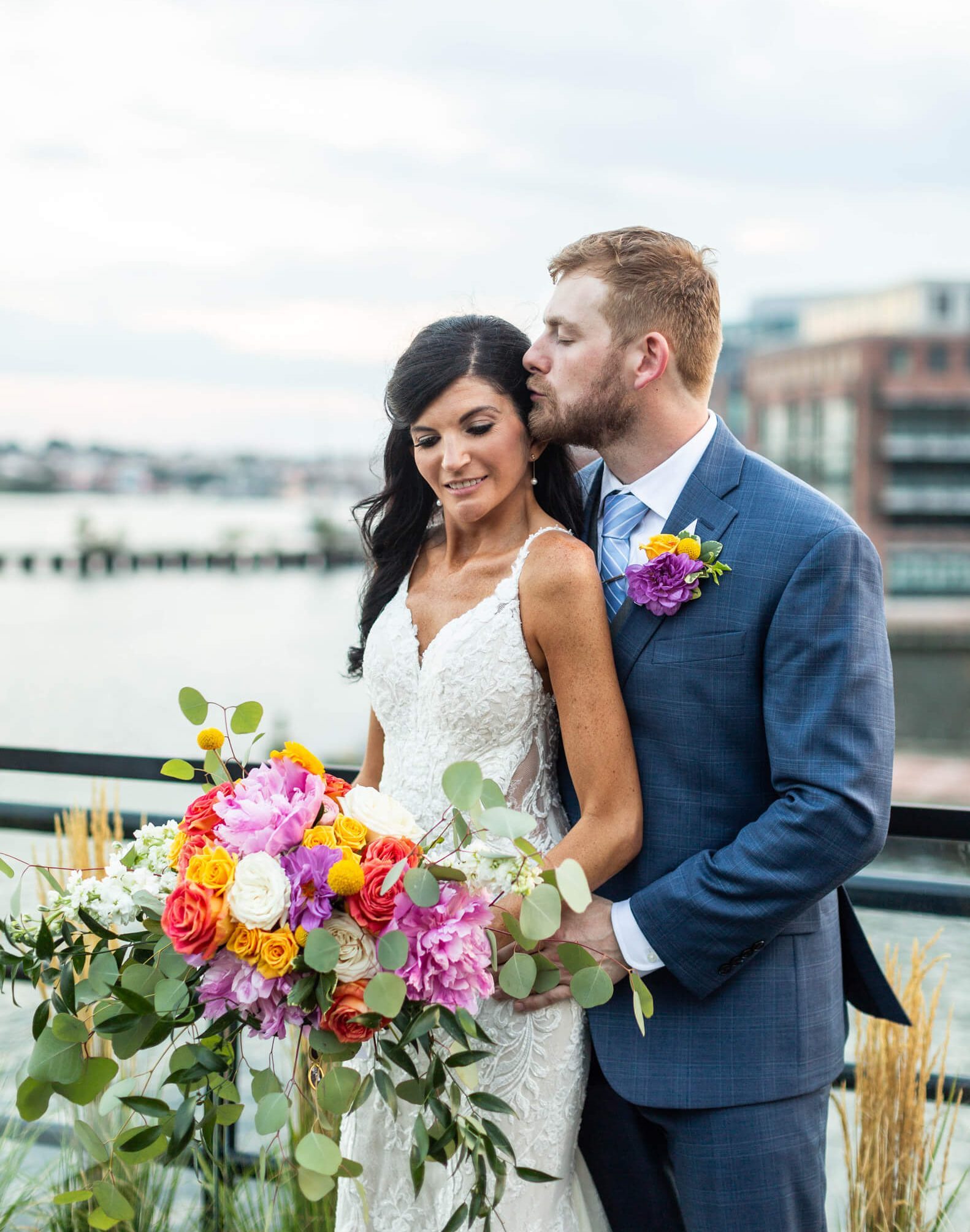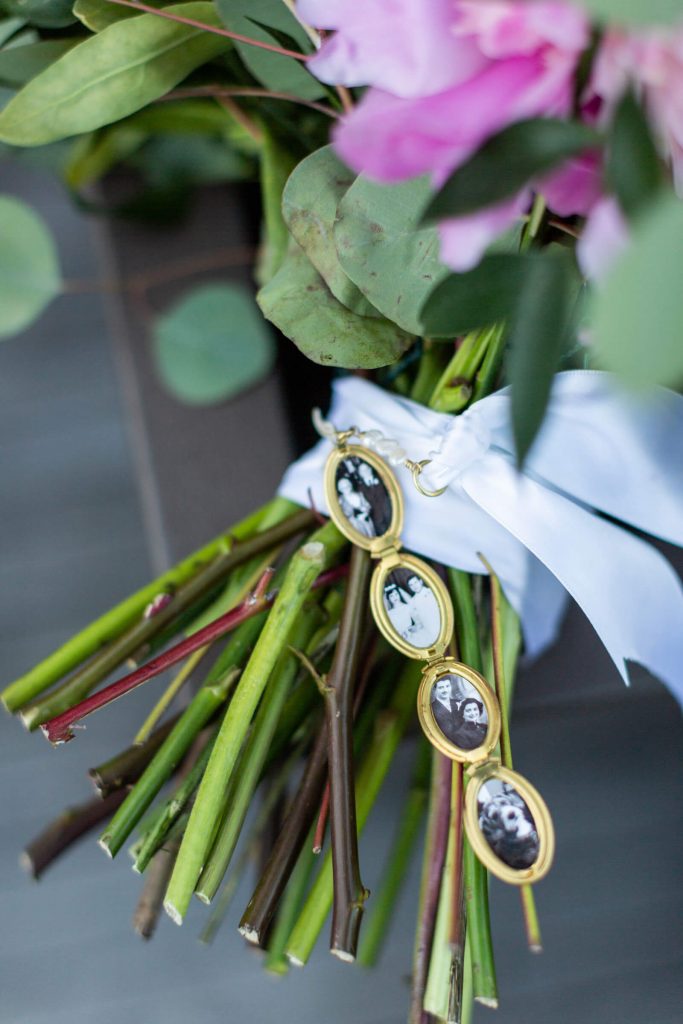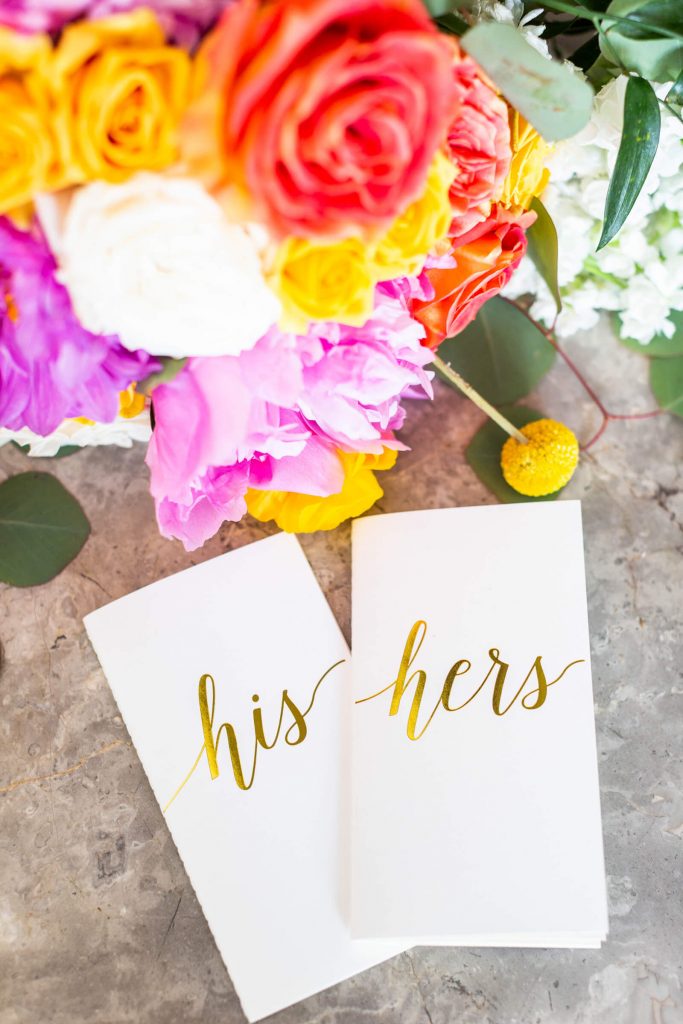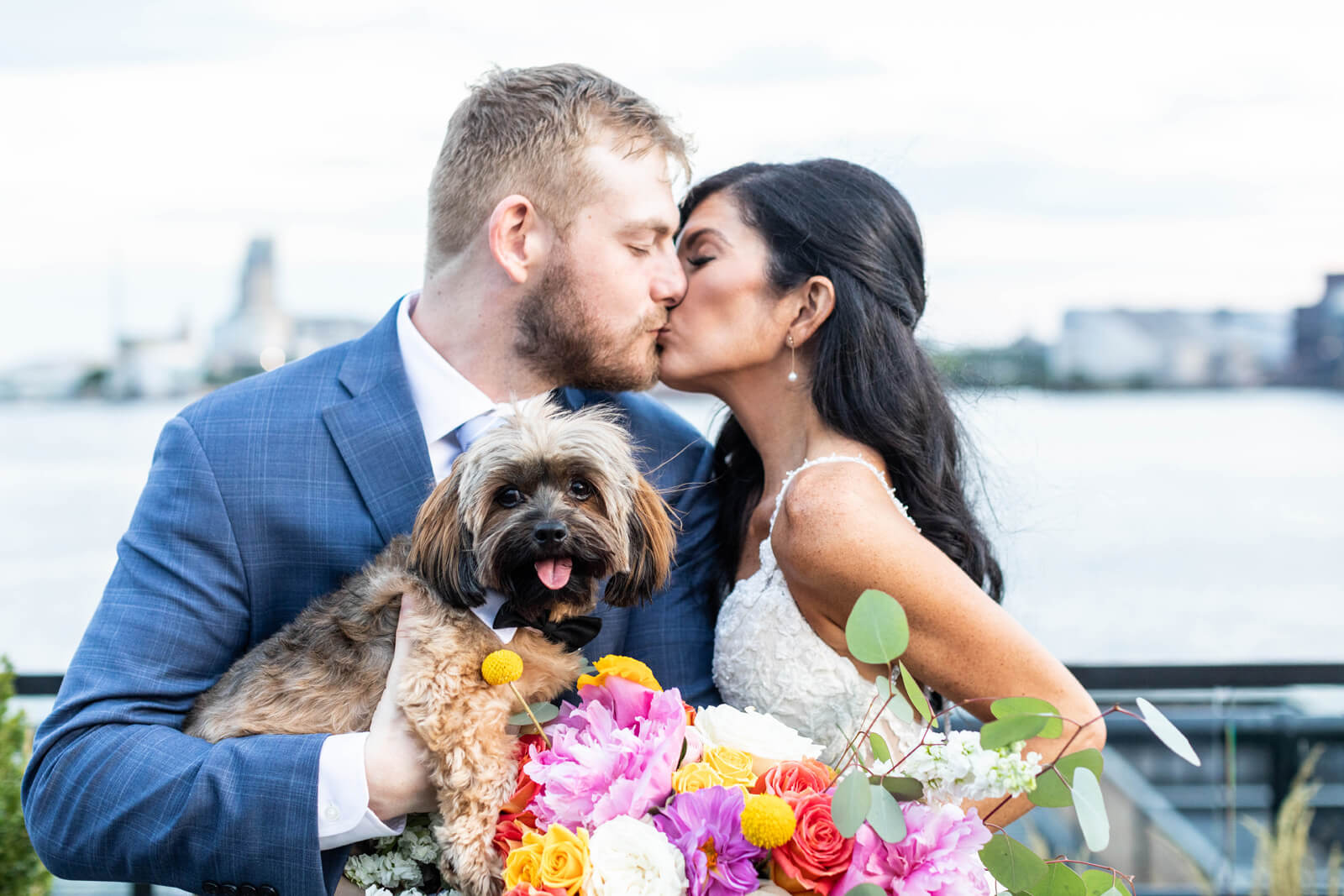 Nate and I were the Pendry's first small-scale wedding and they were incredibly accommodating of our 14 person event. For a Pendry first, the wedding ceremony was held on the balcony of the Presidential Suite, and our toasts and dinner celebration took place in the Pendry's beautiful Courtyard. Sentimental Fools Events was brought on board to implement our vision for a smaller celebration. Sentimental Fools Events was instrumental in planning, styling, coordinating, and overall making the day perfectly designed with flawless execution. A smaller celebration gave us the opportunity to create specific details for each guest with safety in mind that wouldn't have been possible with a bigger event. Some examples are personalized fans and hand sanitizers, name cut outs at each place setting to sit guests by household, and individual mini-wedding cakes for each guest sitting on top of custom made small cake stands. Nate and I had custom face masks created out of the material from my wedding dress and his suit. Our close family and bridal party watched our ceremony live streamed.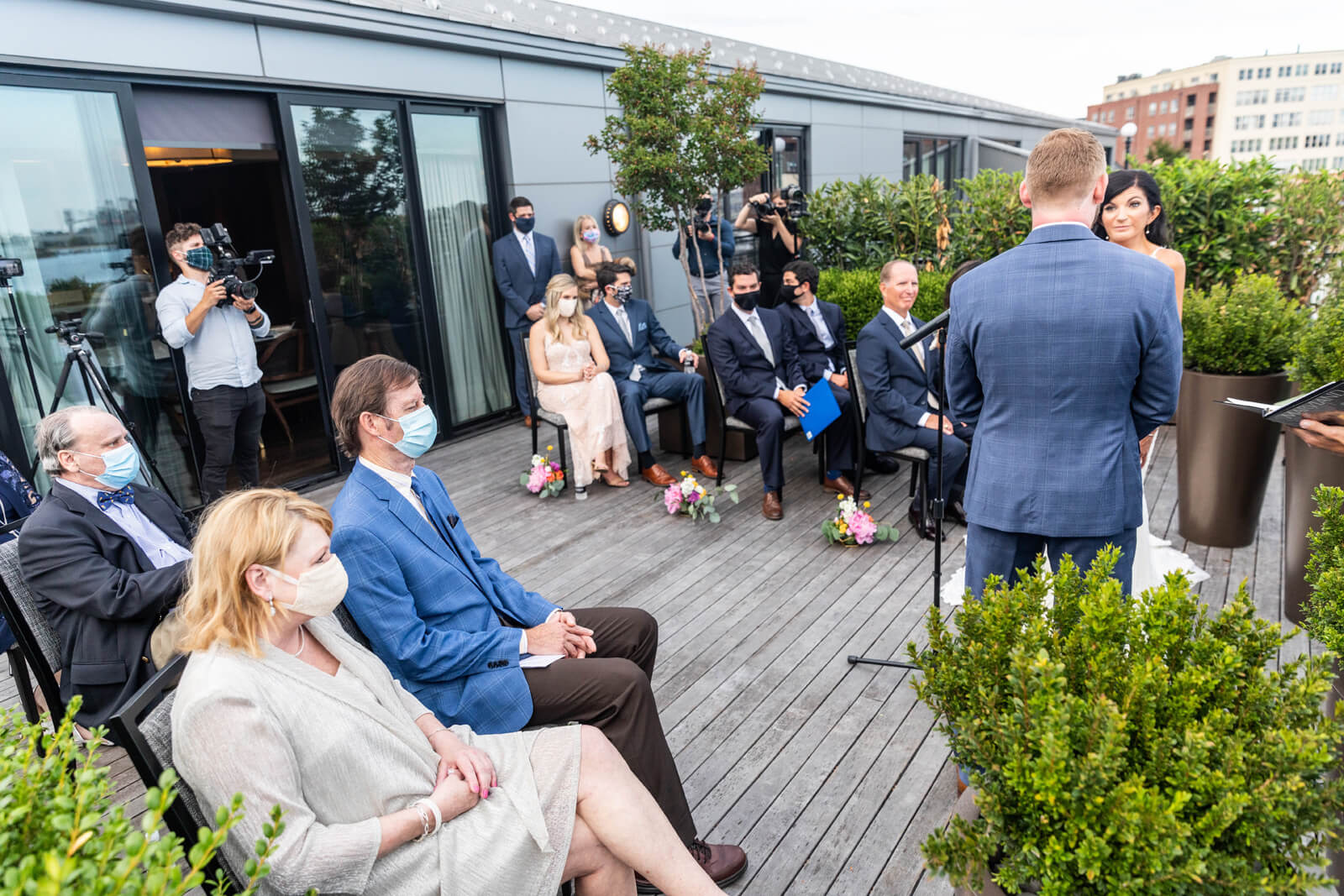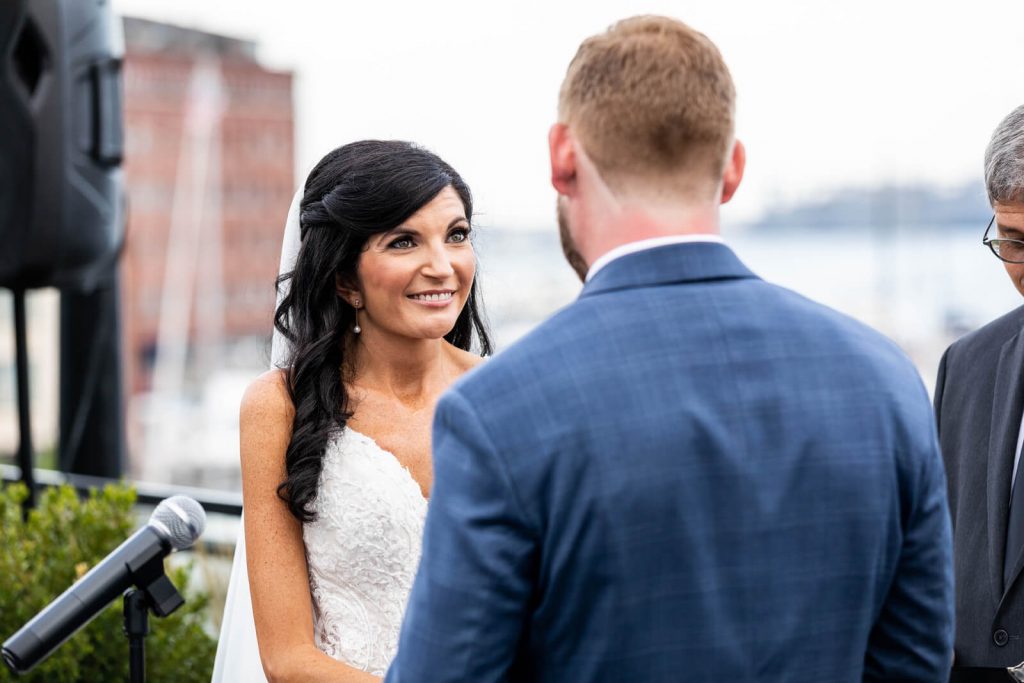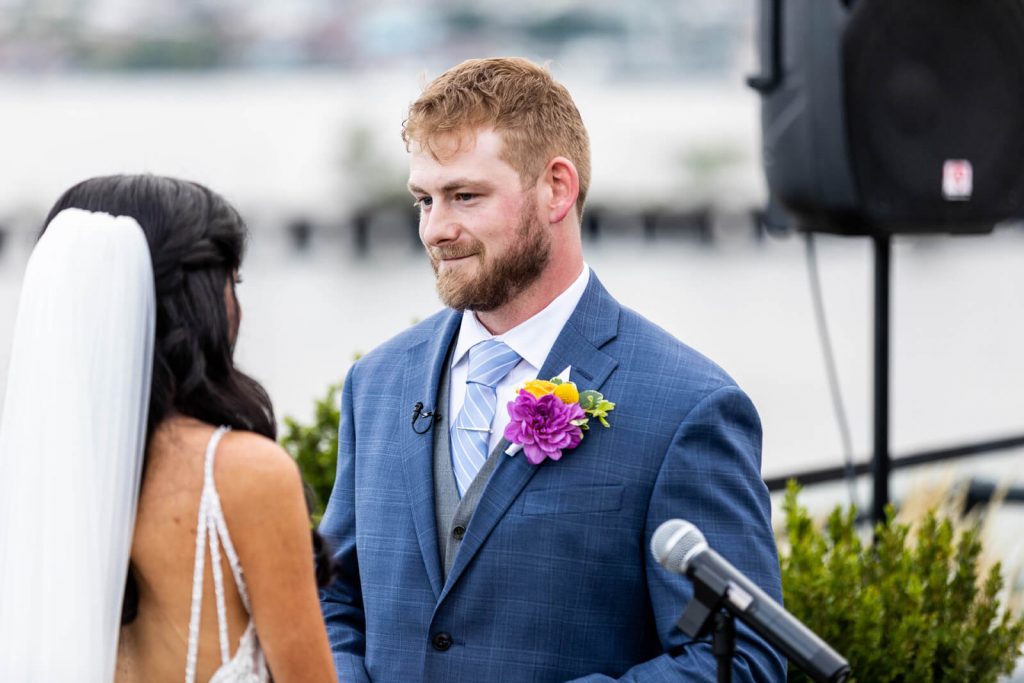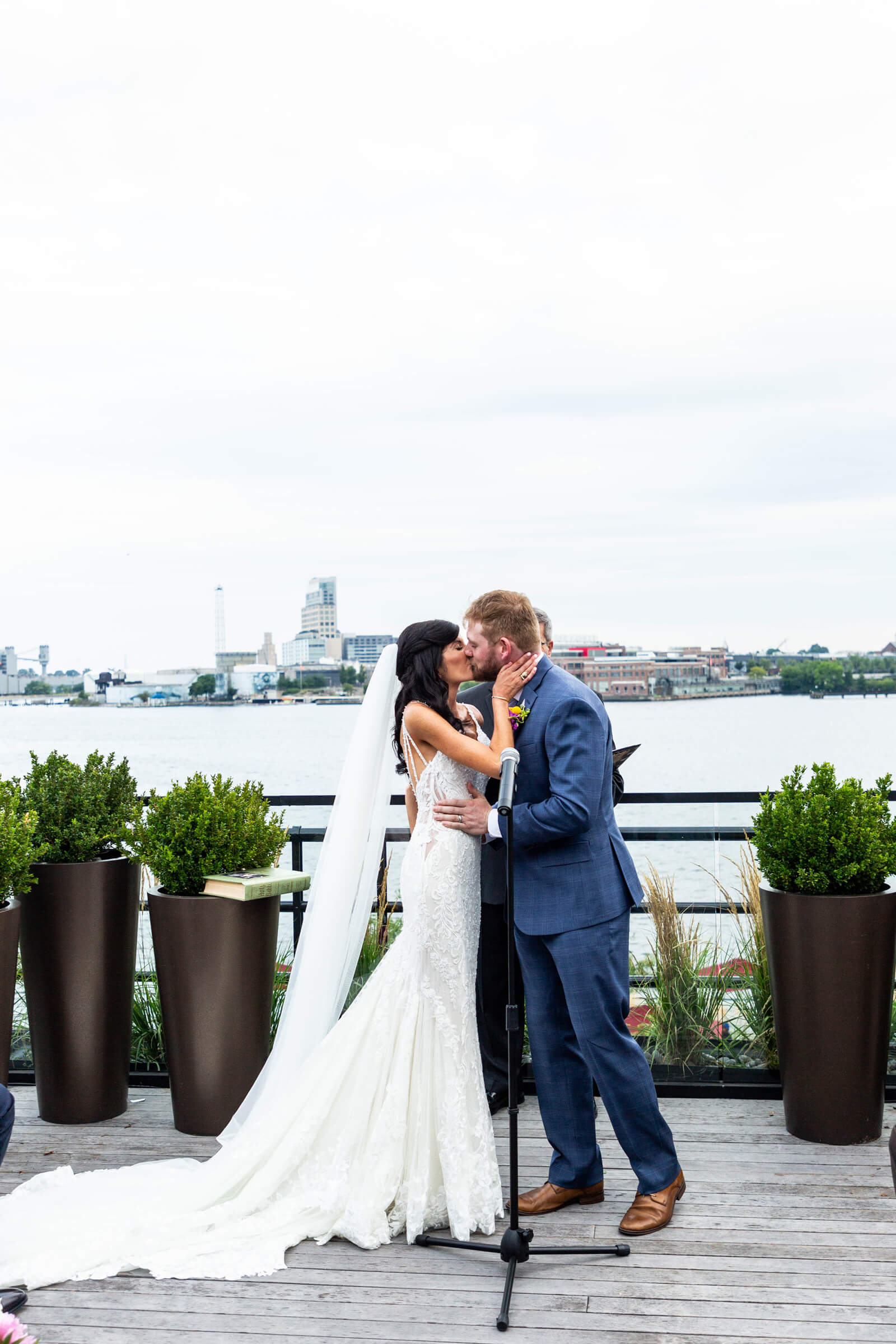 Living Radiant Photography and Radiant Films were there to capture all the moments of our day. The wedding gallery and video teaser they put together are incredible and stunning. Other vendors to note are florals by Annapolis Events, makeup by Kristen Floyd Bridal, hair by Sarah Aiello, cakes by Sacre Sucre, rings by Bijoux, dress by Martina Liana from K&B Bridal, alterations by Juliya's Custom Tailoring & Alterations, and suit from JoS A. Banks. All of our vendors remained extremely flexible as our event continued to change due to restrictions up until the days leading up to the wedding. In the end, Nate and I are so fortunate that we were able to have our intimate wedding ceremony, and hope to celebrate with all our friends and family next year.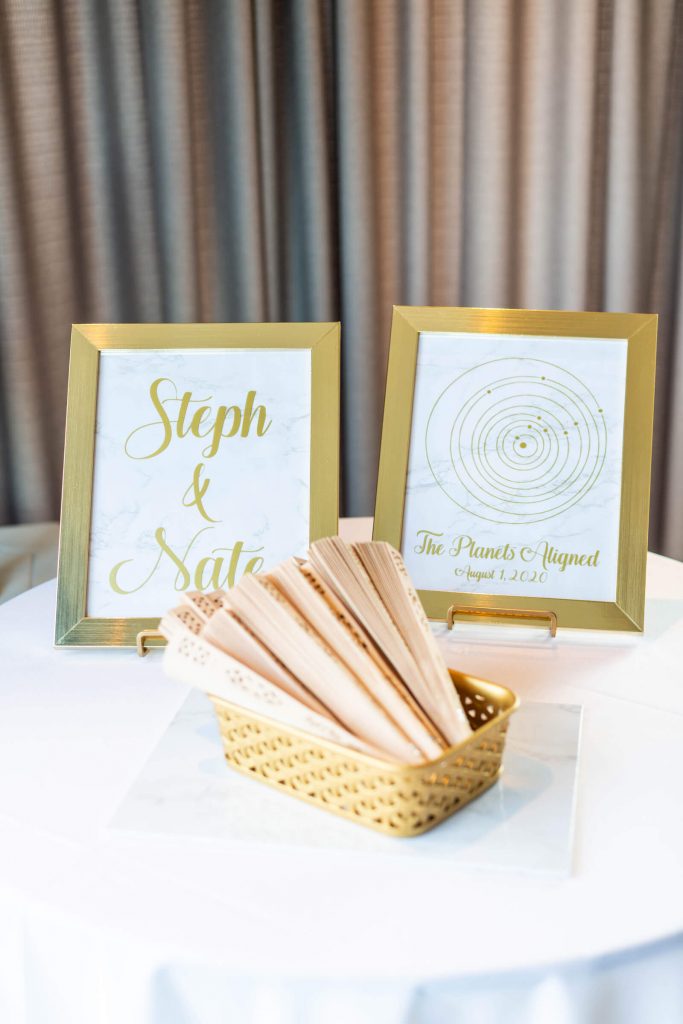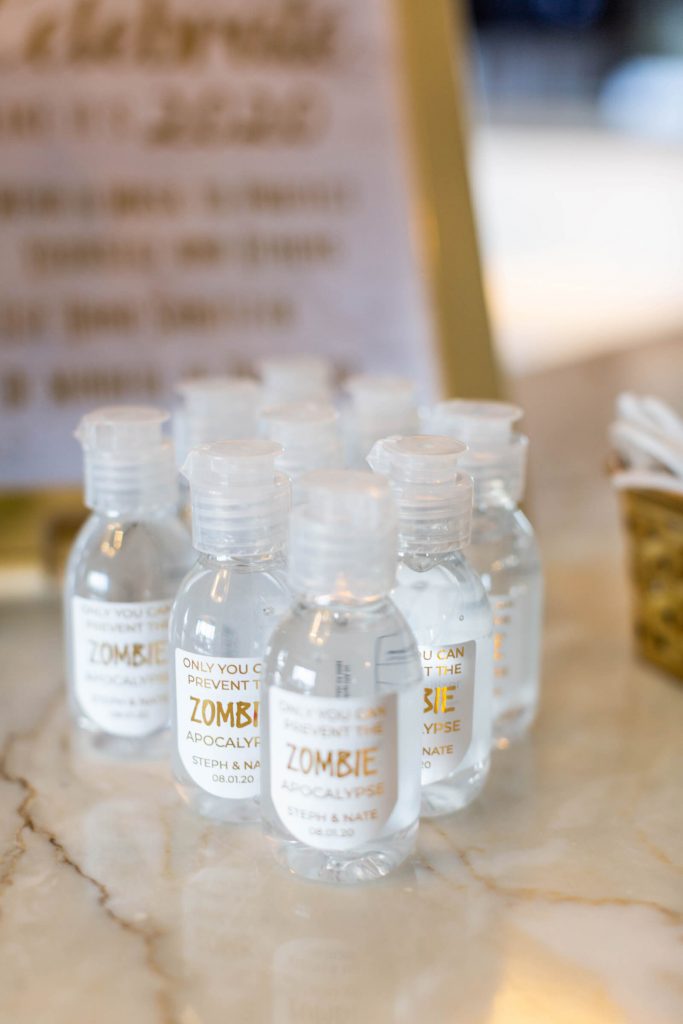 During this time of the pandemic guest capacities were limited and were changing what seemed like daily. We weren't able to have ANY of our bridal party or friends at our wedding and had to stick to only immediate family. I figured out a way to have Nate's best man and my maid of honor be present on our big day by being vendors for us—JR (Nate's best man) picked up and delivered the cakes and Kelly (MOH) brought my dog, Pete to and from the wedding which allowed them both to be present that day and witness our ceremony (standing in the back). Nate had no idea that his best man would be there on our wedding day and I had JR deliver my gift to Nate (the O's, Ravens, Virginia Tech bobblehead) in his suite while Nate was getting ready. This big surprise moment was captured by pictures and video—when Nate realized his best friend was there and he immediately broke down into tears.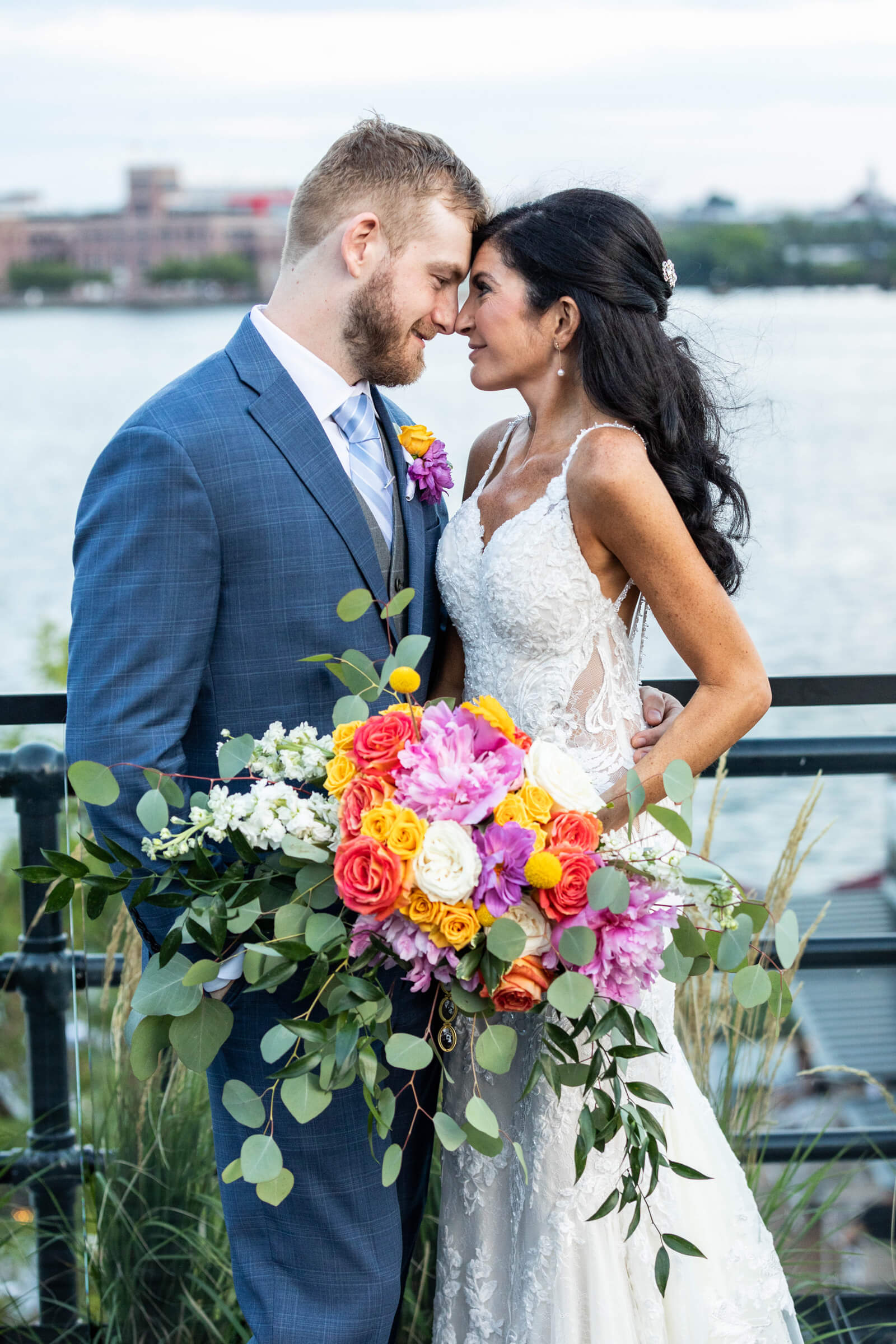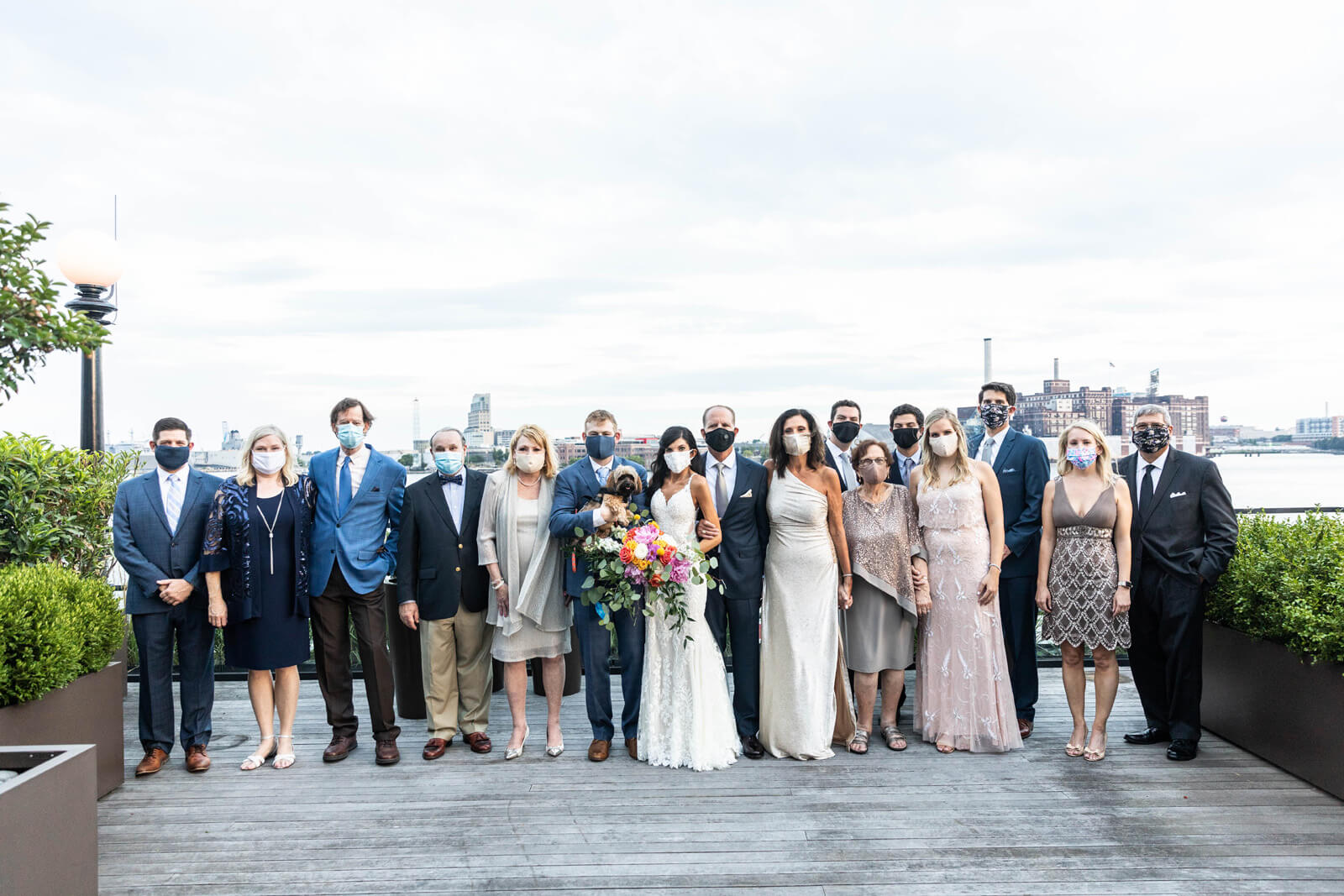 I've been together with Nate since 2010 and I've never once seen him cry. He cried twice on our wedding day—first being surprised by JR and second when I walked down the aisle with my Dad. At our original wedding we would have done a first look and pictures ahead of the wedding ceremony. Our smaller wedding allowed us to have the traditional walk down the aisle where that was his first time seeing me and it was so wonderful to see his reaction and emotion.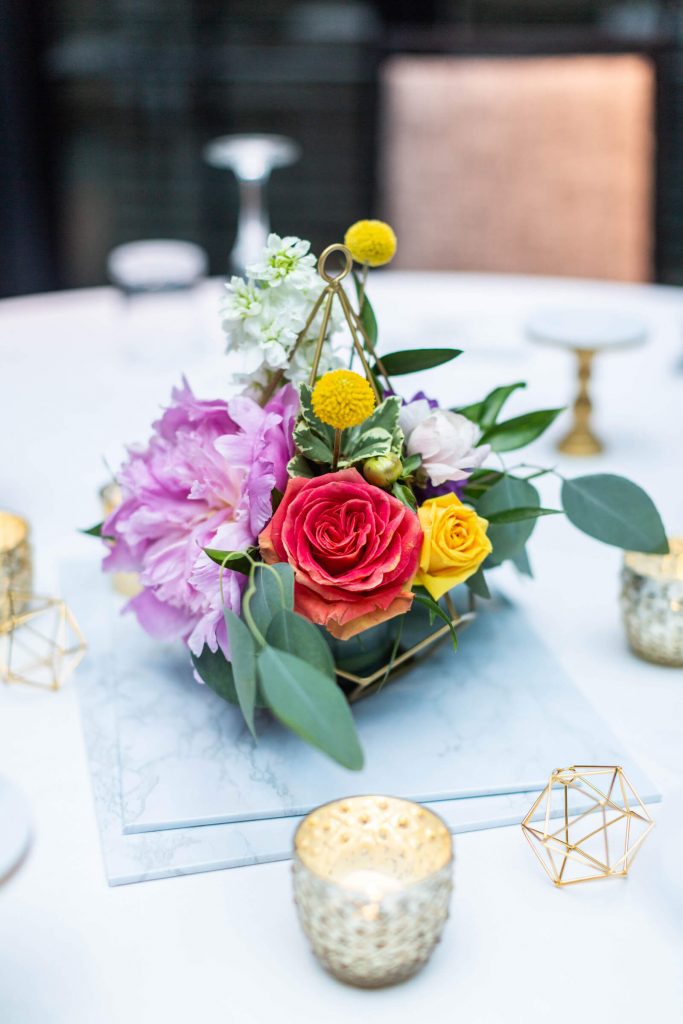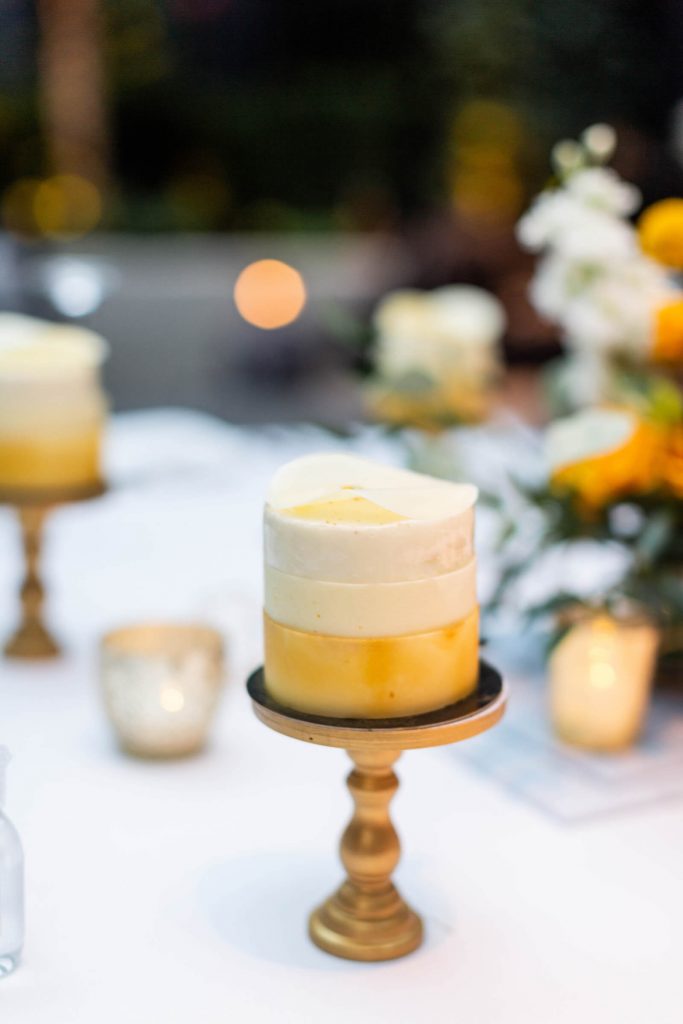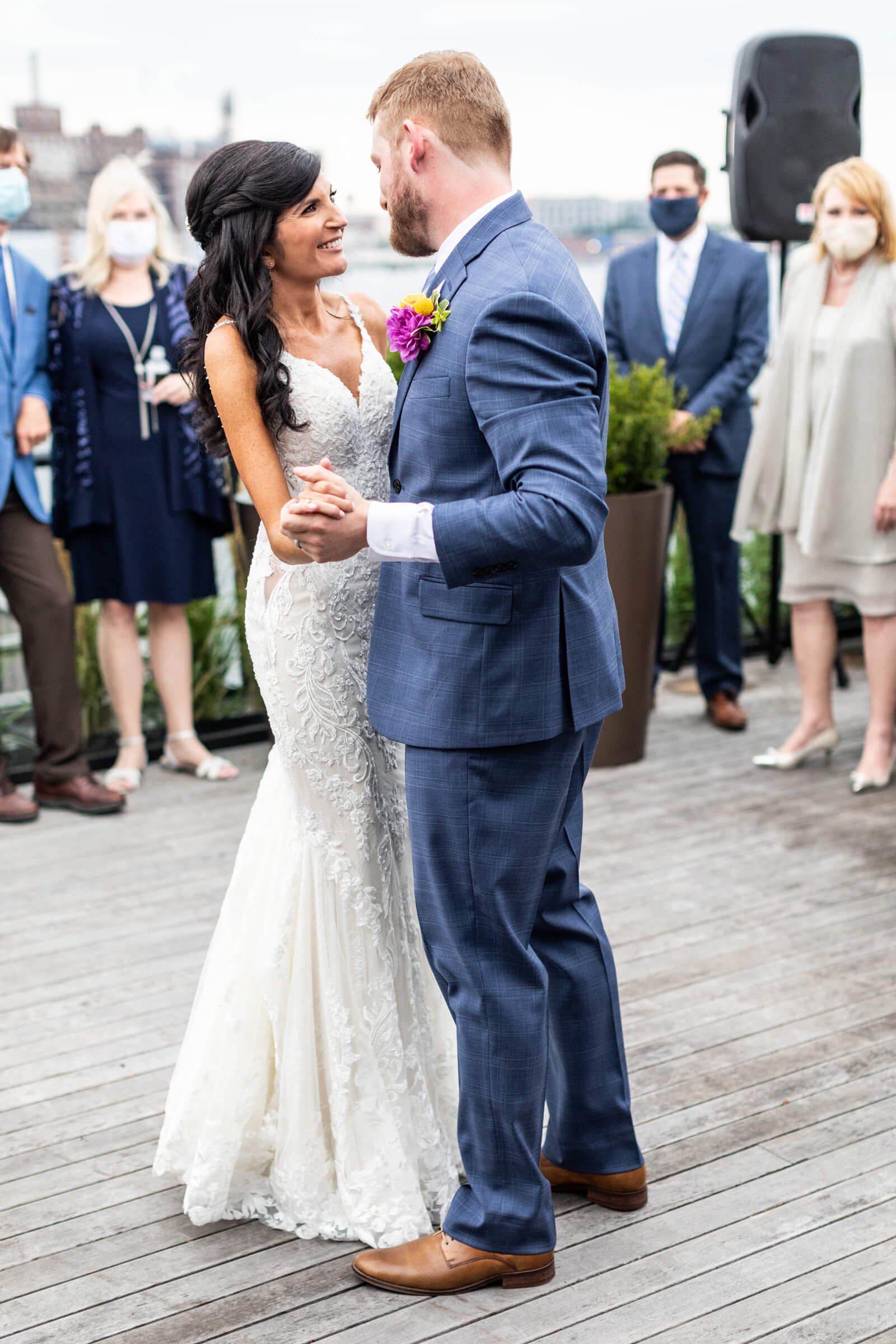 Our wedding inspiration was elegance through a combination of classic and modern elements with a pop of color. The style consisted mainly of gold, white, marble, gold geometric shapes, and bright flowers. A few additional details made our big day extra special that would not have been possible with our initial large wedding, surprising Nate with his Best Man, having my Godfather as our officiant, Nate getting emotional seeing me walk down the aisle, including our dog Pete for the ceremony and pictures, and being able to have our first dance, father-daughter dance, and mother-son dance on the Presidential Suite balcony.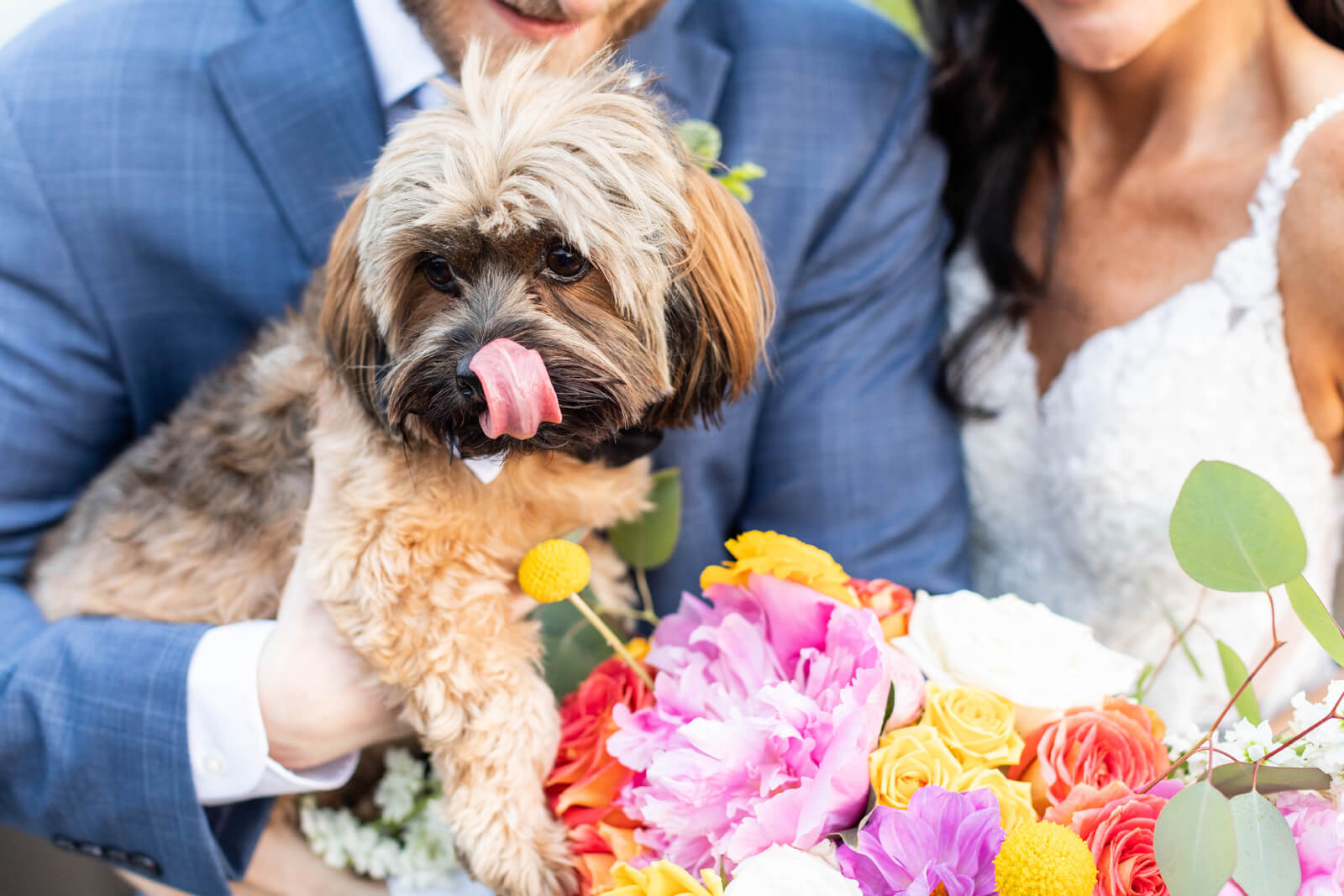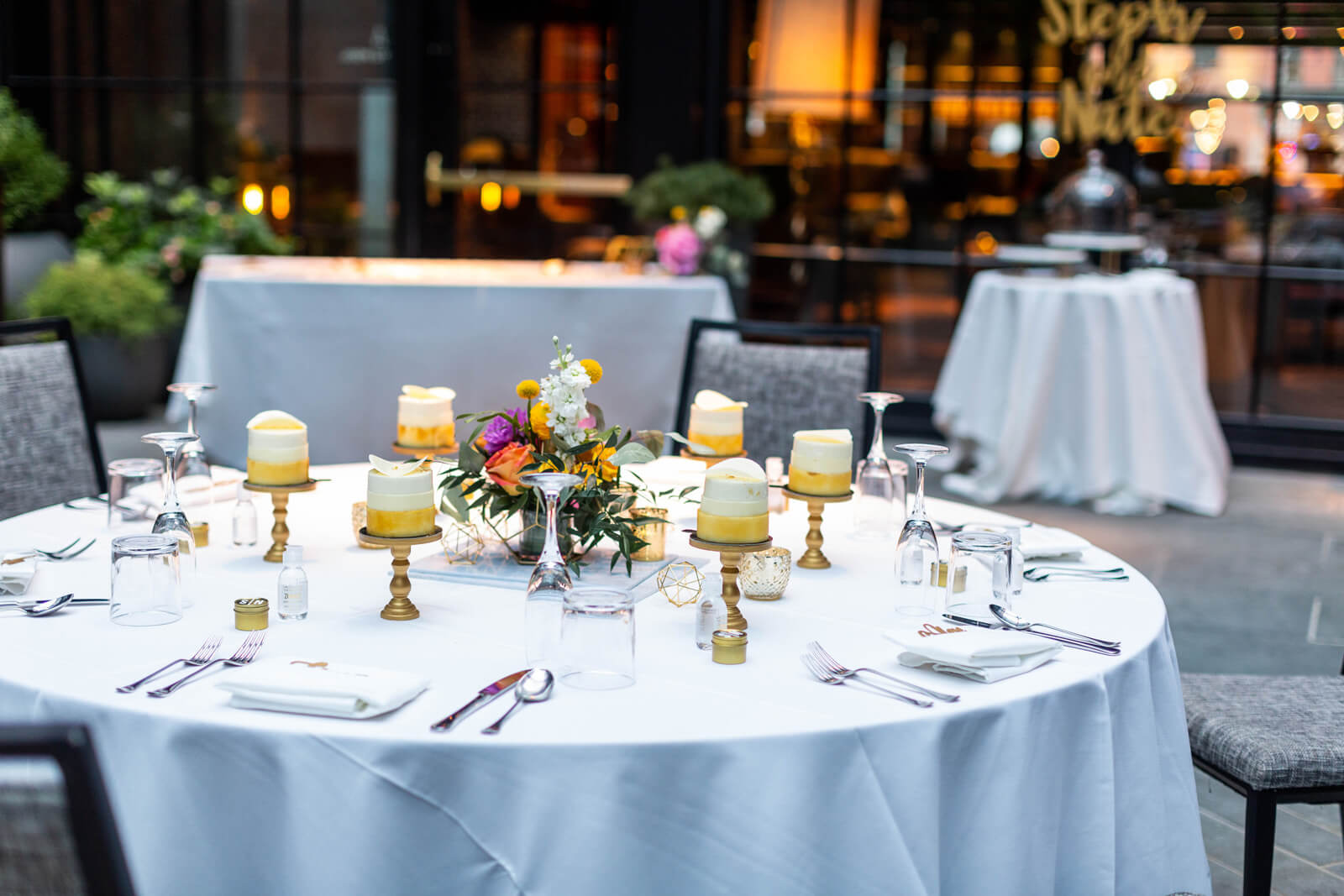 August 1, 2020 was not the day we ever planned or envisioned it would be, but it is the day we will always dream about. Nate and I knew we wanted Baltimore to be a big part of our special day as it is one of the things that has always brought us together. We were hoping to show off our Baltimore love story through our save the dates and incorporating the Home teams that mean so much to us into our day. When our initial wedding plans were canceled due to COVID-19, the safest way to have an intimate ceremony was to have it outdoors. If our wedding needed to be outdoors due to restrictions, we wanted the entire city of Baltimore to be the backdrop. Nothing else needed, just us getting married with our city behind us.