This originally ran in the 2018 Local Love supplement in the June issue of Baltimore magazine.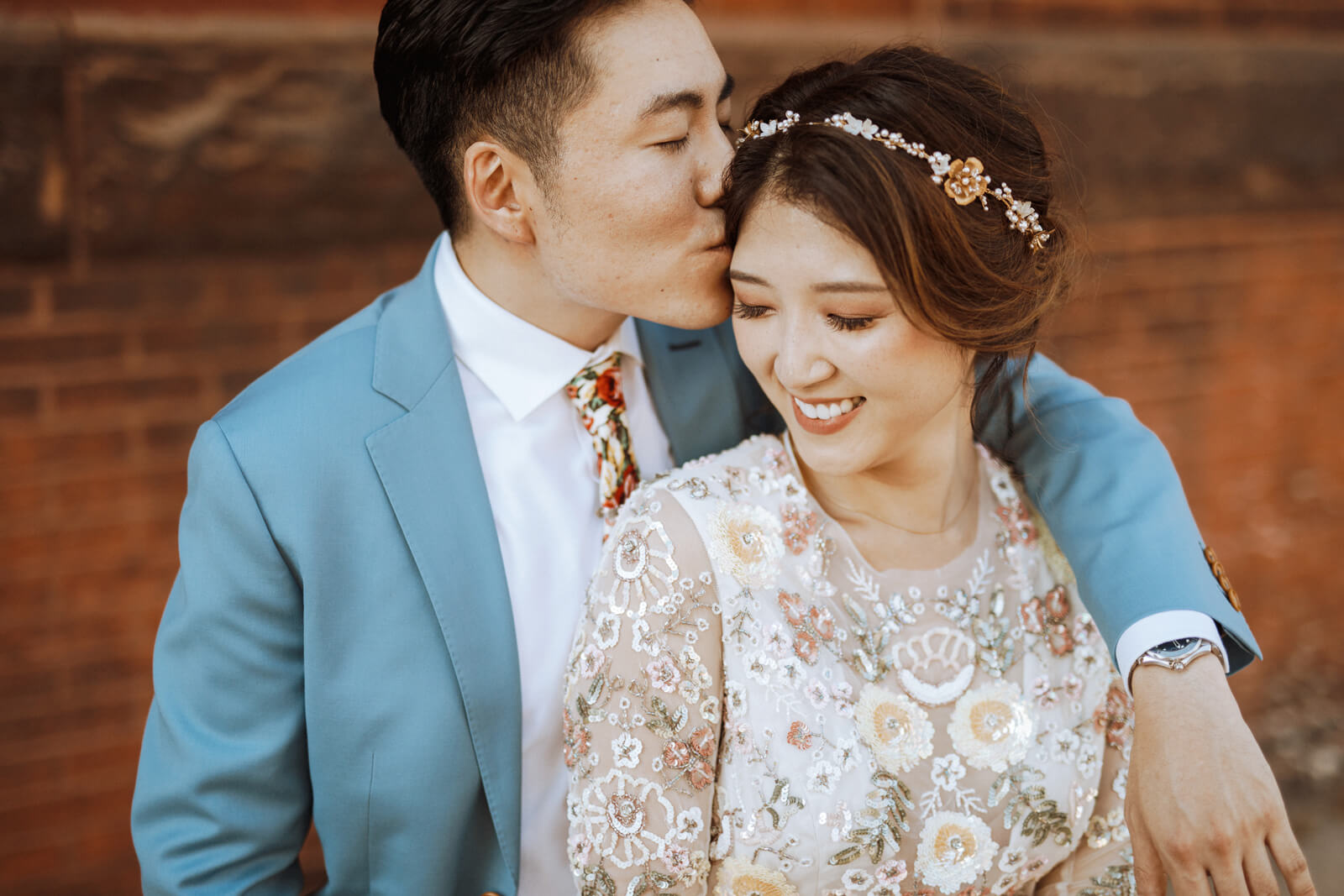 Wedding Date June 10, 2017
One night, a group of friends was hitting the town, but Pete Lee wasn't feeling it. A friend coaxed him out by noting that a girl named Suzy Cho would be there. "You'll really like her," this friend promised. "And I did," says Pete, who was smitten from the start. After dinner, as they all headed out for drinks, Pete jumped into Suzy's car so he could spend some one-on-one time with the dark-haired beauty. That became the norm. "My friends would tell me, 'Pete will only come out if you'll be out,'" laughs Suzy. A friendship bloomed, and then, a few years later while on a trip to New York, Pete did the "old-school will you be my girlfriend," says Suzy. It was lovely and unexpected and to the point. "It was nice to not have the 'what are we?' conversation," says Suzy. Pete had made it clear that he liked Suzy—a lot. They officially started dating in January of 2012. By October of 2015, they were in California visiting Suzy's best friend. While there, Pete knew he wanted to propose, but he wasn't sure where. Research led him to the famous Griffith Observatory, which sits on the south-facing slope of Mount Hollywood with views of downtown Los Angeles, Hollywood, and the Pacific Ocean. (Think La La Land romantic.) "I had this whole speech planned out," says Pete. He had rehearsed it in the mirror over and over. He managed to get her in a nice quiet spot. But when he turned to Suzy, nothing came out. "That's how it always happens," says Pete. "I was so nervous." Suzy, oblivious to the whole thing, was trying to take a picture with Pete. "I was trying to take a selfie with him. And he kept saying something to me," remembers Suzy. As it dawned on her what was happening, she turned around to see where her friends had gone. "They were in the bushes filming," she says.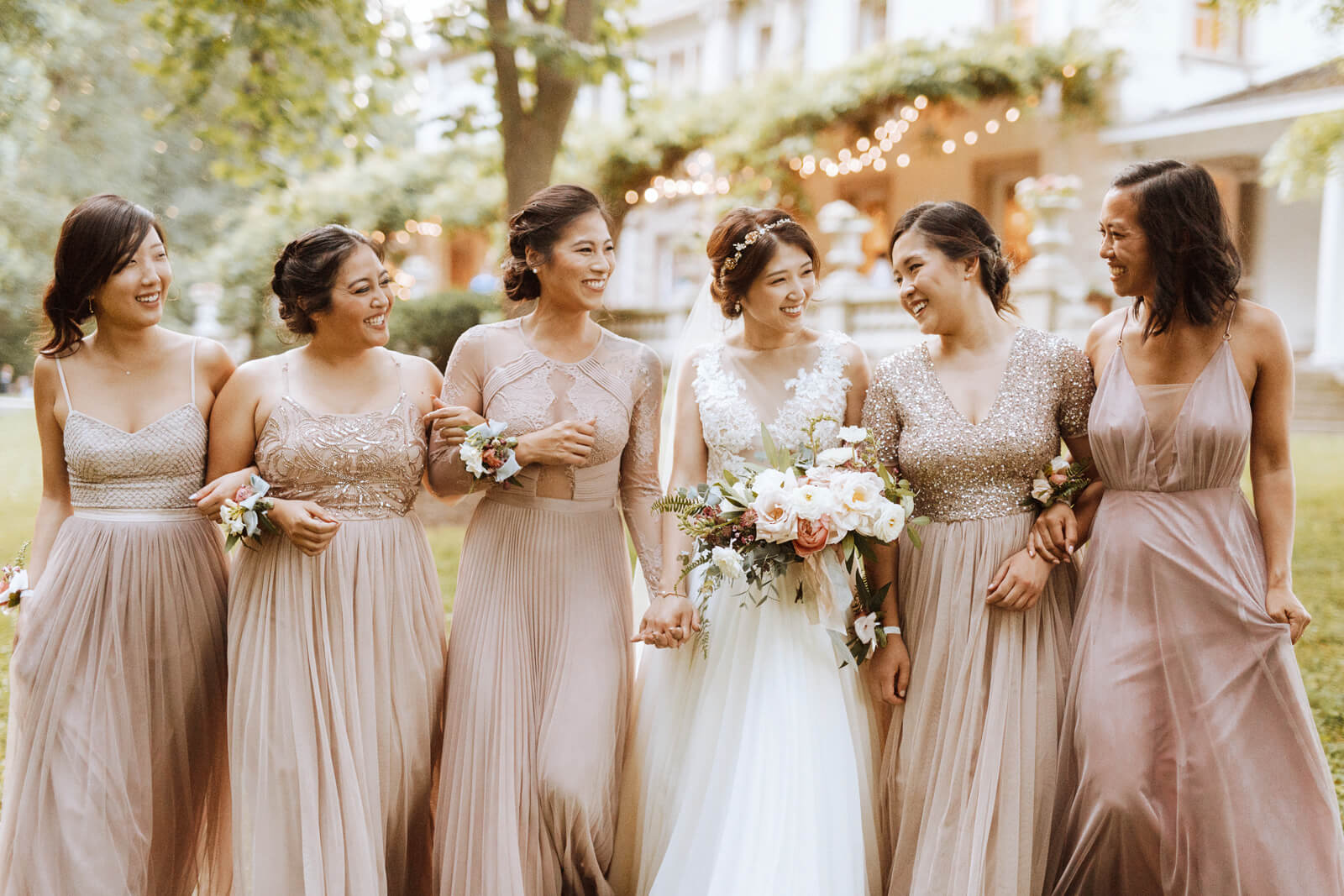 Planning a wedding was uncharted territory for the couple. They had only been to one wedding before their engagement. Suzy had heard you were supposed to book the venue first. "I was looking on blogs, and I just came across images. I started pinning which ones I liked—when I realized this is the same person's images." That person was photographer Nessa Kessinger. Says Pete, "We booked her before we booked our venue."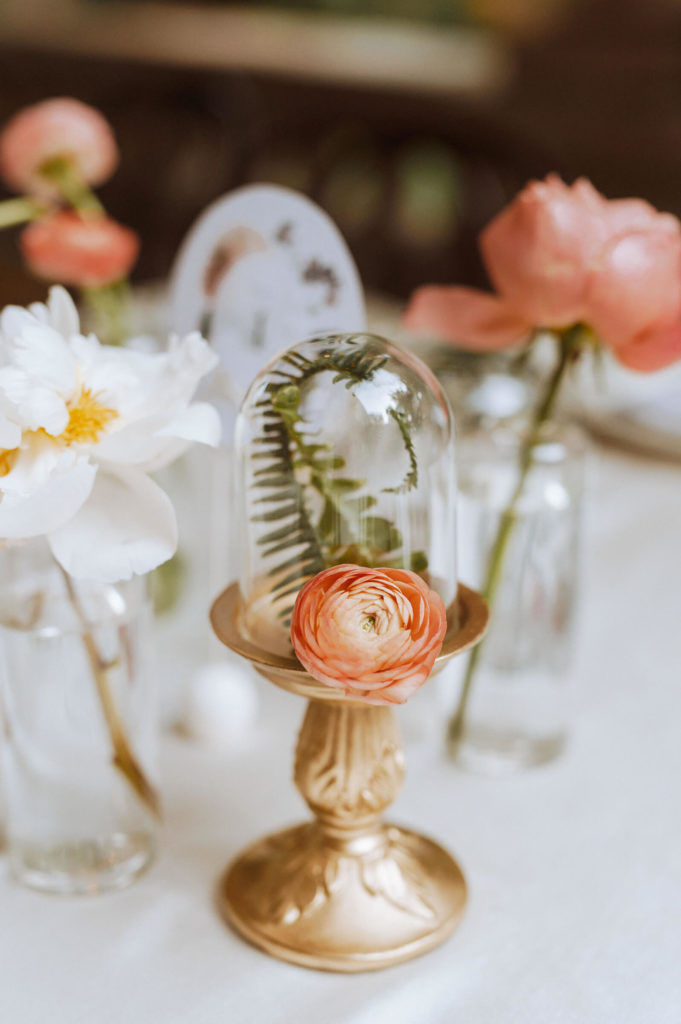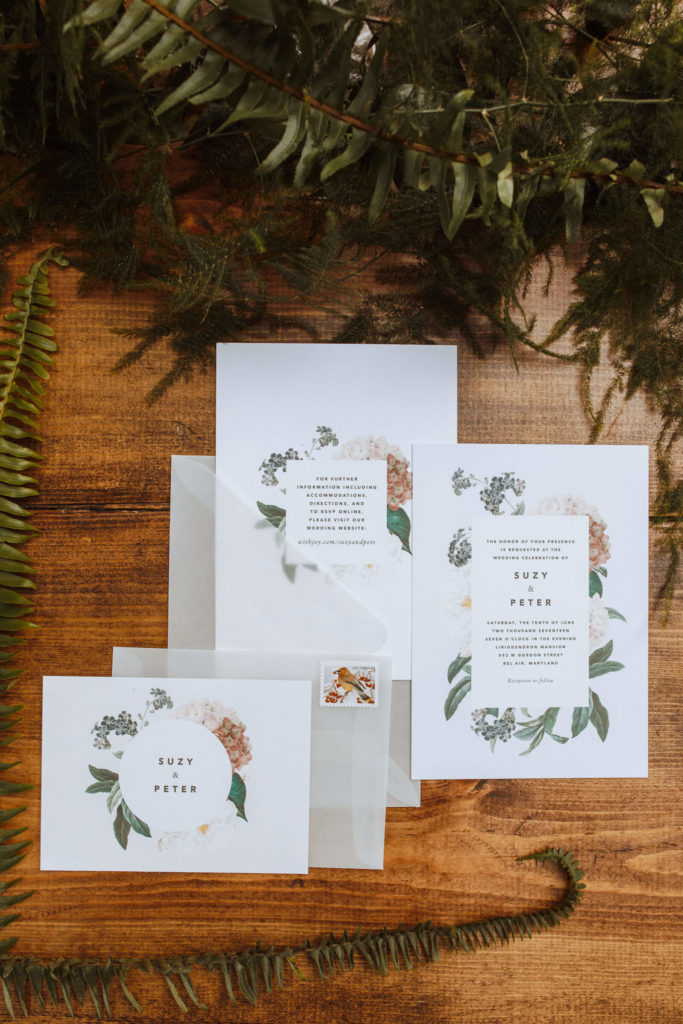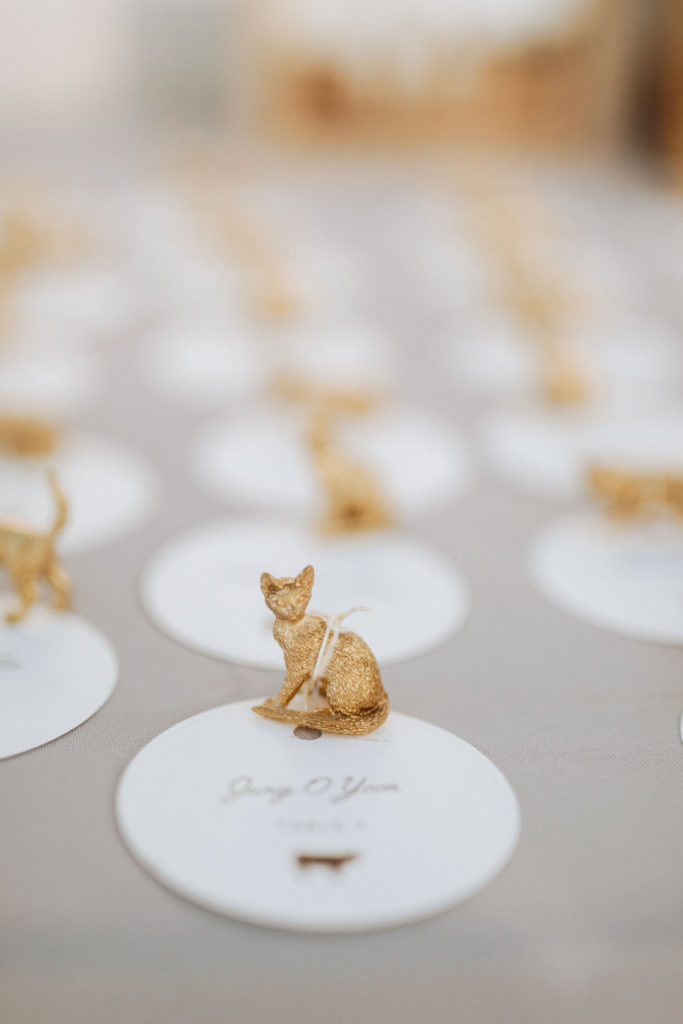 So, now they needed a venue. They spent time flipping through magazines and searching online. Their wedding would be fewer than 100 people, and they wanted a location that felt special and intimate. They stumbled on the Liriodendron Mansion, a historic home and estate in Bel Air. Liriodendron served as the summer home of Dr. Howard Kelly and his wife, Laetitia. Kelly was a successful surgeon and founding member of the Johns Hopkins Medical College. The stuccoed brick mansion was built in 1898 but seemed perfect for a 2017 wedding. Suzy and Pete were charmed by the Palladian mansion's marble fireplaces, woodland gardens, and especially the wisteria-canopied terrace. "We just fell in love with the façade and all the greenery on the arbor," says Suzy. Though that was just from pictures since their first visit was in the dead of winter. "Our wedding was the first time we saw it actually green," says Suzy.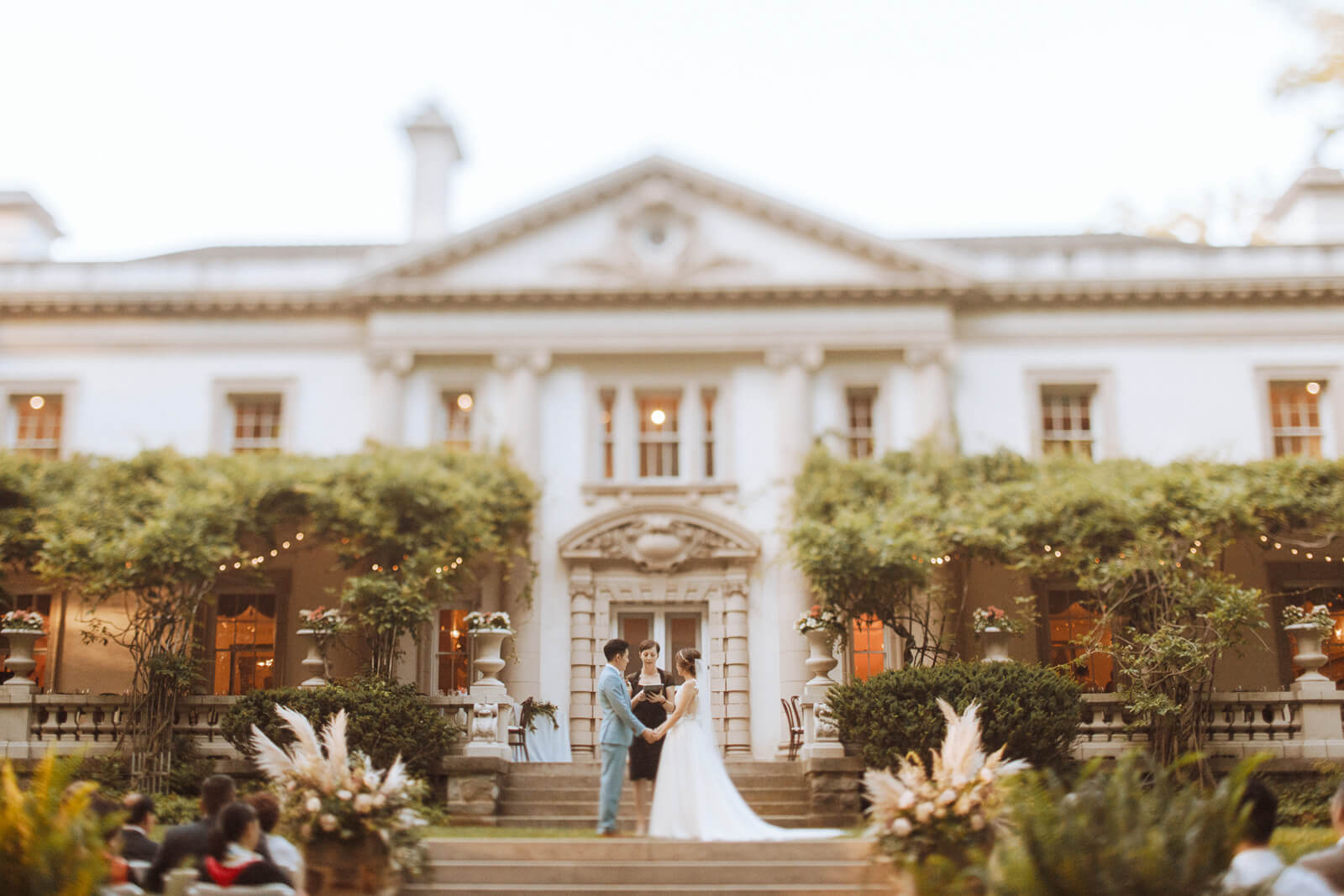 Their plan was to just reinforce what was already at the Liriodendron. "Green and natural," says Suzy. With some romance and "a hint of vintage" thrown in, they had their wedding. The biggest plan involved a dinner along the terrace. The long linear space called for long tables. They contracted Barnes Farm Tables, a company out of Central Pennsylvania, which delivered eight traditional, handcrafted red mahogany tables. A week before the wedding, their event coordinator, Zoe Balmuth, mentioned adding some extra light to the outdoor space. The twinkling lights mixed with the wisteria and the setting summer sun created a magical space.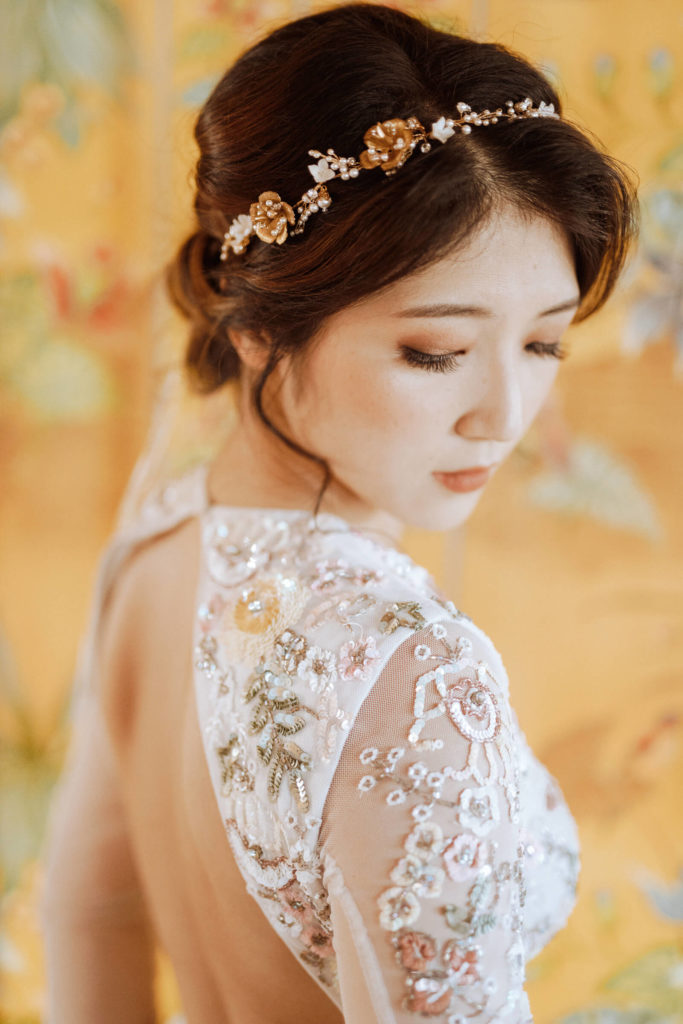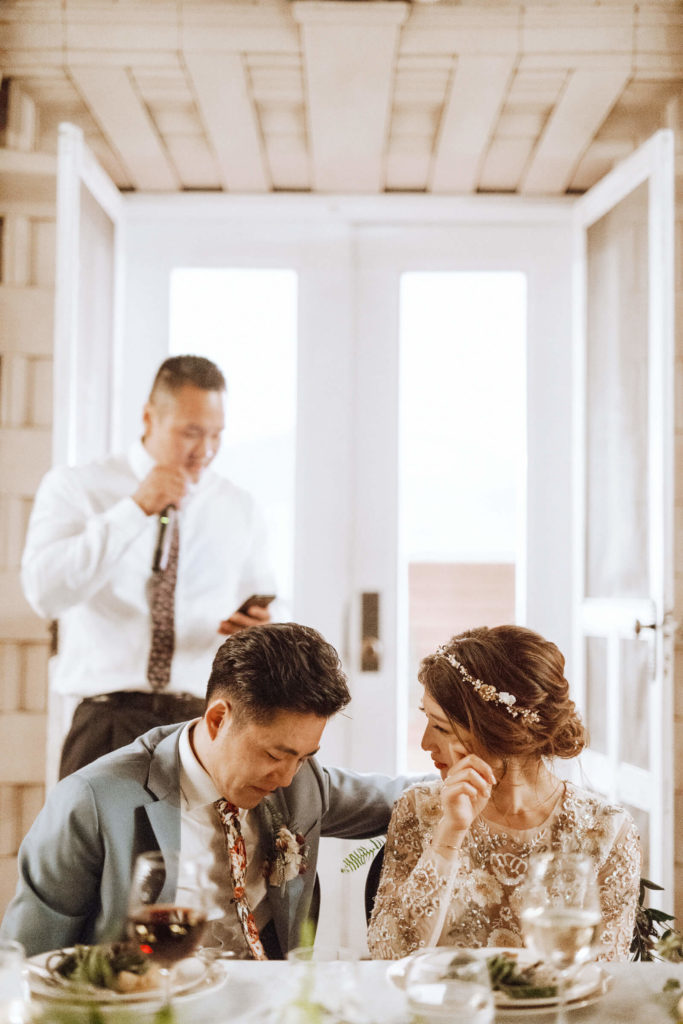 Their first dance was to "When I'm Lovin' You," by Bushwalla. "Suzy and I were watching TV one night, and at the end of the show You're the Worst this song came on during the end credits. After hearing the lyrics, we both looked at each other and said, 'This is our first dance song,'" says Pete. Picking Suzy's wedding gown wasn't as seamless. She had gone to various dress shops with friends but kept striking out. She finally landed at Kleinfeld Bridal in Manhattan. "It was just me and my dad," says Suzy. The first gown she tried on was beautiful and traditional with an illusion neckline. "This is the dress—I don't need to see any more," her dad told her. She bought a second, very different outfit for the reception from Needle & Thread, a backless champagne colored gown with sheer sleeves and stunning embroidery.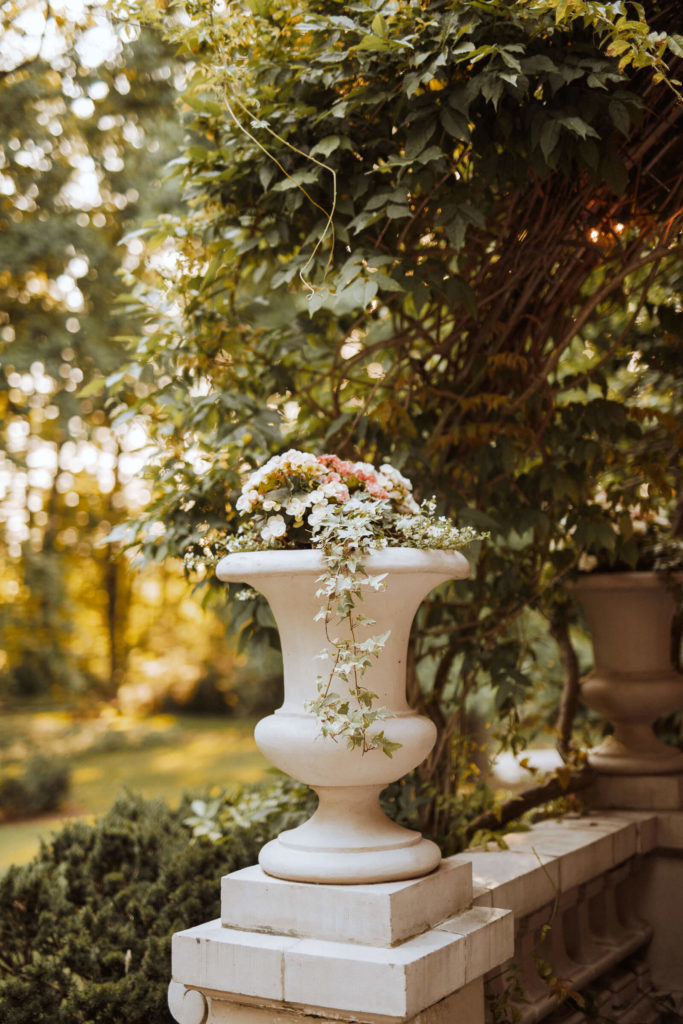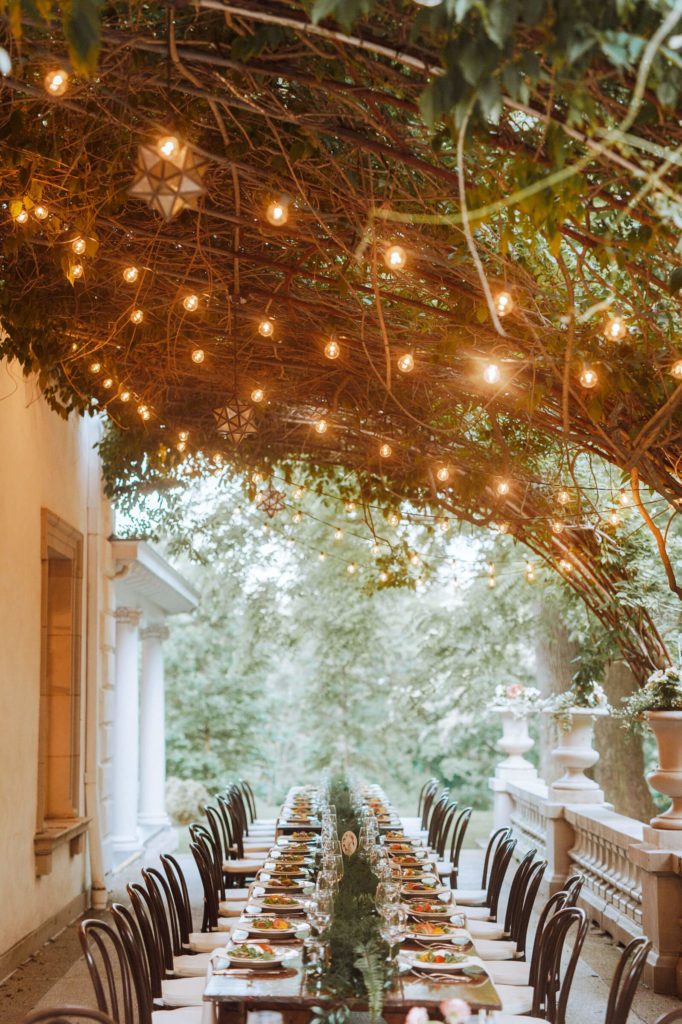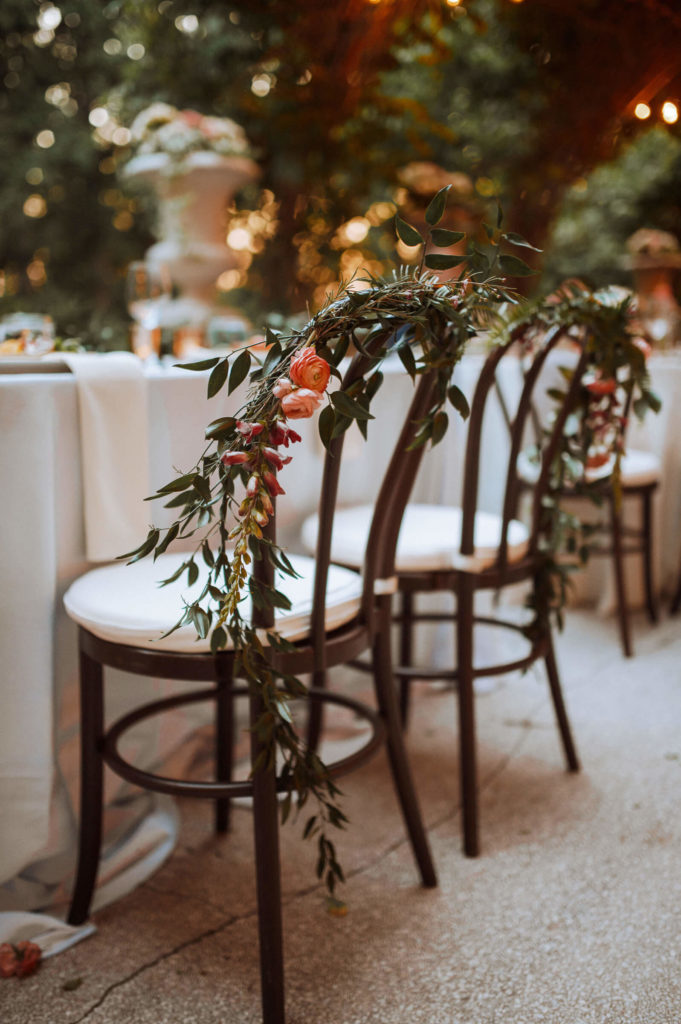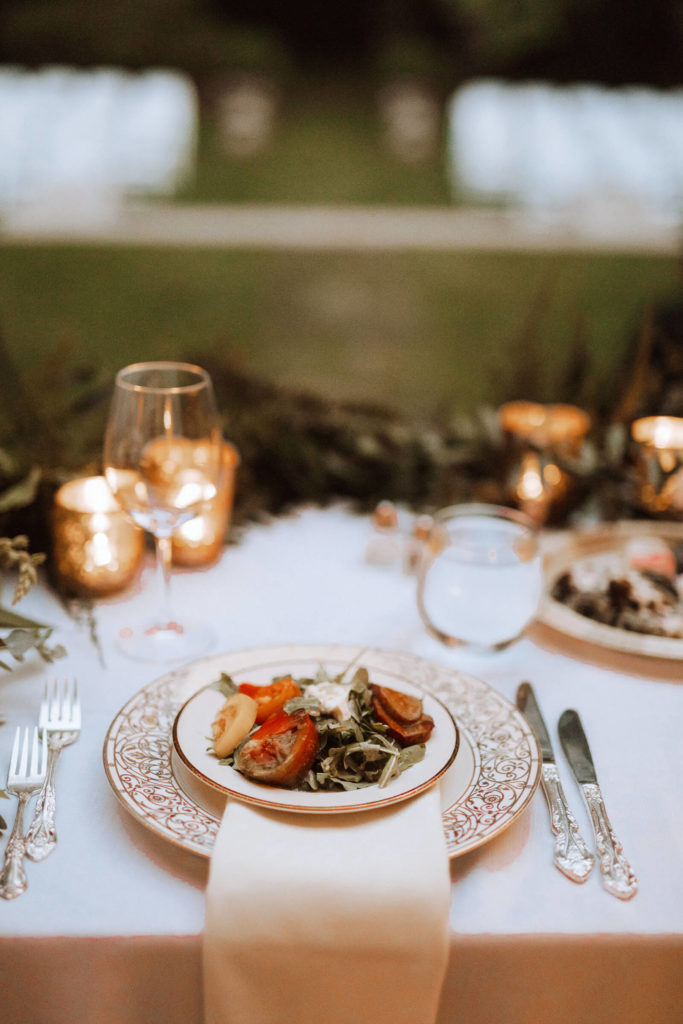 The ceremony started as the sun began to set. "I didn't expect to cry so much," says Suzy. "I started to cry as soon as the officiant started talking, and I'm not really an emotional person . . . I kept sniffling the whole time." Suzy and Pete had written their own vows. Then when the officiant asked Pete, "Do you take Suzy?" instead of saying, "I do," he blurted out "Yes!" So, when it was Suzy's turn, she said "yes" too. "We started laughing so hard," she says. It was the sweetest start to their union.