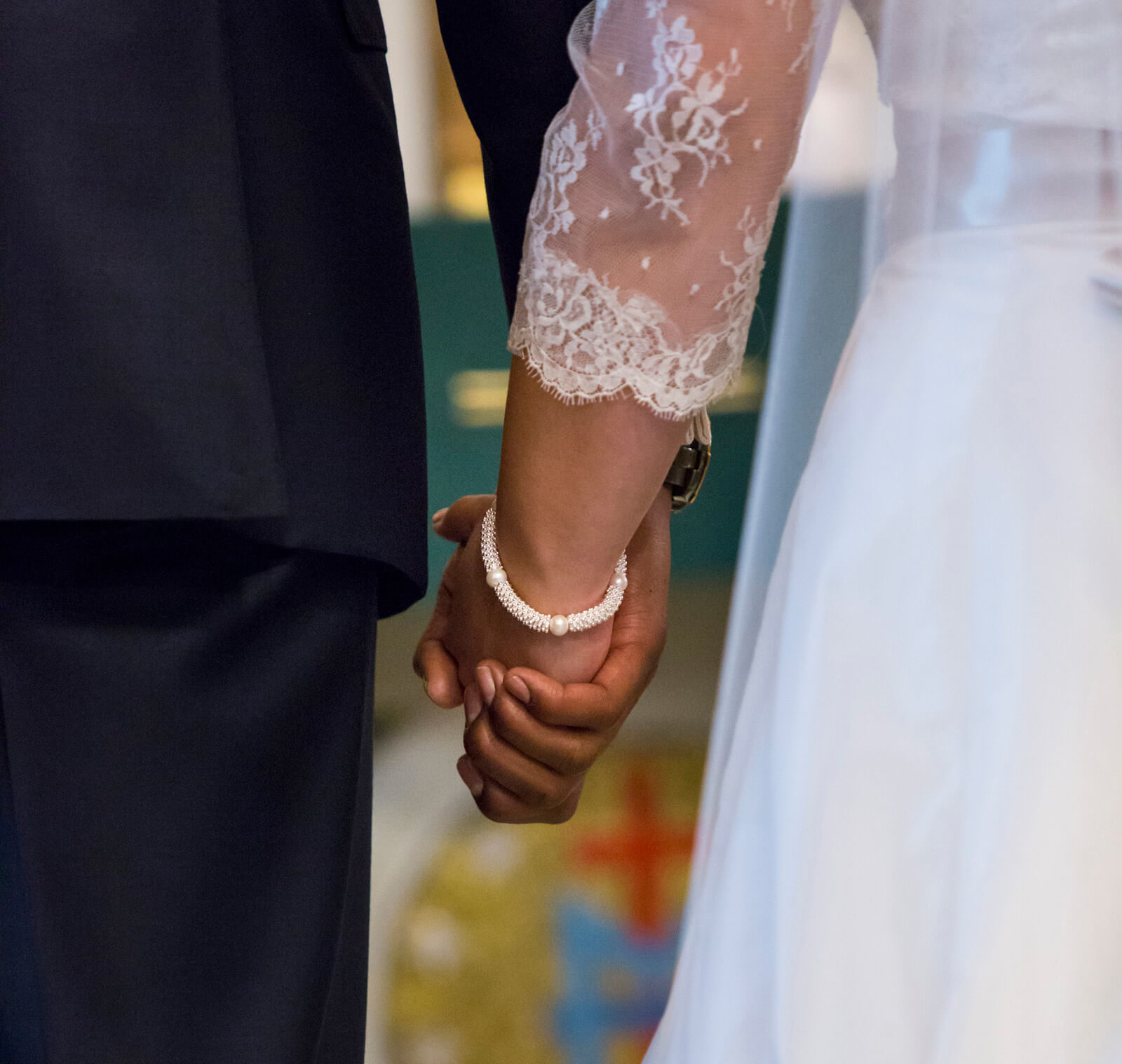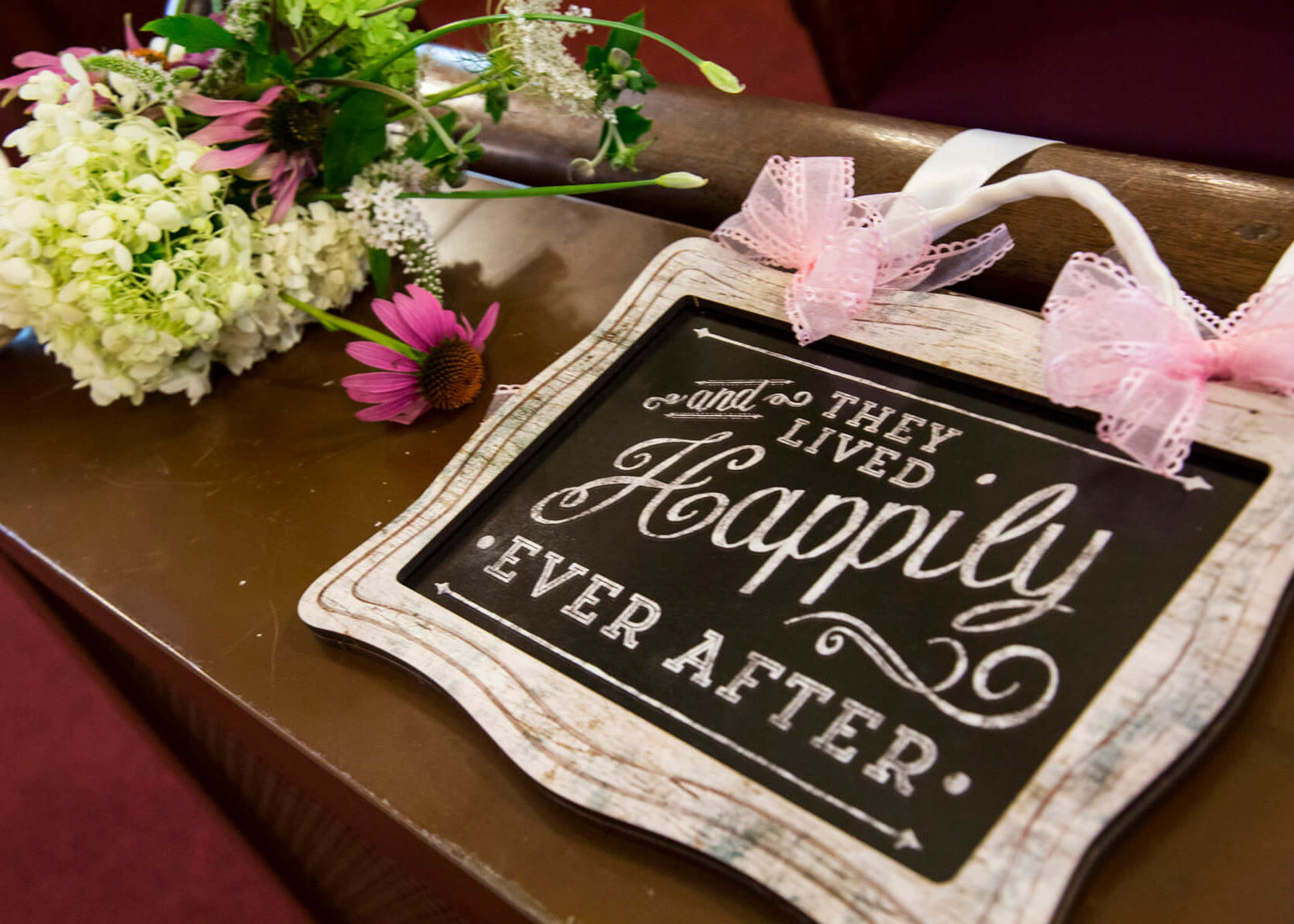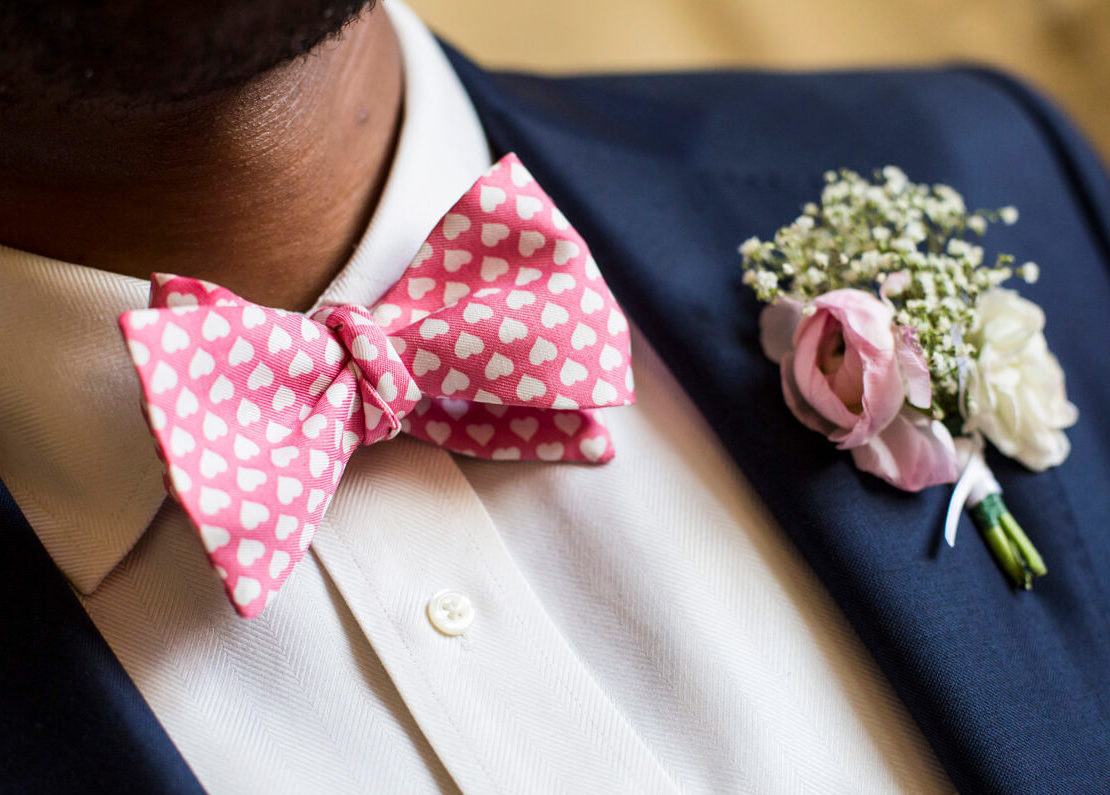 Occupations Jessica is a social studies teacher and department chair at The Catholic High School of Baltimore; Jason is a human resources specialist for the Department of Labor. 
Wedding date August 1, 2015
 Number of Attendees 180 
Number of Attendants 12 (a matron of honor and three bridesmaids, best man and five groomsmen, plus two flower girls.)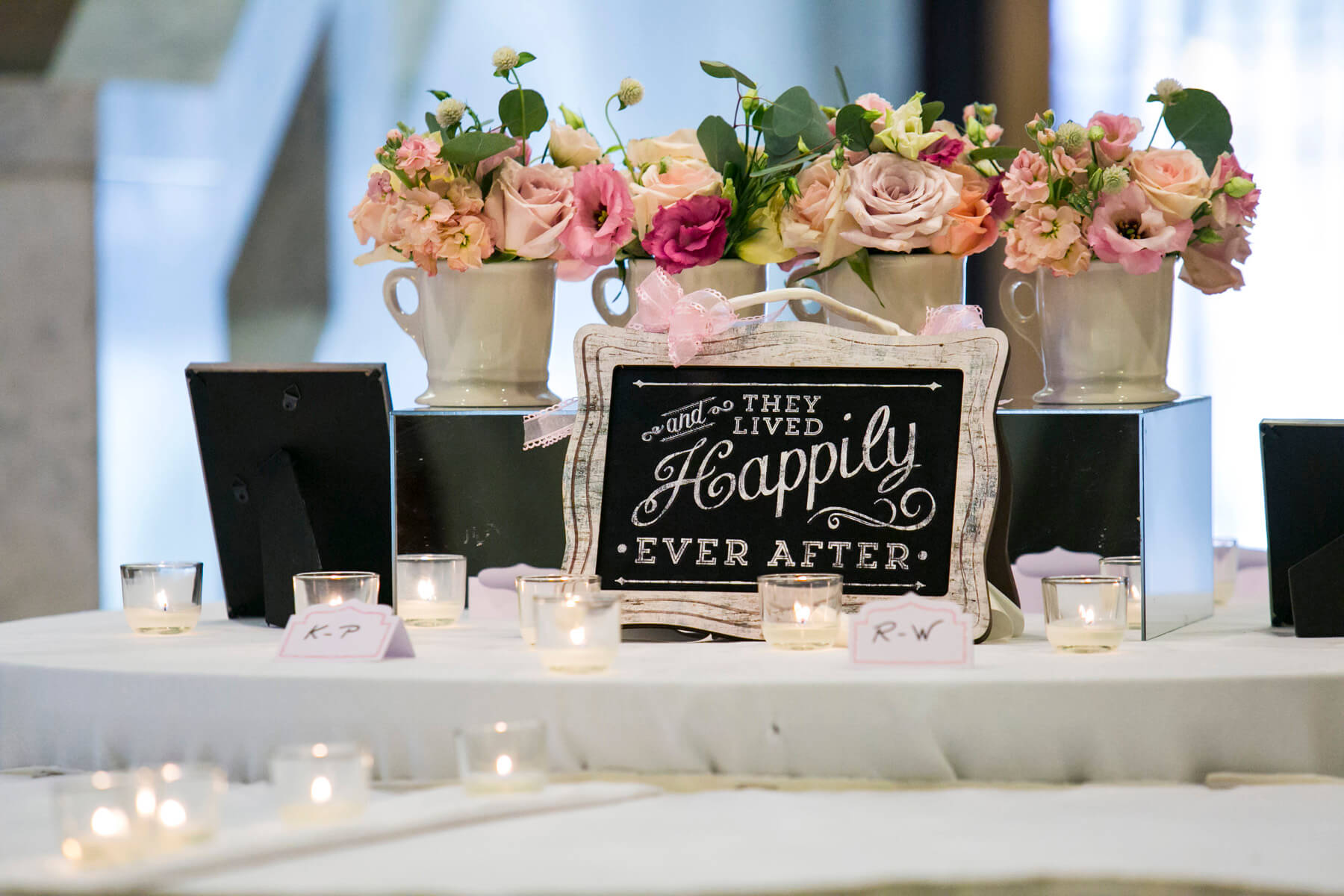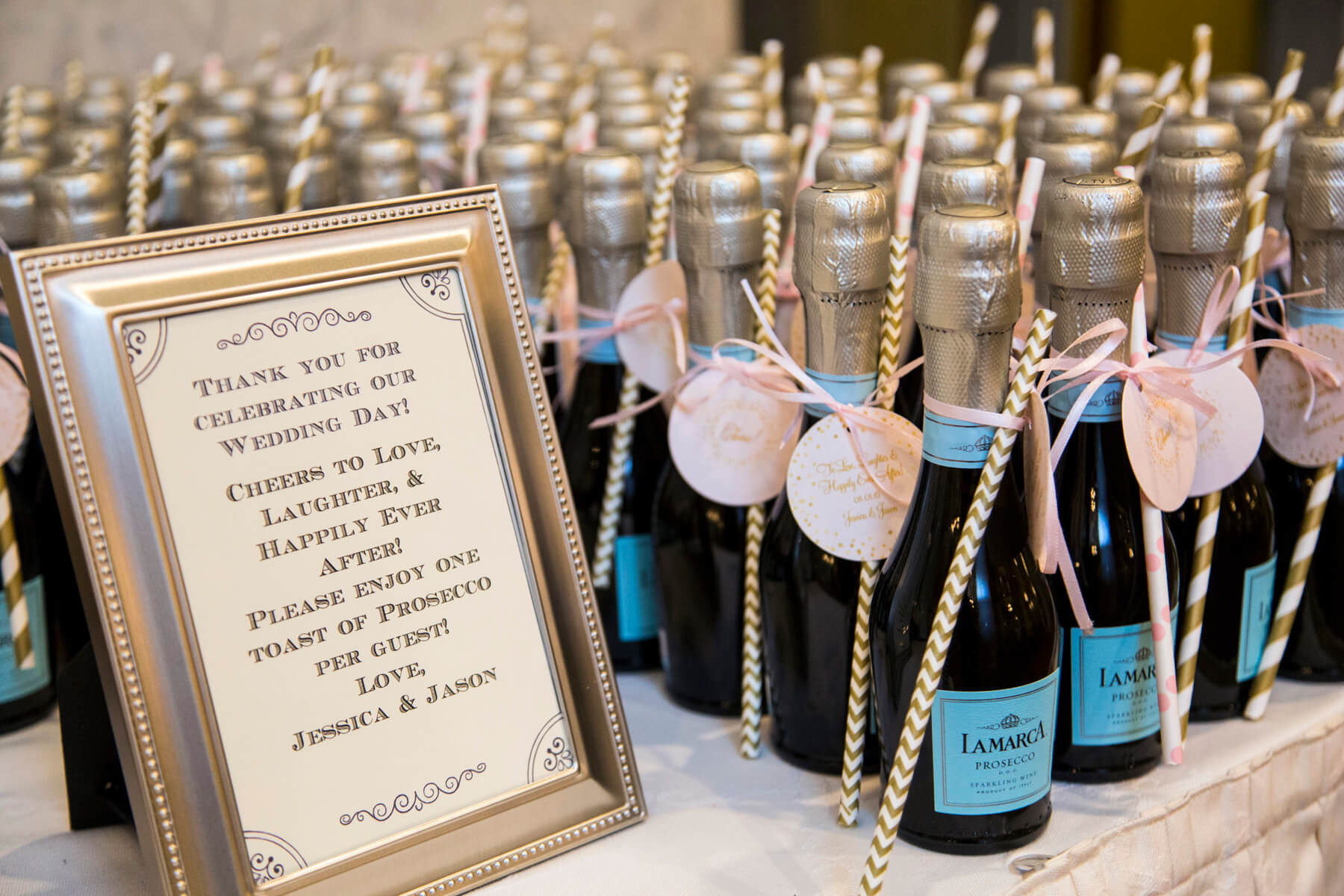 How You Met Both attended a fundraising happy hour at the Leinenkugel beer garden where mutual friends introduced us to each other. We talked all night and exchanged numbers. The very next day Jason called to set-up their first official date.
The Engagement Jason collaborated with Jessica's cousin and friends to plan a surprise proposal on August 8, 2015 at the Alice in Wonderland statue in Central Park. Jessica thought she was having a girl's getaway weekend in New York to visit one of her friends. It was a beautiful sunny day so she and her friends were walking through Central Park, one of her favorite things to do in the city. The plan was to recreate a girlfriend's photo taken in front of the sailboat pond several years ago and visit the Alice in Wonderland statue. When she walked up the steps to the statue, Jason walked up behind her. What a surprise! He was soon down on one knee proposing in front of a small crowd of spectators at the statue and her closest friends and cousin who was hiding in the bushes taking pictures.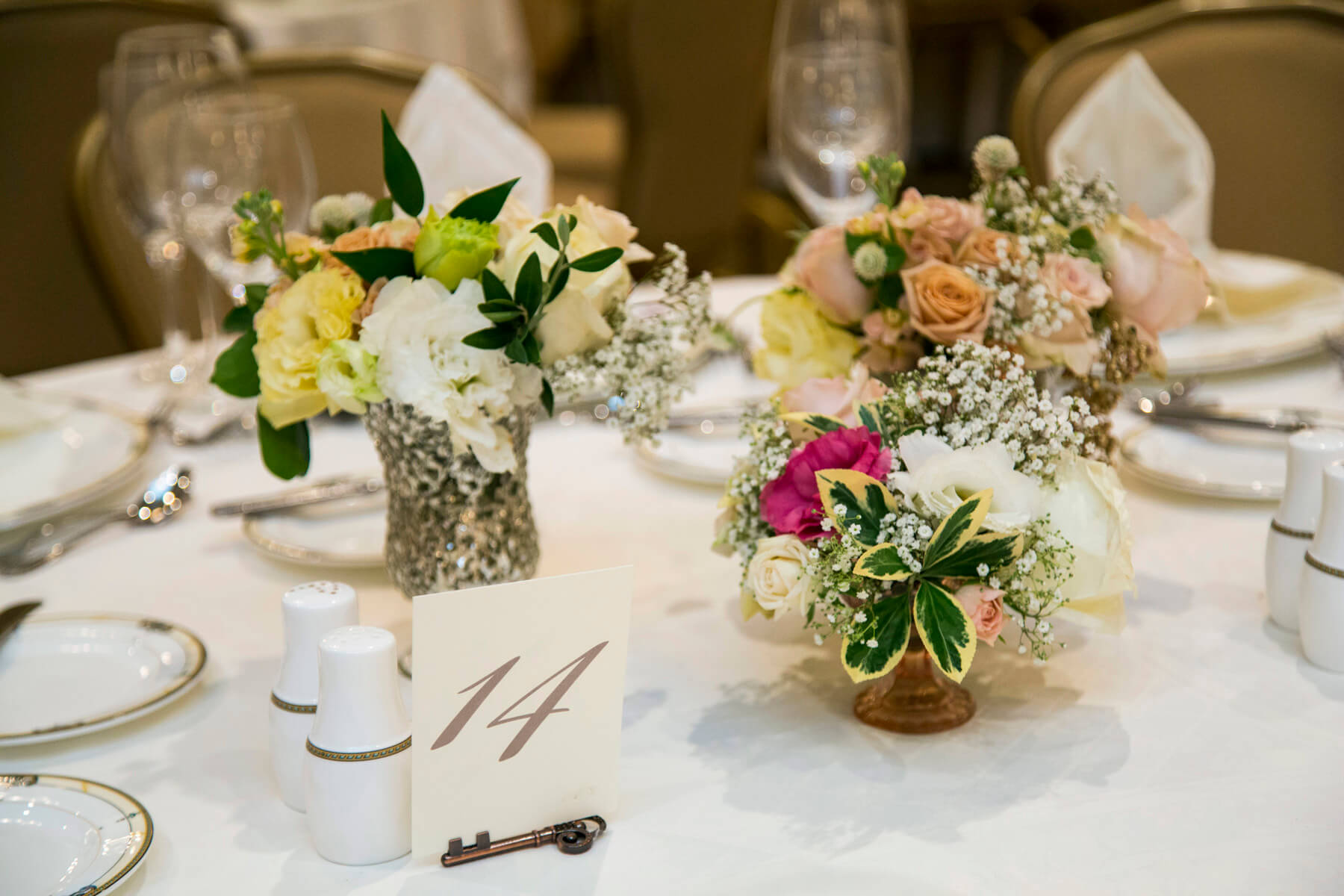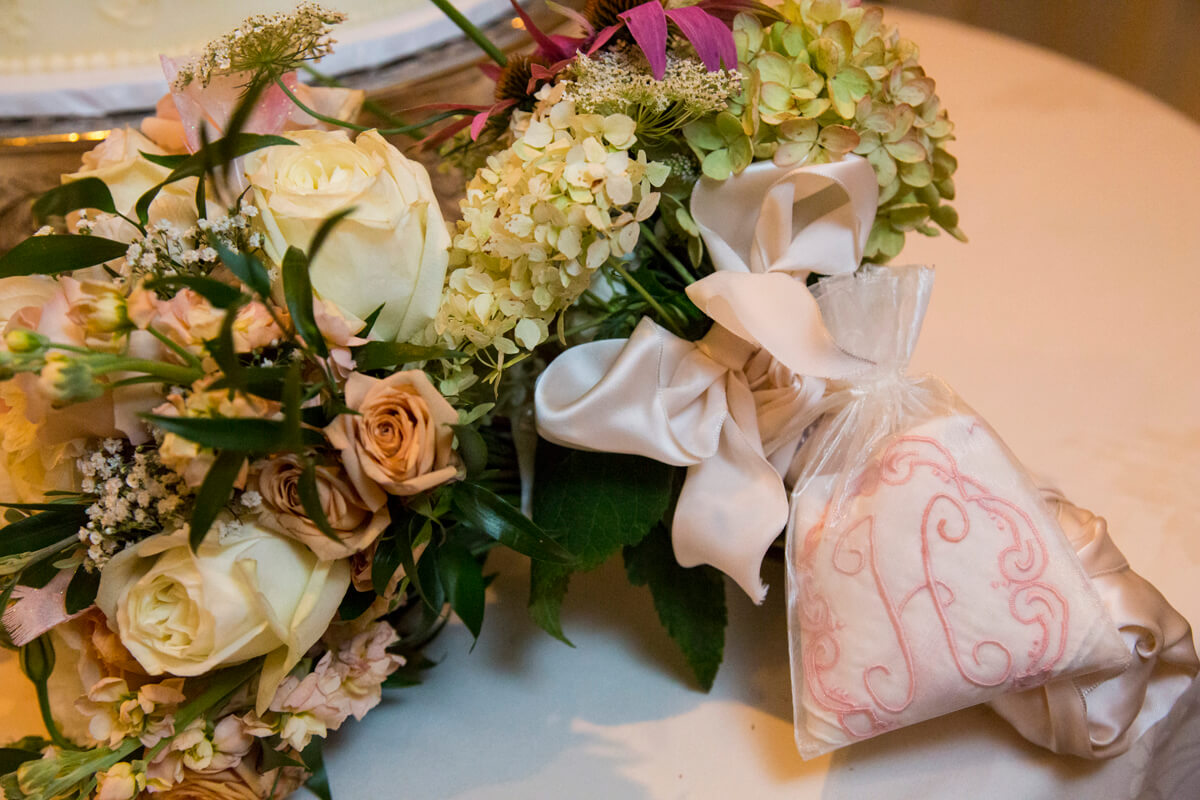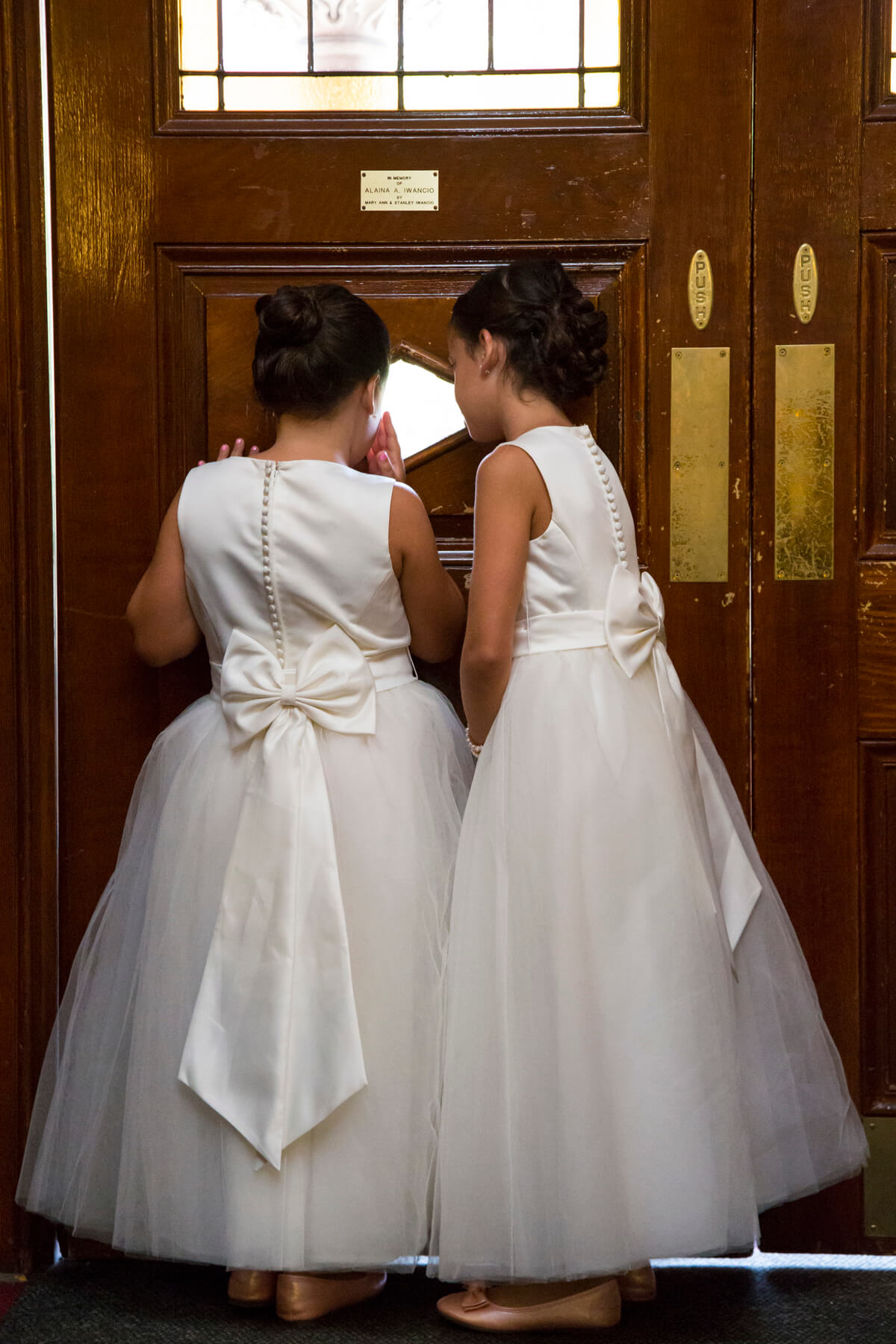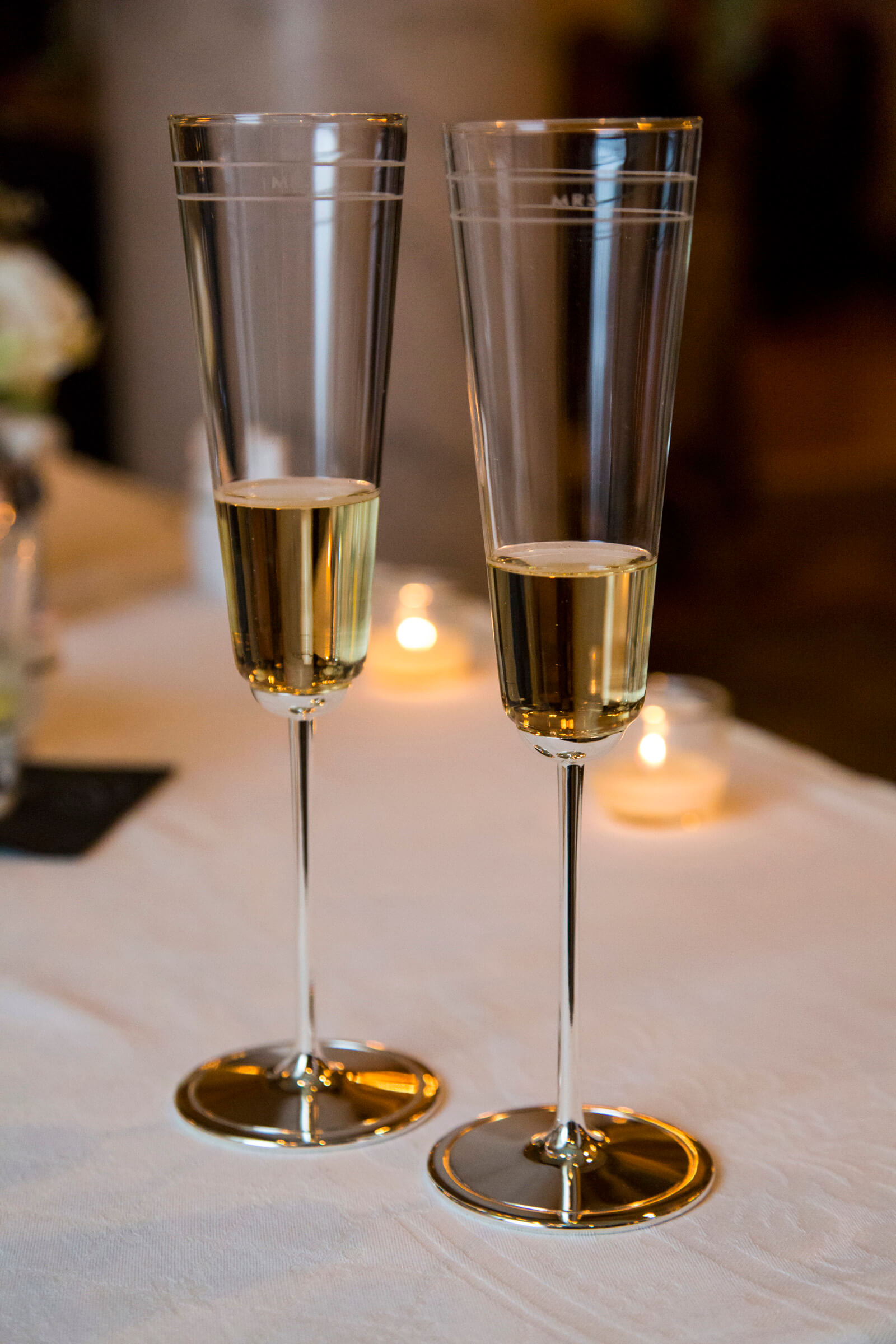 Wedding Design Inspiration Vintage elegance. They came up with the theme while sitting at the Pulitzer fountain outside of the Plaza Hotel in New York City. The vintage elegance of old New York was definitely an inspiration for them.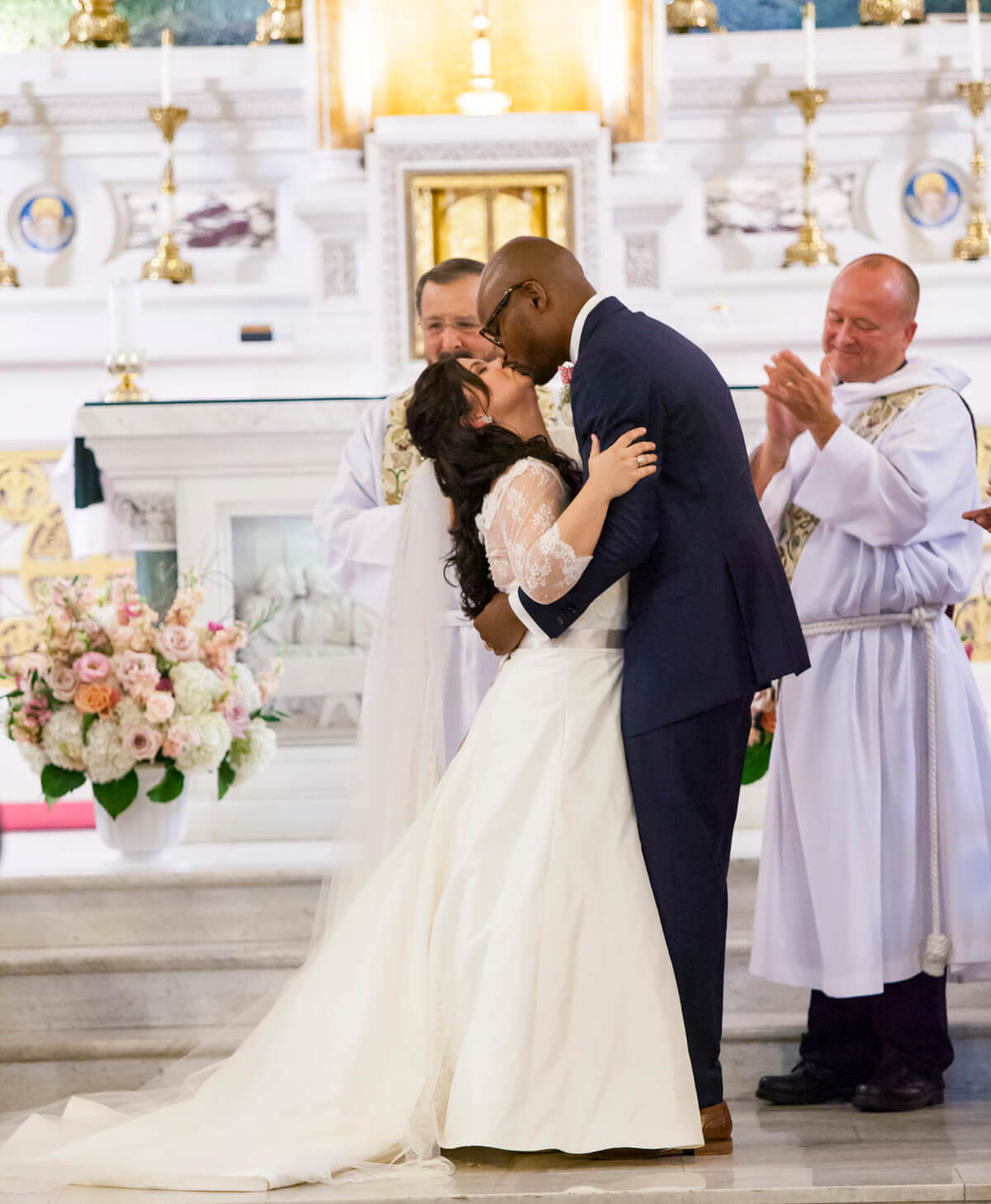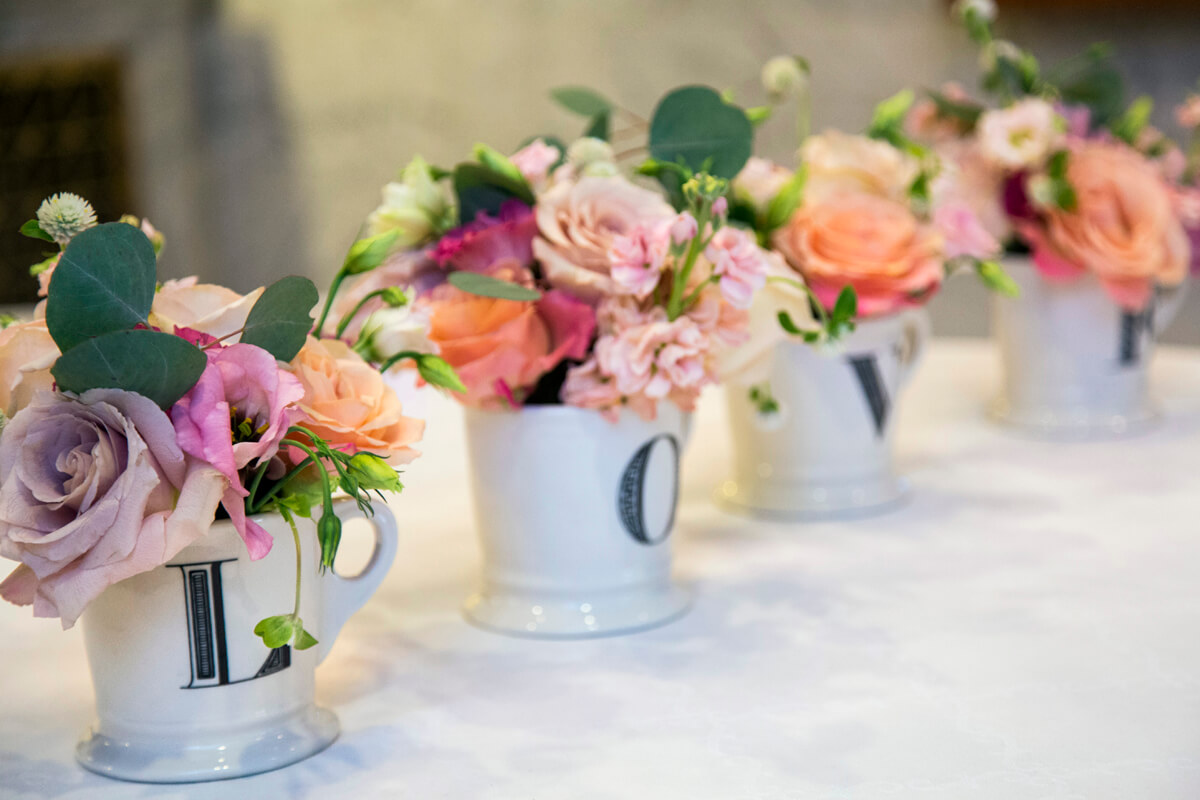 What was Unique and special about your wedding  Our wedding was a combination of various family traditions. They were married at St. Leo the Great Church where Jessica's great-great grandparents were married in 1888. Once they were pronounced husband and wife, they jumped the broom, an African American wedding tradition. Jessica and Jason wanted to create a vintage elegance themed wedding that combined Italian traditions with their love of Baltimore. They had an engagement photo session in Little Italy and hosted their rehearsal dinner at Dalesio's of Little Italy. Wedding guests received welcome bags with the best of Baltimore treats—Berger cookies, Utz potato chips and Goetz' s candy—along with popular Italian snacks such as cans of Pellegrino Italian sodas and Bacci chocolates. Italian themed wedding favors included mini bottles of Prosecco for a toast to "Love, Laughter, and Happily Ever After" and a bomboniere. A bomboniere, Italian confetti, is five sugar-coated almonds tucked in fine lace bags representing five wishes for the bride and groom: health, wealth, happiness, fertility, and longevity. During the reception, the band played the Tarantella and the bride's godmother held the apron while family and friends danced with the bride.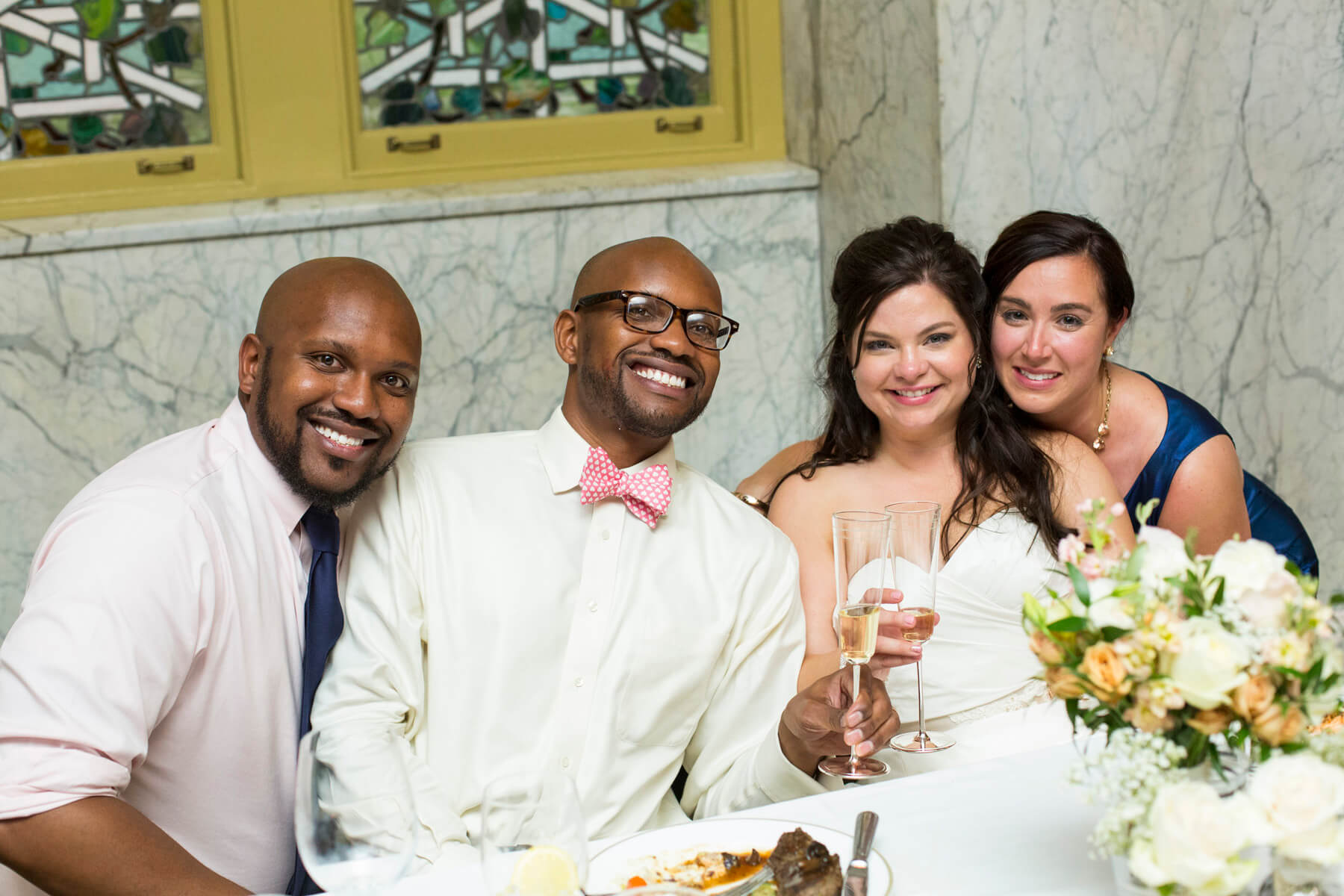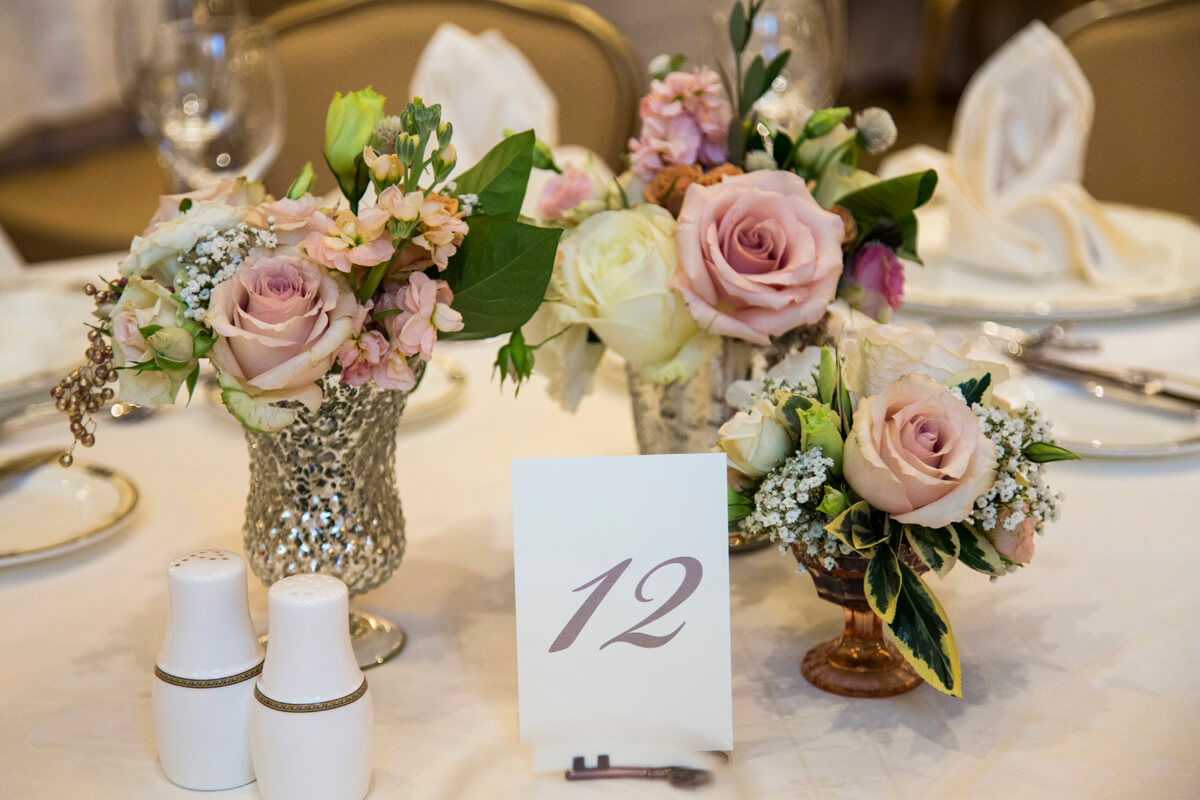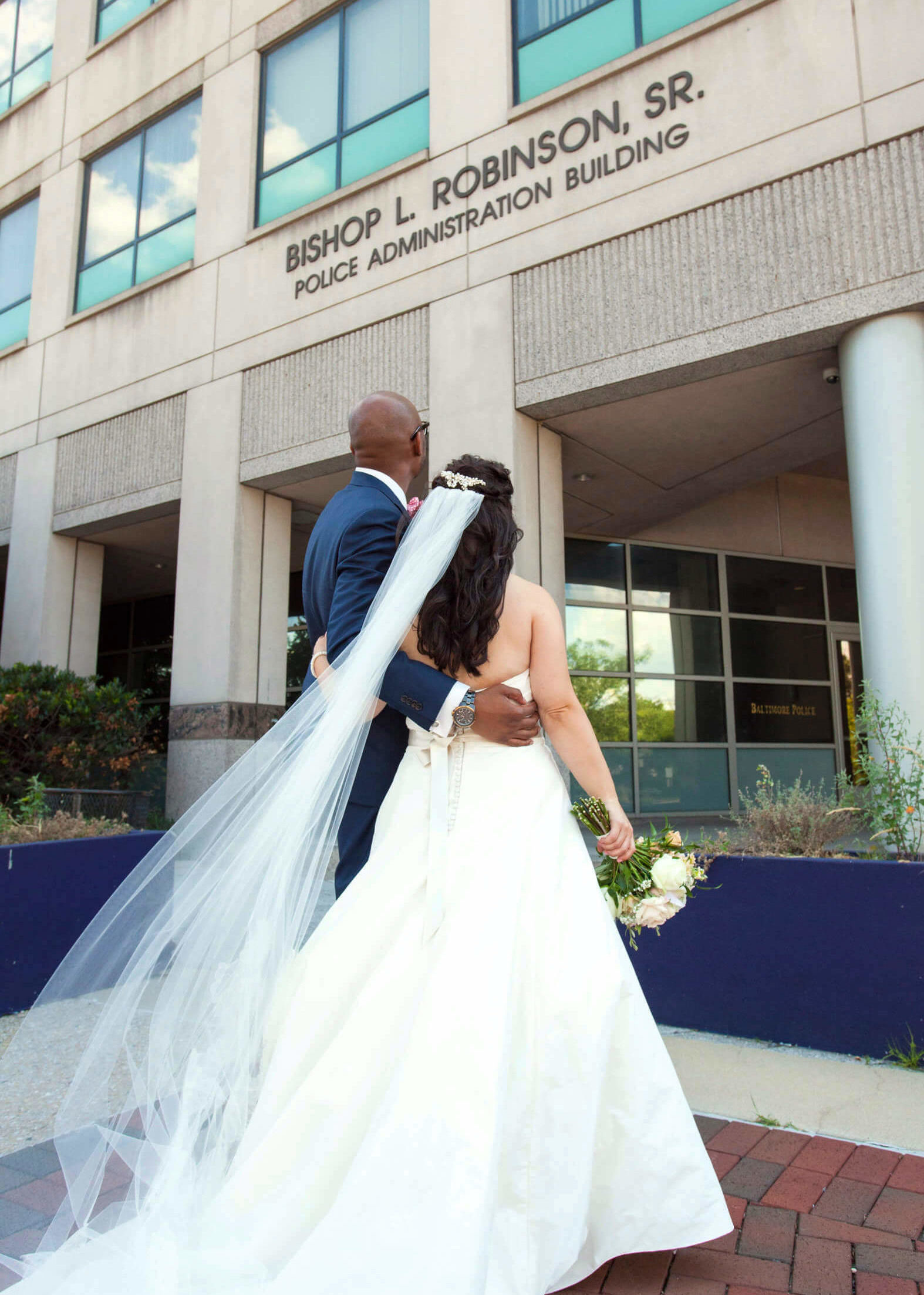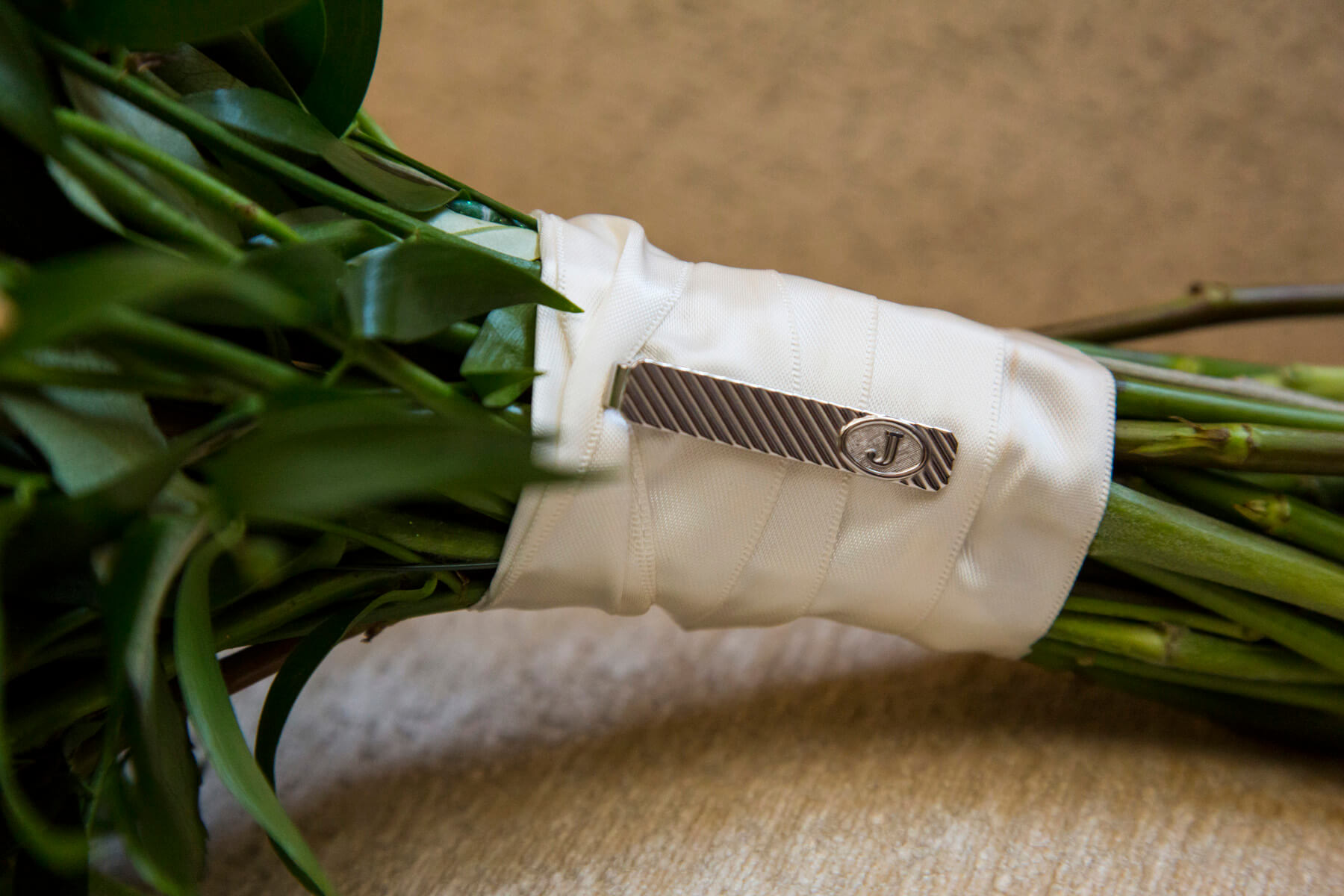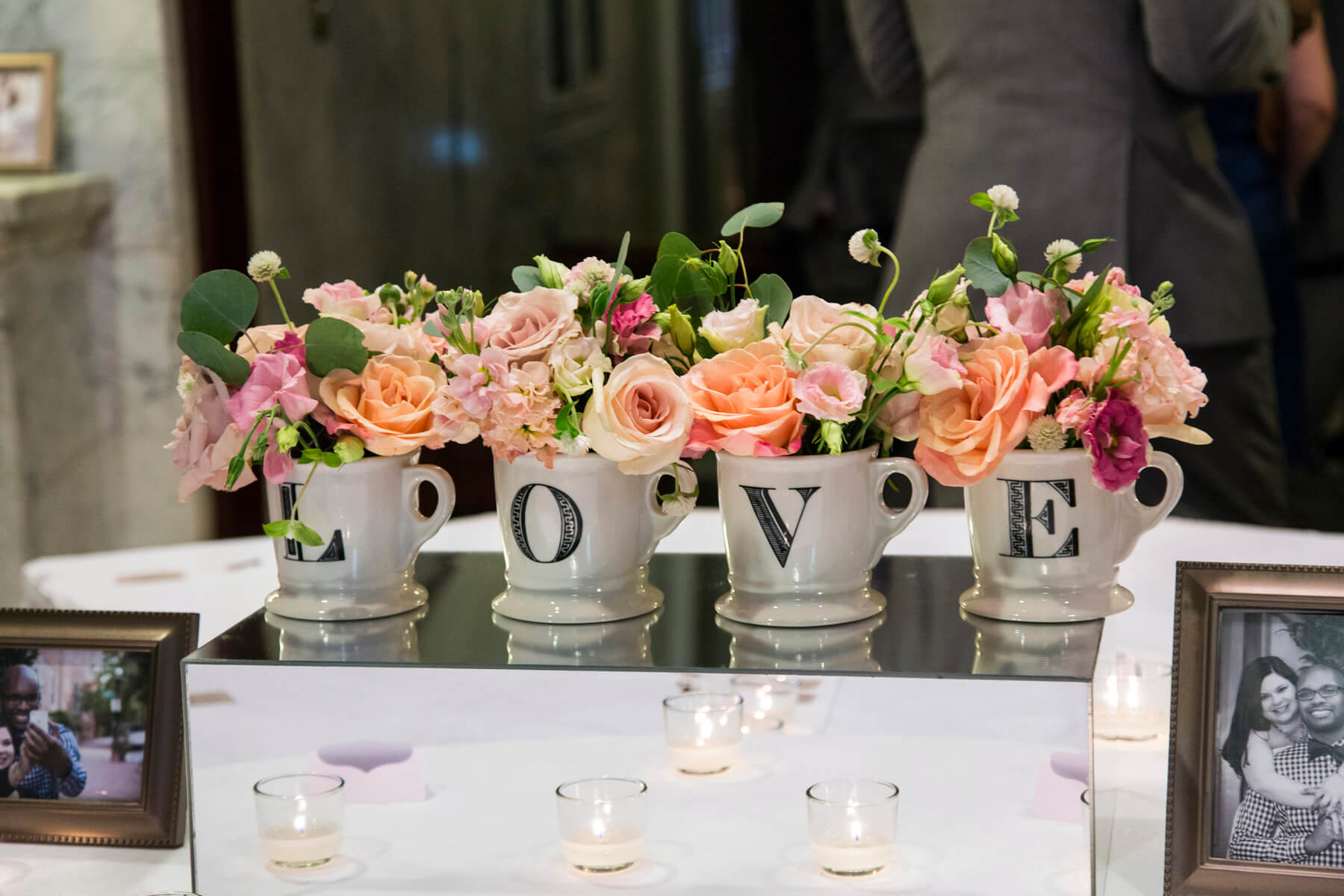 Favorite Details After the ceremony, Jason and Jessica, along with her mom and matron of honor, visited the Baltimore City Police Headquarters building named after her late father, Bishop L. Robinson Sr. Photos were taken in front of the building as a way to include "Pal," as Jessica affectionately called him, in the couple's wedding day. A bouquet was dedicated to her late grandmother. There was a vintage hankie attached with her initial "H" for Helen. Each of the special women in both the bride and groom's families received a vintage hankie that Jessica and her mom shopped the antique stores in Hampden to find. Her bouquet included a tie clip that was her great-grandfather's and grandfather's with their shared initial "J" for John L. Folio.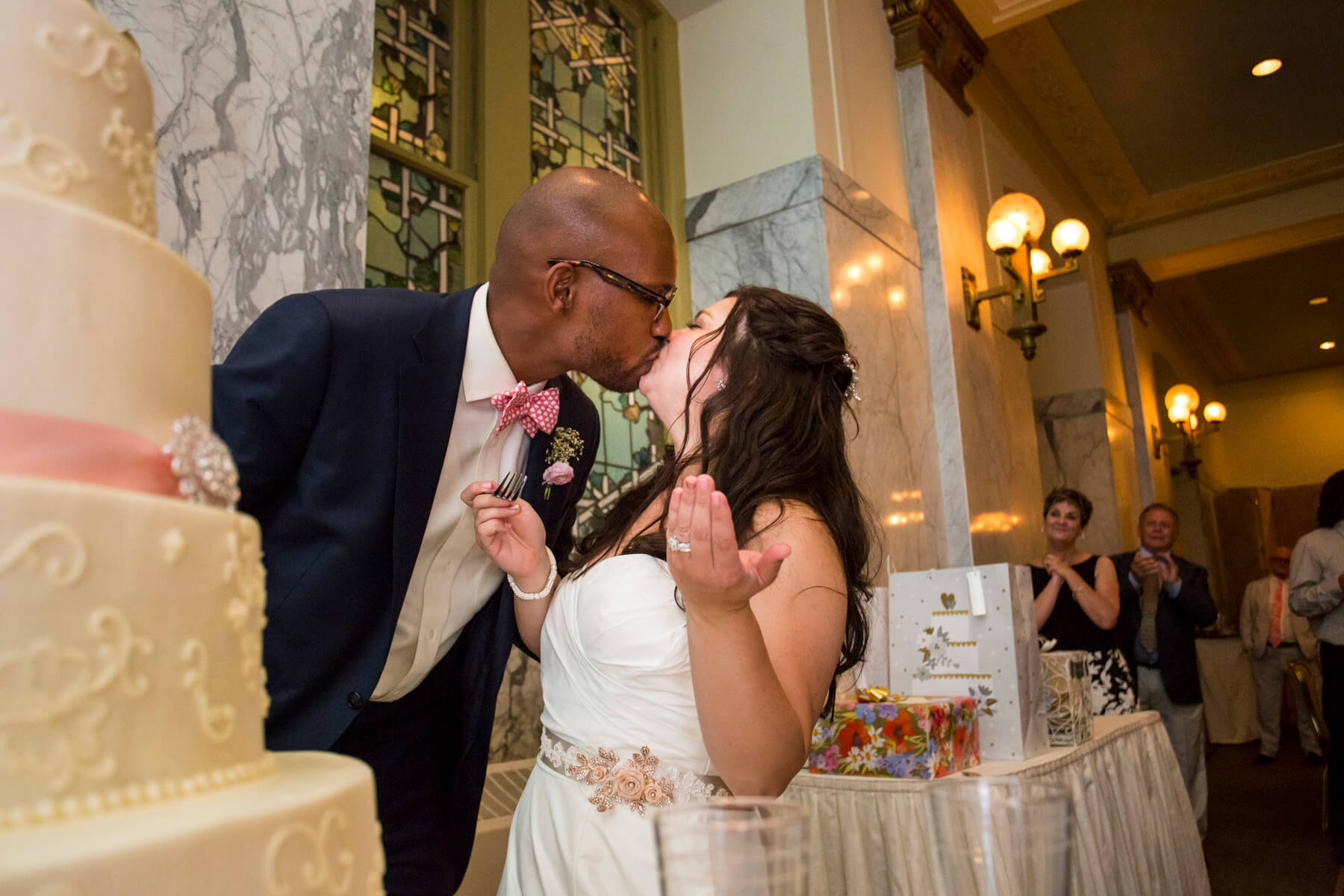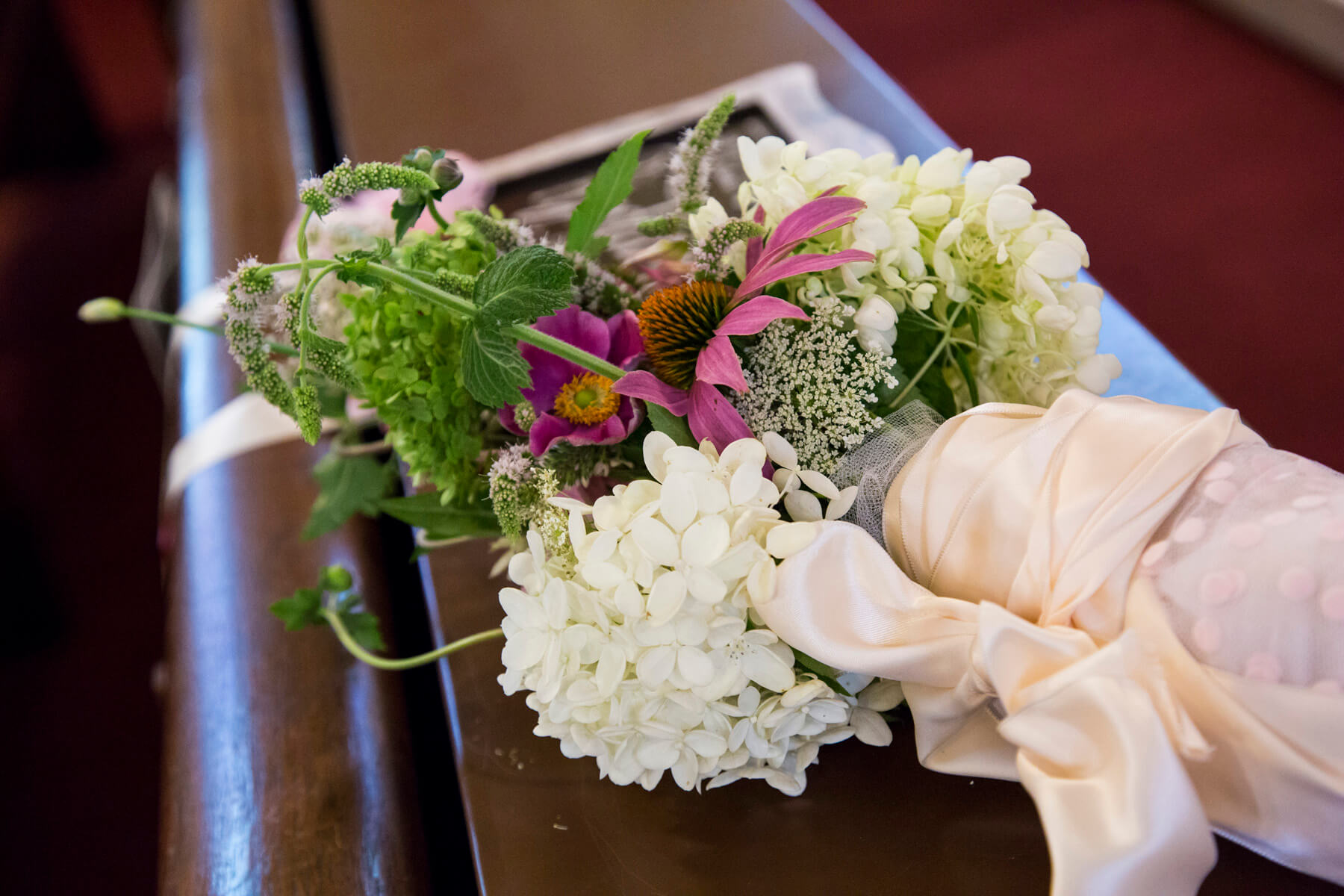 Most Unexpected Event on the Day of the Wedding During the wedding planning, Jason asked Jessica several times not to be late on their wedding day. The morning of the wedding, the bridal party and bride made good time until they got into the limo. Due to unexpected traffic, she was about 20 minutes late to the wedding. Thankfully her matron of honor texted Jason's groomsmen to let him know he need not worry—she was her way.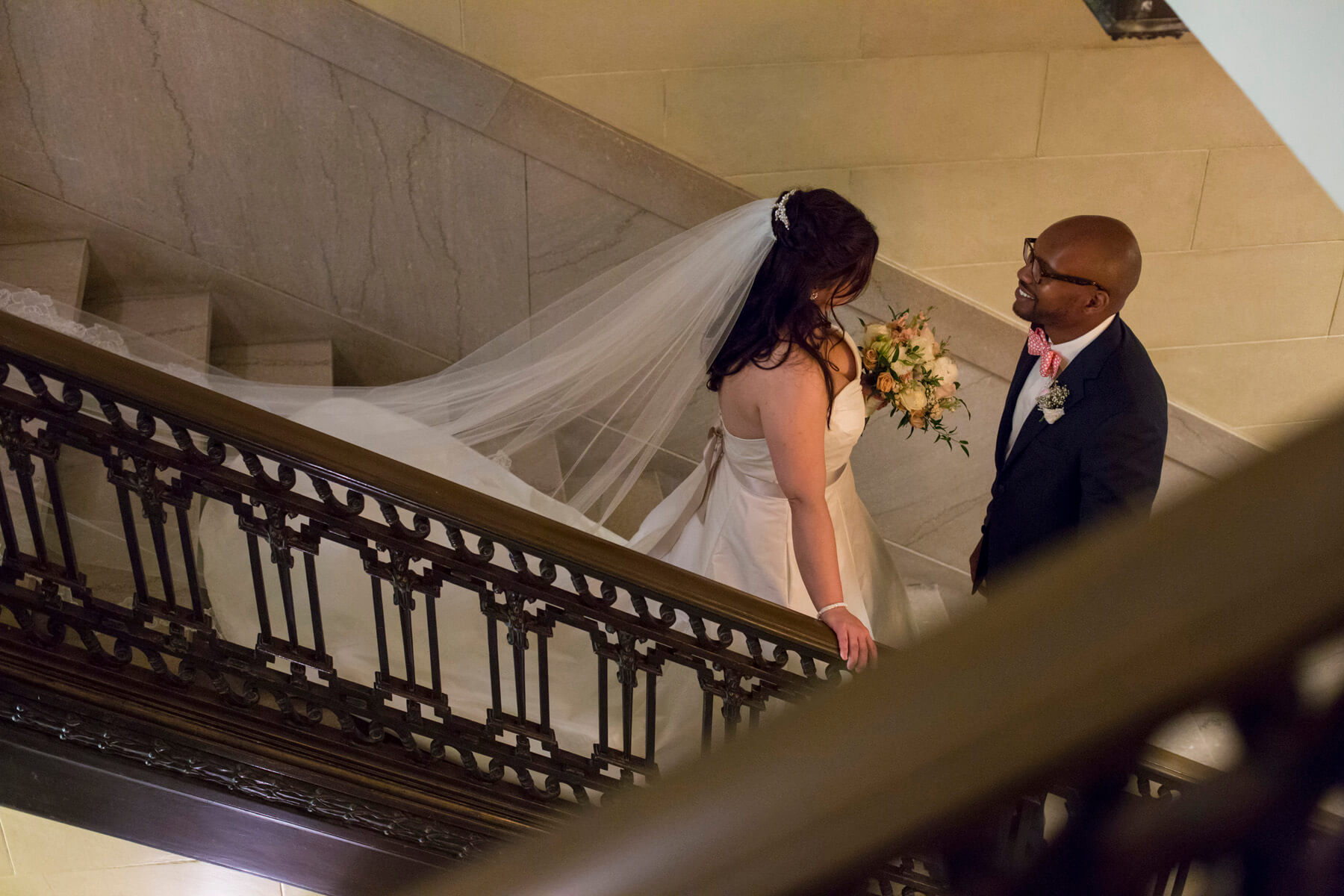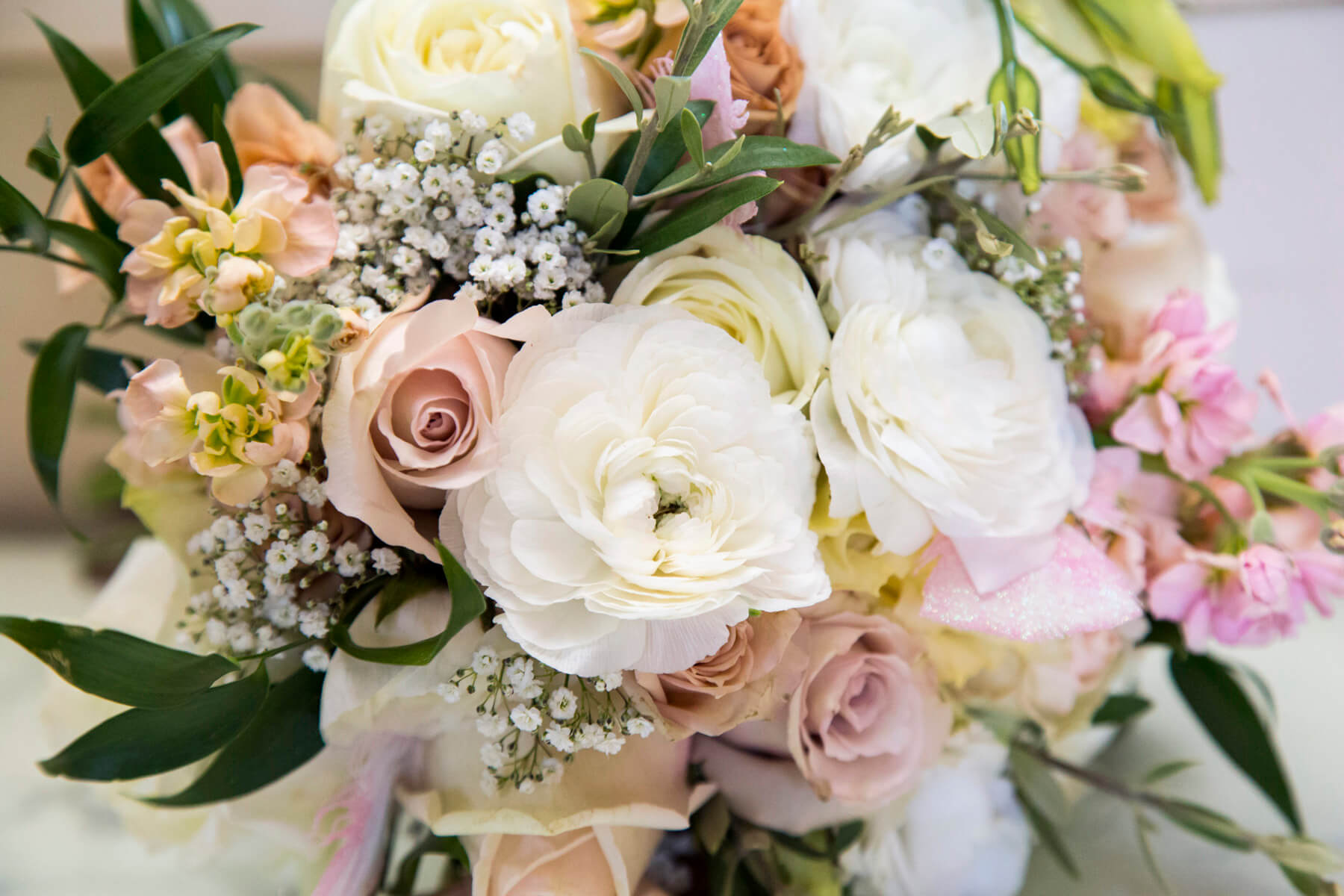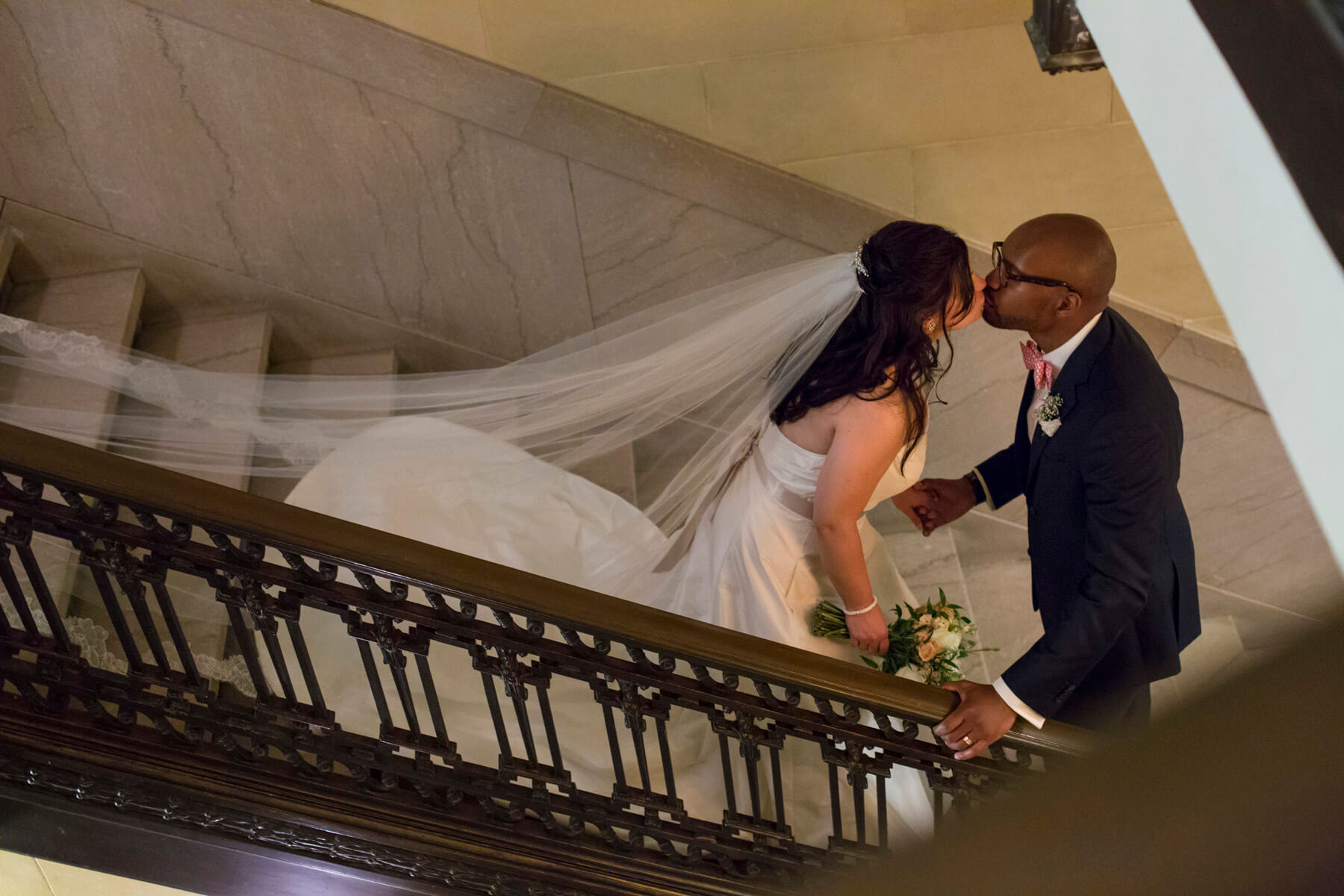 Piece of Advice It's true what they say—your wedding day does go by quickly. Make it a priority to celebrate your wedding day and enjoy the company of your loved ones—don't worry about anything else. They also wanted to spend time on the dance floor and they danced the night away.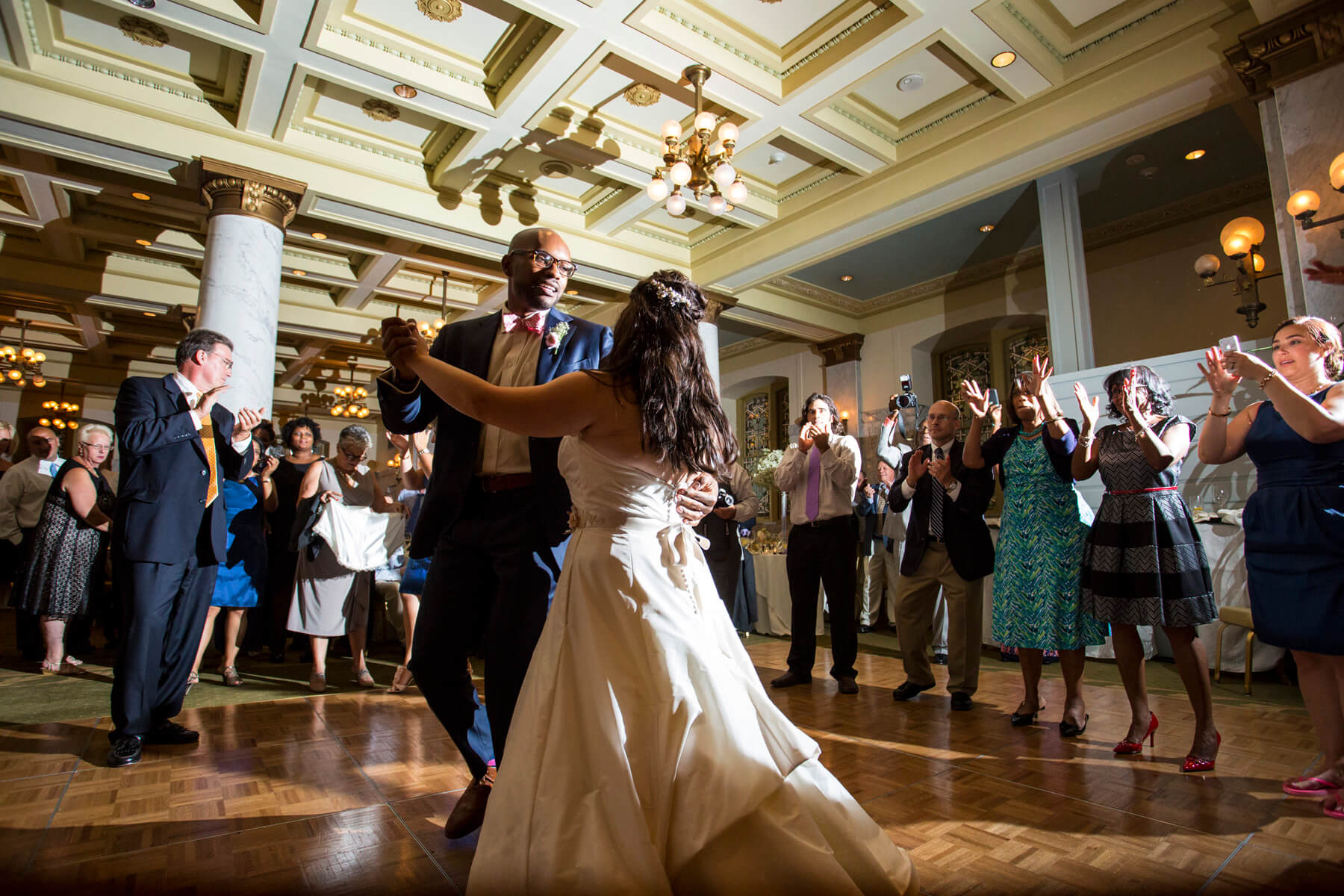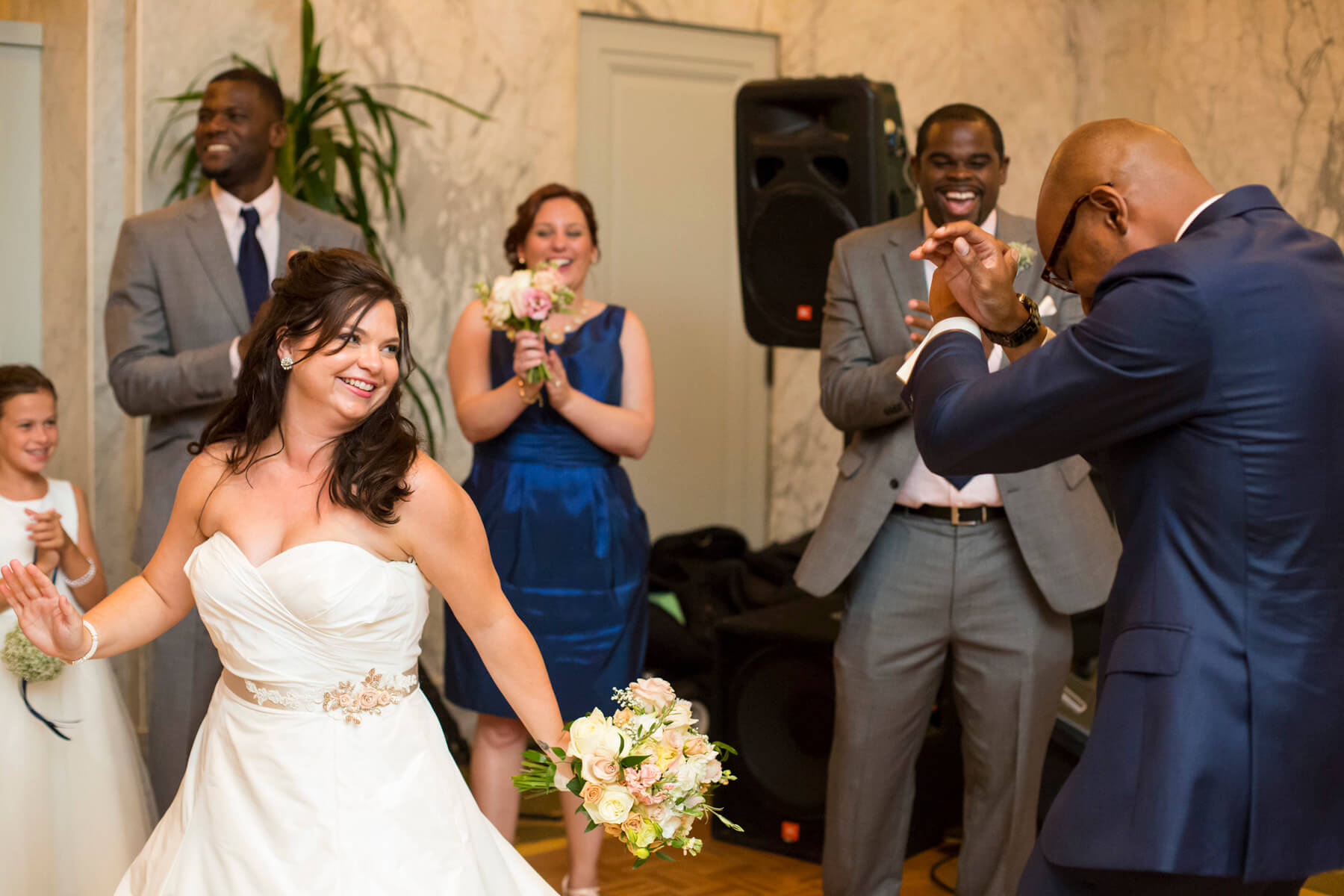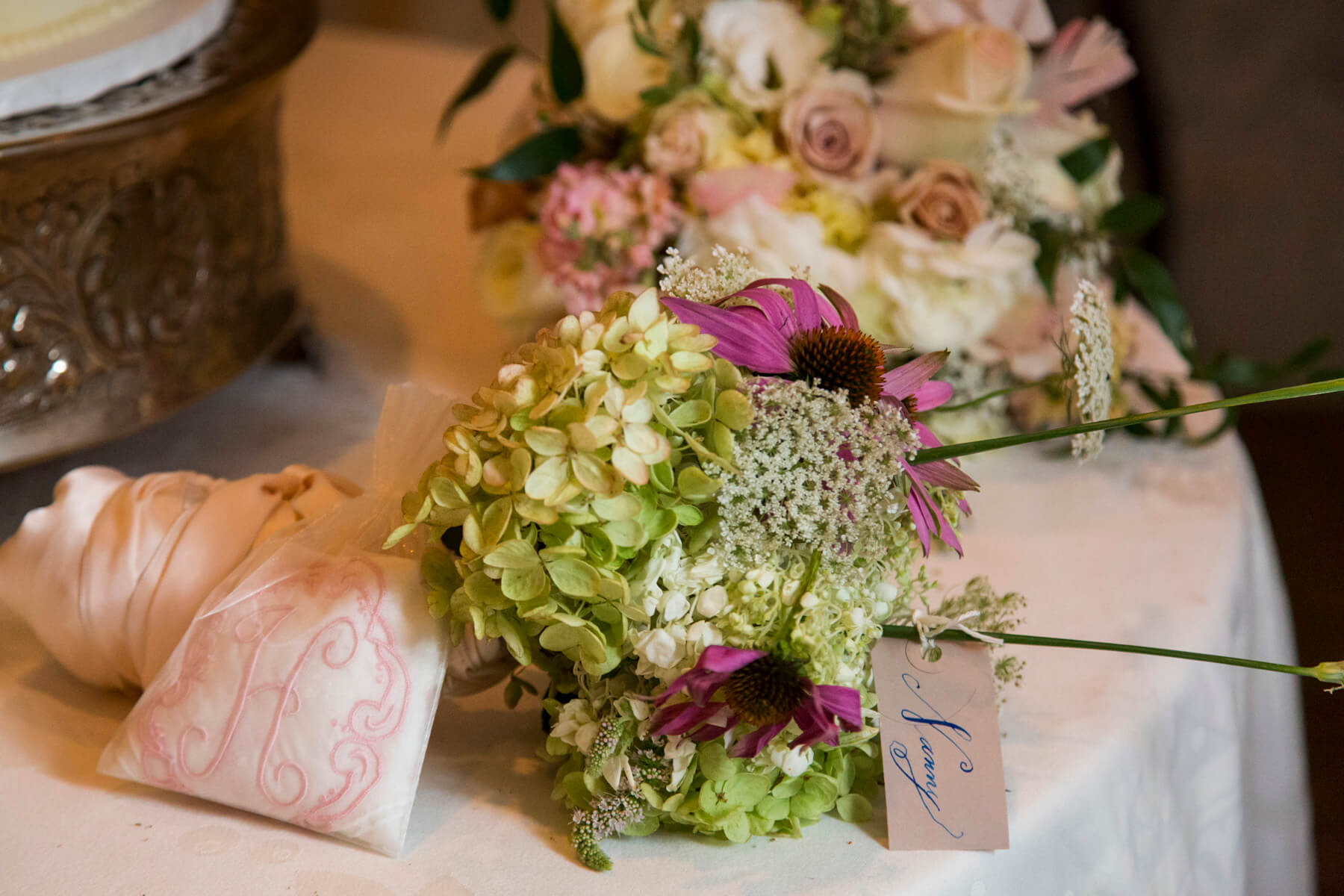 Beauty Dottie from Salon D (hair); Angie Hunt from All About Me Salon (makeup) Bridesmaids  WTOO bridesmaid dresses from Gamberdella's  Cake Baltimore Cakery. Jill is awesome. The bottom layer was their signature "Little Italy" (of course) a cinnamon cake with cannoli cream. The middle layer was signature, Raven, chocolate cake with dark chocolate gnash and the top two layers was the tradition almond cake with raspberry filling and a touch of amaretto. Their cake topper, "Happily Ever After," kept with the vintage theme by adding a touch of fairy tale magic. Caterer The Grand Flowers Flower arrangements continued the vintage elegance theme thanks to the beautiful work of Shawn from The Floral Studio. She created bouquets and centerpieces that highlighted champagne roses and baby's breath to create a vintage feel. With the help of Jessica's mom and aunts, she collected an eclectic mix of mercury glass vases that added a special touch to the centerpieces. The centerpieces consisted of a mix of mercury glass arrangements and a large baby's breath bouquet (inspired by her family trip to southern Italian the summer before). Groom and Groomsmen Napoli navy suit from Suitsupply, pink bowtie dotted with hearts from Vineyard Vines and personalized cufflinks from Stella & Dot (groom); Navy suits and ties and blush colored shirts all from Jos. A. Bank (groomsmen) Honeymoon Sandals Grand Bahamian in Nassau, Bahamas Invitations Invitations from The Paper Shop. Invitations were each addressed by hand in a cultivated cursive by Niki Kilcullen owner of An Heirloom Hand Location St. Leo's Church in Little Italy (ceremony); The Grand Baltimore (reception) Music Music by the band HERO from Hero Entertainment Officiant Fr. Ron Zoubeck Photographer Jason Putsche Photography Transportation American Limousines Wedding Dress Blush by Hayley Page taffeta gown with a lace caplet imported from Italy, cathedral length veil trimmed in lace, and blush colored satin belt with a vintage floral appliqué trimmed in rose gold and pearls, all from Garnish Boutique.