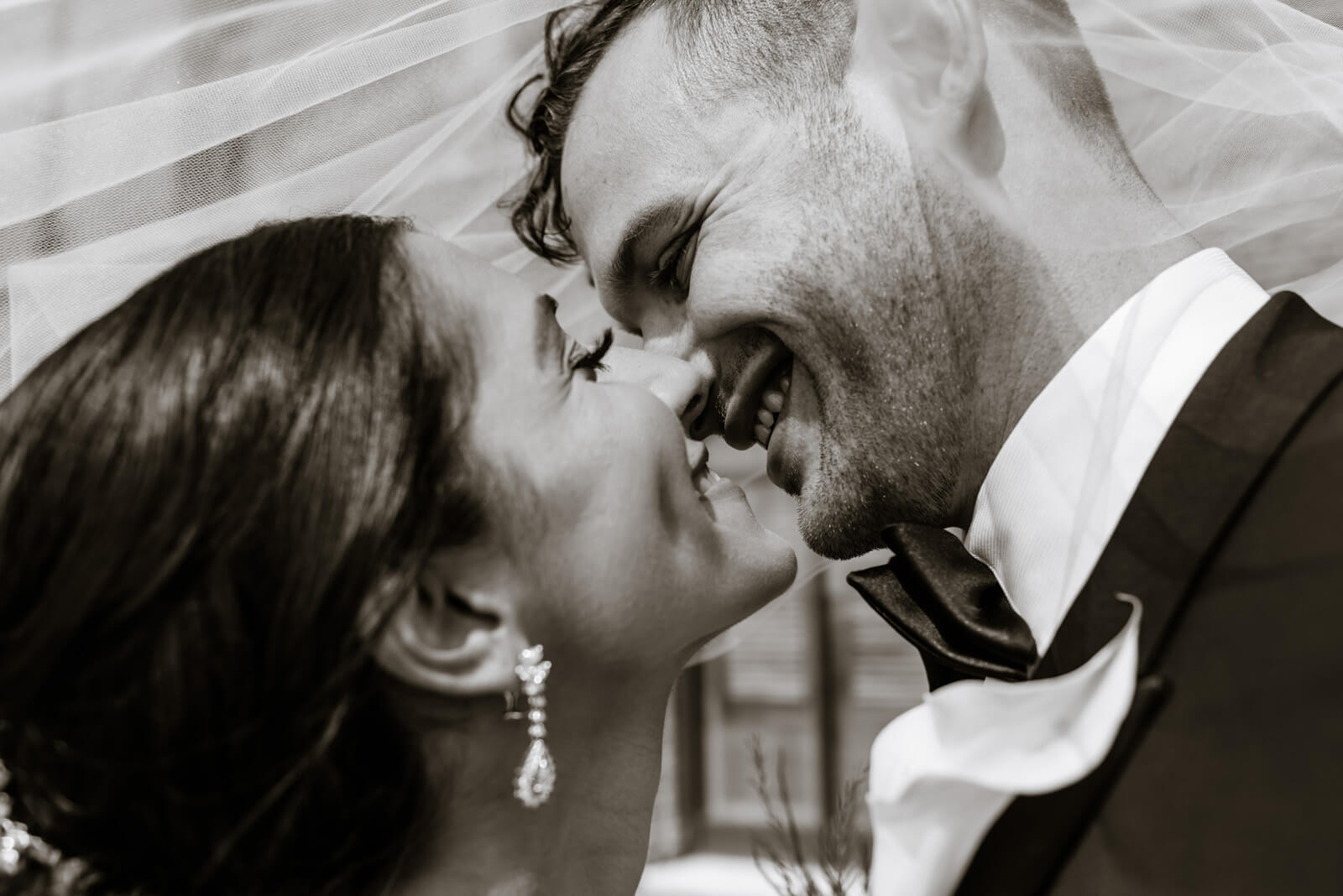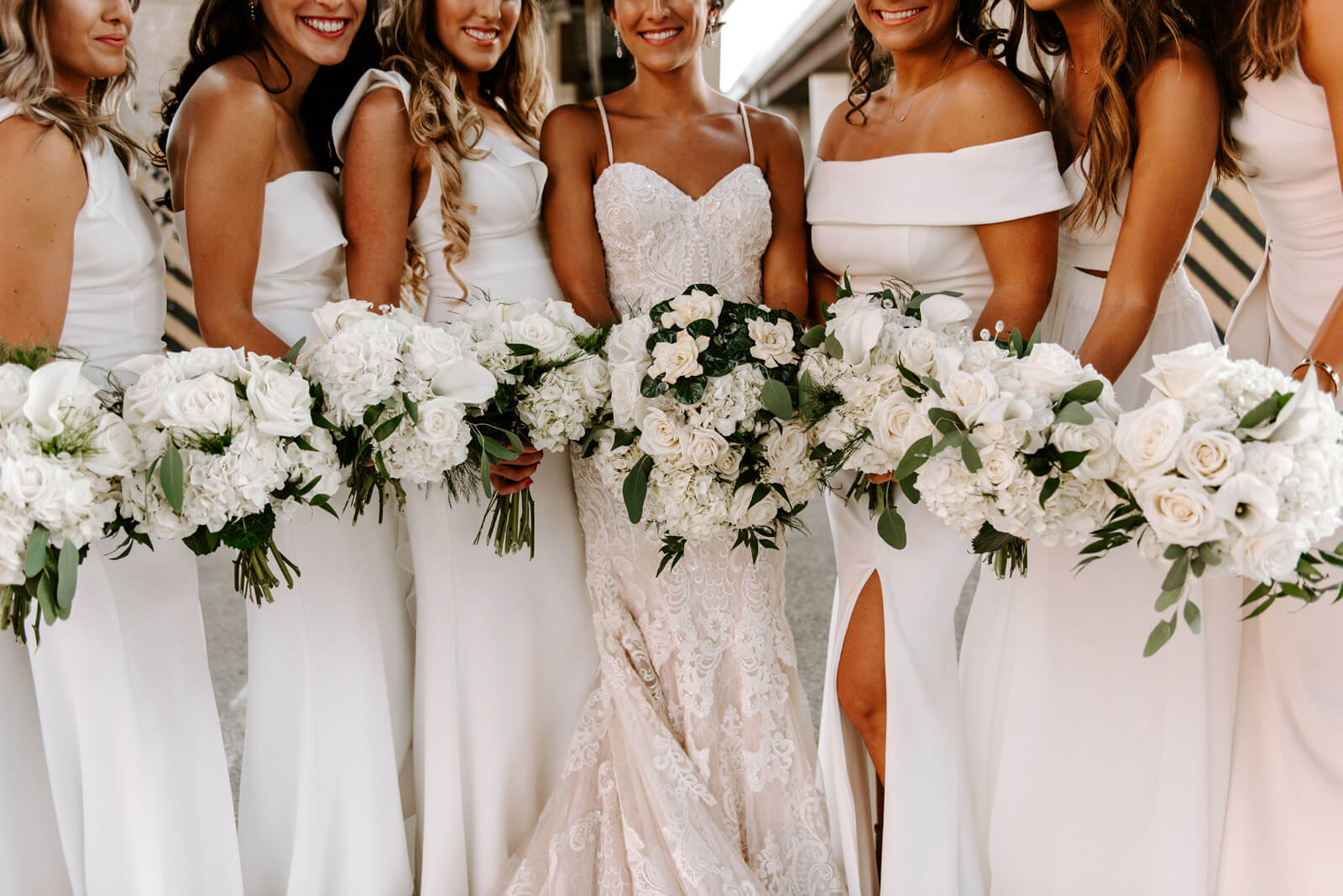 Occupations Talia is an account manager at ThomasARTS; David is an analyst at Fannie Mae
Wedding date August 26, 2018
Number of Attendees 180
Number of Attendants Seven bridesmaids and seven groomsmen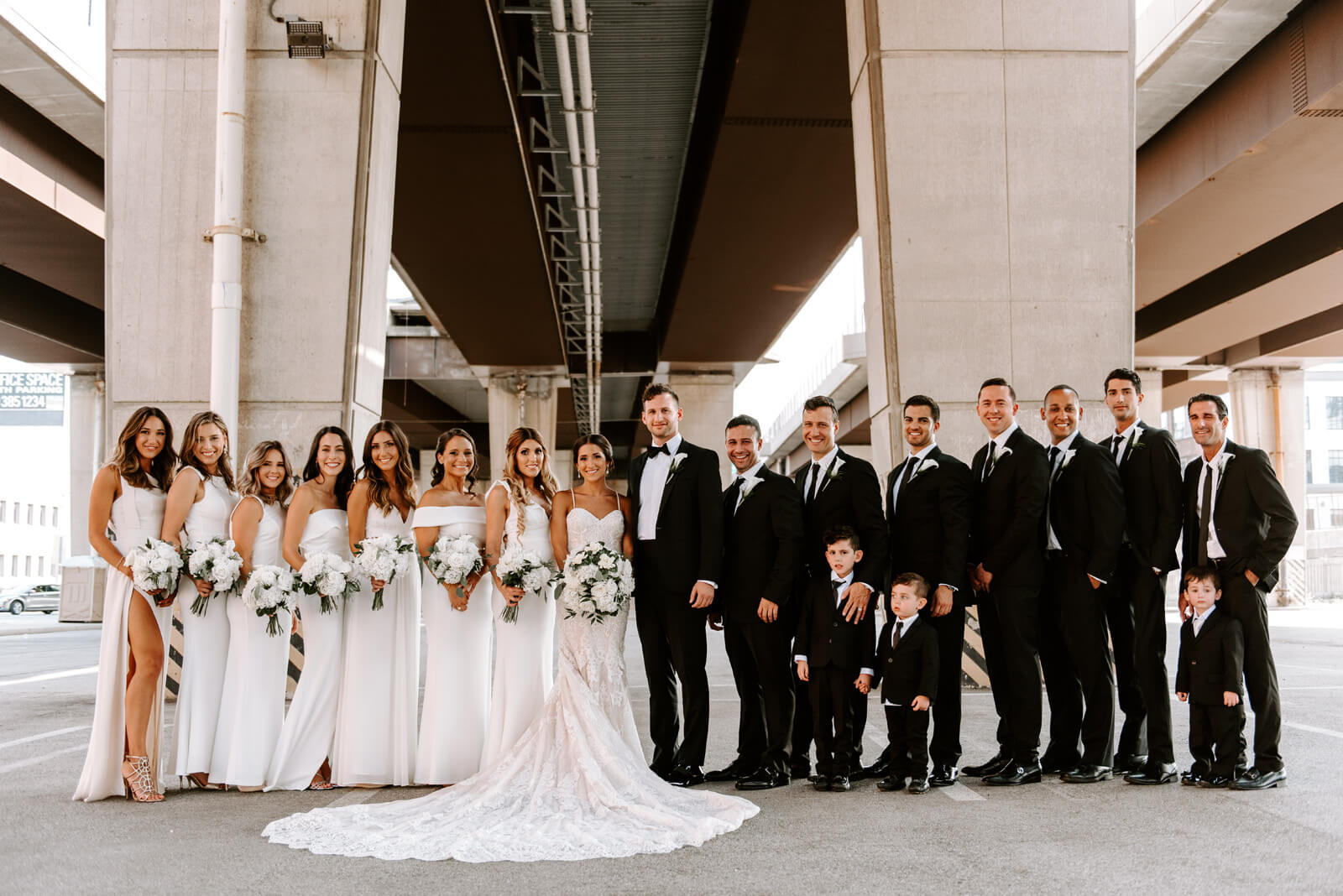 How You Met David grew up with my brother-in-law's family, so we've known of each other for almost 10 years through that connection. My mom and sister have always adored him and wanted us to date for a while, but neither of us were single. Finally, in the summer of 2014, we were both single and he lived in my sister's area in Baltimore, which I visited a lot. When he finally asked me out on a proper dinner and movie date, I said yes, and we basically became inseparable from then.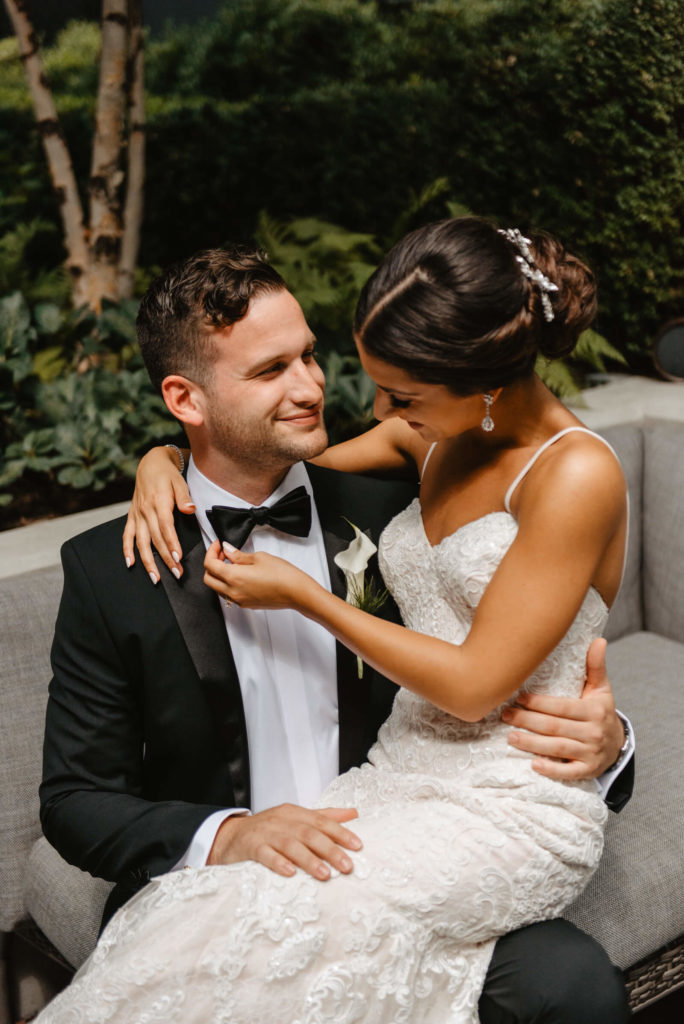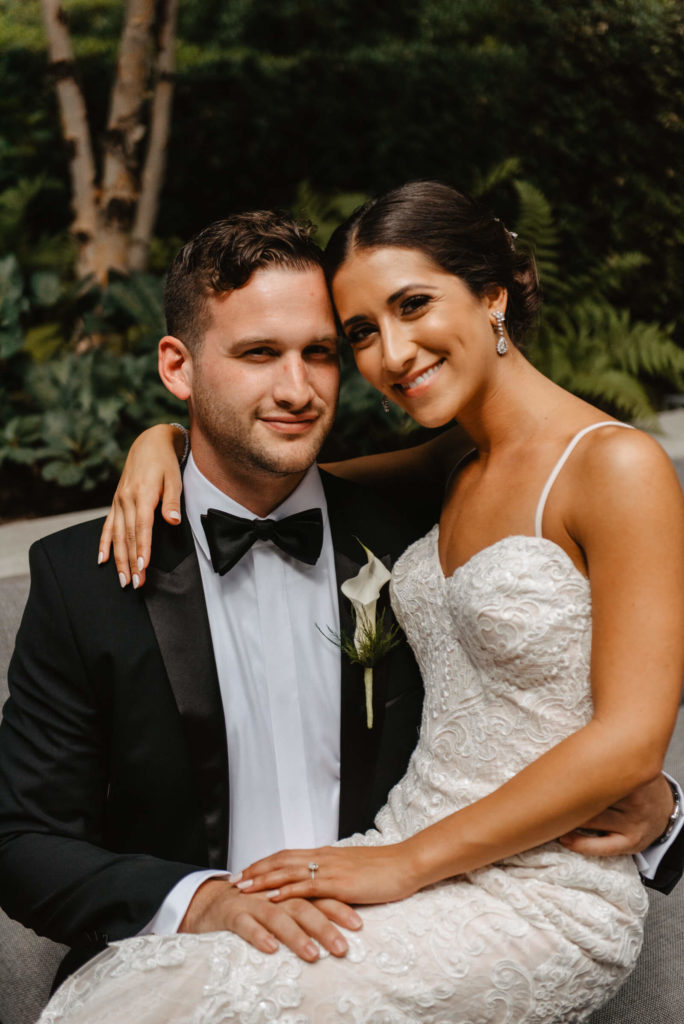 The Engagement David knew that however he did it, I wanted it to be private. The original plan was to go on a hike, but it was a really gross and rainy day so that wasn't going to happen. The backup plan was to take me to a gazebo by the Quarry and do it there. So, when I met him at my sister's house to get ready for a Mother's Day barbeque, he told me we needed to go get flowers for both of our mothers. I had a feeling it was going to happen and was sure of it once he got flustered by the entrance he wanted to use being closed (i.e. no access to the gazebo.) He drove around nervously looking for a spot in a pretty empty parking lot. Finally, I said, "what are you doing? Just park anywhere." He did, and by the time I got out of the car, he was standing by the trunk with a bouquet of flowers. It took a minute for me to process that the flowers were for me and that my gorgeous ring was tied to the bouquet. We hugged, kissed, took a selfie and went to our favorite sushi restaurant that we went to on our first date. When we got back to my sister's house, we had totally hijacked Mother's Day and the barbeque turned into a L'Chaim, which is like a mini engagement party with the families and close friends.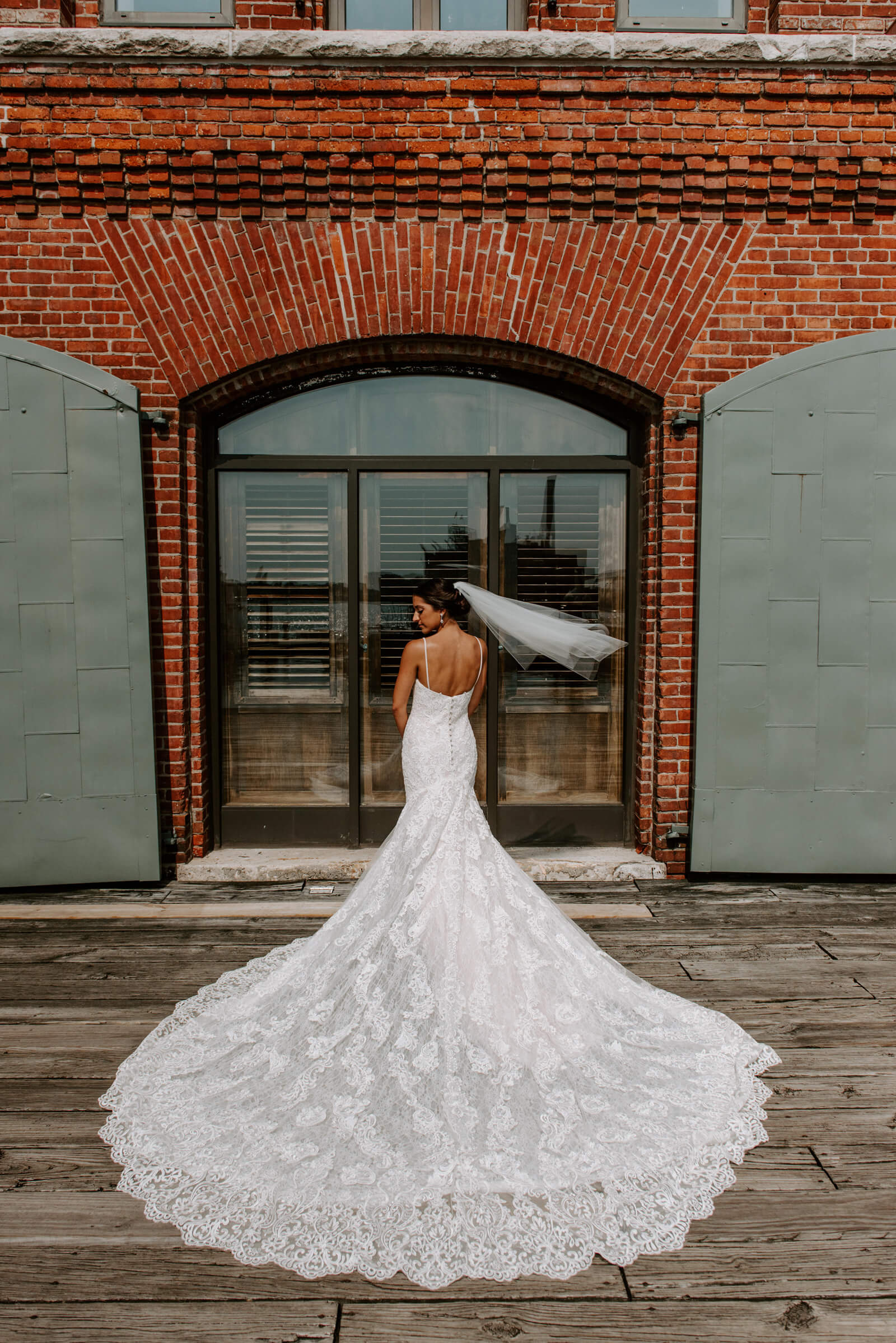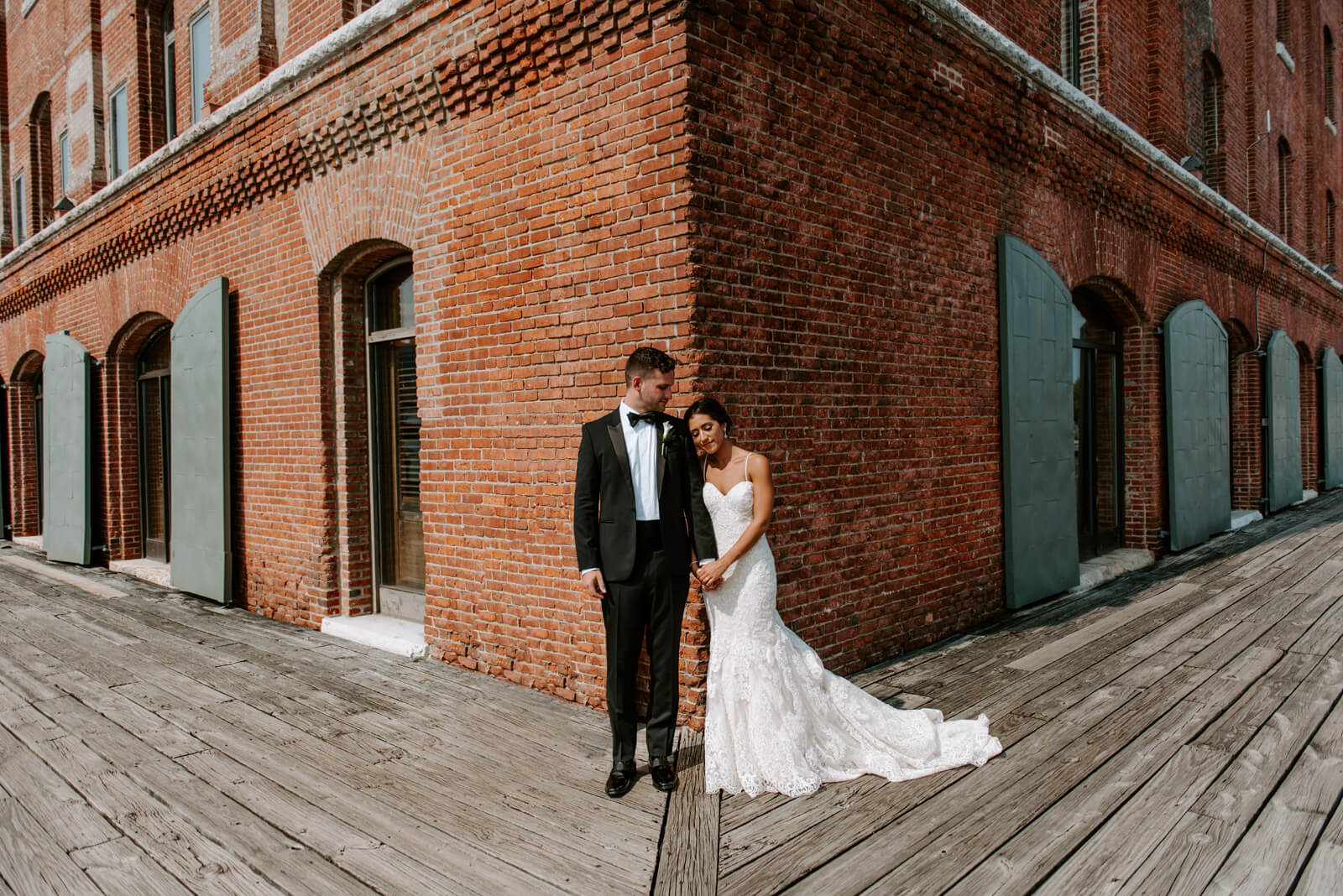 Wedding Design Inspiration Surprisingly enough, I was never one to dream up my wedding. I didn't have any specific design inspiration . . . Pinterest has never been my thing. We both knew we wanted to find an above-ground, completely indoor venue with lots of natural light. When we walked into The Winslow we both knew right away. It matched our shared aesthetic perfectly and checked all our boxes. With the industrial vibe of the venue, I knew I needed lots of feminine and light accents to make it feel truly special. That combined with what I call "color anxiety," we went with a black and white theme that totally elevated the space and created such a beautiful, romantic glow for the entire night.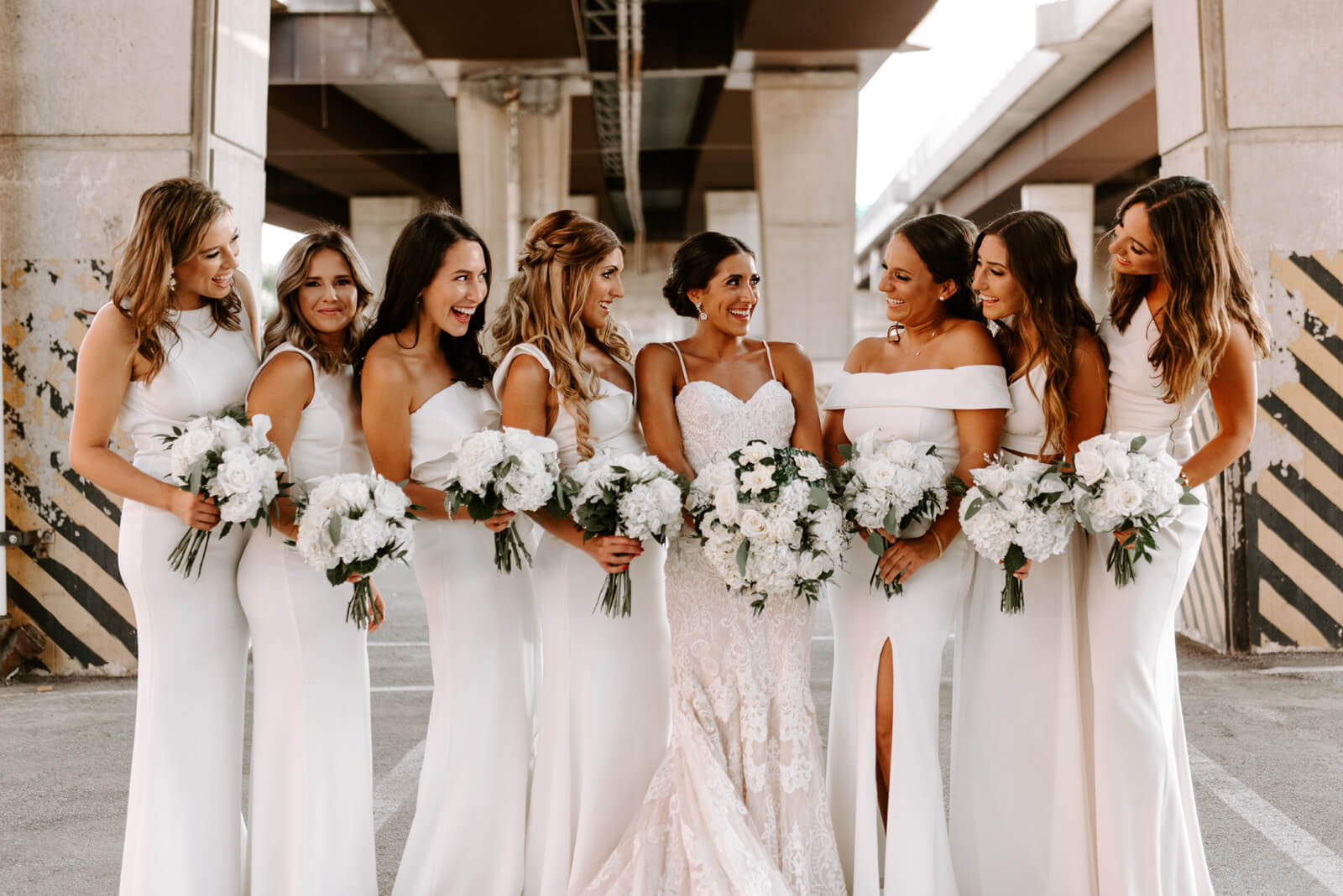 What Was Unique and Special About Your Wedding Day Most traditional Jewish weddings have 300-400 guests. We were really adamant about having a smaller wedding. We wanted to stay present and celebrate our marriage with our close friends and family without feeling overwhelmed. We even had my sister's father-in-law officiate the wedding, which was super special to us, as we are both very close to him. The whole night just felt so incredibly intimate and perfect, and I think our guests noticed and appreciated the decisions we made to create that effect.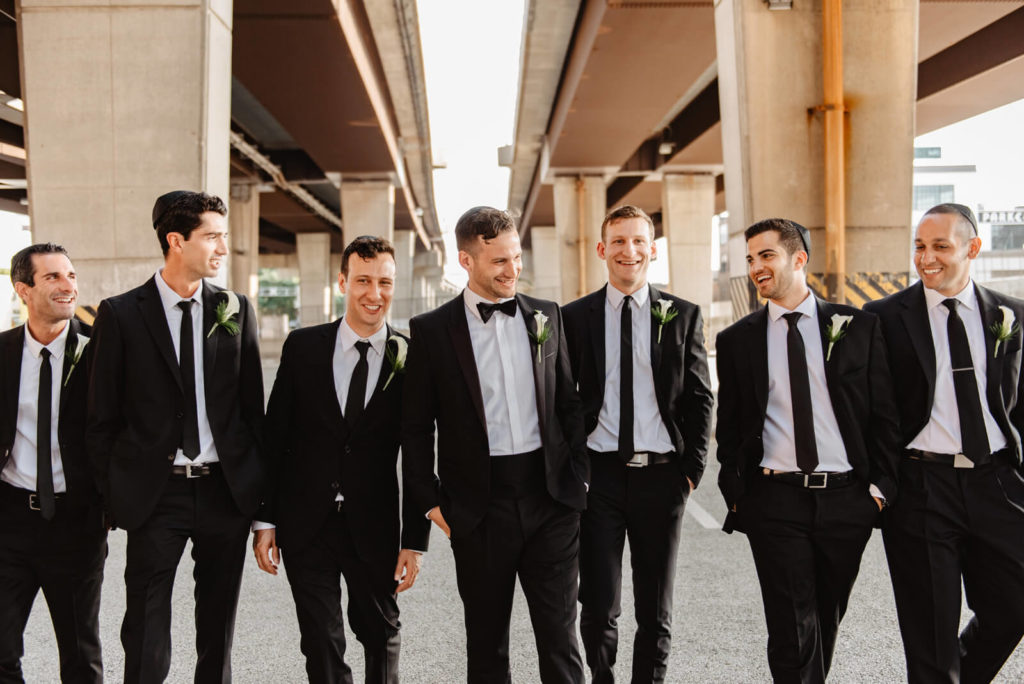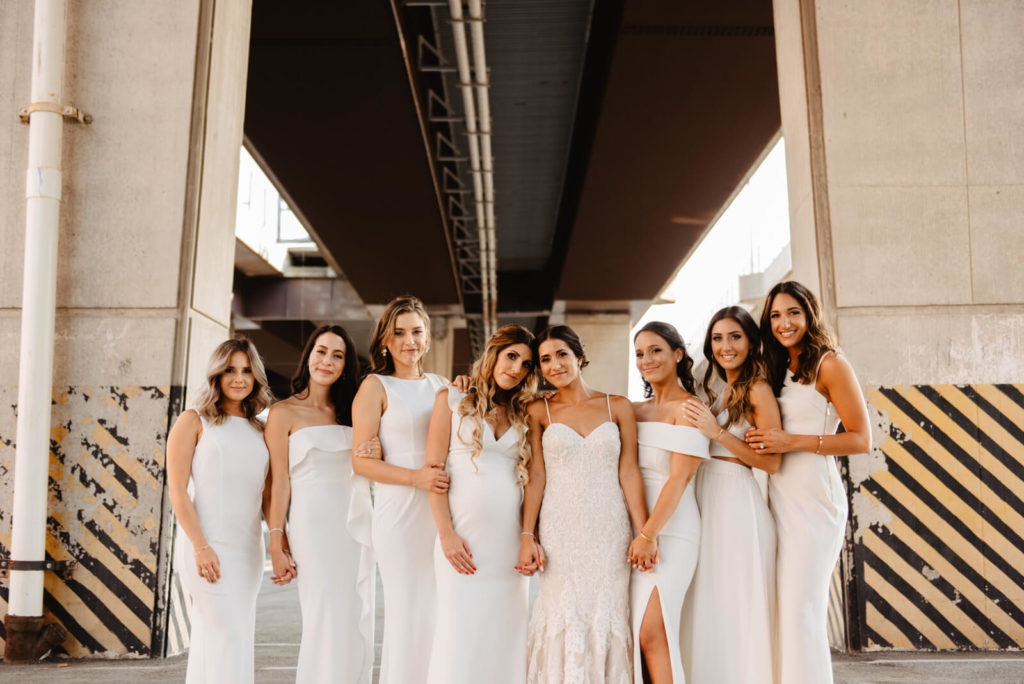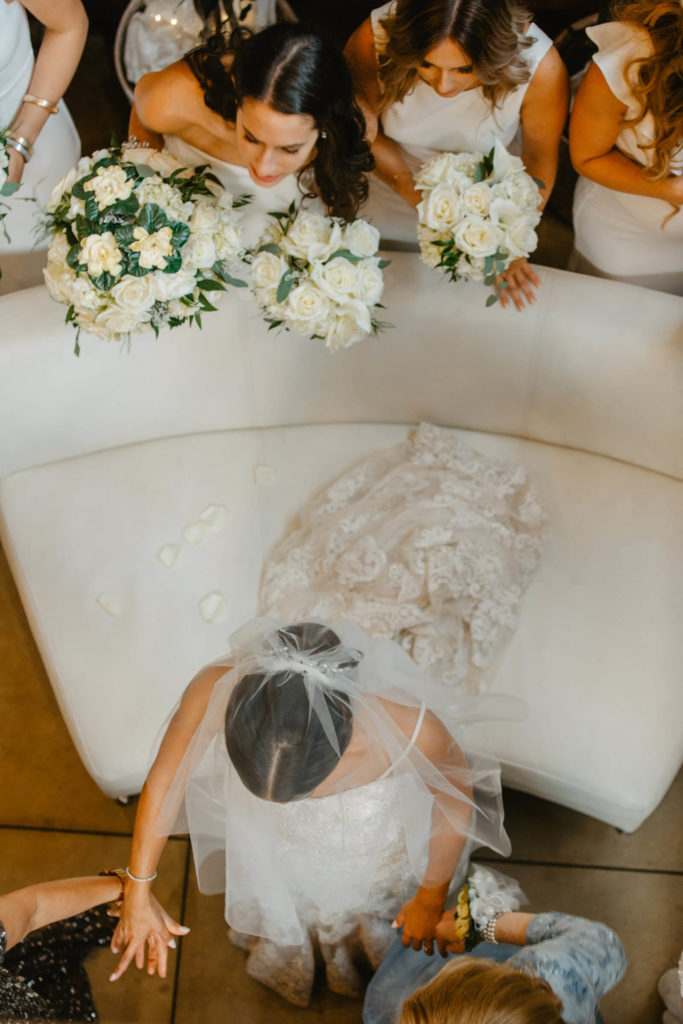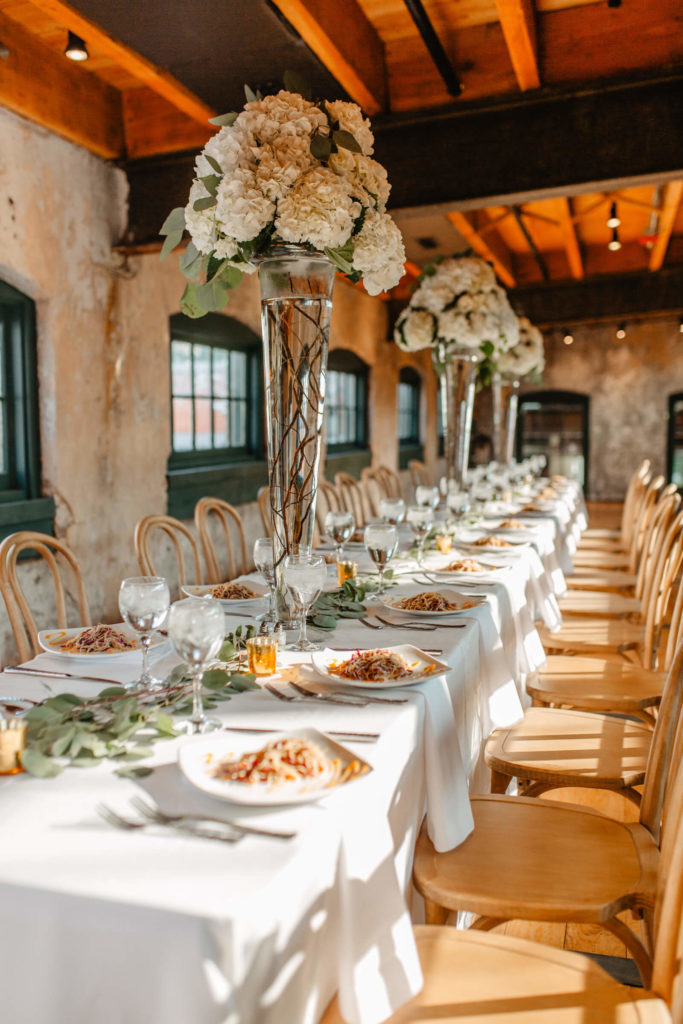 It is a Syrian-Sephardic Jewish tradition that the bridesmaids wear white. In traditional Syrian-Sephardic weddings, the bridesmaids are your unmarried friends, and I think the idea is that they are giving the single guys a little preview of what they would look like as a bride. My mom and all of my aunts on my dad's side had their bridesmaids in white, and a few of my cousins did too. It's not something you have to do, but with my aforementioned "color anxiety," I always liked the idea. Against the tradition, my married bridesmaids wore white too. I made a mood board for my bridal party, so they understood the difference between a white bridesmaid dress and a wedding dress. I also had to make sure that whatever dress I chose, it stood out, so that's why none of their dresses had any lace or beading. I will never forget the moment I spotted all of them standing in the parking lot together, I literally gasped and whispered to David, "Oh my god, they all look like Victoria's Secret models," and they really did. I couldn't be happier with how the white dresses turned out.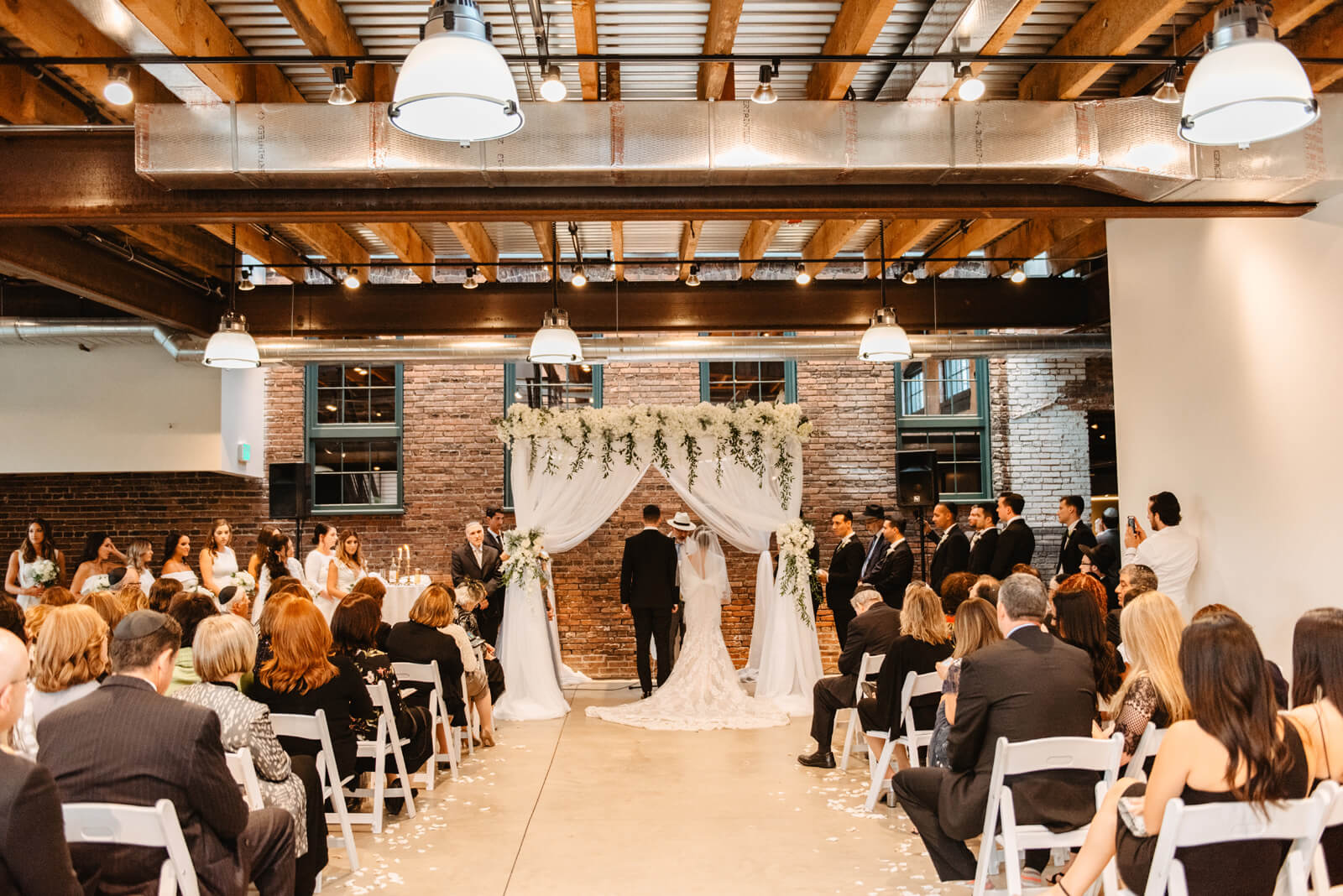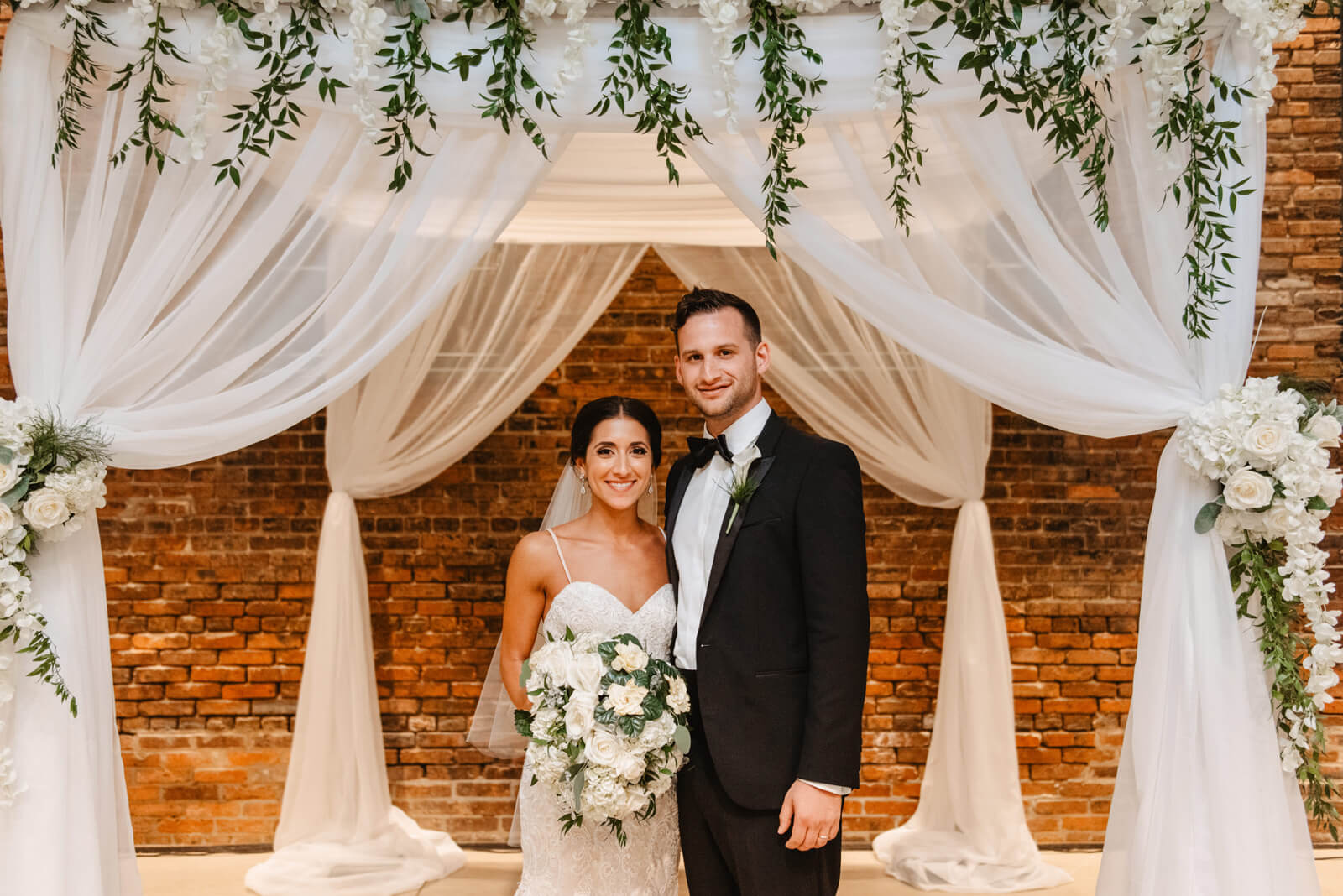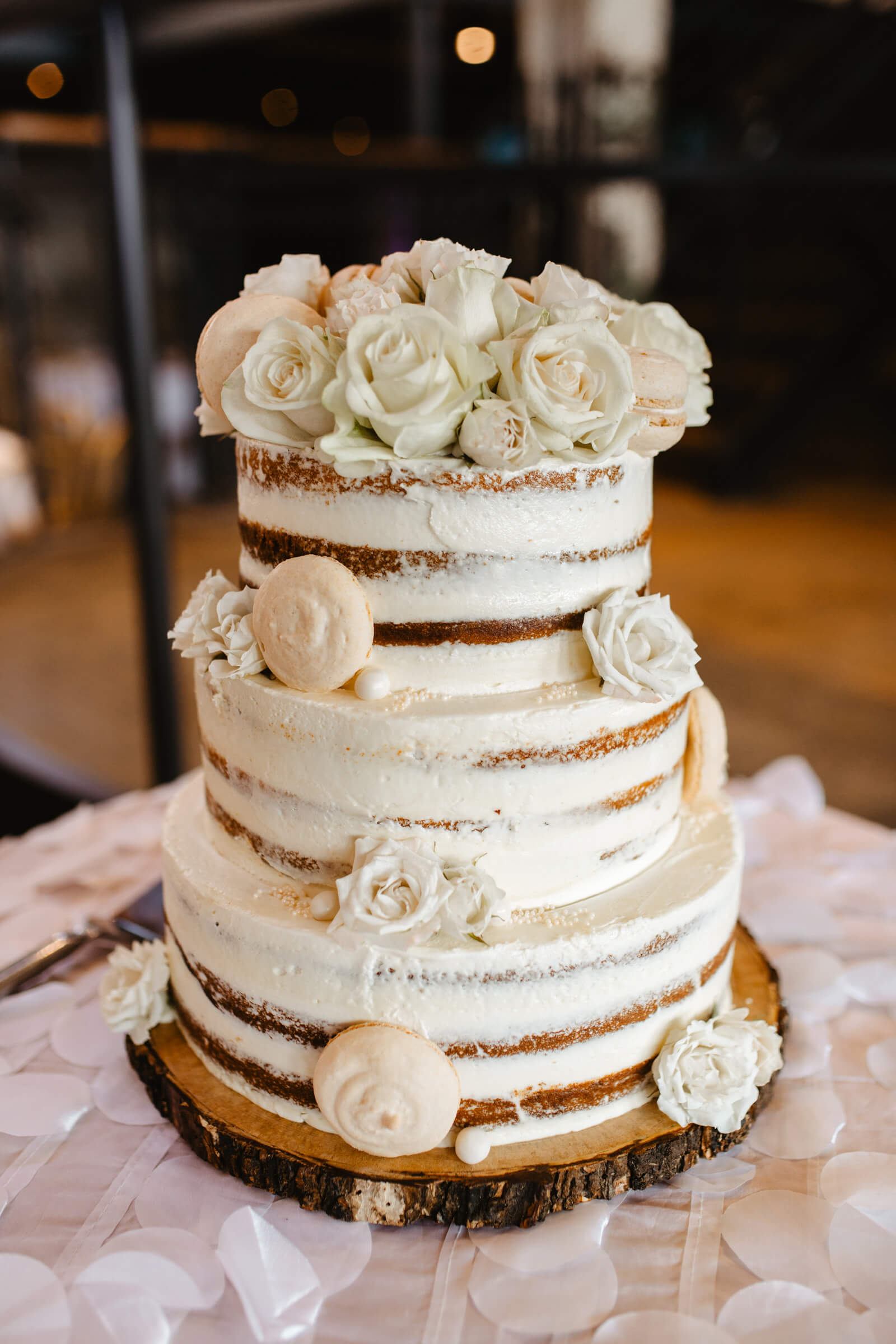 Favorite Details David hired one of his favorite singers, Charles Muhlbauer, who sang all of the Hebrew songs beautifully. There are a number of customary Hebrew songs that can be sang in various ways, so we spent a lot of time making those decisions. We both had a number of English songs and singers we wanted to include in the ceremony as well, but to make them flow with each other and the Hebrew songs, we omitted all of the English lyrics. We also wanted the band to only use piano for the entirety of the ceremony, and they did a fantastic job creating the sheet music for it. We had everything flowing seamlessly from Frank Sinatra's "Fly Me to the Moon" to Lady Gaga's "You and I" and even a mashup of "What a Wonderful World" and "Somewhere Over the Rainbow." It was pure magic. The sunset as we stood under our chuppah creating the most stunning glow. I was expecting to feel nervous for this part of the night, and in reality, it was so calming and warm . . . it was an unforgettable feeling.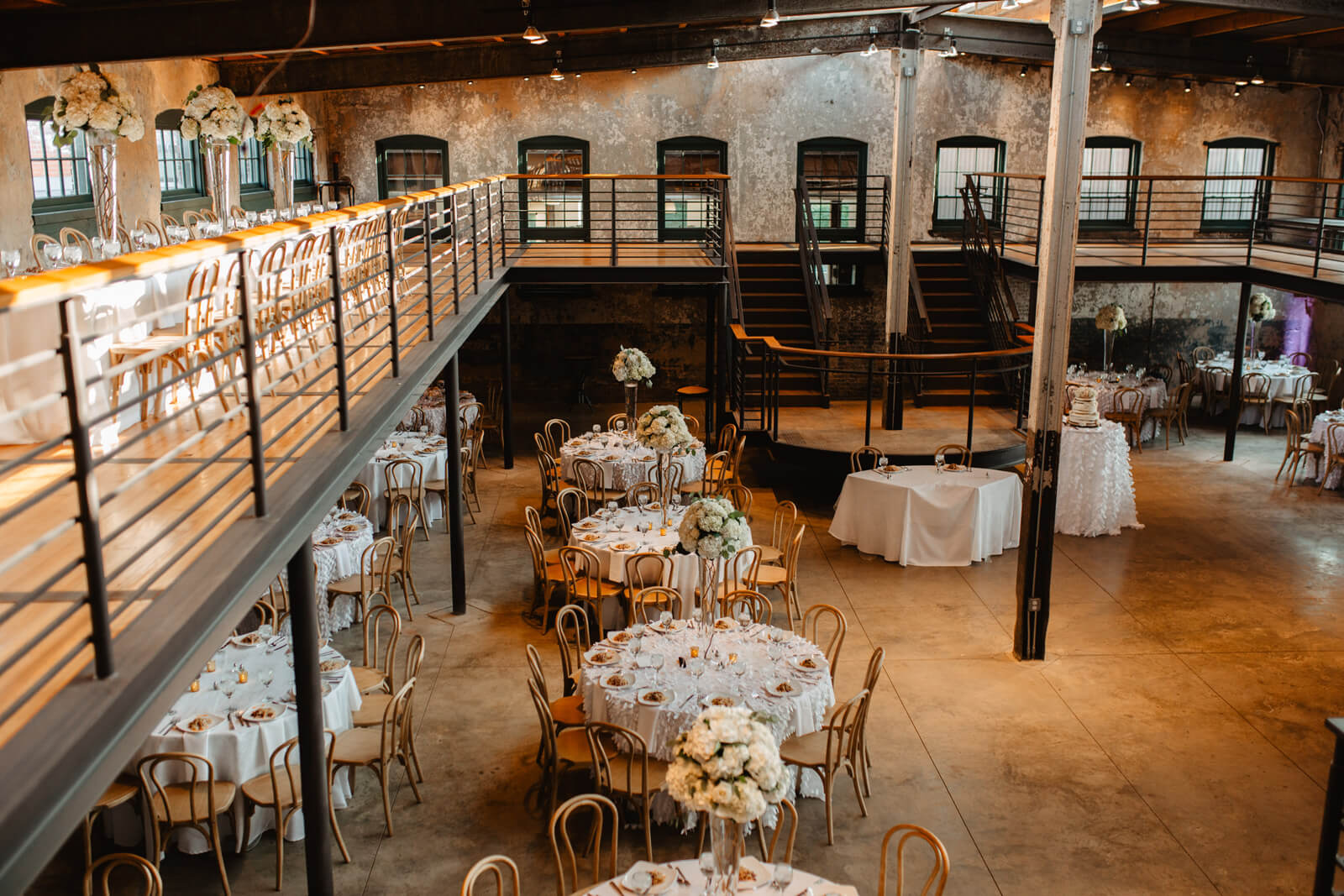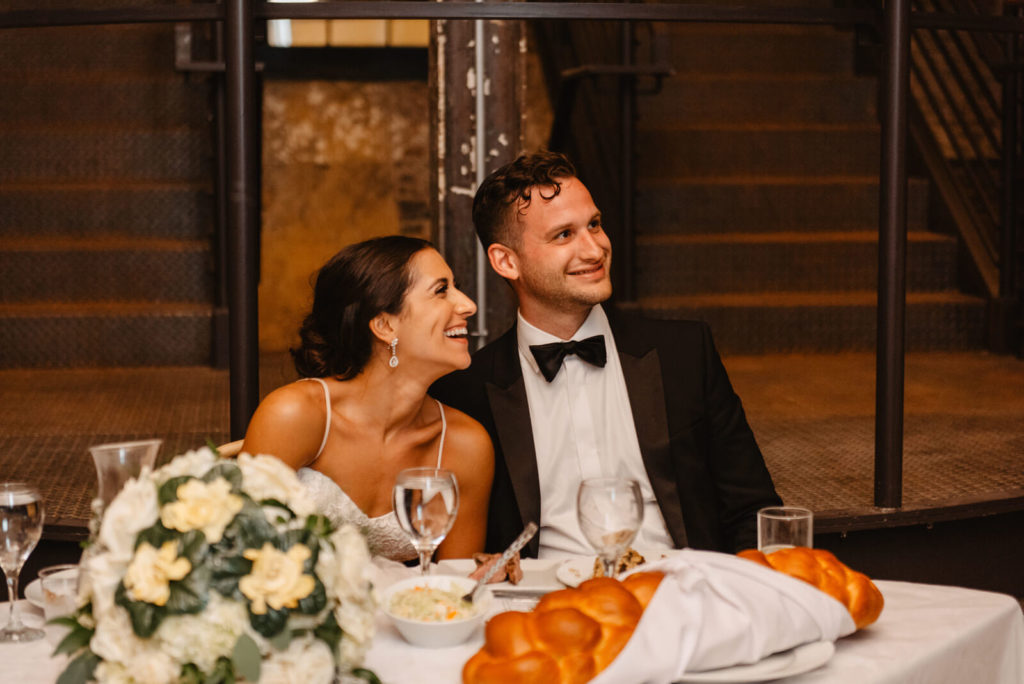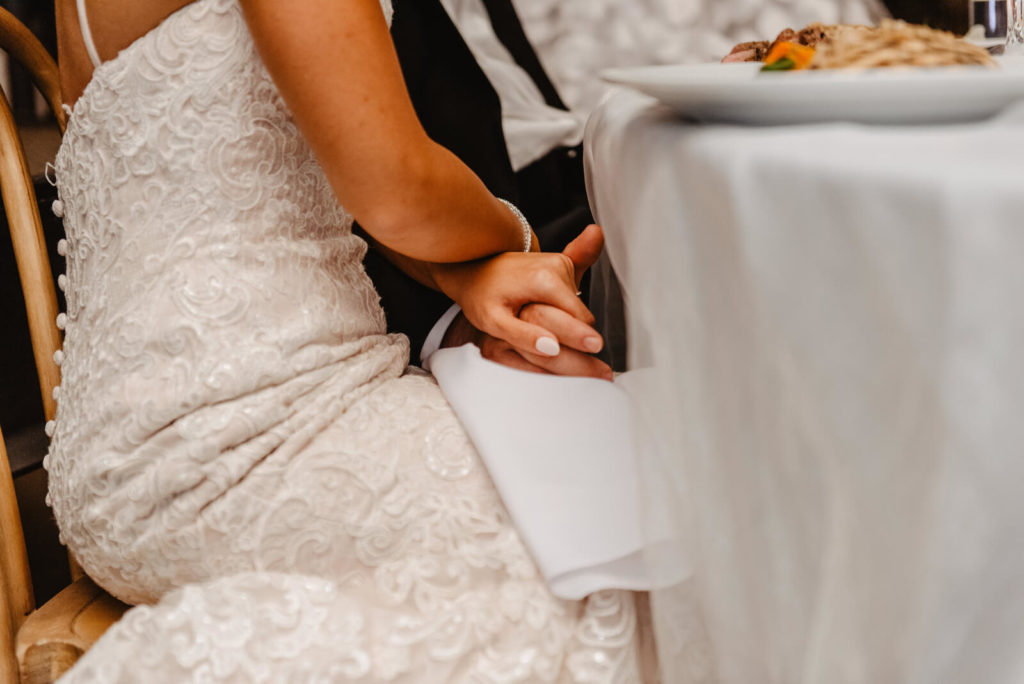 Most Unexpected Event On Your Wedding Day Maybe when my diamond fell out of my engagement ring? Maybe. As David sat down next to me at our sweetheart table, his chair slammed into mine and my ring caught the impact. I looked down and saw the prongs of my ring spread open and spotted my diamond on the floor underneath my chair. If my ring didn't break, I am sure that my finger would have, which would not have allowed us to laugh it off and forget all about it as we continued to enjoy the best night ever.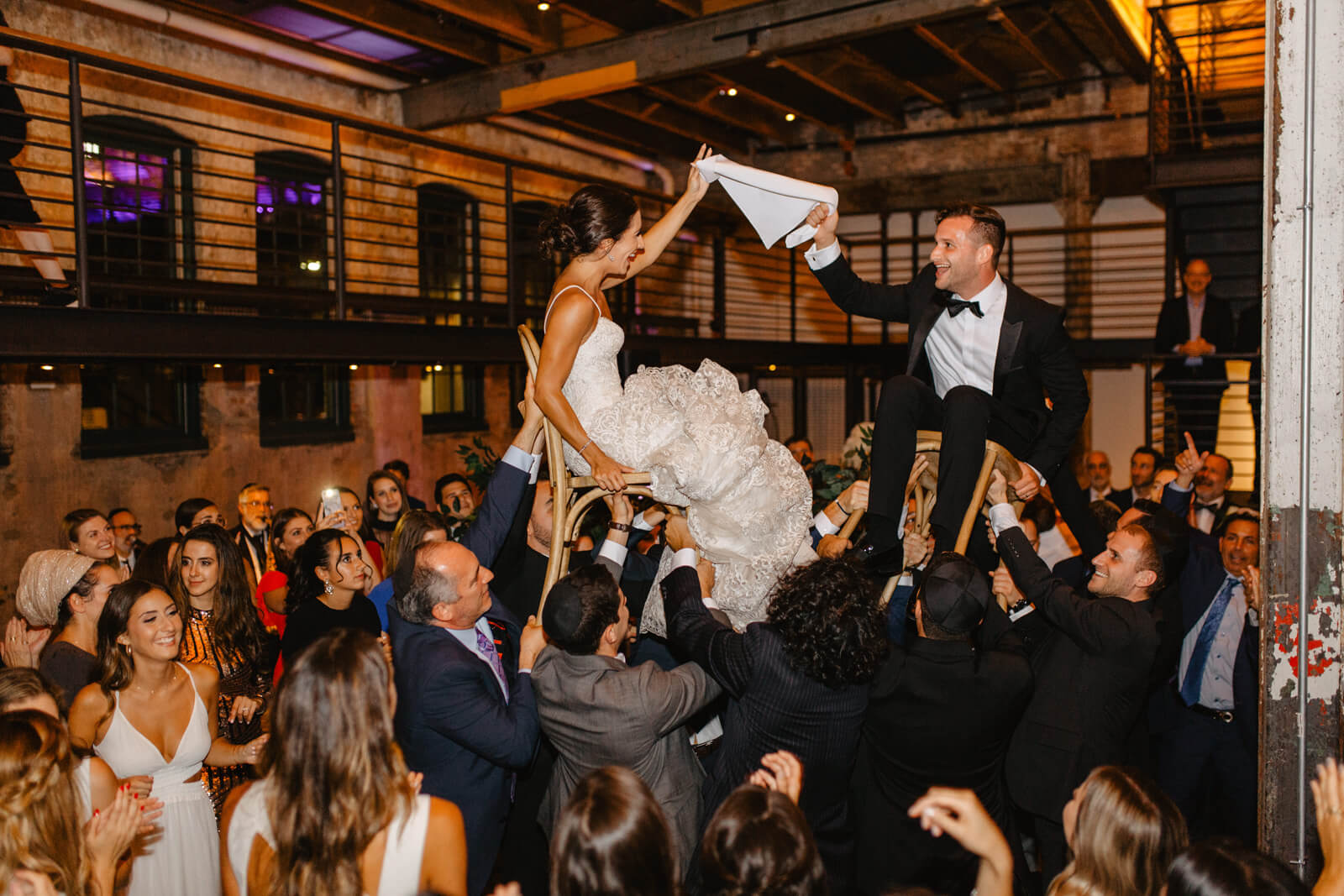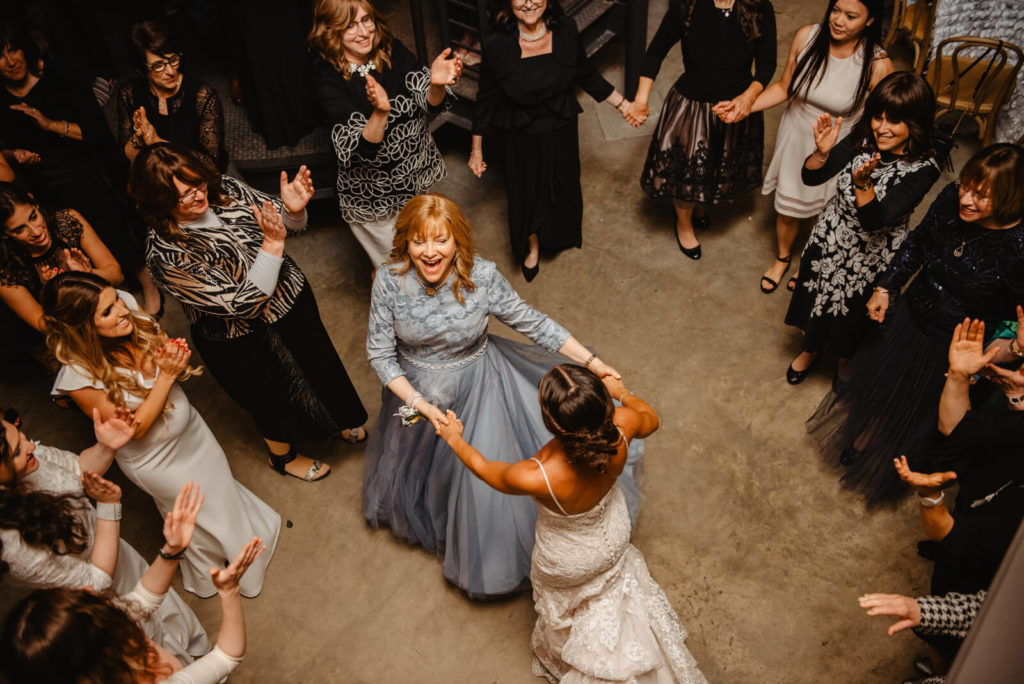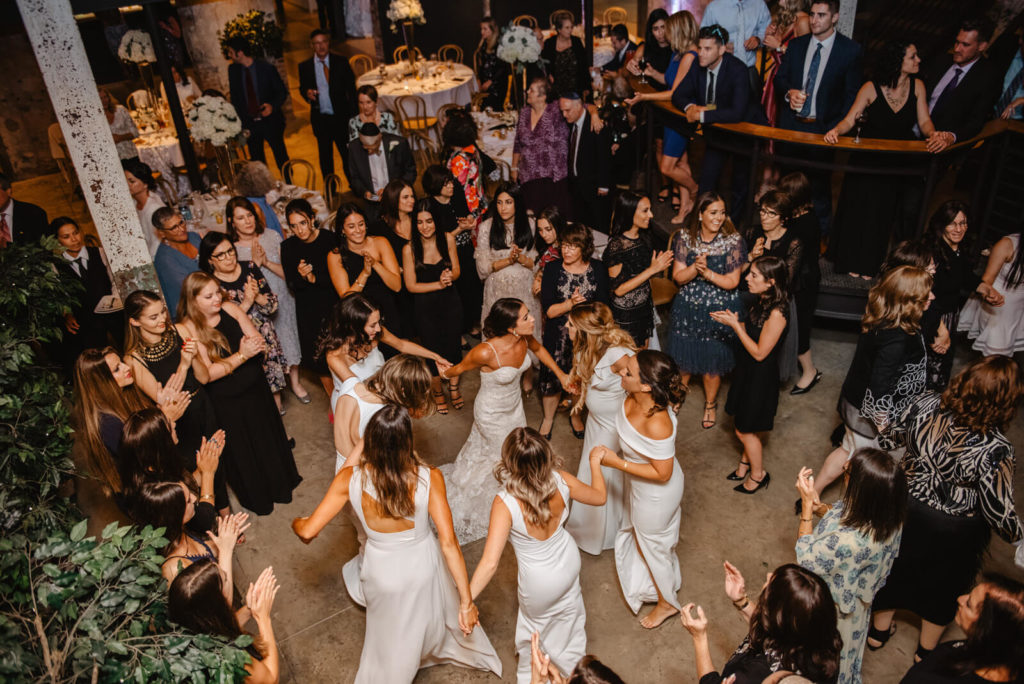 Piece of Advice Our advice is the advice we got from my brother-in-law. He told us not to drink on the day of our wedding. At first, we thought he was crazy because everyone drinks at weddings, especially me and David. But it turned out to be the best decision. The day was so magical, the stress just kind of melted away, and for both of us to be completely present and able to soak every bit of it in and enjoy the moment together was so perfect.