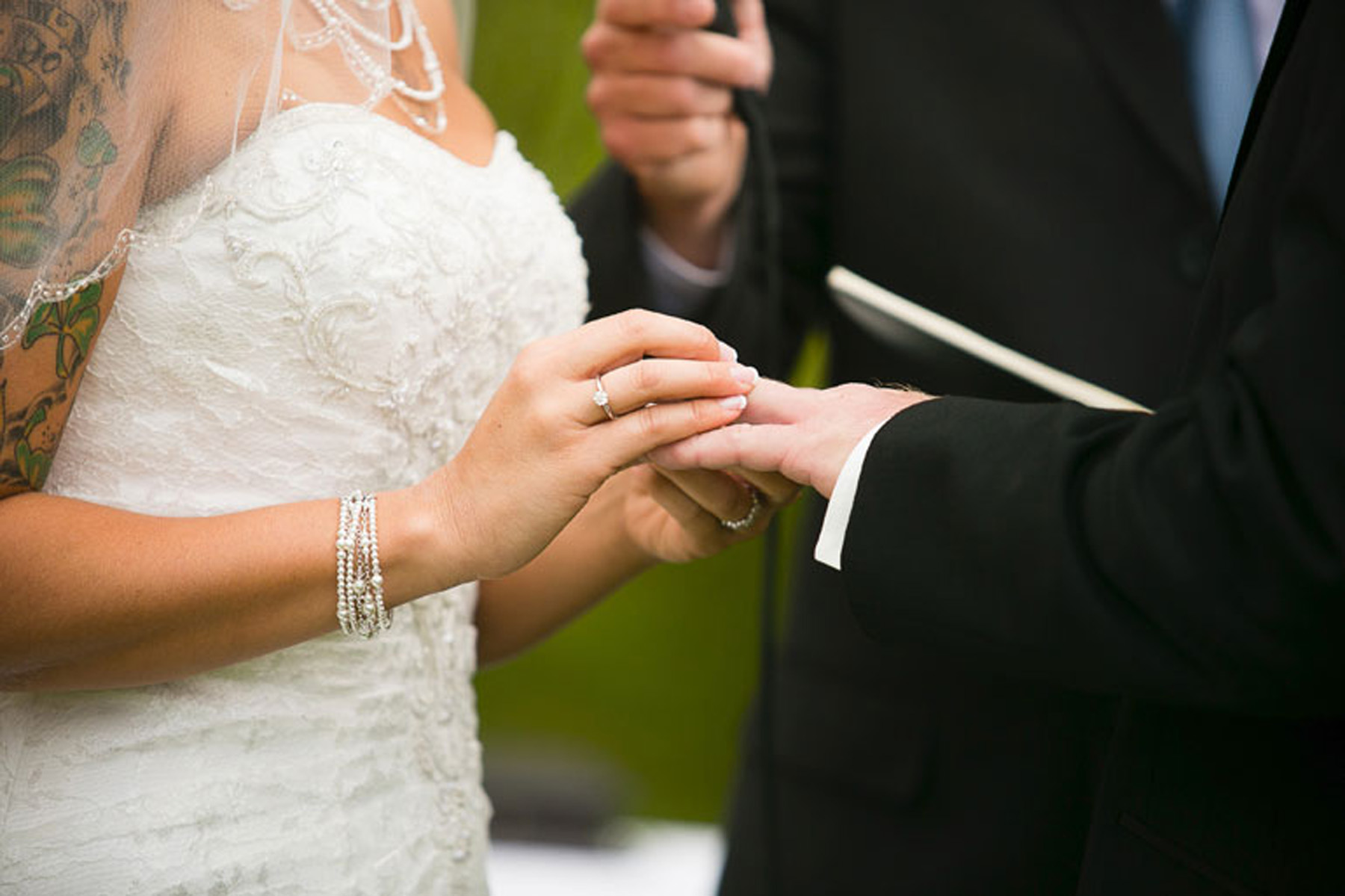 Occupations Carpenter & Administrative Specialist
Wedding date September 16, 2012
Number of Attendees 150
Number of Attendants 7 bridesmaids; 7 groomsmen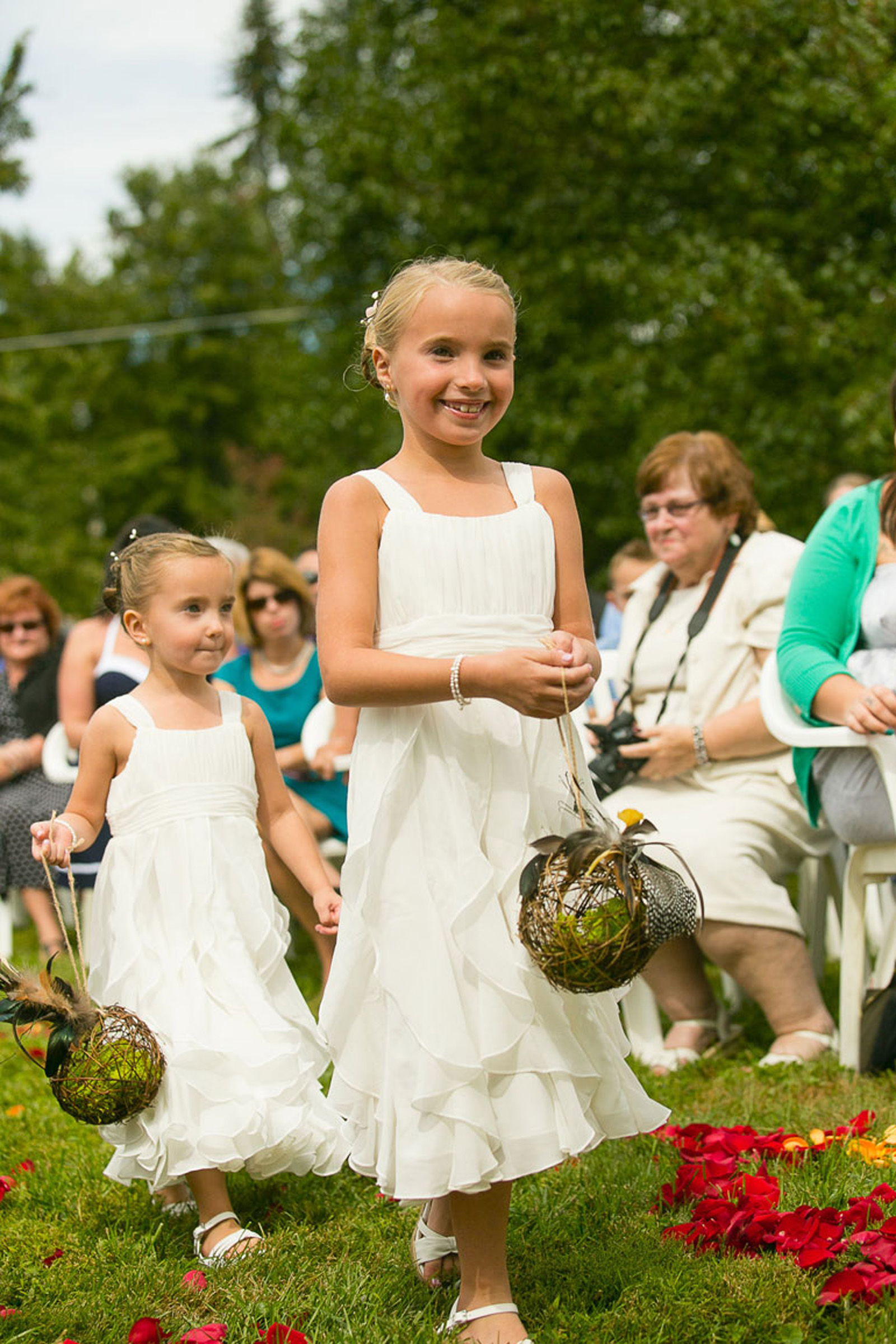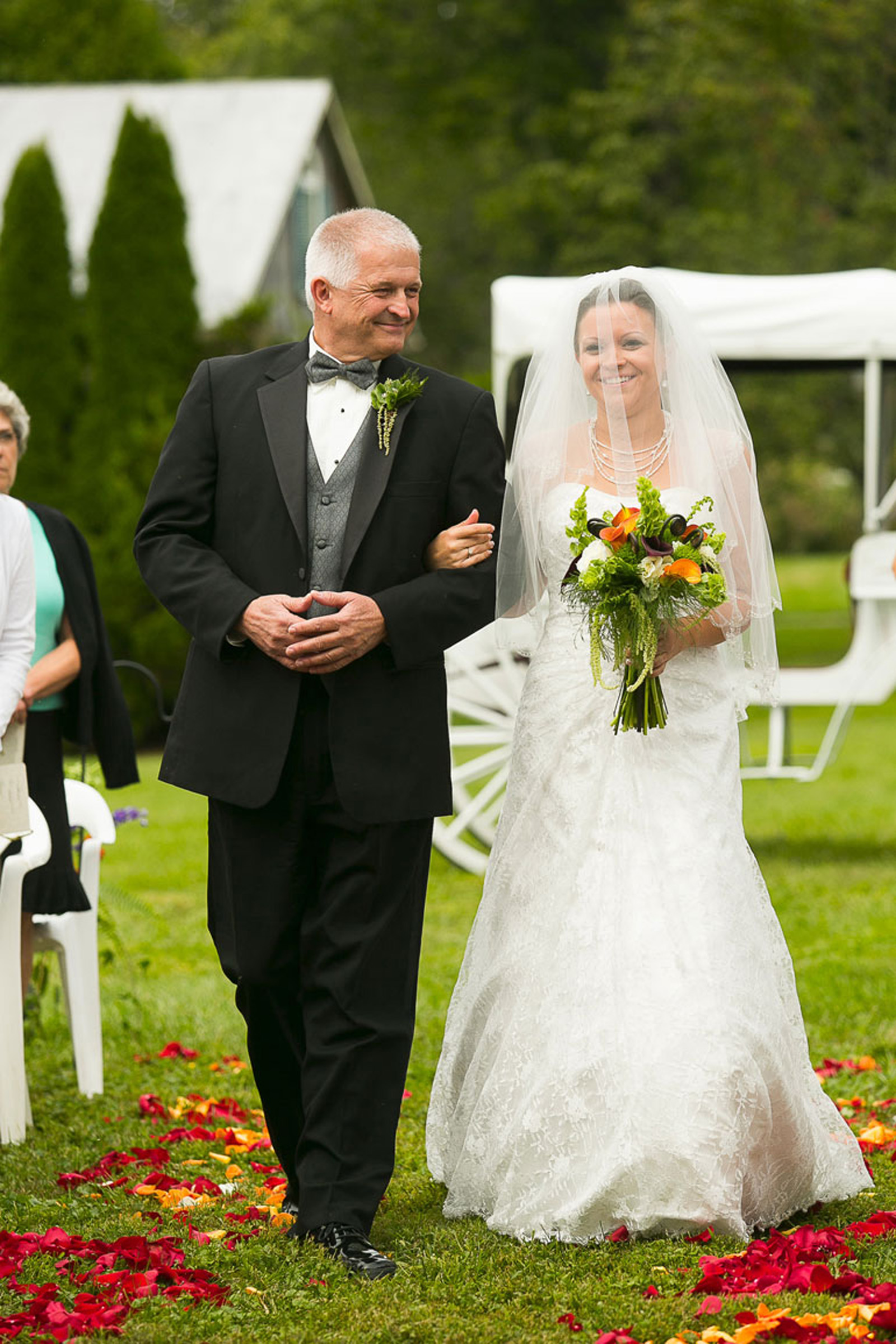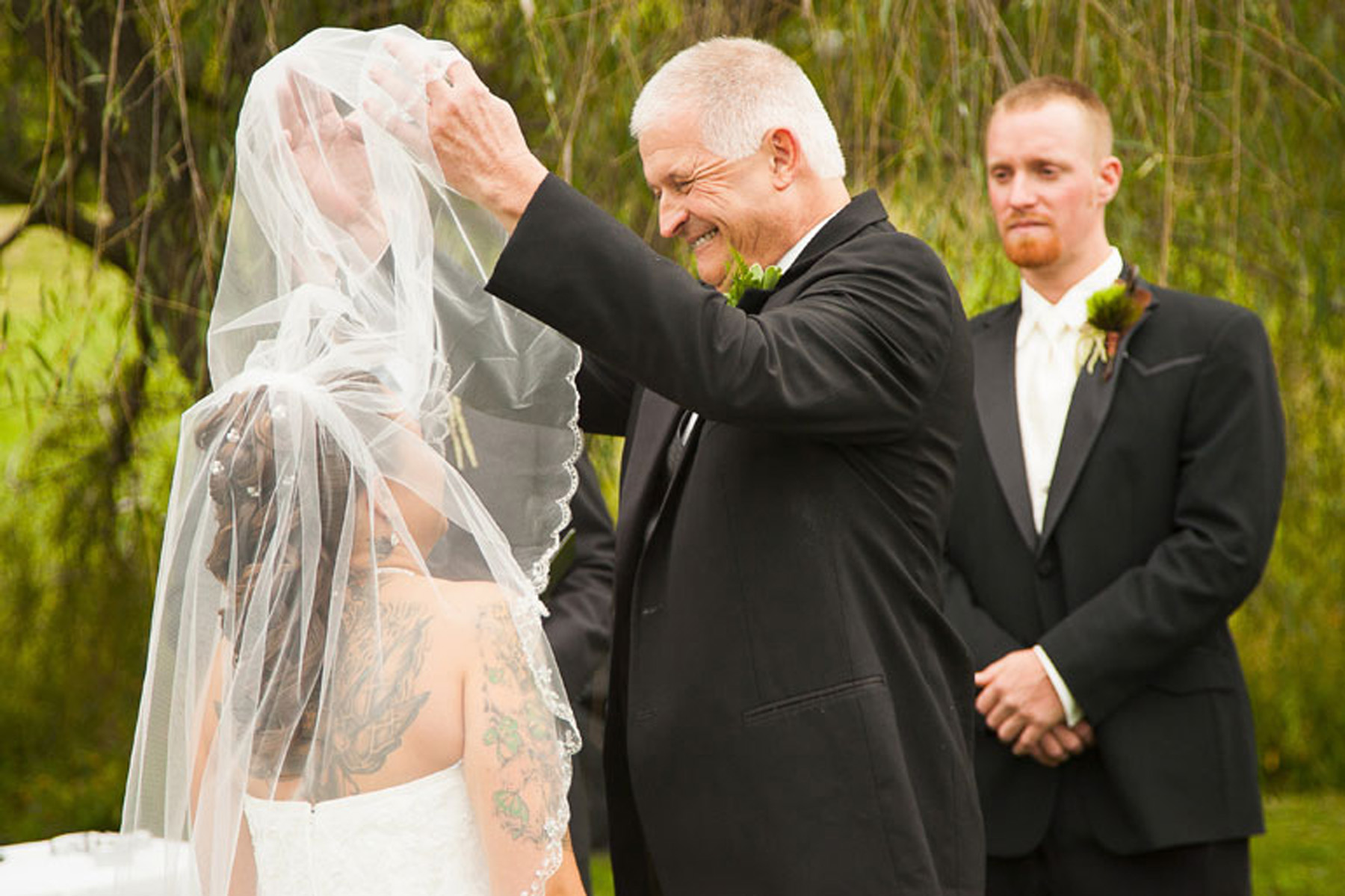 How You Met In July 2009, I was driving with a girlfriend of mine and passed two motorcyclists on the side of the road. I don't know what got into me, but I gave a quick "woohoo!" out the window. We hit the stop sign at the top of the road, and the bikers pulled up to the side of my car. I thought, "Oh crap, what did I start?" One of the bikers turned out to be an old friend of mine, the other was Eric. We followed them to Buffalo Wings and Beer, and of course Eric was showing off on his bike, burning wheels at every stop light! When we got there, I thought to myself, "I'm going to kick this guy's butt in pool and show him how cool I am," but no luck. Eric, of course, got every ball in the pocket, and so began the constant "I can do whatever you can do" battle between us that only brought us closer. We loved life together. Sometimes we would laugh so hard we would almost pee ourselves just trying to catch our breath. Nothing made us happier than waking up next to each other knowing the fun we were going to have.
The Engagement Eric and I went to Ocean City to stay with his parents, along with his nieces and nephew, for a weekend getaway. On the day he asked me to marry him, he had arranged a plane ride for us during sunset. Eric was very adamant about this plane ride, though I told him a walk on the beach would be fine. He said he wanted me to see the sunset from on top of the clouds. The plane flew up to Assateague Island, and Eric was right, the sunset above the clouds was amazing with all the pinks, reds, and yellows. I looked at Eric to comment on how breathtaking it was, but I noticed that something was wrong. Eric was a pale as a ghost, and I thought to myself, "Oh my goodness, he is going to get sick." But instead, he leaned over, lifted the earflap on my helmet, and proceeded to yell into my ear, since the biplanes are so loud. Eric said "I know things have not made any sense lately, and we have been working on making our relationship better. I just want you to know that I love you with every cell in my body and will always be here for you and will take care of you for the rest of your life." I smiled and said, "I know, hun." He continued, "I just want to know," and pulled a little black box out, "will you marry me?" My eyes filled up with tears as he slipped the ring on my finger, and I said, "Yes, of course!!" He held me tight until we landed, and when we got to the truck, Eric got on his knee and said again, "Just to be 100% sure you know how much I love you, I will ask again, will you be my wife?" I told him he could ask a thousand more times and each answer I give would be yes.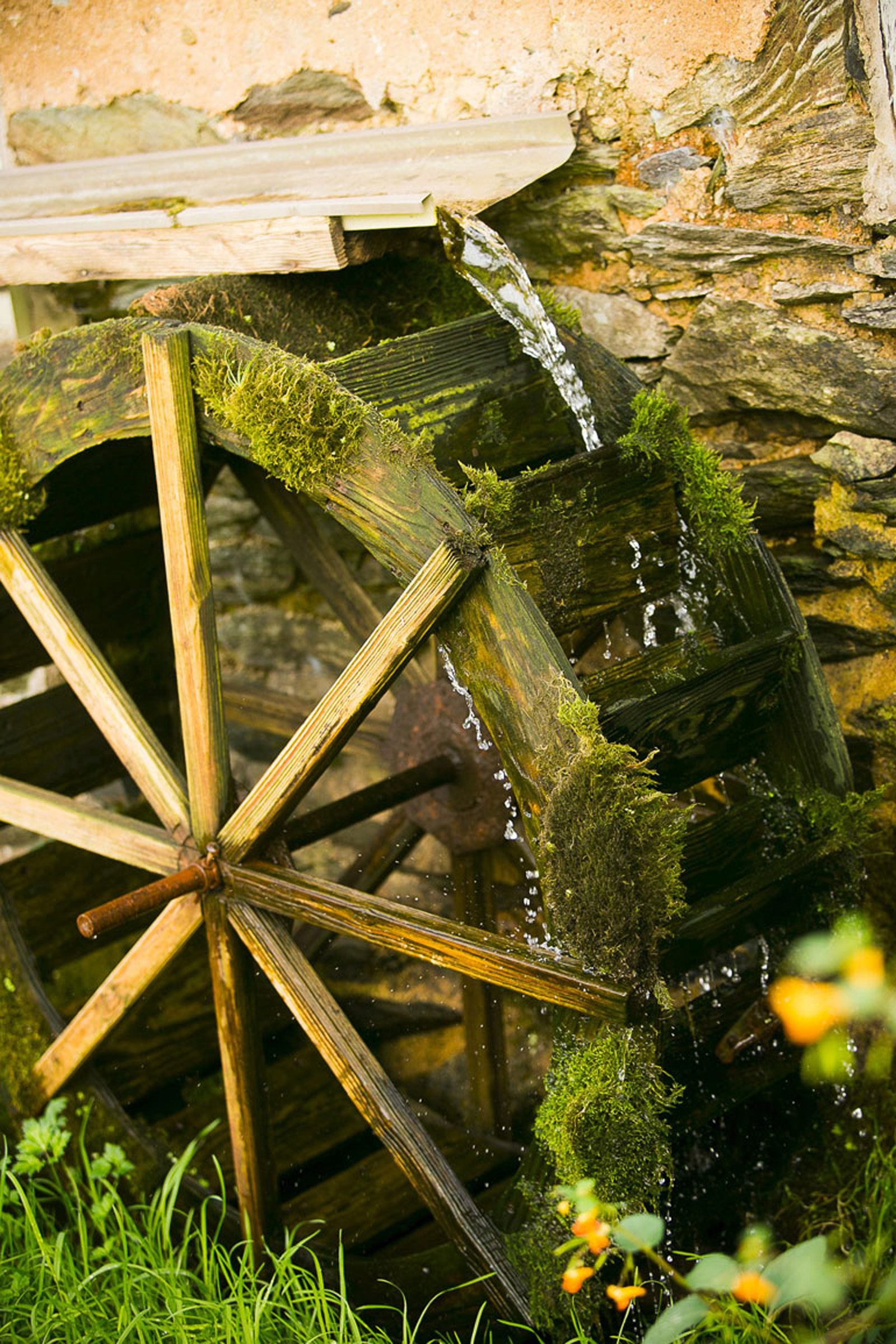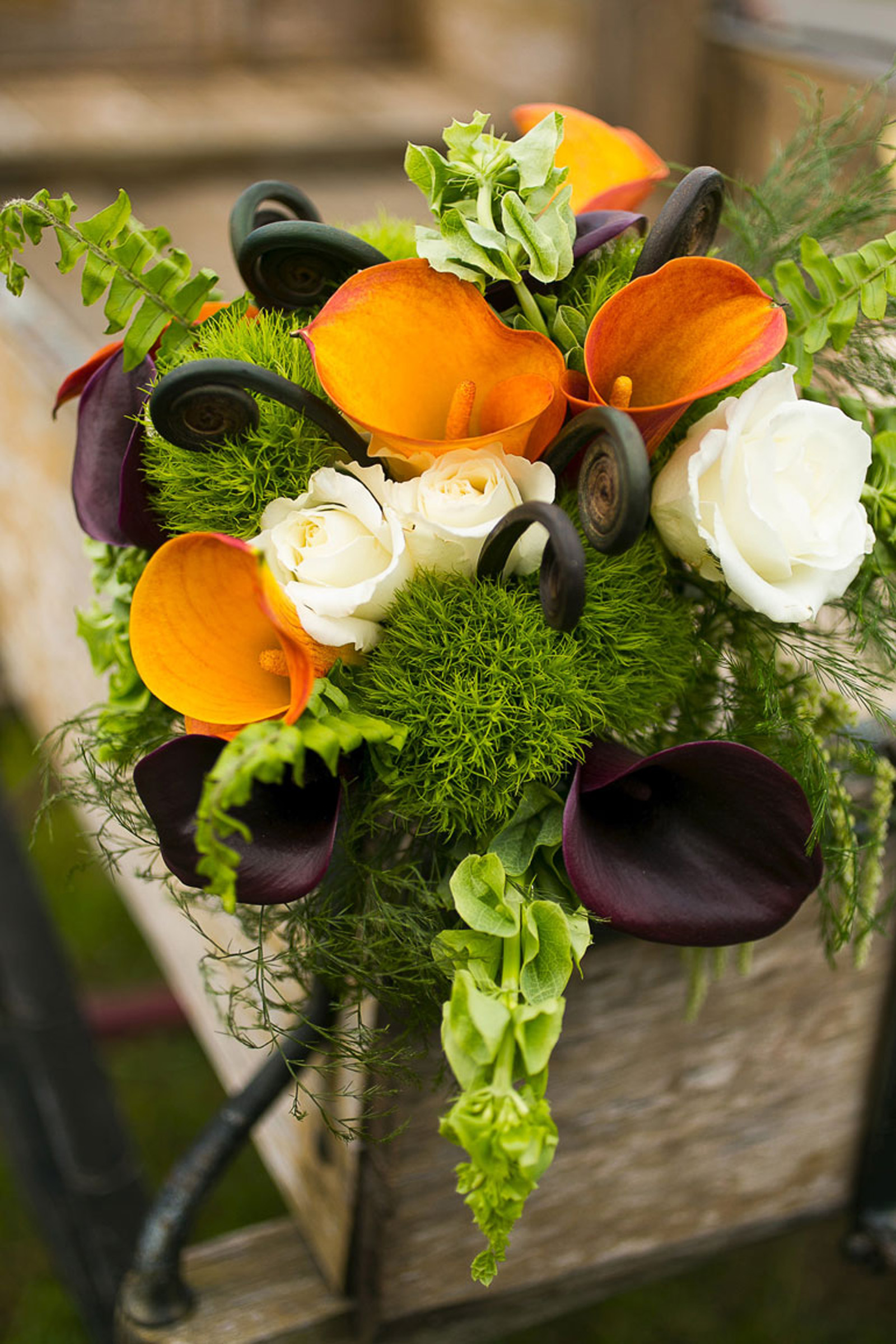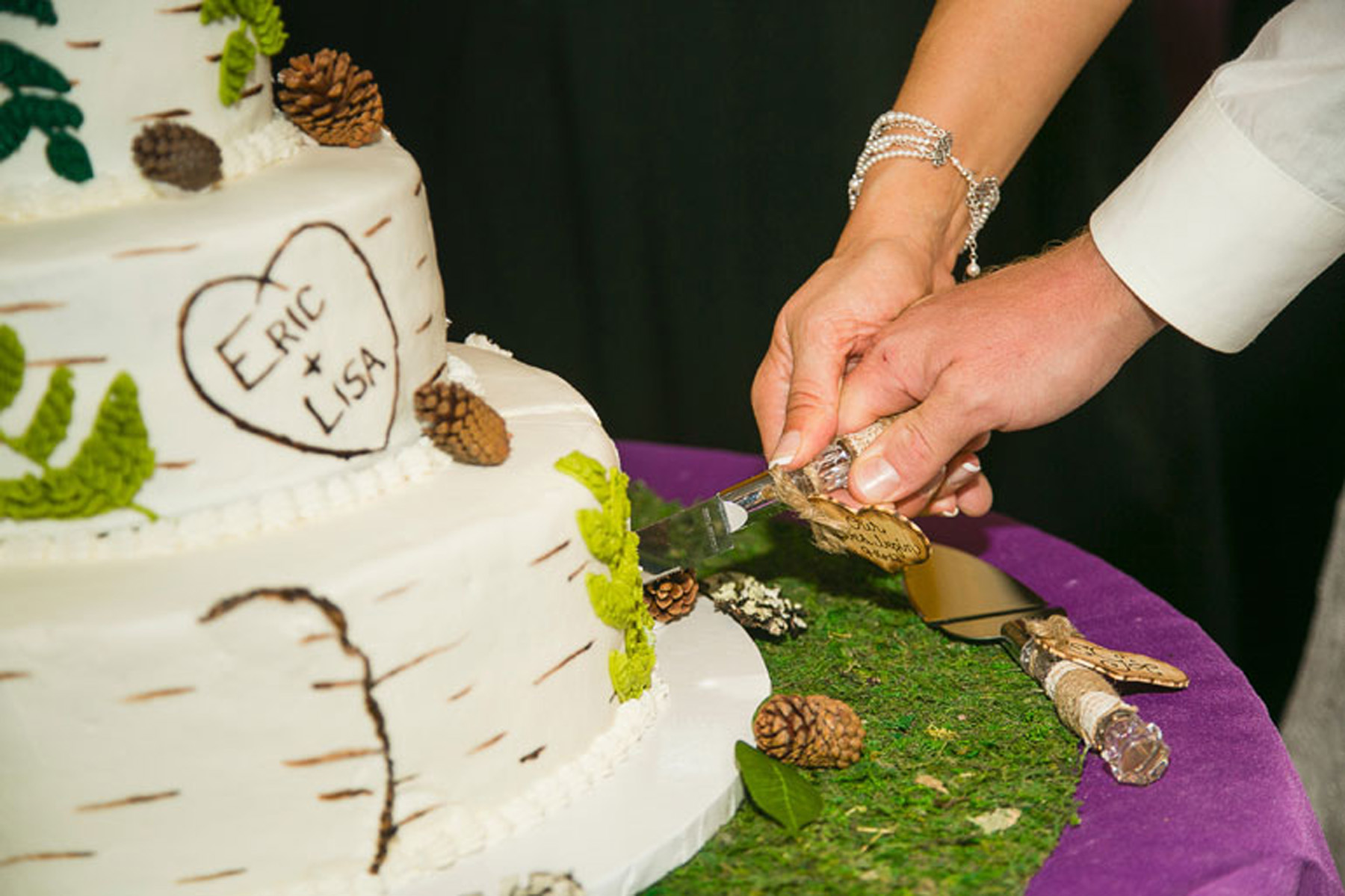 Wedding Design Inspiration Eric and I both love the woods and the simplicity of the country- open-air freedom with a sense of peace. There were a lot of ferns, ivy and wood in the decorations. We looked at many venues but when we saw the landscape that the Ostertag offered, we knew it was the place for us, tucked away in the rolling hills of Myersville, MD.
What was unique and special about your wedding The day was perfect, everyone was relaxed and love literally filled the air. The day after our first date, Eric called me and said, "I don't know about you, but last night felt like something out of Top Gun." I just laughed and said, "OK, Maverick." I chose to walk down the aisle to "Take My Breath Away" by Vitamin String Quartet. No one else knew the significance, but it made us both cry as I walked down the aisle. I had made quite a few things for the wedding, including the ring pillow and programs. We had fun making the things for the wedding together because it had my creativity and his ability to build. Eric and I both loved being in the woods and near water, it gave us a sense of peace and refreshed our souls, so a lot of the things we made came from nature itself.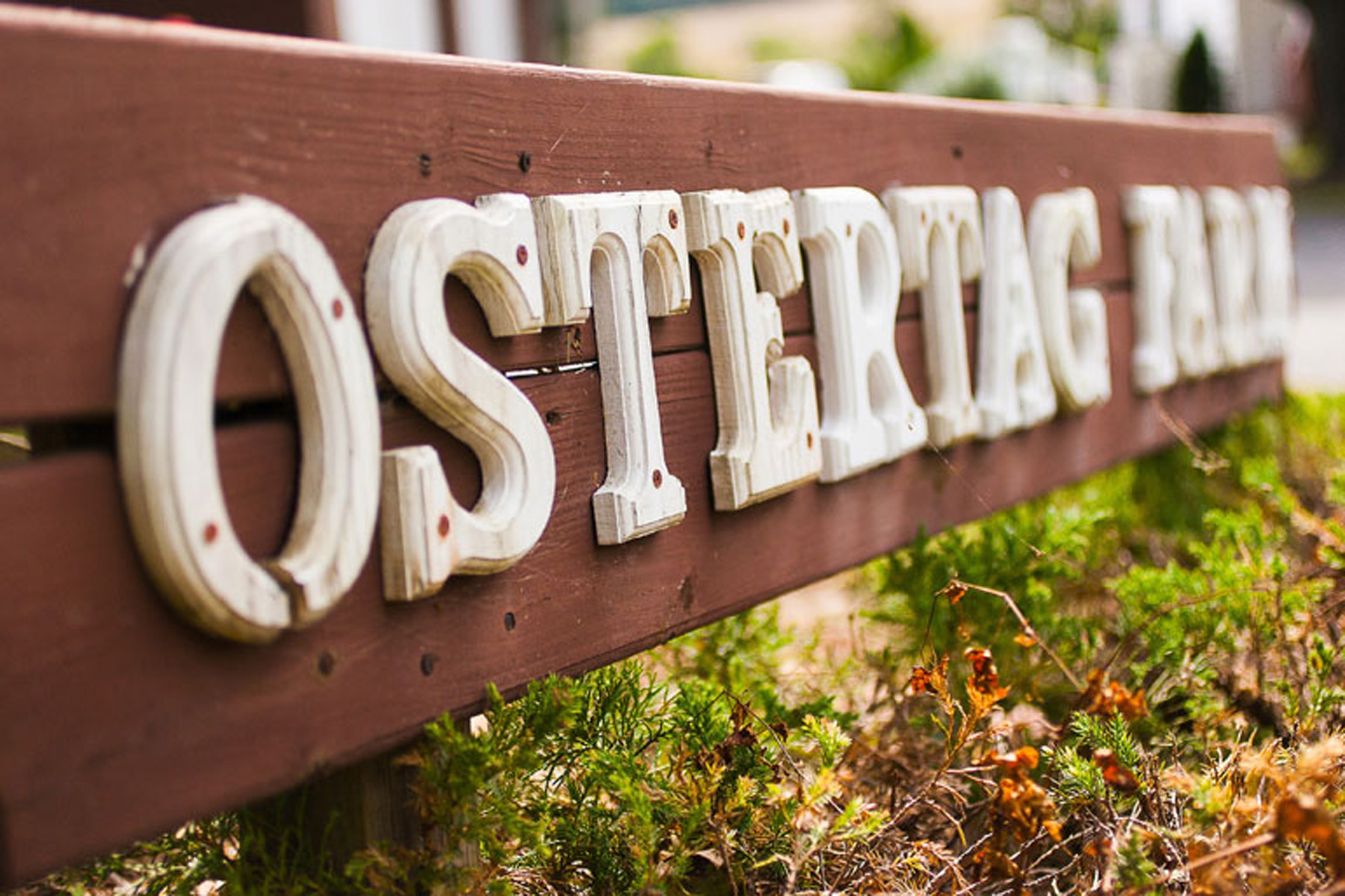 Favorite Details From the very first time they saw Eric and I together, our friends and family knew that if two people were ever meant to be, it was us. Everyone was so happy that the big day had come and they were a part of it. On the honeymoon, Eric and I talked about the wedding. We shocked each other when we both said that all we saw was each other as soon as I stepped out of the carriage, like no one else was around. One of my favorite details about that day was just being there with him – being able to look into his eyes, wrap my arms around him, feel his presence, see his smile, hear his laugh, and listen to his voice while he said his vows and told me he loved me.
Most unexpected event on the day of the wedding Nothing was unexpected, it was perfect. Eric and I have a sense of humor, so right before he kissed me, the best man handed Eric breath spray to use, and everyone got a good laugh out of that. Later, I had the idea that when he pulled off the garter, a mousetrap would go off on his fingers. He hid a mouse trap under his sleeve and when he first reached to get the garter, he yelped really loud and showed everyone the mouse trap on his fingers. We got some laughs out of that one as well.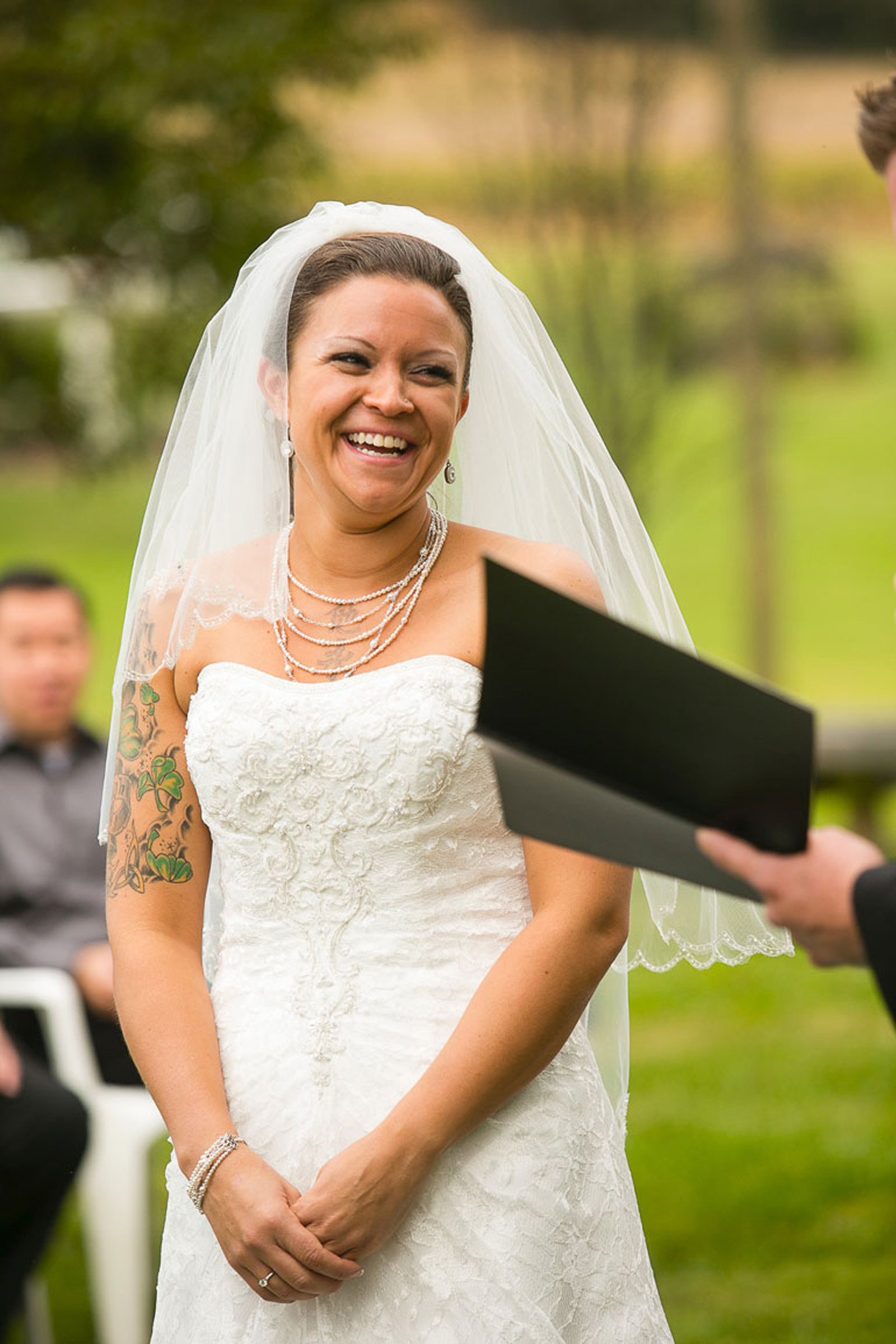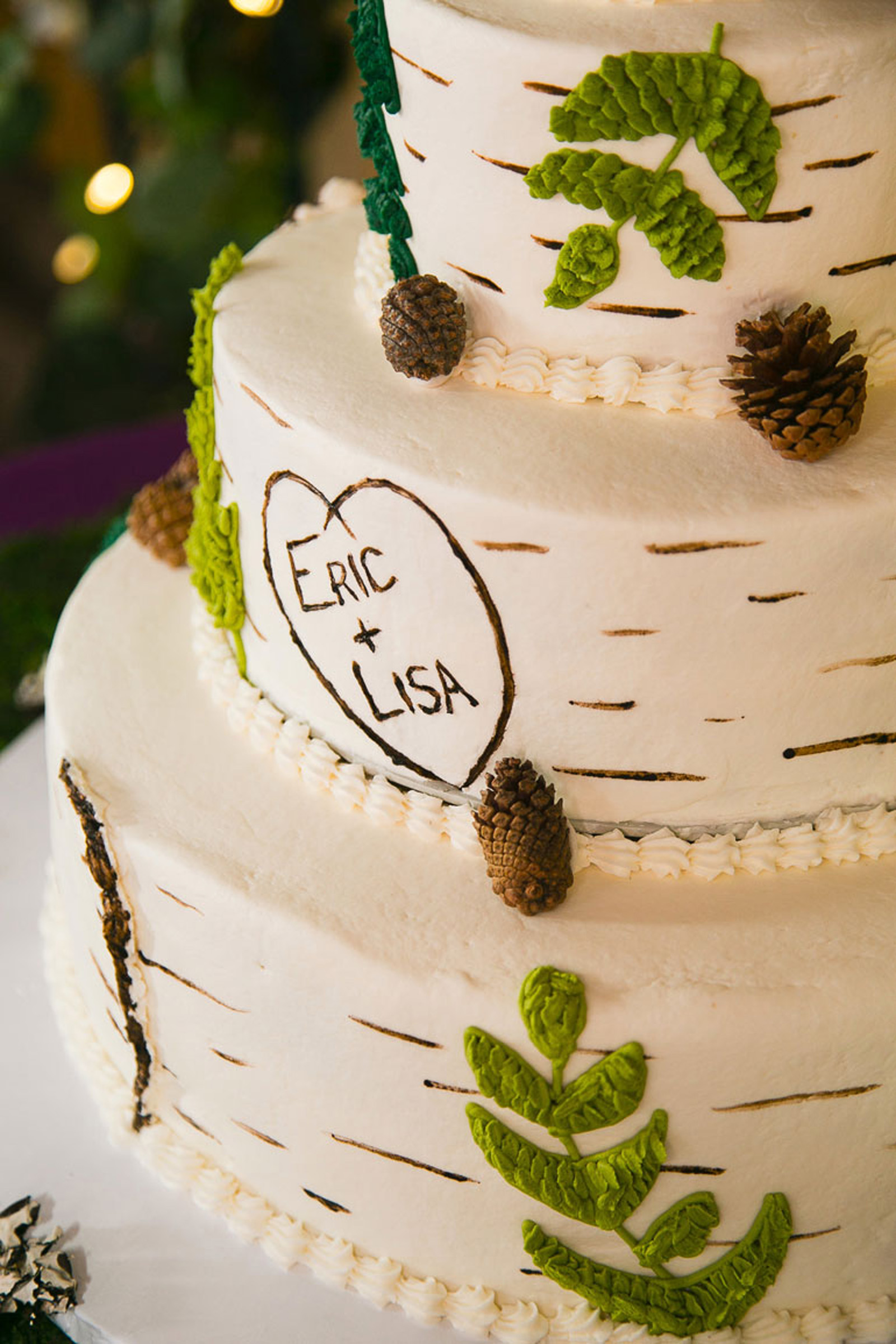 Piece of advice As far as wedding planning goes, always get a good photographer who will be able to capture the memories that can fade so quickly because of how quickly your day goes!