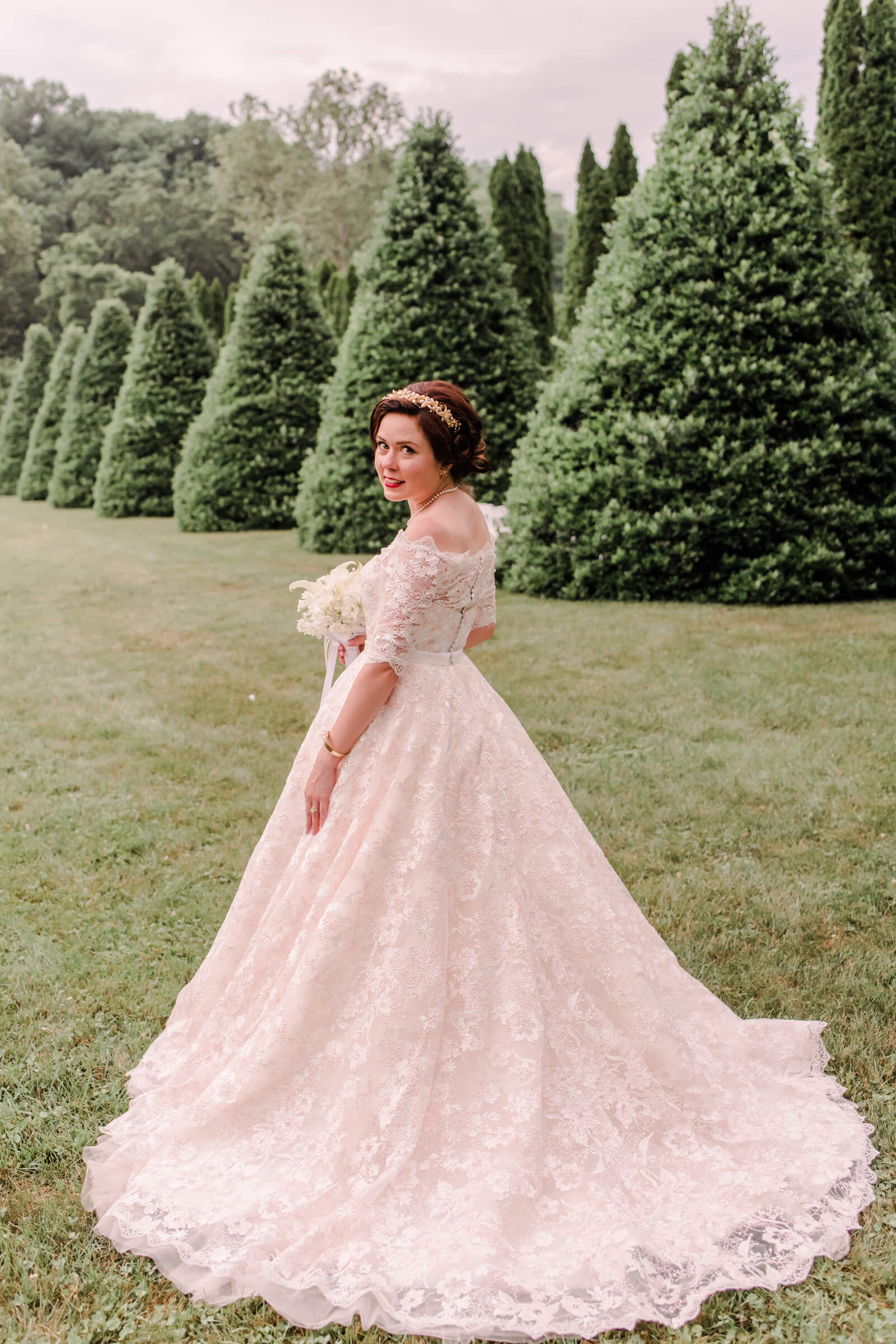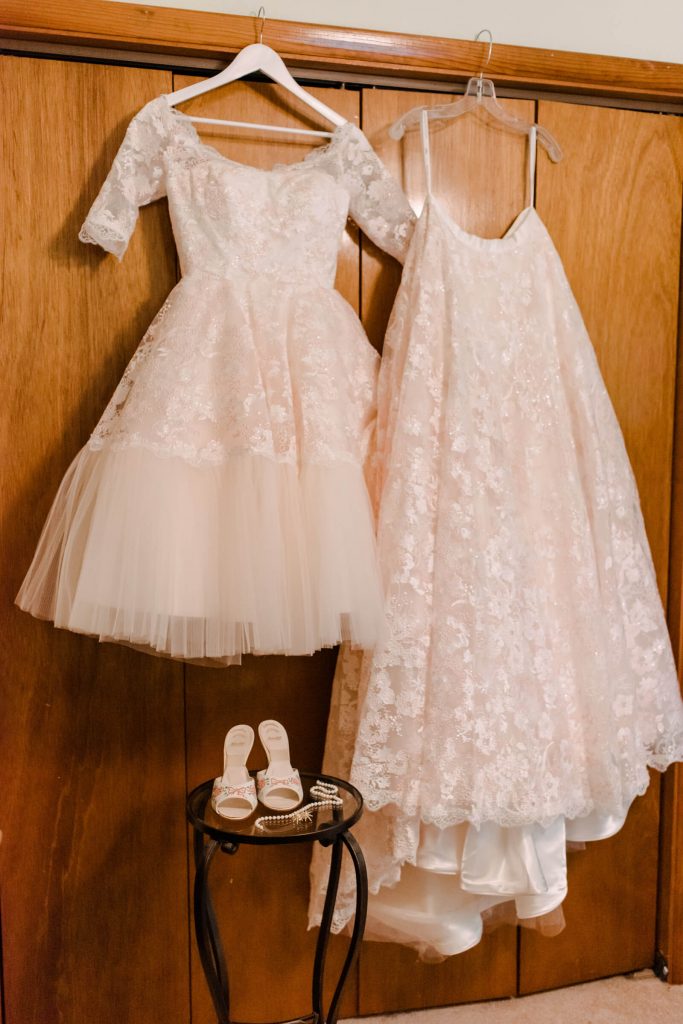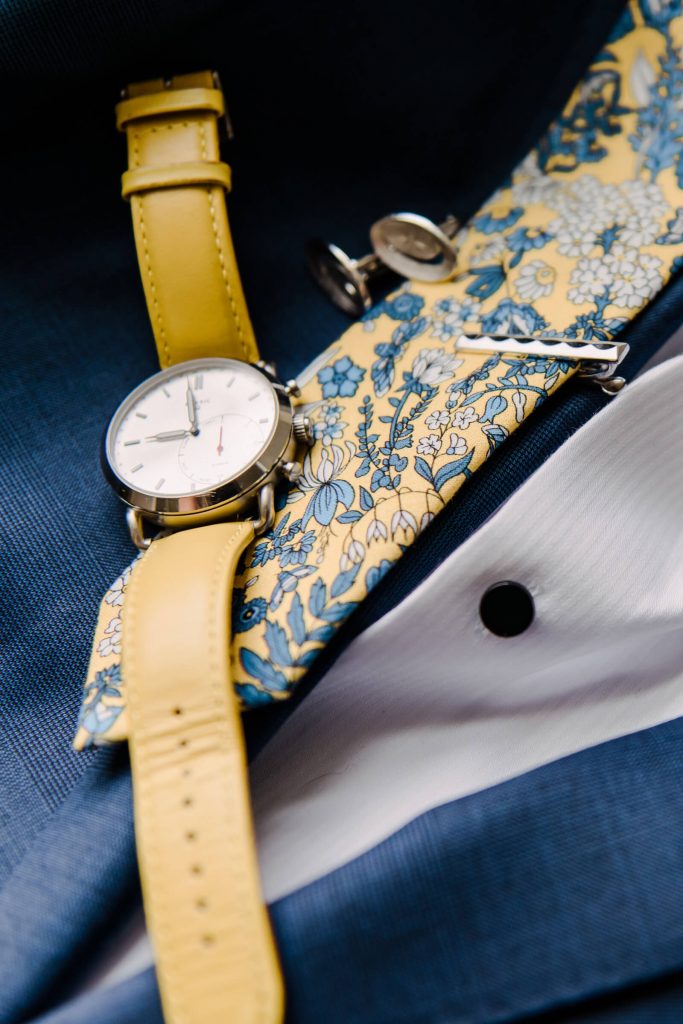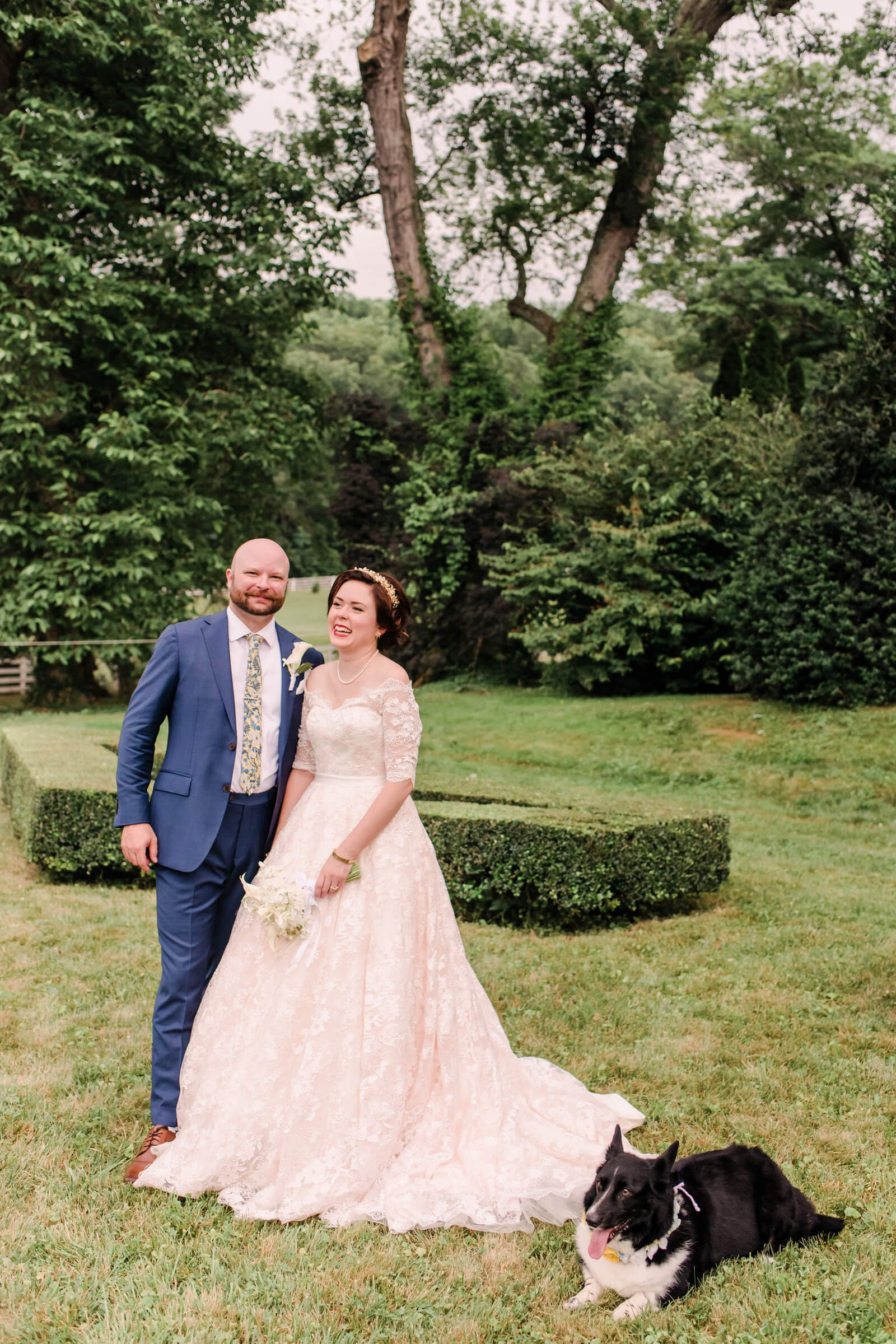 Occupations Amber is a visual artist, most recently working as a fondant designer at Flavor Cupcakery in Bel Air; Jeff is Chief Creative Officer at Prize LLC, a technology startup. 
Wedding date June 19, 2021   
Number of Attendees 115 family and friends 
Number of Attendants Four bridesmaids, five groomsmen, parents of the bride and groom.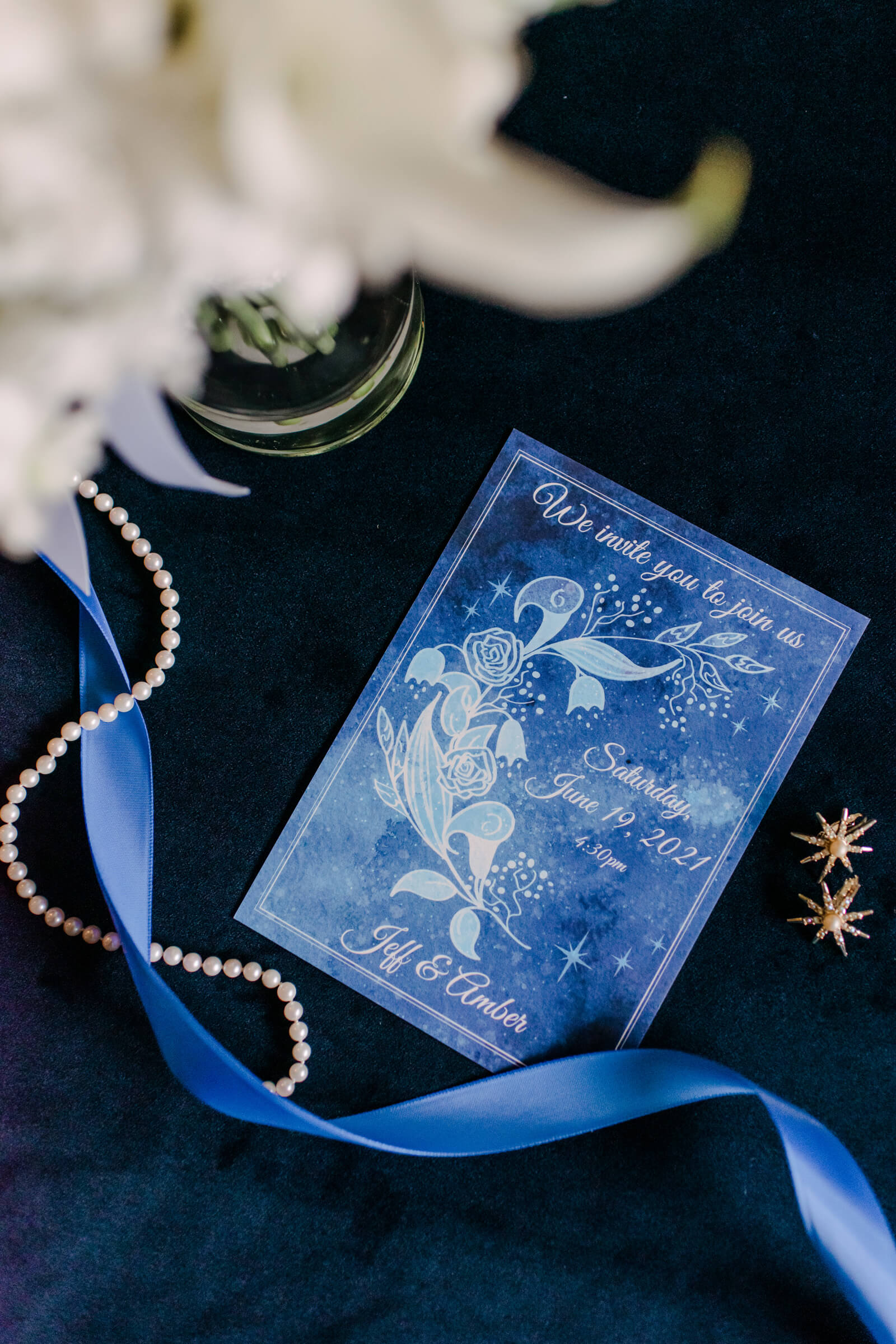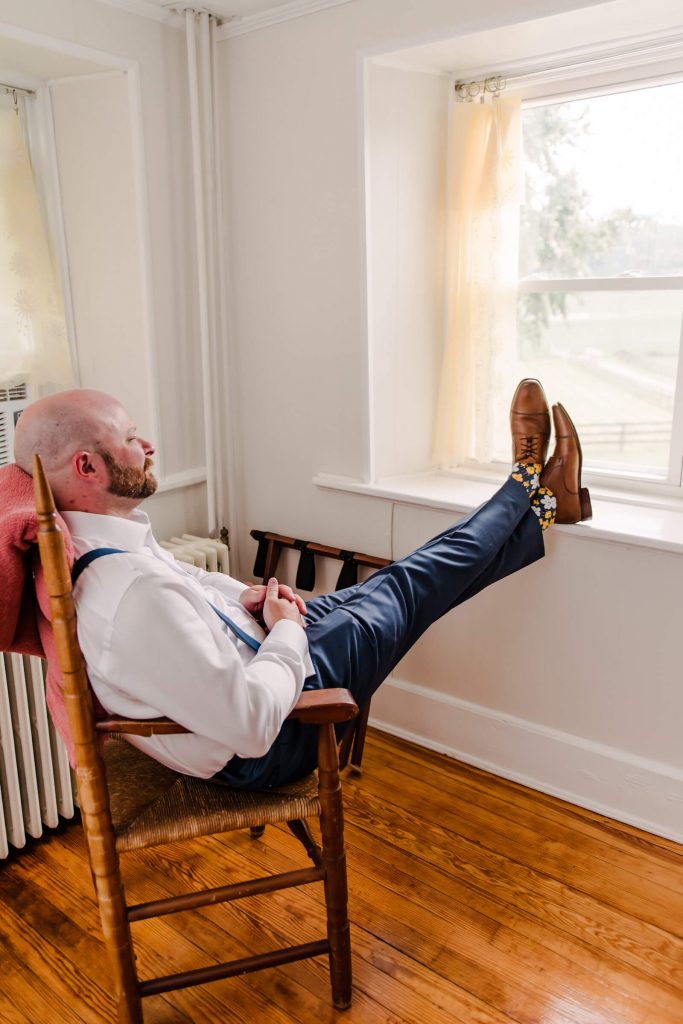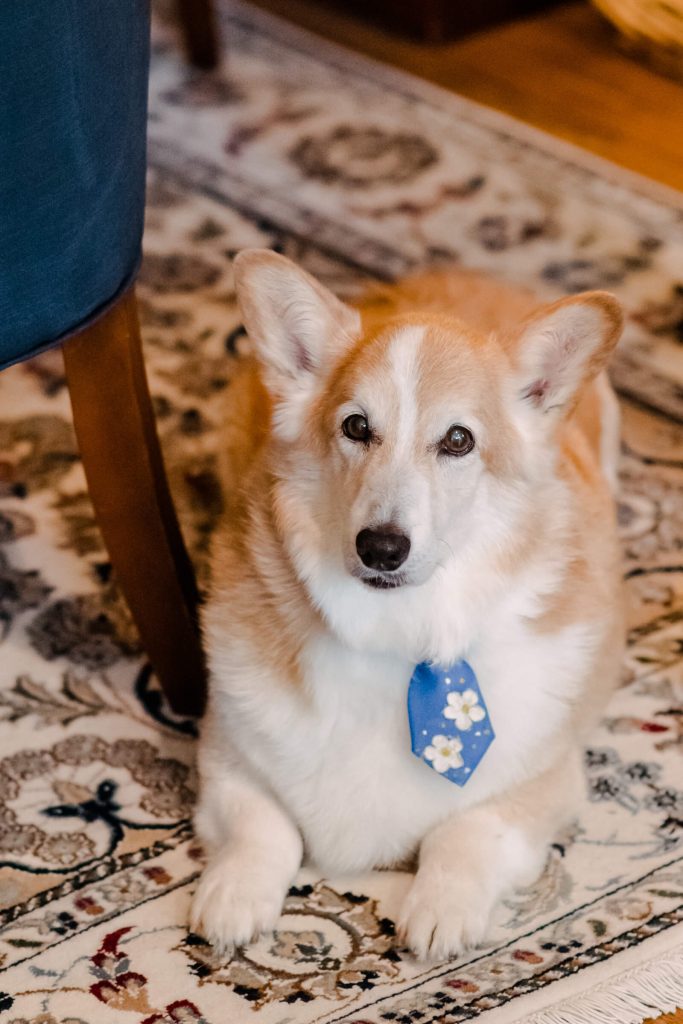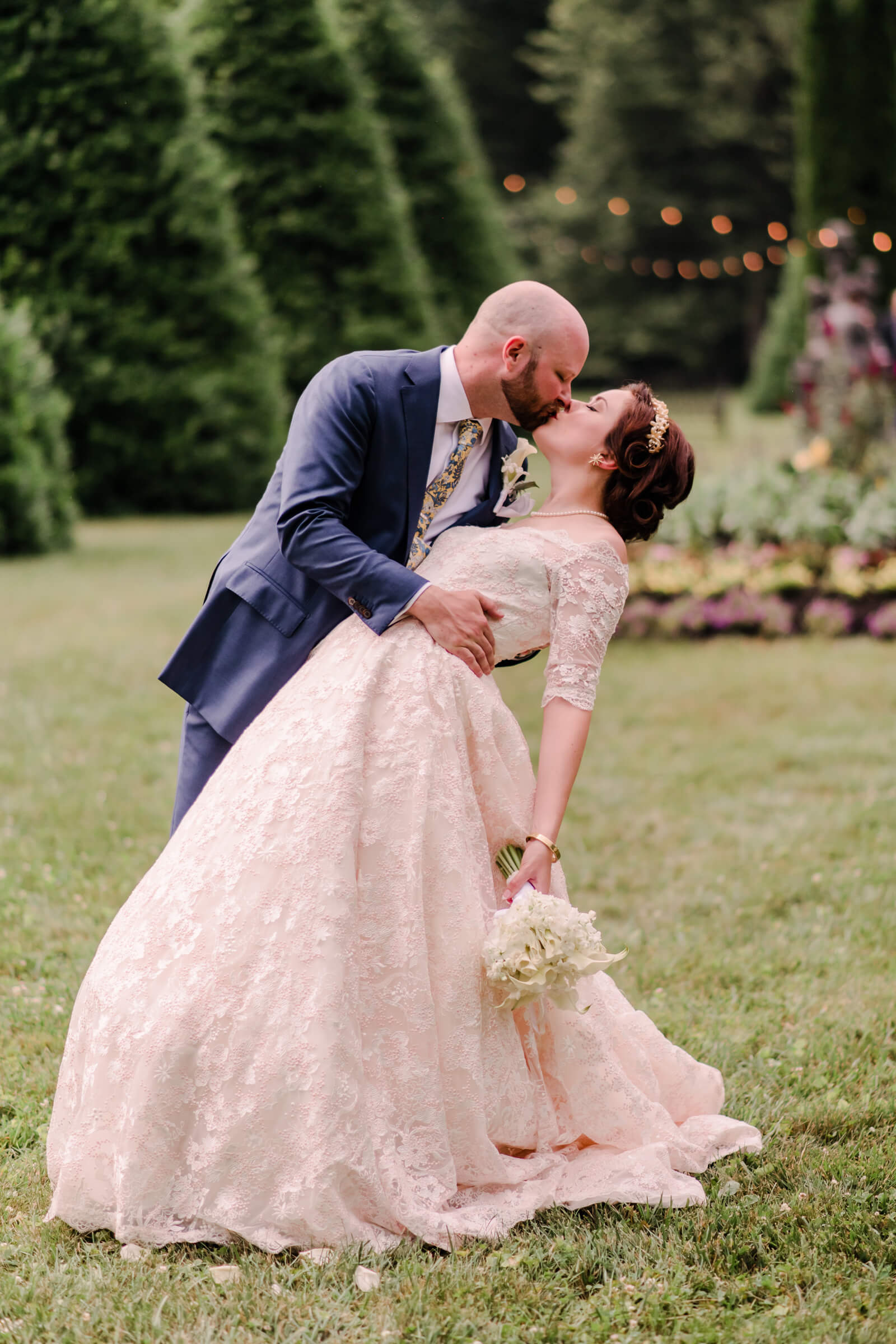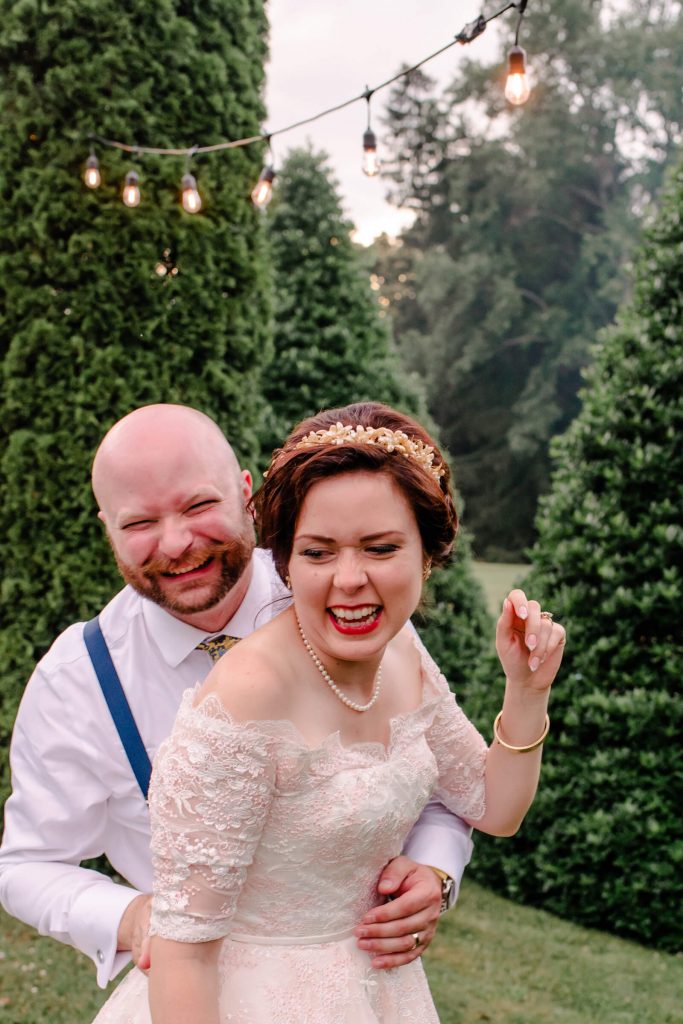 How You Met We met in printmaking class at Pennsylvania College of Art & Design, but truly bonded over our irreverent sense of humor and pop culture peculiarities. Art is the glue that binds our love the tightest, and we try to take every opportunity to be creative together, even in small (and often goofy) ways. 
The Engagement We were engaged in Laurel Hill Cemetery in Philadelphia, on August 12, 2018. Amber is a lover of art and appreciator of history, so a picnic in this beautiful, idyllic garden steeped in history proved to be the perfect way to pop the question. She cried, of course.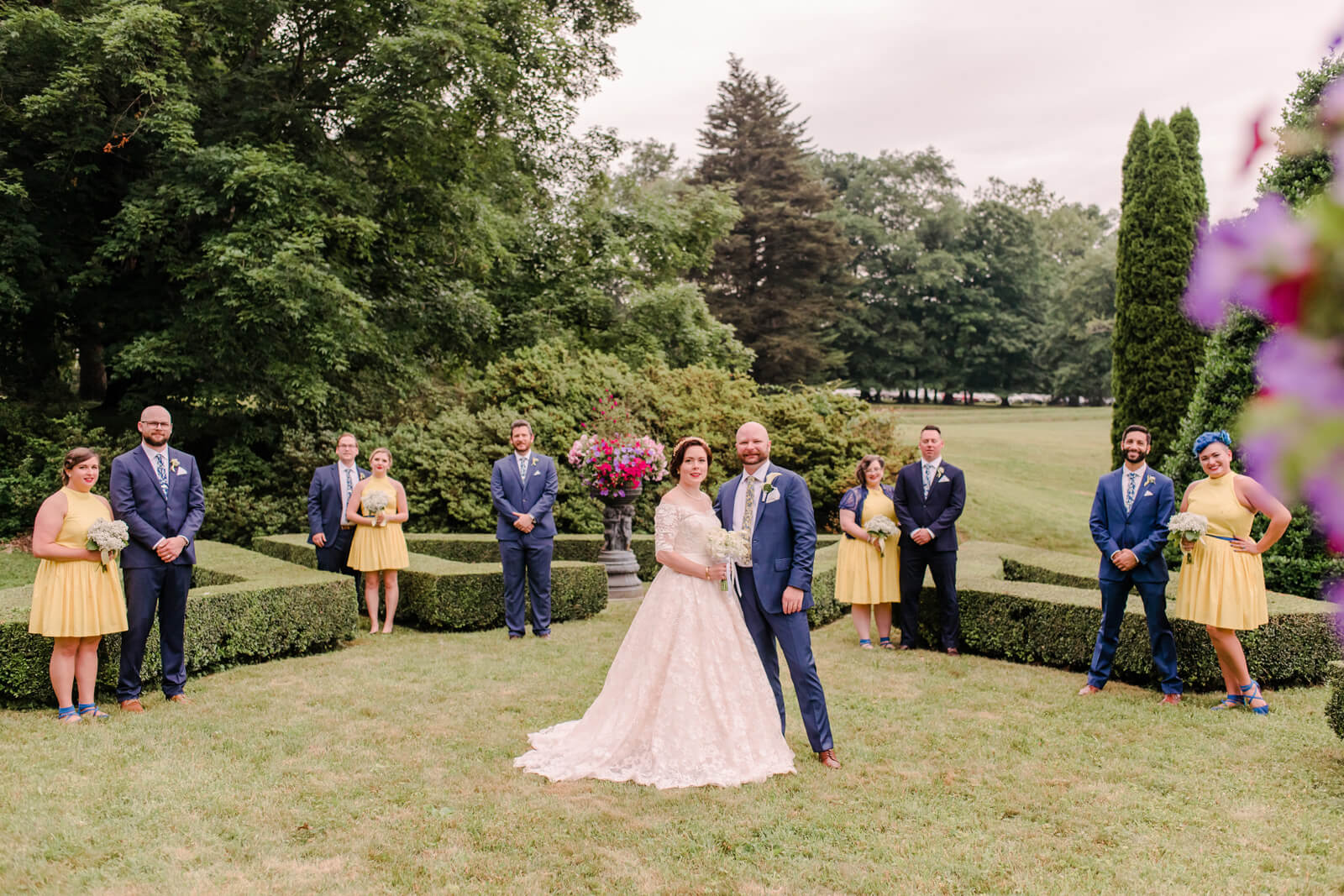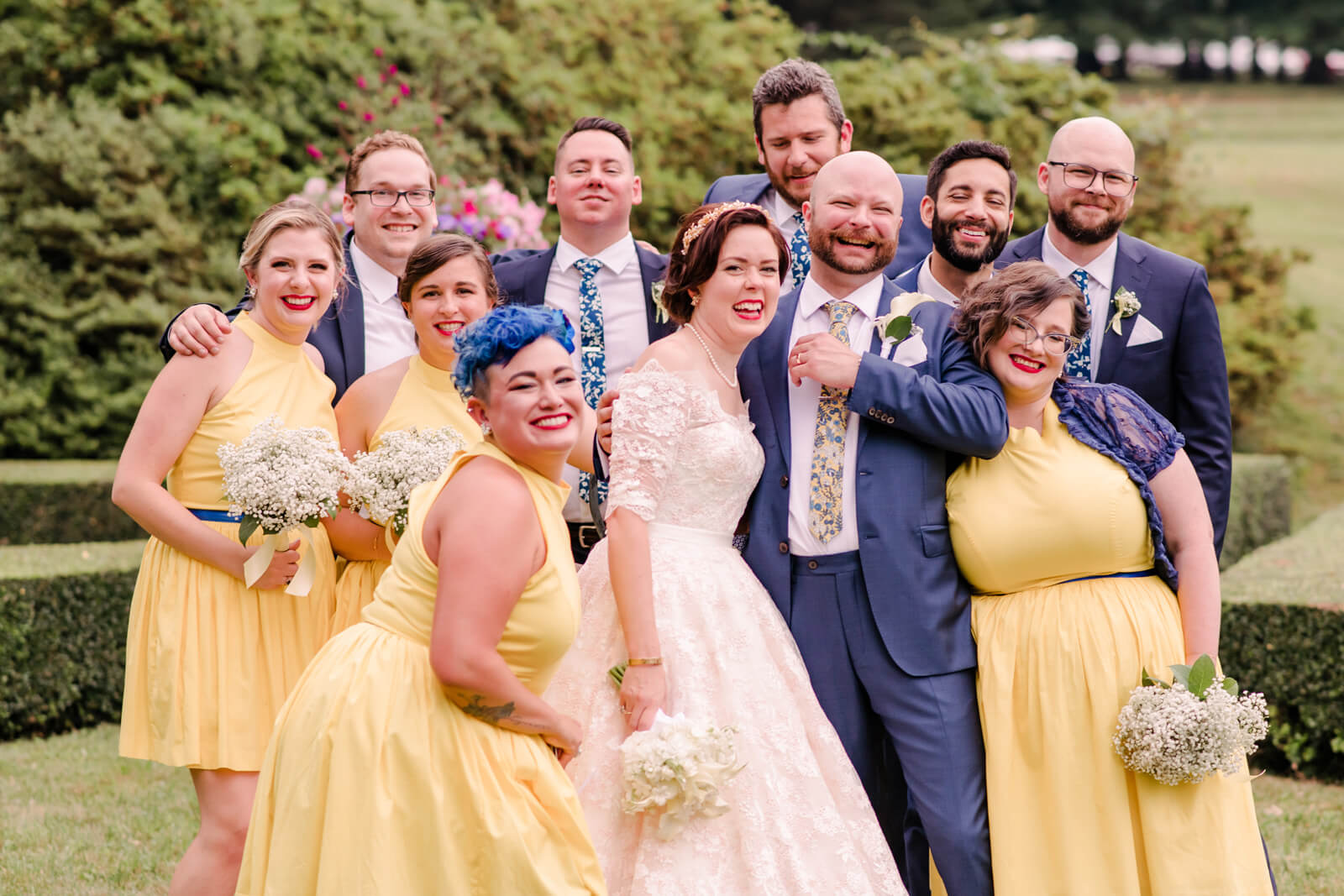 Wedding Design Inspiration We finally realized the 1950s garden party we envisioned for 2020. Almost all the decorative vintage items used at the wedding, such as the place settings and accent pieces, were lovingly curated by Amber and her mother from family members, friends, thrift stores and estate sales. We wanted the wedding to transport our guests back through time in a romantic and intimate setting.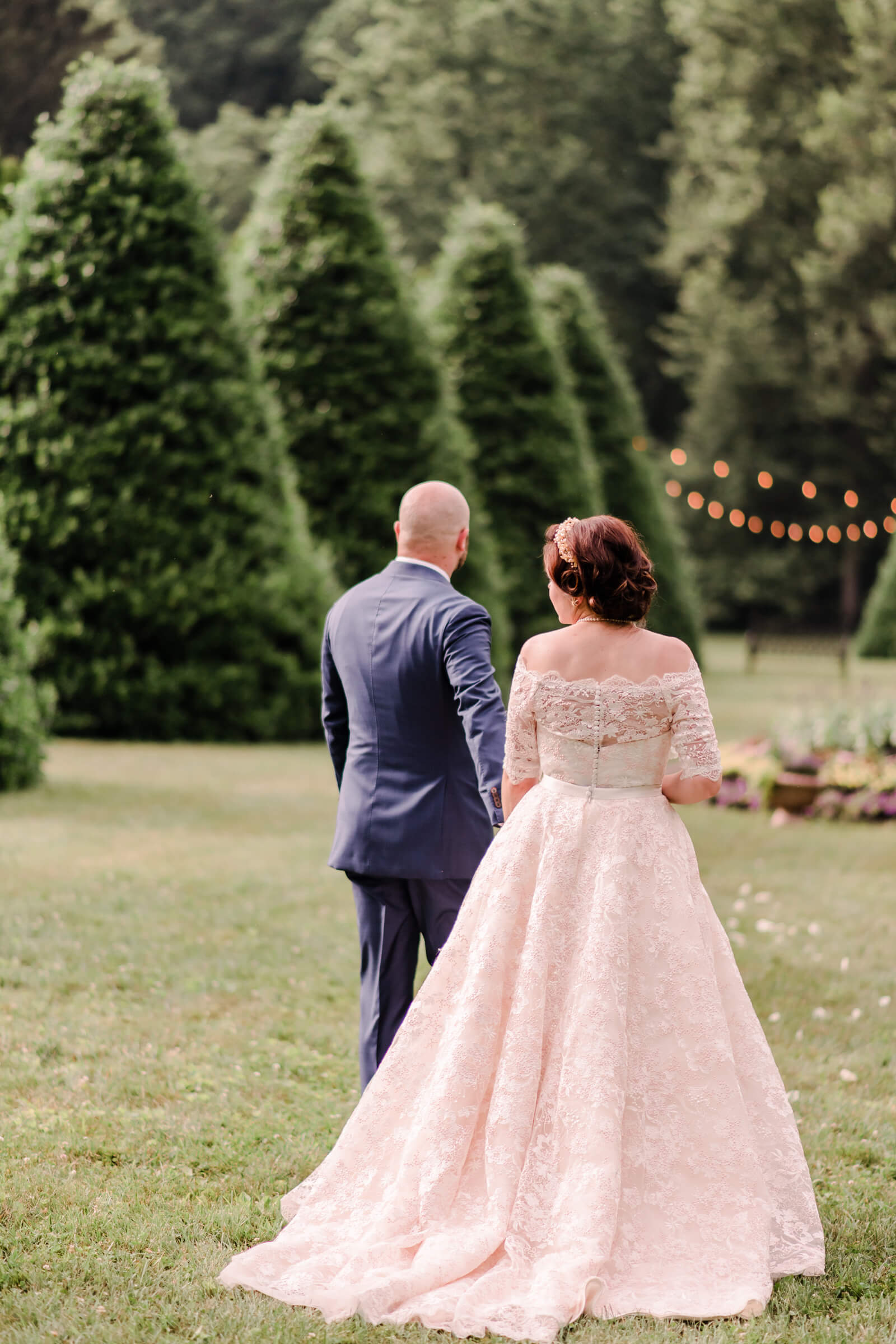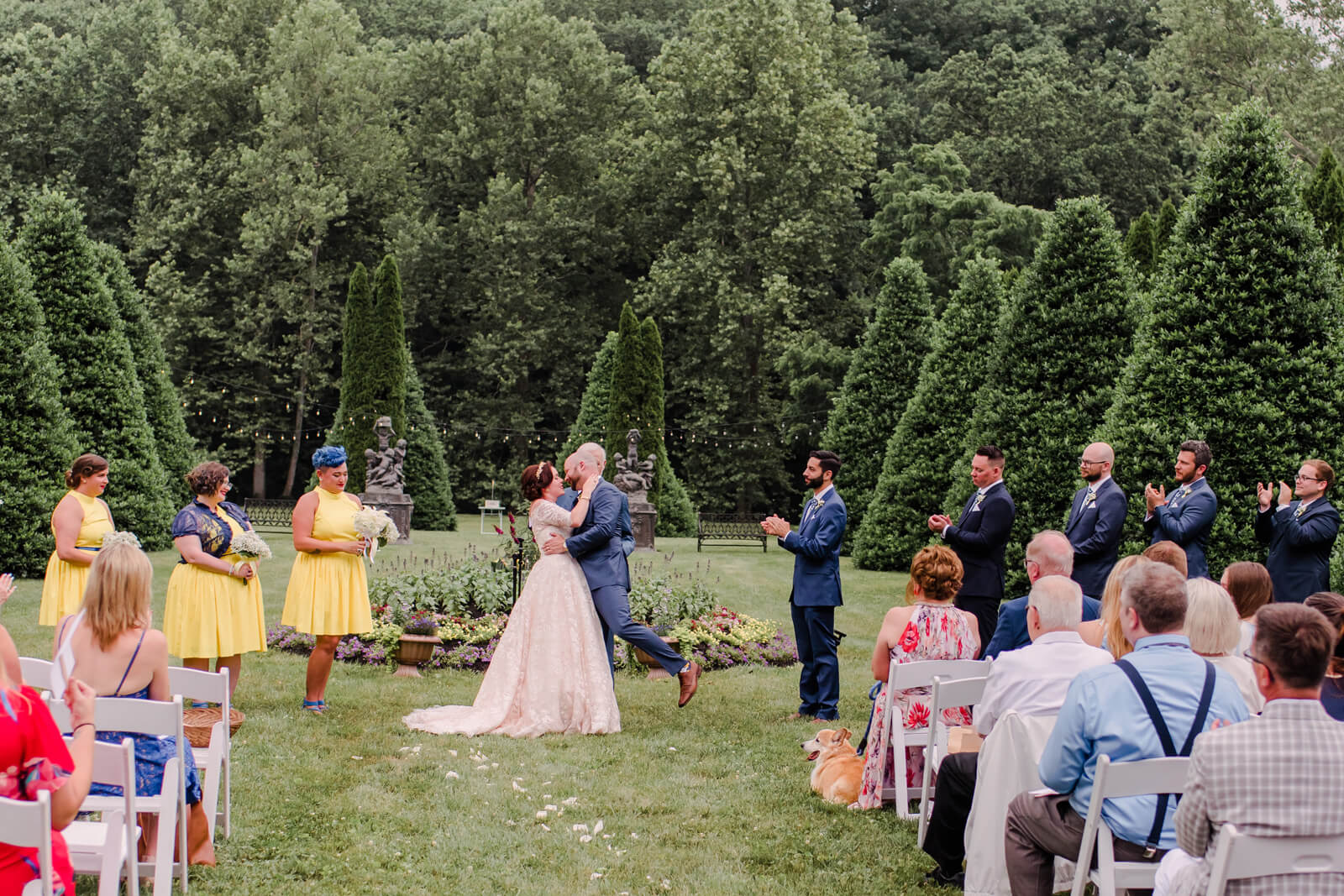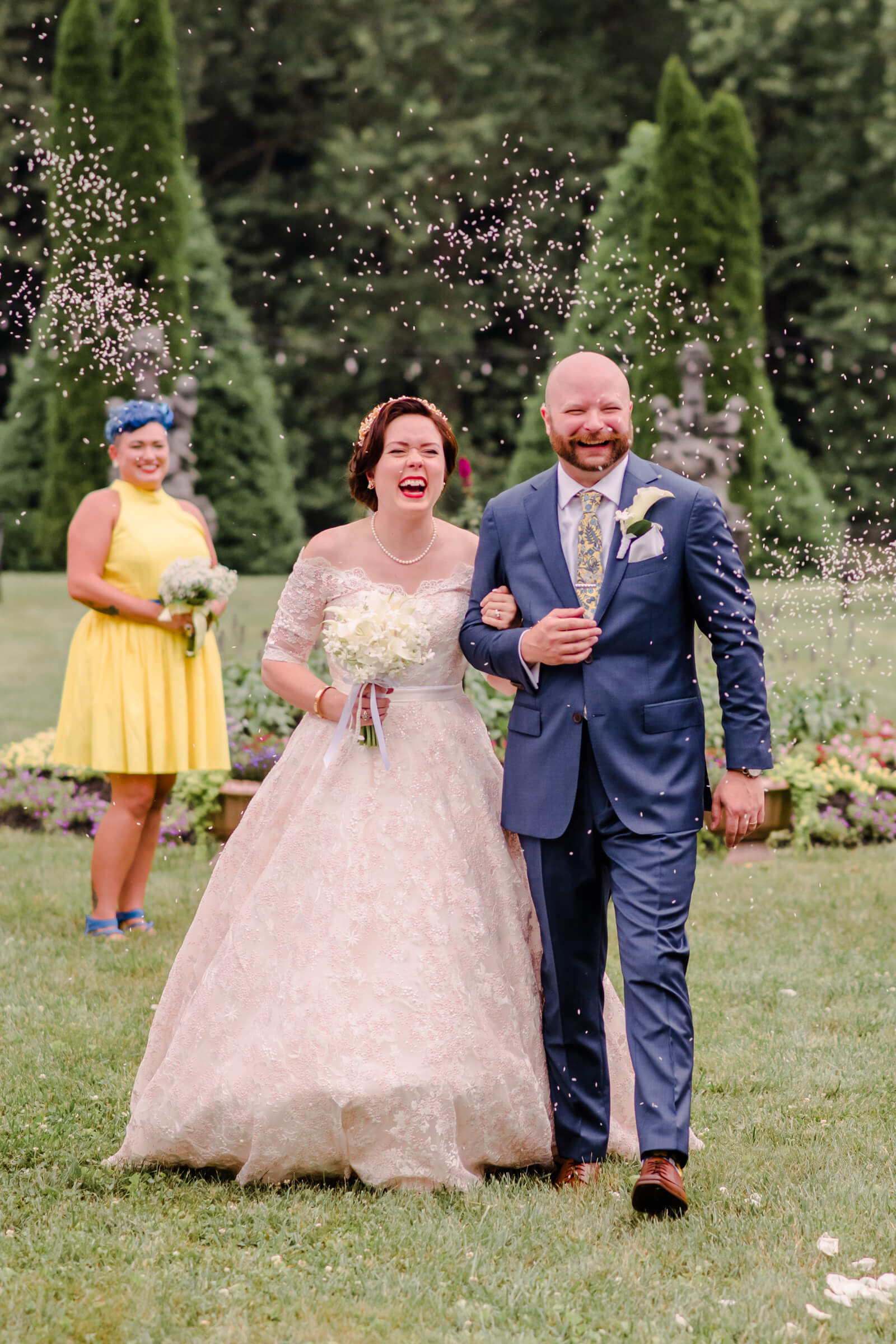 What Was Unique and Special About Your Wedding Day The family history and DIY elements. From the garden itself which has been part of Amber's paternal family for many generations, to the vintage garden furniture which was owned by Amber's grandparents and restored by her mother, to the newest family heirloom – Amber's wedding band designed by Jeff and set with family stones – reminders of family were all around us. The love and help our friends and family showed us made our day special and was truly moving, and we are grateful to everyone who pitched in to help create a beautiful night together.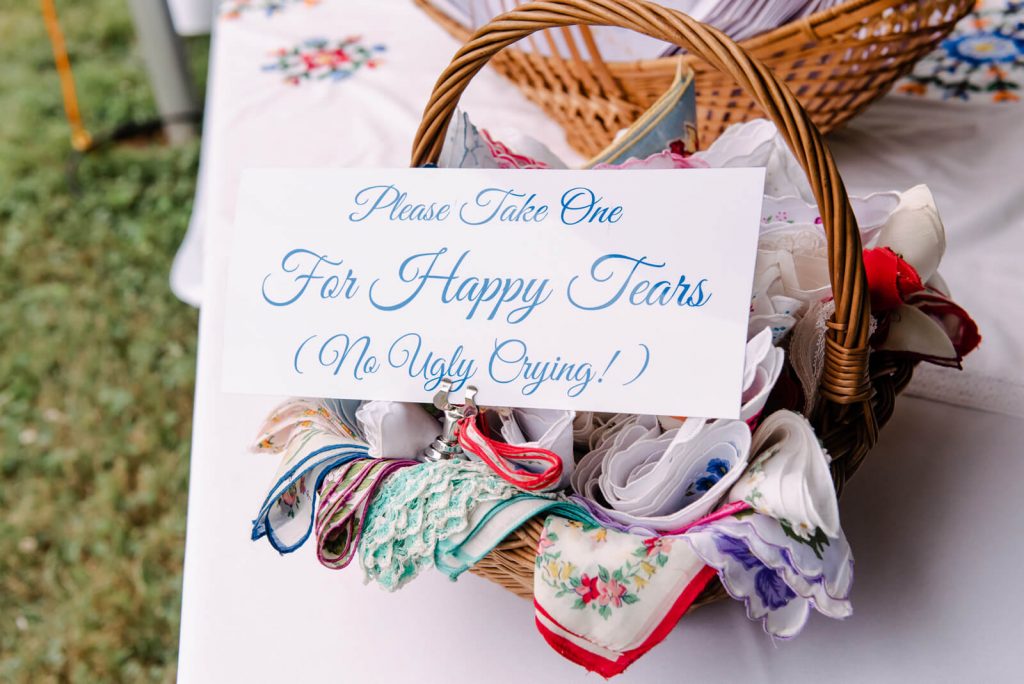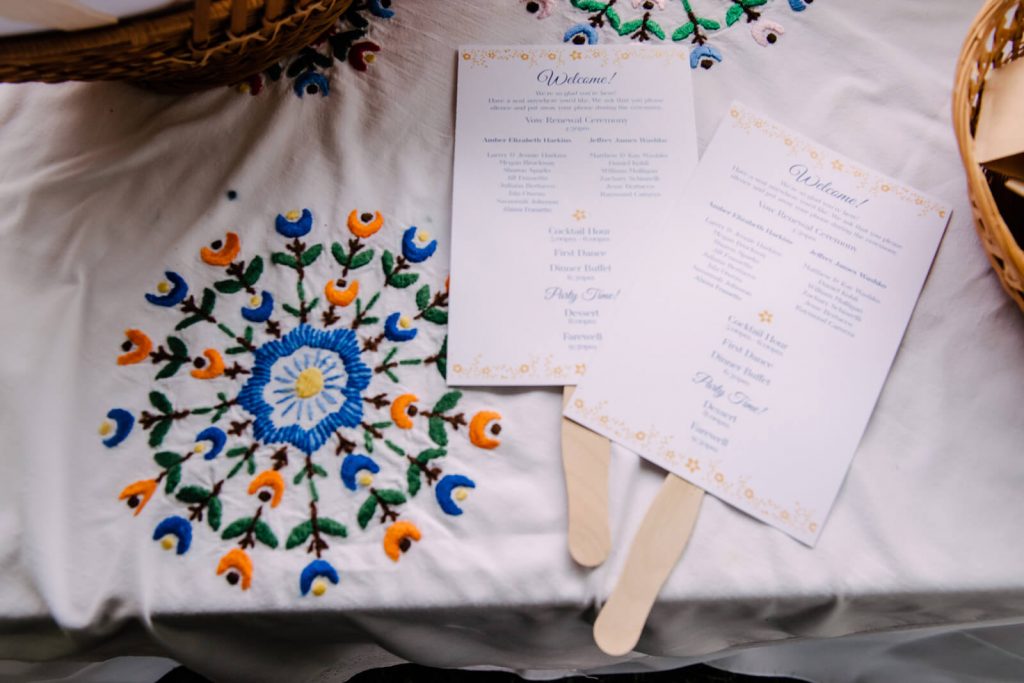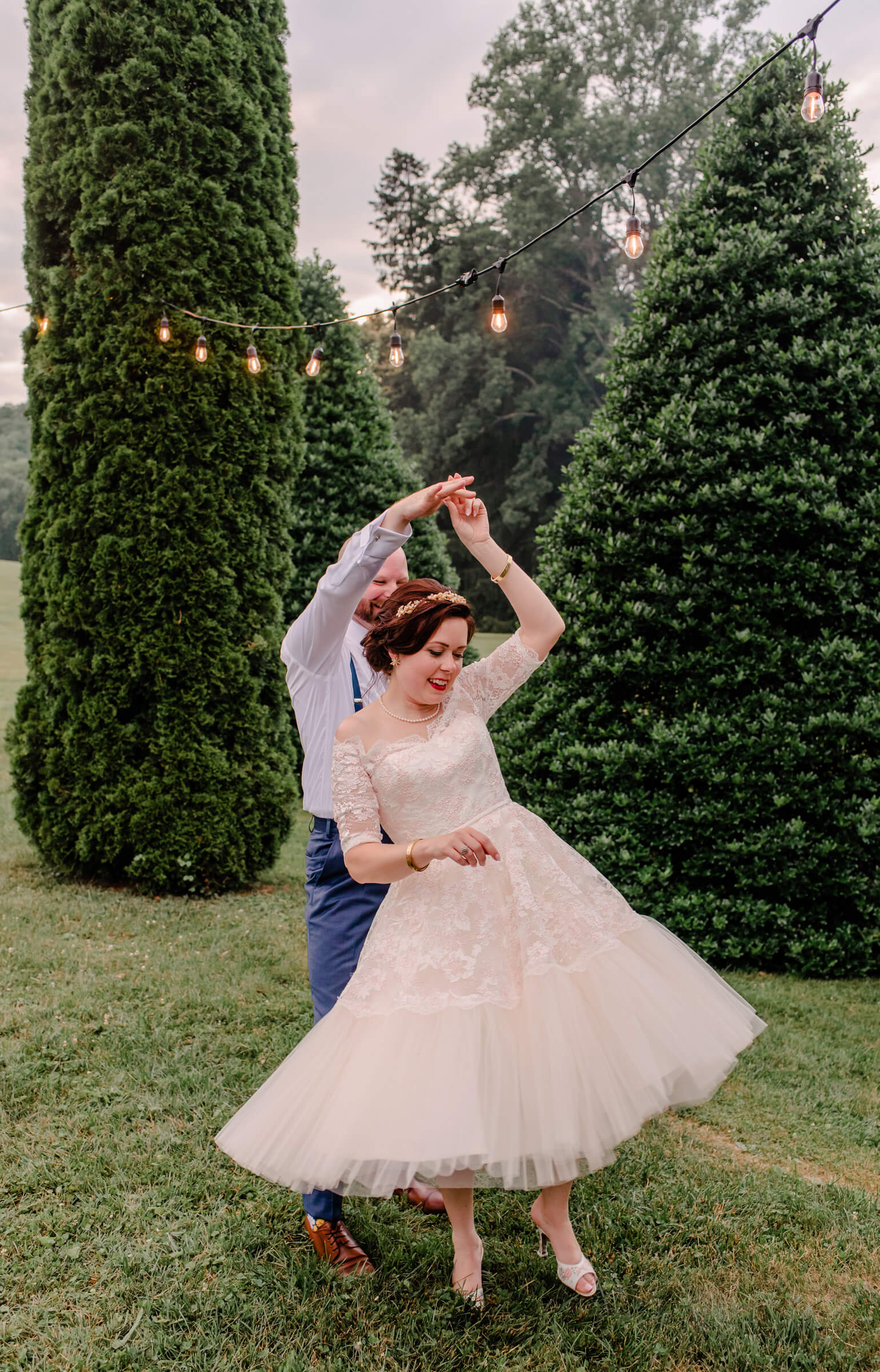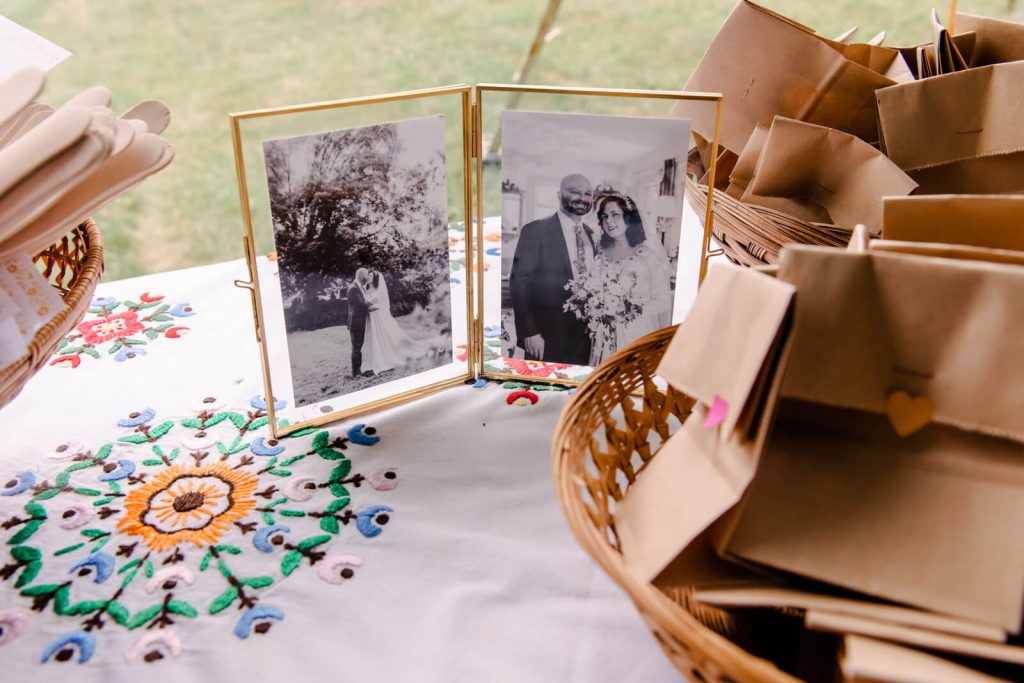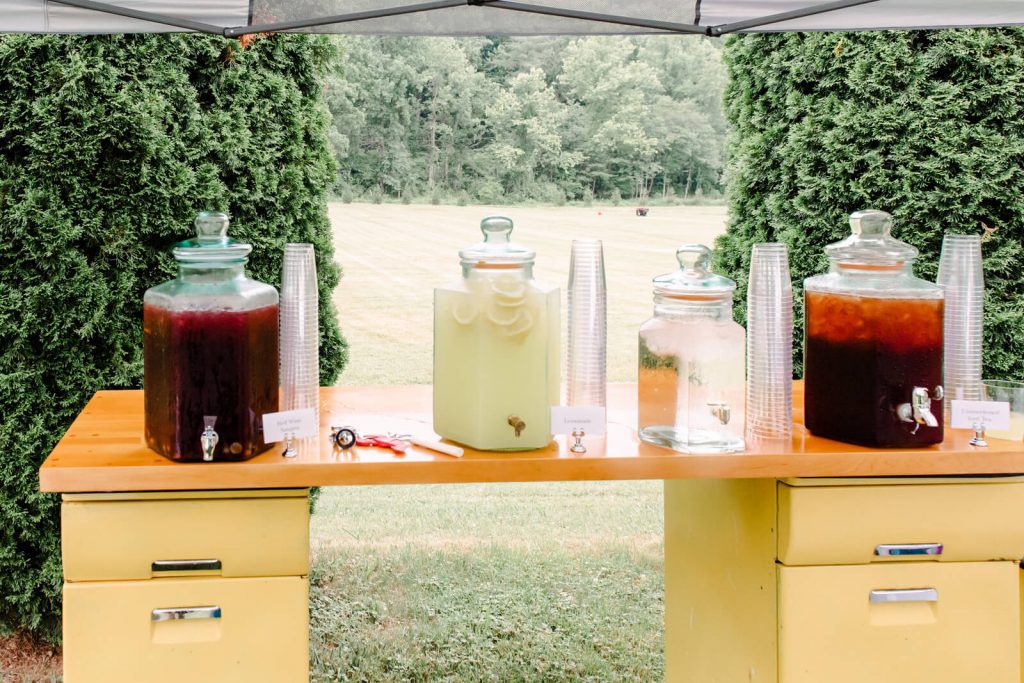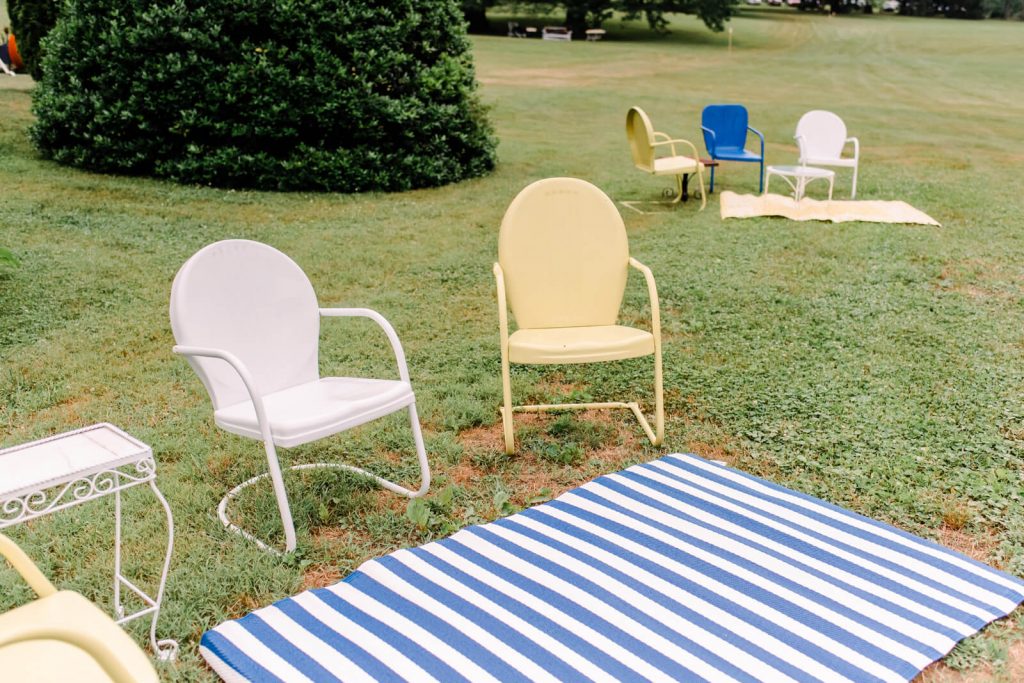 Favorite Details Amber's custom transforming wedding gown by Mooshki Bridal, and the talented Walsh Kunkle Trio playing our first dance, Moon River.
Most Unexpected Event On Your Wedding Day The cicadas were everywhere in the summer of 2021, including in our cupcakes. A friend from Flavor Cupcakery hand-made a bride-and-groom cicada cupcake topper for us, which she presented as a surprise gift after we cut the pies—definitely unexpected.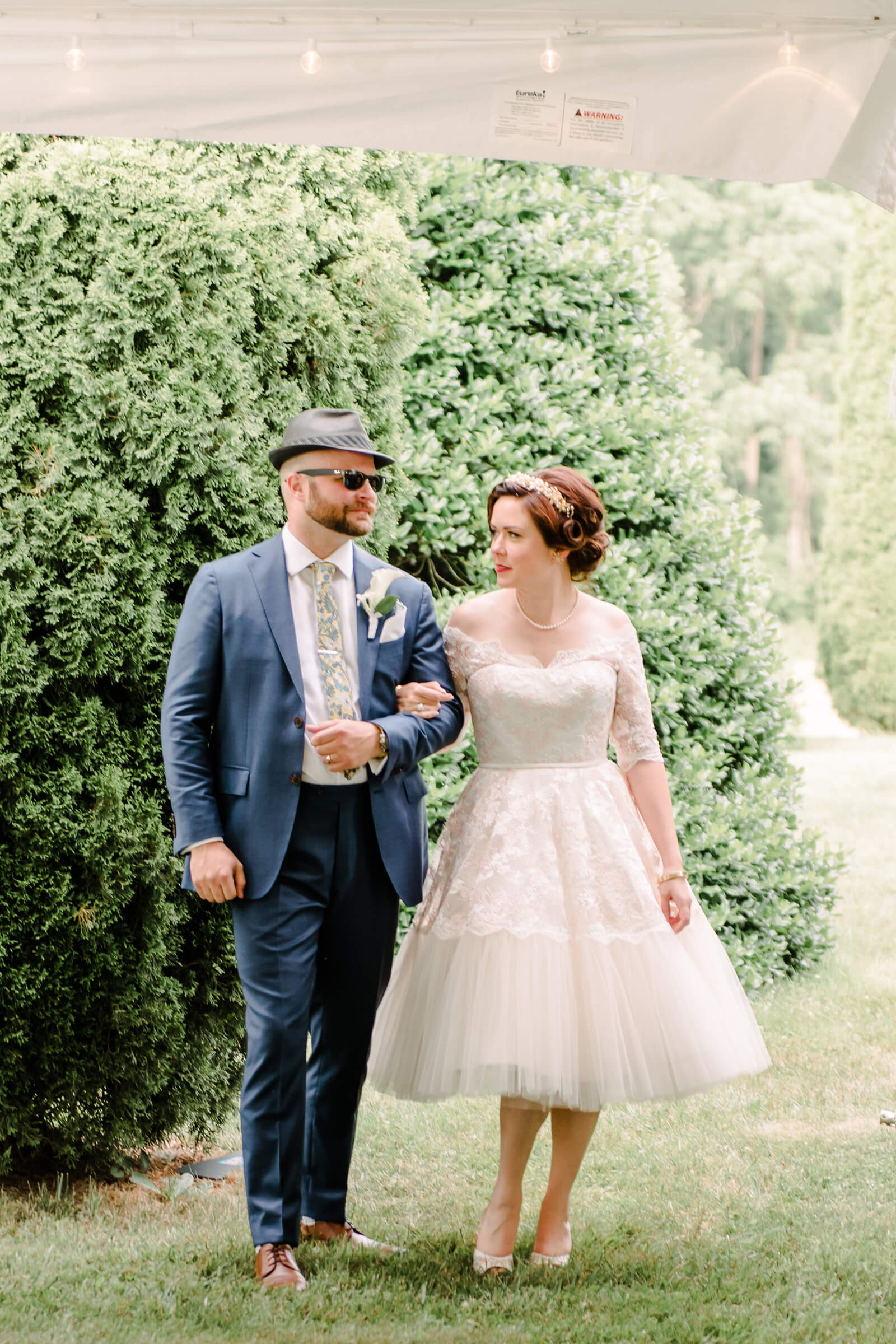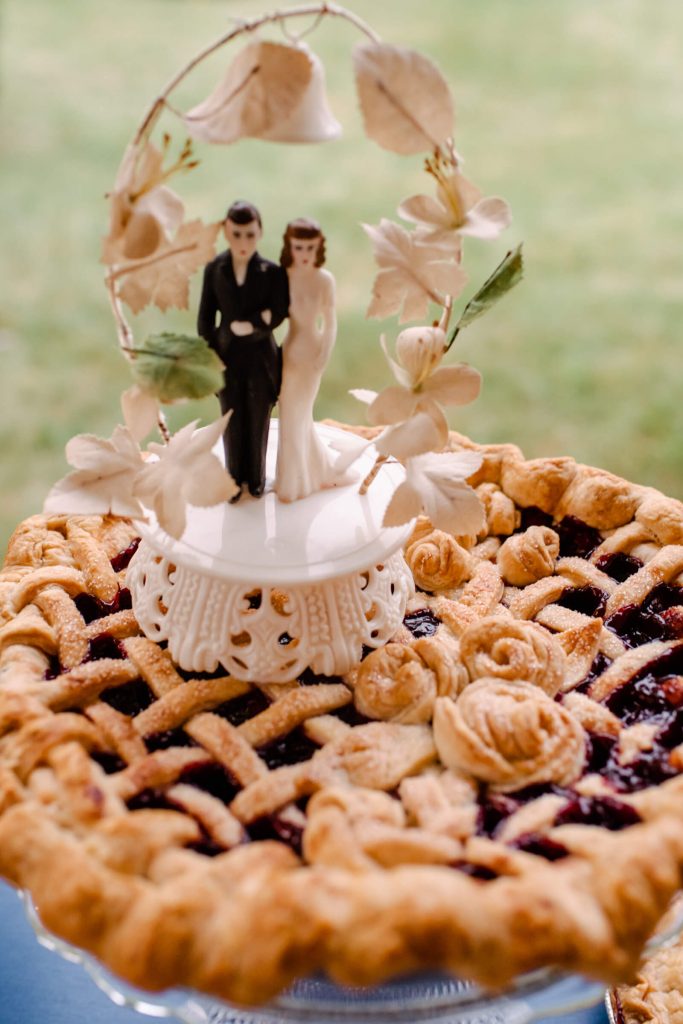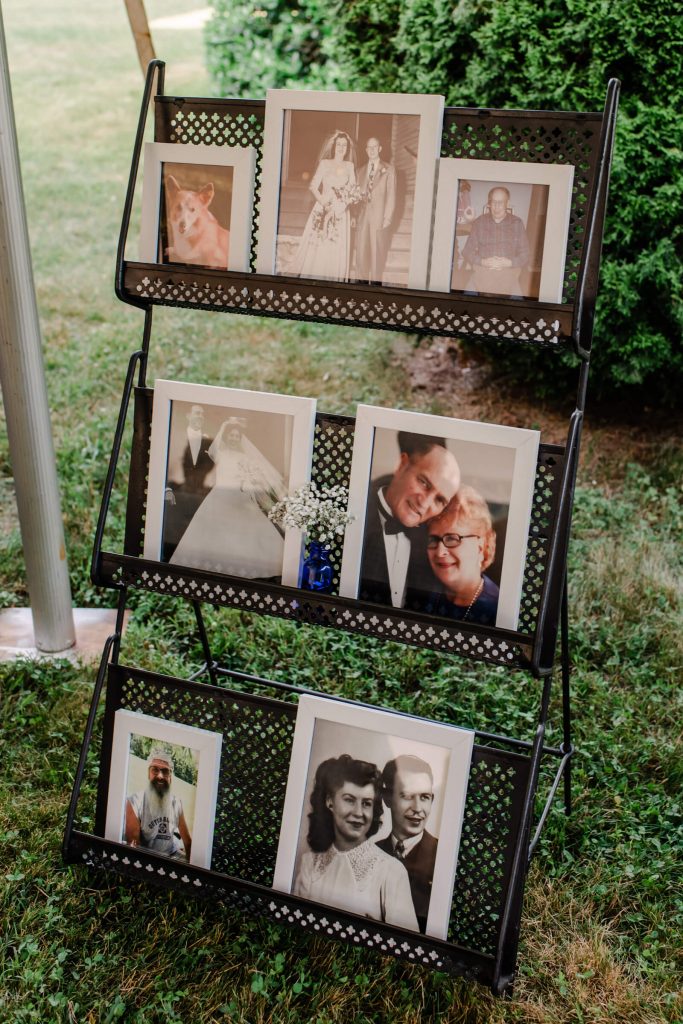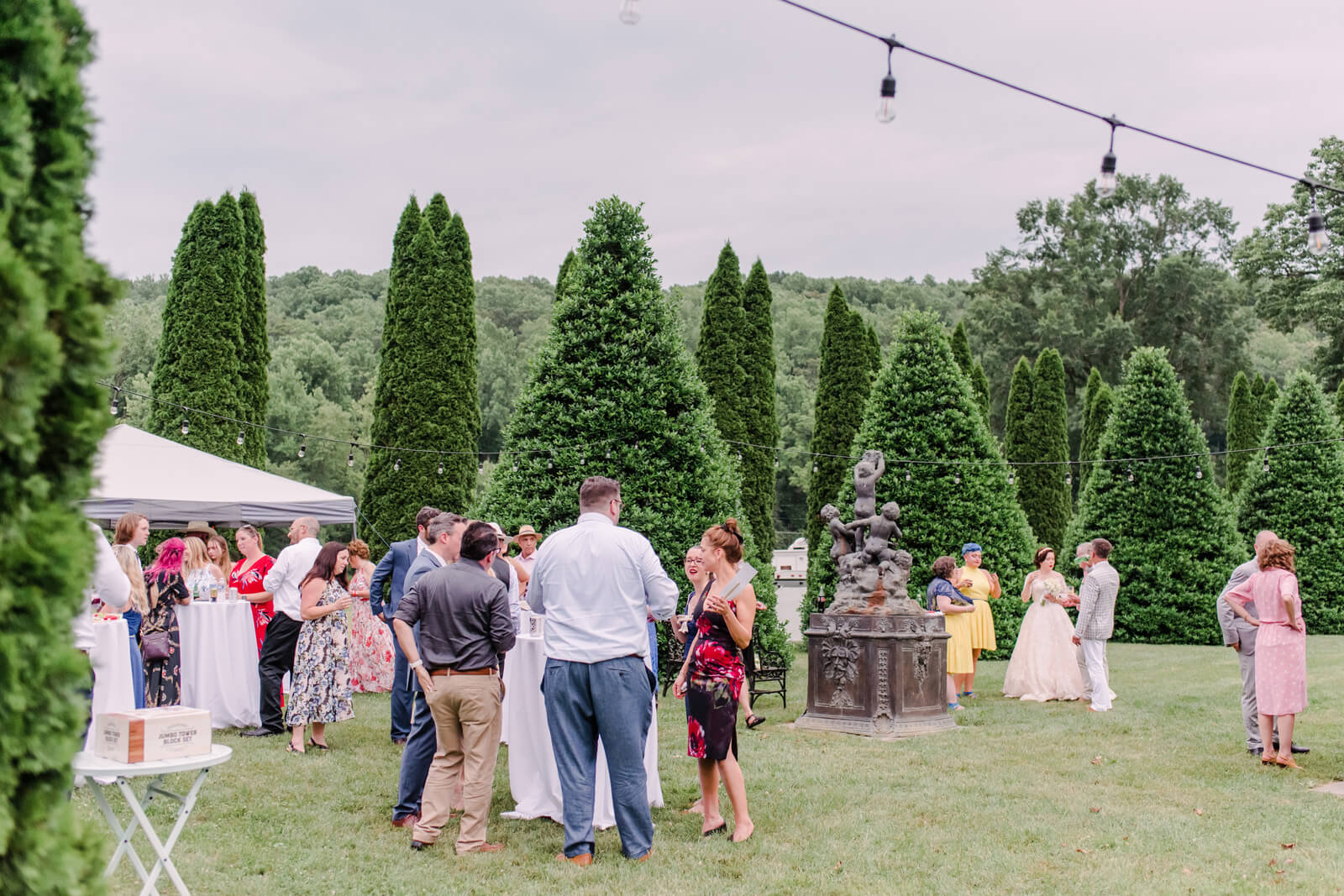 Piece of Advice If you decide to DIY to save money, know what you're in for! We sourced, organized, stored, and transported all our decorative items and furniture ourselves, and if you don't consider yourself a meticulous planner or don't enjoy thrifting, crafting, or restoration, the route we chose is probably not for you. That said, we had a blast planning all the elements of our most memorable day, and these lovely photos tell our story. And don't skimp on the photographer; a talented artist who helps you look your best is worth every penny.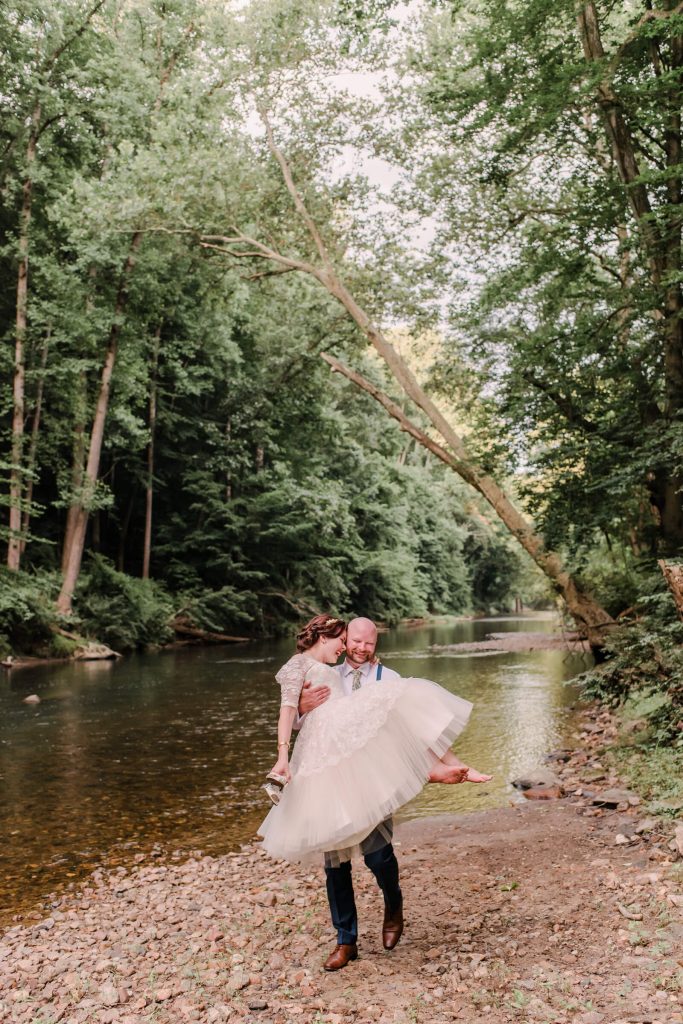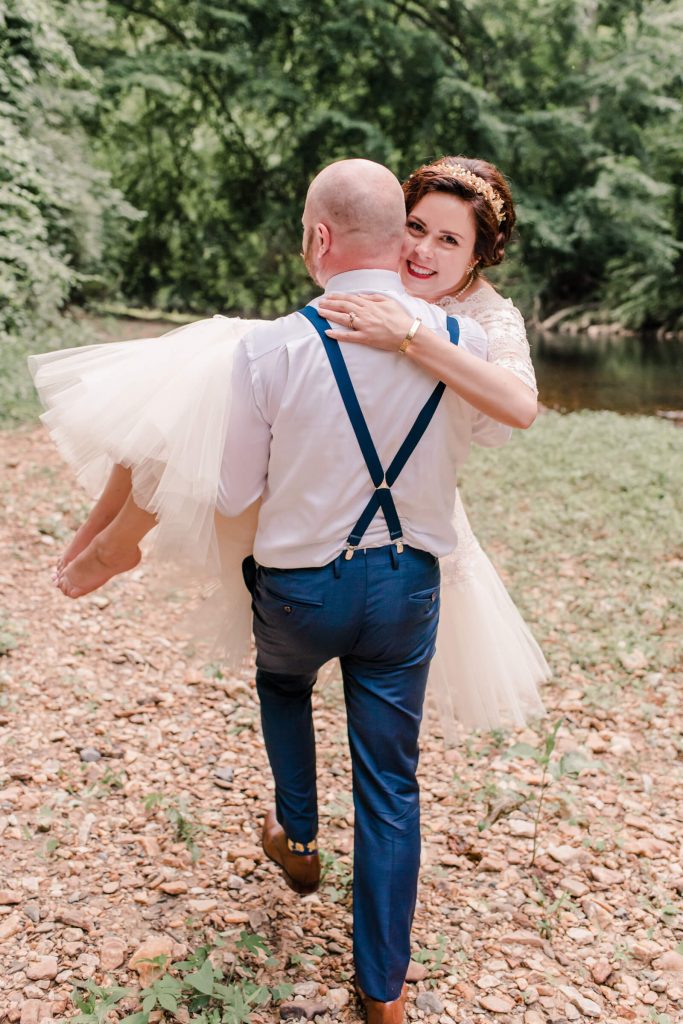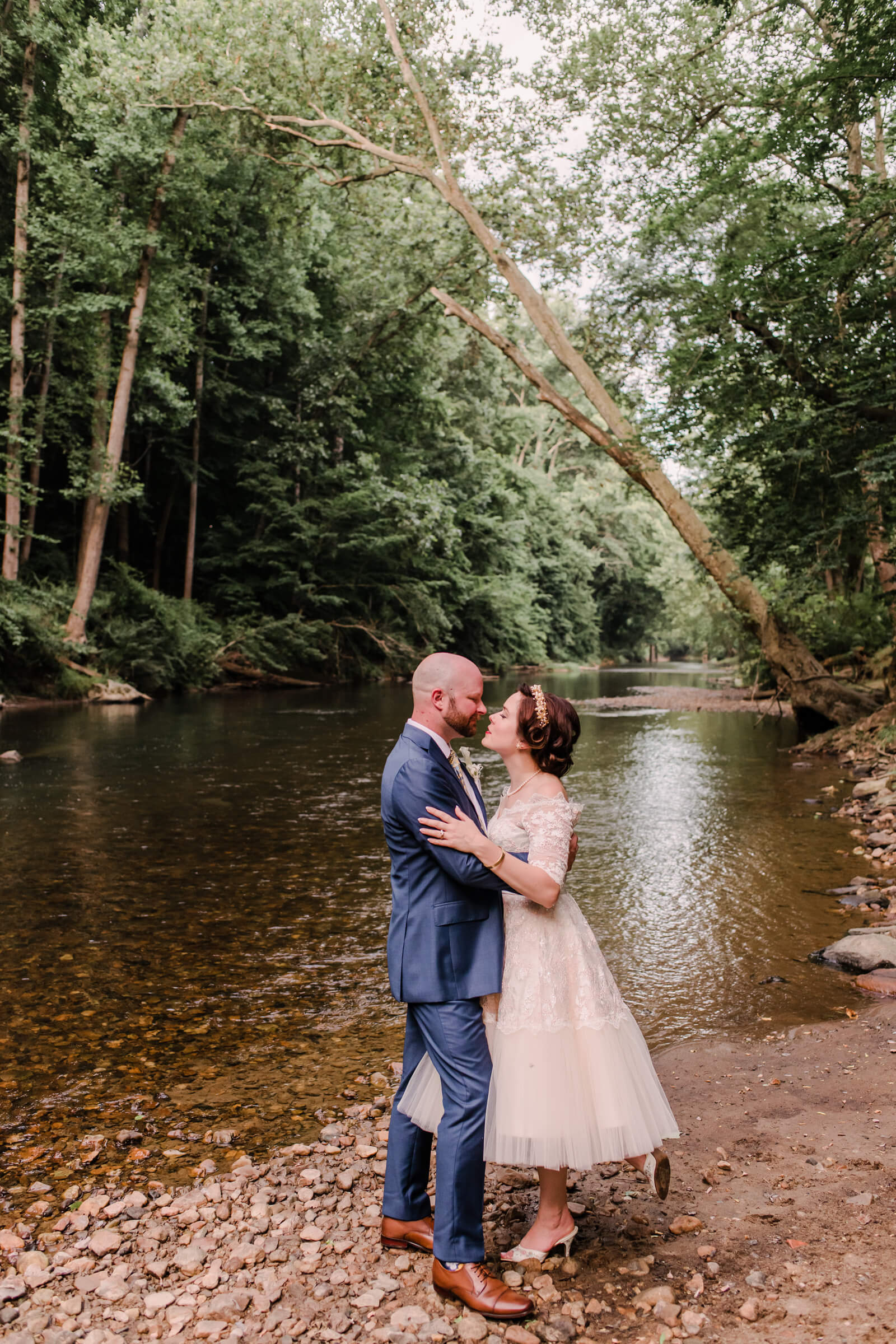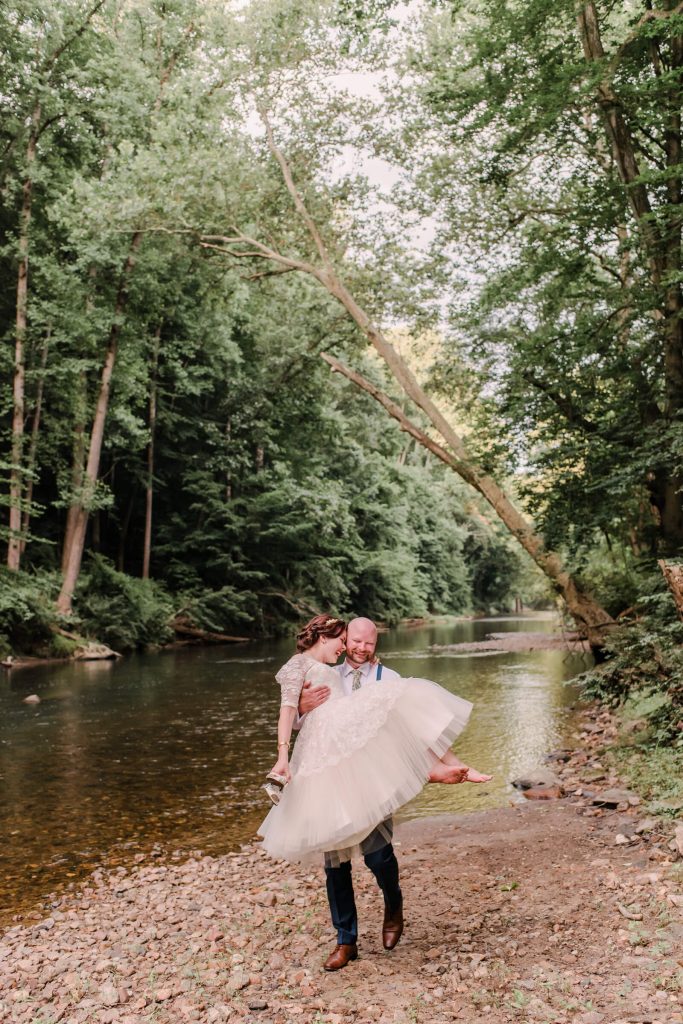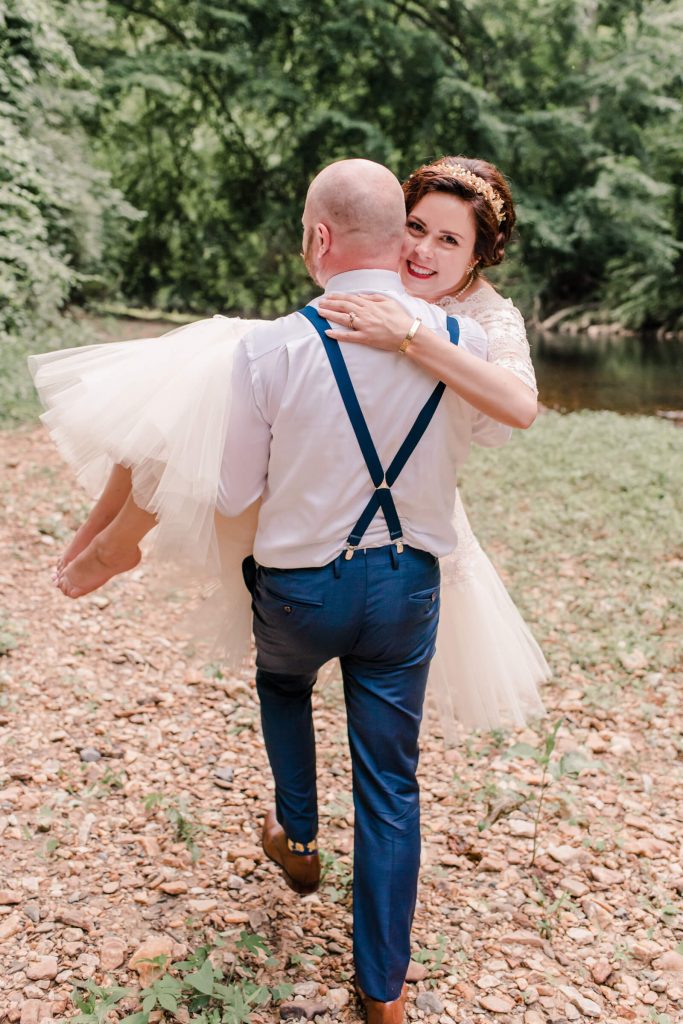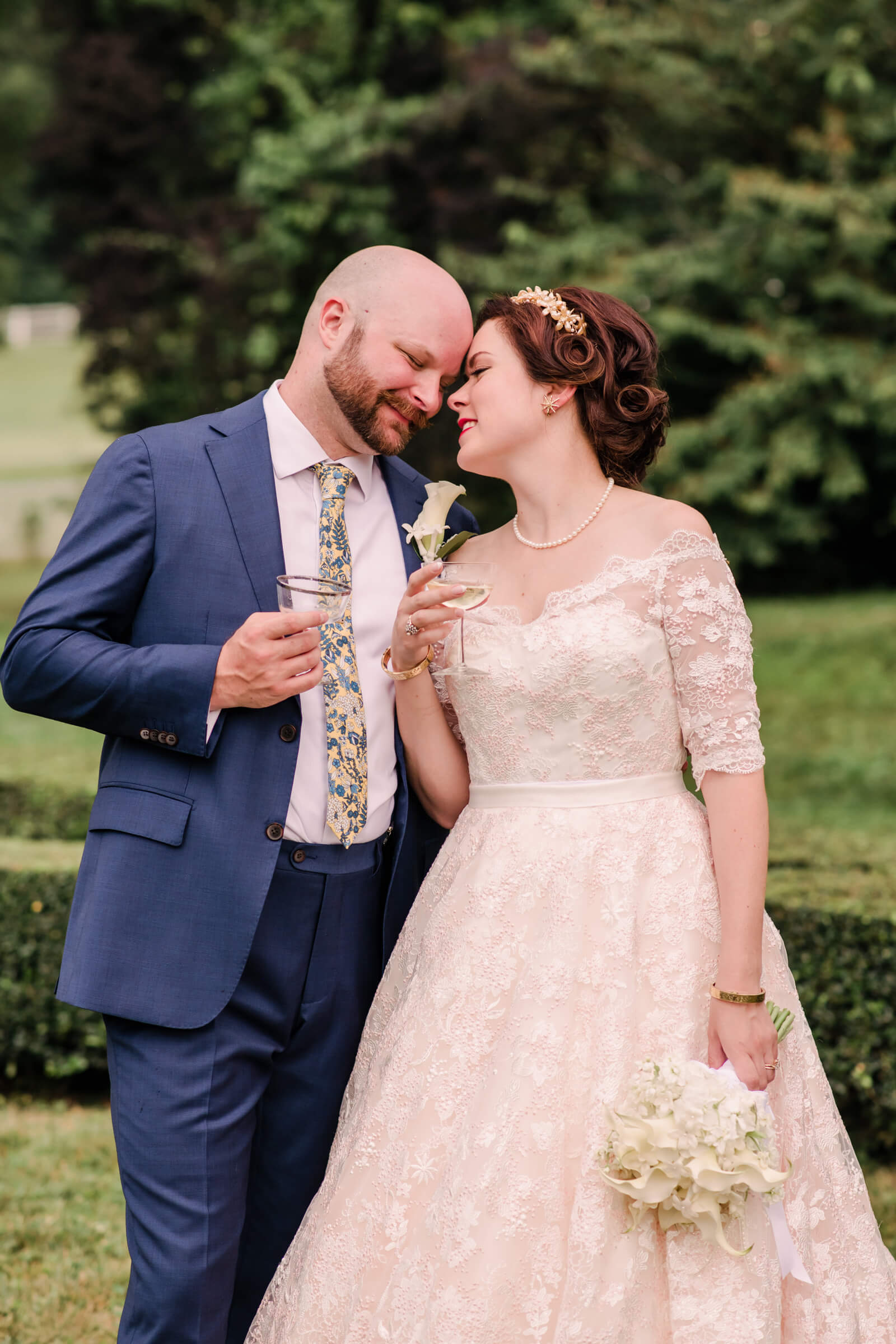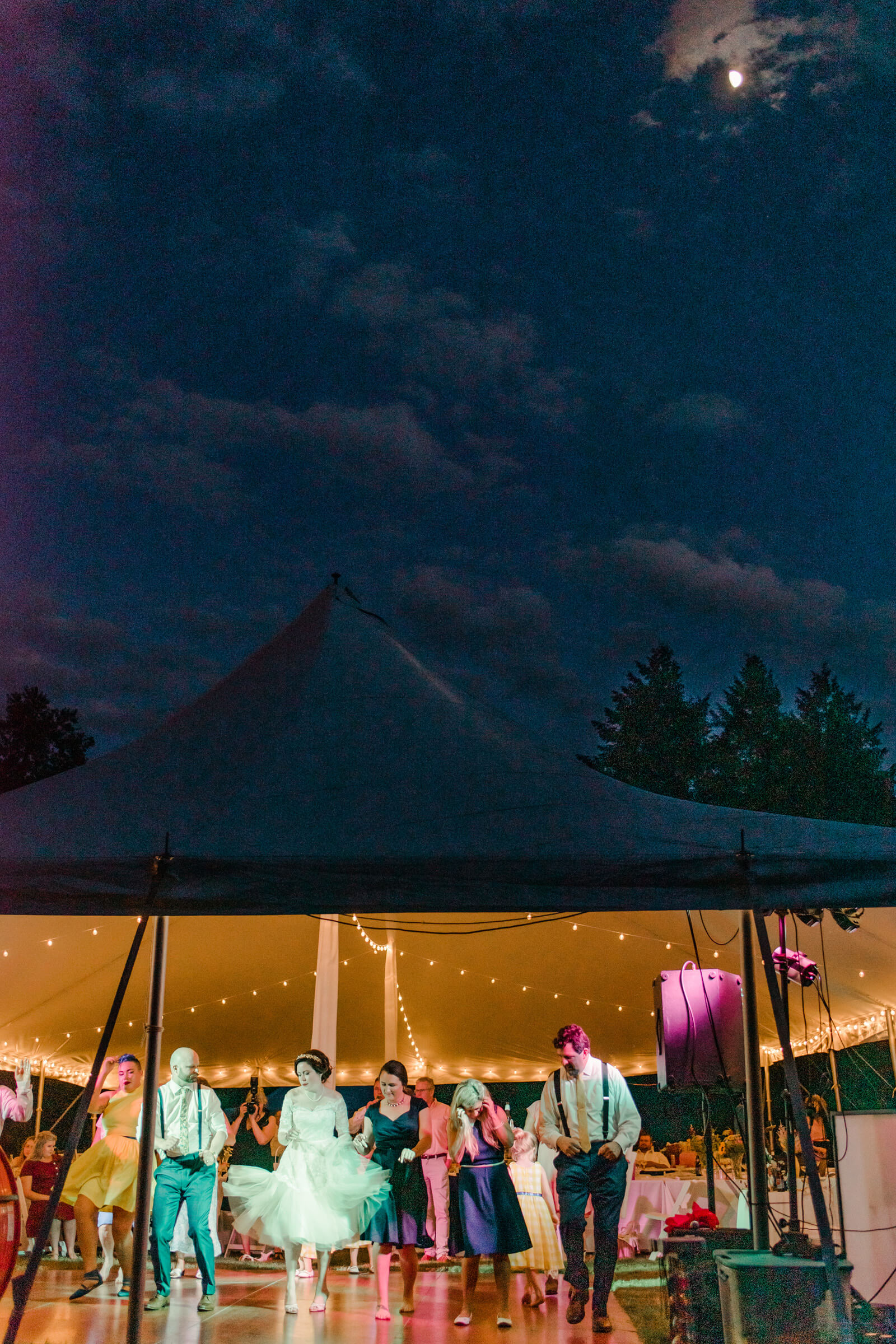 Beauty Su-Shan Lai, Starshine Salon, Philadelphia PA Bridesmaids Hearts and Found, from Etsy Caterer Our caterer's food truck business unfortunately did not survive the pandemic, so we did what we do best and got creative. We decided to improve on the menu we served for our "minimony" in 2020, only on a much larger scale. Fried chicken was again provided by Royal Farms, the bride and ladies of the bridal party lovingly made all the side dishes, and the groom proudly made over 20lbs of slow-cooked pulled pork barbeque. It was a team effort to prepare huge quantities of classic picnic fair, and our hard work paid off because the food was a big hit with our guests. Dessert Pies by Wilson's Farm Market, Flavor Cupcakery, and elegant cutting pie by Pastry Chef Alex Chalk. Flowers Bouquets and Boutineers by Sheila Smith Wedding Event Floral Design. Amber and her mother put together the decorative arrangements with some additional help from our good friends at Grier Nursery. Groom and Groomsmen Custom tuxedo by Suit Supply Invitations We designed our own invitations together and had them custom printed by uprinting.com. Amber sketched a floral design and Jeff laid out the text and got it ready for print with some digital magic. Location Grier Family Estate, Harford County Music Walsh Kunkel Trio (cocktail hour); Uvell Reaves with UR Entertainment (reception) Officiant Reverend Ken Tipton Photographer Marlayna Photography Wedding Dress House of Mooshki Bridal