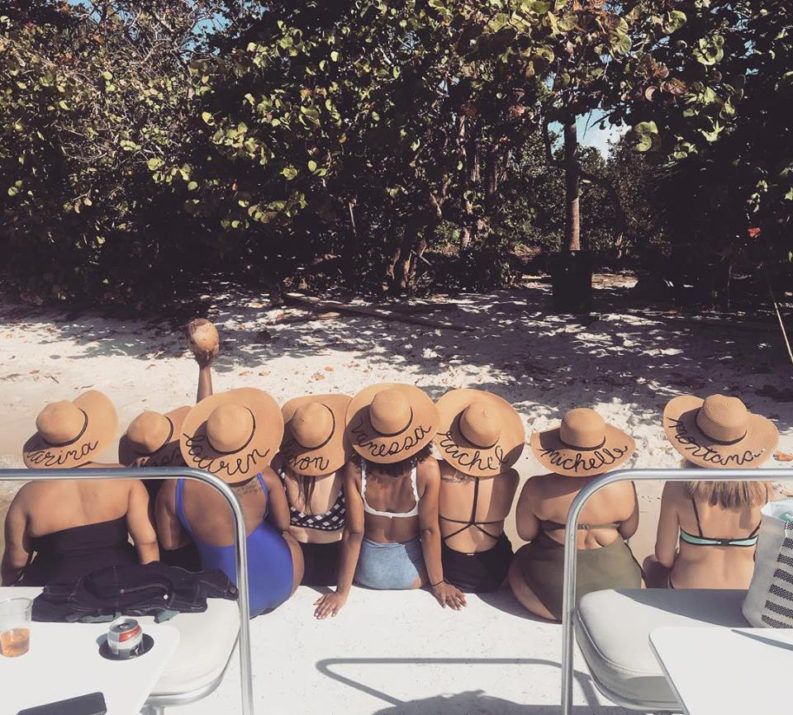 Calling all bridesmaids! Whether you are planning the ultimate girl's night out, a sweet staycation, or an elaborate trip to celebrate your bride-to-be, it's no secret that bachelorette parties can be quite the handful. But the good news is, I am here to help! I recently had the pleasure of planning my first bachelorette party for my best friend, Vanessa. Vanessa and I have known each other since we were five-years-old and she is one of my favorite people on the planet, so how could I not go all out to give her the bachelorette party of her dreams? Oh and did I mention she works for Love Stories TV, which is the largest platform for watching and sharing wedding films?  So nope, no pressure at all.
Here are the ten things I wish someone would've told me before planning, along with how we pulled it all off.
DISCLAIMER: Vanessa has two maids of honor, which made the planning process a lot easier. (Shout out to my other very best friend, Rachel Parker, with whom I could not have done any of the below without).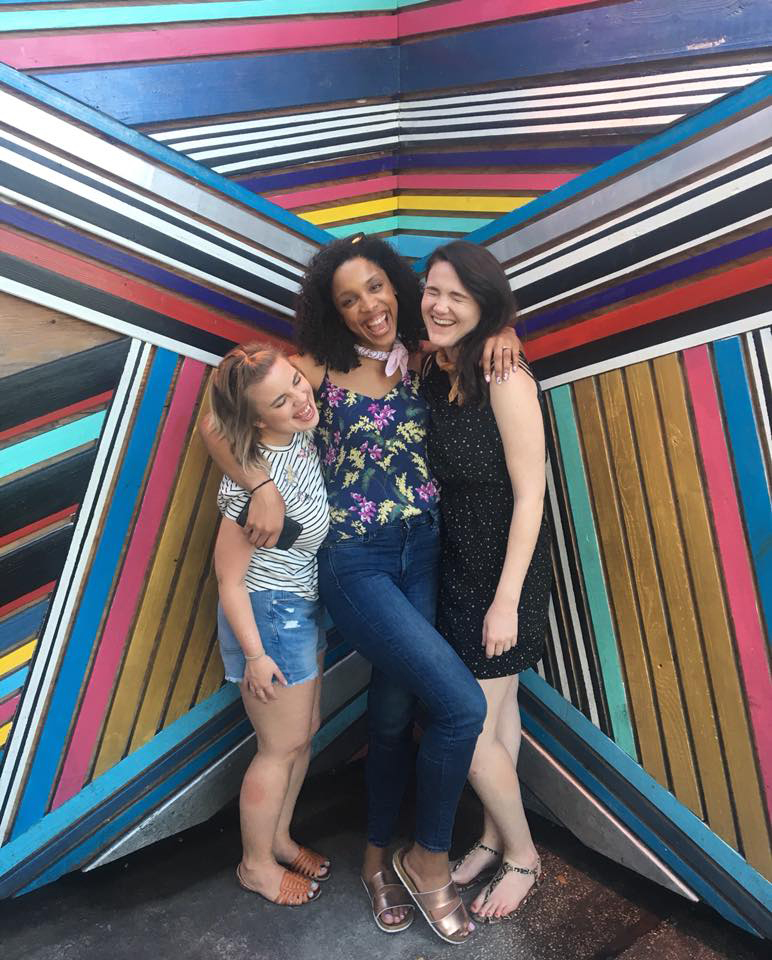 Plan ahead: The sooner you can start on your bachelorette plan the better. Talk with your bride and fellow bridesmaids about your budgets and expectations and be honest.
For Vanessa's bridal party, we all live in different states so the idea of meeting up somewhere made the most sense. We chose Miami, since Vanessa lives in Chicago and wanted to feel warmth again and it fit into all of our budgets. Catch ya next time, Napa Valley ($$$$).
Bride first: Along with being the golden rule of weddings, you must take this into account throughout all of your planning. Customization is key! Think about the things your bride truly enjoys and how you can incorporate them into the experience in some way.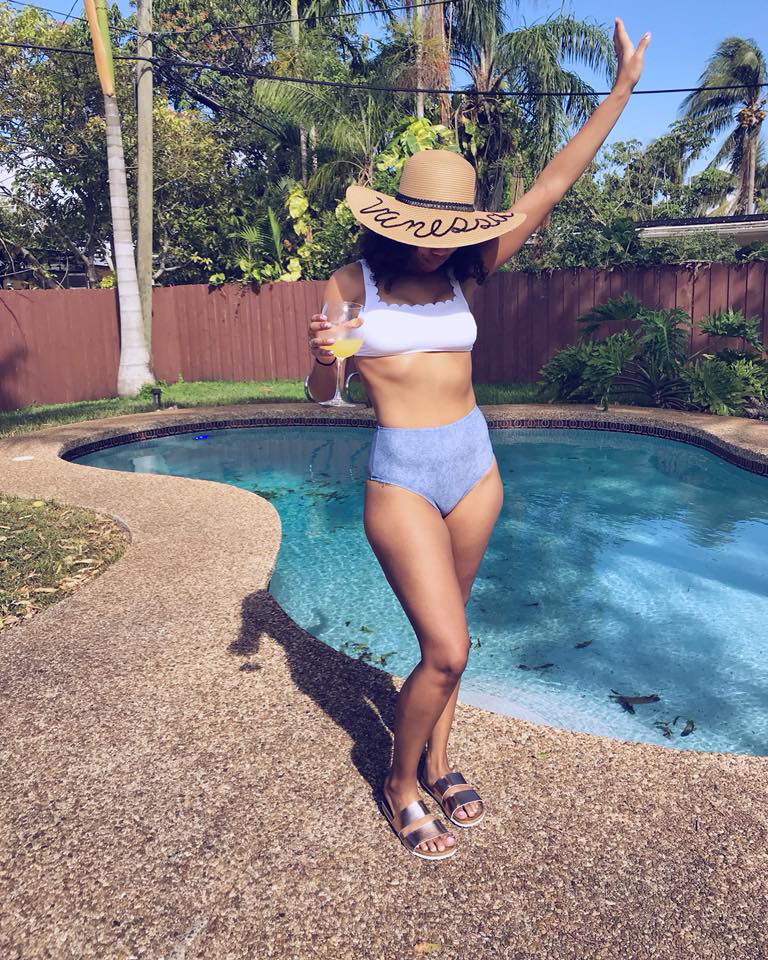 One of the first things Rachel and I knew we wanted to do was to replicate the Kanye West Life of Pablo tour shirt and make it into a bachelorette appropriate shirt. Vanessa is a huge Kanye West fan and this design felt so much more like her than other bachelorette designs. We used Custom Ink and were very happy with how they turned out.
Pick a theme: Once you get the logistics down, pick a theme that will help you make decisions on other things you will need like decorations, favors, and the most importantly—the hashtag.
With the t-shirts figured out, we took that momentum and ran with it. Since the party would be in Miami, we chose a color palette inspired by the colors of South Beach. We also knew with Vanessa working for a wedding start-up that a lot of the photos from her bachelorette weekend would be shared on social media, so we wanted to pick decorations that really popped—no pun intended. We built a balloon arch with the help of local balloon master, Sentimental Fools and got all of our other decorations on Amazon. Our hashtag choice of #ultralightbach came back to Kanye to tie it all together.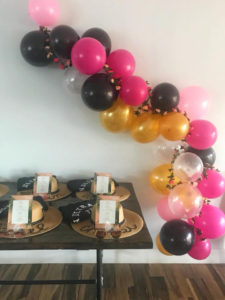 Make an itinerary: Reservations matter! Especially if you are going somewhere you've never been. Make sure to call ahead to guarantee you will have the best seats in the house. Once you have everything scheduled you can put together an itinerary to send to the rest of the party.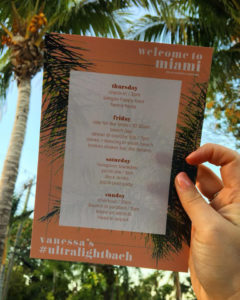 Our girl loves a plan, and while she knew where she was going, she did not know what we would be doing all weekend. Rachel designed the itinerary and we had it waiting for her upon arrival. Words of advice: Get yourself a friend who can graphic design.
Get creative: When it comes to decorations, Pinterest should be your new best friend. Ditch the penis shaped everything and think outside the box for décor that fits your friend. No judgment if that thing is penis shaped.
We took a couple of ideas from Pinterest and got the supplies for cheap on Amazon. You'll be surprised with how much you can actually do yourself and with how much money you'll save by not purchasing completed DIY projects on Etsy.
Expect the unexpected: When you are planning a party for someone else there is sure to be many moving parts. Breathe. If things go wrong, make the best of the situation and have a back up plan or two on hand. If all else fails, there is nothing a bottle of champagne can't fix.
We were in Miami during the South Beach Wine and Food Festival, meaning a lot of places we had on our agenda were suddenly closed or reserved for private parties. To be honest, our night out in South Beach was kind of a bust. But when morale got low we knew when to call it and head home to drink wine and dance in our pajamas.
Get Venmo: Right now. Really, download it. Nothing kills the mood more than tallying up bills and checks in the middle of the party. With Venmo it's simple to charge or pay others quickly in the moment.
Venmo saves lives. We handled everything from accommodations and excursions, to bar tabs and groceries.
Try something new: If traveling together doesn't make you closer, trying something you've never done before will.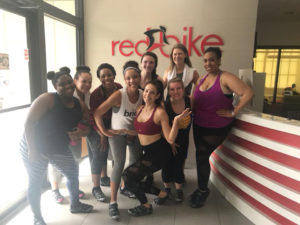 We chose to do a custom spin class at RideBike Studios , which I can honestly not say enough good things about. The studio and our instructor, Mari were amazing and with some of our girls never taking a spin class before, it was the perfect atmosphere. We also made a custom playlist with songs that made us think of Vanessa and the studio even offered to make a custom Vanessa smoothie for us after class. So fresh.
Do Yourself a Favor: Because you'll need a souvenir to remember your bachelorette experience. And Advil. Lots of Advil.
Our biggest thing when thinking about what favors to give was that they would be useable and fun for pictures. We decided to do custom beach hats. We ordered them in bulk on Amazon and then using black sequin trim, adorned them with everyone's name. First, I traced each named onto the hat with a black sharpie and then used fabric glue to attach the sequin trim. You will need to follow the font and cut the trim in between certain letters to keep everything smooth and connected. Each hat took about 20-30 minutes.
We also got heart shaped sunnies for picture fun, since we were celebrating love after all.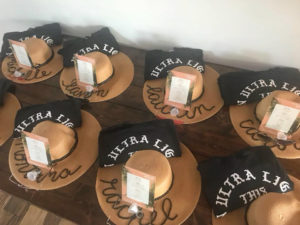 Rent a boat: I'm serious. Maybe this is a personal preference, but I have never felt fancier getting a private charter—even if it was a pontoon boat and not a yacht. I stand by the fact that alternative transportation is more exciting than Ubers and Lyfts. Be it a party bus, a limo, one of those bike pedal trolley things, travel in style and see things differently than you normally would by car.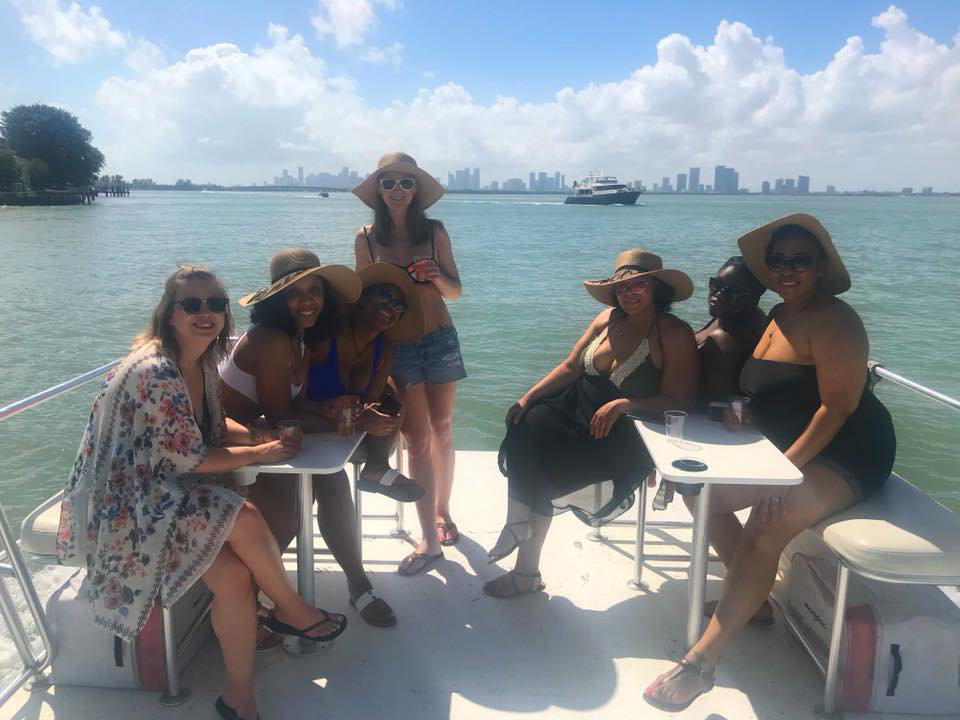 We did a three-hour charter with Beach Paddle & Co. and had the best time ever. We got to see Miami by sea, stop at a sandbar for a swim, and visit a dock bar for much needed sustenance. The boat was also BYOB, which was convenient and great for our bank accounts.
Lauren Bell is the Style Editor for Baltimore magazine.