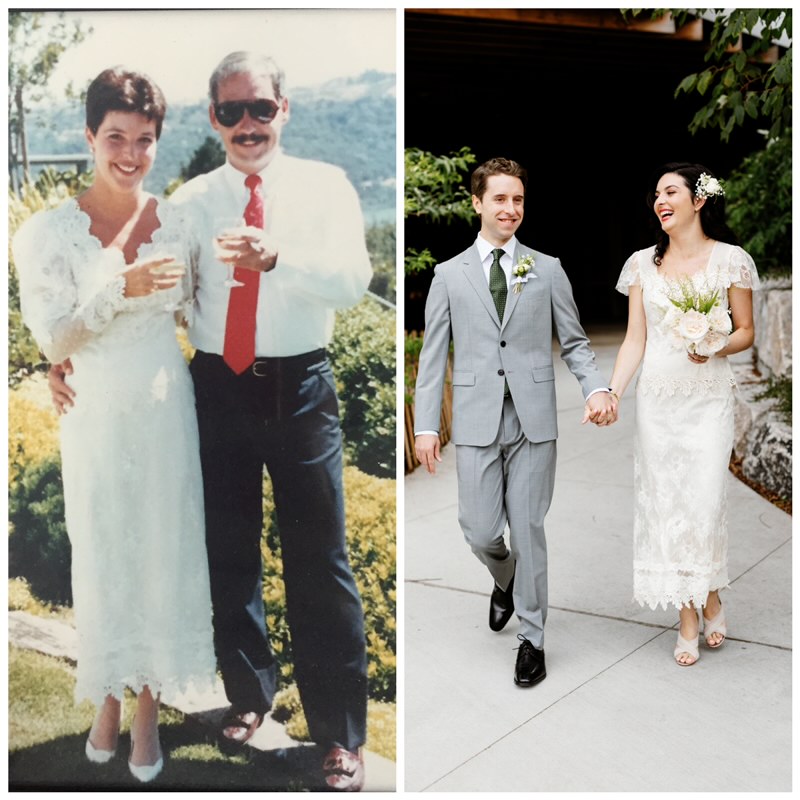 Susan Spring is returning to her Baltimore roots as she opens a second location of her popular Wedding Dresser studio in her childhood home in Pikesville. Spring focuses on repurposing vintage wedding dresses along with wedding day styling.
Q: How did the Wedding Dresser begin?
My personal background is in costume design and textile art for Broadway, ballet, and opera. The Wedding Dresser started as a repurpose-your-dress company, and, as my business grew, we added services to accommodate the new way brides were shopping.
Q: What services does the Wedding Dresser provide?
We start with shopping services. If brides need help finding a dress, we have a list of online retailers and local boutiques and we can accompany them to the bridal shopping appointments. The next step of the process is alterations and styling, which is the most popular service. We do all types of customizing, such as adding over-skirts, changing necklines, and lowering backs. A lot of our brides are interested in having unique dresses. Another service we specialize in is resizing and restyling vintage dresses. The Wedding Dresser will also send a "dresser" to the wedding; dressers are professional theatrical workers or professional stylists. They steam all the dresses, follow the bride around during photography, and fluff her again before the ceremony. The dresser will also stay for the bustle.
Q: What is your personal connection to Baltimore, and why did you choose Charm City for your second location?
I started my business in Brooklyn in my apartment. So we started very small, like most Brooklyn businesses. I am starting my Baltimore studio in the Pikesville house I grew up in. So part of the reason I am opening in Baltimore is that it is my home. I've also taken classes at the Maryland Institute College of Art and worked with their textile students—we are hoping to set up an internship program with them!
Q: If a bride in Baltimore wants to see you what is the next step?
We are open and thrilled to see Baltimore brides. Brides can book their fittings on our website. And if they have further questions, we now offer virtual consultations. We love seeing brides virtually first; that way, we can answer their questions and give them an estimate. We will also be adding virtual styling appointments in the fall.
Q: Any final remarks you'd like to share?
We are also open for shopping appointments, so if you already have your dress, we encourage people to come by for shopping. Our shopping concept is "Everything but the Dress." We carry everything from shoe pads and nipple covers to cashmere wraps. We have a full range of veils, headpieces, and jewelry. All the jewelry collections that we carry in-store are women-owned and designed. Since brides are busy women and have jobs, our goal is not to have them running all over town looking for stuff.
Instagram @theweddingdresser_brooklyn