Henry and I met our junior year of high school through mutual friends, many many years ago. I honestly thought he was the funniest boy I had ever met, enticing to say the least. We started dating and maintained a thriving relationship despite some distance in college. We quickly became best friends and it was clear to all that our relationship was a lifetime one. 
In June of last year, shortly after our graduation from college, Henry picked me up and took me to our favorite date spot on the water in Baltimore. Nick's Fish House had been a favorite spot of ours for a long time and became even more special on June 30. He said the sweetest words and asked me to be his wife and forever BFF. It was the best and most exciting heck yes ever.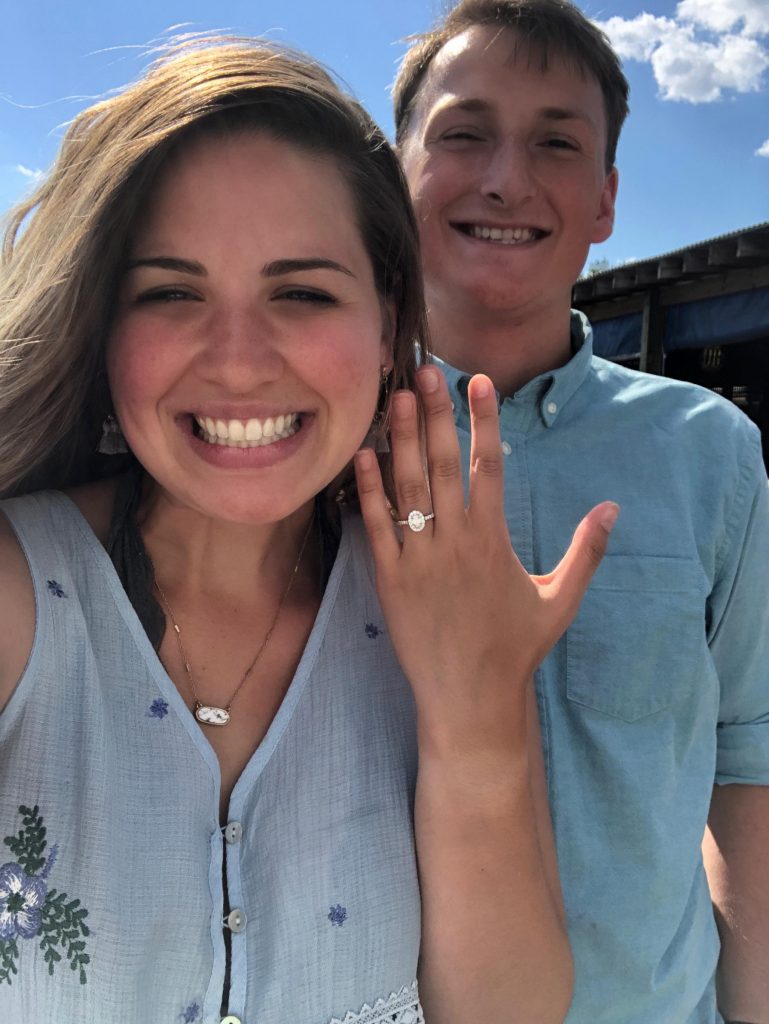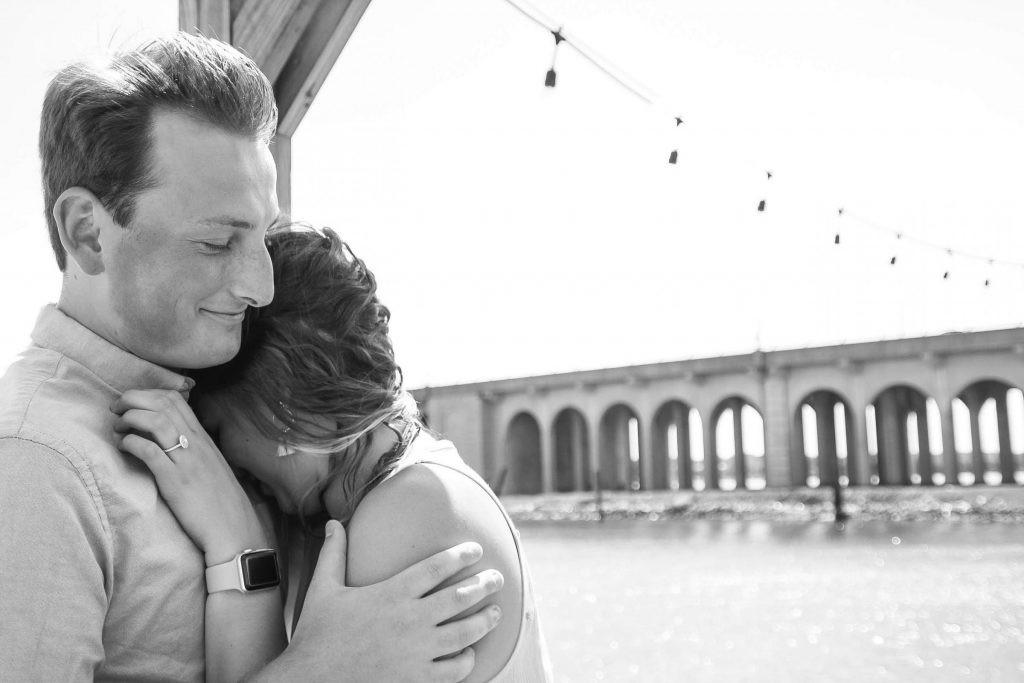 We quickly began to plan our wedding for the following spring- we thought it would be the perfect time to have our big 220+ wedding at a beautiful barn! I spent so many hours planning the Pinterest wedding of my dreams, counting down the days until our dreamy day. As the months went on, the world started to fear the new talks of the coronavirus. Before I could wrap my mind around the reality of the situation, I was dealing with rescheduling plans of bachelorette parties, showers, and times with my loved ones celebrating this season. Never would I have thought that a pandemic would mess with my dream wedding plans and many weeks we fell in the trap of feeling so saddened by what could happen to our wedding because of this virus.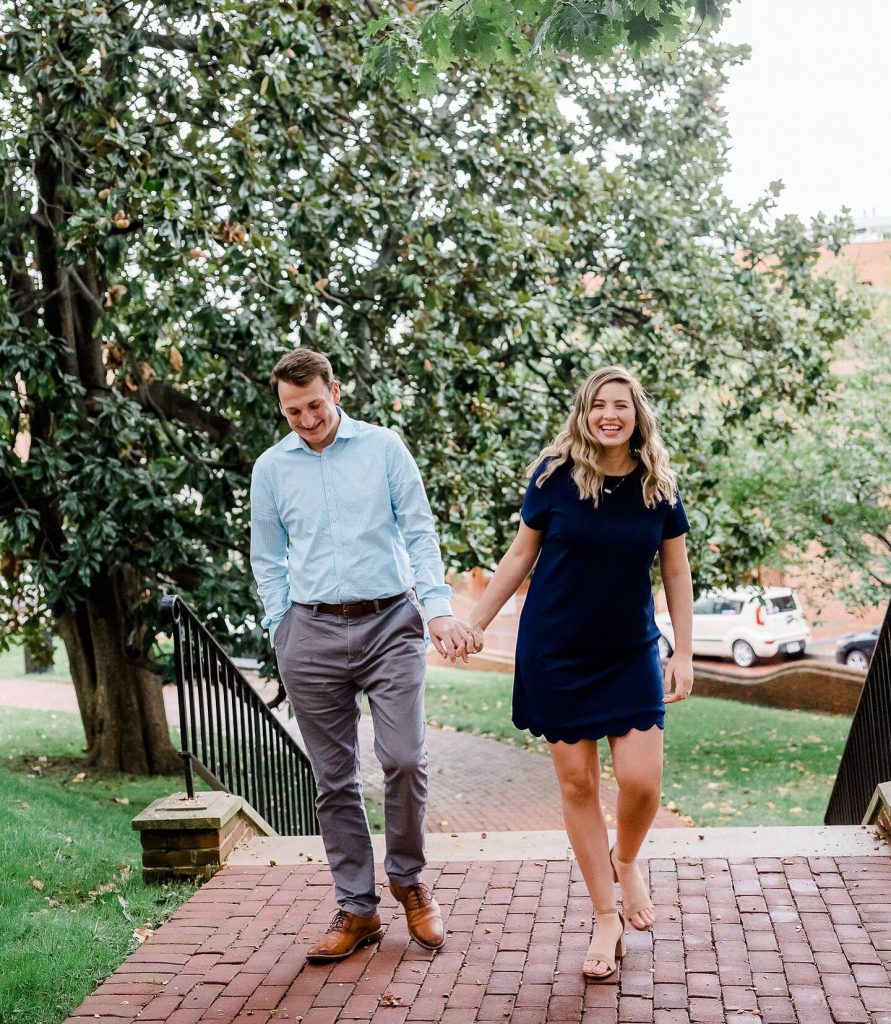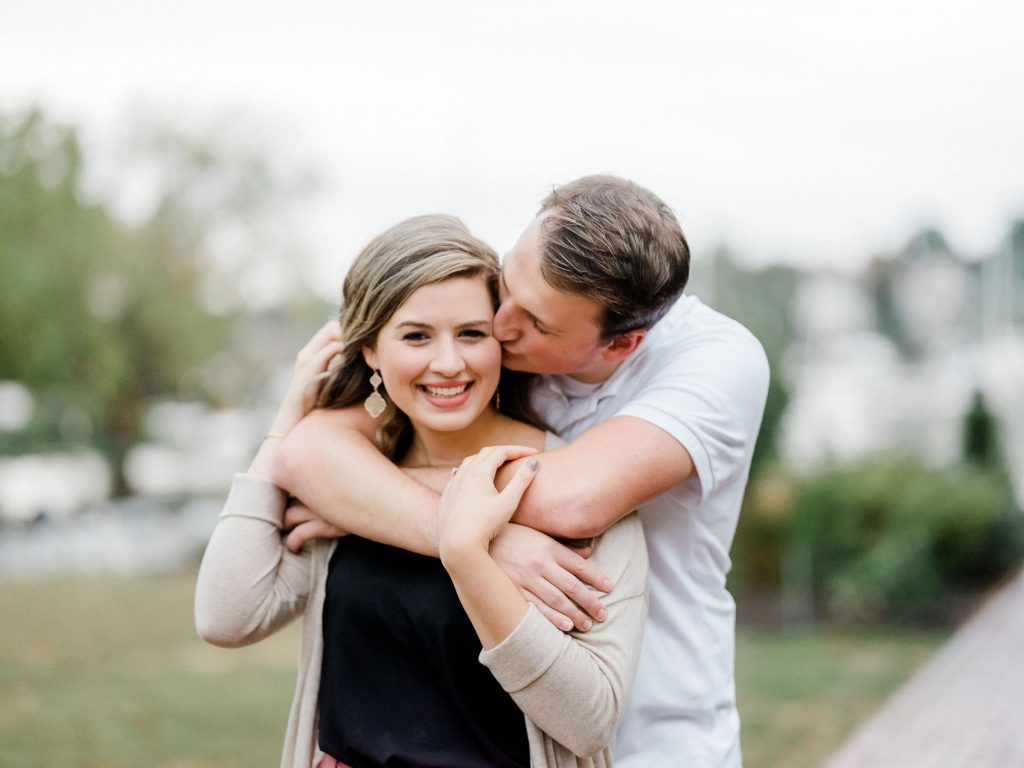 In late March, we made the difficult and heartbreaking decision to postpone our big celebration to the fall knowing we could not celebrate the way we wanted in a safe way. As a nurse, I had been seeing firsthand the harsh reality of this disease and would not subject our friends and family to the risk. We had so much love in response to our wedding day changes and everyone's support, it meant the world. It took some time for us to really "grieve" the losses of this season. We opted for virtual bachelorette/ bachelor parties and drive-by showers, which were incredible in nature but still felt like a loss from what it could've been.
We knew we still wanted to get married on May 30 since it was our day, but we didn't know what capacity would be allowed or what stage of reopening our city would be in. My parents always joked about us getting married in our backyard and I always laughed it off because my dream was always a big dreamy venue with all our people. One April night, we made the decision to get married in the backyard I grew up in, knowing that our love for one another has nothing to do with a showy wedding . . . it was all about our marriage and our vows to each other.
Quickly, we started DIYing projects left and right and ordering every necessity from Amazon for fast shipping. We made a wedding arch from things bought on Amazon and a chandelier my mom had gotten and turned a bedroom rug into our dance floor. We decided on a fiesta theme, because why not have margaritas and tacos on your wedding day. We ordered a piñata, cactus, margarita glasses, and had our favorite Mexican restaurant, Taco Bravo, cater the first meal we would eat as a newly joined family.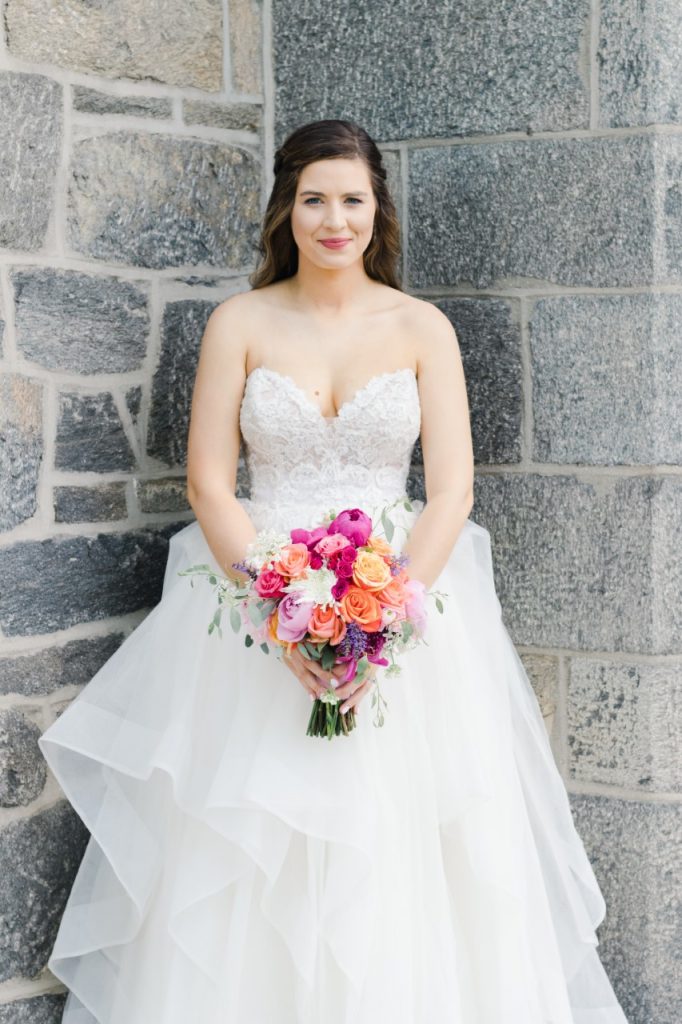 Shortly after we made the decision to have our backyard wedding, we had people reaching out to help from our community in the most beautiful ways. One of our favorite people, Keyne, purchased and put together all of our floral arrangements. Our original videographers for our big wedding offered to come and take a video and pictures of our day. The most generous and beloved offer. Two sweet neighbors made our desserts: Zoe made our delicious wedding cake and Genese made detailed scrumptious wedding cookies. A friend offered to make invitations for our backyard wedding and signage to be displayed there – thank you Jill Bateman. My big brother and my soon-to-be sister made us a wood sign with pictures of us over the years, which we will cherish for our whole lives. A family friend who has done my hair since I was a young girl came to my house and did my hair so I could soak in my last morning as a single lady. One of my bridesmaids came and did my makeup and helped make me feel like a princess.
I struggled with whether to wear my wedding dress or not with worries it would be ruined. But, knew it was our wedding day and thus I wanted to wear the dress I dreamed of wearing to walk down the aisle. Our seamstress made sure it was done in time for me to wear for our special day. I am beyond glad I decided to wear my dress and now I get to wear it twice when we reschedule our big celebration for the fall.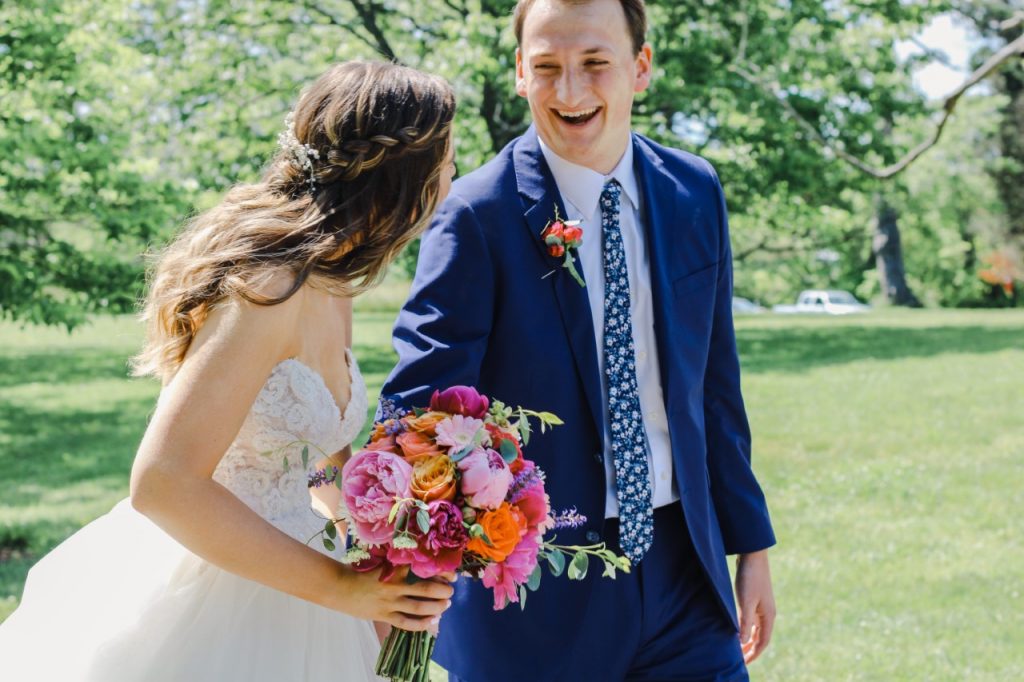 We decided our wedding day in my backyard would be only for our families due to local regulations. However, we were able to set up Zoom for our other guests to watch from the comfort of their own homes.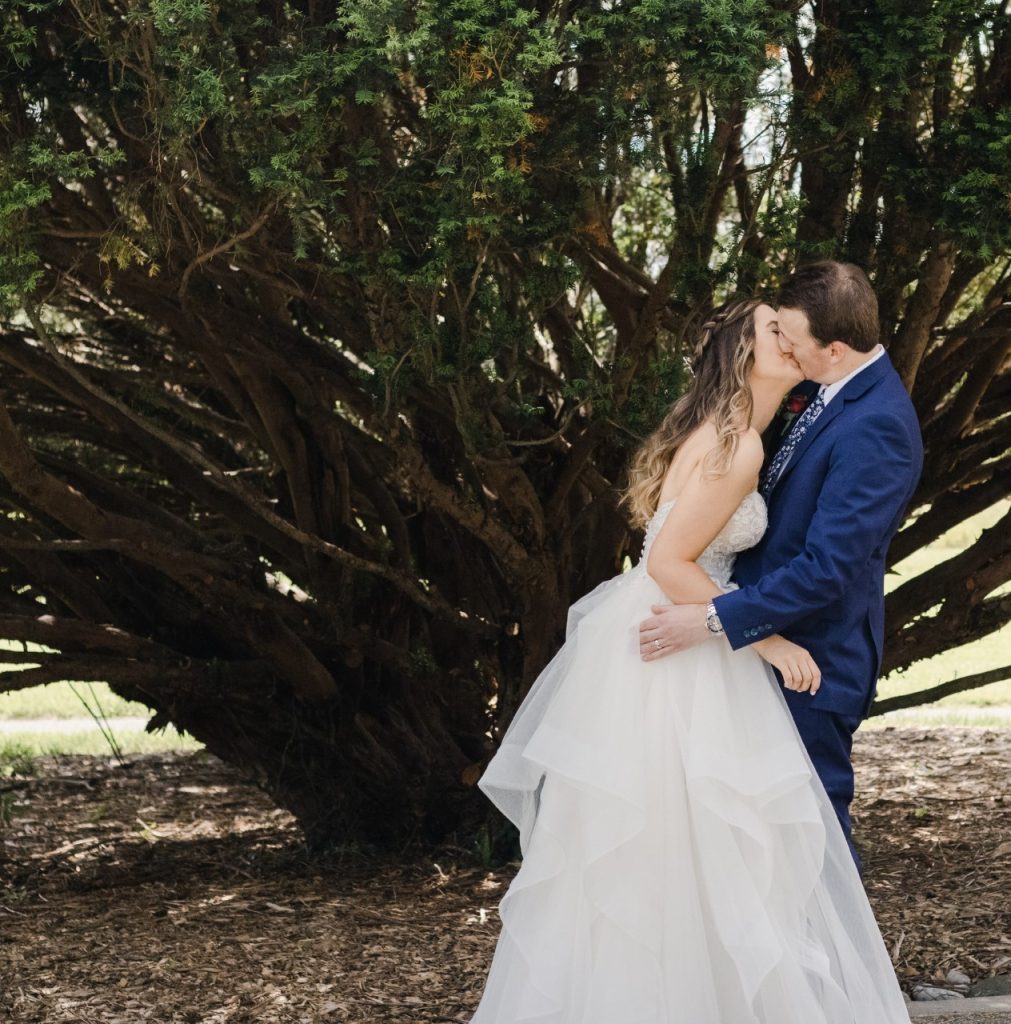 May 30th came and the morning was so sweet. I got to see our family and my girls set-up my backyard beautifully to become the space for us to proclaim our love and promise our lives to one another. It was a beautiful Saturday and the sunlight shining on our backyard was stunning. As I helped set up, I couldn't help but be overwhelmed with the goodness of God- this was my wedding day. This was the day I got to marry the man I had spent six years of my life loving and now we got to promise that to each other forever.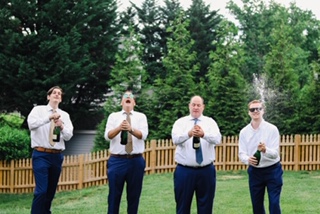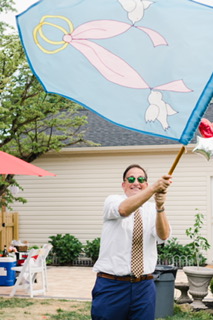 After doing some setup and giving everyone responsibilities, I made my way down to my basement (where I had lived after college/before getting married) to get my hair and makeup done. The morning went quickly and soon enough my hair and makeup were done and all was set up: 2 PM had come. I was rushing to zip my dress and put my shoes on as my Henry had arrived with his family ready for the ceremony.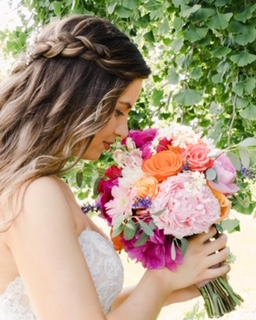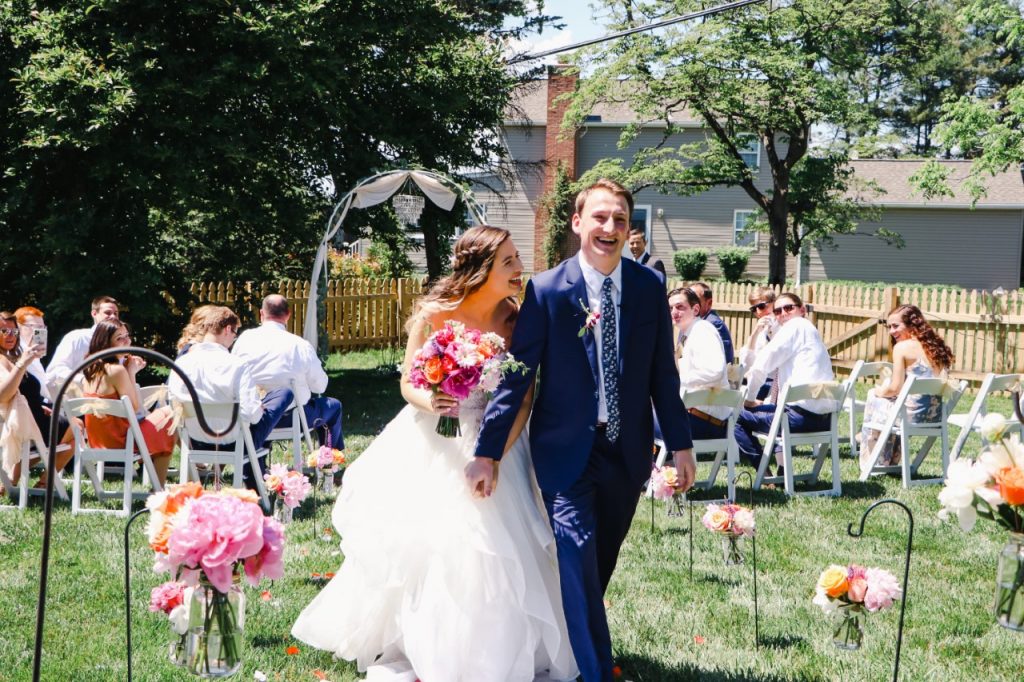 Once I was ready, I climbed the stairs of my childhood home and exited with my father to walk towards my future: my very soon-to-be husband. Excitement and tears filled the eyes of all of us at that moment as the beautiful "Can't Help Falling in Love" played on my brother's speaker. Finally, we joined hands and had our officiant, one of our best family friends, gather everyone in prayer. When we went through our vows there was not a dry eye. It was a moment everyone in my backyard had envisioned for years and years. After we had been proclaimed Mr. & Mrs. Harsel, we danced out and got to hug each one of our family members – it was one of the most special moments. We also got to say a quick hi to our 200+ guests joined in on Zoom.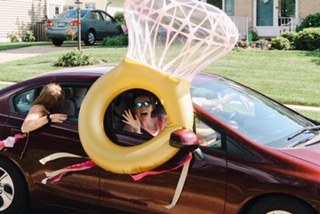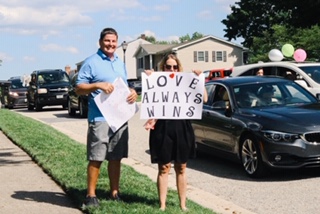 After our ceremony, we quickly went to a local area to get some photos as newlyweds while people back home were lining up for a fun drive-by parade. We had over 45 cars full of our loved ones come and drive-by our home with champagne, balloons, and music blaring. I don't think either of us could contain the joy on our faces as our tears filled our eyes. We felt loved beyond words that all of these people drove by to see us and celebrate us. We knew at that moment just how lucky we truly were and how blessed our marriage would be by these people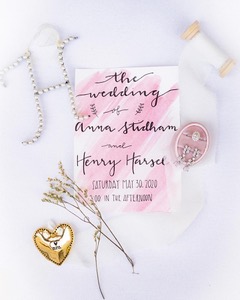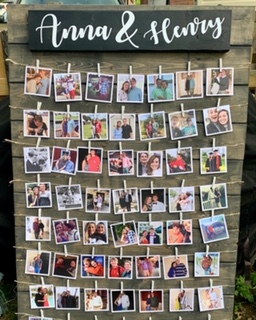 After our drive-by reception, we retired back to our trusty backyard for some family photos. Our fathers said some beautiful toasts and we had strawberry shots (a Stidham tradition) with our newly grown family. It was a beautiful moment that led into our first dance as newlyweds. Everyone circled as we danced to "Take the World" by Johnnyswim, the sweetest love song. We got to sit and enjoy some yummy tacos and take in the fact that we were finally married. Having just our family was the most intimate and special detail of all. We got to enjoy one another and every moment. Maybe this new intimate ceremony will become a norm after this pandemic, we would recommend to anyone. Our families loved it so much. We ended the night cutting our cake, whacking our piñata, and sitting around chatting about how crazy but beautiful this life is.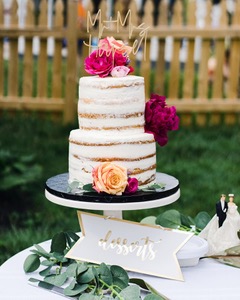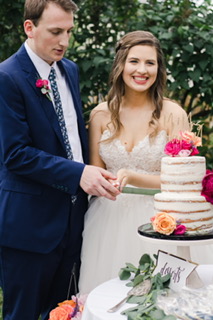 Was it sad not to have all of our people there for our wedding in person? Of course. But as the day came and went, when we look back we have nothing but joy about how our day was. We had all we needed and much more. The drive-by parade was one of the sweetest moments that we will cherish throughout our lives. We are extremely grateful for everyone who had a hand in our backyard wedding planning. It turned into the most beautiful day, better than any Pinterest board could ever be. We truly believe, if we could get through a pandemic affecting our wedding together, we think we can get through most else.