So May 2020 was a special month for us, though different than how we originally planned it. I currently live in NYC and had planned a wedding in Greenwich, CT, where my fiance grew up. He's Italian-American and I'm Indian-American so we planned a big event for our friends and family that would allow us to celebrate both cultures in a meaningful way. I originally grew up in Owings Mills, Maryland and love the city of Baltimore. Once the Coronavirus hit, it quickly became clear that we needed more space and NYC would be more limited within the lockdown. With that, we decided to quarantine back in Maryland, in my sister's basement in Lutherville. It worked out well but the daily stress of wondering how Covid would impact our wedding definitely started to weigh on us.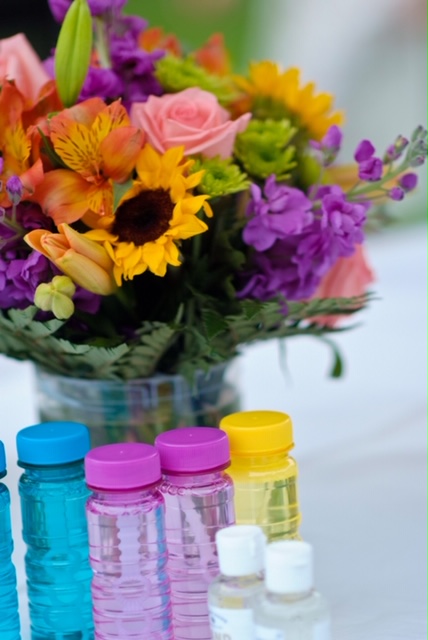 All of these questions were in our mind: What do we do about our venues, the vendors, our family and friends traveling from afar? Even if things were better in May, would anyone really be comfortable going to an event that large and having to social distance? With everything closed, could we still get a marriage license? After an emotional rollercoaster, we decided to still have a commitment ceremony on May 24th but just with our immediate families to keep within the CDC guidelines. It would be smaller, more intimate, and still allow us to make the deep commitment we wanted to, on the special day we had in our minds for so long.
In about two weeks, we pulled together a great wedding. John (my fiance) had his tuxedo stuck in a J.Crew store in Manhattan. The rings he had already picked out were also in Manhattan. I had a sari chosen for the original wedding but moving it to the backyard, I felt I needed something different and slightly more casual. Given Covid, we also needed to figure out a safe way for our full group to eat dinner that day. In the end we quickly came together as a team and worked with our family to plan a very special day. John bought a new seersucker summer suit and found a crafty way to have the rings shipped to us in Lutherville. Even though many businesses were closed in NYC due to Covid, John was able to convince and work with the company to ship the wedding bands in time for the wedding. I had no idea they were coming.  He kept saying that our wedding bands were stuck in New York. I wore a beautiful white dress that I just happened to borrow from a friend earlier in the year and we got some amazing Maryland food and wine from the
Baltimore Country Club
and local stores. My parents also got some amazing Indian dishes from India Palace, in Cockeysville, so we were able to have those too.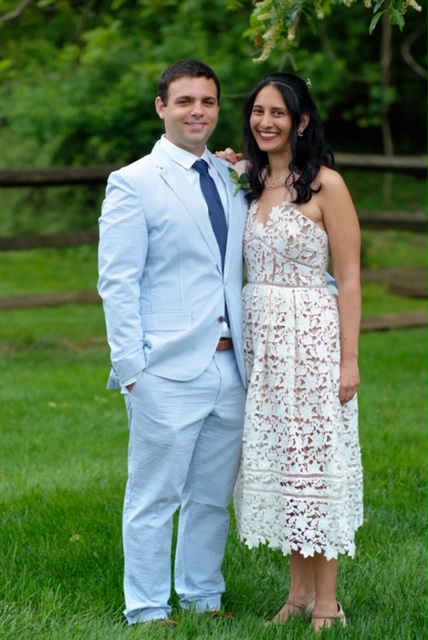 We bought some decorative lanterns online, my mom got flowers consistent with the colors I originally chose for the wedding and we set up a Zoom ceremony with our officiant. I still "walked down the aisle" (around my sister's pool) with my dad to the song we envisioned. John and I made a playlist on Spotify with our favorite songs and we had a dance party in the backyard with our families which was epic. We also found a photographer at the last hour that took some pics. After the celebration, we put on our masks and took an Uber to downtown Baltimore and spent the evening at the Four Seasons . Though the hotel was mainly empty, it actually made the evening even more special in a way – a beautiful, amazing way to cap off the night. Our friends sent their wishes in so many amazing and unique ways – calls, flowers, champagne, virtual toasts, messages and songs! In many ways, they felt with us the whole time, even though physically we were in different places.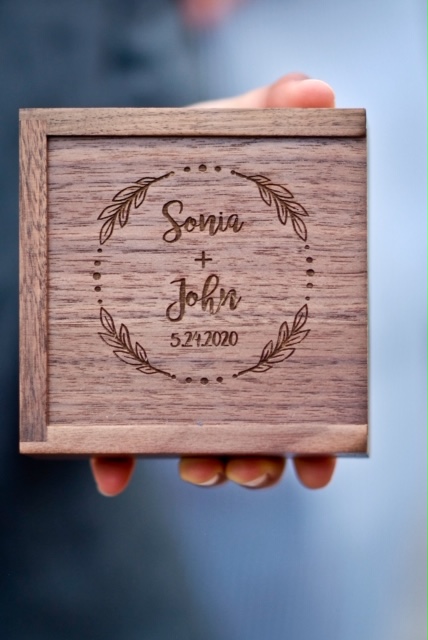 It was a memorable day and it just goes to show, with an amazing fiance and such a loving group of family and friends, even in this crazy Covid time, you have an incredibly special day. Looking back, I think weathering Covid made us stronger in many ways and now we're enjoying the first months of married life in a still crazy time, but feel very fortunate for each other and those around us. Cheers to all the brides out there navigating this time – it will be absolutely amazing, no matter what, especially when you have a great partner by your side – I promise!