Michelle named this photo "blah."
You know that feeling you get when you have a bad dream, and when you're finally awaken from the terror in a cold sweat, you realize it wasn't real? Well that's sort of how shopping for a wedding dress was for me except it wasn't a bad dream, it was all very real.
Everyone kept telling me that shopping for a dress would be the "fun part" of wedding planning, but I disagree, it's just a stressful as everything else. I was skeptical from the beginning and I had every right to be, I mean this is a big decision. I tried to prepare by reading a ton of forums and blogs about the dos and don'ts of shopping—set a budget, set and appointment, wear the right under garments, don't bring a crowd, don't feel pressured to make a decision—but it didn't help.
I did set a very strict budget for myself. I refused to pay an exorbitant amount of money for a dress I'll only wear for a few hours. I also scheduled an appointment for a non-peak time during the week so that I could get one-on-one with the salesperson. Next, I researched different styles, although it's hard to say what would look good on your body if you've never tried on wedding dresses before. And there are so many options—ball gown, lace, mermaid, beading, A-line, trumpet, sheath, long, short, casual—it's enough to drive you crazy. (I found out that a mermaid silhouette looks best on me.)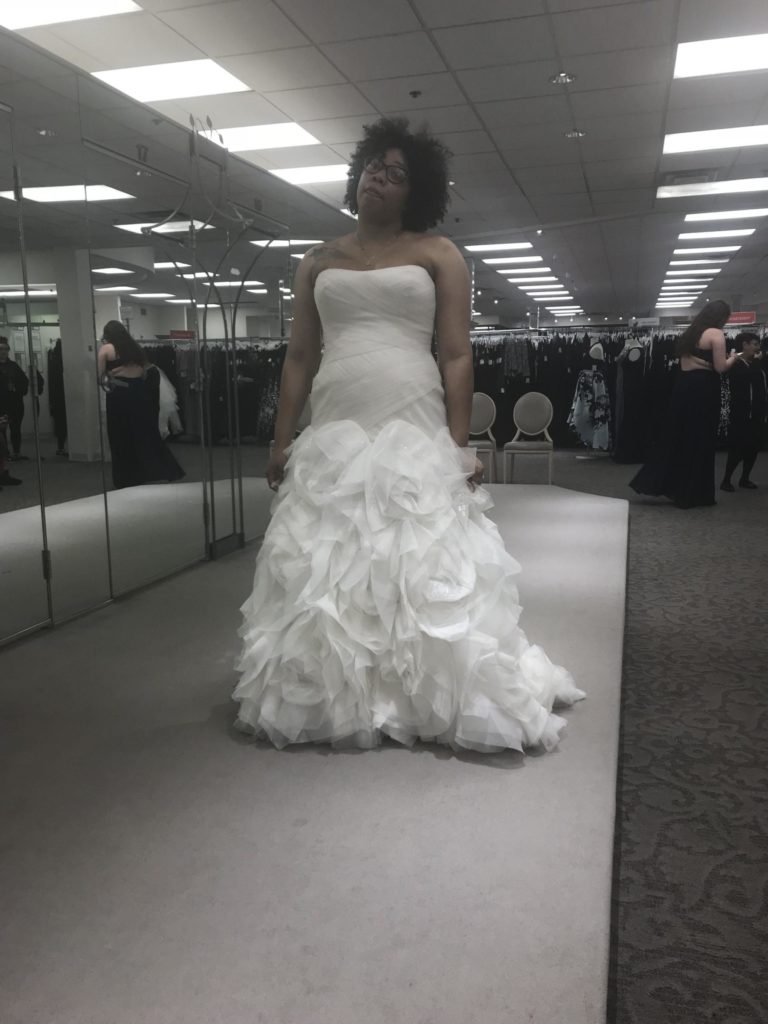 This one Michelle called "Over Vera Wang."
The one bit of advice that I wish I had taken—bring a small number of people. I showed up to my appointment with an entourage, a party of 10! It was so hard because I knew that there were so many people I wanted to share the experience with that I got carried away. Huge mistake, this was a case of "too many cooks in the kitchen." Everyone had an opinion about what I SHOULD BE wearing—it was the most overwhelming, stressful, and frustrating experience of my life.
*Sidenote: It's funny how quickly someone will call you a Bridezilla because you don't agree with their opinions on what you should be doing. I mean, it is my wedding, right? I'm allowed to have and do whatever I want*
Anyhow, I may have tried on at least 10 dresses, and with each zipper and lace-up I felt a burning desire to run as fast as I could to my car and peel out of the parking lot. I hated it. Every picture of me trying on the dresses looks like I'm being tortured. By the time I tried on the dress that I really liked, I was so over it all that I couldn't even decide or look happy.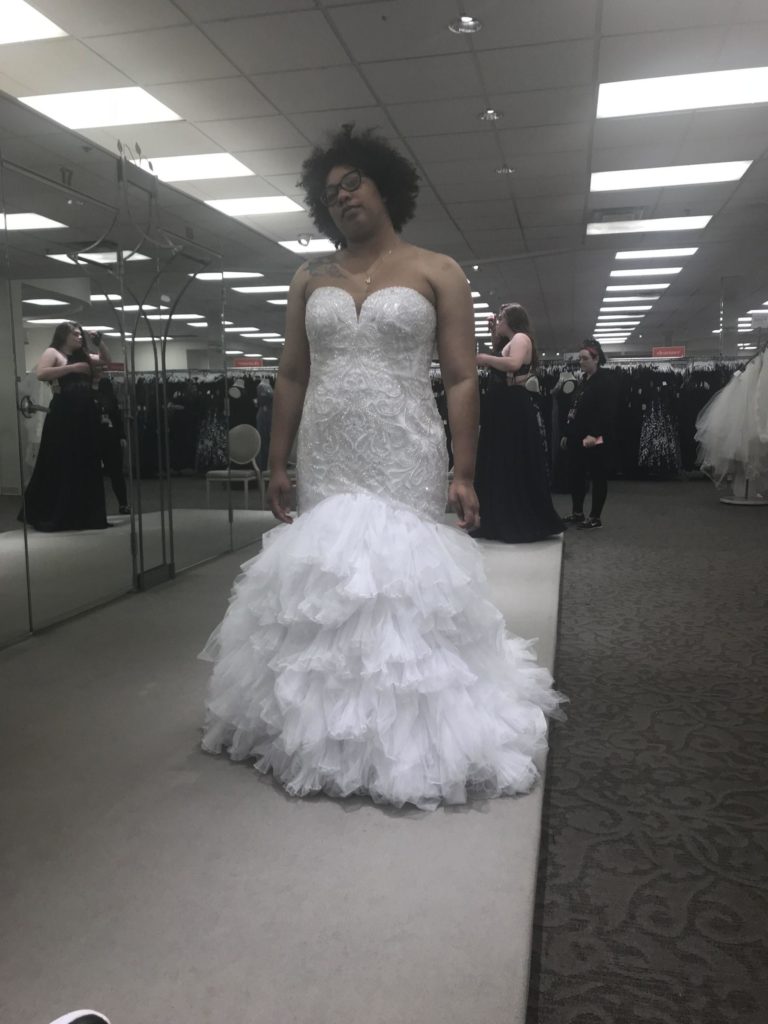 Alas, this story has a happy ending. Of course, I wasn't completely serious about not going back, but I needed to take some time to regroup and recover from the horrific ordeal. I waited a few weeks and went back with a smaller group (two) and a more determined spirit. I ended up getting the dress I really liked the first time—go figure. (That dress you'll have to wait and see.) I love the way I look and feel in it and I'm happy with my decision.
Now onto the next thing . . . the engagement photo shoot.