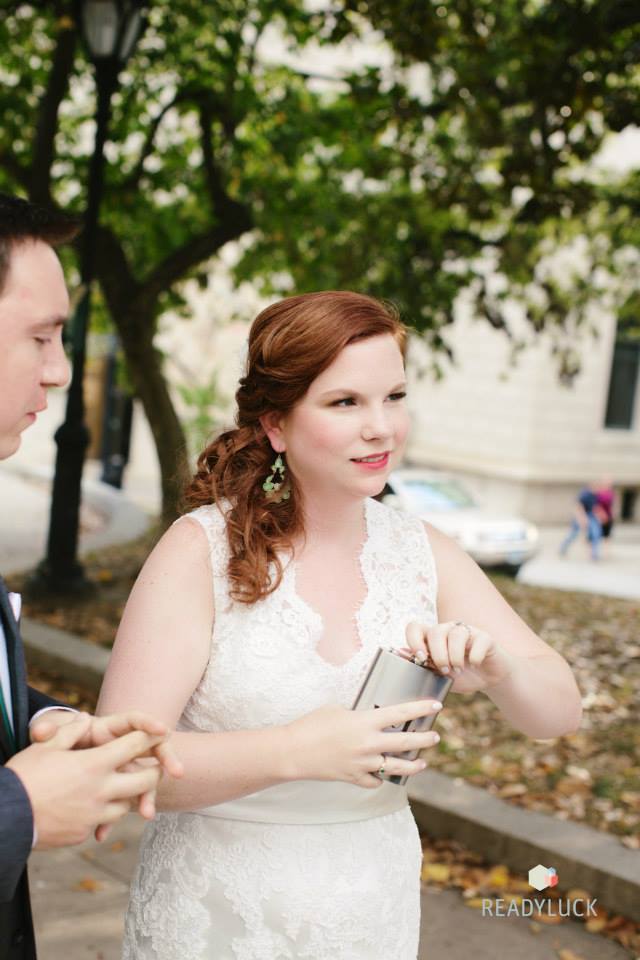 Our senior editor Jess Blumberg Mayhugh & her wedding recap (lots of advice & vendor recommendations!)
Planning our wedding really was, without exaggeration, like having a second full-time job. Between all of the research, emails, phone calls, meetings, walk-throughs, and tough decisions, the entire process was a huge emotional time suck.
But I am happy (and relieved!) to say that seeing everything come together on the big day made all of the stress worth it. It was such a wonderful feeling to sit back and watch all of our hard work unfold because, finally, it was in the hands of all of our trusted vendors. And, with that said, I wanted to write a big thank-you note to some of the wonderful people and businesses that made our wedding day such a huge success:
Hair/Makeup
I had such a positive experience with both my hair and makeup artists, Rochelle Matheson and Anne-Marie Oliveri, respectively. At both trials, I brought pictures and told each girl what I thought I wanted.
Rochelle constructed two looks that were absolutely beautiful and, ultimately, we decided on a side, curled ponytail with some twists and a pretty braid in the back (I am sure this is not the proper hair lingo for the beautiful half up-do she created). I am not a huge makeup person and Anne-Marie assured me that I'd have to go a little bolder than normal for photographs. She showed me a trick: By taking a photograph of your made-up face instead of looking in the mirror, you'll see how your makeup will really look the day of. She even convinced me to do false eyelashes. I loved the retro-inspired end result: golden eyes and a bold red lip. On the day of, both girls were prompt, pleasant, and so much fun as they did up my bridesmaids and myself. I should add that I was friends with both of these girls well before I was even engaged. This made the day feel super casual and less business-like. I'd highly recommend going with a talented friend or acquaintance if you can!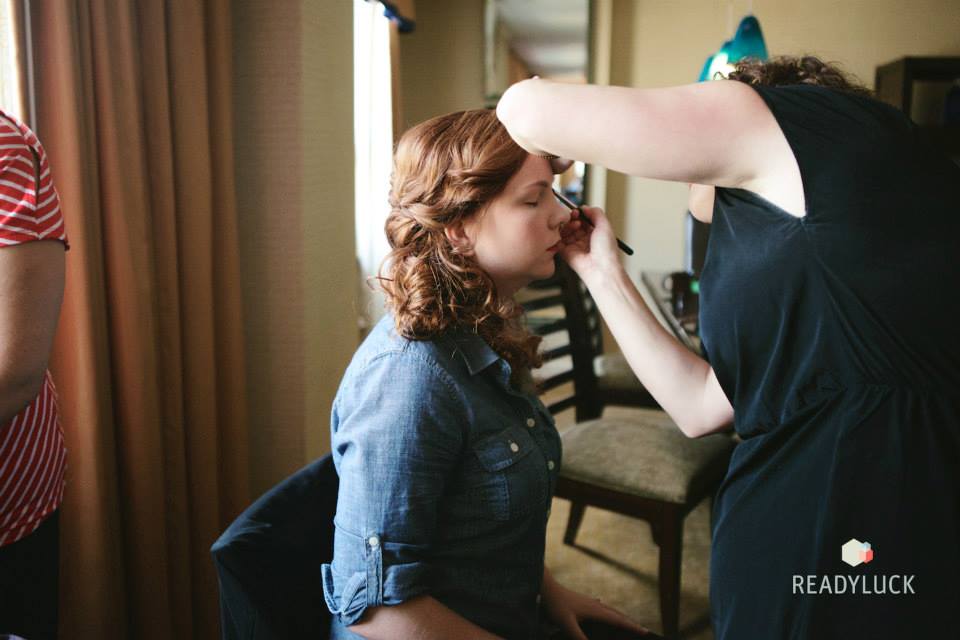 Flowers
I have to admit that flowers were not a top priority for me. For most of the planning process, I figured I would go to a store the day or two before and arrange bouquets and centerpieces myself. Thinking back, I am so glad I didn't do this! A friend of mine recommended the small business Bella Lis Floral, which is a start-up run by two sister-in-laws. Erin is more the landscape/botanist and Bria is more the creative artist. From day one, they both "got" my vision of keeping the flowers and décor pretty casual, rustic, and cheery. They made wonderful suggestions that I never would have thought of on my own and didn't bat an eye when I said my friend found a bunch of old bourbon bottles while she was hiking that I'd like to use as vases. On the day of, I think the flowers were what impressed me most about the entire thing. My bridesmaids and I clutched bright bouquets of Gerber daisies and succulents, while the guys rocked simple and fun boutonnieres. Everywhere I looked, I was surprised and excited by another detail that Bella Lis put together—mason jars, burlap clothes, and those amazing vintage bourbon bottles came together perfectly. I will never underestimate the power of a talented florist again!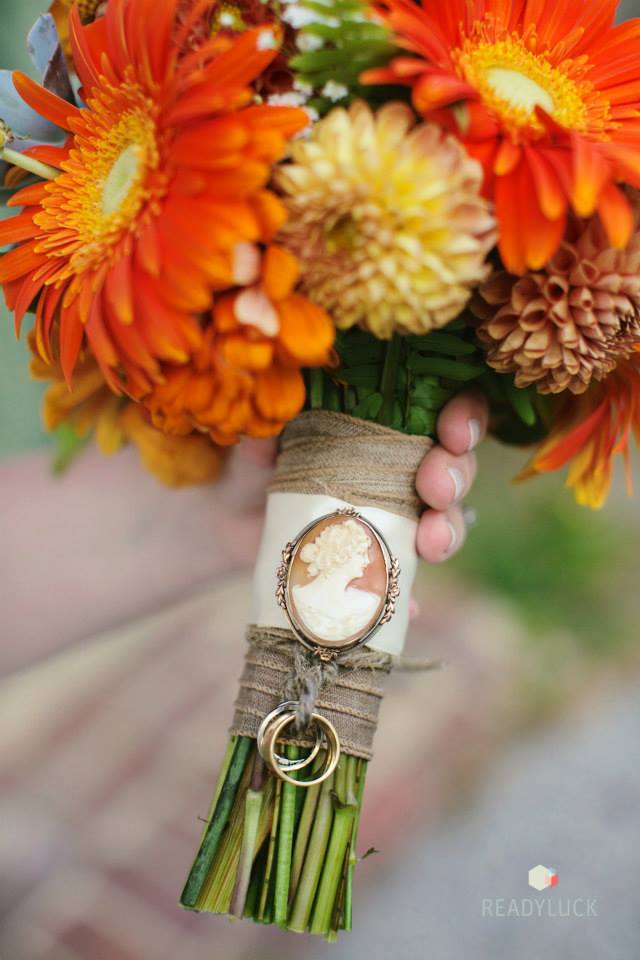 Food
Unlike flowers, food and drink were always a top priority for us. Luckily, our venue—the Evergreen Museum & Library—did a bit of work for us by providing pre-approved caterers to narrow it down some. I ran the list past a good friend in the wedding industry, and she recommended Rouge Fine Catering and Chef's Expressions. We met with both and, I may sound a bit crazy here, but I just got better vibes from Rouge. The staff was energetic and inventive about their food—really willing to try new things. We wanted oyster shooters as an appetizer, which they had never done, but were totally game for. We wanted local and seasonal beer (Loose Cannon and Oktoberfest), which they made happen. The day of the wedding, we received so many compliments about the food, drink, and service. From the delicious crab dip at the cocktail hour to well-cooked steak at dinner to the entertaining bartenders throughout the night, our guests could not have been more pleased with Rouge's service. Plus, Emily was a breeze to work with! What was also really cool was that my husband and I chose to do homemade pies (with vanilla ice cream) instead of a traditional wedding cake. His mom baked all 25 of them with love and care—and they were delicious!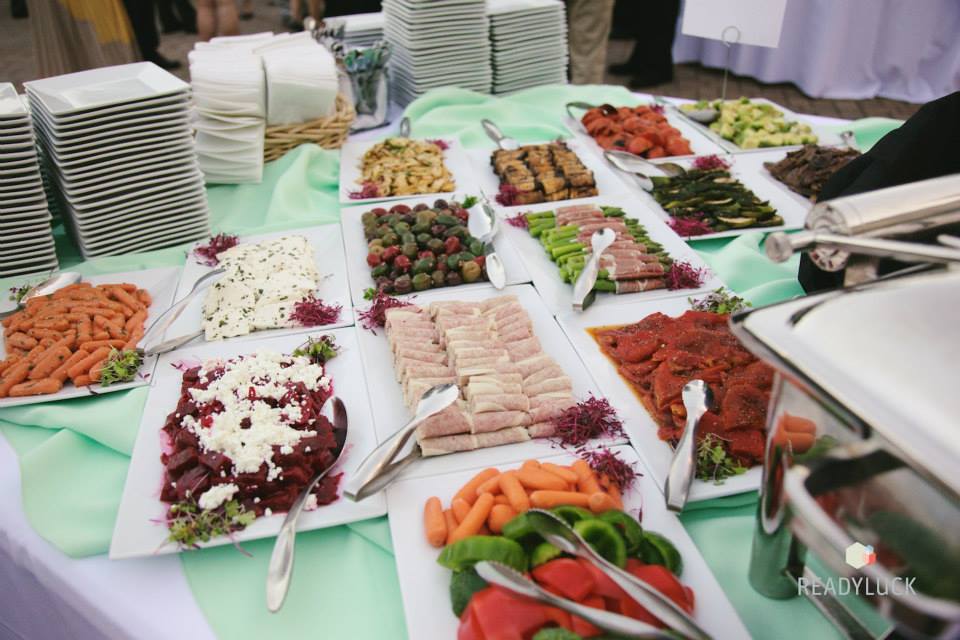 Band
One decision that wasn't hard at all for us was band or DJ. My husband (!) and I both love live music and can frequently be found checking out bands at Cat's Eye Pub or a free festival in the summer. We also agreed we didn't want a band that just did weddings. We thought there was value is picking a group we'd seen before and liked. That's when we thought of Cris Jacobs Band, who we had seen perform at many outdoor festivals and various shows around town. I didn't even think Cris played weddings, but I thought I would shoot him an email just in case. Turns out that his band does play some weddings on the side and we got to talking. The kind of covers they play were pretty much exactly what we were looking for: Motown, classic rock, Van Morrison, Stevie Wonder, Beatles, etc. We sent a few set lists back and forth and the band even learned some songs they had never performed before, which was super generous. They did a wonderful job of emceeing and keeping the crowd on the dance floor all night.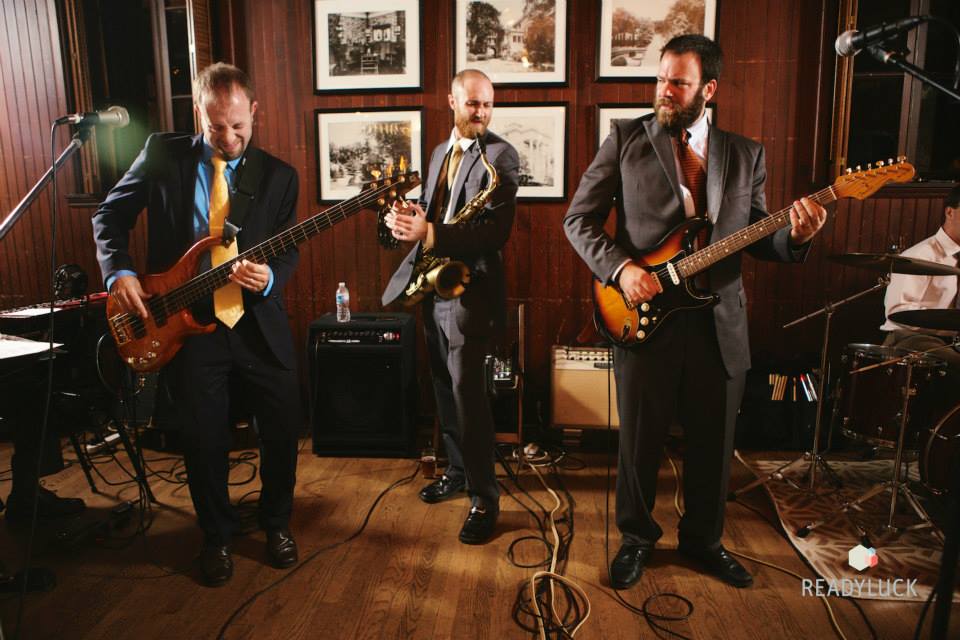 Photography
This was an area that we never wanted to skimp on. Arguably, photography is the most important aspect of a wedding—you will look at these photos for the rest of your life. Plus, working at a magazine makes you realize how important hardworking and talented photographers are to the end product. It is not just point and shoot, by any means. Because I'm such a huge fan of Baltimore Bride, I had read about local photography collective Readyluck and had seen the beautiful work of MICA-alum Lindsay Hite. She takes a photojournalist approach, opting to tell a story of that day through candid moments and portraits alike. Again, working off vibes, I immediately had a good feeling upon meeting Lindsay. She was super sweet, professional, and had a genuine love for her job and clients. Paging through her portfolio, I could tell she was just as excited as some of these brides she had captured. That enthusiasm came through in the planning and day of. Again, she has such a kind demeanor, but made sure to get the job done. She didn't waste any honest moment or sliver of good light throughout the day. These are certainly pictures that tell a story and ones that we will always cherish.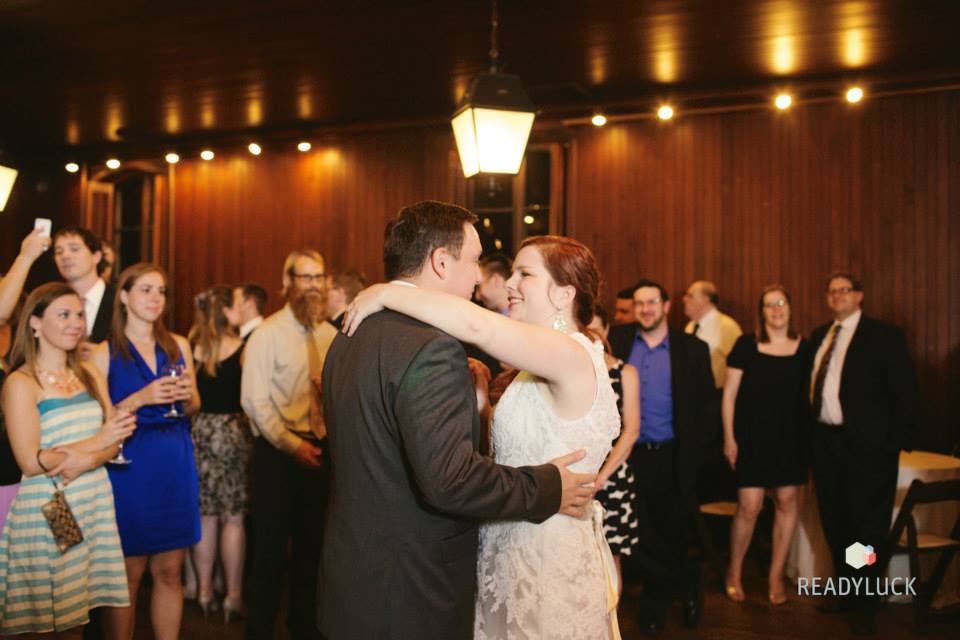 Invitations and Programs
Again, from working at a magazine, I am a sucker for good graphic design. Not that there is anything wrong with using so many of the amazing templates to be found online, but I was really excited to create a custom design for our wedding. I am so lucky to be friends with Katie Mychailyszyn, a talented graphic designer (and former associate art director at Baltimore). We had so much fun creating custom save the dates, invitations, programs, and signage for the wedding. The consistent font, color choices, and graphics really tied the event together from start to finish.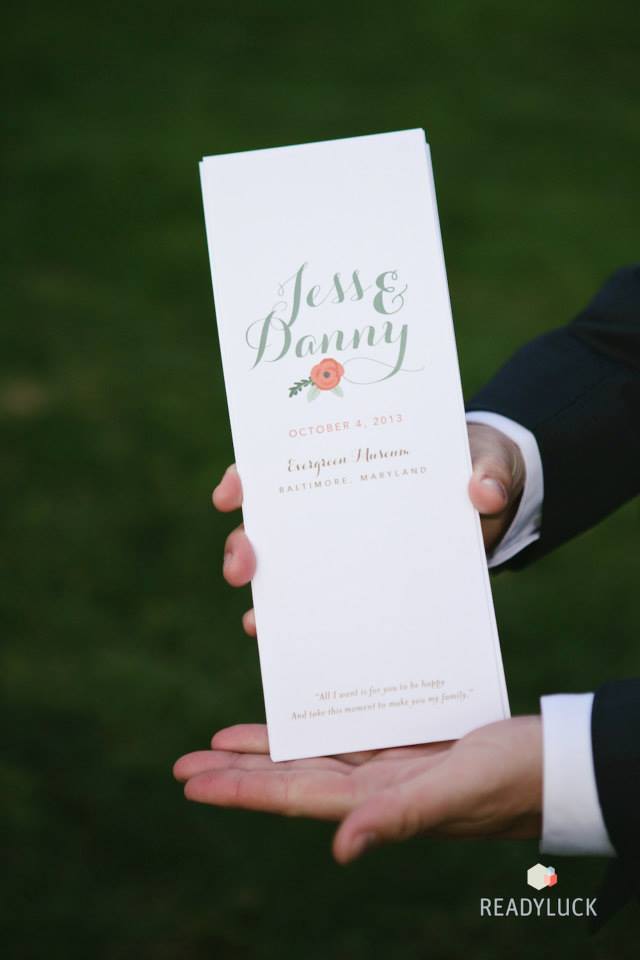 Friends/Family
Okay, this is super cheesy, but one of the greatest things about getting married is realizing how lucky you are to have such amazing and important people in your life. From the fun-filled bachelorette party in New York City my matron of honor planned to the Old Bay peanut brittle favors my friend helped make to the homemade pies my mother-in-law baked to the amazing bridal shower my aunts threw to the meticulous coordinating by an experienced bridesmaid to the constantly overwhelming generosity of my dad to the overall love my husband and I felt from all of our guests that day, we are so incredibly grateful for everyone who was a part of the wedding. Almost makes us want to do it all over again. Almost.