Out of all the wedding to-dos the cake tasting is the easiest one to get help from the fiancé. I mean who doesn't get excited about cake or in our case cake and donuts! But, before the fun begins, make sure you do your homework. Do not schedule your cake tasting until you have reviewed the work of the bakery and make sure that they have your date open. Plus, here are some of the things that I learned along the way that might help you out:
When Scheduling the Tasting:
* Go over the details of your wedding with the bakery. Discuss the elements of your BIG day that make it special to you or even special meals or flavors that have been reoccurring throughout your relationship, you never know what might inspire them. Like for us, we are having a brunch wedding with a vintage vibe, our wedding colors are gray and yellow, and we have a really special memory of lemon curd from one of our first dates. All of that was incorporated into the flavor and look of our cake. While most places will offer a selection of their most popular flavors, make sure you mention specific pairings you would like to try and eliminate some of the popular flavors that you know aren't going to work for you.
*When I met with the bakery to schedule the tasting; I had put together a pinterest board of my ideas and shared them using my iPad. It seemed to really work out well to show them the look I was going for to make sure that they would be able to do the design before scheduling the tasting.
*Do not schedule more than one tasting on the same day. There is such a thing as too much cake. So, if you don't want to feel sick, stick to meeting with one vendor.
Before you Arrive at Your Tasting
*Confirm your appointment with the bakery the day before, to make sure that neither of you made an error when recording the appointment.
* Be sure to be punctual, not only do you want to be respectful to the vendor, but you also do not want your tasting to have to be rushed because the vendor has other things on their mind.
*Eat before your tasting. You do not want to be starving when you arrive. I am telling you this because we were and we ate too much and felt sick from all of the sugar.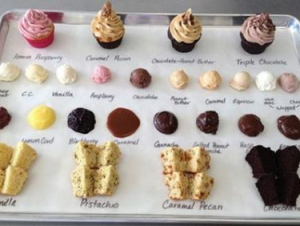 At the Tasting
*Be sure to take to time to really savor what you are sampling, notice the nuanced textures and flavors. For example, one of the flavors I was really excited about was an almond cake with a lemon mousse. When tasting the almond cake I couldn't help but notice how overloaded it was with extract . . . which was disappointing. However, it is better to know that now than on the wedding day when you are serving it to all of your guests.
*Be open-minded. During our tasting we both liked different flavors, so we couldn't decide based on the samplings that were provided. So we went back to the drawing board and tried some of the cupcake flavors that the bakery had available in their retail store and we found something even better.
*Have fun. This is one of the most enjoyable aspects of planning and make sure you let yourself enjoy it. Yes cake has calories, and I got myself to the gym the next day, but that was the furthest thing from my mind as my fiancé and I tried out all of the fun flavors together.
After the Tasting
*If you decide not to use the vendor, let them know and thank them for their time. Do not offer criticism, unless asked. If they ask for a reason, be respectful and honest when communicating your reasons for not hiring them, this is what they use to improve the experience for other couples.
*If you do decide to hire them, notify them and thank them for their time. Then sign your contract as soon as possible. Vendors usually limit the amount of wedding orders they will accept and you do not want another couple to book your date before you have the chance.
*Throw a dance party celebrating the fact that you have checked off another item from your wedding to-do list! Or if you're me rock out to "Another One Bites the Dust" by Queen!