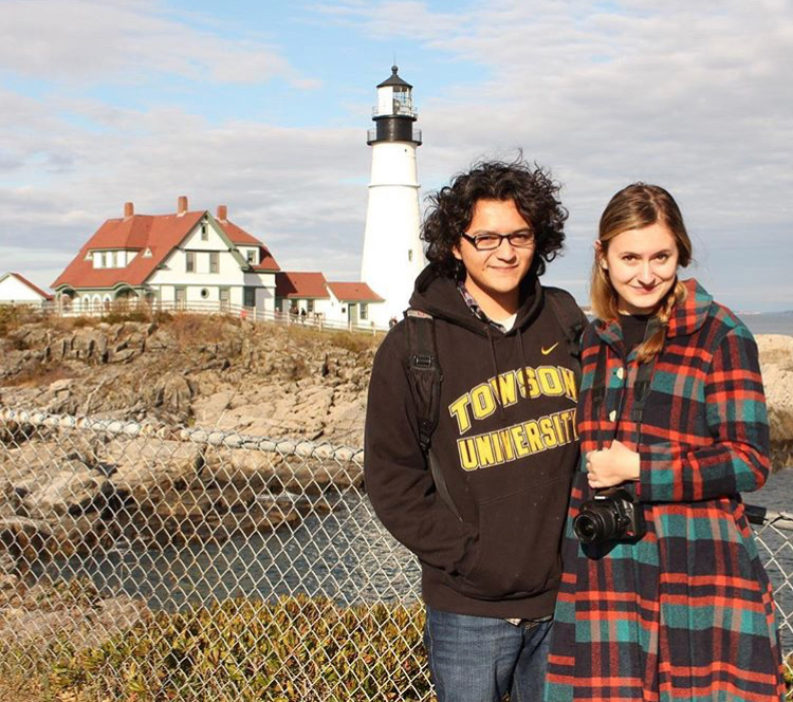 I'm not normally one for cheesy alliteration, but a "Baffled Beach Bride" blog just seemed to fit the bill. I am a bride-to-be who's planning a wedding on the beach, yes, but what's more evident right now is that I'm very much baffled with where to even begin.
I've never been to a wedding myself. Just the thought of planning such an extravagant/important/life-altering event—one that'll produce mountains of photographic evidence that my future kids and grandkids and great-great grandkids will probably want to see someday in the far future?!—is enough to give me some serious warning signs of cardiac arrest. But I will push forward because I love my fiancé, and my mom, who are both really excited for this wedding.
BL is my fiancé. We met during our freshman year of college at Towson University, when we lived on the same floor of our dorm building. It was not romantic at all, and I don't recommend falling in love with someone when you're a first-year college student, but some things just cannot be avoided. I think we both had crushes on each other during two different time periods that year, which didn't really overlap, and it wasn't until that summer/sophomore year that we officially got together.
Neither of us considered our first date a real "date" at the time, but in hindsight, I think it counts. I was in Ocean City for the weekend with my parents and my little sister, the place I've been summer vacationing with my family for years and where I now fatefully live/am planning my wedding.
BL and his family are from here, and he was home for the summer when I was on that weekend trip in 2014. I posted a picture of a very crusty McDonald's on Route 50 (which thankfully doesn't exist anymore) to my Snapchat for some weird reason that I don't really remember, and he replied with something that was probably along the lines of "ayy girl u in oc?" (just kidding, he is more eloquent than that. Same concept though).
He picked me up from the hotel I was in the next morning and we went to get coffee at Dunkin Donuts. I was so excited to be hanging out with this kid that I didn't even mention that I'd already had 3+ cups of hotel lobby coffee. I still think about that when I pass by that Dunkin Donuts every day, the one on Coastal Highway with the walk-up window, and I can practically feel the caffeine running through my veins. Who needs real coffee when you have the memory of four large cups of Morning Blend and a jolt of oxytocin/young love? We drank our coffee, then went for a drive and ended up at Stephen Decatur Park in Berlin. We took a walk on the nature path, then killed time on the swings of the playground before he had to go to work.
I guess it's not the most exciting first date story, but as they say, the rest is history. We dated through college and when we graduated in May of 2017, we moved to Ocean City together (technically just outside of Ocean City in Delaware where renting is way cheaper, but please don't tell my car/its Maryland plates/the MVA that).
Now I get to put my English/Mass Communications degrees to use as the content manager of the town's local travel website, and he uses his film degree by being a camera guy for the local news station and the founder of the Ocean City Film Festival, which is now in its third year. We are very lucky to have jobs where we can actually use our degrees, as millennials in a small town who just recently graduated and all, but we are definitely getting married as a display of our love and eternal devotion and not so much a display of our lavish wealth, which is nonexistent.
Our wedding will be frugal. It will be small. It will have an open bar. It will be at least partially on the beach. And it will take place next summer. That's all we know for now. We are going to take it slow and try to stress as little as possible, and I will do my best to impart any money-saving/Ocean City wedding-related tips that I discover along the way.
I look forward to sharing my journey as a very baffled, bemused, hopefully never belligerent, beach bride.
(Also, the proposal, by the way, was everything I wish my wedding could be!!! I told BL that I did NOT want any large ostentatious display of affection, so he gave me my ring in my parents' basement where we were watching TV on Dec. 23. I would love to get married in said basement or elope to Vegas, but in a similar fashion to how funerals are for the living, weddings are for the families. I am a tiny bit excited though. I promise.)