For as long as I can remember, I have loved photographs. It has always been important to me to have a reminder of special moments and people in my life. I would consider pictures one of my most valuable possessions. It should come as no surprise then, that Kristine and I recently took engagement photos. We asked Kristine's maid of honor, and fantastic photographer, Heidi to follow us around for the day as we visited some of our favorite places in the city. To prepare for the shoot, Kristine and I chose outfits that expressed our individual styles while still looking cohesive. We also decided to get our hair styled at Haute Blow Dry Bar in Towson. I highly recommend them and will most definitely use them again for future events.
We started our day at the zoo, where Kristine works, and had an awesome experience with some of the Embassy animals. These are the animals that make public appearances and are trained to interact with people. We had the pleasure of meeting a macaw named Louie (whom I was terrified of because the only birds I like are the ones in baseball jerseys), Andre the Giant Flemish Rabbit, Cinnamon, a cotton headed rabbit, and Yang the Chinese alligator. My favorite, however, was the African penguin, Winnie (not as scary because she can't fly). She really upped the cuteness factor of these pictures!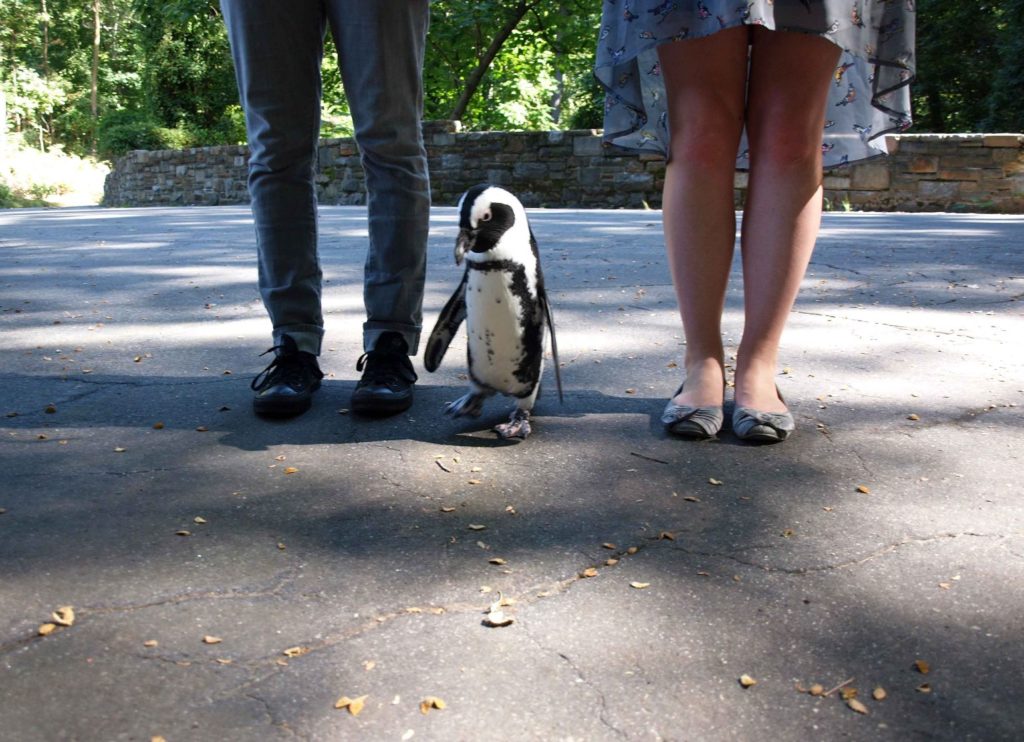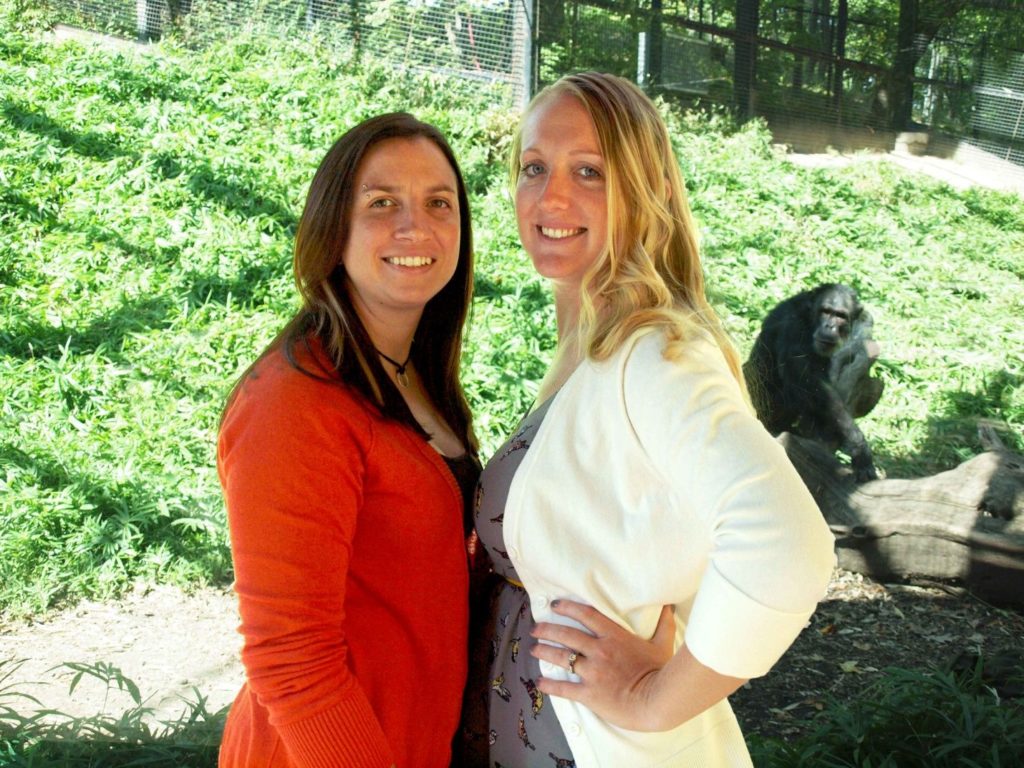 Kristine and I with Louie, one of the chimpanzees she cares for at the zoo.
After the zoo, we headed to the stadium. While we have lots of pictures at the stadium, it was nice to have the place mostly to ourselves and get some shots of just us at the ballpark. We also may be using one of these pictures for our Save-the-Date. Because the Orioles were away the day we took pictures, Eutaw Street (the walkway between the field and the Warehouse) was open for anyone to walk through. It was pretty obvious that we were taking engagement pictures and several people congratulated us or positively commented on our photos as they walked by. We both appreciated these kind words more than those people probably realize and this is just one more reason we love Baltimore.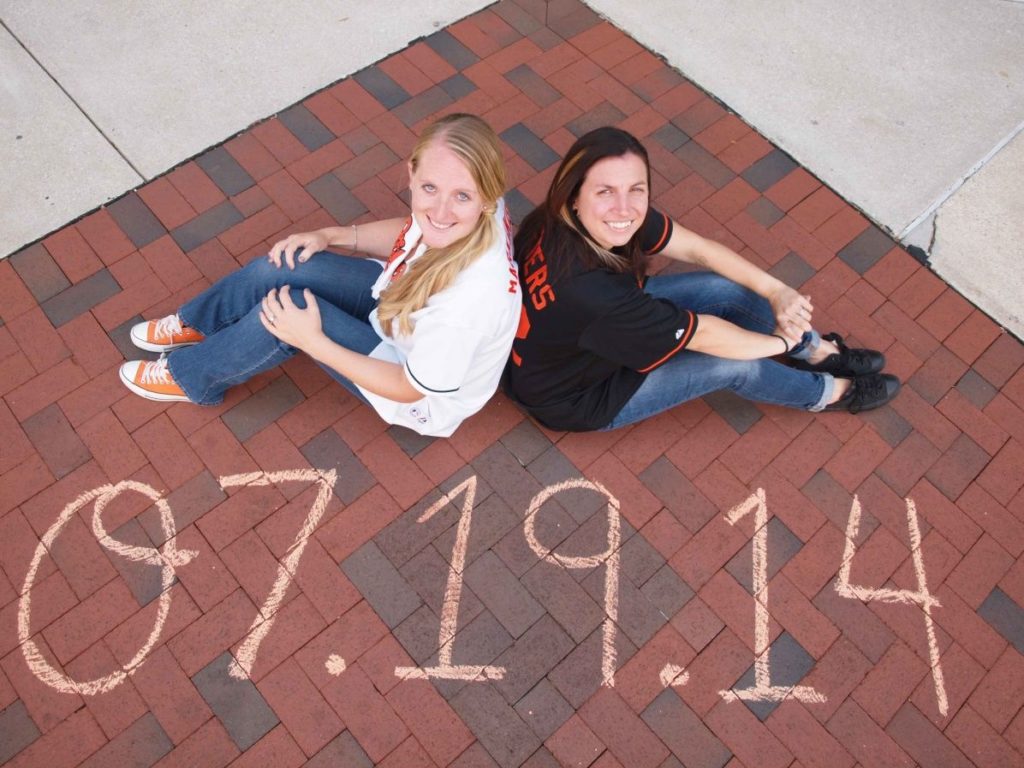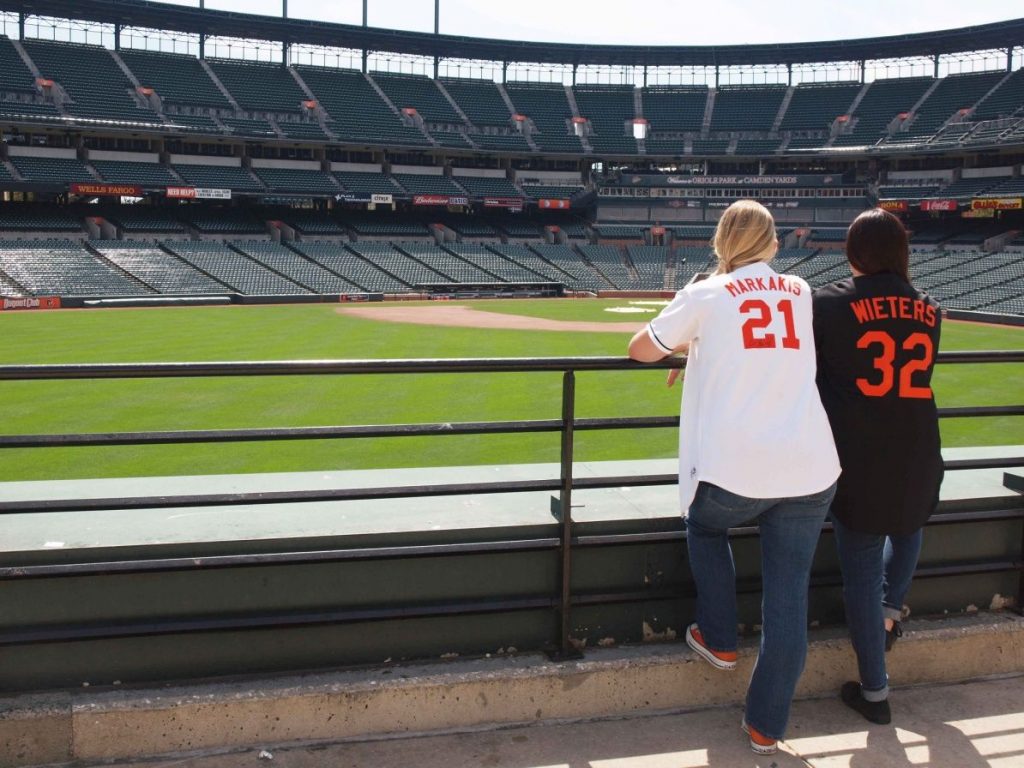 Overlooking the field from the statue garden
Finally, our photos wouldn't be complete if we didn't include Jolie, so we headed to Patterson Park. Lucky for us, it was Sunday so the Pagoda was open for us to take pictures inside. It is such a beautiful building and may just be incorporated into our wedding in other ways. It was a long day but we had fun and I couldn't have asked for a better outcome. I have to give Kristine credit for being a great sport without complaining and a huge thanks goes to Heidi and her assistant-for-the-day, Sarah; I really appreciate their patience with all my locations, wardrobe changes, pose ideas, and all other demands.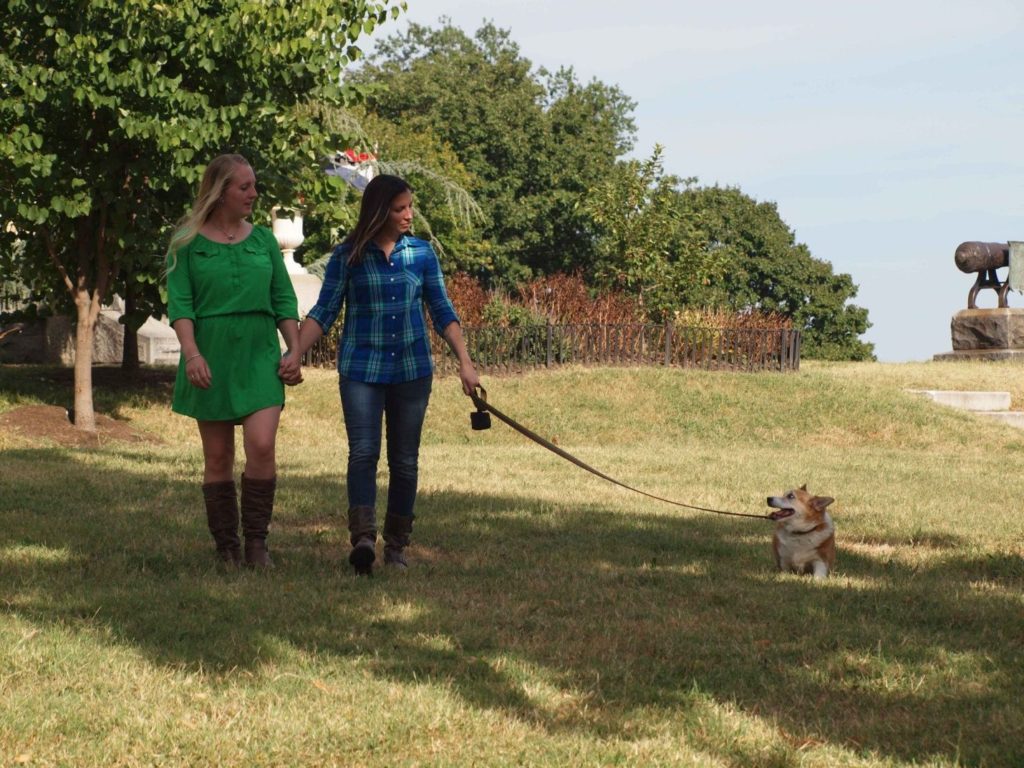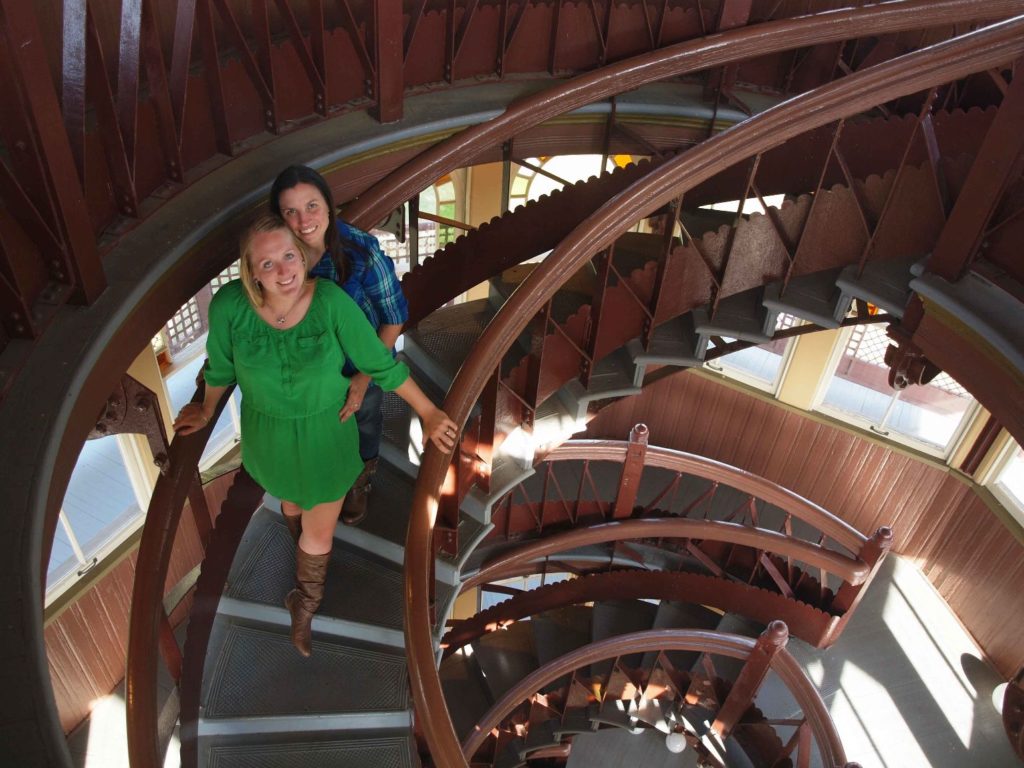 In the Patterson Park Pagoda
Speaking of pictures, we have also booked our wedding photographer! I was pretty overwhelmed by the idea of picking our photographer because of how much pictures mean to me, so I turned to the guidance of Baltimore Bride. This is how we found Jennifer McMenamin Photography. As I looked through her galleries, I had the reaction that I image most brides associate with choosing their wedding dress – I teared up and knew I had found our photographer. Jennifer's photos are so full of emotion and truly capture the moments people want to remember from their wedding; and lucky for us, she will do that for our wedding too! –Emily Wolf
P.S. Did you notice? WE HAVE A DATE!! 275 days and counting . . .