For those of you who may not know, in addition to being a bride-to-be, I am also a bridesmaid-to-be (for one of my bridesmaids, Amanda) AND an "auntie"-to-be for Meagan's (also a bridesmaid for both myself and Amanda) bun in the oven. Jenna, another one of my bridesmaids, is Amanda's maid of honor so she is also doing double wedding duties. Needless to say, this results in a lot of celebrating as well a jam-packed schedule for the foreseeable future. This past weekend was my turn as we celebrated my bachelorette party. Below are pictures of the four of us at Meagan's gender reveal party (it's a girl!), Amanda's bridal shower, and my bachelorette weekend. It's a good thing we all like each other.
Top: the foursome in Chincoteague for my bachelorette; Left: our group plus one at Meg's gender reveal; Right: the four of us at Amanda's western bridal shower.
When my (amazingly thoughtful and super organized) sister and MOH asked me what I wanted to do for my bachelorette party, I requested a weekend at the beach. The "destination bachelorette party" has become more and more popular, especially with movies like The Hangover and Bridesmaids. However, my vision for this weekend was far from the typical bar scene or strip club. I wanted a weekend of fun, laughter, a few beverages, and most importantly relaxation, all from the comfort of my favorite pair of yoga pants. And that is exactly what I got.
Me, soaking in the sun on the deck of our house. As you can see, I wasn't kidding about the yoga pants…
I could not think of a better place to deliver my ideal bachelorette weekend than Chincoteague(and Assateague), VA. Most Marylanders have heard of Assateague Island (you know, the one with the ponies) but have probably only been to the Maryland part, where they allow camping. This island stretches down into Virginia and has a sister island, Chincoteague just south of the MD line. It is a beautiful, small, slow-paced place where my family has vacationed throughout my life. It is one of my favorite places to visit and I was so glad I could share it with some of my favorite people.
A small herd of the famous Assateague Ponies we saw after a day on the beach.
Bridal party on the beach, left to right: Meg, Helen, Dave, myself, Sarah, Jenna, and Amanda. Photo credit to Caitlin, Hitched blogger "Hokies in Birdland", and Dave's fiancé who made the trip as well!
This quiet, relaxed, beach weekend was exactly what we all needed after a harsh winter and spring. The weekend started with "welcome bags" (or some might call hangover kits) from Sarah (MOH) including sunglasses, ibuprofen, Tums, a water bottle, gum, candy cigarettes, and mini bottles of champagne. We had two gorgeous days at the beach with sun and games, and casual "family dinners" in our rental house at night. We went to some of my favorite places – mini golf, Mr. Whippy's Ice Cream, and a daily trip to Captain Zack's Seafood for famous Chincoteague oysters (the most important ingredient in oyster shooters). We watched some of my favorite movies and played fun games like Cards against Humanity which allowed for copious amounts of laughter. My absolute favorite part of my bachelorette weekend was the people I got to spend it with. I am so lucky to have awesome family and friends (that might as well be family) to fill my life with love, laughter, and wonderful memories. Words cannot express how thankful I am for each of them, especially Sarah, who made this weekend happen. I can't wait to continue the celebration with an upcoming bachelorette party, bridal and baby showers, two weddings, and a new addition to our framily. Oh, and somehow amidst all that celebrating, we will find time to finish planning this WEDDING that is now LESS THAN ONE HUNDRED DAYS AWAY! – Emily Wolf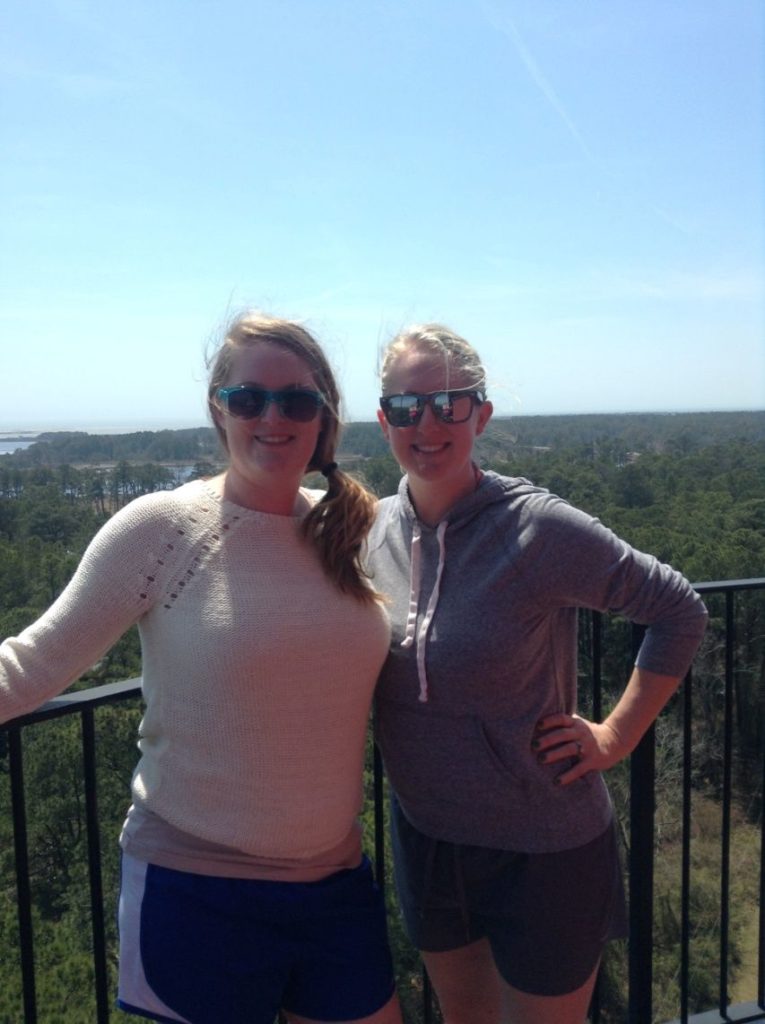 At the top of the Assateague Lighthouse with the world's greatest sister.