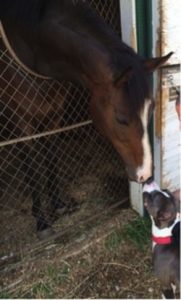 Get ready for a double dose of dogs – today on the blog we welcome Amanda Gage and her two rescue dogs, Biggie and Kali. As an assistant manager at Gramercy Mansion, Amanda supervises innkeepers and staff, manages daily operations and guest services, assists with marketing projects, and works with wedding couples and corporate clients to plan ceremonies, receptions and special events at the mansion. But when she's not hard at work helping to create unforgettable events and bed & breakfast stays, Amanda loves to spend time outdoors with her dogs and travel. – Allie Rosenwasser
Let's meet the active trio!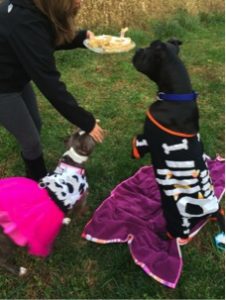 The backstory:
Both Biggie, an American bulldog, and Kali, a pitbull, are rescues. Amanda's decision to adopt rescues stems from her desire to nurture dogs in need of loving homes who may not appeal to other families looking for a pet due to their breed, appearance, personality or medical conditions. As a result, Amanda chose to adopt Biggie (or as Amanda says he adopted her) in 2010 from American Bulldog Rescue, who pulled him from BARCS. When Amanda first visited Biggie's foster home, Biggie sprang through the door to meet her with so much exuberance and energy that Amanda immediately knew he was coming home with her.
Kali joined their family in 2012 from Harford Humane Society as a foster. At the time Kali was recovering from having puppies and had terrible skin problems. She truly needed someone to care for her and provide a loving home. She and Biggie became friends quickly and Amanda soon decided that Kali had found her forever home as well.
Other fun facts:
Animals have always played a big part in Amanda's life as her family always had dogs and cats running around the house. In the past, Amanda volunteered as a foster home for dogs. For Amanda, the best part about fostering was seeing the dogs adopted into loving homes.
Biggie loves to watch TV. His favorite movie is Harry Potter, and his favorite part is when the Quidditch game is happening.
Kali is a talented singer.
Both Biggie and Kali love to play in the snow, but hate the rain.
Amanda lives on a working horse farm and the dogs love their evening walks around the farm to visit friends.
A favorite healthy snack for the dogs is apples but at times, Amanda splurges and celebrates their birthdays with a special doggy cake.
Since Biggie's birthday falls around Halloween, Amanda throws a costume party for him, too.Biggie and Kali love to dress up!
Biggie and Kali really are the best of friends and like to sleep cuddled on top of each other.
The best thing about Amanda's relationship with Biggie & Kali:
Amanda loves that Biggie and Kali are her four-legged children. The three communicate and understand each other. Biggie and Kali love Amanda unconditionally and she couldn't ask for better companions.