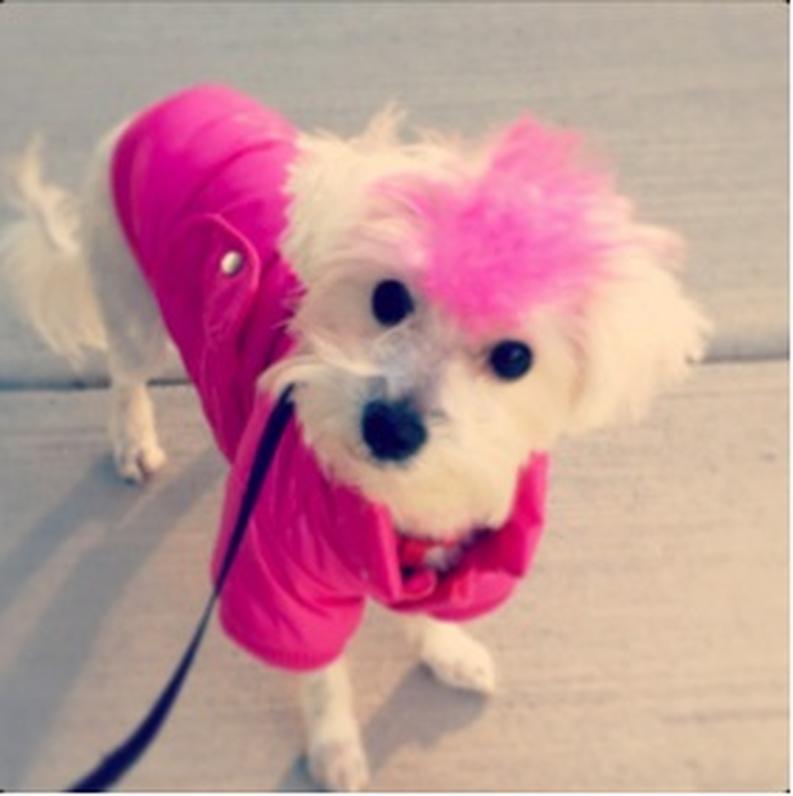 Following the rule of three, we are happy to welcome back one of our favorite blog series, Holy Muttrimony, now in its third edition. We have a whole new crop of wedding folk & their pets this week. Kicking us off is Angel West and her primped pup, Gracie! Angel is the owner of Mahogany Blue PR, a boutique agency specializing in marketing, social media strategies, and public relations for businesses in the wedding and lifestyle industry. Angel and her staff work with planners, venues and photographers in the Baltimore area and beyond. – Allie Rosenwasser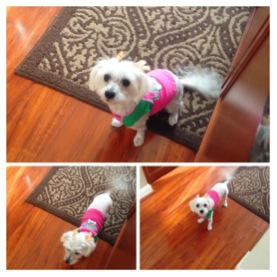 The backstory:
When Angel's daughter Camille was a toddler, Camille had a best friend in Angel's aunt and uncle's Maltese, Turbo. Camille loved Turbo and often begged to visit Aunt Mimi and Uncle P to see him. Turbo was great with Camille and would give her piggy back rides, playfully chase her around the backyard and allow her to play "beauty shop" with his hair (there was no way to convince her that boy dogs were undeserving of hair bows). With each visit the duo grew closer, and Angel found it increasingly harder to get Camille to depart from her buddy. Leaving Angel's aunt and uncle's was a 30 minute process that ended in tears and protests. The middle aged couple, who never had children of their own, were devastated at the tumultuous end of any family gatherings and decided something had to be done.
Angel still remembers the Friday night in February when Uncle P called her at the office. Turbo's mom had a new liter 8-weeks prior and he wanted to surprise Camille with a female pup—the only girl in the liter (finally, the perfect model for hair bows!). But surprisingly, Angel was the one that was smitten at first sight of the four pound pooch – Camille still wanted Turbo. Nonetheless, the pup was coming home! Gracie has been a blessing to Angel's family, so they appropriately named her Grace (nickname: Gracie).
Other fun facts:
o Angel's love for animals runs in the family. Her grandmother has cared for rescue dogs for as long as Angel can remember. Angel's mom has carried on that tradition and has two rescue pit bulls today – there have always been pets around!
o Gracie loves attention and gets so excited when guests come over.
o Gracie is sassy and knows how to give the snobby look on cue –complete with a tilt of her head.
o Angel's neighbors have nicknamed Gracie "Punker Pooch" because of her neon dyed Mohawk. Usually its pink, but occasionally Angel will switch it up for the holidays (for example, Gracie had an orange one for Halloween).
o One of Gracie's favorite activities is to sunbath by the window.
o Gracie keeps Angel company at the office and amazingly knows to keep quiet while she's on a conference call. Gracie is the perfect office companion.
o Gracie insists on eating in the dining room just like her human family. She brings a few pieces of dry food at a time from the kitchen to the rug in the dining room. When she finishes, she returns to the kitchen just to get more pieces for her feast. A full meal takes at least 10 trips!
o One of Angel's favorite things that Gracie does is fall asleep with Camille every night (who eventually became her best bud). When Camille is tucked into bed, Gracie makes sure she is tucked in too! The bond they share is priceless.
The best thing about Angel & Gracie's relationship:
Angel loves that Gracie is her office companion. When Anthony, Angel's husband, is at work and Camille is at school, Gracie and Angel are together. Gracie sits with Angel while she enjoys her coffee in the mornings and lends a listening ear as she reads her emails and press releases aloud (Gracie loves Angel's writing). Gracie is the first one to celebrate media placements and becomes Angel's comforter when her pitches go south. Gracie keeps Angel laughing. Gracie still barks at the delivery guy on every visit. Angel couldn't fathom working without Gracie.