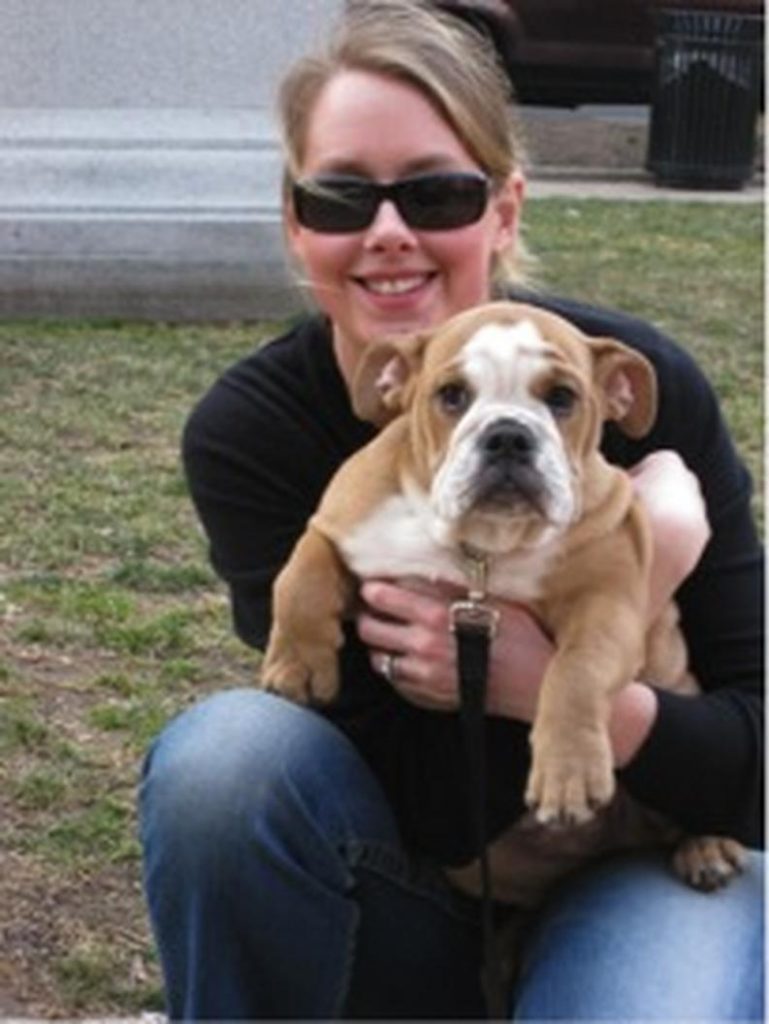 Happy Friday, Charm City! To close up the week, we have another sassy lady to add to the bunch: meet Lulu! Lulu's mom is Susan McArdle, the talented owner of Just Ink On Paper, an invitation and stationery studio. "We design all things paper and stationery for our amazing couples, in the mindset of a classic and timeless design," says Susan. "Our ultimate goal is to design and create something that stands up after 10, 15, 20 years of marriage. Something you can look back on and still love. The invitation is really the only piece of information your guests receive before your big day, so we believe you should make it count!"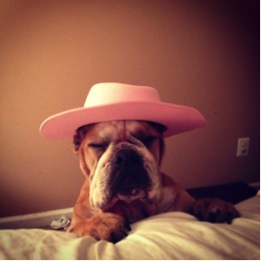 The backstory:
Susan got Lulu six years ago from an English Bulldog Breeder in Maryland. Lulu was 4 months old at the time and already 25 pounds. For as long as Susan can remember, she had wanted an English Bulldog – there was no other option. It look some convincing on Susan's part for her husband to get on board with a dog. He didn't have a family dog growing up, whereas Susan had dogs all her life. For Susan, getting a dog was a necessity. Susan even had names picked out: "Tug" for a boy and "Lulu" for a girl. Susan had her heart set on a male, and after an extensive research for months, kept coming up empty handed. She told her husband he had to take over and find her one. In an hour, he found a picture of the cutest bulldog ever and Susan was sold.
Other fun facts:
•Growing up, Susan's family always had dogs. They had everything from a Siberian Husky that Susan only remembers a bit about, to probably the world's best golden retriever/part Collie, to a completely crazy stray who would do anything to impress you. All of Susan's dogs were strays or from the SPCA. Having a dog was simply a part of life.
•Susan describes Lulu in two words: couch potato. English Bulldogs are known to be a bit on the lazy side and stubborn; and let's not forget gassy and snores like a freight train! But one of the best breeds with children.
•Lulu is probably the most relaxed bulldog you will ever meet. Her typical day is eating at 7:30am, going back for a nap on her bed, another nap on the couch, maybe moving to the other side of the couch for her afternoon nap, and at about 3:30pm perks up and starts following Susan around the house for dinner at 5:30pm. And after diner, there is Lulu's "after-dinner" nap, followed by bed. And yes, Lulu has been known to sleep in the bed with Susan and proceed to take up the entire king size bed.
•Lulu is a big part of Just Ink On Paper. She is on the website, and normally pops her head into consults. Susan has even had a few clients ask her specifically if Lulu will be there and if they can meet her.
•Susan and her husband often called Lulu "the closer" because when Susan first started Just Ink On Paper every client that met Lulu would end up booking with Susan. So Lulu has a great track record!
The best thing about Susan & Lulu's relationship:
Susan says Lulu is the best. One of Lulu's most endearing characteristics is her gas, burps and snores. Lulu is the perfect couch snuggler and has even turned Susan's anti-dog husband into a Bulldog lover.