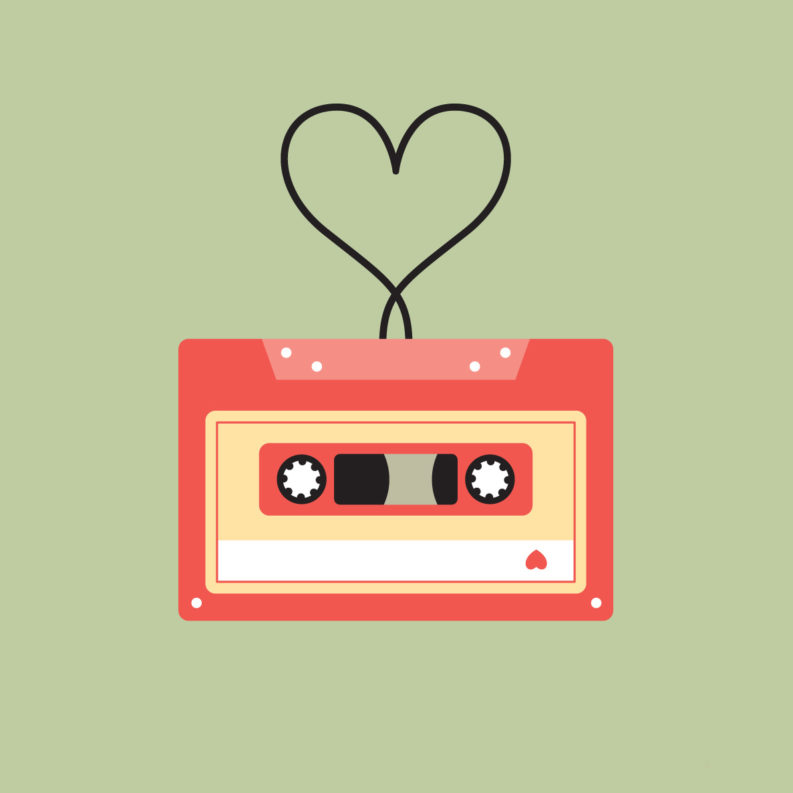 In the spirit of Valentine's Day, DJ Carl Jr. of Collective DJs, has put together a playlist that is a fresh and unique alternative to the predictable love songs normally associated with today. 
"Our 2.5 hour dose of music medicine is a trek off the beaten path with some great voices and songs. We end the mix with some fun tunes designed to get you a little 'Closer' to your person of choice. We don't deliver the typical Valentine music play list, but we know our audience is not sparked from the conventional flame." – DJ Carl Jr. 
Find the Spotify playlist (including Maggie Rogers, Lizzo, Al Green & the Spice Girls) here.
If you want to create your own playlist, DJ Carl Jr. has some suggestions:
Valentine's Day is fast approaching and if you find yourself scrambling for something to get your sugar pie, honey bunch, main squeeze, regular item, significant other or whatever term you use to you refer to your love interest, here's a cool idea.
Making a "mixtape" (CD or MP3 mix or thumb drive) is a thoughtful and inexpensive way to express how you feel about your lovebird. Ultimately what your loved one will appreciate, as much as the music mix, is the thought that you put into it so don't get lazy on the song selections. Music stirs the emotions and as William Shakespeare said, "If music be the food of love, play on!"
OK, so here's the bad news . . . it's not as easy as gathering up or downloading the top 15 sappy "love songs". Below are a few things to keep in mind while creating your mix.
Think about what your cutie pie likes…
The point of making a mix for someone is to be considerate because the last thing you want to do is make the mix and put zero, zip, zilch thought into it. Keep in mind their tastes in music, because no one wants to listen to a mix of music they don't actually enjoy. You may consider trying to "break" a new song that's not currently in their collection as long as it's not a screaming departure from their tried and true taste.
Before you make your better half a mix, make sure you know a few of their favorite songs, artists and bands. It's a good idea to do a little a covert research to understand this and maybe find a rare version of a song by an artist they love or even a new, hip remake of that same song. If you are at a complete loss, you can Google, Bing or Yahoo search "Valentines mix song ideas" or "Top Love Songs" and look at a bunch of lists and make your own after going through what you think your squeeze would like. We have a list of suggestions to fast track this project!
Don't be a cliché…
Anyone can go online and search "top 10 love songs" and come up with a completely boring list of sweet songs that will give you cavities and automatically text your dentist just reading the playlist. Remember you are trying to make a favorable impression not drive them into the arms of another. (This point is null and void if you know for absolutely sure your "person of interest" actually loves those "top 10 saptastic love songs"… just be really sure.)
Add a little art from the heart
Consider creating something for the CD cover or playlist artwork. You can even add a cute picture, possibly of the two of you that will highlight your thoughtful nature. If some of the songs on your CD have special meaning to you and your partner, create an insert, card or something similar with the lyrics. If you can't draw or are not a Picasso and still get your creative inspirations flowing to give it a try, it's all the more endearing to go out on a limb for your earth angel. Major points earned!
Have a sense of humor…
Even if you are using your mix as a vehicle to profess your love it's not a bad idea to break up the intensity with a song that's fun or funny. A song that you and your love have an inside joke about or a funny song will keep the mood of your mix light. Remember that "Cheesy" is subjective and different for everyone… and hopefully you know what your boo is all about by now, right?
Avoid the "Creepy" mix
It's VERY important to keep in mind how long you have been with your steady guy or gal and how serious you are with this person. If you have just started dating then you should probably refrain from putting any super sappy songs about lifelong devotion or how' you'd die for them on your mix. This can be received as confusing and/or creepy. If you are a newbies together, avoid trying to send direct messages via song lyrics and keep things flirtatious and fun or even funny.
The media…
You could go old school with a cassette tape but who still has their old Walkman laying around? Best bet is a retro CD or even a thumb drive with your playlist. You can burn a CD of the mix or put the mix in iTunes, as well as create a Spotify, Rhapsody, Pandora, etc. mix for them. You can also create a continuous mp3 mix and upload it for free to mixcloud.com then share that link.
The delivery…
If you are going for the surprise delivery, you'll have to consider the art of discovery… you could plant the CD or thumb drive in their purse, briefcase, attaché bag, luggage, fanny pack or lunchbox and let them find it. You may want to email the mix to them after uploading it to their favorite streaming service or you could do like I did one time, where I preloaded my wife's car stereo system to play through the mix as she was driving around. Another option, if you happen to reside with your lover, is to "load" the mix on their pc, tablet or phone. Just be sure this is not crossing any lines because you'll have to "break" into their device and "plant" the playlist for them to "discover" at a later date. If this is your method, again, be sure you are cleared for takeoff with them since breaking into their place and hacking their electronics may get you dumped and possibly arrested.
You probably don't want to be there when your lover first previews the mix. Let them take it all in on their own, because if you are sitting there watching their every reaction to the songs, that would just be weird and you will probably be making a different mix for someone else next year on Valentine's Day.
Good luck and have fun with it.