Looking back on a Snapstory, the day after a wedding is the next best thing to eating leftover wedding cake.
It offers an inside look into how guests enjoyed the big day. There will always be the perfectly curated album, carefully crafted hashtags and maybe even a keepsake wedding video, but Snapchat captures pure, in-the-moment joy experienced by friends and family.
Snapchat was quick to catch on and couples can now create custom, or templatized, on-demand filters to use on their wedding day. Not the most creative person? Look no further than local Baltimore designer, Rachel Jones, and her adorable Etsy shop SnappyFilters. The shop is dedicated to creating unique and beautiful filters for any occasion (here's looking at you bachelorette parties). To get inspired, SnappyFilters recommends using invitations, or any wedding branding elements like monograms, flowers or color palettes.
The best part is, on-demand Snapchat filters are a scalable investment, with a big impact for guests who use the app. The length of time a filter appears and the area it covers* will dictate the price. The filters can be used anywhere from 20,000 square feet (think: your venue location) to 5,000,000 square feet (think: venue location and surrounding city blocks). They can last from one hour to one month.
It is also a great way to get involved with your guests throughout the weekend. If you're feeling really brave, don't hesitate on doing more than one. Heading to an O's game as part of your wedding weekend activities? Think of something clever guests can use to add to your story. Have an after party planned at Little Havana's? Create a filter to capture the fun tequila fueled moments.
After doing some research, and reaching out to SnappyFilters, I decided to give this a shot so I could fill you in on just how easy it was! Here are a few simple steps I learned in the process of creating a custom Snapchat filter for a wedding:
1.) Plan: Get started on your Snapchat filter about a month in advance of your wedding and decide where you want to incorporate.
2.) Create: Design your filter using a Snapchat template (found here) or reach out to SnappyFilters and make something really special and unique for your day.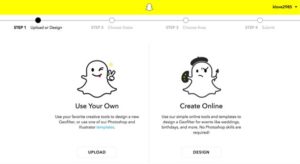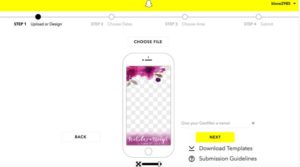 4.) Select: The run time & area (aka. Geo-Fencing)
5.) Purchase: The geo-fence size and filter run time will dictate the cost.
6.) Submit: Don't forget to give yourself at least 3 days (to be safe) for the OK.
7.) SNAP!
I'll admit, I was nervous and counting down the seconds until the filter went live. I had no idea if I did it right! This took me out of my comfort zone but I was excited to try and learn more about it. The good news is it is very simple to do and Snapchat customer service is extremely helpful and responsive. When I decided last minute that I wanted to extend the geo-fencing – I reached out to Snapchat and they responded to me within minutes with a solution.
That was reassuring given my track record with technology.
//
*aka. Geo-Fencing or a virtual fence that uses GPS to define the boundaries and it is set by the user who is purchasing the filter.