Krista A. Jones Photography
A few weeks ago, Michael and I had our engagement pictures taken but our FABULOUS photographer Krista Jones (co-editor of another awesome bridal blog Bayside Bride). While I like to pretend in my mirror I'm on America's Next Top Model in the comfort of my home or take phone pictures out with friends, I've never done a professional shoot before and was a bit nervous. What to wear? Where to take them? How to not look awkward or end up on a post like this?
Finding the "where" was my first task. I wanted a place that was meaningful to us but would provide a really pretty background. I researched other blogs, websites and Krista's home page to get some ideas. Then my mom had the awesome idea to scout it out ahead of time. This was KEY! I had planned on one place but after actually going there, I was not so impressed. We then settled on Centennial Park in Ellicott City. It had a lot of locations to work with and plus we most likely will move to EC when we leave the city.
Next came the wardrobe choice, which was no small feat. I admit I am one of those girls who changes her outfit multiple times before finally leaving the house, so I knew I needed to decide this beforehand. Also, I was thinking about many of the shots I had seen. There were lots of close-ups, so sleeves were required (you don't want to look naked!). Since our background was going to be trees and water, I also wanted to pick something that would pop. Then Michael picked his outfits to compliment mine.
Phew! After all this background planning, it's time to take some pictures! Our first date didn't work due to a thunderstorm. This is important to take in to account if you are having your pictures done during the summer months or outside. We rescheduled for two weeks later, so it wasn't a big deal at all. We explained to Krista and her husband, who had come along to take film shots, that we aren't a super PDA couple and don't spend hours looking deep in to each other's eyes. She assured us that while it might be awkward at first, she would give us direction but it's mostly important to just be ourselves. The first few minutes definitely felt strange but as the time went on, it felt more natural. Krista and Davey made us feel totally at ease and I couldn't be happier with the results! She is so incredibly talented and we are really lucky to have her as our photographer.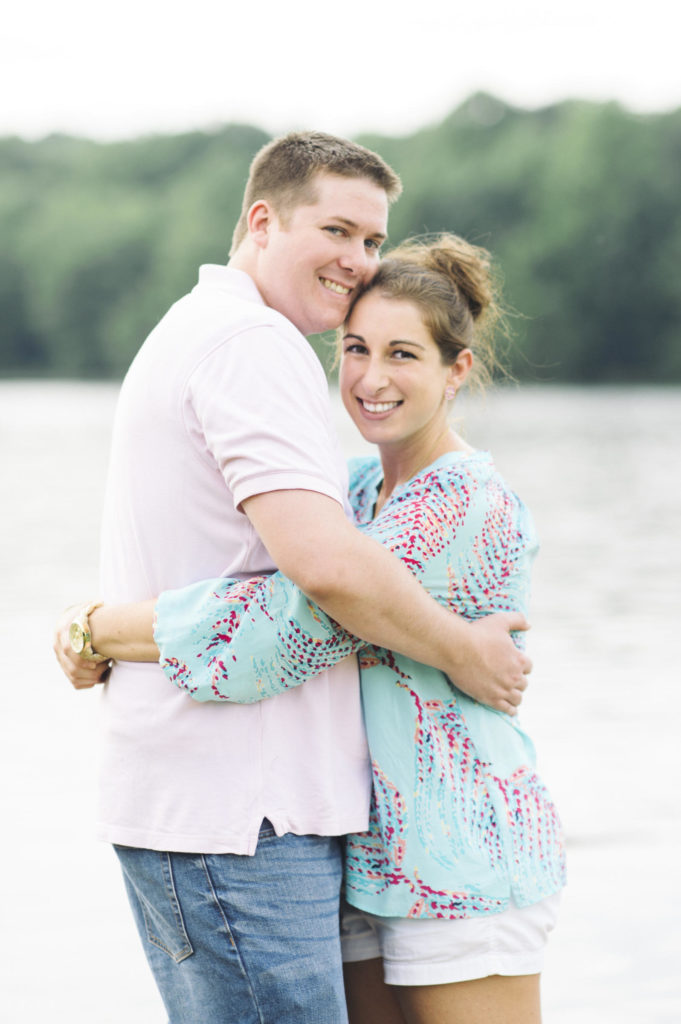 Krista A. Jones Photography
Engagement photos are not a requirement or even a desire for all couples. But many photographers do offer them with their packages. Since we've never had nice photos taken, we knew our families would appreciate having some.
Krista A. Jones Photography
Plus, we also plan on using them on our Save the Dates as well as our announcement in the newspaper. If these types of photos aren't your thing, maybe see if your photographer wouldn't mind taking a rain check and use them for when you have your first child for a family portrait instead. Do what fits your personalities and represents you . . . that's really the best advice to help you not look awkward. – Carrie Costantini