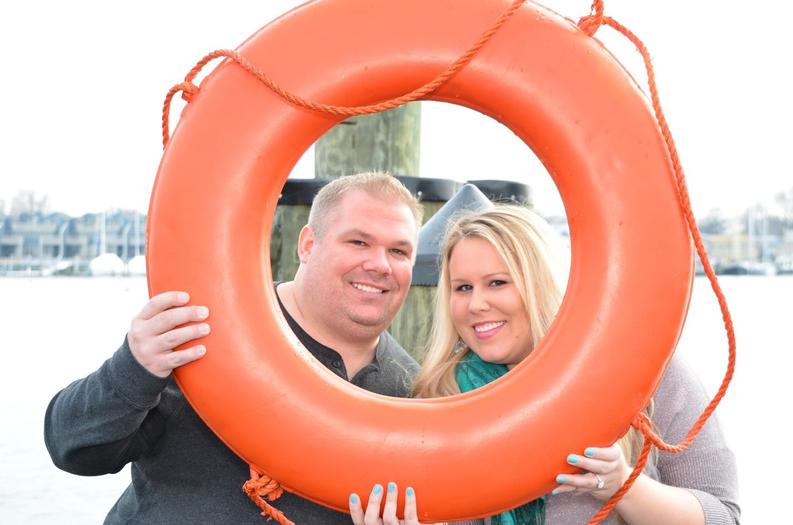 This weekend we had our Bachelor and Bachelorette parties! Kevin and his friends flew out to Las Vegas but I decided that I wanted to go to the beach. Besides the fact that I'm not a big fan of flying, I wanted something in driving distance that was low key but still exciting. I decided Ocean City would be the perfect place because I love it there so much! Five of my best girlfriends and I packed up two cars and headed to the Eastern Shore for a long weekend of sun, sand, and fun.
We left Friday afternoon before the inevitable Friday rush hour traffic hit and got to town just in time. We stayed at a family friends' townhome so we had plenty of room to spread out, cook, and relax. The first group of girls arrived about a half hour before mine and as I pulled my car into the driveway I saw caution tape on the steps. I was starting to get worried as I walked up but then realized the tape said, "Bachelorette Party, Enter at your own risk!" As I opened the door I saw signs, balloons, streamers, and a table full of party favors and games. Everything looked so amazing and I know they went into a lot of effort to set everything up for me. They even made shirts for us to wear with my wedding date on the back and our own hashtag for the weekend: #donttellkp (KP is my fiance's nickname.)
I knew right away this was going to be a weekend I wouldn't forget. We decided to go grab some drinks and appetizers and discuss our plans for the weekend. We got all dolled up, took a ton of photos, and then went to Seacrets. Two of our favorite bands were playing and the drinks are so delicious there, we thought it would be perfect. Even though we are now technically in the beach off season, the club was still pretty crowded. We watched the inside band for a while then decided to go outside to the beach club. I had so much fun dancing with my girlfriends and wearing all my bachelorette swag! They even surprised me by having the band sing and dedicate a song just to me!
Saturday we made sure to get in a couple of hours of beach time. I don't remember the last time I just had time on the beach with my friends so it meant a lot that they all could be there with me. It was pretty hot out so we stayed in the water most of the time and just relaxed. Saturday was more of our "low key" day and that was perfect for me. I had the most fun just hanging out, talking, and playing games. We even took some "old time photos" that were hilarious!
Sunday we slept in, made breakfast and watched, "Elf," which is one of my favorite movies. I forgot how good it felt to just sit and laugh with your girlfriends; something that we definitely need to do more often.
We packed up and said goodbye to the beach and each other. These girls did so much for me and made sure I had the most amazing time. I may be getting married but my friendships are irreplaceable and I can't wait to see them all in less than three weeks at the wedding!