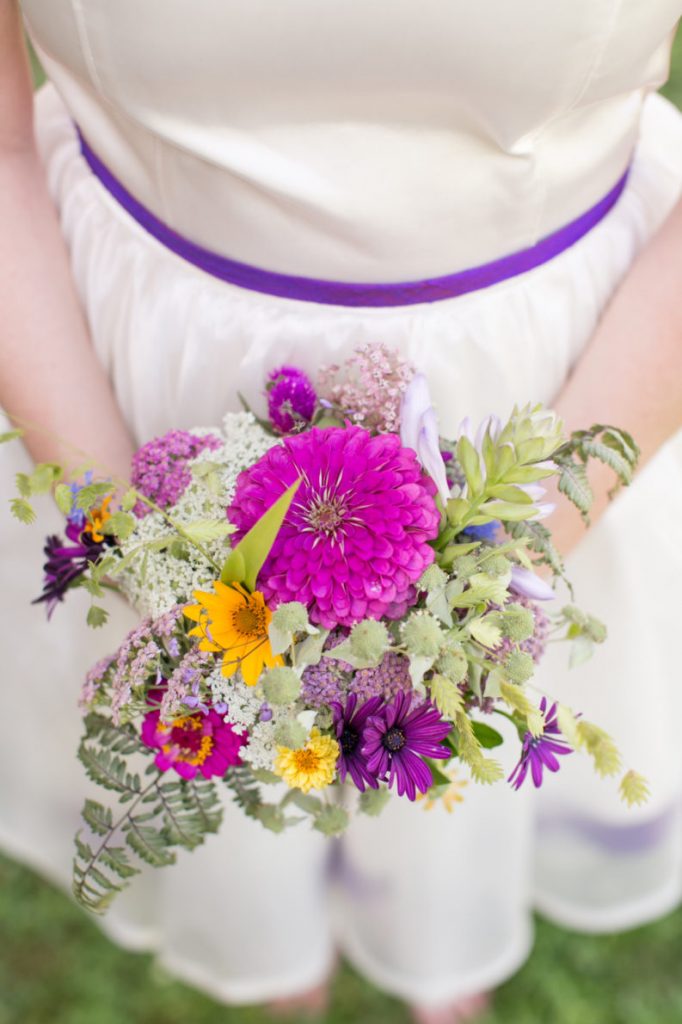 When Amy January and her husband wanted to do something different for their wedding, they immediately thought of growing their own wedding flowers. Little did they know that they'd also be creating something that they could treasure even after their wedding day passed.
"My wedding flowers were all homegrown; it was a family effort," says Amy. "My husband, and my mom, brother, along with my sister-in-law and my mother-in-law and I all grew all the flowers for the wedding ourselves. We all have gardens and we enjoy spending time together, so I thought it would really special if we could combine our shared hobby with wedding planning. It was a great way for us to have fun and be productive in the planning of my wedding."
Together, with her family, Amy planted all of her wedding flowers from seed, including purple daisies, Queen Anne's lace, sunflowers, cornflowers, and other lovely botanicals.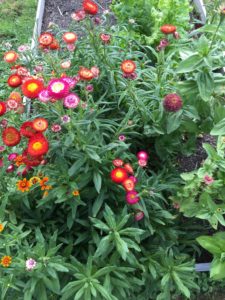 Photo credit: Amy January
"I loved the entire cycle, choosing the colors, the plants, and then the process of planting and cultivating them, and witnessing my garden of wedding flowers bloom," she says.
Amy was especially pleased when she saw the flowers, symbolic of the love and effort of her family and friends, in her bouquet and around the event at the wedding.
To her, the flowers meant so much more than decor or something to toss.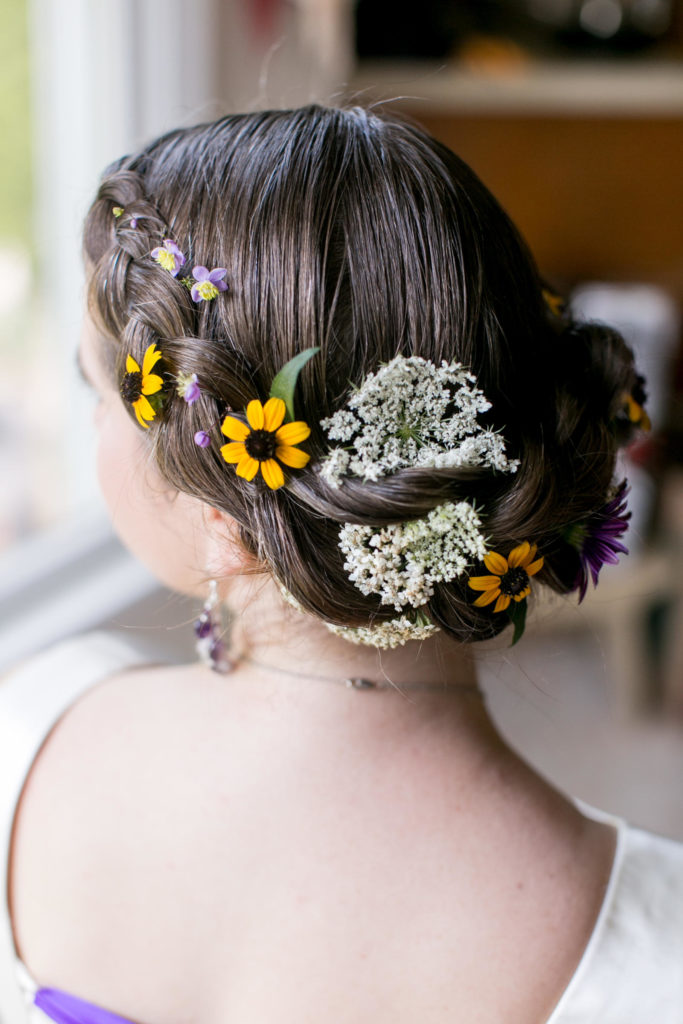 Photo credit: Living Radiant Photography
So, after the wedding Amy and her husband worked with jewelry designer, Kyla O'Neill of IMPRESSED by nature, to preserve their home-grown wedding flowers.
Her bouquet flowers, that otherwise would've gone to waste, were transformed into jewelry pieces that can be worn as a reminder of her wedding and the joy she felt when she was surrounded by her loved ones.
"I absolutely loved the idea of being able to preserve some of the flowers we all worked so hard to nourish and grow, and to be reminded of all the love and support we are blessed with each time I wear them," says Amy.
Kyla O'Neill, the founder of IMPRESSED by nature, started working with brides in 2012, when she plucked a few petals from her friend's bouquet and surprised the bride with some jewelry created from her flowers.
"I was already working as a floral jewelry designer, but I hadn't considered working with brides, yet. It was a satisfying and serendipitous shift in my work," she says.
For Kyla, working with couples to preserve the memories from their wedding day is one of the most creatively satisfying aspects of her business.
"Not only do I have the incredible honor of handling the botanicals that hold such special meaning for them, but it also gives me the opportunity to collaborate with another creative mind to create wearable representations of their wedding day. I love working with brides to preserve their special flowers. Unfortunately, many wedding flowers are just discarded. By offering preservation services, it's really appealing to me that I can help repurpose brides' flowers in a really memorable and unique way."
The process is simple. Before the wedding, brides receive a special flower pressing kit with an easy-to-follow tutorial that guides them through the pressing process.Then, brides, or their bridesmaids press the petals and return the kit back Kyla. Brides are able to order from their flowers for up to two years, so many brides choose to add to their collection on an anniversary or birthday, or they'll gift pieces to their mother's and mother-in-law on Mother's Day.
"Depending on the type of flowers pressed, we usually have between a few weeks or a couple months before the petals are ready to be made into jewelry," says Kyla. "Then, brides are sent images of all of their pressed flowers, and then they get to do the fun part: selecting their jewelry designs."
Kyla was particularly struck by Amy's story.
"Working with Amy was especially interesting to me because of how she and her loved ones planted the flowers from seed. I felt so honored to have the opportunity to work with her flowers and bring them back to life in a new form, that Amy can cherish forever."
For Amy, it was a no-brainer to decide to preserve her flowers in jewelry form.
Photo credit: Dawn January
"When I first read about the possibility of saving my flowers into jewelry with IMPRESSED by nature I knew immediately that I wanted to press and preserve my wedding flowers and turn them into treasured jewelry," says Amy.
The first piece Amy ordered was a necklace and pair of earrings for herself, but when they arrived she knew she wanted to order more pieces for everyone who helped grow the flowers. She is planning on gifting pieces for her mother, mother-in-law, and the rest of her bridal party. "When I saw my pressed flower jewelry for the first time, I was so excited! I put it on right away, and sent pictures to all the people who helped make it happen (included a few friends who helped do the actual pressing immediately following the wedding). I like how they are so lightweight."
Her favorite part is when people inquire about her unique jewelry. "I get to say, 'These are my wedding flowers!', and then I get to talk with them about my wedding, share stories, and remember my special day."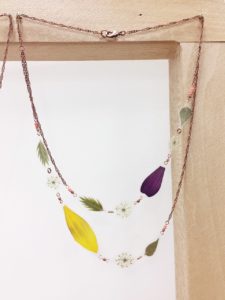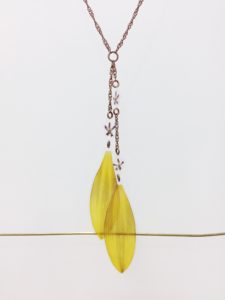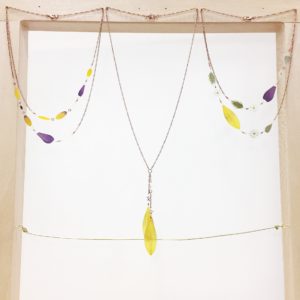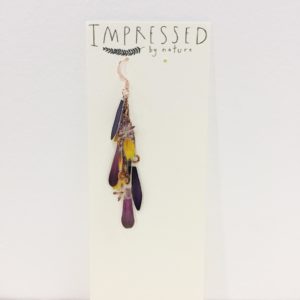 Photo credit: IMPRESSED by nature
"This experience helps me relive the special moments from my wedding," Amy says. "There were so many beautiful flowers everywhere. It was a magical day of love and happiness and family and friends. And a bit of fairy whimsy."