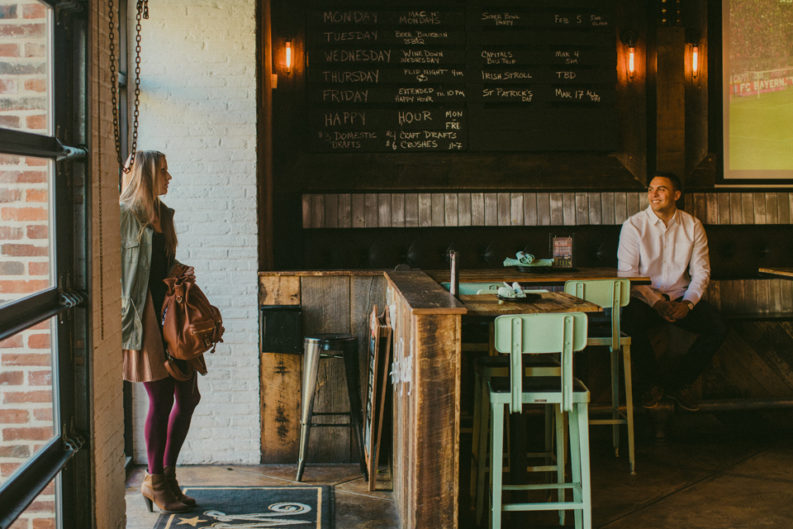 *an occasional series about marriage proposals*
Ali and Jeff both went to University of Delaware. Ali played soccer and Jeff played football. This meant that as athletes, they shared a lot of the same friends. SOMEHOW they never met during their years at Delaware. Jeff moved to Baltimore after graduating and Ali to Wilmington. One fateful weekend, Ali and her friends reunited in Baltimore, where she met Jeff. Jeff walked into Cowboys and Rednecks in Fed Hill (now called Wayward), was introduced to Ali, and immediately asked, "Are you engaged?," after spotting a ring on her finger that her sister had given to her when Ali was the maid of honor in her wedding. Ali said no, and they spent the rest of that night and the whole weekend dancing, laughing, and falling HARD for one another. They both knew they had found their person. Three weeks later, Ali finally said yes to a date and Jeff drove to Wilmington after work on a Wednesday night. They shamelessly ate too much sushi and quickly fell in love with one another.
After a year of long distance, Ali and Jeff moved into their first home, a small one bedroom apartment, in Ellicott City. After two more years of building a home and life together, which included living room dance parties, at home happy hours, The Bachelor(ette) Mondays, lots & lots of travel, and sometimes arguments about who is the better cleaner (*ahem* it's Ali) or who is the cleaner cooker (OKAY, that's Jeff), Jeff decided it was time to propose. Shortly before the three year anniversary of that fateful night at Cowboys and Rednecks, Jeff reached out to Ali's favorite photographer, Sarah Price, to photograph his proposal in the same spot they met. He made sure their whole family and their closest friends were waiting in that back of the restaurant to surprise Ali (even more) and celebrate the big moment together. Jeff had the bar open up early, so they could be alone. Ali showed up that morning to brunch with her friends, but instead found Jeff sitting at the same table where they met with "their song" (Latch (acoustic) by Sam Smith) playing throughout the bar. This time, instead of "are you engaged?" he asked , "will you marry me?"
The moment was both of their dreams come true, and could not have been any more amazing or perfect. The two are wildly in love with one another and make each other's lives incredibly happy. Now, they own a house in the city where the adventure began, and in July, it'll be time for them to get married.