Saturday, April 14th, was the best day of my life. For nearly four months, Andrew had been meticulously planning every detail of this day. From secret day trips to the winery, numerous calls with the winery's event director, to sending out a mass email to our closest friends and family coordinating everyone's perfectly timed surprise arrival, the day was absolutely perfect.
Just a week before this day, Andrew had told me that we would going on a surprise "adventure" the next weekend, but refused to let me in on any of the details until the day of. "Just look pretty and let me keep some surprises!" he kept saying. And so the day arrived, and still I had no idea where we were going or what to expect, only that the "event" was potentially both an indoor and outdoor endeavor. Just make sure you are ready by 5PM he kept saying, we must leave by 5PM!
On our way to the winery, Andrew kept the mood light, and most importantly, kept me distracted from any ideas as to what we may be doing – he still had not told me where we were going. I had seen Westminster listed on the GPS, but was left to continue guessing in my own mind as to our final destination.
Nearly 40 minutes later, I had finally realized where we were going, Old Westminster Winery! The same winery where I had spent my last birthday with Andrew and one of my favorite places in the area. Upon our arrival, however, Andrew told me that we were early and that the event didn't start until 6PM so we "might as well just drive around the neighborhood for a few minutes" and so we did just that. Still ahead of the 6PM "event start time" we pulled into the parking lot and noticed a few people relaxing on the back patio of the winery. Doing his best to keep to the storyline, Andrew mentioned that these people must be left over from a previous private event, "I just called the other day to double check the event time she said, it's 6PM!"
After a few minutes of waiting and watching the staff dismiss the remaining individuals, I was convinced that Andrew had called the wrong place! Or maybe that a winery staff member had simply misspoke about the timing. "Call them I told him. Make sure it really is 6PM, everyone is leaving."
"I'll just go ahead and walk up," he said. "If it's not open, well just go somewhere else, if they are, I will wave you in!"
And so I waited, watching as the remaining patrons exited the winery on their way to their cars. By now I was surely convinced he was mistaken. But then, he came out and waved for me to get out of the car. As I walked up, he explained to me that the individuals leaving were part of winery's Cru Club and were finishing up their own event before the start of an open "Spring Event" at the winery.
Man . . . they must not have marketed this event to well I kept saying, as I looked once more toward the empty parking lot.
Stopping to take a few pictures along the way, as I always do, Andrew reached for my hand and directed me through the front door of the winery building. "Hi! Welcome to Old Westminster Winery!" shouted a winery staff member who asked if we were interested in starting off with a wine flight.
By now, I was fully convinced that this was just a normal day. Making a few comments about how empty the place was, our server playfully laughed and joked, "clearly we didn't market our event so well . . ." as she poured our glasses. Making note of our favorite, Andrew and I grabbed a bottle of the Nouveau and proceeded to make our way outside. "Let's go ahead and pick a seat before any other people get here," he said. "It's almost like we have the place to ourselves!"
Making our way to the same spot we had sat last year on my birthday, I quickly poured myself a glass and asked Andrew to take a picture that would be identical to one he had taken of me last year. Standing in the field with my back turned, Andrew snapped a few pictures and told me to come check them out. Snapping a few selfies in the meantime, Andrew reached into his pocket and pulled out a small black bag. I had absolutely no idea what he was doing.
Taking a minute to not-so-gracefully maneuver the ring out of the bag, Andrew grabbed my hand and told me that he loved me and that he wanted to spend the rest of his life with me. Dropping to one knee, I finally knew what was happening. "Taylor, will you marry me?" he said.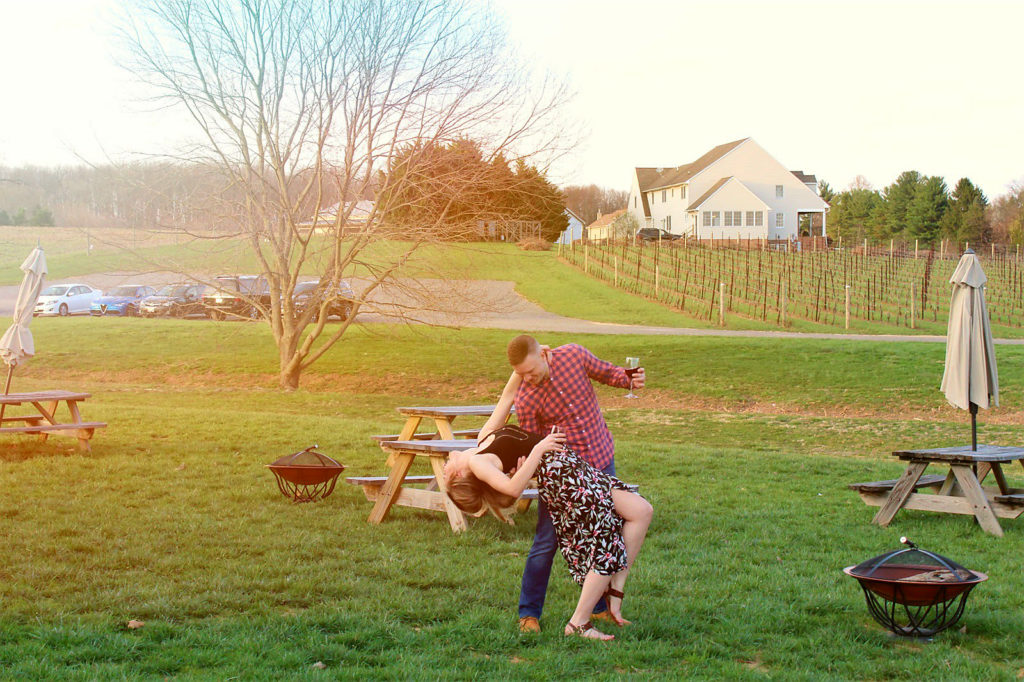 "YES! Of course!" I said as the tears ran down my face.
Andrew smiled, hugged me and laughed saying that he really did mean it when he said we had the place to ourselves, he had rented out the entire winery!
A few minutes later, after attempting to get myself back together, Andrew smiled and pointed to the doors of the winery. I again, had no idea why. In that moment, my parents, my grandmother, Andrew's parents, and his grandparents all came through the door. I burst into tears again, I couldn't believe it! They had been parked down the street and were simply awaiting the go-ahead from Andrew to arrive.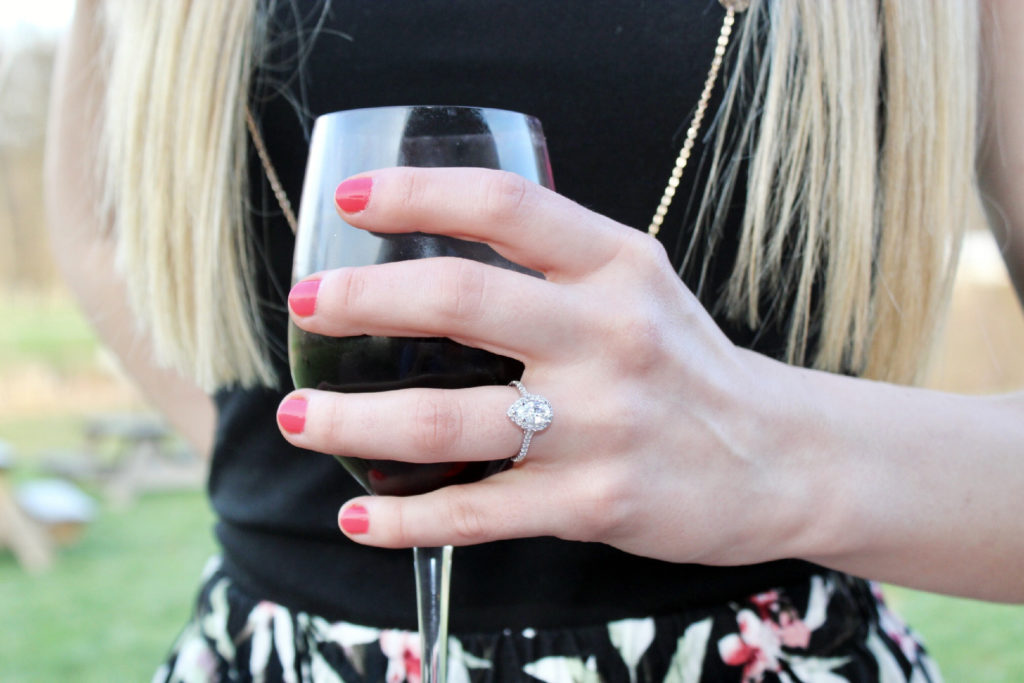 And so, after a few minutes of celebration with our families, Andrew again smiled and pointed, this time to the parking lot. I noticed a line of cars pulling into the parking lot with various people making their way toward us. It was the rest of our friends and family – even a few who had made the trip from North Carolina just for us! All in all, Andrew had invited 23 of our closest friends and family – all those who had become such a major part of relationship over these past four years.
We spent the next 3 hours laughing, sipping wine, and readying ourselves for the next chapter of our lives. It was perfect.
If you have a great proposal story, email us at: [email protected], subject line: POP THE QUESTION.