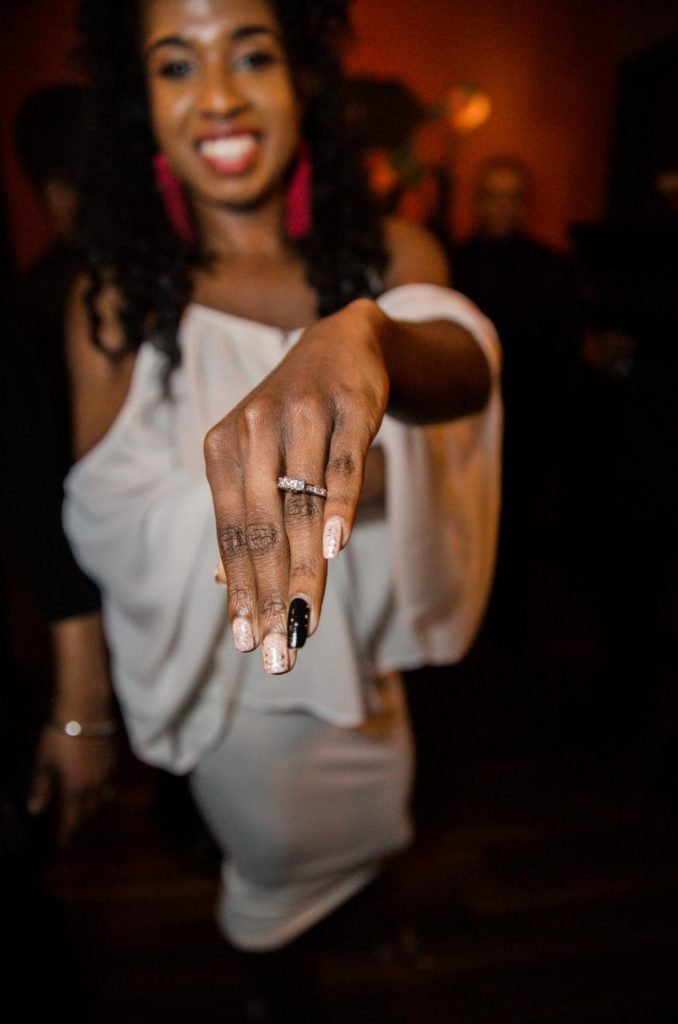 *an occasional series about marriage proposals*
It's true what they say: Good things come to those who wait. What's even more true is that the thing you hope for the most seems to happen when you least expect it.
After 11 years of dating my high school sweetheart, I was nearly counting the minutes until he popped the big question. All of those years gave me quite enough time to fanaticize about how it would happen. Would he propose during a romantic weekend getaway? Would we be dining at a five-star restaurant in the city? Or would he surprise me at the end of the year with a tiny box under the Christmas tree?
Little did I know, he would say those four little words last December at my business' launch party.
Brian (that handsome guy in the photo above) and I met at an internship when we were in high school. Our innocent friendship grew into a loving relationship. And the rest is history. He's been by my side ever since I was 16 years old. And today, he's still the one who makes me completely giddy, reads my mind effortlessly, and anticipates my every need. So, it was only natural for him to be beside me as I celebrated the launch of my custom bridal gown line, Ren Nicole.
That Sunday afternoon, last December, was something I had been dreaming of since I was a little girl. I had finally launched my business and invited close friends and family to celebrate the big moment.
The affair was hosted at Sir Duke Bar in the charming Fells Point neighborhood. I stood outside that chilly afternoon greeting guests. Some who arrived were family members, while others were childhood friends–one in particular who I hadn't seen in over a decade.
Cool vibes, great music, and deliciously savory bites greeted guests as they made their way inside. I overheard many of them raving over the assortment of tacos, and I encouraged them to walk around with their food in hand so they could enjoy the artsy space.
As I made my way around the upstairs loft to speak with everyone, I started thinking about an important message I wanted to share that afternoon.
The affair was more than just a celebration of all the hard work leading up to the launch. It was the perfect opportunity to make a speech encouraging everyone to set out on their own adventure.
I began by thanking everyone for their support in my vision for a brand that not only provides beautifully designed gowns, but that also celebrates the individuality of every bride and her unique love story.
I left my guests with one final message:
"When you look back on this evening I hope one person here, or something that was said, inspired you. I encourage you to open your heart to risking it all, and set out in pursuit of something remarkably beautiful. Most importantly, grow in your faith because that's exactly what I've had to do this year. I know without a shadow of a doubt that Ren Nicole will be a success because God has been at the forefront of this process all along."
Shortly after my speech, the afternoon came to a close. I asked Brian for his help in rounding up guests for the finale: the cake cutting. Taneka Weldon of Whimsy Cakes by WDE provided a delicious red velvet sheet cake filled with raspberry preserves. Guests all gathered around for the special moment.
Right as I finished cutting the first slice, Brian surprised me with a beautiful bouquet of red roses (he always buys me a dozen of these on special occasions) and a frame wrapped with pink tissue paper. When I unwrapped it, I saw an email that I had sent him years ago. The message simply read, "It's all up to you, Brian. It's all up to you!"
I sent him that email a day before we officially started dating. You see, we had been friends for a year at that point and it was obvious that we both wanted more. So, I thought a friendly email would give him the push to finally ask me out.
As I was reading, Brian leaned over. He got really close to my ear and whispered, "Do you remember writing that?" I replied, "Yes, sweetie! I do."
As I went to rewrap the frame, I thought I caught Brian out the corner of my eye crouching down. I thought he mistakenly dropped something on the floor and was reaching to pick it up. Then I heard my best friends, who were standing behind me, gasp and squeal with excitement. I looked back down at the frame, and it suddenly hit me. Brian was finally proposing. Right there, at that exact moment.
As Brian often says, "Something magic happened." Holding one of my hands, he presented me with a little brown box. He looked up at me and began speaking. But to be honest, I can't remember what he said. I imagined it was something to the effect of, "Lauren, I love you and want to spend the rest of my life with you." But honestly, I was numb and frozen in place. I kept thinking, "Is this really happening? At this exact moment? At my launch party?" I had to have been imagining things.
But then, I heard him utter those four little words I'd waited over a decade to hear: "Will you marry me?" I happily answered, "Yes! I'll marry you, Brian."
What an afternoon it had turned out to be. I felt as if I'd waited a lifetime to know I'd be marrying the man of my dreams. It also felt as if I'd been planning the launch of my business for an eternity. I spent countless hours thinking about what I could offer brides that was unique to the wedding industry. I finally settled on the idea of customizing gowns by incorporating specific details from a bride's love story. Little did I know, my very own would be the first to tell.
As if fate would have it any other way, we'll be married next June just a few blocks away from where it finally happened. Needless to say, I'll be designing my wedding gown and incorporating intricate details into the design that reflect me and Brian's unique story. Eleven years is quite a long time, but it's part of our story. And our many chapters have taught us that love is always well worth the wait!
If you have a great proposal story, email us at: [email protected], subject line: POP THE QUESTION.