"You're hiring for the creativity, not the product. We all have access to the same product, we just do different things with it." – Victoria of Victoria Clausen Floral Design
A few weeks ago, I took a job with Steelcut Flower Co, a boutique florist for weddings and events. My previous experience with flowers was a few DIY weddings for friends. In other words, I was well versed in optimistically combing through Pinterest, fawning over lush bouquets with captivatingly full blooms that seemed to dance and somehow sing before my eyes–only to end up with bouquets that were pretty, but lacked the voice, movement, and personality that I saw online.
My first day on the job I attended a workshop for aspiring floral designers. I heard words from my college art classes–form, nuance, color palette, negative space, etc. A thrilling new world opened up to me as I realized those Pinterest worthy bouquets weren't happy accidents, but rather the result of carefully cultivated skill.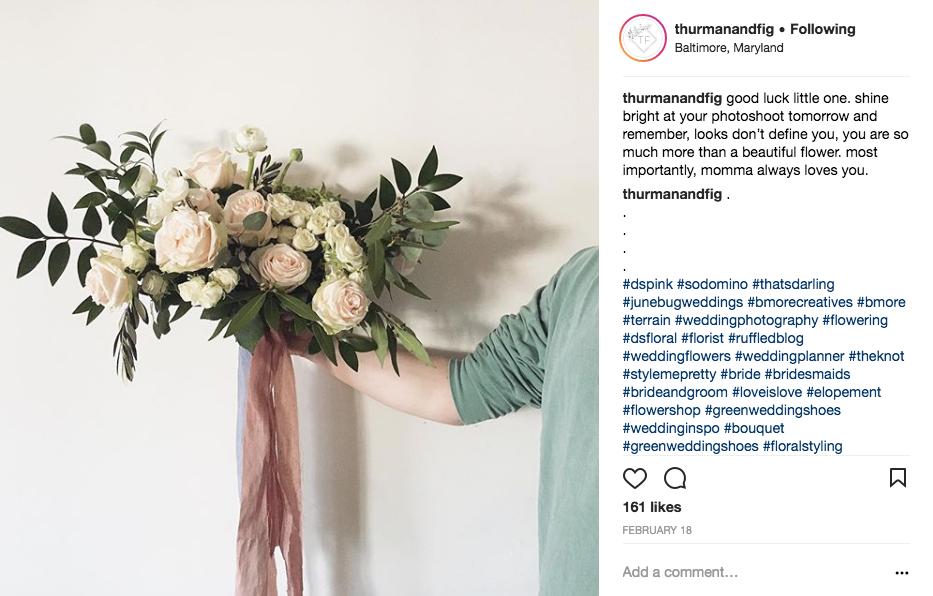 (flowers and photo: Thurman & Fig)
What does that skill look like in the hands of different designers, and how does it play out in their business models? This week at Steelcut, we interviewed a few of our favorite Baltimore florists to learn more. Read on to hear from Washday Floral, Victoria Clausen, Crimson & Clover Designs, and Thurman & Fig. There are several things you might want to consider before you begin to search for "the one."
You, bride-to-be, have most likely spent time of your own scrolling through Pinterest to garner inspiration for your big day. Along with inspiration, you may have even found articles about saving money on your wedding flowers, lists of flowers by seasons, or questions to ask your florist. Educating yourself before you consult with florists is important, but as Tiffany of Washday Floral says, "Pinterest is the best and worst thing to happen to wedding planning. There is a lot to learn about the floral industry from the professionals that you will have a chance to meet with.  Listen to them respectfully and you might come to understand a bit more about exactly what goes into creating your unique design and experience." From the idea that garlands of greenery are cheaper than flowers, to repurposing bouquets as centerpieces–many tips make their way around social media and helpful sites like Pinterest. Feel free to ask your designer if these are true or if they might work in your case, and be prepared for a professional answer.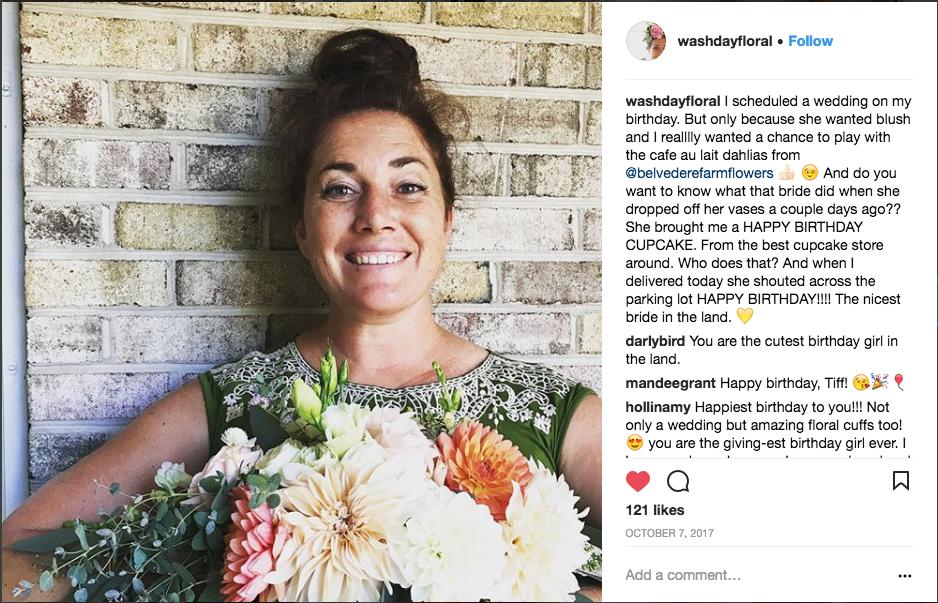 (flowers and photo: Washday Floral)
Most of us don't know much about flowers, but we do have a field in which we're well-versed. I used to manage a hair salon, so I'll speak from that experience for a few minutes. Anyone who has found a good hair stylist knows they're worth their weight in gold. You most likely chose them because of their skill set, experience, price point, and even their personality. You trust your stylist to do your hair in a way that begins to convey who you are before you even speak. Victoria Clausen describes florals as a "language that designers use to tell the story of the clients." It's about finding somebody that you share a common language with, somebody who gets your vision, and trusting them to bring it to reality. Maybe finding a floral designer isn't that different than finding a hair stylist …
I've spent my fair share of time gently uprooting common misconceptions in the minds of clients as to why these varying levels of hair professionals charge what they do for the services they provide, and now I want to dive into the range of prices in the floral industry.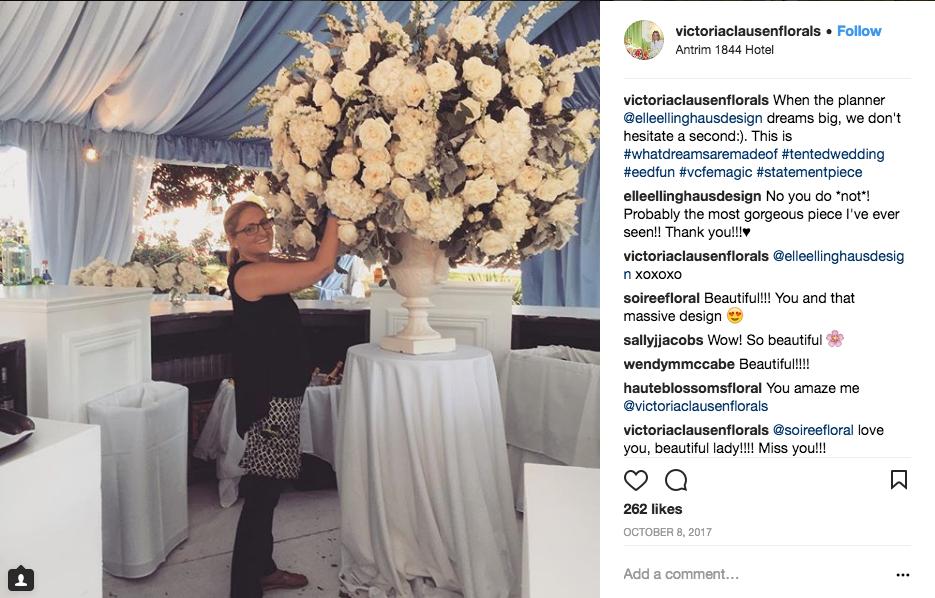 (Flowers and photo: Victoria Clausen Florals)
Most floral designers have a minimum cost when it comes to weddings, and you can expect the cost to reflect more than just the literal cost of the arrangements you order. In reality, a small percentage of a florist's time is spent designing, and the bulk is spent consulting with clients, exchanging emails and phone calls, planning, sourcing the flowers, hydrating and cooling the flowers once they arrive, prepping vases, loading vans, climbing ladders, cleaning up after the last dance, then responsibly disposing of all the flowers and scraping wax from the insides of candle-holders.
This work usually involves a team of people–whether you're working with an independent designer who employs their kids or family members for tasks like those candle holders, or you're working with a large firm who has a full-time staff, labor doesn't come free.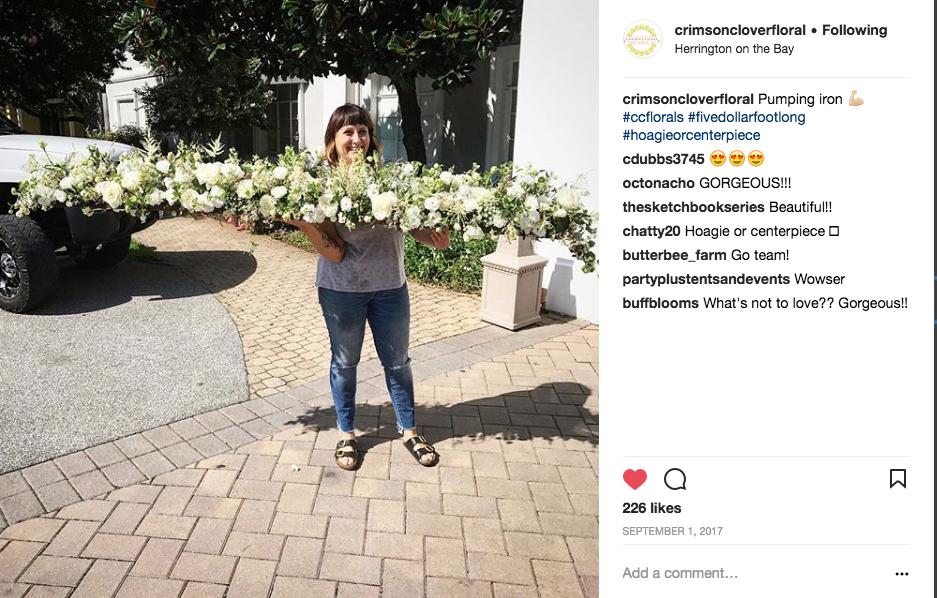 (Flowers and photo: Crimson & Clover Floral Design, Inc.)
Creating a budget and sticking to it is essential, but as you search for the best florist to meet your needs, consider who it is you are looking at and do your research. Crimson and Clover offers some helpful suggestions: "Look at the comprehensive scope of your florist. What's their reputation like? What's their portfolio? Less experienced florists are usually lower cost. With more experienced florists, you will most likely find higher cost. Maybe they have a team of people working for them which means they can execute higher level events." To add to that, Thurman & Fig reminds us that "you're investing in keeping the movement going–the florist offering less than what they're worth is likely to burn out and be out of business in two years. You're not just paying for the end result, you're paying for hours and hours of us sitting on our computers and sourcing, and learning, and hunting for the best product at the best price, in addition to the consultations and walkthroughs."
As someone who has done my share of free, amateur, floral work, and has now entered the professional floral industry, I can tell you that many of those money saving tips take hands and labor to accomplish them. Many of the florists on this list are willing to work at price points below their minimum if you are willing to shop from an a la carte menu or pick up the flowers from their studio and do the schlepping yourself; however, if you want a full service floral design team so you and your family and friends can be hands-off and enjoy the day, be willing to pay for what they're worth. You'll find that you're paying for much more than sets of hands, but artists who will create a composition that will express the heart of your day.
Here are some Do's and Don'ts from our interviews with the pros:
Do:
Your research! All experience levels of floral designers are worth supporting. Find one that best suits your style and your budget.
Bring inspiration you've found on Pinterest, Instagram, etc. and use those images to have conversations about what you do and don't like
Ask questions about what is included in prices. Good floral designers have no problem explaining these details to you.
Be flexible! Designers are highly creative and experienced in their industry. Trust them with suggestions on table decor and vessels to compliment your day perfectly!
Don't:
Expect a designer with invaluable experience to undercut themself to meet your budget– it's not personal, and usually they're happy to recommend someone more budget- appropriate as long as you're transparent with them.
Be surprised if a designer points out something unrealistic about your inspiration photos. They are just being as honest as possible about what product and outcome is possible for you.
Expect to DIY some portion of the flowers to save cost, but hire them for the "big stuff." If there's not enough work to pay the team for the week leading up to the wedding, they normally can't sacrifice staff on the day of the wedding either.
Purchase anything before speaking with your florist. One designer had a client buy vessels that weren't capable of holding water–oops!
My final "don't" is this: Don't forget that all humans deserve to be respected and compensated for the amount of work they put in to what they do. It can be easy to move so quickly in our crazy lives that we forget to stop and consider this. To all of the brave brides and floral designers out there bringing fantasies and dreams to life–may you find your way to each other in perfect time!
All the best,
Ciara (the professional amateur at Steelcut Flower Co.)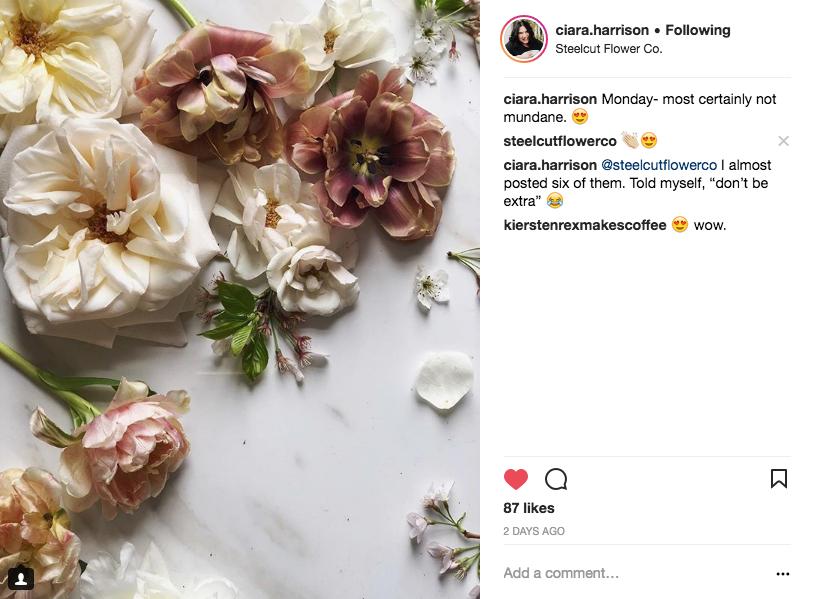 (Flowers and photo: Ciara Harrison for Steelcut Flower Co.)