Since you are getting to know me through my blog, I will share some personal information about myself: I am a very anxious person. All of those articles that you see about the struggles of being an outgoing person but having an anxious mind apply to me 100%. Also, another thing about me, I am not a girly/preppy/trendy girl. I'd much rather run a post route faster than you and catch a football diving into the end zone. So when I got engaged, my brain immediately jumped into overdrive thinking about all of the steps that needed to get done (and told myself I was already behind), and also went "I know nothing about flowers/décor/etc."
A great piece of advice that helped me in the beginning stages was to not jump in right away and start wedding planning; just enjoy the excitement and congratulations, and then start planning in a few weeks. This really helped me to calm my already racing brain and just enjoy the moment of knowing I am going to be with my best friend for the rest of my life.
I gave myself two weeks, and then began to prioritize what I needed to get done 9-12 months out, 6-9 months out, etc. Since my wedding planning process has started, these are some things that have helped calm my anxious mind.
Pinterest, this is a blessing and a curse. There is no way that you are going to incorporate everything that you like into your wedding and it is slightly overwhelming, but it's a great place to start getting ideas. It has helped me in my vendor meetings to be able to visualize what I want to do and has helped work out my vision. I didn't realize there were a million different shades of peach, but now I can determine what color peach I really want on my big day.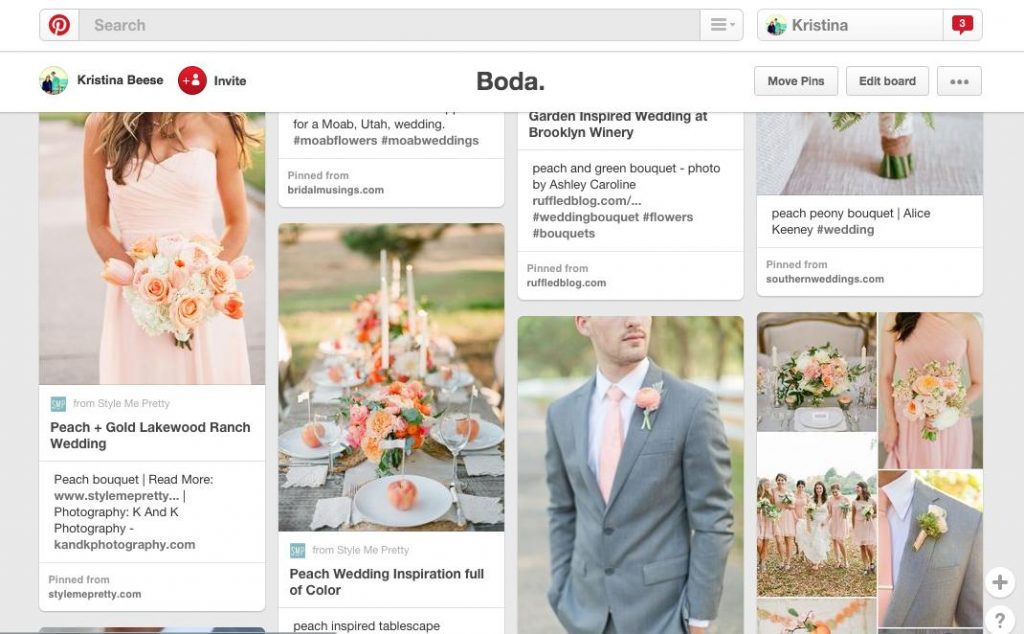 When I started planning, many people reached out with ideas, suggestions, advice, etc. As much as it might stress you out, take them up on a meeting and listen to their ideas. I found my dress because of a boutique recommendation from a friend. I am going with a whole group of people to look at flowers in a few weeks. I have decided between vendors when I have been torn because of suggestions from married friends. Use your network and gather up as much information as you can from people that have been through it already. It might be overwhelming hearing a thousand different pieces of advice, especially when it conflicts with your vision, but it's a wonderful feeling to have so many people care about you and want to help make your day perfect.
You will make changes. It's ok to make changes. This is probably what my anxious brain has struggled with the most. In meeting with all of the vendors, I was getting asked questions that I had not officially decided on yet. While it was to help them understand my thoughts, I struggled with giving some answers because I thought I would be held to them. Some things I knew and were decided on, but some of the answers I gave them have changed already, and that's ok.
Last piece (or two) of advice: When you have your vision, stick to your guns, and don't worry so much over the #weddinghashtag. There will be vendors, family, friends, who will all have suggestions to how something should look, etc. but if you know what you want- stand firm. Also, I spent way too much time, energy, anxiety on the wedding hashtag. While I LOVE it, so far it has been the one part of the planning that did not need all that extra stress.
While the anxiety is looooooooong from subsiding, and new things pop up almost daily to add to the stress, I know that in the end when I look around at everyone having a great time and at Ryan, it will all have been worth it.