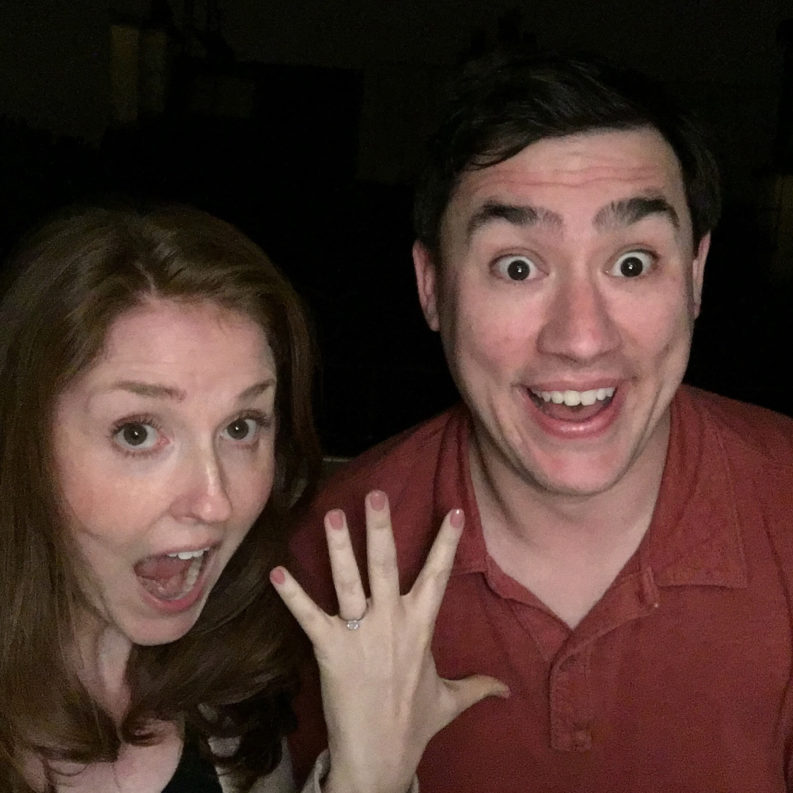 They say you meet people when you least expect it. I met my fiancé at an Irish bar with my grandparents at a weekly family dinner while I was in the middle of assuming my mortgage from my ex. Clearly, I was a real catch at the time. I was told I would be meeting Greg, my cousin and her now-husband's friend from law school, since he was moving to the area from California to find a new job. I thought fleetingly, "It would be great if I could just date Greg," but then the thought flitted away since it sounded like a 90's sitcom plot line.
When I walked into the bar, I saw him at the table with my grandparents and relatives and thought he was cute. I immediately invaded his personal space and began chatting about the things that brings everyone together: food, Parks and Recreation, the horrors of blind dating, and musical theater. Maybe it was bonding over being only children or maybe it was that he got my Fiddler on the Roof reference. By the end of evening, I felt like I had known him much longer than a few hours.
Greg and I got to know each other at more functions with my family and, through my cousin's scheming; we attended a family wedding together. I was hesitant to let this San Diegan steal my heart, but I could not stop the forward motion. We spiraled into a serious relationship astonishingly fast. Our first date without any of my family members present (I swear I am not in some Duggar situation with chaperoned dating) was a long weekend of O's games, reruns of The Mindy Project, Chinese food from Ding How (I wish it would reopen), and wandering through Patterson Park. It was oddly perfect and felt immediately right. We transitioned to long distance for a few months when Greg went back to San Diego. The distance was not ideal, but the experience solidified that Greg was the one. He moved to Baltimore, we made my row home our home, and we began to plan for our future.
As a backwards-planning teacher, I am only programmed to go with the flow a certain amount. I love calendars and lists and budgets; anything that lets me look ahead and create the steps to bring me to a goal. We talked openly about marriage early in our relationship, but we became more serious the longer we lived together. I had never imagined a proposal in my mind, so I had no expectations except that I wanted my grandma's ring.
My grandma is a classy and wonderful woman who, for some unknown reason, only wears her wedding band now and let her gorgeous ring sit in a drawer. We had talked about me having it when I was younger because my mom has a family diamond and I love traditions like that. The idea of wearing a ring that my grandma and grandpa picked out together was unbelievable to me. I'm a big ol' sap. Luckily, Greg is similar to me and loves traditions and sentimental moments.
I was at a bachelorette party a week before Baltimore City Public Schools' spring break and was telling my ladies how thrilled I was about my Paris trip. I have never taken advantage of the teacher breaks and this year I wanted to go big. Greg and I had been planning the trip for months and I was so ready I could taste the crepes already. Unanimously, my friends said we would get engaged on the trip. I dismissed it: When would Greg have gone to get the ring? (He got it that weekend). However, I went home on hyper alert.
When I entered our bedroom, Greg's bedside table had the drawer open (he is one of those people who doesn't close drawers). Out of habit, I went to close and it wouldn't. I saw a plain box in a bag from a dentist. Somehow, I instinctively felt it was the ring. I backed away and bolted from the room. I'm not someone who likes to peek (I only helped my friends open their Christmas presents but never wanted to see my own), but it was hugely tempting. I convinced myself it wasn't the ring. Why would he leave it so visible? Later he told me that he figured I wouldn't notice.
We arrived in Paris on a Saturday morning and had a wonderful, only mildly jet-lagged day. Our amazing hotel had a cute balcony we could walk onto and see the rooftops. I was smitten with the city immediately. Our second day there was Easter Sunday. It was a day full of plans that went slightly askew but ended perfectly. Our night plan was to take one of the boats on the Seine around the city to see the lights and grab food after. Everything was perfect; the air was crisp, the city was bright, and I was snuggled next to Greg IN PARIS. Spoiler: We did not get engaged on the boat.
By the end of the boat trip, we were both extremely hungry and exhausted. Jet lag seemed to kick in a day late. The boat tour ended later than we had thought and despite frantic searches, we couldn't find much that was open at 10:45 on Easter Sunday. Luckily, we found one that was on our must-do list: L'As du Fallafel, an incredible gem in Le Marais, a neighborhood within walking distance of our hotel.
We raced to the restaurant and I felt revived. It felt adventurous and fun to run through the streets of Paris at night with the best adventure partner. We made it there, stuffed ourselves with falafel and Israeli beer and slowly wandered back to our hotel. As we walked back, Greg mentioned how perfect he felt everything had worked out that day and I agreed.
When we entered our hotel room, I realized it was 11:45 and a wave of exhaustion and fullness hit me. Greg went out on the balcony and called me to come look at the view. I went out, yawning, and stood next to him, admiring the view. He turned to and slightly moved me to one side of the balcony so he was facing me. It might shock some, but I had no clue he was about to propose. My only thoughts were, "Aww he is going to hug me. I'm so full of falafel." He got on both knees and I again I just thought he was being weird and I worried he would step in the puddle on the balcony. Then, he began talking about how much he loved me and how the whole day of scrambled plans that led to perfection seemed to mirror our relationship. At some point, I realized he was on one knee and as this realization occurred, he asked me to marry him and pulled out my grandma's ring. It was truly magical moment.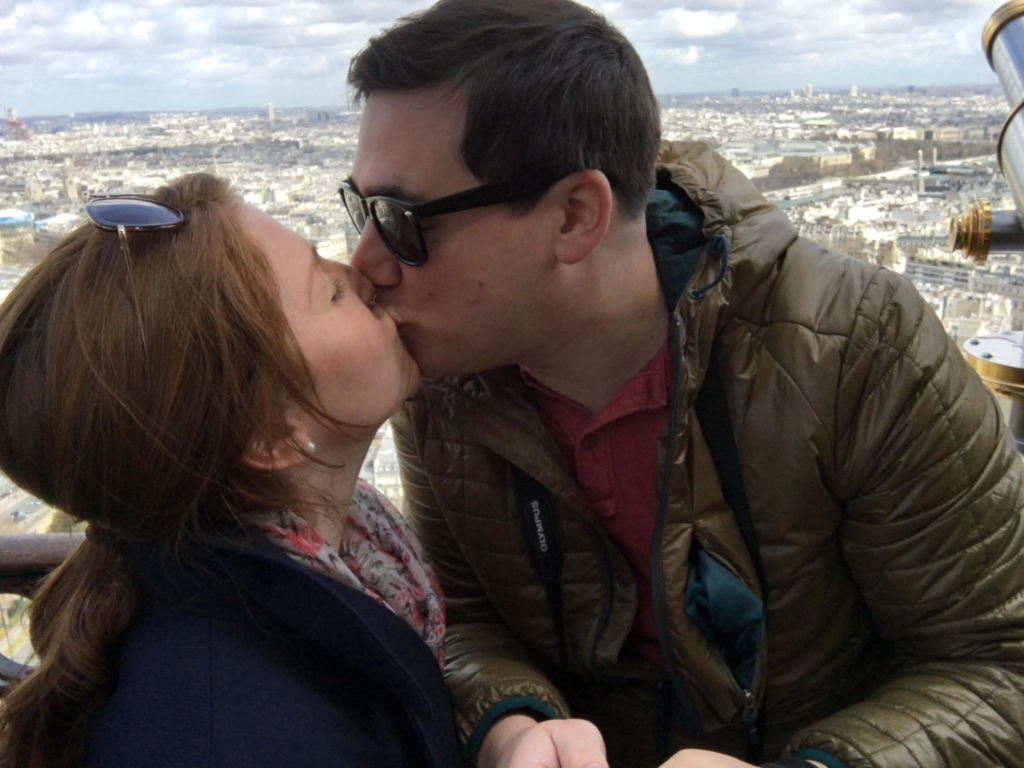 I met Greg when I least expected it. Despite everyone else's predictions, Greg asked me to marry him at a moment I did not expect. I'm so excited that I found someone who makes me so very thrilled to share a future full of least expected moments.