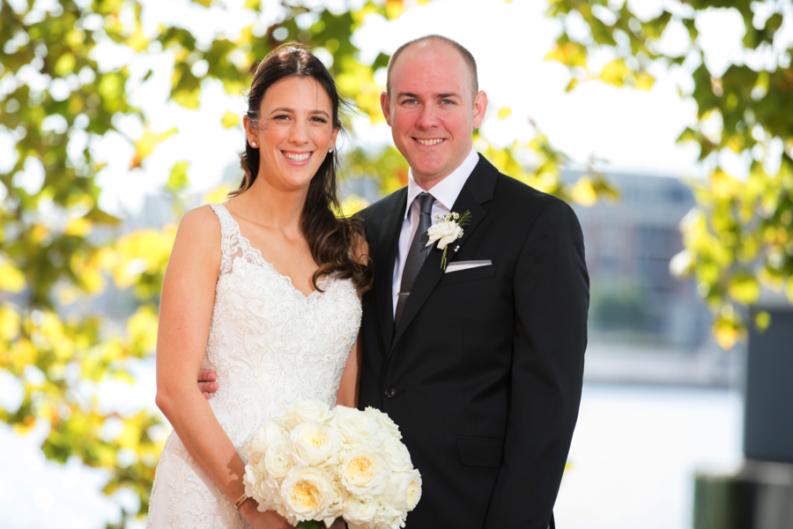 Well, it's been over a month since our wedding and three months since my last post. You can probably gather what a whirlwind it's been.
From all the last-minute planning, to the day itself, followed by our eight-day honeymoon in Mexico and the come-back-to-the-U.S. reality check upon return, it was all more than I expected.
The lessons in stress management I learned and experienced will not be forgotten, including the big gulp of air I took walking into our beautiful venue at the Belvedere and the surreal out-of-body experience I felt standing under the chuppah.
Everybody says their wedding day is one of, if not the best day of their lives, and Jamie and I most certainly feel the same. We've been fortunate in so many ways — first of all to find each other as random roommates in Canton six years ago — and our big day was a big reflection of that.
Without further adieu, here are some of our highlights.
Jamie's father danced her down the aisle . . . to Hall & Oates' "You Make My Dreams." What I want, you've got, and it might be hard to handle . . .
Not every bride would dance in during her big moment, but Jamie certainly is not like everyone else. When she first told me about the idea, I didn't hesitate to give my thumbs up. It fit her personality perfectly. Jamie wanted the day to feel like a party and her entrance started it off that way.
Manny came for pre-ceremony photos. That's our dog, a 13-pound Havanese. He's part named for Manny Machado and part because we thought it was a cool name for a small dog. We couldn't imagine the day without him so Jamie arranged with our dog walker to bring him to take pictures at the venue. They're some of our favorite images from the weekend.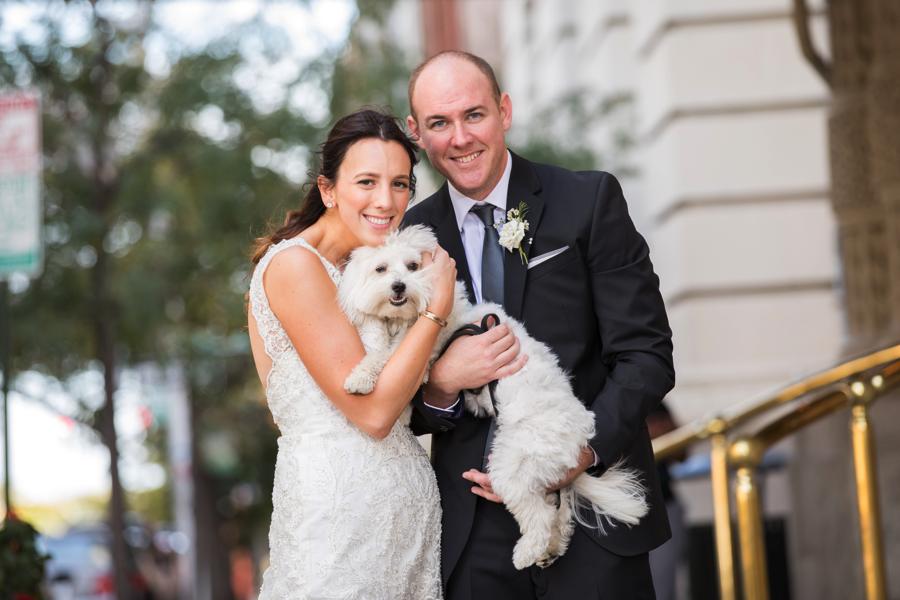 (All photos by Jay Moore Photography)
The Ketubah signing the day before. One of the most special parts of the wedding occurred the day before, at North Oaks assisted living center, where Jamie's mom has lived for the last few years, as she continues to fight multiple sclerosis and serve as a source of inspiration to us all. And it's where, in her room, that our rabbi, Geoff Basik, held the traditional Jewish Ketubah singing (marriage license). We were surrounded by our immediate family and Judy's closest friends, who are like family.
FaceTiming the wedding to Jamie's mom. We of course wished Jamie's mom could have been there, but she said she ended up seeing more of the ceremony and reception than she would have had she been there in person. Thanks to our family, Judy's friends and the Belvedere's Wifi and staff, we were able to live stream the entire night to her.
The speeches from Jamie's dad and my brother. This is where everybody in attendance got a great appreciation for all the emotion that went into the day. Jamie's dad's was absolutely incredible. He told the story of how we met, how Jamie's grandparents (his father and mother) were married in the exact same room 71 years earlier and that we didn't know that when we booked the venue, and how Jamie's mom was watching everything as it unfolded. And despite coming up to me after Richard's speech and saying "he killed it," and wondering how his would compare, my brother's speech wasn't too shabby either! He handed me a toy car, symbolizing a time in our childhood where he got upset that younger brother gained possession of a few Matchbox cars just because he was born.
The venue. One of the reasons that we (well, er, Jamie, really) picked the Belvedere is because of how beautiful it was and how we did not need to take care of the little details. Things like chairs, tables, food, were part of the venue. The place and staff did not disappoint on game day, and we'd recommend it to anyone. The 12th floor speaks for itself. We had the ceremony and reception in the ballroom, and cocktail hour on the other side of the building. Everything was in one spot, including the Owl Bar on the first floor for afterparty purposes.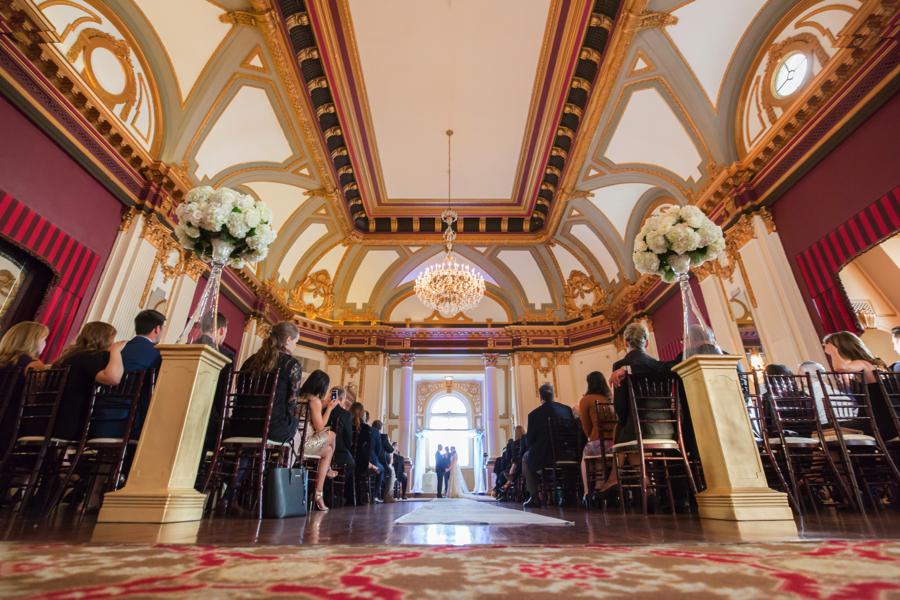 The ceremony and our vows. Rabbi Basik did a fantastic job with the Jewish ceremony, even whispering to tell me (a non-Jew) where to put my foot down to break the glass at the end of the ceremony. (It took two tries anyway, but whatever.) He took things in stride when I hurriedly approached him about an hour before the ceremony and asked if he'd seen our email about the vows. He hadn't. Well, we wanted him to read them and thankfully the Belvedere had a printer so he could rather easily.

A few special touches. We printed out (beforehand) and framed photos of our grandparents, including a photo of Jamie's grandparents walking up the aisle in the same exact space at the Belvedere after their ceremony. Now we have a similar picture.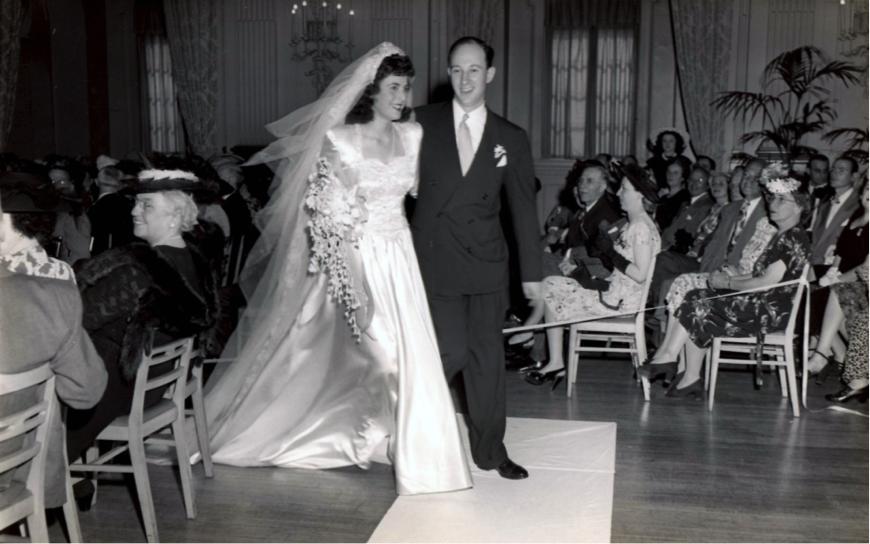 Jerold and Alice Hoffberger, Jamie's grandparents, on June 10, 1946 at the Belvedere.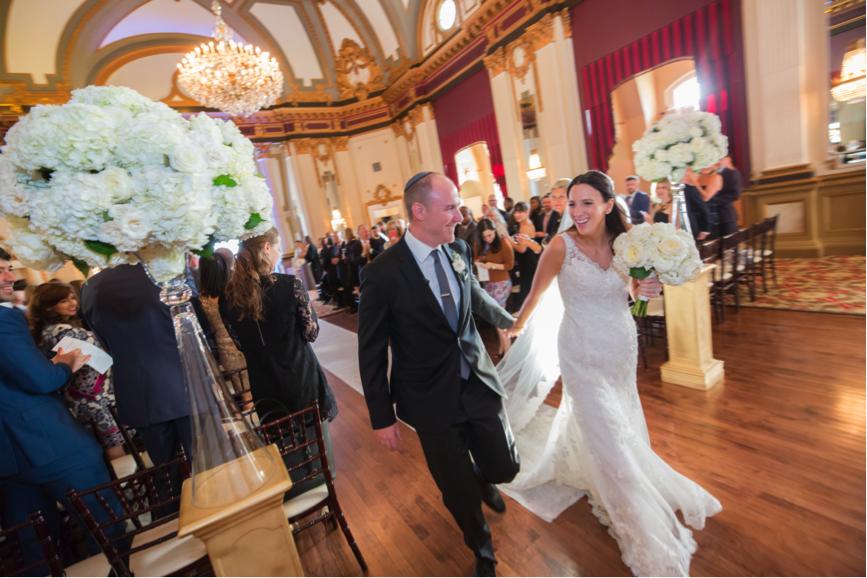 Me and Jamie in the same room at the Belvedere on October 7, 2017.
We also created our own table numbers, featuring us at the various ages. (Table 1 for us at age one, and so on . . . ) Jamie bought an online template, asked our parents to track down photos of us and Jamie's dad printed them out. Our wedding favors were personalized M&M's with our new initials on them, with some of Manny's face on them mixed in, too.
And, finally, our cake-topper featured Manny wearing an O's hat with our date and the sign "I do too." Jamie found the maker in Italy on Etsy. I'm really happy that we did this.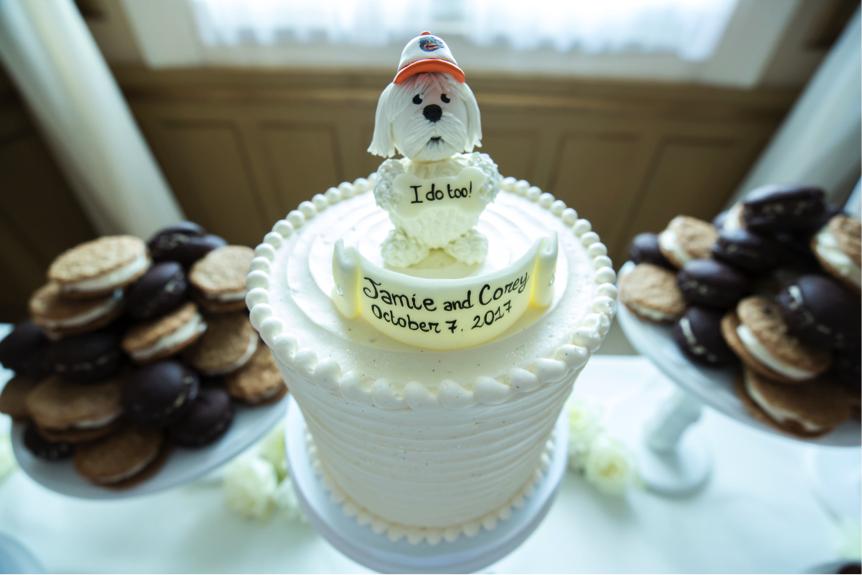 Dessert under the chuppah, which was Jamie's cousin's idea. (Rachel is a wedding planner and owns Plan It Perfect.) Flavor Cupcakery did our desserts. Highly recommended.
The band. Our band, Infusion, was amazing. We found them through an agency and then heard them in person at another couple's wedding in D.C. We even saw the bride that night, who invited us into dance. They made our reception into the celebration we wanted it to be. We've been to a lot of weddings and when everyone is still dancing when the lights come up at the end of the night, that's usually a good sign.
The people. Last but certainly not least, we're incredibly grateful for our families and friends who were there to celebrate with us and help us along the way. We enjoyed seeing and spending time with all of you. Thank you so much for coming and your generous gifts.