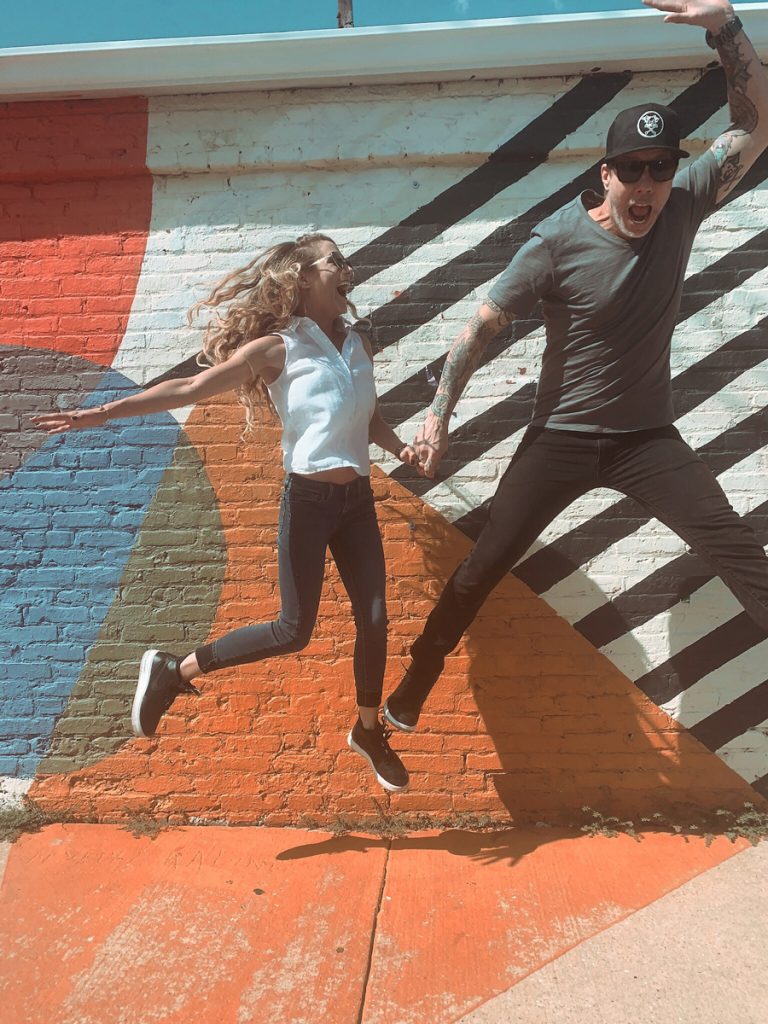 What's up Baltimore?! Not Your Average Bride, Hope, here! I am a newly engaged #bossbride and I am so excited to share the journey of balancing entrepreneurial life with planning a wedding!
Currently I am the Operational Goddess at Smoke a Modern American BBQ Restaurant by day, and the founder of a Female Empowerment Community called Be More Babes by night! I host networking events, restaurant pop ups, do social media consulting, and I somehow manage to stay up to date on all garbage network television competitions. It's a skill. As an Air Force one wearing, emo music rocking, business-woman in 2019 I like to keep things different and exciting, and what better place to showcase that than at our wedding?!
I am engaged to the most perfect human, Josh White, the chef and founder of Smoke. Together we make a really kick ass team. He is my puzzle piece, my best friend and my business partner. We are each other's biggest cheerleaders, and I am grateful for this man every single day.
Josh and I met in a very movie-esque kind of way. Picture it – New Years Eve – December 31, 2014. We met at a local rock show at the dark + dirty Ottobar in Remington. It was perfection, and I think Blink-182 said it best, "He fell in love with the girl at the rock show." We can both confirm it was in-fact love at first sight, and shortly after the music began we snuck off to get to know each other better. There was champagne, and hats, and it was magical. We were immediately inseparable and have been crazy in love ever since. We moved in together after three months, opened a restaurant together after six months, and that was kind of all she wrote. 'Cause, when you know you know. All of our friends joked that we would run off to the court house right away, but we knew we wanted to do things the right way. Our engagement wouldn't come until almost four years, two animals, and one restaurant later, but I wouldn't change it for the world.
Okay so even after two paragraphs you can tell that together, we are not your average couple. Here is our proposal story.
Back in September Josh and I had a trip planned to Georgetown to have dinner with my Mom. I thought the whole thing was SO weird because they had planned it together, and I was excluded from the planning. Naturally my curiosity was piqued. But I didn't complain because we went to a five-star restaurant and I ate wagyu steak and everyone was happy. Not even three days later we were in our apartment arguing about running late for a press event and BAM. He couldn't wait. I think keeping it for three days actually burnt a hole in his pocket. He got down on one knee on the floor of our kitchen, our dog jumping all over us, and my grandmother's perfect, flawless, emerald cut diamond surrounded by sapphires was looking back at me. We both cried so hard, and he said so many things, but mostly I just remember taking a deep sigh of relief, squeezing the man that I love more than myself, and crying the happiest tears of my life. I GET TO MARRY MY BEST FRIEND Y'ALL. We ran even later to the press event, and I smiled ear to ear the whole way there. My best friend asked me to be his wife, and spend forever with him, in the home we built together, with our fur babies. I can't think of anything more romantic.
I think that in the Instagram age some people get so caught up in capturing the moment that they lose it. Do I wish that we had a perfect photo from the exact moment he asked me to be his wife? Sure. But am I so beyond happy and elated and over the moon to marry my best friend, and that we gave ourselves the gift of enjoying the first moments of being engaged, just the two of us.
At the end of the day that's all that really matters, marrying your best friend.
I am so excited to share with you the adventures and mis-adventures of our engagement and the road to becoming Mrs. White! Make sure you follow along here, and on my Instagram!
Love & Light
H